Welcome to Secret London, the city hidden within a city. Though you won't need a magic key to get in, these are some of the places you can find only if you look for them. They hide in the most obscure places and sometimes right under your nose.  Here's a guide to places normally kept secret from visitors to London. Locals may know about these places, but it's fun to live like a local and learn their secrets.
Hidden London Tours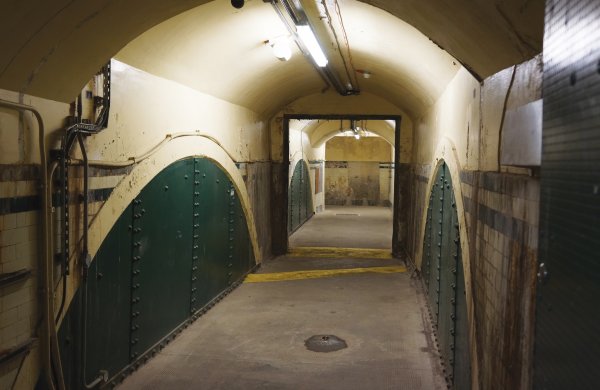 There are several abandoned Tube stations dotted all over London – many have been abandoned for different reasons, but now they're getting a second lease on life as tourist attractions. The London Transport Museum now regularly hosts tours through the abandoned stations. Tickets must be bought months in advance when they announce new tours, and they sell out quickly. But if you act quickly, you can explore London's underworld that is usually closed to the public. Details at https://www.ltmuseum.co.uk/whats-on/hidden-london
Eltham Palace
You may be surprised that a palace could hide within London. Buckingham Palace and Windsor Castle may be more well-known in the region, but this little-known royal residence sits right in Greenwich. The palace was given to Edward II in 1305 and used by Henry VIII until Greenwich Palace was completed. Over the centuries, it fell into disrepair until it was purchased by Stephen and Virginia Courtauld in 1933 and restored the house in a mostly art deco style. It passed to Royal Army Education Corps and then to English Heritage in 1995, who opened it to the public for the first time.
Pollock's Toy Museum
Essentially what it says on the tin, Pollock's Toy Museum is housed in a pair of old Georgian Townhouses near the British Museum. You probably won't find a Furby in here as the museum is dedicated to the history of toys, displaying any number of wooden pieces, board games, puppets, doll houses, and models. They also have some of the world's oldest toys including the oldest surviving teddy bear and a 4,000-year-old mouse from Egypt.
Davenports Magic Shop
Like finding the secret magical entrance to Diagon Alley, Davenports requires some searching. It's located under Charing Cross Station and appears dimly lit to the casual observer so as to cause most to believe it is closed even during business hours. The store is staffed by professional magicians ready to help the most novice magic enthusiasts or professional illusionists. They even offer magic courses on their website.
Hyde Park Pet Cemetery
In Victoria Gate Lodge's Garden on Bayswater Road and behind Hyde Park's iron gates you can find the final place of rest for many of London long-forgotten pets. In 1881, the lodge keeper, Mr. Winbridge, allowed Mr. and Mrs. J. Lewis Barned to bury the family dog, "Cherry" in the park. It steamrolled from there, and the final pet was buried in the cemetery in 1903. Perhaps to prevent the place from being flooded with curious tourists, it's necessary to pay a modest fee and book your visit in advance.
Secret Cinema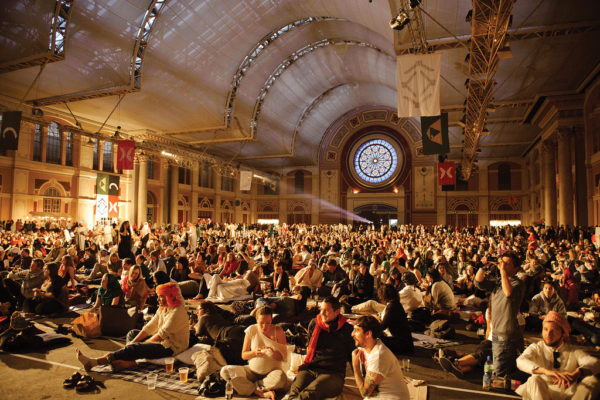 Like playing Russian Roulette with films, the Secret Cinema requires you to purchase your ticket without knowing what movie you're going to see. There isn't even a real location. You purchase your ticket on secretcinema.org and show up where the organisers tell you. An empty school in Hackney didn't just host a showing of "The Shawshank Redemption," it permitted the visitors to live it, complete with a warden and guards (but no Captain Hadley). Most recently they recreated a Star Wars cantina for "The Empire Strikes Back" screenings.
Big Ben
Though people think the name "Big Ben" refers to the clock tower, this nickname is given to the Great Bell in Elizabeth Tower of the Palace of Westminster. Yeah, you can actually go see it—but only if you live in the UK, it seems. British residents can write their MP to request a tour, though it may take a while and only 10,000 people are invited to see the bell itself.
Chislehurst Caves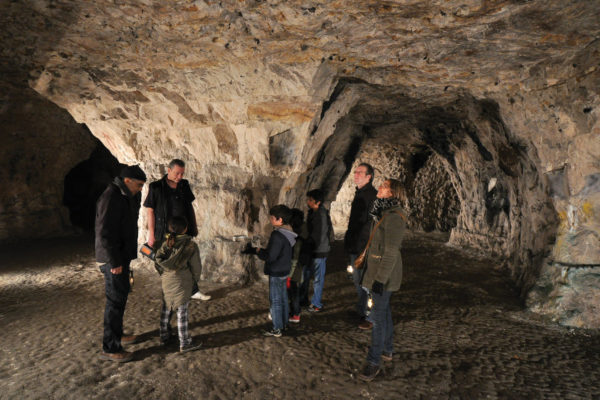 Yes, 22 miles of caves exist right under the heart of London Town! There seems to be no definitive knowledge of who made these caves, though William Nichols theorised in 1903 that they were of Druid, Roman, and Saxon origin. These unsubstantiated theories led the caves to become a music venue in the 1960s that saw concerts by David Bowie, Jimi Hendrix, the Rolling Stones, Pink Floyd, and others. The caves are now open only for guided tours from 10.00 a.m. to 4.00 p.m.
Gingerline
The restaurant equivalent of the Secret Cinema, you purchase a ticket for your meal from gingerline.co.uk and show up where the organisers tell you to go. Somewhere in East London, you'll find a mysterious place out of a Lewis Carroll book. Past experiences have included a Siberian Circus in New Cross Gate to a submarine mess hall in Shoreditch. There's no telling what the next unique dining event will be.
Cockney Cash Machines
It's not unusual for a cash machine to ask you what language you prefer at the beginning of your transaction, though not all of them ask if you prefer Cockney. At five special points in London, cash machines ask their patrons to choose between English and Cockney. According to Ron Denelvo of the Bank Machine Company, approximately 15-20% of customers will opt for Cockney when prompted. If you just need a Lady Godiva (£5) or a Horn of Plenty (£20) you can find them on Commercial Road, Roman Road, or any number of other secret locations.
La Bodega Negra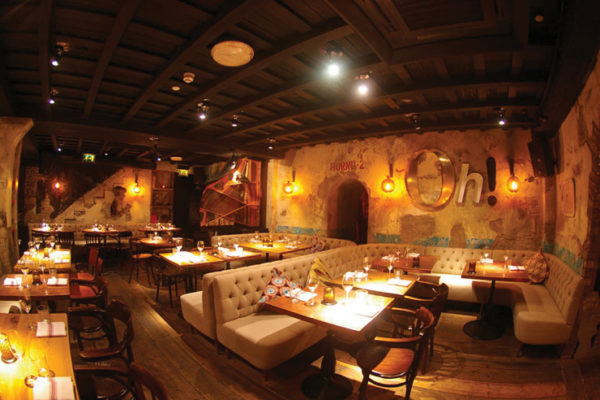 Hidden in a sex shop, you walk past a mannequin in a gimp suit and down into a basement not to find the strangest orgy you ever encountered, but a Mexican restaurant. It can be found in Leicester Square between Old Compton Street and Moor Street. The café portion of the restaurant can be found on Moor Street and is open for lunch. For those who can't make it to London, there's also a location in New York on West 16th Street.
Fake Downing Street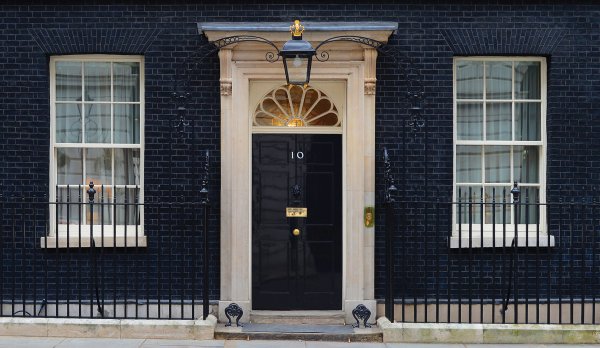 It certainly is unlikely that you'll ever be able to visit the real 10 Downing Street, so this façade in The Strand is probably the next closest thing. Located at Number 10 Adam Street, if you look at them together, there are certainly some noticeable differences, but should be close enough to fool your friends into thinking you were really there.
Space Invaders
They are among us—though maybe not in a sci-fi sense. French urban artist Invader made several tile works of art resembling the tiny 8-bit aliens and placed them all over the city. There's even a map on Google to help you find them all.
Trippy Window
This strange window at St. Martins-in-the-Fields church was designed by Shiraseh Houshiary and was installed in the church in 2008. Houshiary's design was inspired by the way water reflects and changes images. It's certainly a striking sight and might give you a headache if you look at it too long.
London's Smallest Police Station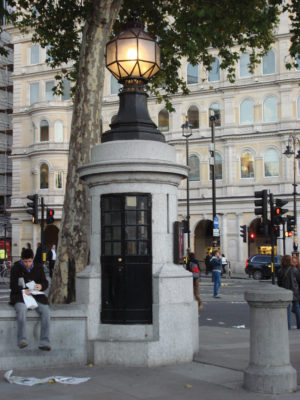 On the southeast corner of Trafalgar Square, you'll find the city's tiniest police station. The area has always been a popular one for protests, so the station was built as a lookout post so that authorities could keep an eye on the demonstrations. It has room for only one officer and, with the advent of CCTV, it's mostly used as a storage place for the cleaners these days.
The Walls Have Ears
Tim Fishlock carefully crafted these sculpted ears and placed them at several locations in London. Two are located on Floral Street in Covent Garden, and several more are alleged to be at different points around the city.
Oldest Music Hall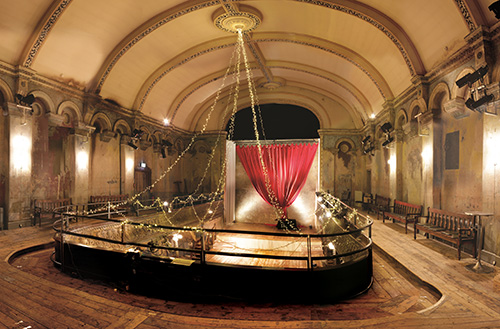 Wilton's Music Hall is the oldest and apparently last surviving music hall. Originally, the building was constructed in 1743 as an ale house for sea captains, but in 1859 opened as a music venue. Despite the fact that it may look like it's falling apart, it's a Grade II listed building and still acts as a performance and production venue. The venue is currently undergoing an extensive programme of restoration work so that new generations can continue to enjoy music in the classic old hall.
Brixton Windmill
It may seem strange to think that there'd be one windmill in London, but there are actually six. The Brixton Windmill can be found in the middle of Blenheim Gardens. It was built in 1816 and leased to the Ashby family until it ceased production in 1934 after the death of Joshua John Ashby. It was restored in 2011 with funds from the Heritage Lottery and is open to the public.
Rolling Bridge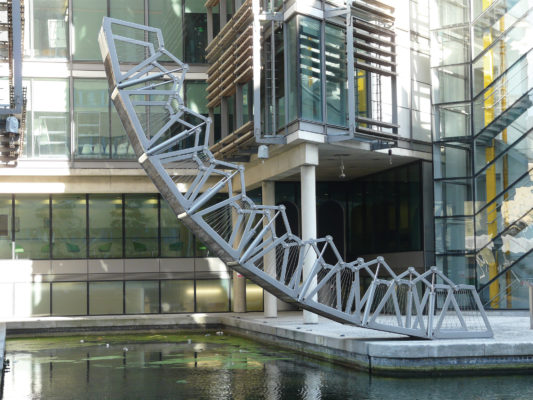 On the Paddington Basin exists a unique footbridge. The Rolling Bridge was conceived by designer Thomas Heatherwick (his studio also designed the London 2015 cauldron) and operates on hydraulic cylinders that roll up the bridge's eight triangular sections at noon on Friday or whenever necessary to allow the passage of boats.
Cat Tribute
Many cat owners love their feline friends, but maybe not to the extent that dictionary author Samuel Johnson loved his pet cat, Hodge. James Boswell once wrote, "I never shall forget the indulgence with which he treated Hodge," which is perhaps best exemplified by the bronze statue immortalising the cat in Gough Square in front of Johnson's home. It was created in 1997 and sculpted by Jon Bickley, who modeled the statue after his own cat.
Naked Ladies of York House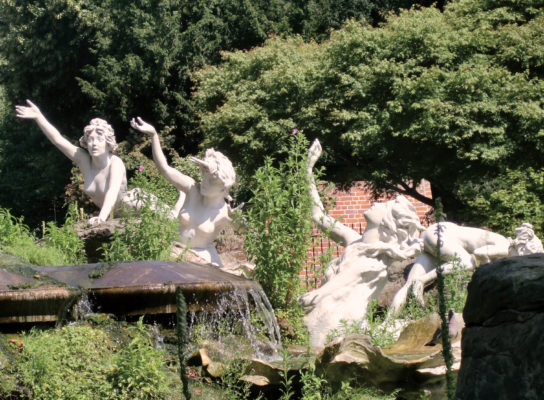 Part of a rookery in the gardens of York House in Twickenham, the ladies are marble statues thought to be based on eight Oceanids of Greek mythology. Sir Ratanji Dadabhoy Tata brought them to York House in 1906 to serve as a backdrop for parties that were attended by London's social elite, including King George V. During World War II, it was thought that moonlight reflecting off the marble would help German pilots spot their targets, so the statues were covered in gray sludge. The gardens are now open to the public.
Kyoto Gardens in Holland Park, Kensington, and Chelsea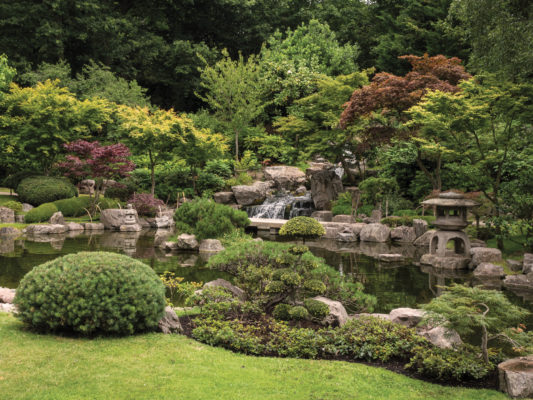 Holland Park is the Royal Borough's largest park at 22.5 hectares of green space, sporting facilities, and children's play areas. But besides the regularities, Holland Park holds a secret, Kyoto Gardens.
These stunningly tranquil Japanese gardens, in a prime city location, are the perfect place to enjoy a peaceful spring afternoon as the flowers come into bloom. The gardens were a gift from the Kyoto Chamber of Commerce in recognition of the London 1992 Japan Festival and have been tirelessly maintained over the last two decades, so they look just as good (if not better) today. Expect to see gentle flowing waterfalls, stone statues, and even the odd koi carp or two.
Antiques at Camden Passage, Islington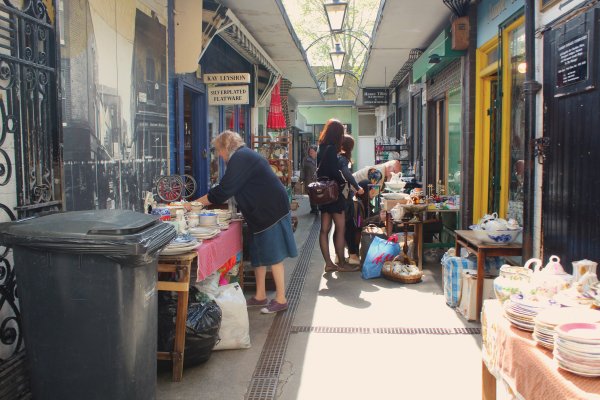 If you're looking for a unique shopping destination away from the booming crowds of Oxford Street, meander through the antique stores and vintage market stalls at the quaint Camden Passage. Wander through the cobble lined streets and enjoy rummaging through the rails in the extroverted shops. This is a shopping experience not to be missed. There are also plenty of great places to eat that you won't find anywhere else in London.
Wizard Chambers at the Georgian House, Westminster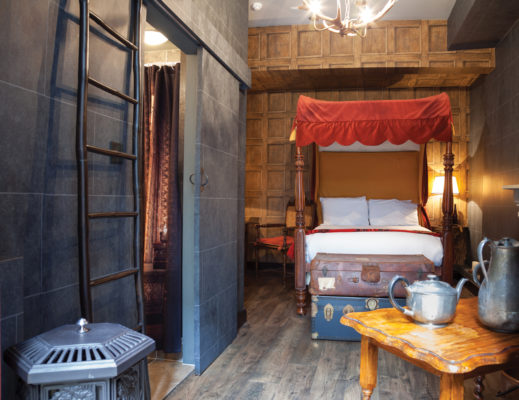 Are you a HUGE fan of Harry Potter? Perhaps you've read the books, watched the films, and even visited the studio tour? Then there's naturally only one next step – to spend a night at the Harry Potter themed hotel in London. The Georgian House in Westminster has its very own magical room fit with circular spectacles and a cauldron. You'll even sleep in a four-poster bed just like your favourite wizards. The proprietors will also help you arrange tours to Harry Potter filming locations in London as well as the Warner Brother's Studio Tour in Leavesden.
Hindu Architecture at Swaminarayan Temple, Brent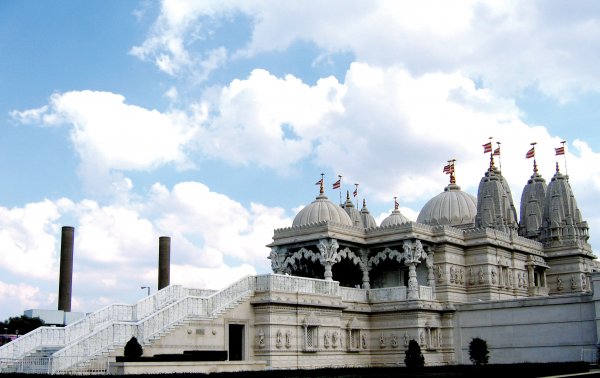 Whether you are religious or not, the magnificent architectural beauty of the BAPS Shri Swaminarayan Mandir in Brent is a beautiful site. It certainly stands out compared to the rather boring urban landscape around it! The temple is made of Bulgarian limestone and Italian Carrara marble, which was hand-carved in India before being carefully assembled in London. And we're so glad such effort went into its construction because there's nothing else quite like it in the city.
Jump on a Book Barge at Word on the Water, King's Cross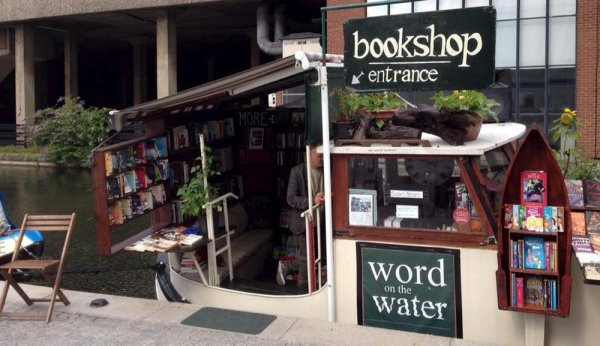 Do you love reading and sailing? Then why not combine the two hobbies by climbing aboard the Word on the Water? This bookshop barge bobs along on London's canal banks and moors at various locations along its route. Buy a book, warm yourself by the wood-burning stove, listen to live music and take part in a poetry slam here. This is a London literary favourite!
Catch a Film at Hot Tub Cinema, Various Locations
For London's body confident population, there is a movie night experience like no other – the Hot Tub Cinema. London's rooftops are transformed during the summer months into this unusual film viewing event. Sip on a cocktail, while surrounded by bubbles in an inflatable hot tub, with a big screen and the London cityscape lights around you. It's magical! Or if you'd prefer something a little, well… drier, check out the Pillow Cinema. I think you can see a trend here in interesting ways to watch films in London.
Stuff Your Face with Gents Afternoon Tea at Sanctum Soho, Westminster
Afternoon tea has a bit of a reputation for being girly, but not anymore. The luxurious Sanctum Soho has transformed this light bite selection, so it's as manly as it gets. With mini burgers, pasties, whisky and cigars there's nowhere better to eat with the lads. This hotel also has a 24-hour bar and its very own movie theater.
Enjoy a Tipple at The Roof Gardens, Kensington, and Chelsea
From Kensington High Street, you'd never know what lurks above – a gorgeously green manmade oasis! This 1.5-acre rooftop garden is the perfect place for a party with its fragrant flowers, dense shrubbery, and fish-filled flowing stream. Richard Branson's Virgin Group headquarters are below but they've opened the gardens to the public. And it's completely free, so there's no excuse not to visit this London hidden gem (though they recommend checking ahead of time as they rent the place out for private parties).
Appreciate Splendour at Kenwood House, Camden
Check out the English heritage splendour that is Kenwood House. This Hampstead stately home, at the edge of the heath, has had a huge refurbishment in recent years and is now open to those who appreciate fine interiors and great art. Kenwood House is free to visit and often holds family friendly events on weekends or throughout the school holidays. Make sure to take a look at the baby blue library designed by famed architect Robert Adam. It's like no other.
Green Cabbie Shelters for a Cuppa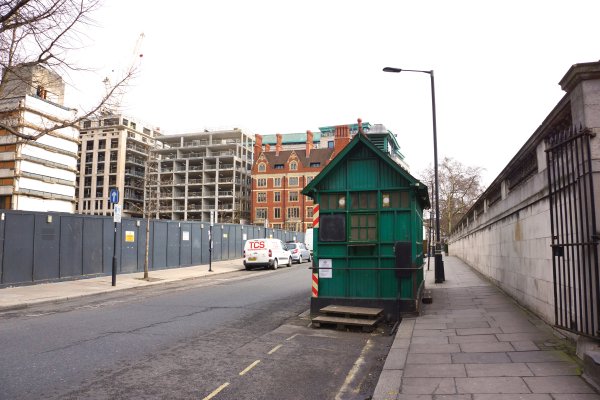 Scattered throughout central London are non-descript green sheds, often in the middle of the streets. These are actually Cab Shelters and were founded in the Victorian era to provide alcohol-free refreshment to London's Hackney Carriages. These small shelters now provide refreshments for London's Black Taxi drivers; many are open to the public for takeaway sales though only cabbies are allowed inside. A charity now runs these protected buildings and maintains them for the Cabbies. There are still 13 locations left at Chelsea Embankment,
Embankment Place, Grosvenor Gardens, Hanover Square, Kensington Park Road, Kensington Road, Pont Street, Russell Square, St. George's Square, Pimlico, Temple Place, Thurloe Place, Warwick Avenue and Wellington Place NW8.
BT Tower
The iconic BT Tower was actually officially a secret, despite the fact you can see it from almost any vantage in London until it was outed by an MP using Parliamentary Privilege. There used to be a restaurant on top, but that was closed after a terrorist bombing. The tower has largely been closed to the public since but it is occasionally opened for Open London Weekend held every year in September and other special times. If you're canny, you can get access to some of the best views of London.