The Beatles have lots of London connections, including where they have lived, recorded and performed.
I've lived close to many of these locations and had no idea the world's most famous band had been in the area. (The Beatles even performed at my local cinema in 1964!)
Let's have a look at the neighbourhoods they knew well.
Bloomsbury
Royal National Hotel
The Beatles came to London in December 1961 for an audition with Decca Records on New Year's Day 1962. They stayed at the Royal National Hotel (38-51 Bedford Way, London WC1H 0DG), then called the Royal. Regardless of the name, it wasn't a fancy hotel, and the band only stayed there for one night (New Year's Eve).
The morning audition was not successful, and Decca – the top British record label at the time – rejected The Beatles. It's said they only got the audition because Brian Epstein, their manager, ran NEMS – a major record store in Liverpool, so it was important for record sales.
They were also turned down by Columbia Records, part of EMI. But the band later signed a record contract with EMI's Parlophone label later in 1962. They used the audition tapes that they had recorded at Decca's recording facility at Broadhurst Gardens, West Hampstead, NW6.
The President Hotel
When the band first moved to London in 1963, they lived at The President Hotel (56-60 Guildford Street, London WC1N 1DB), just around the corner from The Royal. Again, it's not now and never was, a high-end hotel. Let's call it "an unassuming hotel".
Here's a great video compilation of the photos taken by Norman Parkinson at the President Hotel on 12 September 1963.
The British Library
Even nearer to Euston station, where trains from Liverpool arrive, is The British Library. It's well worth a visit, especially for The Beatles memorabilia on display in the Treasures Gallery. Alongside a copy of the Magna Carta and a musical diary written by Mozart, you can see manuscripts penned by John Lennon, including lyric sheets in his own hand for In My Life, Strawberry Fields Forever, She Said She Said, Help! and Yesterday. There are also birthday cards, old photos (including ones with original Beatles members Pete Best and Stuart Sutcliffe), letters and postcards.
Mayfair
57 Green Street
1963 was the year The Beatles released their first UK single, Love Me Do, and the year the band first stayed in London for any significant length of time. In autumn 1963, Brian Epstein secured Flat L at 57 Green Street in Mayfair for the whole band, but they used it mostly as a crashpad in between gigs. It is the only London address where the 'Fab Four' lived together. The flat-sharing did not last long as John, and Cynthia Lennon, and baby Julian moved out as soon as they were able to find their own space.
The Scotch
The Scotch of St James nightclub opened on 14 July 1965 at the height of the 1960s swinging London scene. It soon replaced the Ad Lib Club, which closed in November 1966, as a meeting place for the London set and rock musicians. The Scotch was at 13 Mason's Yard, off Duke Street. The Beatles had their own table at the club, which was fitted with a brass plate bearing their name.
Indica Gallery
The Indica Art Gallery was also in Mason's Yard. This was where John Lennon met Yoko Ono, who was exhibiting her art Unfinished Paintings and Objects, on 9 November 1966. The gallery was in the basement of the Indica Bookshop, which Paul McCartney helped to set up.
Apple Corps
Later, in June 1968, 3 Savile Row became The Beatles Apple headquarters, and it was here where the Beatles played their last ever gig. On 30 January 1969, they performed their latest recordings from the Let it Be album on the rooftop. The police were called due to noise complaints, and the free concert was stopped after 45 minutes. This last performance was filmed and later released for the Let it Be film. (See photo by Daily Mirror/Mirrorpix/Mirrorpix via Getty Images.)
John Lennon famously concluded the show, saying: 'I would like to say thank you on behalf of the group and ourselves and I hope we've passed the audition.'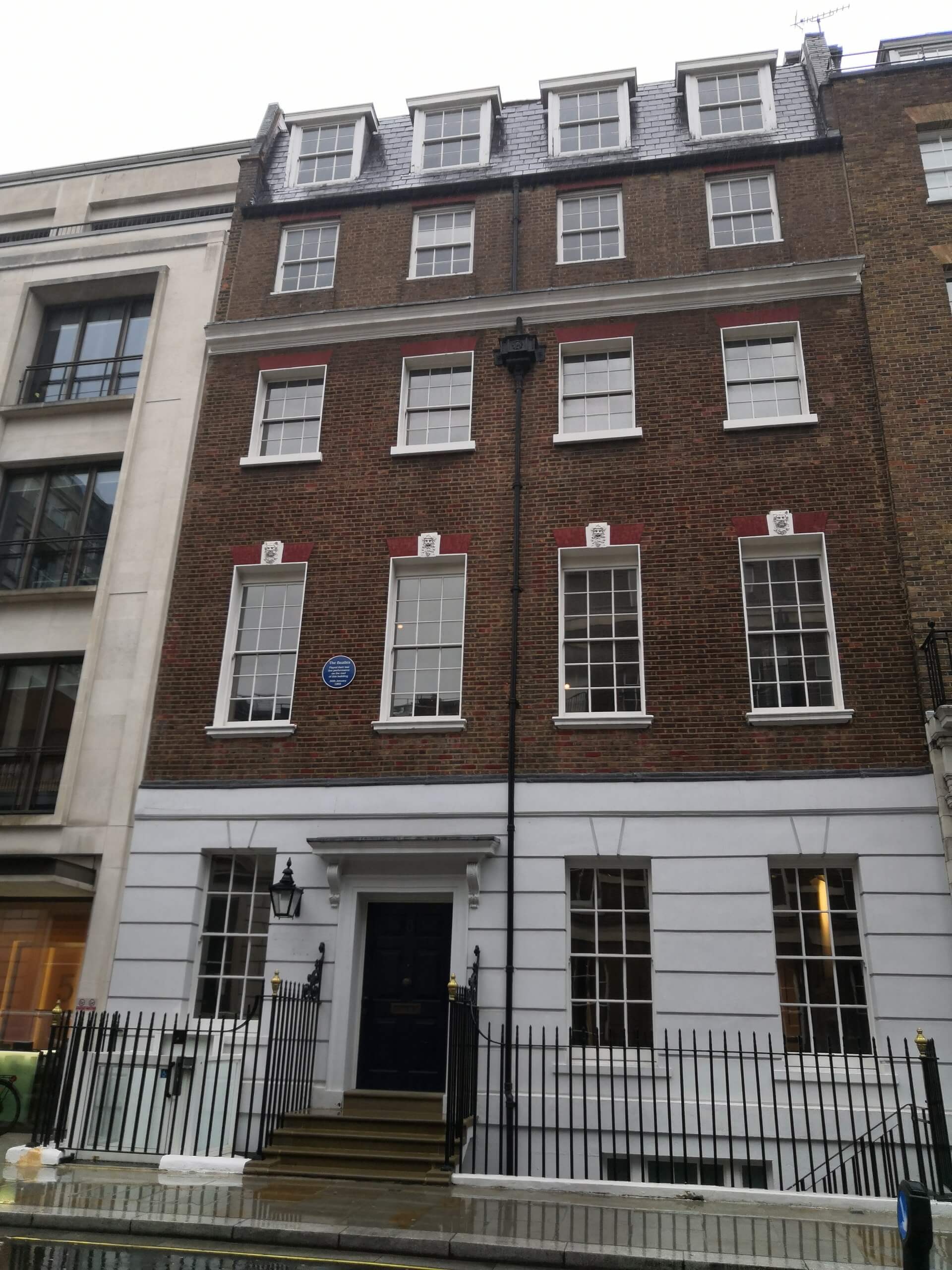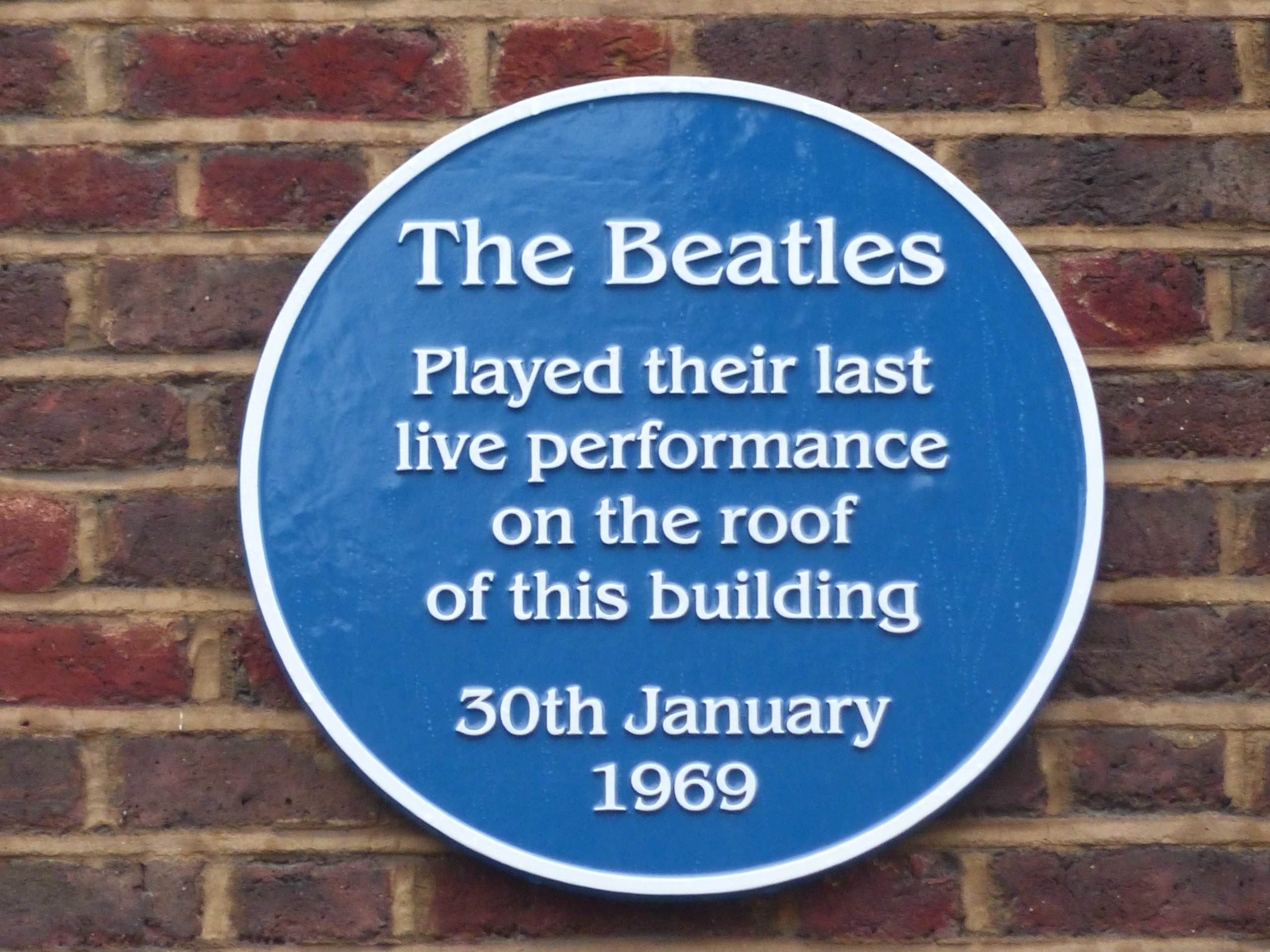 Hard Rock Cafe
Head to the Hard Rock Cafe on Old Park Lane/Piccadilly to see more Beatles Memorabilia. If you go into their shop, there's a free museum below called The Vault where you can see a piano, handwritten lyrics, a pair of John Lennon's glasses and more. Within the restaurant, you can see the drum kit used by Ringo Starr before he joined the Beatles.
Kensington
By November 1963, Lennon had moved out of the Green Street flat with his wife and their son. They moved to a flat at 13 Emperor's Gate, Kensington. It became the scene of frenzied activity, with Beatles fans regularly besieging the building. The block has since been demolished.
Knightsbridge
Whaddon House in William Mews (London SW1X 9HG) is a portered block of flats with secure parking. Knightsbridge has long been a wealthy area; you can rent a flat there today for over £5,000 a month, for example.
But more interesting, this block was where Brian Epstein moved into the top floor apartment in late 1963. Then, not long after, George Harrison and Ringo Starr shared an apartment on the second floor of the same building.
George and Ringo moved out in late 1965, but the building remained famous owing to a legendary party hosted by Epstein in August 1964. Reportedly all four Beatles attended as well as Judy Garland, Mick Jagger and Keith Richards.
Belgravia
Close to Buckingham Palace, Brian Epstein moved to 24 Chapel Street (London SW1X) in December 1964/January 1965.
It was here that the release party for Sgt. Pepper's Lonely Hearts Club Band took place on 19 May 1967. Sadly, it was also here that Brian Epstein died of a drug overdose on 27 August 1967.
Have a look on Google Maps Street View to see the cobbled Grooms Place mews behind.
And do see this photo of the chaps sitting outside the house on the evening of the party: Photo by Jeff Hochberg/Getty Images.
Chelsea
26 Cadogan Square (London SW1) was the office for George Harrison's Handmade Films. The company was set up in 1979 after George Harrison, who had just arrived at Heathrow Airport, met the Monty Python's team who were waiting for a flight to Morocco. They had just been given the news that their film backers were pulling out because of the religious content of the film Life of Brian, which they were about to make. George asked how much they needed to make the film and duly wrote them out a cheque and so started Handmade Films. Ask years later why he had taken such a risk and paid out so much money, he said, "I just wanted to see the film".
Soho
(I lived in Soho, on Ganton Street, just off Carnaby Street, in the early 1990s and passed these locations every day. I wish I'd known these stories back then.)
London Palladium
On 13 October 1963, The Beatles appeared on the famous ITV show Sunday Night at the London Palladium. At that time, there were only two major TV channels – BBC and ITV – and millions of people watched entertainment shows. The female fans at the theatre screamed and screamed, leading the Daily Mail to report on 'Beatlemania' the next day.
NEMS Offices
Brian Epstein's NEMS company (North End Music Stores) had moved from Liverpool to London in 1963, establishing an office at 13 Monmouth Street (London WC2). Then in 1964, the company leased more offices at 5-6 Argyll Street and gradually moved the operation to the new premises. By November 1966, NEMS finally vacated Monmouth Street. A plaque was unveiled at the building on 28 September 2010.
The former NEMS Argyll Street office was in Sutherland House, next door to the Palladium. Epstein was often referred to as the "fifth Beatle", and, ironically, the building is now a Five Guys restaurant.
It was here that John Lennon made his 'bigger than Jesus' remark to Maureen Cleve of the Evening Standard in 1966. The comment caused an uproar, an anti-Beatles backlash in the USA, and ultimately could be seen to leading the band to give up playing live.
The Prince of Wales Theatre
The Prince of Wales Theatre, off Leicester Square, is where John Lennon made his famous introduction to Twist and Shout at the 1963 Royal Variety Show in the presence of Her Majesty the Queen Mother, Princess Margaret and Lord Snowdon.
"We need a bit of help with the next number. Those of you in the cheaper seats clap your hands… The rest of you, just rattle yer jewellery."
Bag O' Nails
Now a private members club, Bag O' Nails at 9 Kingly Street (London W1) was where Paul McCartney first met his future wife, Linda, on 15 May 1967. Opened originally in 1965, this was a hot-spot for musicians to meet and play until the club closed its doors to the public in 1968. Paul was a frequent visitor – he actually had his own private table.
Dougie Millings
At 63 Old Compton Street (London W1), John Lennon asked the tailor for "something different". Dougie Millings & Son created the famous collarless suits and became known the world over as 'The Beatles' Tailor'. Dougie Millings even appeared in A Hard Day's Night as a frustrated tailor.
Trident
17 St Anne's Court (London W1) was the Trident recording studios where The Beatles recorded many songs, including Hey Jude. Separately, Ringo Starr, George Harrison and Paul McCartney all recorded music here in their respective solo careers.
Blue Gardenia
And at 20 St Anne's Court (London W1) was the former Blue Gardenia Club. Apparently, this is where The Beatles did their first-ever London performance. The story goes that is was all unplanned, but they had heard from their van driver that the club was open late and might have an empty stage that needed filling. Not all four Beatles were present – George Harrison was at home with the flu – and they weren't paid as they were still unknown.
Broadwick Street
On 27 November 1966, John Lennon dressed as a Public Lavatory Commissionaire during the filming of the Not Only…But Also Christmas Special, starring Peter Cook and Dudley Moore. He is seen outside a public convenience on Broadwick Street.
Marylebone
Wimpole Street
In the 1960s, 57 Wimpole Street (London W1G 8YW) was Paul's then-girlfriend Jane Asher's family home. Jane's father was Sir Richard Asher, an eminent psychiatrist. (He named Munchausen syndrome in 1951 – a psychological disorder where someone pretends to be ill.)
The family home was above Sir Richard Asher's private consulting rooms on the top floor. Paul McCartney lived there with Jane and her family from 1964 to 1966. It must have been quite a difficult time for the family as Sir Richard Asher gave up his post as senior physician responsible for the mental observation ward at the Central Middlesex Hospital in 1964 as he suffered from depression. He later committed suicide in 1969.
Paul's Beatles song Yesterday has been covered by over 2,200 artists – more than any other song in the history of recorded music. He wrote the song in 1965 while living at 57 Wimpole Street. He famously woke up from a dream with the tune in his head and wrote it down using the lyrics "Scrambled eggs, oh my baby how I love your legs…" as a kind of lyrical placeholder.
This was also where Paul and John composed I Want to Hold Your Hand.
(I've also lived on Wimpole Street and, again, never knew Paul McCartney had been a local resident.)
Montagu Square
Ringo Starr took a lease on the ground-floor and basement of 34 Montagu Square (London W1H) in 1965 but only lived there briefly. Brian Epstein's accountant suggested that the group members should move to houses near his, in Esher. On 24 July 1965, Starr bought Sunny Heights in Weybridge, Surrey but retained the lease on the Montagu Square flats and rented it to his friends.
Paul McCartney recorded several demos here, including I'm Looking Through You, and worked on various compositions, including Eleanor Rigby. With the help of Ian Sommerville, he converted the flat to a studio for Apple Corps' avant-garde Zapple label, recording William S. Burroughs for spoken-word Zapple albums.
After McCartney gave up the flat, it remained empty until Starr sub-let it to Jimi Hendrix with his girlfriend, Kathy Etchingham, and Chas Chandler, his manager, and her girlfriend Lotta Null, in December 1966. It was a seminal time in Hendrix's career. He wrote The Wind Cries Mary while living here about an argument with his girlfriend (Kathy's middle name is Mary). And he released Purple Haze in March 1967, the same year he played at the Monterey Pop Festival after Paul McCartney recommended him. Unfortunately, while tripping on LSD, Hendrix threw whitewash over the walls, so he was evicted. (You can see some great photos of Hendrix in the flat in this article before the 'redecorating' incident.)
John Lennon had also moved out of London to Surrey but came back to London to live at the Montagu Square basement flat in 1968 with his girlfriend, Yoko Ono. Lennon had met the Japanese artist at the end of 1966, and they were lovers by May 1968.
Lennon's move to Montagu Square came at a time of personal and artistic change. The Beatles' album Sergeant Pepper's Lonely Hearts Club Band – often regarded as an early 'concept album' – had provided the anthem for 1967's 'summer of love' while Lennon himself had been turning from hallucinogenic drugs to transcendental meditation.
The couple only lived there for a few months in 1968, but during that time, Lennon was creatively very active working on The White Album as well as on early collaborations with Ono. It was at 34 Montagu Square that the famous nude photograph of John and Yoko was taken for the Two Virgins album cover – one which EMI refused to distribute. The home was notoriously a constant mess as the couple lived on "a diet of champagne, caviar and heroin".
On 18 October 1968, the flat was raided by police. Lennon had been warned, so they only found traces of cannabis. He was subsequently convicted for possession of the drug on 28 November 1968, six days after The White Album was released.
The landlord of the property sought an injunction against Starr to prevent it from being used for anything untoward or illegal. Starr sold the lease in February 1969.
34 and the adjoining 33 Montagu Square have been Grade II listed on the National Heritage List for England since December 1987. In 2010, Yoko Ono unveiled a blue plaque making it a 'building of historical interest'. She referred to his time at the flat as one which "spawned so much of his great music and great art".
Marylebone Magistrates' Court
Following his arrest for possession of cannabis, John Lennon appeared at Marylebone Magistrates' Court on Thursday 28 November 1968. He pleaded guilty, taking sole responsibility in order to protect Yoko Ono as she had recently suffered a miscarriage. He was also concerned that if they both fought the charges and lost, Ono may have been deported.
Lennon's solicitor, Martin Polden, told the court that Ono had recently lost their baby and declared that Lennon had renounced drugs after becoming a devotee of Maharishi Mahesh Yogi the previous year. He also pleaded that the Beatle had "given pleasure to millions" through his music.
The magistrate quashed the charge of obstruction to justice and fined Lennon £150 plus court costs. Lennon was also warned that if he was found guilty again of a similar offence, he risked a custodial sentence. (See photo by Rolls Press/Popperfoto via Getty Images/Getty Images.)
Marylebone Registry Office
There were happier occasions in Marylebone, though as the Marylebone Registry Office (97-113 Marylebone Road, W1) was where Paul McCartney was married twice. The first was when he married Linda Eastman in 1969 and then his third marriage – to Nancy Shevell – took place here in 2011. Ringo Starr married his second wife, Barbara Bach, here in 1981.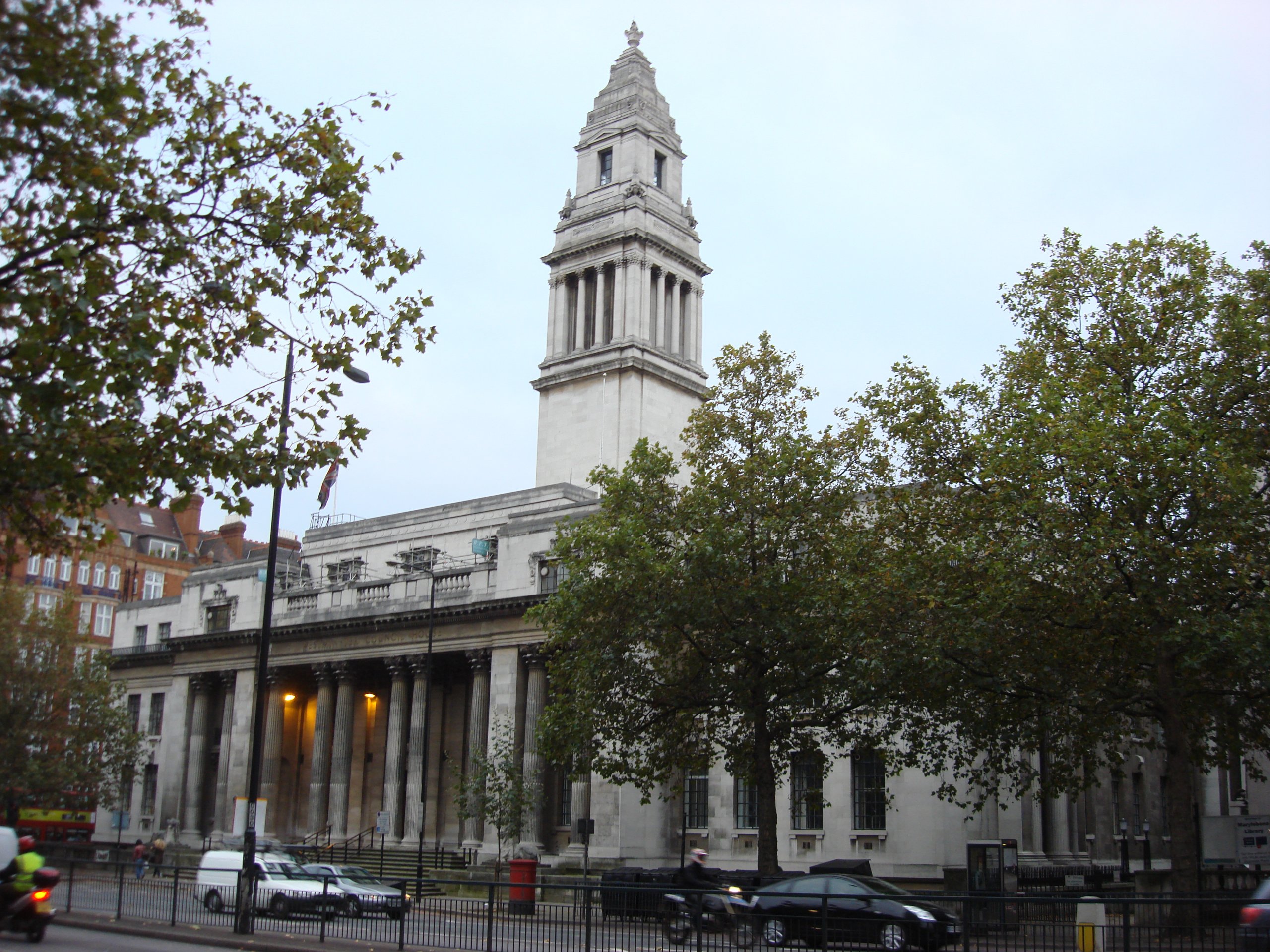 Apple Boutique
This Beatles clothing store was a commercial failure. The shop was open from December 1967 to July 1968 and lost more than £200,000. Both John Lennon and George Harrison are commemorated with a blue plaque at the site of the Apple Boutique (94 Baker Street, London W1U 6FZ). 94 Baker Street, on the corner of Paddington Street, also acted as a temporary headquarters for Apple Corps while their offices at 3 Savile Row were being prepared for occupation.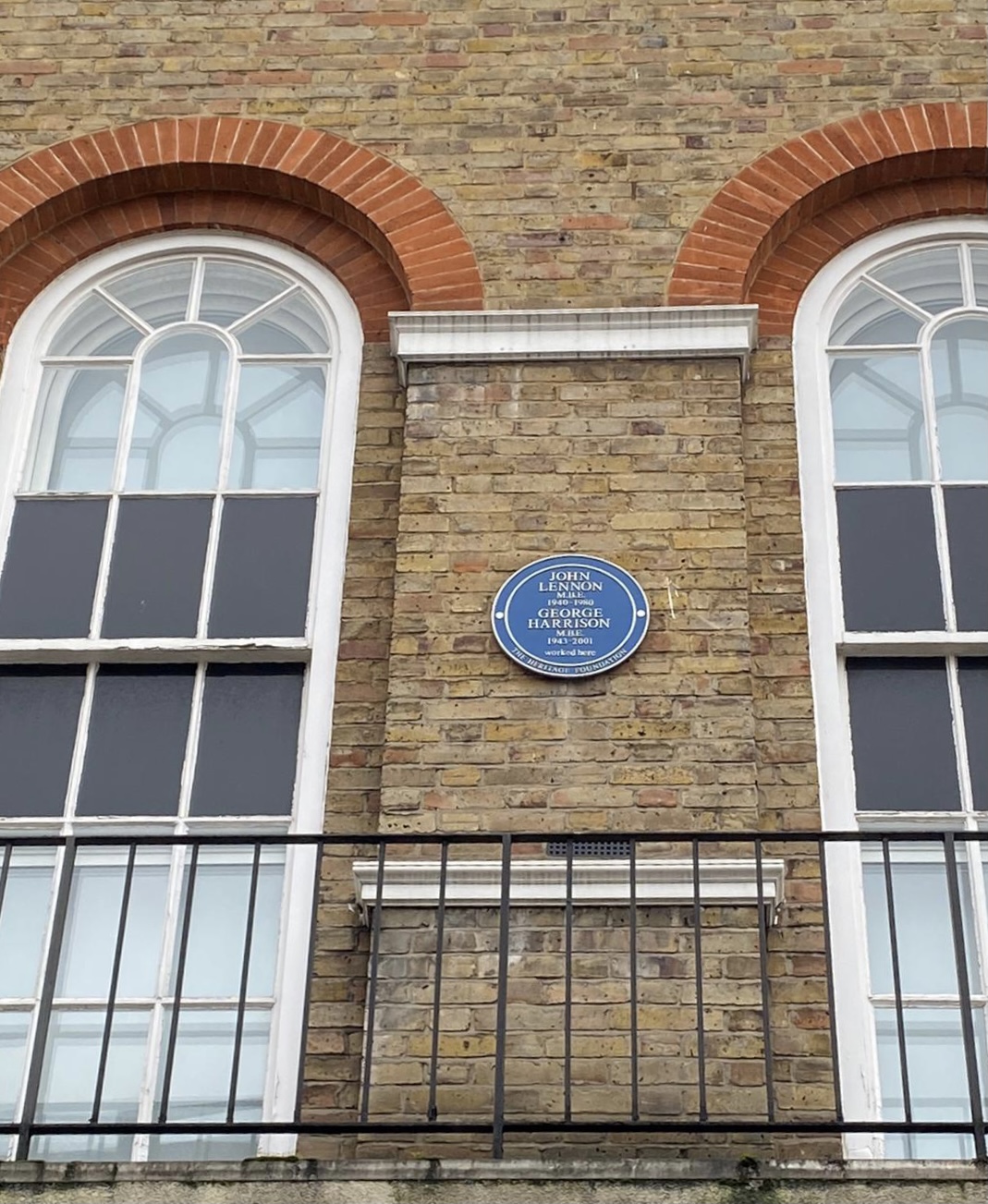 The band hired a design collective called The Fool to design the boutique. (The Fool also lived at Ringo Starr's flat at 34 Montagu Square at one time.) They painted a massive brightly-coloured psychedelic mural on the exterior of the building, which led to numerous complaints by the neighbours. Westminster Council had not given permission for the mural, so ordered it to be painted over. It was replaced with the word 'Apple' in cursive script on the newly whitewashed building.
When the boutique opened, McCartney said that is was "a beautiful place where beautiful people can buy beautiful things". There was hope this was the start of a chain of shops in many more locations. Sadly, this never happened as the venture into retail was not a success. Apparently, when the shop closed, John, Yoko and friends took all they wanted and then left the door open for passers-by to take what they wanted for free. The masses descended, and the police had to be called to restore order.
The 18th-century building was demolished in 1974 and replaced with an office building, taller than the original, with incorrectly proportioned neo-Georgian facades.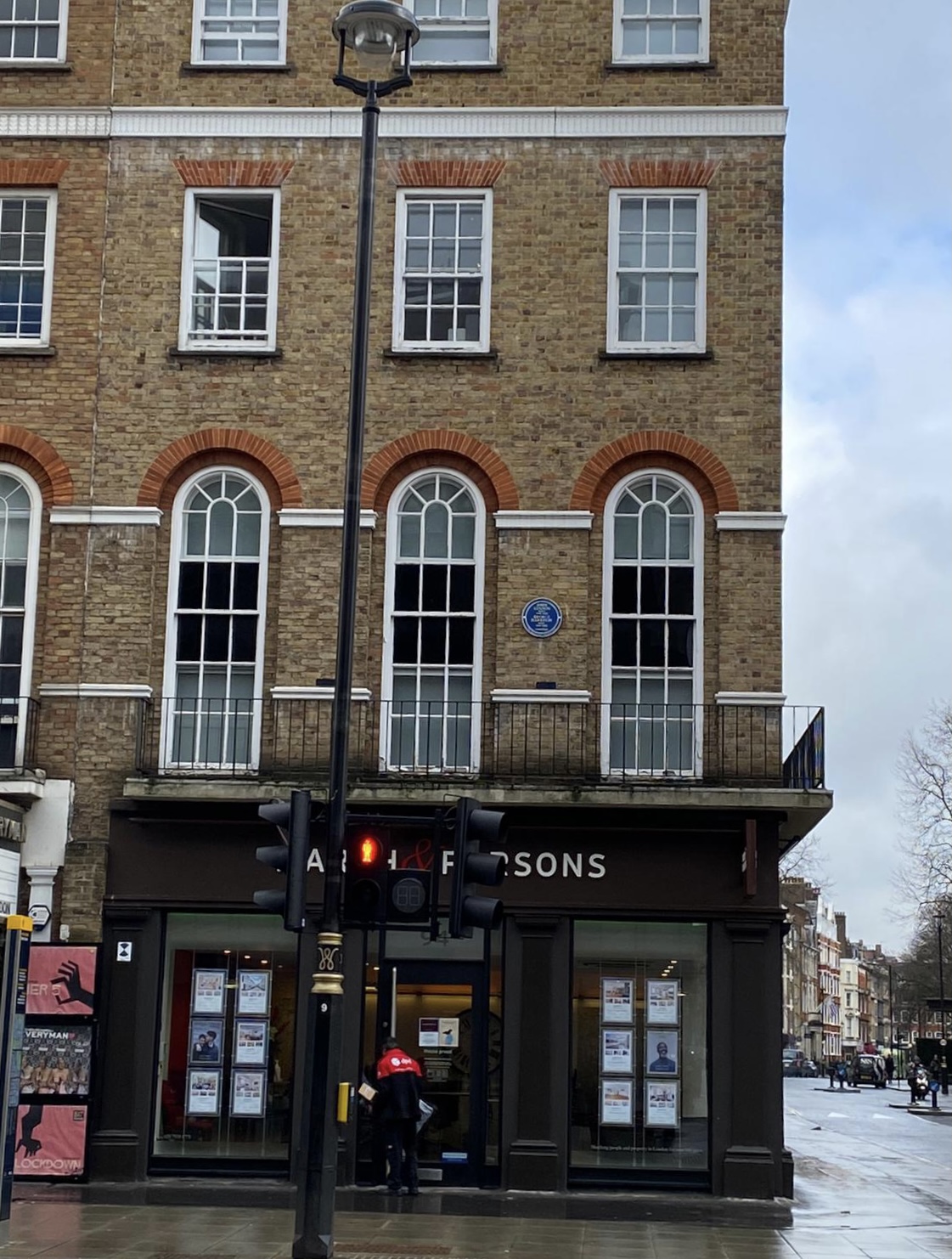 The Museum of London has a dress from the store on display and a few other items in the collection.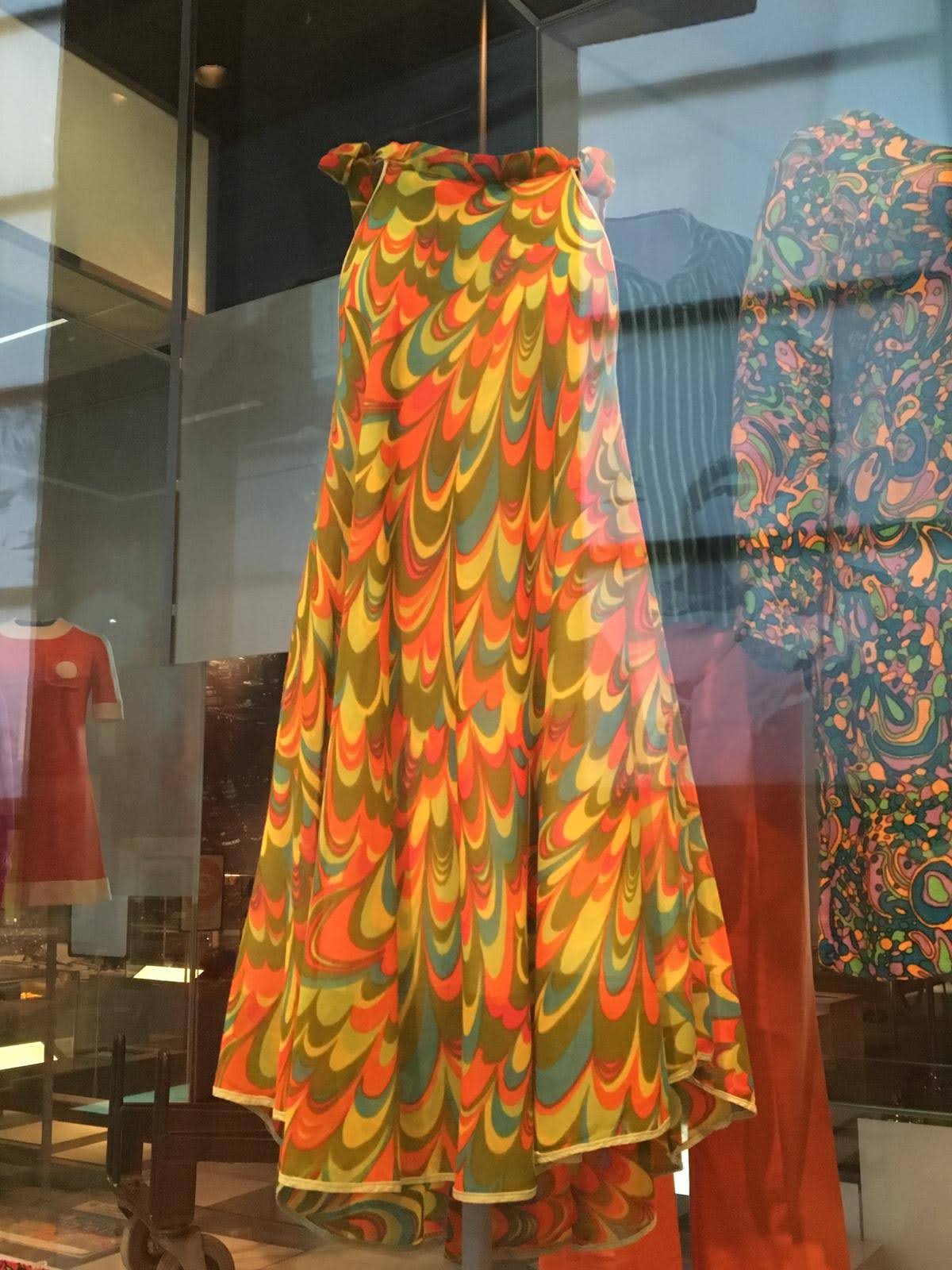 London Beatles Store
If you are looking to buy Beatles souvenirs, head to the London Beatles Store (231/233 Baker Street, London NW1 6XE). The shop stocks rare collectors' items but also lots of well-priced goodies, from keyrings and posters to postcards and clothing.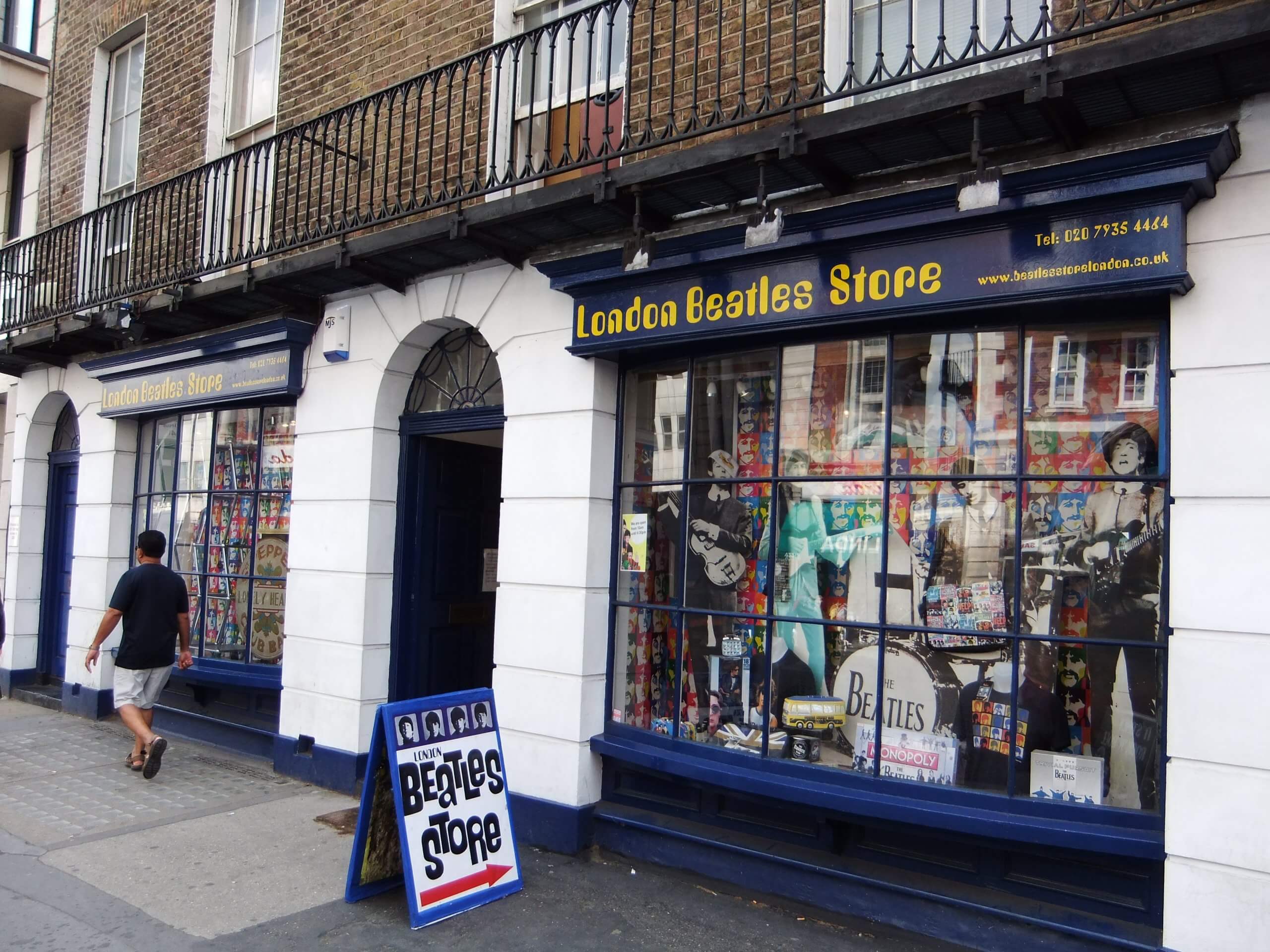 Marylebone Station
During the opening scenes of the film A Hard Day's Night, you can see The Beatles running down Boston Place, on the eastern side of the station, and then into Marylebone Station. The scenes were filmed on 5 April 1964 and the following Sunday as the station was always closed on Sundays. (See Photo by Mark and Colleen Hayward/Redferns)
On the first day, over a hundred fans were filmed chasing after The Beatles. George Harrison fell over, and although it was completely unintentional, the trip was kept in the final version of the film. On the second Sunday, The Beatles acted in the empty station without the crowds.
Manchester Square
From 1960–1995, 20 Manchester Square (London W1) was the EMI headquarters.
Inside the building, the Beatles received several awards from EMI owing to their record-breaking sales, which means the doorways here have seen the footsteps of the Beatles dozens of times. The stairwell featured on the cover of the Please Please Me album was inside this building. Other photographs of the group taken inside the offices were used in The Red Album and The Blue Album.
St John's Wood
Abbey Road Studios
Still operating today, Abbey Road Studios has been recording studios since the 1930s. The Beatles recorded almost all of their albums and hits here between 1962 and 1970. They named their 1969 album Abbey Road after the street where the studio is located. After that, the studio was renamed Abbey Road Studios.
Only recording artists can go inside, but you can stop at the famous zebra crossing, the studio gift shop or leave a scrawled message on their graffiti wall.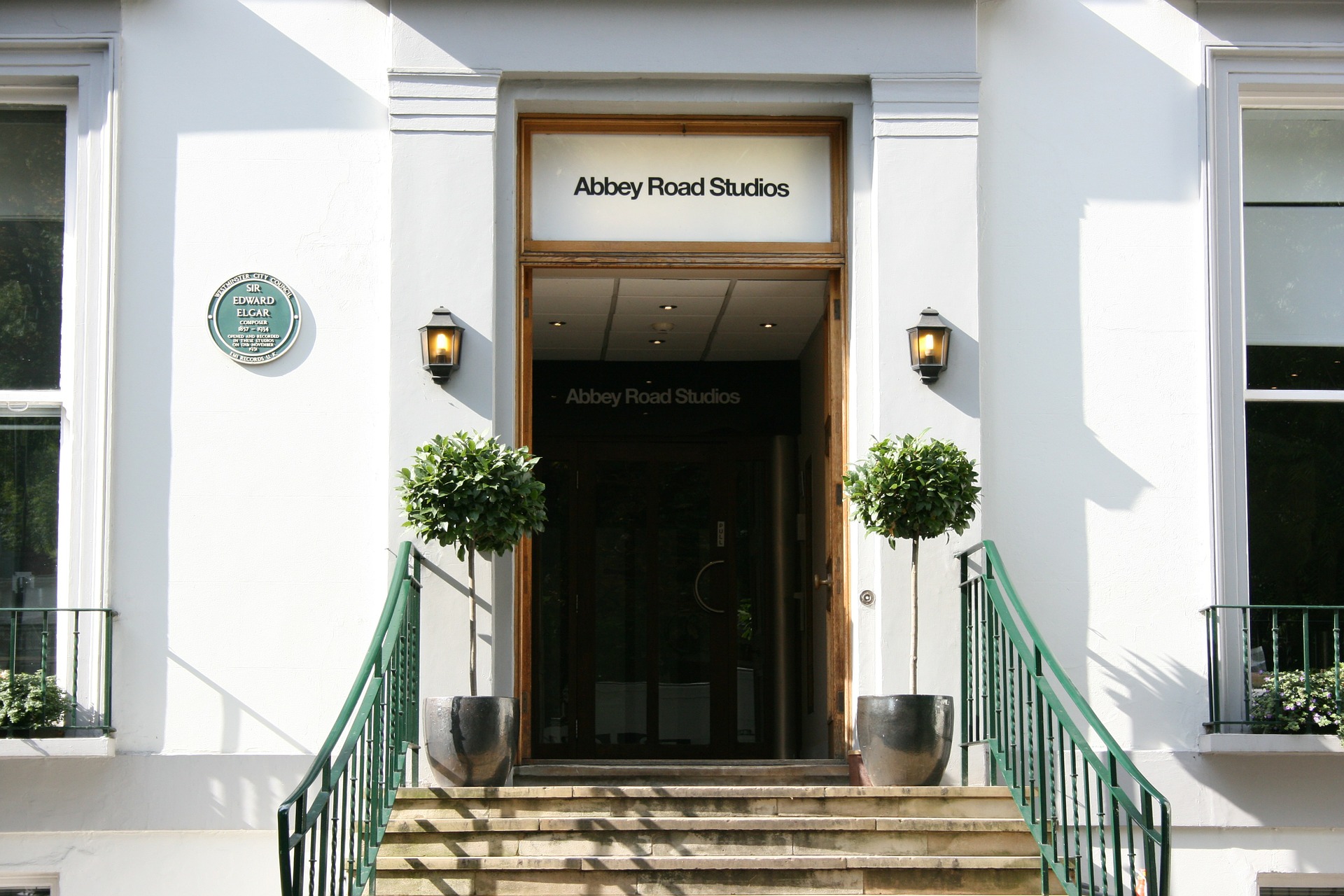 Abbey Road crossing
Abbey Road Studios kindly has a 24-hour webcam of the famous road crossing so you can see where the iconic photograph that adorns the cover of their 11th studio album was taken on Abbey Road.
The Beatles' photographer, Ian Macmillan, arranged for the road to be closed by police for just 10 minutes. He stood on a stepladder and took less than ten photos. Ultimately, Paul McCartney chose the image.
Abbey Road zebra crossing is a real pedestrian road crossing. Do be aware, it is a busy road, and car drivers get fed up with the inevitable hoards of tourists all getting photos of themselves crossing the road.
A Highways Maintenance team took advantage of the national lockdown to re-paint the iconic Abbey Road crossing on 24 March 2020. (See photo by Leon Neal/Getty Images.)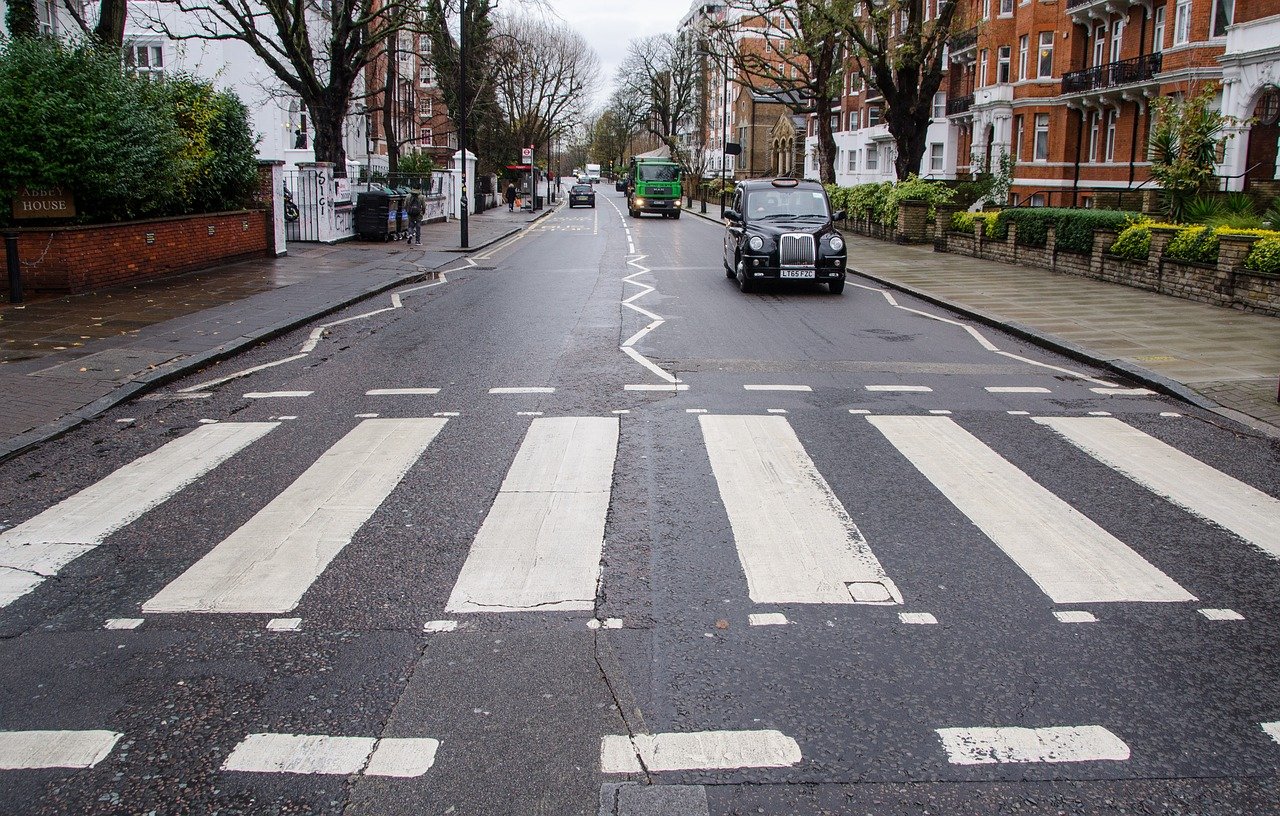 TfL (Transport for London) staff at the DLR (Docklands Light Railway) Abbey Road station in east London arranged for this poster to be made to help confused tourists.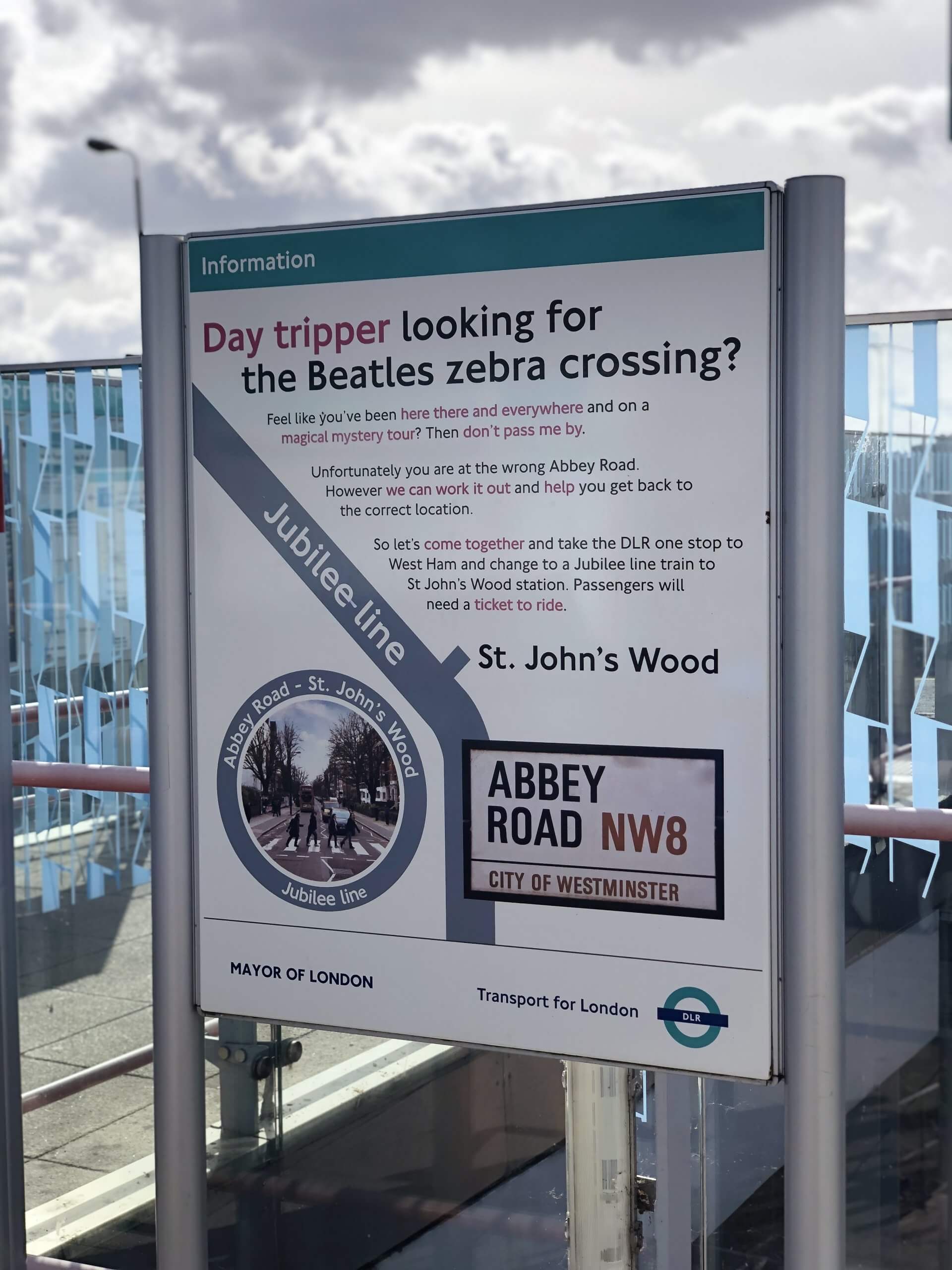 Paul's McCartney's Home
In April 1965, Paul McCartney bought a three-storey Regency townhouse at 7 Cavendish Avenue (London NW8 0JG). He paid £40,000 and still lives there when in London. It is within walking distance of Abbey Road Studios, so the band frequently came together here as a meeting place before and after recording.
A large gate and a security intercom system were soon added as Beatles fans often waited outside, hoping to see their idol.
And Lastly…
For no other reason than I loved this shot, here's Piccadilly Circus from August 1968 with an advert for Yellow Submarine on the right.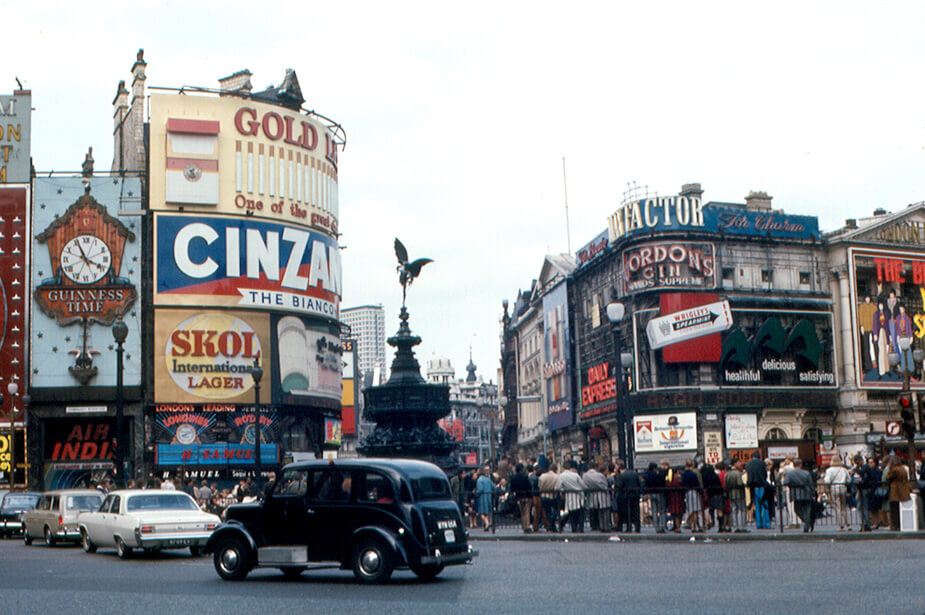 So, I've found lots of places where The Beatles have been in London. Do you know more? Please do add them in the Comments section below. And do see John Rabon's list of Five London Locations for Beatles Fans also on Londontopia.