Marylebone earned its name from a church located there on the bank of a stream (also known as a "borne"), becoming first St. Mary at the Bourne and then through settle iterations before settling on the current name for the district.  Part of the City of Westminster, it is naturally a very affluent part of London and certainly has many great places to visit.  No matter whether you're looking for history, food, fun, or a mystery, you can find it all in Marylebone.  We've identified our top ten favorite things to do in the neighborhood and you can let us know your own favorites in the comments.
Park Square/Crescent
Your gateway to the adjacent Regents Park, Park Square and Crescent are two smaller parks just outside the Regents Park Underground Station.  The Crescent is home to some beautiful stucco houses designed by famed architect John Nash.  Park Square, meanwhile, is surrounded by even more houses designed by Nash.  The park itself, unfortunately, is private, so you'll have to content yourself with looking from the outside before heading into Regents Park.
Everyman Cinema
Part of a chain of independent cinemas, Everyman in Baker Street is a cozy movie venue with a cocktail bar.  The theater itself is perfect for date night, with one of its screening rooms featuring love seats instead of the traditional cinema seating.  The theater also shows a mixture of independent films, blockbusters, and beloved classics, so be sure to check out the schedule before you go.
Farmers Market
Taking place in the Cramers Street car park every Sunday from 10 AM to 2 PM, the Marylebone Farmers Market is one of London Farmers Markets flagship locations with over 40 stalls selling fresh fruit, meat, veggies, bread, and more.  Naturally, what is available depends on the season, so you'll want to keep that in mind as you search for something to make dinner.
Daunt Books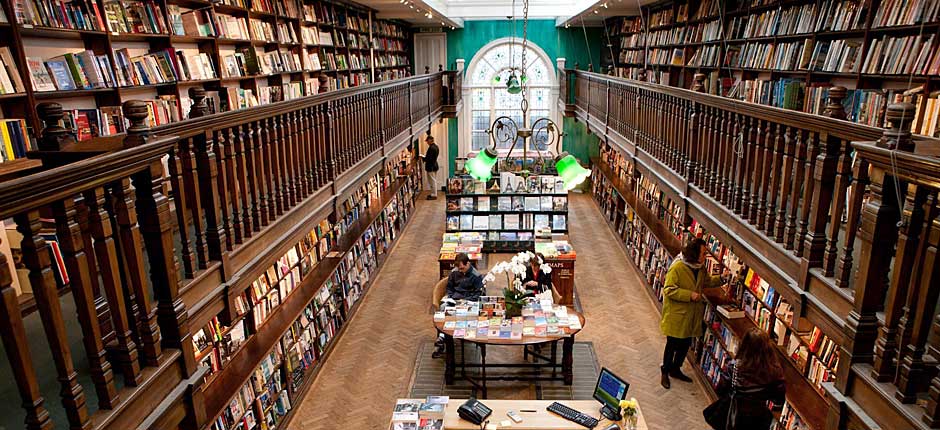 Daunt Books is a must-visit for any bibliophile.  With its old wood interior and large collection, the Marylebone location of this small London chain is mostly known for travel books, though it does carry other tomes for you to peruse.  Of course, it's not just the books you'll want to marvel at while you're there, as the three-leveled shop is absolutely gorgeous.
Madame Tussauds
You might not be able to hang out with real celebrities, but at Madame Tussauds, you can get the next best thing as you pose with some of the most incredible wax likenesses around.  Known the world over, Marie Tussaud established her first exhibition of waxwork figures right in this location on Baker Street and it has been a top London attraction ever since.
Wigmore Hall
If you're into classical music, there are few better locations to catch a quick concert in London than Wigmore Hall, which hosts close to 400 events per year.  As such, Wigmore often has many chamber music or solo performances and you can hear some of the world's best musicians on its stage.  If you're under 35, they sell £5 tickets so you don't have to miss out on the culture.
Wallace Collection
For a different artform, you can check out the Wallace Collection, housed in a grand 18th Century home and free to the public.  Hertford House, where the collection is located, has 25 galleries full of paintings that you can wander at your leisure.  If that's not enough, they also offer lectures and art classes so you can learn to paint like a pro.
BBC Broadcasting House
While Television Centre mostly shut down a few years ago to become a new mixed-used development, a large portion of the productions moved over to Broadcasting House.  The building was purpose-built for the BBC's radio broadcasts in the 1930s, but now houses radio and television both.  Unfortunately, Broadcasting House no longer offers tours, but this Grade II listed structure is still wondrous to behold from the outside.
Sherlock Holmes Museum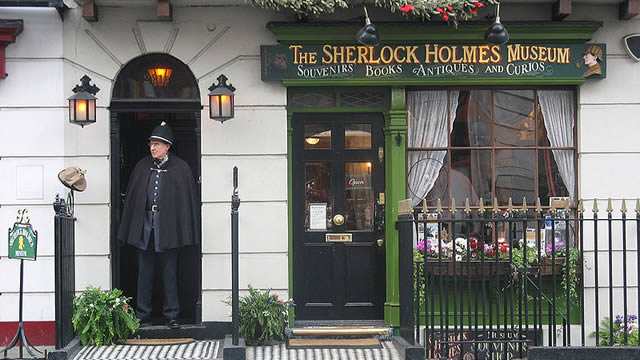 While Sherlock Holmes is fictional, you can still visit a museum dedicated to his life and casework at the real 221B Baker Street.  Originally Baker Street didn't extend that far, and after it was extended, the 221 designation went to another Abbey National until the Museum was granted the number exclusively by the Council (and after Abbey National moved from Baker Street).  The museum has a wonderful collection of artefacts and the rooms are done up just as Doyle described them in his books.
Selfridges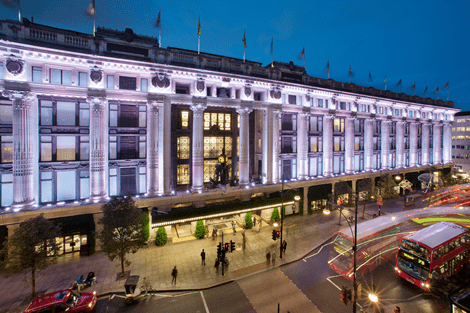 One of London's grandest department stores, Selfridges is celebrating its 110th anniversary this year after it was founded by Harry Gordon Selfridge in 1908.  Home of the phrase, "The customer is always right", Selfridges prides itself on being able to sell or find whatever its customers might want.  With a grocery store, clothing, toys, tech, and more, it's unlikely you won't find what you're looking for in this historic structure.  The window displays are also a major draw, especially around Christmastime, so be sure to check them out even if you don't go inside.