Home is where the heart is, and some hearts are a bit odd. Similarly, the homes of interesting people can themselves be pretty interesting. Whether it's a unique interior design, a bizarre structure, or a renovation of a building not meant to be a home, a home can become something more than a place where you live. In a city as large as London, there are several houses and flats that qualify as unique and strange. Have a look below at just five of these places and imagine yourself living there.
1. 19th Century Water Tower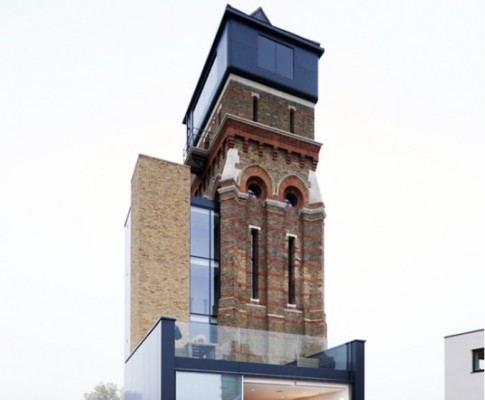 With the advent of modern plumbing, water towers became less necessary and eventually became disused buildings. Leigh Osborne and his partner Graham Voce transformed an old water tower in Kennington into a nine-story modern home. Renovation work was extensive since the tower was a Grade II listed building and each level within the tower itself has about one room. The cast-iron tank at the top was converted into an observation room with 360-degree views of the city. Another interesting feature, the tower boasts the apparently largest sliding glass doors in the UK and the owners were hoping to sell it for a few million pounds.
2. Tiffany Heights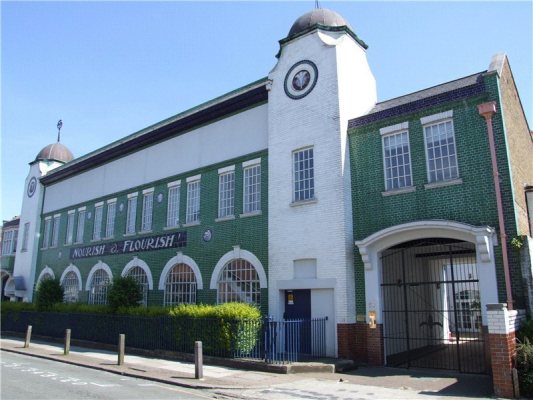 Located in Southfields, there's a building of flats in what used to be the Frame Foods factory. Frame Foods mainly produced baby food and their factory building (built between 1903-1904) has a distinctive nouveau art style with a green façade and the company's logo "Nourish & Flourish" still on the side of the building. The interior of the flats (at least one or two are for sale) is quite modern by contrast and the building is a gated community with off-street parking. It also has two large terraces that overlook Coronation Gardens.
3. Container City I & II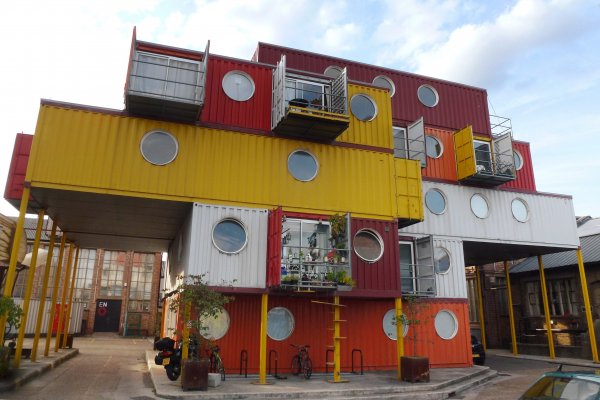 Much like Sam Flynn's home in Tron: Legacy, Container City I & II are a block of flats designed to be environmentally friendly by taking old industrial containers and converting them into livable spaces. It took only five months to build Container City I at Trinity Bouy Wharf, which houses both living spaces and work spaces. It is connected to Container City II, which acts mostly as studios for artists. There are fourteen units in I and 80% of the building was made from recycled materials. The Container City company now uses their construction methods to create not only flats, but also classrooms and office buildings.
4. The Thin House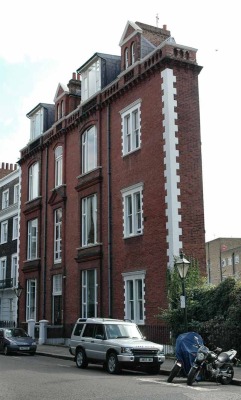 The Thin House at No. 5 South Terrace and Turloe Square in Knightsbridge earns its name by being only seven feet wide at its skinniest point. The adjacent railway line forced it to be constructed this way, which borders the back end of the house. Looking at it one way, it provides a great optical illusion, appearing almost two-dimensional. If you find yourself in Knightsbridge, it's worth checking out one of the area's more-interesting tourist attractions.
5. Strange House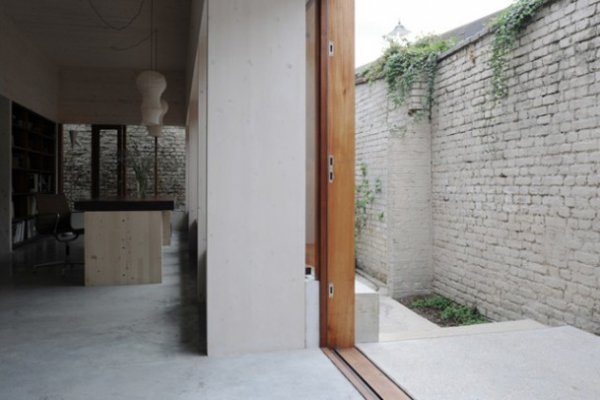 Appropriately named because of designer Hugh Strange, it is surrounded by brick walls and part of it used to be a pub yard. It took Mr. Strange several years to get the permits to build on what was an abandoned lot. The interior is about 807 square feet while the walls and ceilings are paneled in a pale wood from Nicaragua, re-using trees that were felled by a hurricane. The small area means the kitchen, dining, and living rooms are all essentially one space. Completed in 2011, it acts as a hideaway home in the space-conscious city. Its design won Mr. Strange a Royal Institute of British Architects aware in 2011.