There are 270 functioning stations across the 249 miles of Transport for London network. But more interesting to us for this article are the 40+ Overground and Underground stations still in existence that are no longer used for travel. Some people refer to these simply as abandoned stations and others use the name 'ghost stations' (my preferred name choice). All refer to stations that are closed to passengers.
Some are recognisable as stations at ground level and may still have tunnels hidden away underground. (Actually, most central London underground stations have some form of disused space as so many changes have happened as the network became unified.) And some leave little trace above ground such as Hampstead's Bull & Bush station (sometimes called North End station) which didn't even get to open. This is the type of 'ghost station' it's fun to spot while on a tube train. Look out of the window between Hampstead and Golders Green on the Northern line for a glimpse of this never-opened station.
Euston station in 2018. This was due to be demolished for the HS2 rail project.
Oldest in the World
As a reminder, London Underground is the oldest subterranean railway network in the world. (The first line opened between Paddington and Farringdon in 1863.) Most of the lines were opened individually by competing private companies so there was no coordination or profitable desire to build stations useful for other lines.
Stations closed for many reasons: maybe they merged with another nearby station to bring two lines together, lines were rerouted, they were too small for the huge number of passengers or there were low passenger numbers.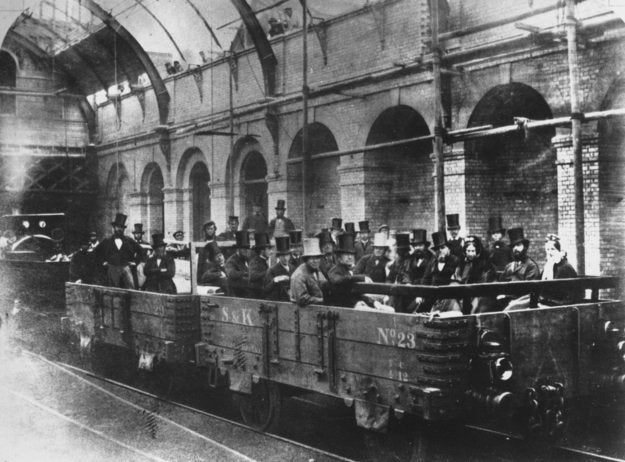 Hidden London
The London Transport Museum run Hidden London tours and the Londontopia/Anglotopia team have been on most of them!
In 2017, Jonathan explored Aldwych station. The station was called Strand until May 1915 when it became Aldwych. It closed in 1994 (the elevators needed to be replaced and the cost of doing so exceeded the profits generated by passengers using the station) and it is now used as a film location. (I've been on this tour too.)
I visited Clapham South in 2018 and discovered the connection to the passengers who came from the Caribbean on the Windrush after World War Two to assist with labour shortages. I've also been to the hidden tunnels at Euston station (fabulous 1960s advertising posters still survive there), and to Down Street station (closed in 1932) where the wartime offices of railway authorities also gave safe working space to Winston Churchill. And the first issue of the Londontopia magazine had my write-up of the disused areas of Charing Cross station which included a walk under Trafalgar Square. (The Jubilee line separate station closed in 1999.)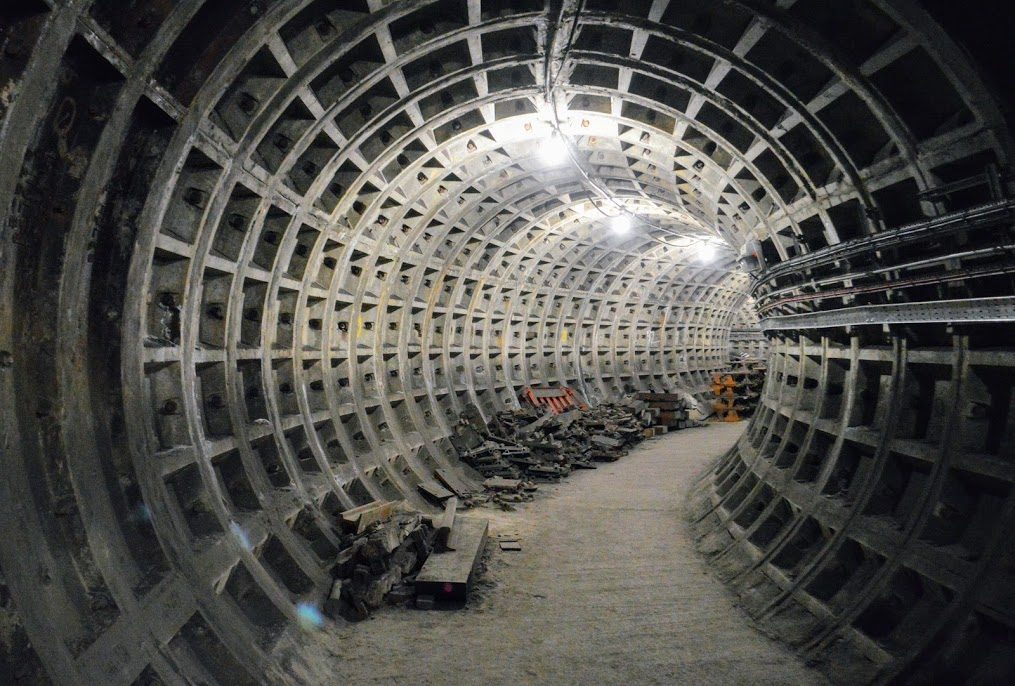 At the moment, the museum has virtual tours but, rather excitingly, the stations available are ones which they haven't been able to offer 'in real life' before. Zoom tours of Brompton Road and King William Street are available until the of October 2020.
The London Transport Museum in Covent Garden is open and the special exhibition is the award-winning Hidden London exhibition which gives the feeling is visiting an abandoned station without needing to wait for one of the special tours.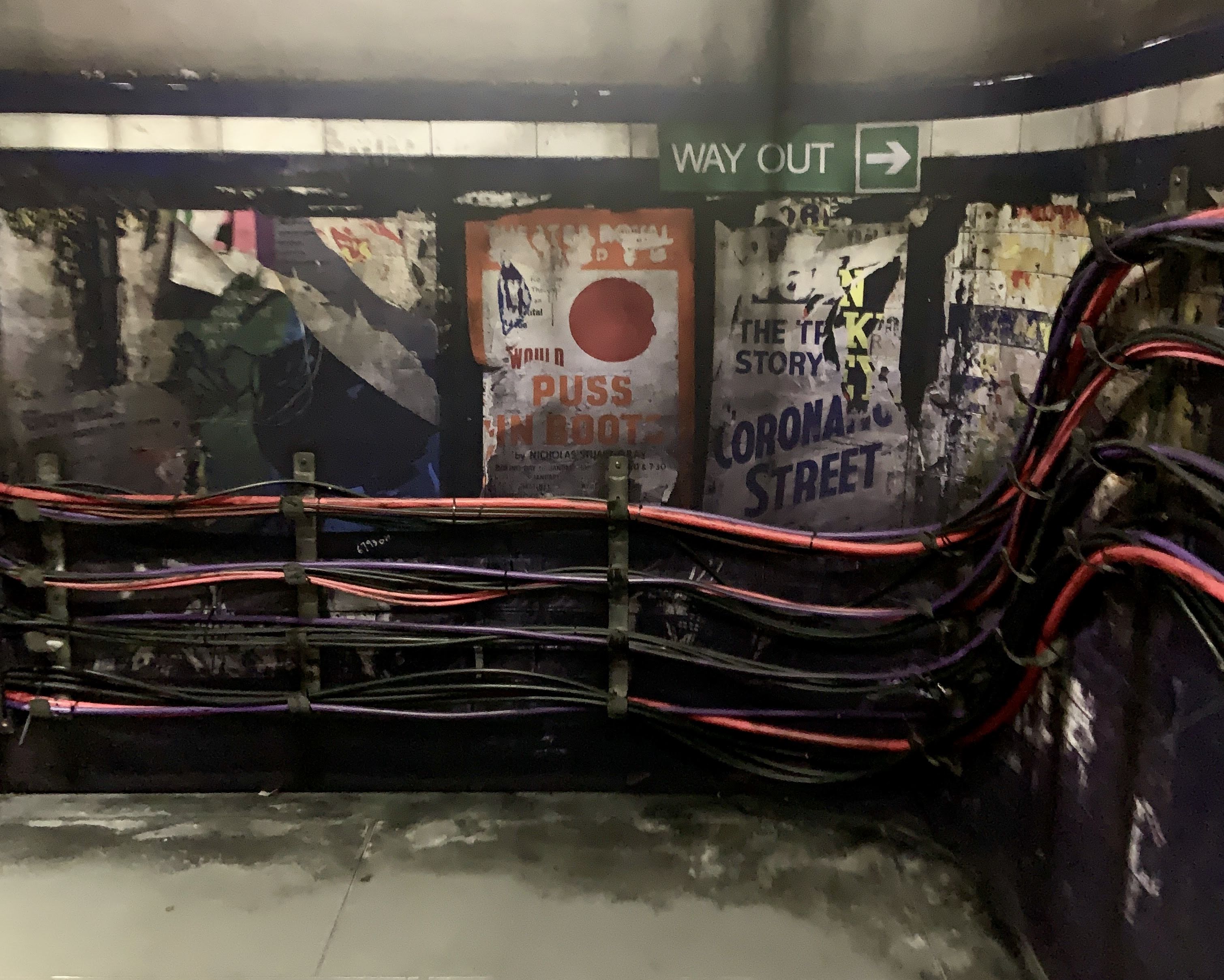 Air Raid Shelters
During the German bombing in 1940 known as The Blitz, more than 100,000 people were sheltering each night at 83 stations across the network.
As well as sheltering people, Aldwych station was used during the First World War to house treasures from the National Gallery's collection and during the Second World War to house artefacts from the British Museum, including the Elgin Marbles.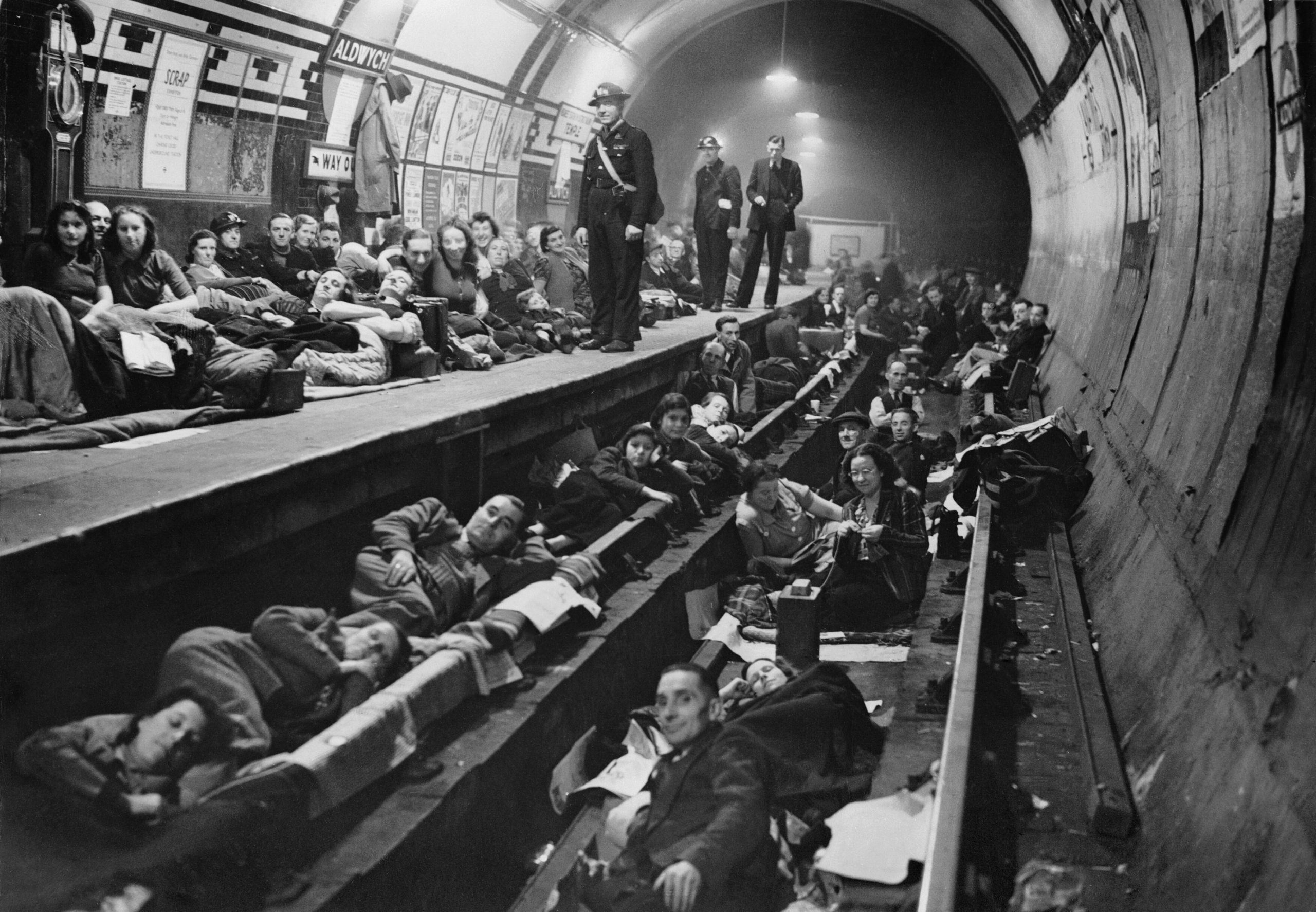 Not All Closed a Long Time Ago
Not all of the abandoned stations closed in the distant past as I remember Aldwych shutting in September 1994. Ongar and North Weald stations at the Essex-end of the Central line closed on the same day.
The Jubilee line's separate Charing Cross station only closed in 1999. This is the other main filming location for TfL (Transport for London). While Aldwych is great as an old-fashioned location, Charing Cross is used for modern tube location scenes.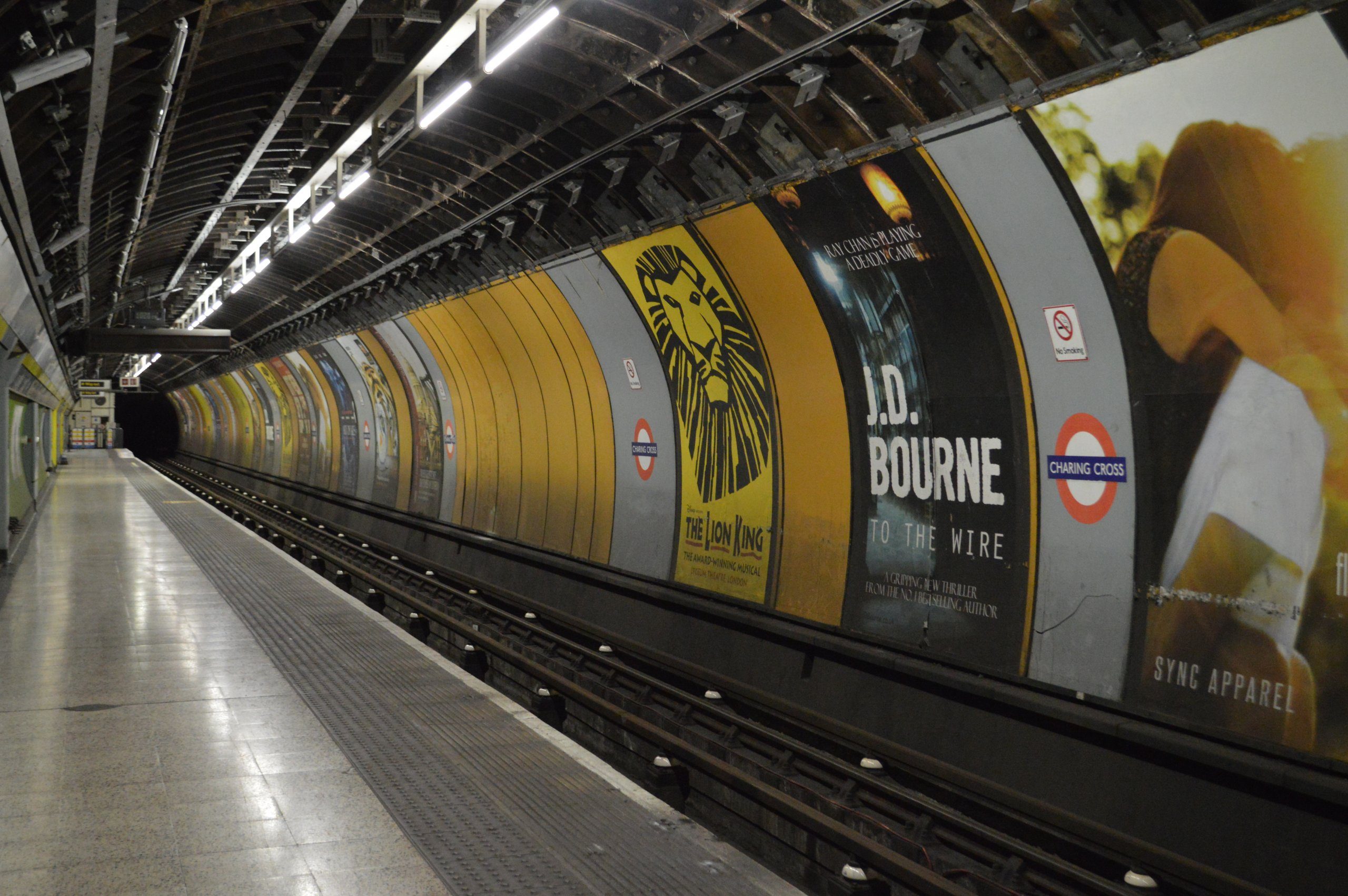 Short and Long-Lived
Some stations only had a short lifetime such as King William Street station on the City & South London Railway line which lasted just 10 years from 1890 to 1900. But Ongar station had survived for 129 years until its rural location was removed from the tube map.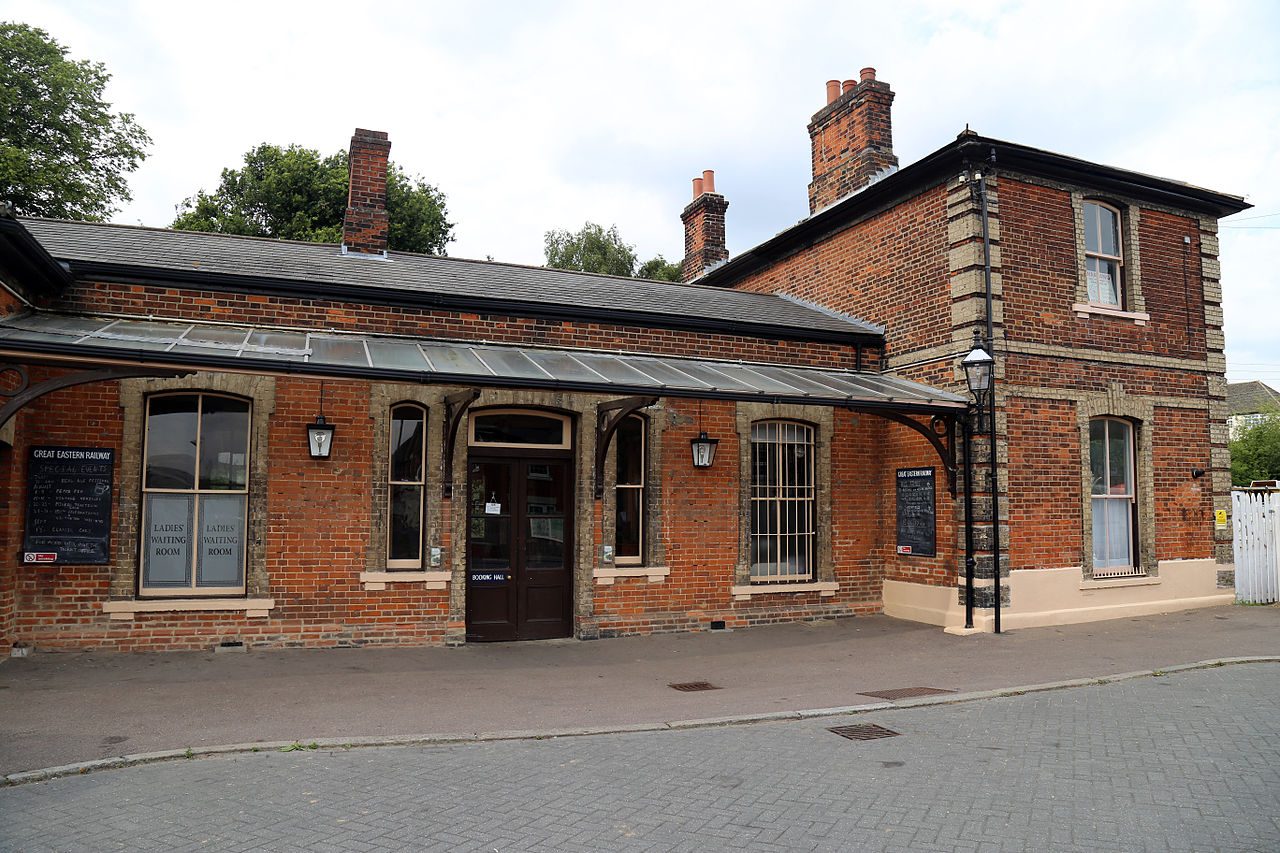 You can now take steam train rides on the Epping Ongar Railway. It's the longest heritage railway in Essex and the only heritage line that runs on a former part of the tube network. They even collect you from Epping station in a vintage bus so it's easy to reach.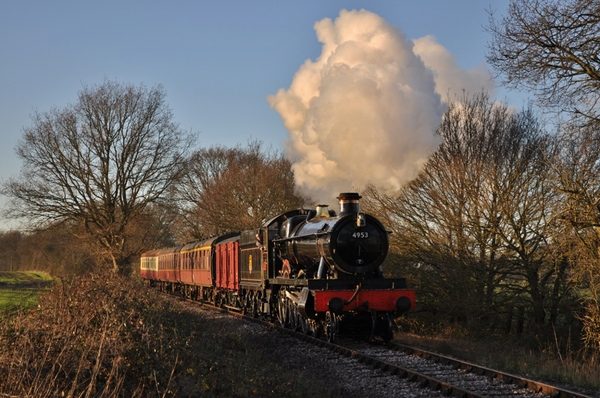 Blake Hall
Blake Hall was on the Epping-Ongar section of the Central line. It opened in 1865 and closed in 1981 when passengers numbers were under twenty a day. The station building is now a private home. (As an aside, I have a friend who loves trains and bought a disused railway line plus three station buildings, two railway cottages and a signal box. He converted two stations into homes and one was a restaurant.)
You can see photos of Blake Hall before and after it closed here and here.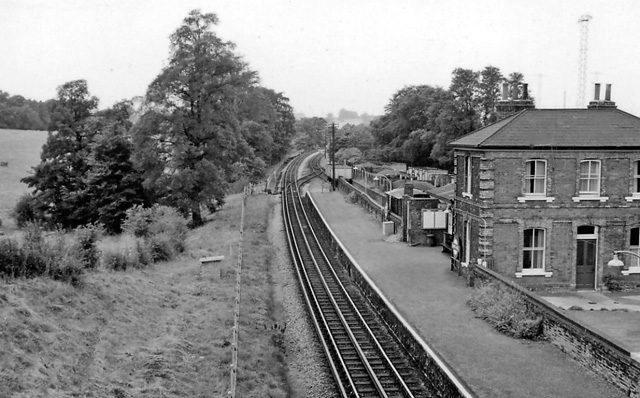 Mark Lane/Tower Hill/Tower of London
First, there was a Tower of London station that opened in 1882 but closed just two years later. Then there was Mark Lane which opened in 1884. It had a name change to Tower Hill in 1946 and was replaced by today's Tower Hill station in 1967. You can still see the old entrance to Mark Lane tube station next to the All Bar One, near where Byward Street becomes Tower Hill.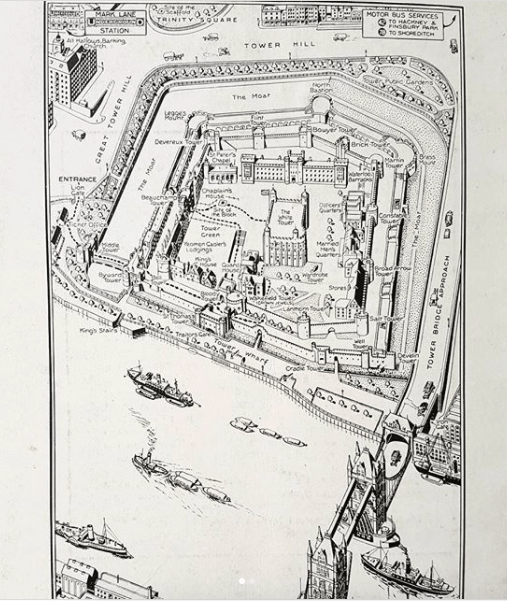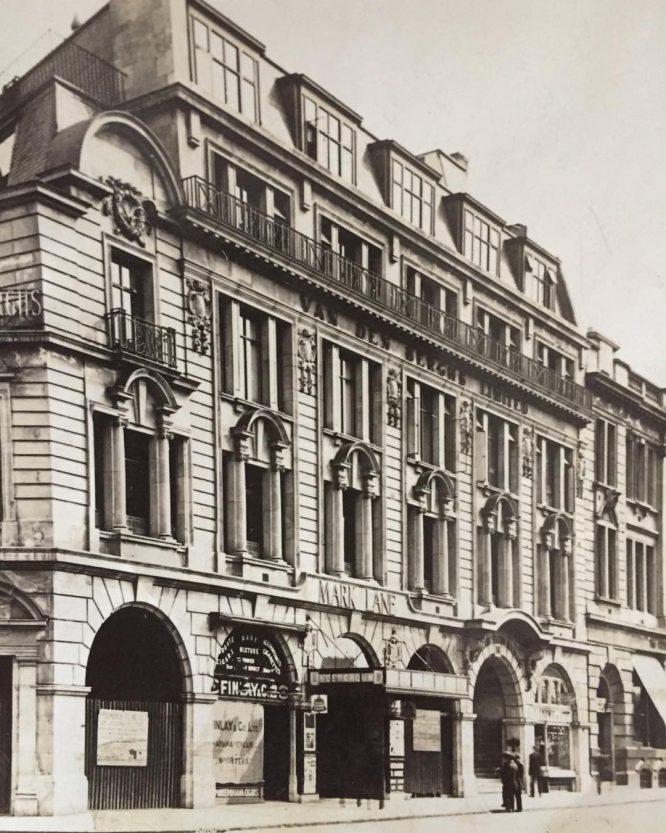 This also gave me a perfect excuse to enjoy looking in detail again at my poster of Max Gill's 1914 London Wonderground map. This section has Mark Lane station and also St Mary's station on Whitechapel Road that closed in 1938 after Aldgate East was relocated.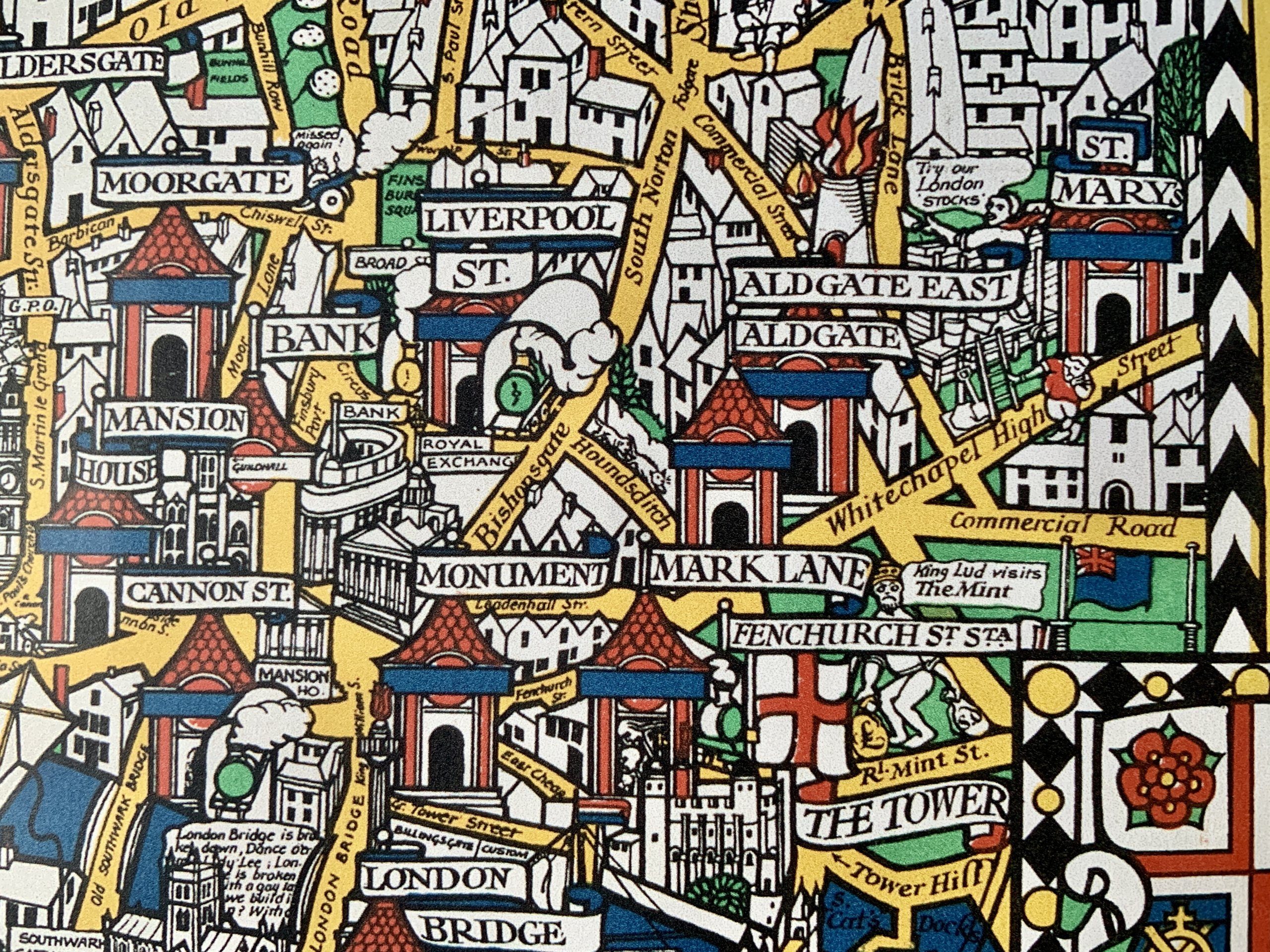 York Road
Another station that I like to spot while on a tube, instead of at street level, is York Road. It's not far from Kings Cross St Pancras and that was the problem really as passengers went to Kings Cross so York Road wasn't needed. The station closed in 1932 and the surface building can be seen on the corner of York Way and Bingfield Street. But travel on the Piccadilly line and you'll see the station platform between Kings Cross St Pancras and Caledonian Road. You'll know when you're passing as the cables you see running along the sides of the tunnels disappear as the tunnel widens for the platform and sometimes there's a light on at the platform too.
With the regeneration of the Kings Cross area, there has been talk about reopening the station but it's explained here why that won't happen.
Also on the Piccadilly line, you can see Down Street station from the tube between Green Park and Hyde Park Corner. It's usually dark (all tour groups have to switch off torches when a train is approaching) but you can see the tunnel wall change from cast iron tubing to bricks.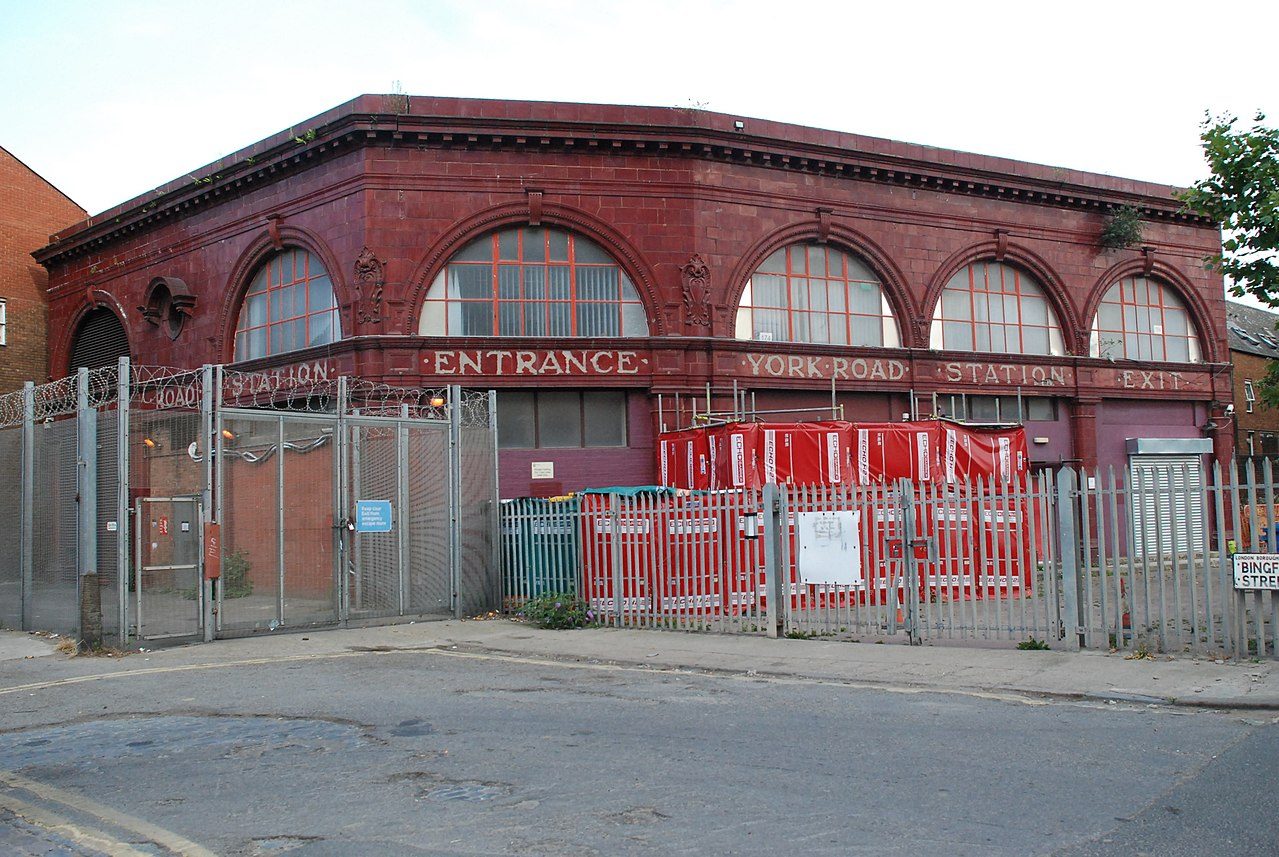 British Museum
Another station you can catch a glimpse of from a tube is British Museum station. The platforms have been removed but you can see the old station from the Central line if you look out on the left near Tottenham Court Road or Holborn stations.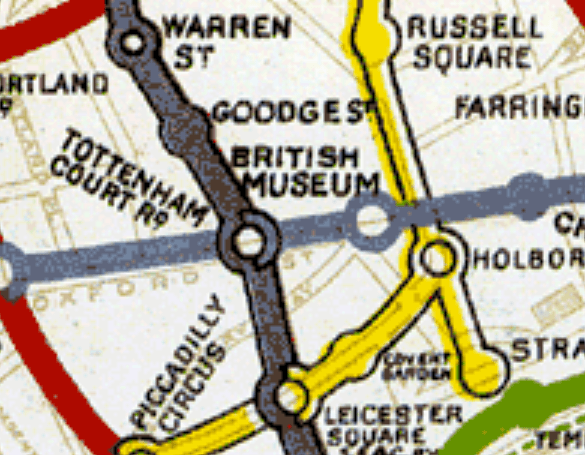 Obviously named as it was the best station for visitors to the British Museum, it was a Central line station and didn't have the interchange with the Piccadilly line that we now have at Holborn. It closed in 1933 when Holborn was expanded to allow changing lines. The surface building has been demolished but you can see what it looked like in 1980.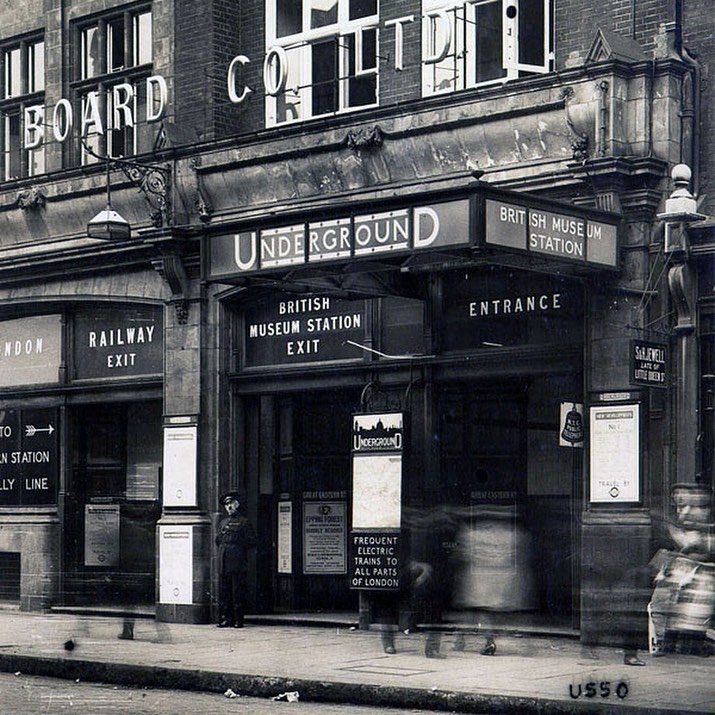 South Kentish Town
South Kentish Town station opened on the Charing Cross, Euston and Hampstead Railway in 1907. (The line is now the High Barnet branch of the Northern line.) Passenger numbers were low and even in 1908 (just one year after opening), drivers sometimes didn't bother stopping at the station. The station closed for good in 1924 after a power outage caused by a strike at Chelsea's Lots Road Power Station. When the power was reinstated, it was decided not to reopen the station.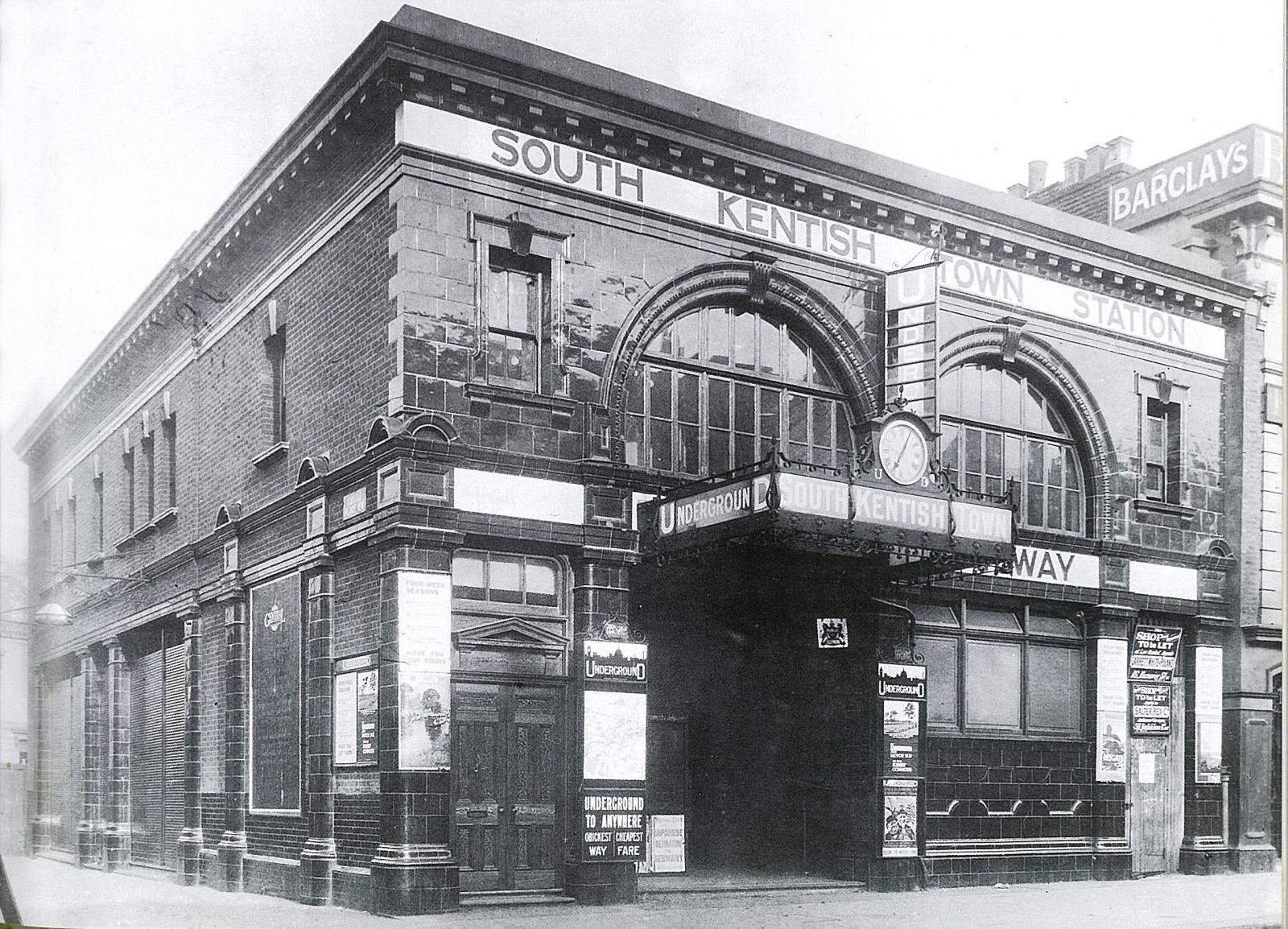 The station building can still be seen on Kentish Town Road at the intersection with Royal College Street. It's now used by Mission Breakout escape rooms.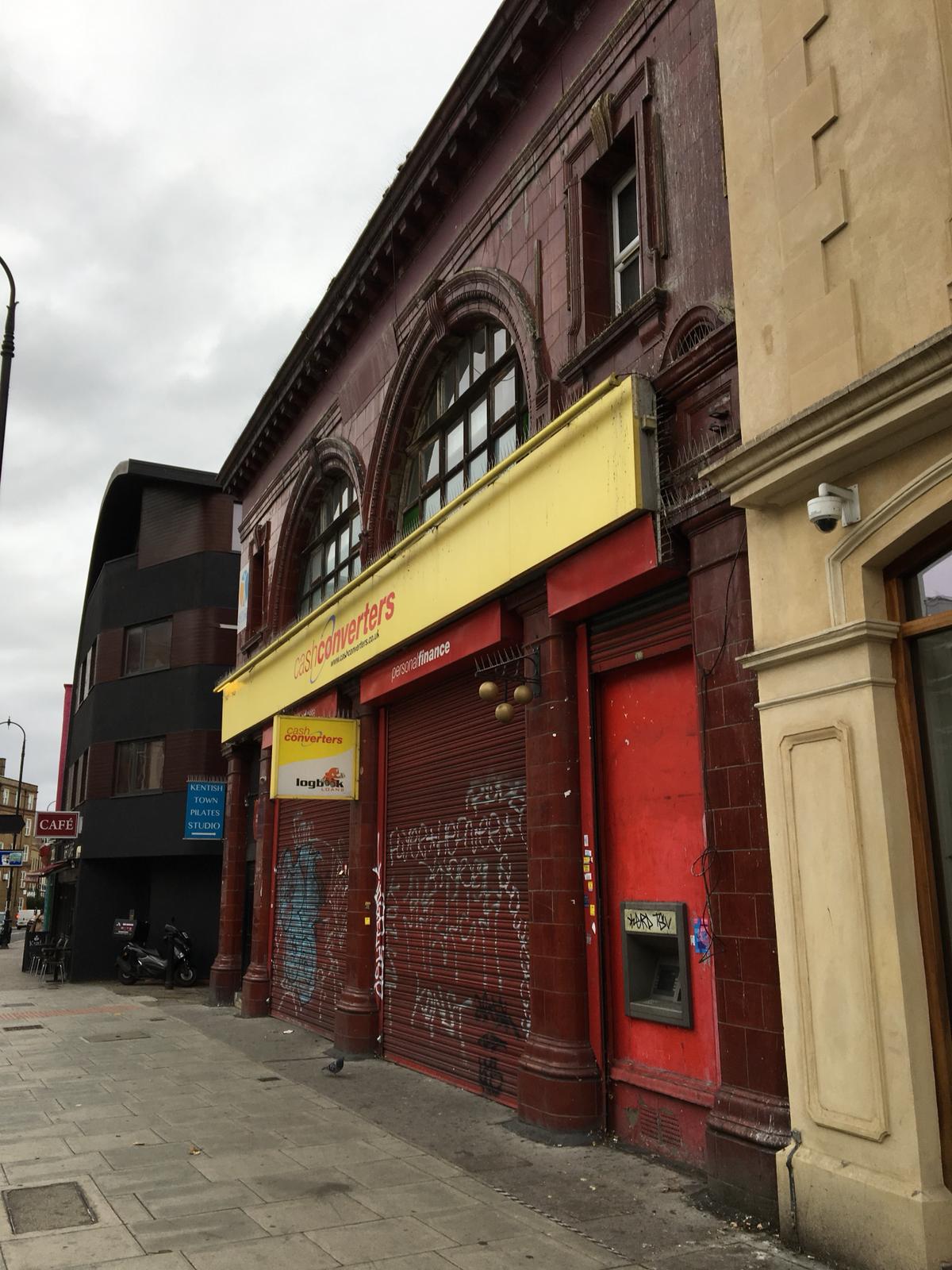 Metroland
The Metropolitan line still stretches out beyond north-west London and into Buckinghamshire but it did go even further. At one time it reached Verney Junction; around 50 miles from Baker Street station in central London. (Read more about Metroland.)
When the Metropolitan line was fully electrified in the late 1950s and early 1960s a decision was made to run only as far as Amersham. The Metropolitan line's last steam trains were in 1961 and the other stations beyond were then closed or used for mainline trains. (You can see more info on closure dates on this map.)
As an aside, Great Missenden is where Roald Dahl lived so there's a lovely trail around the author's home village and there's the excellent Roald Dahl Museum and Story Centre. You can get a Chiltern Railways train there from London Marylebone station.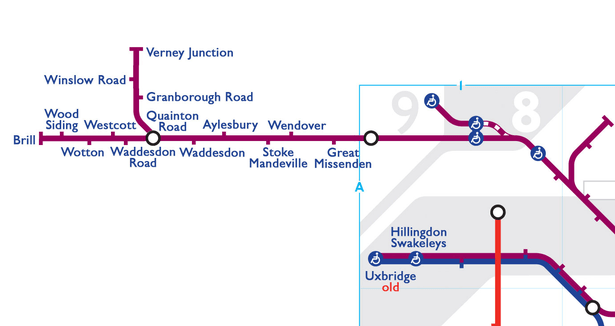 Hounslow Stations
This helpful map shows the openings and closings of the many stations in the Hounslow area. It was the District line but is now the Piccadilly line. The extension to Heathrow Airport was built in the 1970s.
Opened in 1884 and closed in 1934, the former Osterley & Spring Grove station has been a fabulous second-hand bookshop since the mid-1960s.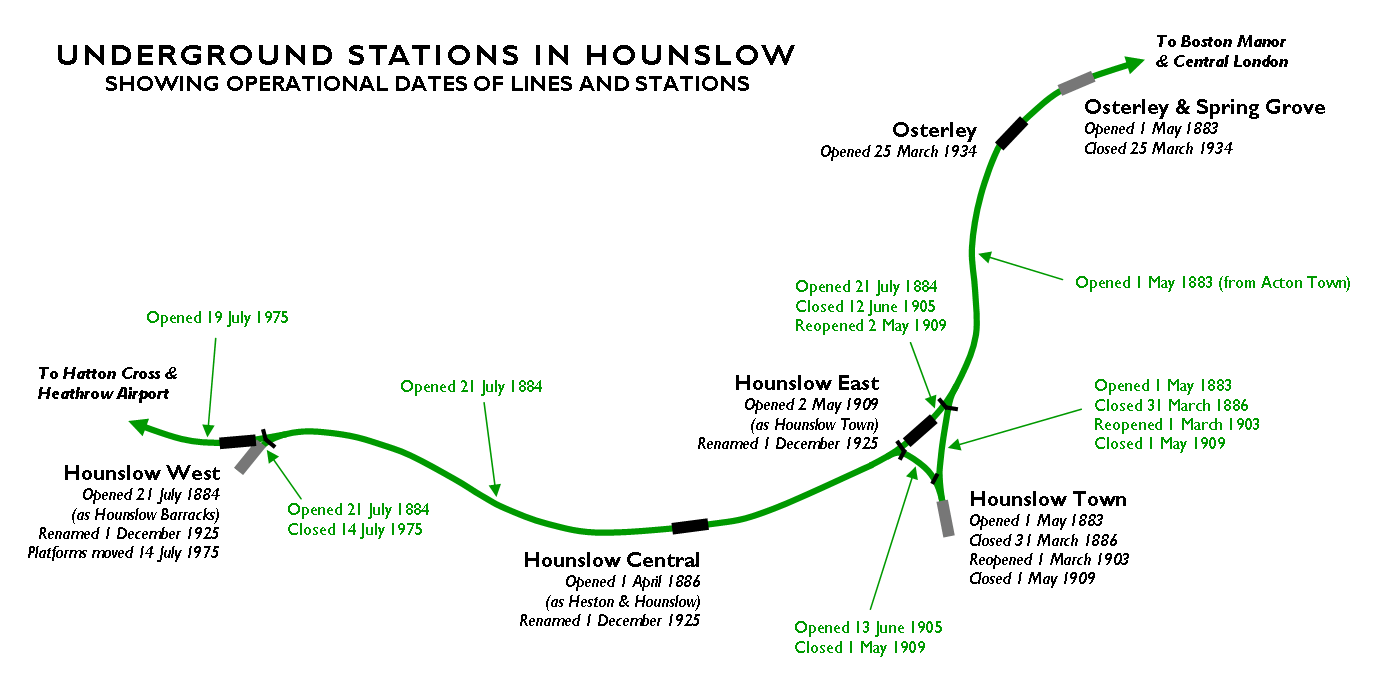 Find Out More
I've not listed all of the ghost stations here – even TfL don't list them all in their corporate archives. But before ending, I wanted to highlight a couple of excellent websites that are worth a look at if you enjoy this topic.
Underground History is a rabbit warren of enthusiast knowledge with plenty of photos.
Abandoned Stations also has lots of great information, maps and photos including some mouse-over 'then and now' images.