There are a few rites of passage that every tourist has to experience on a trip to London. For example, it's almost obligatory to join the queue outside Madame Tussauds and hunt down the Queen's waxwork, before nipping over to Piccadilly to have a photo taken next to an accommodating guard on Horseguards Parade, and taking afternoon tea in one of London's upmarket hotels. Then, of course, there's the lure of an open air tour bus around the city.
While it would be difficult to offer an alternative wax version of the Royal Family, or mimic the still-standing stance of HRH's guards, there is another option for tourists looking for a different way to do an organised (and sometimes expensive) bus tour. It involves simply finding a bus stop, waiting for the right number, hopping aboard and heading to the top deck.
So grab an Oyster Card, top it up with a fiver and try one of these three bus routes to take in London the local way.
Tower Bridge by Stewart Morris via Flickr
RV1: Covent Garden to Tower Gateway
With one coming along every 10 minutes even on weekends, the RV1 is a good, regular option for anyone wanting to take in the views from the riverside. Heading away from Covent Garden and over Waterloo Bridge, the route passes by Southbank landmarks such as the National Theatre and the Tate Modern, before passing through London Bridge, where hungry appetites can be satiated by the wares of Borough Market. The route finishes close to the famous Tower Bridge, so snap-happy tourists can grab photos and see the ravens at the Tower of London while they're there.
Route 14: Warren Street to Putney Heath
For a trip south west of the city, pick up the number 14 from Warren Street and follow the route as it passes by Piccadilly and opulent London hotels such as The Ritz, before heading through the esteemed Borough of Kensington and Chelsea. From there, either jump off in Knightsbridge to have a wander around Harrods, or stay on the bus to people-spot in Chelsea, and disembark at Putney Bridge for a stroll along a quieter part of the Thames.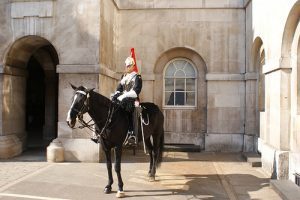 Route 11: Liverpool Station to Fulham Broadway
The number 11 takes a leisurely ride past the instantly recognisable dome of St Pauls, down through Fleet Street, via the law chambers of Temple and onto Aldwych and the Strand. Easily one of London's most visually historic areas, those on the top deck will be at just the right height to notice the fine details on the original period buildings; from the old newspaper offices of Fleet Street to the law chambers of Temple. From there, the bus takes a turn down Whitehall, where Scotland Yard, Downing Street and, of course, that photograph on Horseguard's Parade awaits.