Do you remember the days when we stood waiting for a train before we had mobile phones to distract us? Some read the paper and some simply stared into space daydreaming and avoiding eye contact with any strangers. Back in the early twentieth century, Frank Pick from the London Underground had the idea to commission a detailed illustrative map for passengers on platforms to enjoy. It was so incredibly detailed that some passengers missed their train as they were too busy searching for the cartoon people sharing witty anecdotes and japes scattered across the map.
'The Wonderground Map of London Town' (also known as 'By Paying Us Your Pennies') was drawn by architect and artist MacDonald 'Max' Gill (1884–1947). He also produced the London Theatreland map in 1915 which I've written about in another blog post. (Max was the younger brother of the sculptor and letterer Eric Gill. We won't focus on him in this blog post as his shameful past is covered in the other blog post. You can find out more about Max Gill in the previous blog post too.)
The map became known as the 'Wonderground' as it drew on inspiration from Lewis Carroll's 'Alice's Adventures in Wonderland'. It offers a birds-eye view so you can 'fly' over and discover what people are doing in each area of the capital.
This map went on to inspire map-makers in other cities including Melbourne, Mexico City and Barcelona to produce a 'Wonder' map.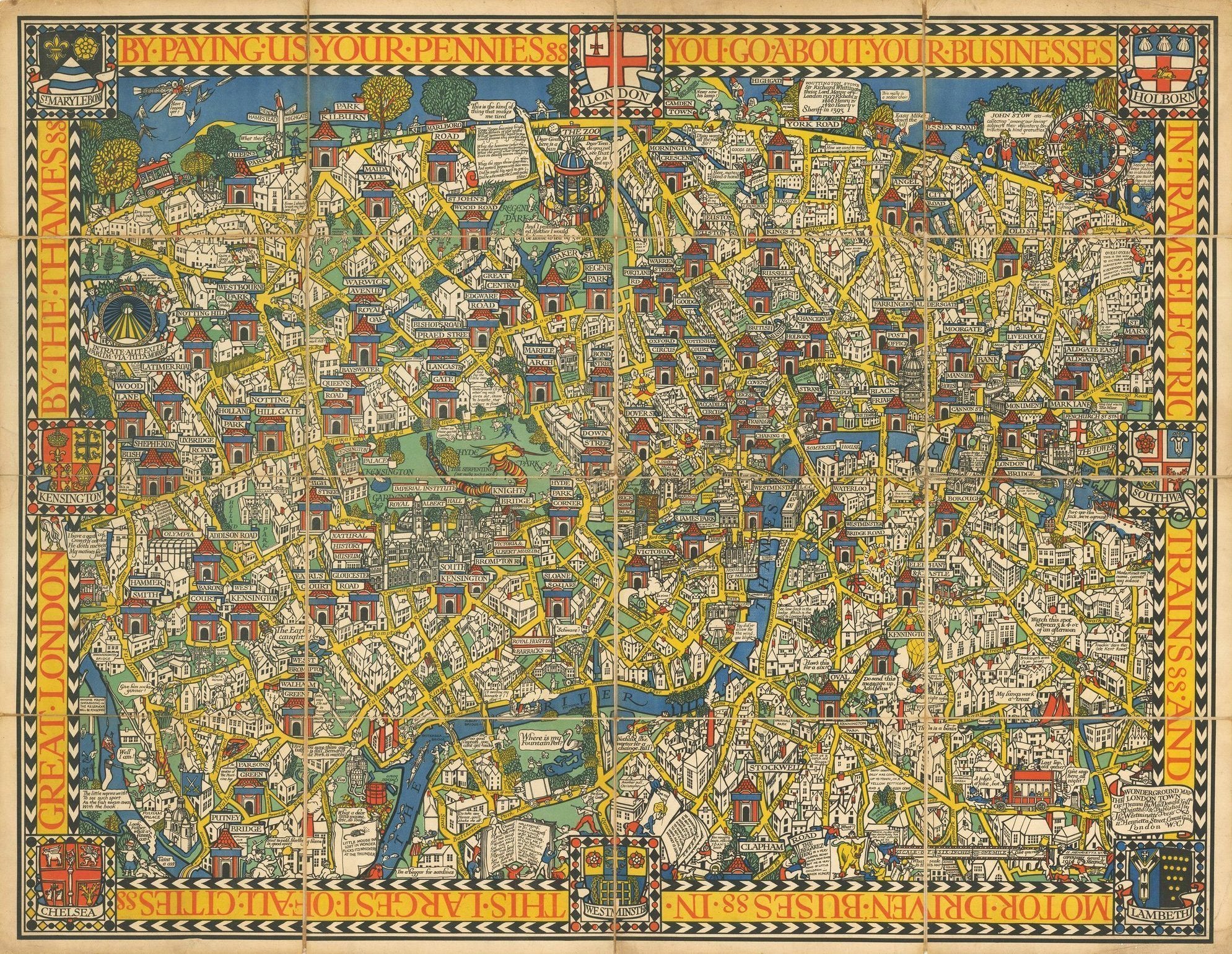 What Area Does It Cover?
While this is a central London map, it was never going to be too useful for directions as it is much more about entertainment. It reaches Queen's Park in the north-west, then Camden in the north and Hackney in the north-east. Hammersmith and Shepherd's Bush are in the west with the Tower of London and St. Katherine's Dock in the east. The south-west is Putney, south is Battersea and Clapham with Peckham Rye in the south-east.
The map scale is six inches to one mile.
Commissioned
As each underground line joined the London underground railway system they were still run as rival independent companies. In 1902 they were united under the banner of Underground Electric Railways of London Ltd, which later evolved into London Transport. By 1908 it was known simply as 'The Underground' and a year later, Frank Pick became the Underground's Traffic Development Officer.
Pick understood the importance of a company's image (its 'brand') and was soon promoted to Commercial Manager. He commissioned quality graphic design for new station posters that could clearly inform as well as posters to provide decoration or amusement. This pre-First World War illustration shows a carefree sense of fun and happiness that would soon be lost.
In 1913, Frank Pick commissioned the 'Wonderground Map of London Town' as the first of seven pictorial maps for the Underground. (You can see more of Gill's work for London transport on the London Transport Museum website and you can buy a copy of the Wonderground map there in different sizes.
Gill's cartoon-styled map was part of a finely tuned advertising campaign promoting the concept of easy access by public transport to all the marvels of the bourgeoning metropolis. The poster was displayed at every station on the Tube.
We also have Frank Pick to thank for Edward Johnston's iconic typeface on underground roundels, plus Charles Holden's station design and the iconic Harry Beck's diagrammatic London underground map.
Border
The border has chevrons and heraldic coats of arms for the City of London at the top centre and then Holborn, Southwark, Lambeth, Westminster, Chelsea, Kensington and St Marylebone.
Around the border is the wording:
"THE HEART OF BRITAIN'S EMPIRE HERE IS SPREAD OUT FOR YOUR VIEW.
IT SHOWS YOU MANY STATIONS & BUS ROUTES NOT A FEW.
YOU HAVE NOT THE TIME TO ADMIRE IT ALL?
WHY NOT TAKE A MAP HOME TO PIN ON YOUR WALL!
And yes, because of its popularity, the publisher produced smaller versions of the map that were available to purchase and admire at home.
Another smaller version was issued in 1924 identified by "On to Wembley" at the upper left of the map, indicating the direction to the 1924 British Empire Exhibition at Wembley and a British Imperial Lion is shown racing along the Harrow Road. A final revision was made for a 1927 publication with a greyhound racing dog replacing the lion.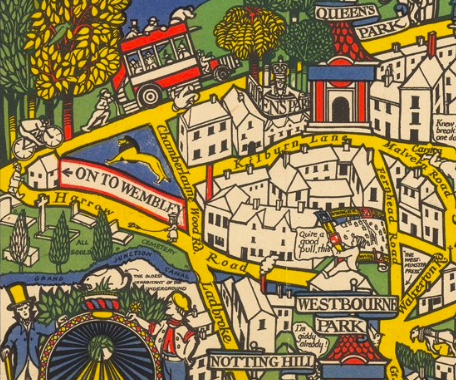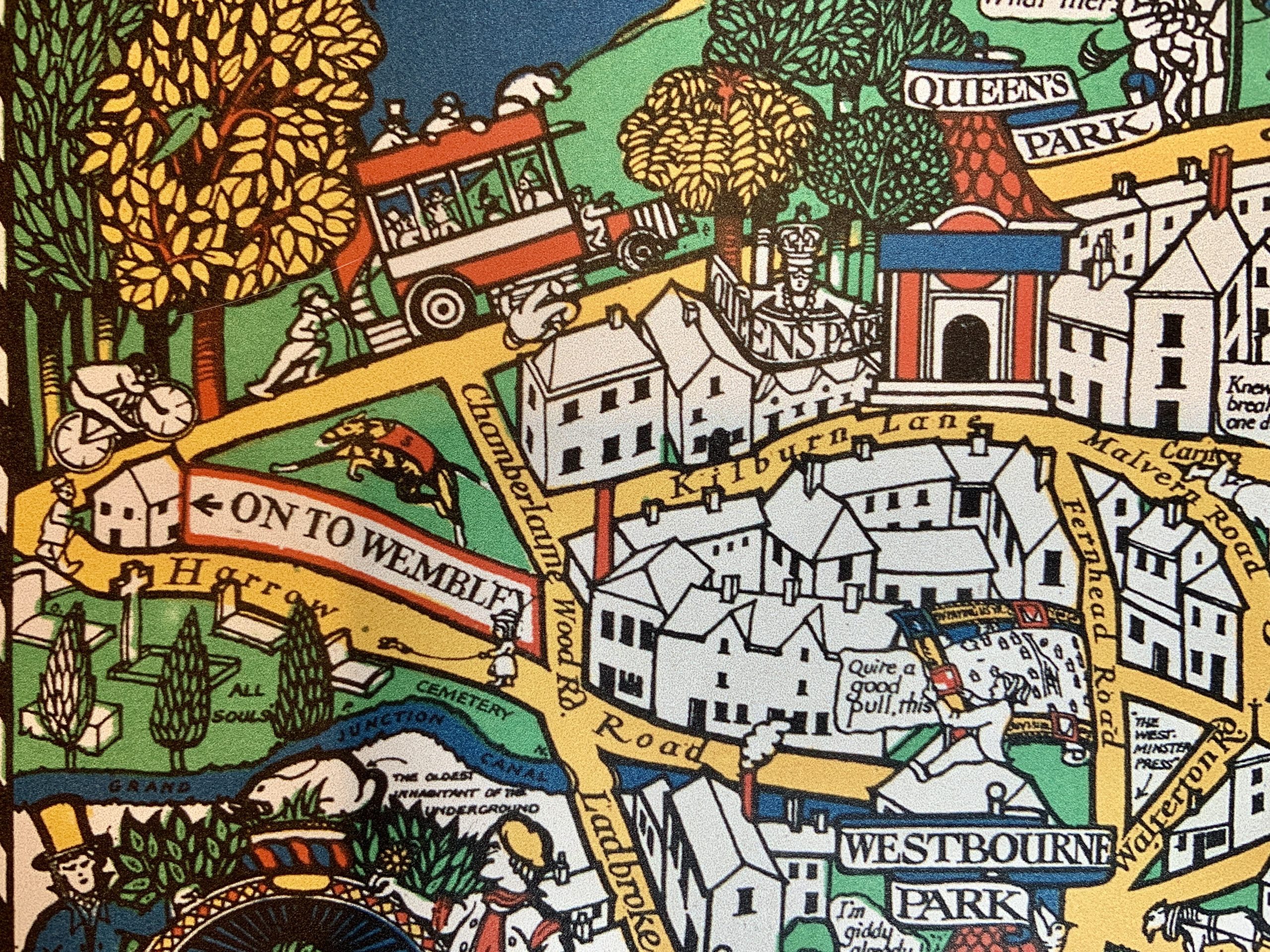 Using simple colouration of red, yellow, green and blue, London appears as a walled medieval town. The curved horizon recalls the medieval world map's enclosing circle and the coats of arms on the decorative border evoke a sense of stability and tradition.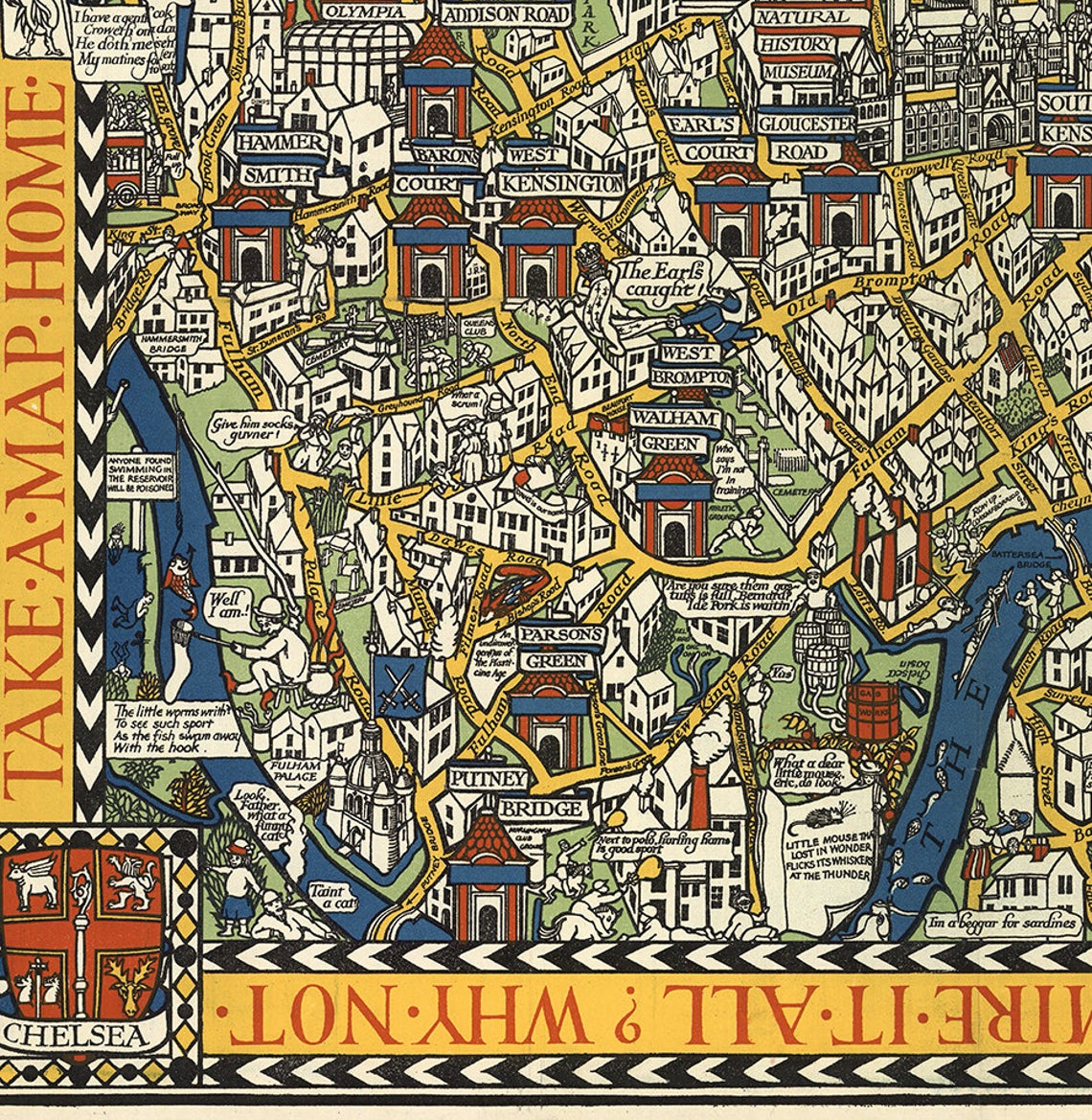 What Can You See?
I'm told, a useful key to unlocking the whimsical stylistics of Gill's map is contained in the image of an open book pictured in the map's lower-left corner. Beneath the cartoon image of a mouse, the text on the book's page reads: "Little mouse that lost in wonder / Flicks his whiskers at the thunder." The rhyme is drawn from Algernon Blackwood's 'A Prisoner in Fairyland', an enormously popular children's book published in 1913, the same year as the poster's creation.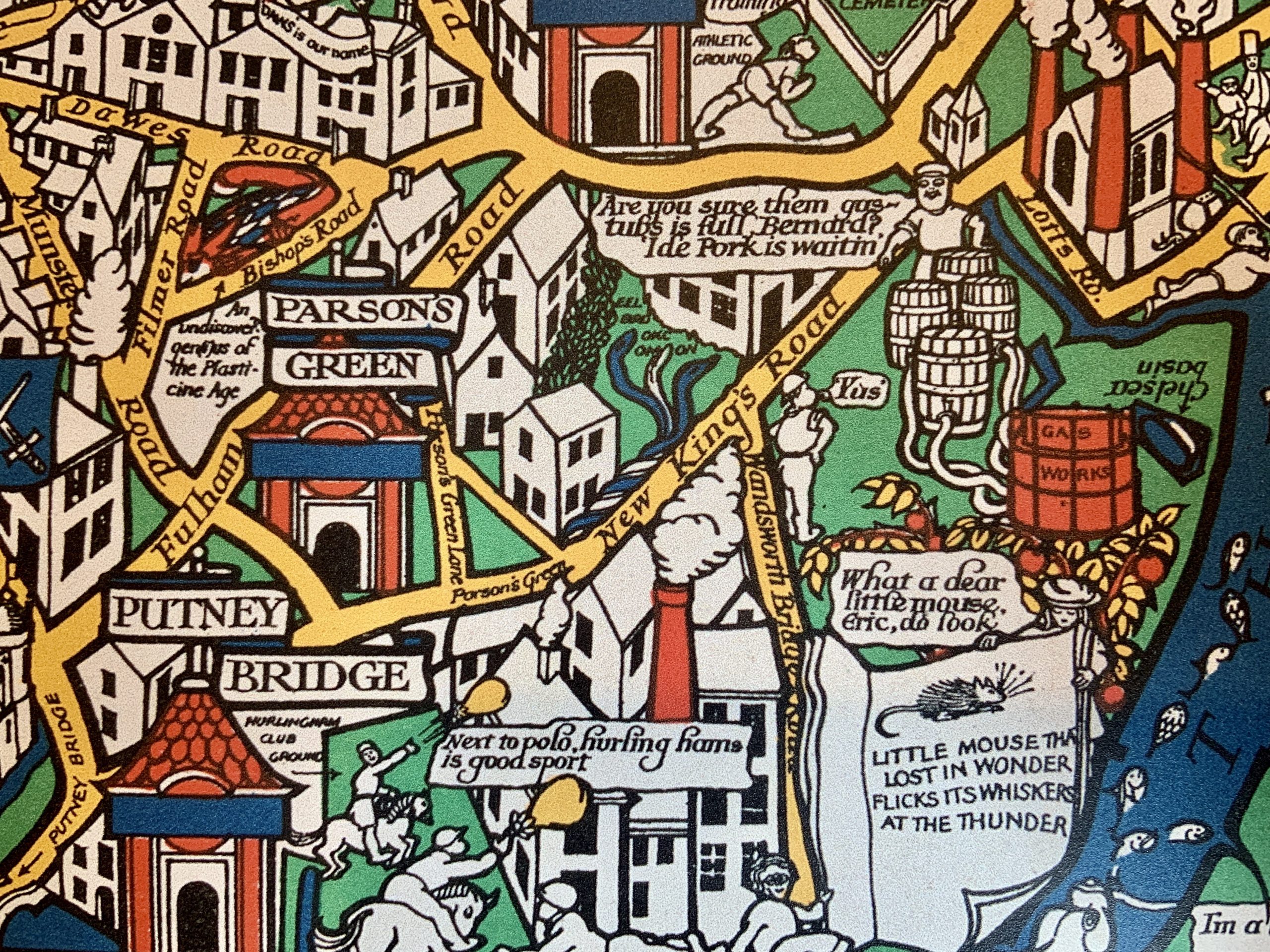 Max Gill liked to insert cameos of people he knew well in his maps. Frank Pick is depicted as a figure near Victoria saying. "My Pick cannot be surpassed" (see below).
I wonder if his brother, Eric Gill, is the reference for "What a dear little mouse Eric, do look" said over the book (see above).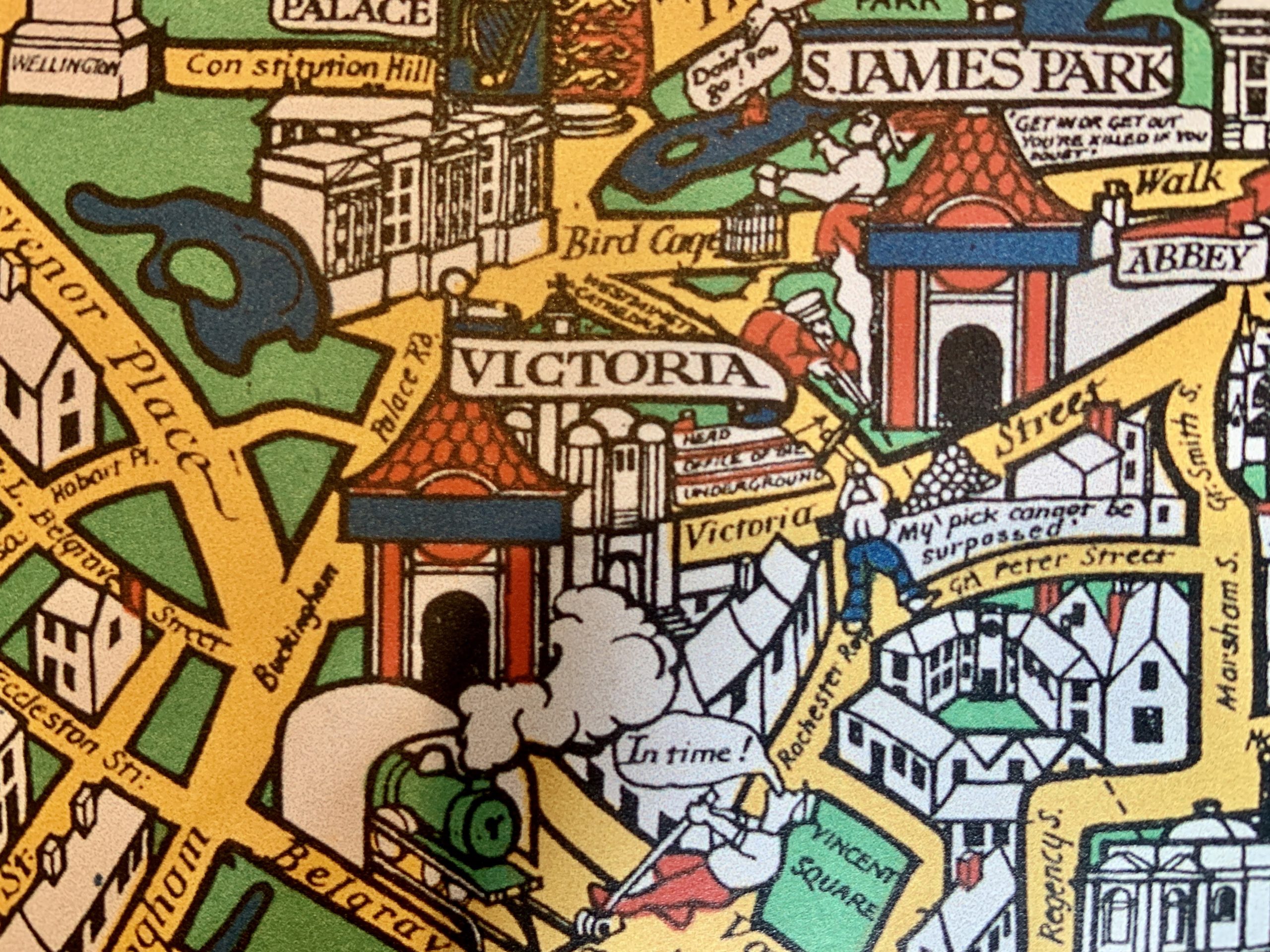 Did you notice the bird cage on Bird Cage Walk?
The main roads along which the B-type buses run are rendered in bright yellow and drawn as if viewed from above, yet the buildings are rendered in profile giving combined perspectives. This was typical of maps of the medieval period combining the simplicity of a road map or town plan with the visual appeal of pictorial art.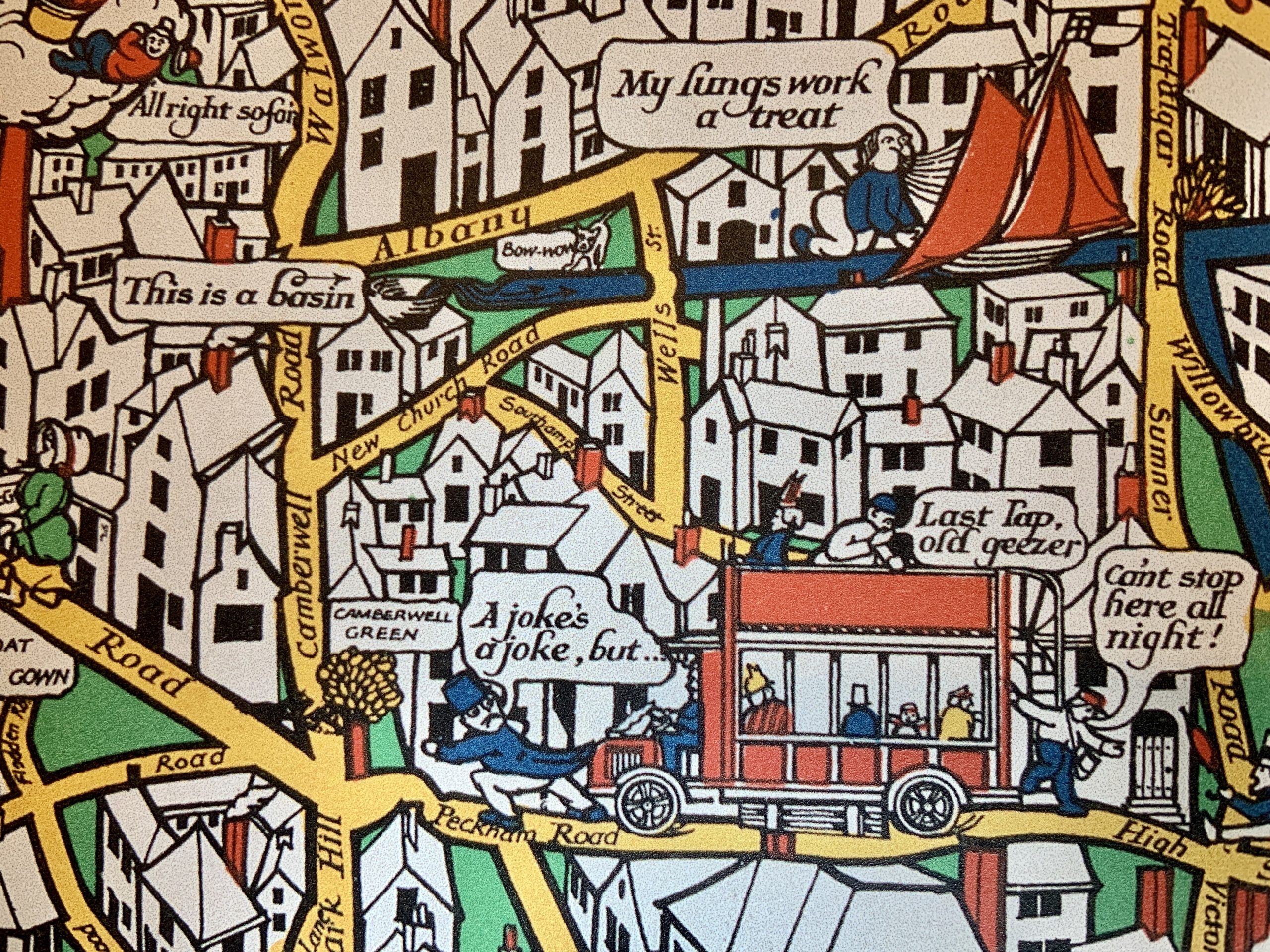 There are elevations of the Underground stations (including stations that were due to open in 1915 such as Kilburn, Queen's Park, Maida Vale) and other important cultural and historical landmarks. The Underground stations are pictured as stylised turreted structures with cave-like openings, simultaneously bringing to mind medieval buildings, the star-caves of Blackwood's novel, and the rabbit hole of Alice in Wonderland. Do look closely for the closed or renamed stations such as Walham Green (now Fulham Broadway) and Addison Road (Kensington Olympia).
(A tunnel near Notting Hill, surmounted with a white rabbit, and a Latin motto translating as 'Enter or exit with little delay', strengthens the Wonderland comparison.)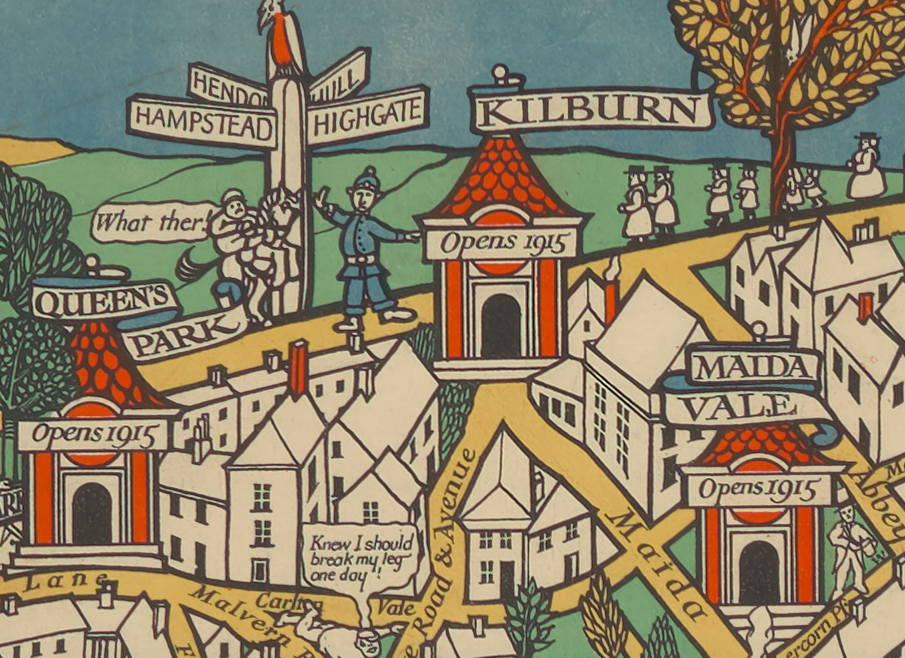 The cartoon images depict the working-class and middle-class users of the transport system to reflect both the tensions and delights of urban society of the early twentieth century. Delivered in the vernacular of the city, on the Harrow Road, a farmworker tilling the soil cries, "Harrowing work, this!" His exclamation is countered by the query, "What is work, is it a herb?" delivered by an effete gentleman nearby.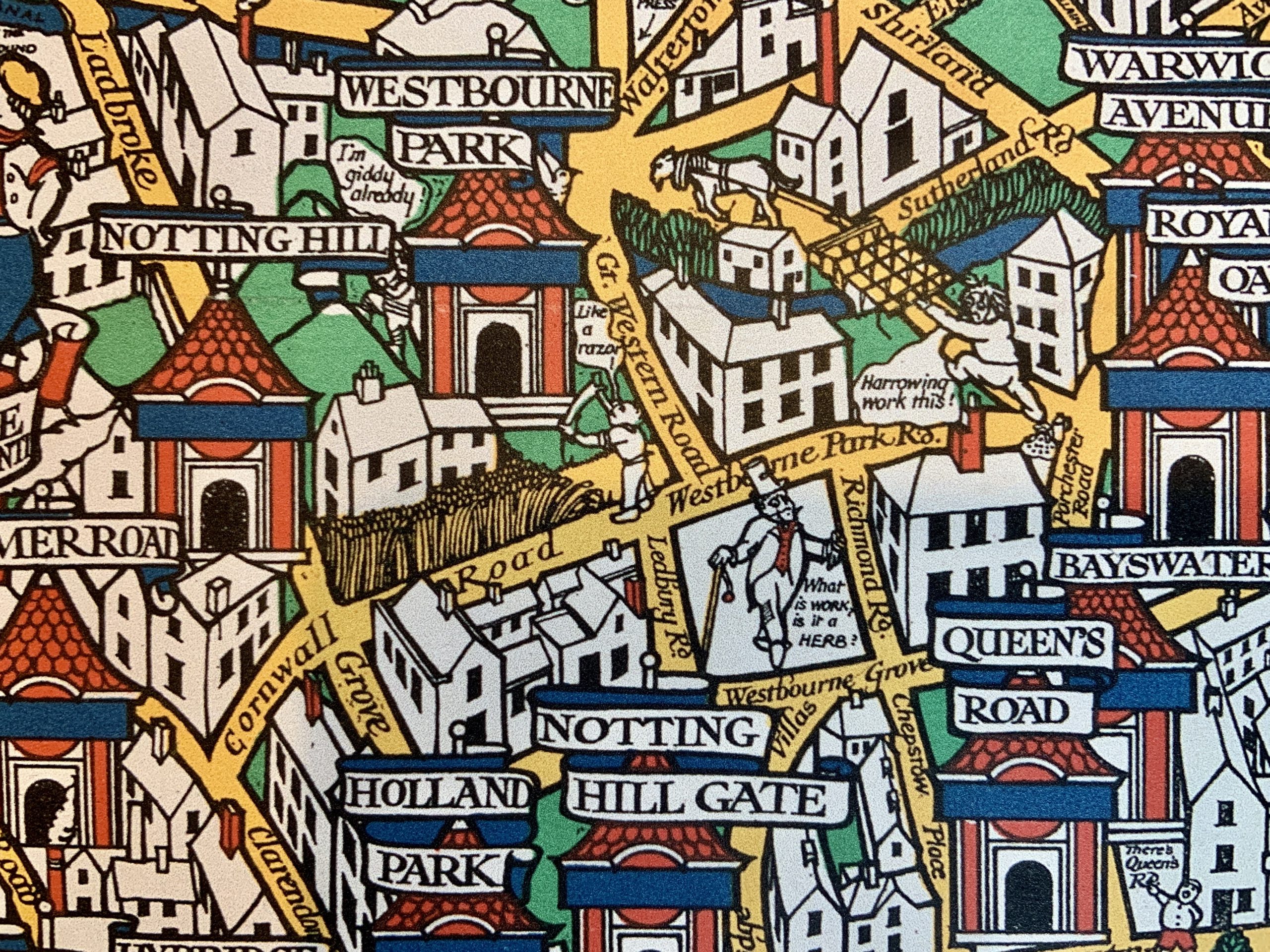 More whimsical quips or puns about road or place names include Piccadilly Circus and Oxford Circus. In this situation, 'circus' means a multi-road junction but Gill has chosen to insert somersaulting circus performers.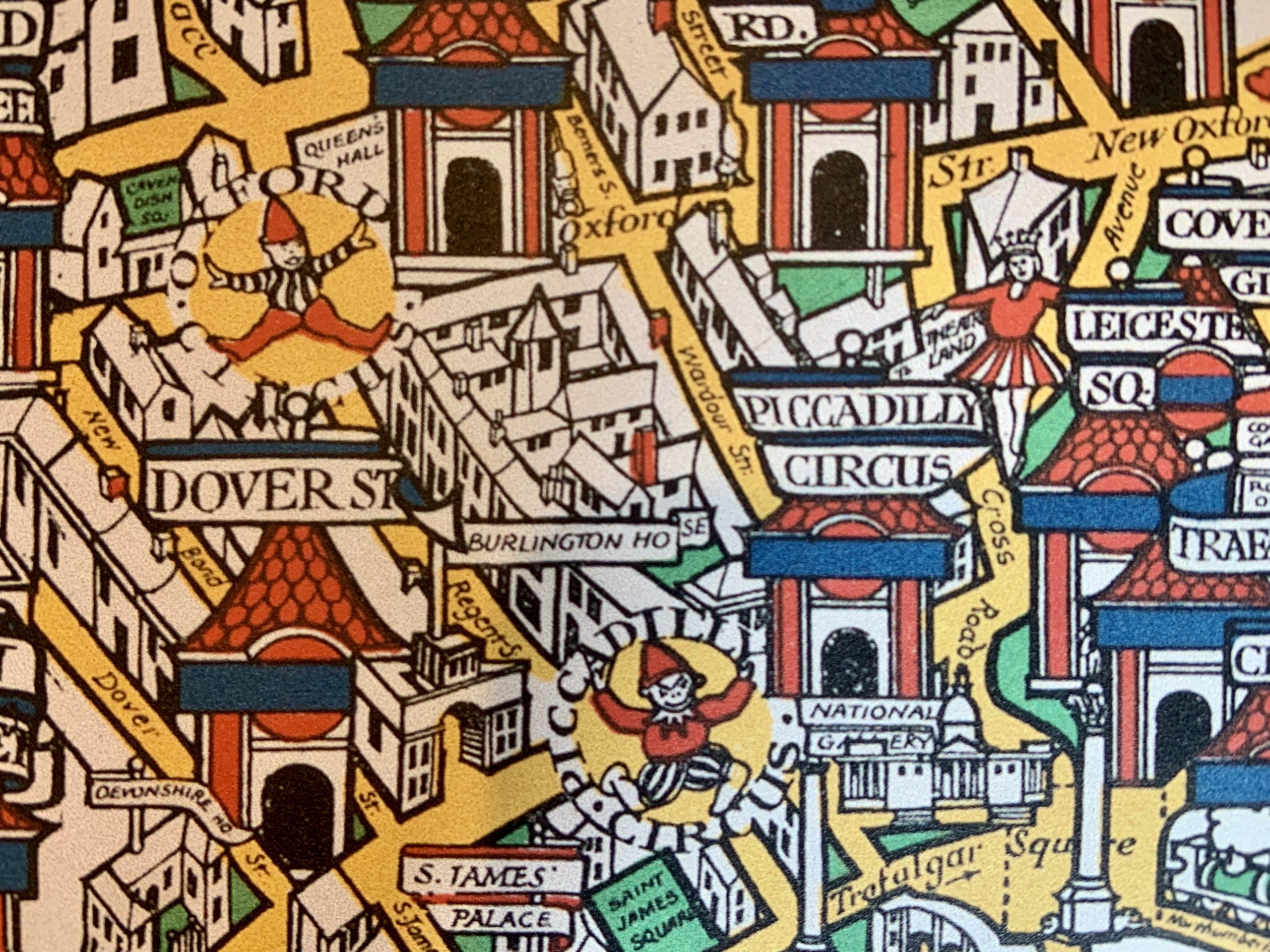 In Earl's Court you won't be surprised to find a policeman hanging onto the robes of a crowned chap while shouting, "The Earl's caught!"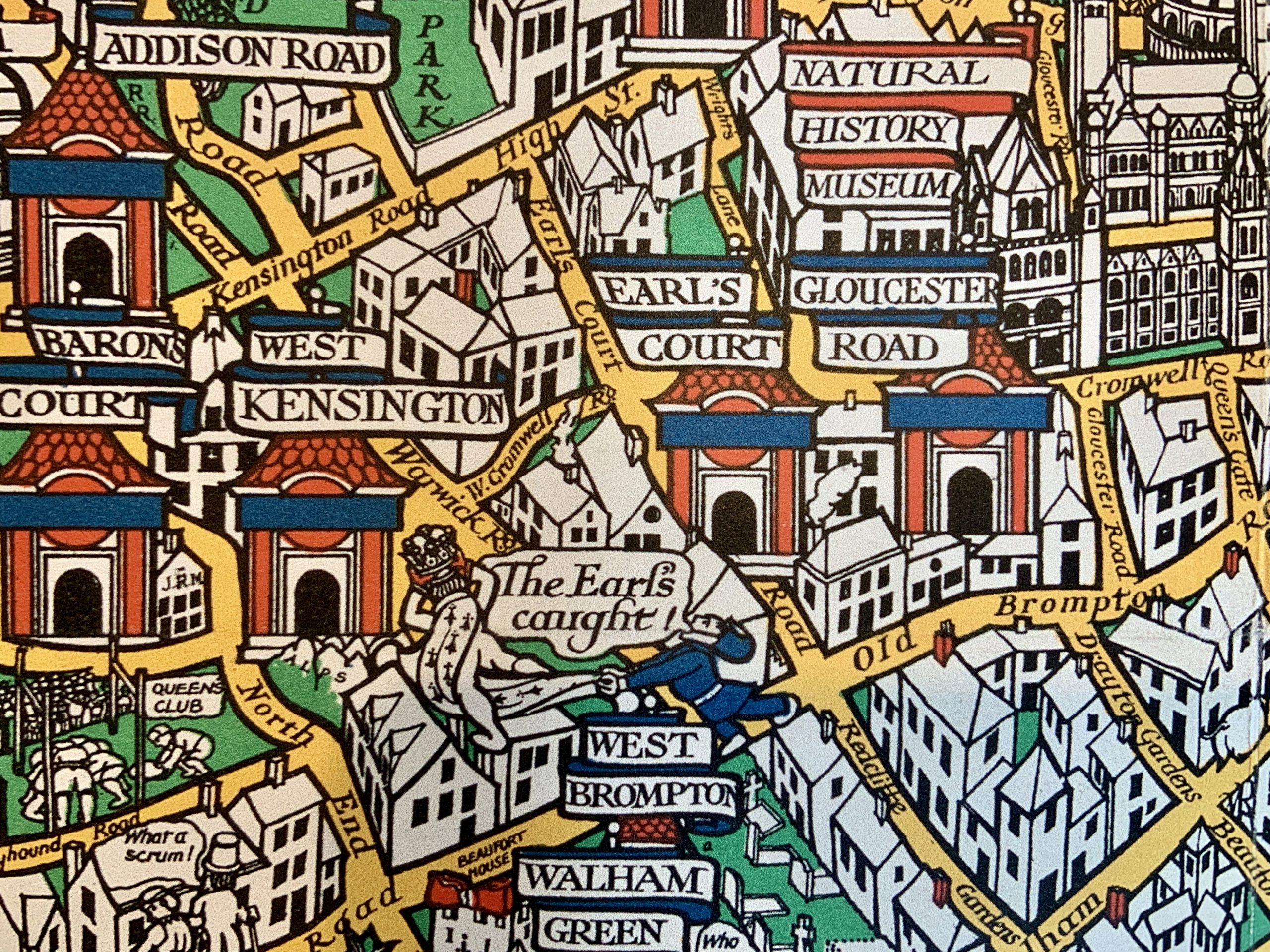 A colourful serpent has taken up residence in the Serpentine lake in Hyde Park.
And a rather gruesome scene above it portrays a man hanging from the Tyburn Tree – a site of public executions at Marble Arch.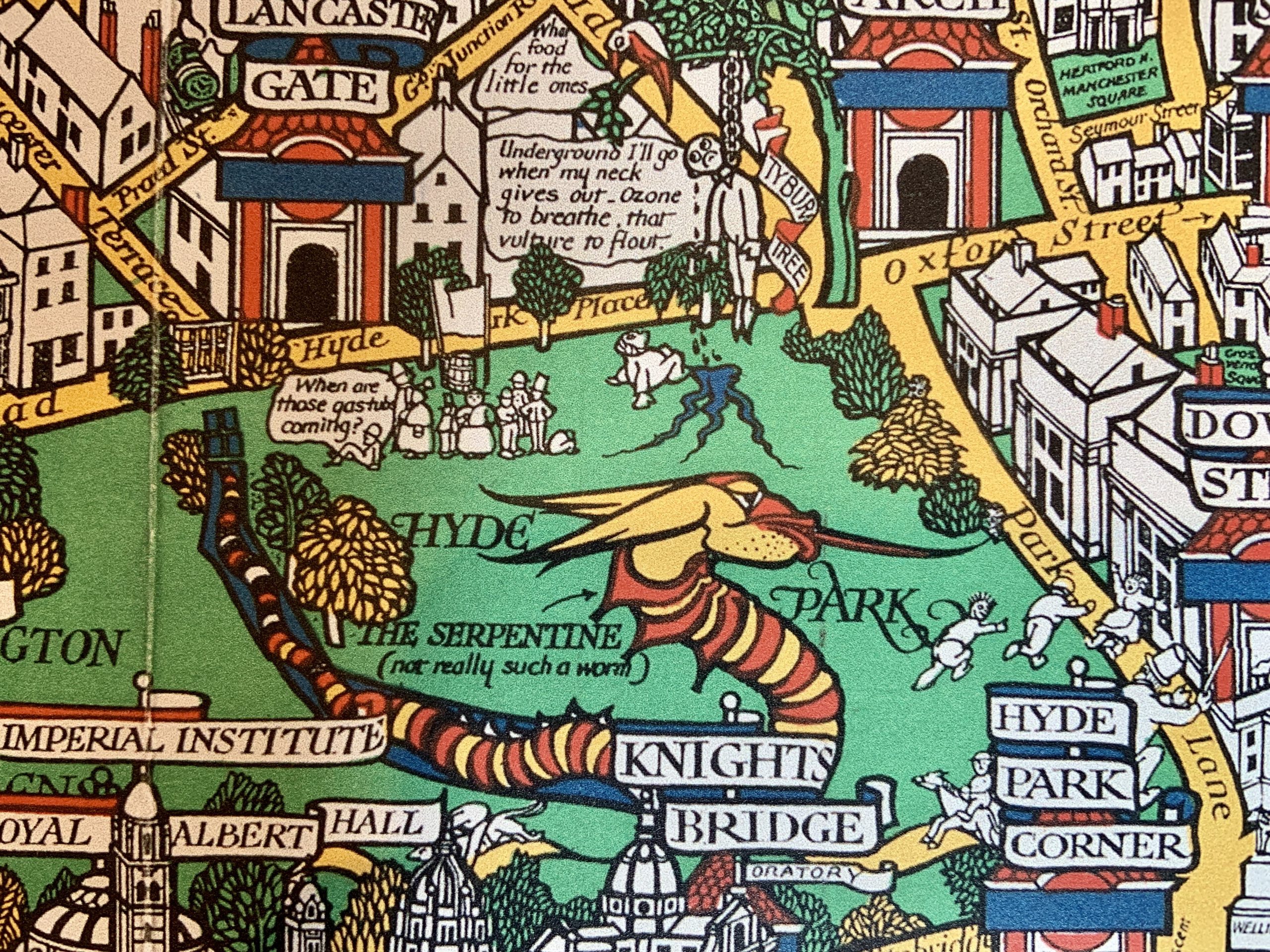 The fun is to find the bizarre vignettes and esoteric references and puns. I chuckled at this disgruntled looking chap and his lady who says, "You are bald Theo" at Theobalds Road in Clerkenwell.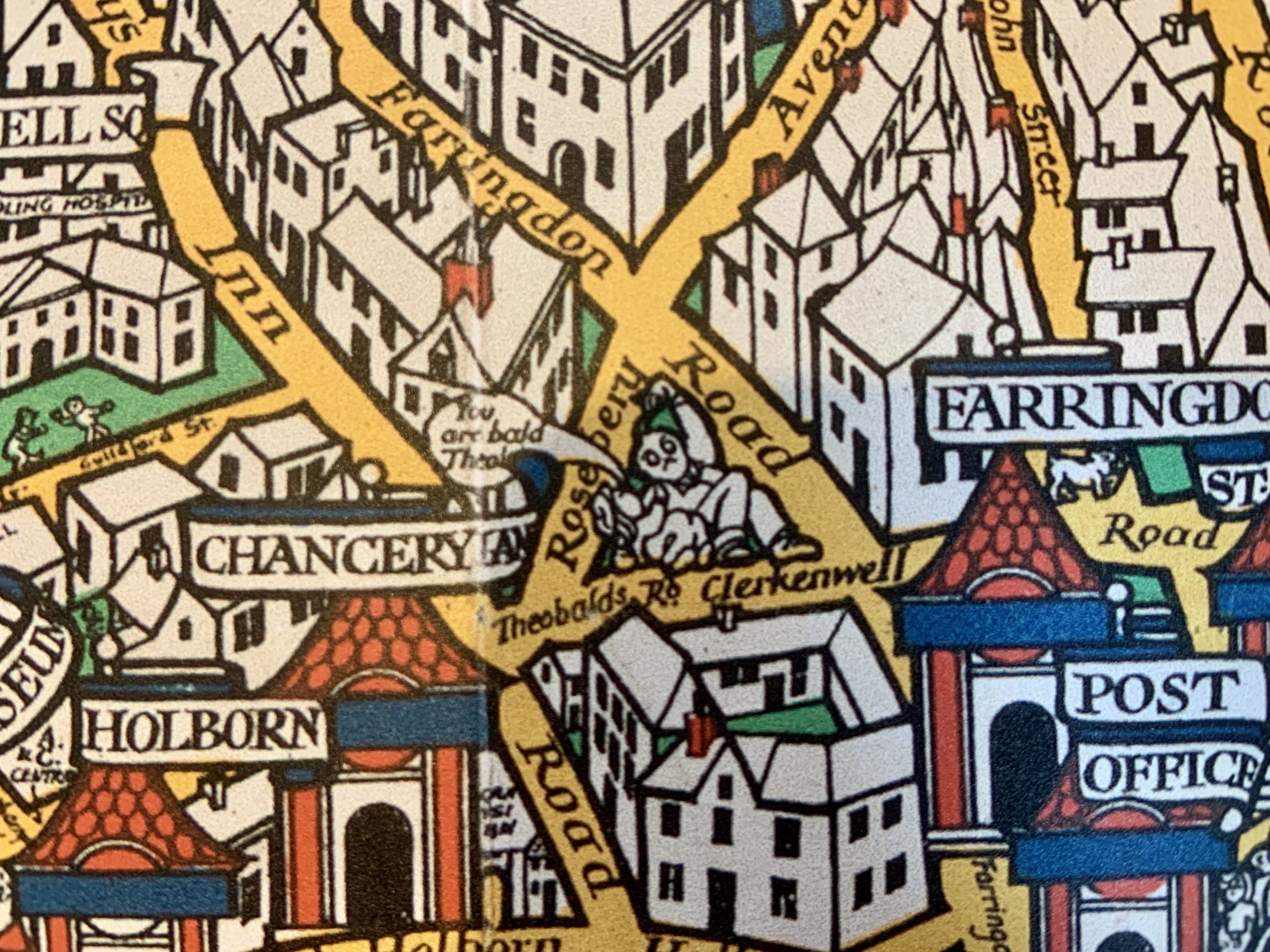 More than a century on, some of what would have amused the audience in 1914 is now lost in time.
This image below has so much going on. The lad calling, "Give it socks" to the fisherman was a phrase I hadn't heard before. It means to really go for it but the fisherman is actually using a sock instead of a fishing net.
Beneath the sock, there's a parody of the 'Hey Diddle Diddle' nursery rhyme. Instead of "The little dog laughed to see such sport, And the dish ran away with the spoon" it's become, "The little worms writhed/ To see such sport/ As the fish ran away/ With the hook."
Where the naked boys are swimming and there's the sign "Anyone found swimming in the reservoir will be poisoned" must have a historical humour reason but I don't know what it is. I think they are in Reservoir Lagoon which is now part of the London Wetland Centre. It was created from disused Thames Water reservoirs so maybe the water had been considered unsafe. I really don't know.
Then at the bottom, a child is saying "Look, Father, what a funny cat" and pointing at the heraldic lion on the Chelsea coat of arms. The father is replying, "Taint a cat" (that ain't a cat) showing his social status through the choice of words.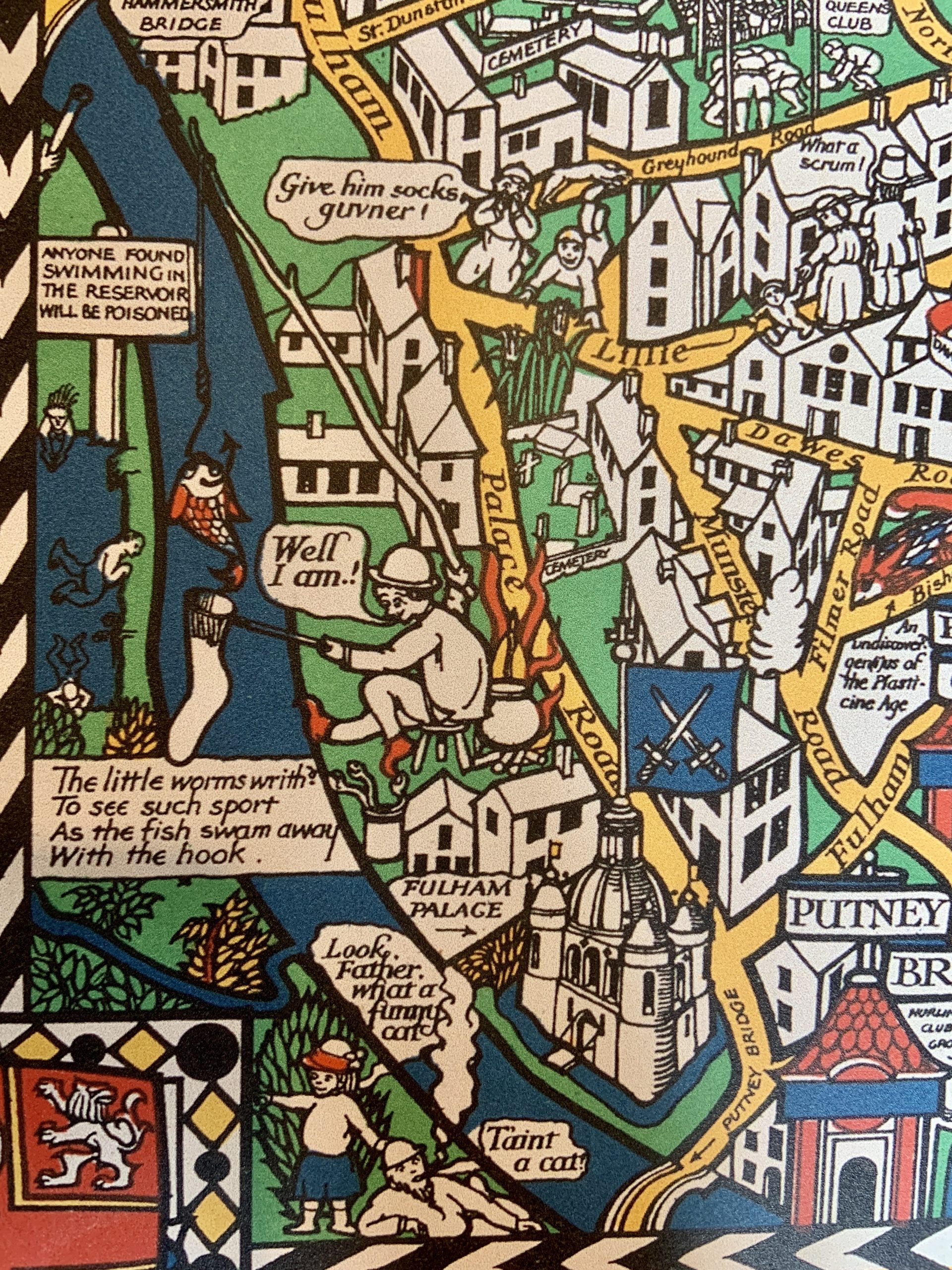 In the top left corner, a pilot in an aircraft asks some passing birds, "Have I looped yet?" In 1913, while Gill was working on this map, a pilot performed the first-ever loop in an aeroplane for 50,000 spectators at Brooklands airfield in England.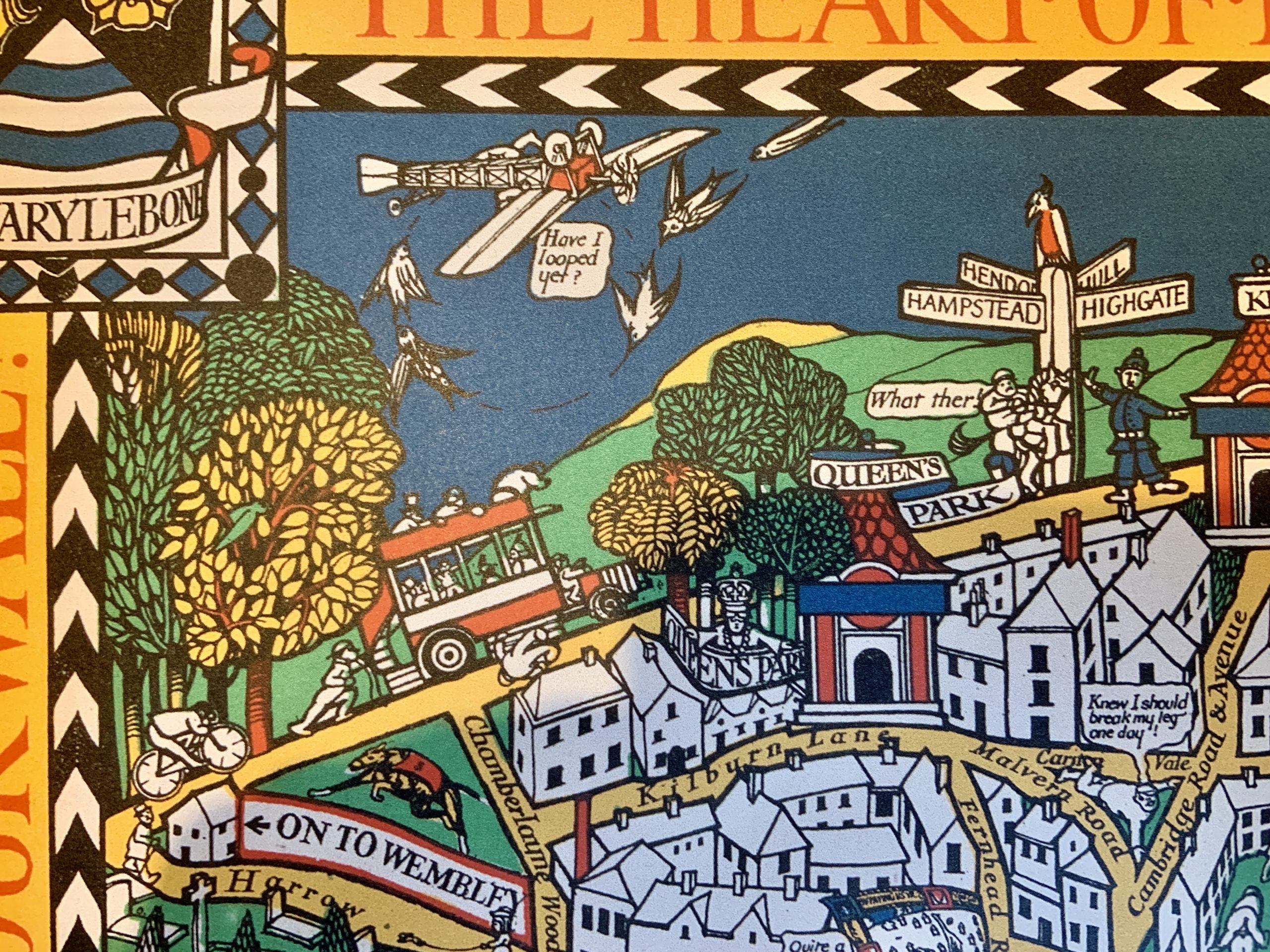 In Regent's Park, London Zoo has a "fed up" giraffe being fed a bun from a roof – a pun on being so tall rather than a depressed animal. And on a scroll next to the Zoo are three verses of William Blake's The Tyger.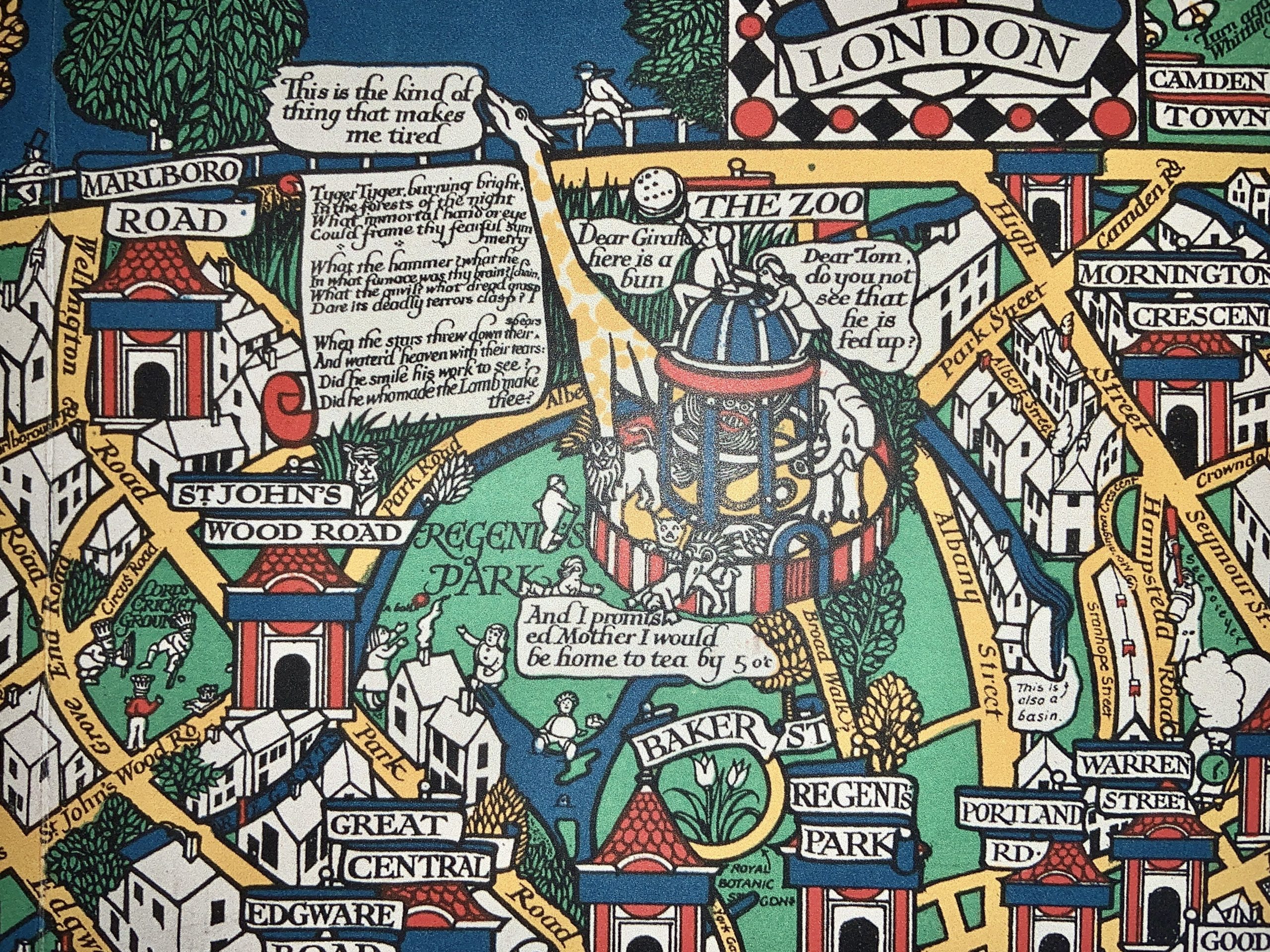 When this map was published, Swan and Waterman were two popular pen brands. Toying with these brand names, Gill has a waterman sailing down the River Thames while a resting swan asks, "Where is my fountain pen?"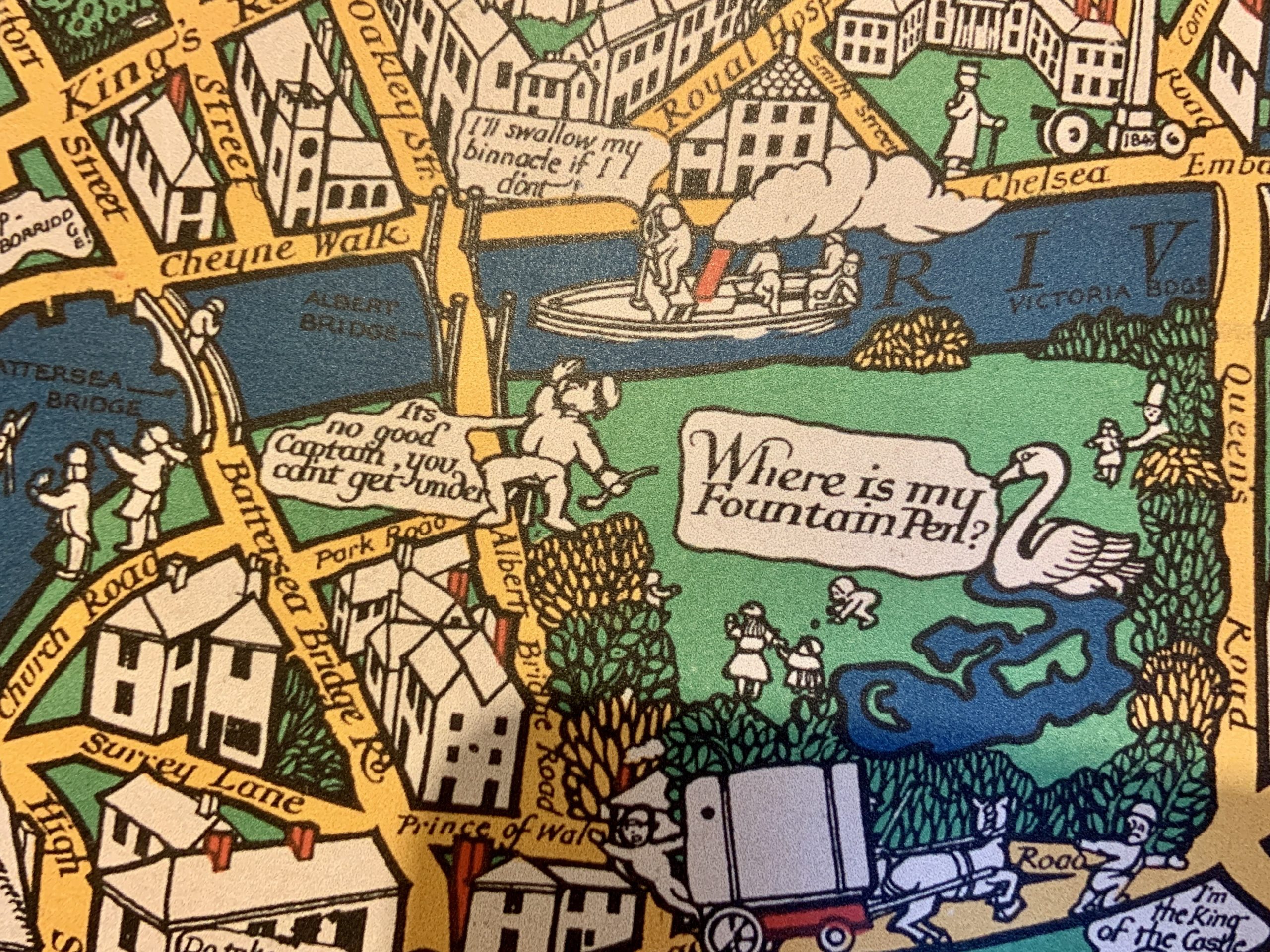 In north London, a man calls from the coal drops yard in King's Cross (now a luxury shopping area), "Here, matey lend me a hand". The chap calls back, "Can't got chill on my pancreas" as a play on the St Pancras neighbourhood's name.
Dick Whittingham is featured at the top with the dates he was thrice mayor, bells calling him to "Turn again Whittington" and a "R.W." tombstone.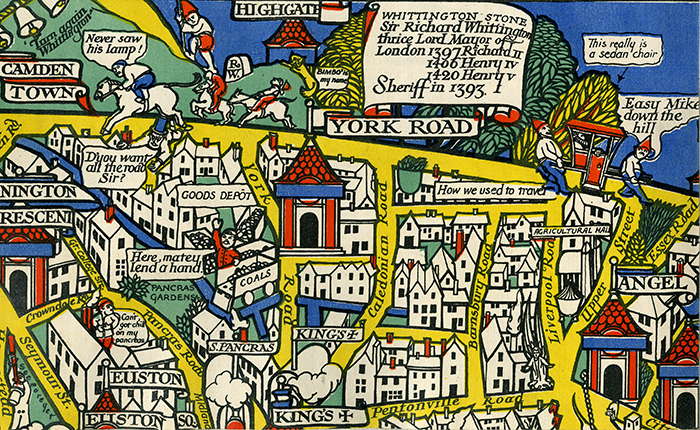 In east London, "Try our London stocks" refers to the name of the bricks made on Brick Lane. I have no idea why King Lud is visiting the Mint (where money is made). St Katherine's Dock is on the map as "S. Cat's Docks" although I thought the name has always had a K.
Across the Thames at London Bridge, a seller is calling out, "Fresh eels from Holland all alive 'o!" Fresh and jellied eels, as well as other seafood, used to be very popular in London, even in my youth. The kids of today would never have a bowl of cockles doused in vinegar but that was considered a weekly market day treat when I was little.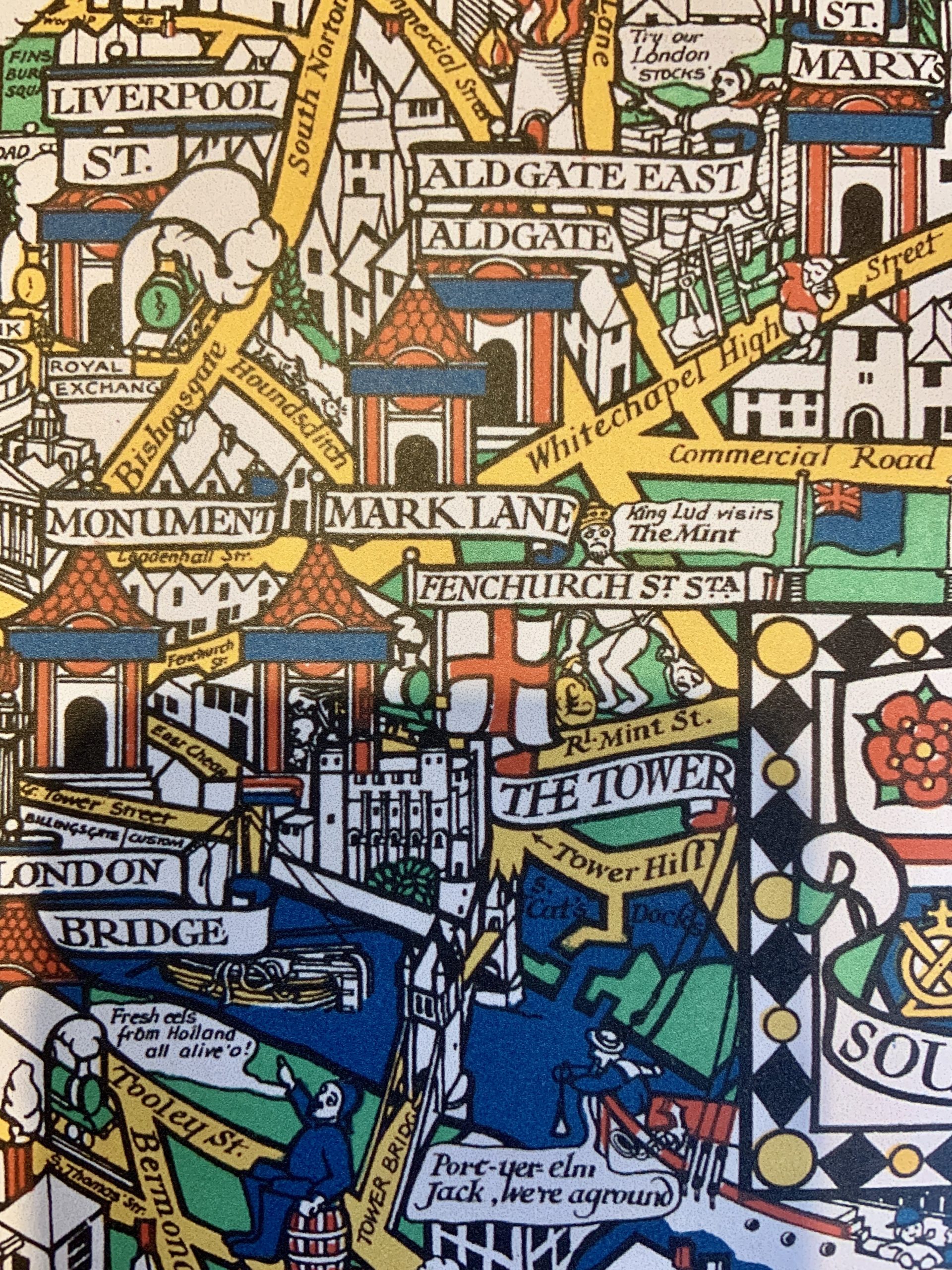 Southwark Bridge is named Old Southwark Bridge as, by 1909, there seems to have been some dissatisfaction with the bridge and calls for its rebuilding. It was a cast-iron bridge designed by John Rennie that had been opened in 1819. Demolition began in 1913 but was delayed by the 1914-18 First World War. Its replacement, which is much wider and has improved gradients, opened in 1921.
John Stow, who published his Survey of London in 1598, is featured in the top right corner. And the old Covent Garden fruit and veg market has a man carrying a tall tower of baskets on his head. There's a sedan chair being carried on York Road in the north, and I have no idea where there is a peacock near Wood Lane station in the west.
There is so much to see on this map I could carry on but why not have a look for yourself? (See links below.)
Saved The Underground
It is said that the Wonderground map was instrumental in the economic revival of the Underground by encouraging off-peak travel, at a time when the underground was almost solely used by commuters in the mornings and evenings. Its cheery view of London helped distract city residents from the dismal realities at the outbreak of the Great War, as well as distracting passengers from the filth and overcrowding on trains. (A programme of improved hygiene and punctuality happened at the same time.)
The Wonderground Map is said to have made the Underground something more than a means of conveyance and turned it into an attraction in its own right.
When Gill died in 1947 the Journal of the Royal Institute of British Architects referred to this Wonderground Map as "a cartographical masterpiece."
Have A Look Yourself
To really explore this map, you can zoom in on this 1924 version of the Wonderground map and you can get some close-ups on the Art Institute of Chicago website of the 1914 version. (You can also zoom in on that version of the map here.)