When I first arrived at Heathrow Airport on my first trip to Britain in 2001, I was not impressed. The airport was over capacity even then, and our plane arrived late, so we had no gate for the plane to park at. We parked out on the tarmac, far away from the terminal. We had to queue for a bus, which then took us on a circuitous route to the terminal. While parking on the tarmac gave me the moment of literally stepping onto English ground for the first time, I couldn't help but think there was a better way for an arrival.
The terminal wasn't a much better experience. It was the old terminal two (since demolished), and it was showing its age. Built in the 1970s, it was dark, dirty and not fit for purpose. It felt like arriving into the past, and not the good past we imagine in England, but the past with terrible architecture and public spaces. The terminal was not the Cool Britannia welcome you were expecting when you arrived at Heathrow. For the years after when I heard Brits grumble about how terrible Heathrow was, I understood why they felt that way.
I experienced the omnishambles of Heathrow fully on my next trip in 2004. We arrived early on an overnight flight. Really early. The tailwinds pushed us to Britain so quickly that we arrived before Heathrow was even open and allowed to let planes land. We had to circle for a good 45 minutes until we could land. This is pretty common coming into Heathrow because the airport is at capacity and landing slots are scarce. We hate, hate, hate circling. It makes my stomach do somersaults.
And when we landed this time, we didn't have a gate.
So, we had to bussed, yet again to the terminal, which was just as dark and dirty as I remembered from 2001. We were tired. I cannot sleep sitting up on an overnight flight, so by my clock, it was late or early depending on how you want to think of that fluid concept of time. We waited at baggage arrival for our bags to arrive.
And waited.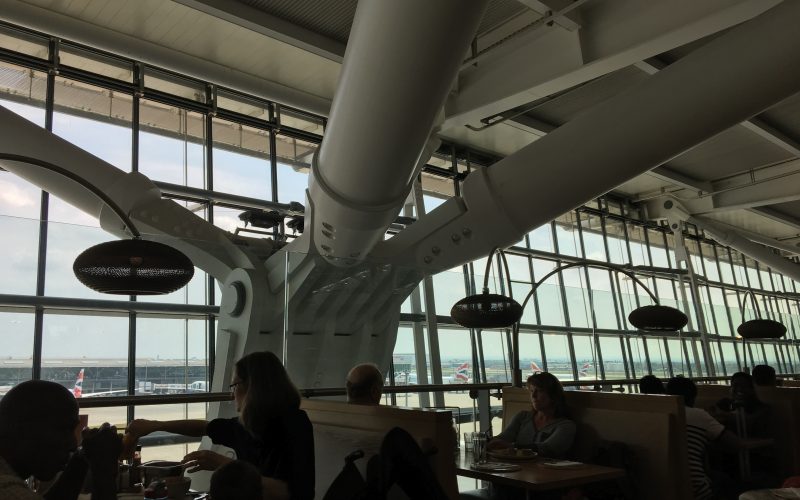 Jackie's bag showed up in due course. But after all the bags had arrived and were claimed, the conveyor built stopped, and I stood there, not quite understanding what it all meant. When I realized that my bag never showed up, it was lost. We wandered over to the customer service desk, and I remember it being a particularly dark and dungeon-like area of the terminal and got our first great experience of indifferent British customer service.
I can't blame the person. Really, his entire job was to deal with people angry that their bags were missing. And I must admit, that we were very American about the situation, which I'm sure irritated him to no end, we were very young. He did some searching in the ancient computer (which looked like something out of the 80's film Wargames) and sighed.
"It's in my system, it's in the airport somewhere, just not here. Give me your mobile number, and we'll contact you when it arrives."
No indication of when that could be. We grumbled and left the airport. It felt weird to have no luggage with me. All I wanted was a change of clothes. Once we'd checked into our hotel, we wandered over to Marks & Spencer in Covent Garden and bought a change of clothes and other essentials to tide us over until the bag showed up. Being poor college students, this did not please me.
The bag did eventually show up at the hotel the next day, thankfully. British Airways were kind enough to hand-deliver it at no extra charge.
The next few trips would be a bit of a blur when going through Heathrow. You would just treat it as a place to pass through while I wasn't impressed with arrivals. We usually departed from a nicer terminal, which had something alien to us, traveling from Chicago – shops, and restaurants. It was basically a shopping mall inside an airport. At the time, when you departed Chicago O'Hare's international terminal, there was almost nothing beyond the gates (this has since changed).
Then I began to hear whispers of something new.
Something called Terminal Five.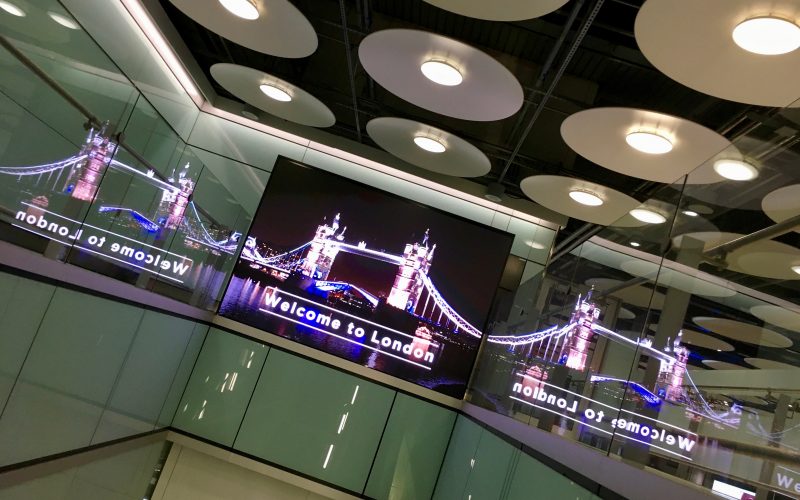 Heathrow Terminal Five was Britain's biggest construction project. In the works for almost 20 years, it was under construction for almost a decade. On some of those early trips, you could see the construction site on the far west end of Heathrow when you taxied during arrivals and departures. And slowly, a soaring metal structure began to take shape. Terminal Five was to be dedicated completely to British Airways traffic. As we always flew BA, this was exciting.
When Terminal Five opened fully in 2008, it was a disaster. The state of the art baggage system failed. People went to the wrong gates. It was a massive screw up and national embarrassment, further fuel for the naysayer brigade in Britain who think they can never do anything right. It took them a few months to work out the kinks, but they did.
By the time I traveled through Terminal Five for the first time in 2009, everything was working smoothly. I remember arriving early in the morning from a chartered British Airways flight, and we parked right at the terminal gate. What joy! There was no bus. As I exited the plane, you were met with fresh air; the place still smelled new. The tile floors were gleaming. It felt like what an airport should be. As we snaked through escalators to the immigration line, it was such a nice experience. We even got through immigration quickly. And in the gleaming new baggage hall, our bags arrived promptly and unlost in the airport.
Then we got the special treat of getting access to a place we'd never even heard of: the arrivals lounge. It was a magical place where you could decompress after your flight. You got a full, free, hot breakfast. All you can eat. There are showers and bathrooms to freshen up. Massages. TV. And more free British newspapers than you can shake a stick at. It was glorious.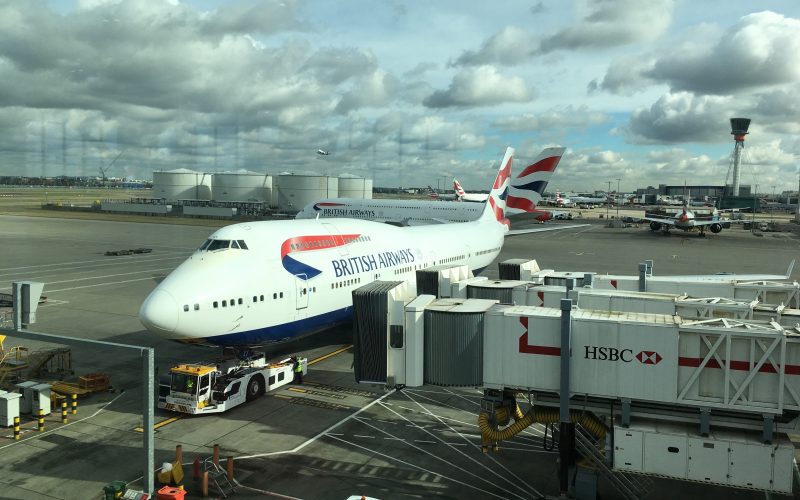 When we departed the next week, we were presented with the full stunning effect of the terminal when we saw its single span roof for the first time (the largest in Europe). The terminal was so open and massive. What really surprised me was how quiet it was, despite its size and the number of people in it. Every time I've gone through Terminal 5 since I always marvel at what a remarkable structure it is. We always get through security in less than five minutes. The sooner to funnel you through the mall of shops and restaurants on the other side. The more time you spend there, the more money you can spend.
And Terminal Five has very nice lounges. On one occasion we got to go into the Concorde Room (the one for First Class). We were waited on hand and foot. It was such a quiet and warm environment with free computers to use, free food and drinks, and even free massages. When we sat down to lunch in the proper restaurant (that was included in the ticket), we, of course, got the best service. And then we were giddy as school children when Piers Morgan sat down at the table next to us with his family, flying off to America as well. The closest I've ever been to a celebrity. While Piers Morgan has a reputation, the British people particularly hate him (they have a similar disregard for James Corden as well), he was perfectly nice to everyone in the lounge that day, so I don't have anything bad to say about the man.
Traveling through Heathrow Terminal Five, even when you don't get to go into the lounge, is quite a contrast to what it was back in 2001. It's a proper welcome and goodbye from England. I've traveled through T5 a dozen times now, and I love every moment I get to spend there. I really love sitting down and watching planes take off and land on both sides of the terminal. It's easy for air travel to be terrible, all it takes is one small aspect for the system to fail – whether it's a lost bag, delay or cancellation. But going through Terminal Five is how air travel should start and end. It's set a standard now. A standard that has moved to other terminals at Heathrow as they've been closed, torn down and replaced.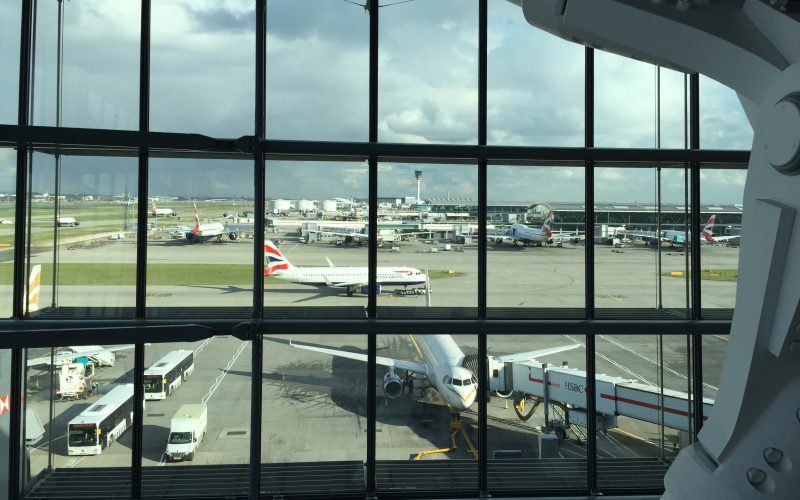 They're trying to build a third runway, to compliment the two existing runways. Heathrow is desperate to expand. They've been trying to build a third runway for decades. Now, it might finally happen. If it does, flights will increase. There will be entirely new terminals. You can go to more places. You can explore new bits of the airport. It will turn Heathrow into a World Class airport if it gets built. There is much public opposition to the new runway. And entire villages will have to be demolished – along with the British Airways corporate headquarters. I think it should be built. Heathrow needs it. And I can't wait to land on it.
It helps if you have routines when you go through the airport. I always eat at the same restaurant before boarding. We always hit the same duty-free shops to stock up on tea and biscuits before coming home. We always stop by the Hamleys and pick up a toy for each of our children. I must pick up a couple of British newspapers for the plane. I must buy a big bottle of water (I get very dry flying) along with real European made Haribo gummy bears (which are superior to the ones made at home). I must also visit the WH Smith and see if there are any books worth getting as there is usually a 3 for 2 deal going on. And then once we have a gate, it's time to sit and wait to board our flight. The Terminal is always clean, always quiet.
It's not a bad place to set foot when you arrive in Britain. And it's the perfect place to say goodbye.