When I arrived, I noticed a lot of people hobbling around on what Americans think of as "Tiny Tim crutches", the kind you imagine kids with polio and leg braces would use. These are the kind that loop around your forearm and are supported by your hands, which Wikipedia tells me are actually called "forearm crutches". I spent months thinking that way more people here have debilitating childhood illnesses until I asked someone; apparently it's just a different style, and here they use them for broken ankles and everyday injuries. It is conceptually difficult for me to imagine using any kind of crutch but the good old American armpit crutch, so I'm just hoping I don't break my leg here! (Although if I did, I'd have no hospital bills because as a student, I'm covered by National Health for the time being.)
I try to take notice when buildings and cities are or aren't friendly to travelers with disabilities. Some cities are much better than others: I think Chicago and New York are particularly good, as is most of the US due to the Americans with Disabilities Act. Europe is, on the whole, terrible. Oftentimes, a building will be entirely wheelchair-accessible inside except for that nasty step outside, and that really heavy door with no handy button-open. However, London does make a considerable effort to cater to people of all ability levels and are quite frank about what they have and have not done.
First, terminology: the government uses "disability" in all its codes and publications. This includes the most easily visible kinds of disability – inability to walk – as well as blindness, deafness, and mental health issues. At my university, dyslexia and learning disorders are also considered disabilities and, if noted, will affect grading procedures. I have also heard people refer to "differing ability", describe places merely as "accessible", "step-free", and even saw one toilet marked with the innuendo-sounding "easy access".
The Equality Act makes discrimination and harassment illegal and includes accessing everyday goods and services as a right for all people. I couldn't find anything on building codes, but most (if not all) new buildings have a ramp as well as stairs to enter (many buildings are just above street level). However, unlike the US, there are very few of those handy buttons that will open the door for you. These are useful not only to people in wheelchairs and boot mobility scooters, but also to people carrying heavy bags or boxes, and I really miss them. Museums – particularly the big ones – are always accessible. Museums – particularly the big ones – are always accessible. They have lifts in appropriate places, no excessive stairs, and wheelchair-accessible toilets. (House museums sometimes make an effort, but it's more difficult in a smaller, older building, especially when laws prevent alterations to historic buildings.) Public parks and national monuments have been similarly adapted.
Public toilets (a whole subject I'm saving for a later post!) are 50/50. When you can find one, it's likely to be accessible. I was a little confused by this one at the British Museum though: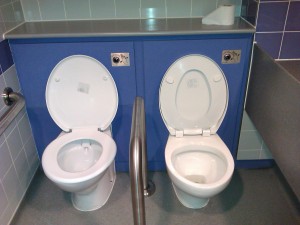 Occasionally, large public areas have public toilets. Covent Garden has one near St. Paul's Church (not the big St. Paul's; this is a smaller one) down a flight of steps. Oddly, there is no lift to get into the toilets, but there is an accessible stall at the bottom of the stairs. Perhaps it was meant as a family toilet? Or for claustrophobics? Russell Square has a self-cleaning pay toilet cubicle that is accessible. I got to peek inside and it was pretty neat. The city does make an effort to allow people of any ability to use the toilets. Privately-owned buildings are trickier though, although they are frank about their efforts. One restaurant I visited recently stated on its website that although the dining room was accessible, the toilets were not. At least they tell you before you get there.
One London institution that is not easily accessible is the tube. Less than half the stations are step-free from train to exit, and almost none of those are in central London. However, many buses are "kneeling" – that is, they are hydraulically fitted to lower and release a ramp. All you need to do is tell the driver, and they are very accommodating. A step-free tube guide can be found here. Transport for London recognizes that they cater to a diverse array of individuals and that the tube can be difficult for certain people. They also have a large-print map for people with poor eyesight and a downloadable audio guide for the deaf. However, there is frequently station construction that is probably not on the audio guide, such as the escalator works at Victoria and Green Park (I did not expect so many stairs last night!) My 78-year-old grandmother is visiting this weekend and tires easily from walking, so I have been noticing the amount of steps in the tube stations – my best advice is that if there is a lift or an escalator, you really should take that over the stairs!
Finally, the streets. I have written before of the difficulty of crossing the street in this city. Good news: many street crossings are equally dangerous for all people no matter their ability! Fortunately, they all have little bumps around the ramps into the street so individuals with poor eyesight know when there's a crossing. (I thought at first they were to topple young girls in high heels, but that's just a funny side effect.)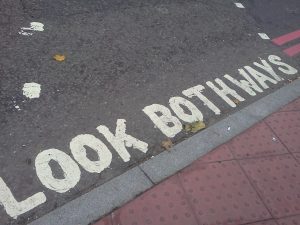 Many crossings will also make a beeping sound when pedestrians can cross.
Stay safe, and if you have any questions on building accessibility please ask! I can check it out.