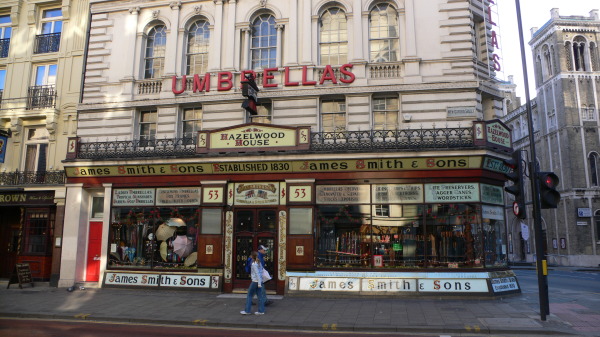 Stand aside Nabootique, the city of London has even stranger places to spend one's money. From the questionable to the bizarre, there is a shop in London that caters to even the strangest of tastes (and no, I don't mean dirty stuff). Have a look below and some of the most unique shops in London. Who knows? You may find something you want to purchase.
James Smith & Sons
This shop definitely comes in handy on a rainy day. James Smith & Sons is a fine purveyor of umbrellas and walking sticks. Located in the West End on New Oxford Street, the company has been hand-making umbrellas for 175 years. Additionally, they also make seatstick, which are walking sticks with a folding component that transforms them into a stool for person who can't stay on their feet long. Be prepared to shell out some money, though, as their custom pieces can be pricey.
Viktor Wynd's Little Shop of Horrors
You know you're in an odd place where the first things to greet you on entering are taxidermy heads and African masks. Billing itself as a 17th Century curiosity shop in a 21st Century world, if it's unusual, then you can find it at Viktor Wynd's. They have fossils, cryptids, old medical equipment, skulls, and "etcetera". Located in Hackey, you may want to wait for your shopping trip, as the store is currently closed for refurbishment.
Mystical Fairies
Clap if you believe in fairies. Even if you don't, you will after you set foot in this shop in Hampstead. Unsurprisingly, everything in this store is straight out of a fairy tale, and they sell everything from statues, children's fancy dress costumes, fairy dust, cosmetics, and party supplies. They don't just sell items targeted at girls, but offer pirate and knight themes for boys. Furthermore, if you want to make a children's tea or birthday party truly memorable, you can hire entertainers from the shop to make your child's party truly magical.
Farm:shop
Another bizarre place, this shop in Dalston's most interesting feature are its multiple fishtanks that are linked by tubes in every room, receiving rainwater from the roof and using pumps to keep it flowing from one tank to the next. The focus at Farm:shop is on green products, growing farm-fresh food in the middle of the city. They also have a café in the shop serving much of what they grow right there.
Daunt Books
This bookshop looks like a bookshop should. There are six locations in the London area, but the first (and possibly best) is in Marylebone on the High Street. Located in an old Edwardian building with oak columns and skylights providing natural illumination, you'll be sure to get a whiff of that library smell when you walk in. There's plenty to browse in here as they offer travel books, coffee books, fiction, and non-fiction for anyone.
Drink, Shop, & Do
An eclectic tea shop by day and a fun bar by night, DSD does afternoon teas on Saturdays and Sundays. During the rest of the week, it's a fun café where you can have lunch and play board games with your friends. Friday and Saturday nights are dedicated to a dance party that loves playing old school hits. Lastly, they sell any number of knickknacks and artwork to adorn your living space. As they say "everything is for sale."
The Viking Store
Feel like a little pillaging? The Viking Store in Walthamstow has all your Nordic and fantasy items. Besides just selling Viking memorabilia, the shop carries Lord of the Rings replica items and gear for Live Action Roleplaying (or LARPing). Jewelery, steampunk items, and even Star Wars costumes are up for sale in this awesome store.
Namco Funscape
One of my favorite places in London (probably because I'm still 12 years old on the inside) is this arcade near the London Eye. Billed as London's biggest entertainment center, they've got everything including arcade games, bumper cars, pool, ping pong, karaoke, and bowling. My London Pass gave me some tokens to play and was easy to and fun to do after riding the Eye.
Hoxton Street Monster Supplies
This shop reminds me of a similar spot in Brooklyn, NY called The Superhero Supply Company and has essentially the same concept—to supply you with everything you need to make your monster fantasies come true. From bottled sorry to canned creeping dread, you can find any number of unique monster-related items in the ship. Similar to its American cousin, Hoxton Street Monster Supplies' profits go to creative writing programs in local schools.
Stumper & Fielding
After you get done buying your umbrella at James Smith & Sons, make sure you stop here to get some good old English country tweed and really look the part of a well-to-do country person. On Portobello Road, you can find not only tweed coats, but union jacks, riding coats, tea towels, and other quintessentially British items. They also carry any number of ladies clothing items as well.