Every city has some pretty unique places to visit, but some are a little weirder than most.  These sites aren't sought out by the casual tourist, but by those with an interest in the unusual.  You might find them in plain sight or have to go looking, but in London, you can certainly locate quite a few.  While some of the city's strangest landmarks have lost their original meaning over time, others are meant to stand out and draw attention.
Giro, the Nazi Dog's Grave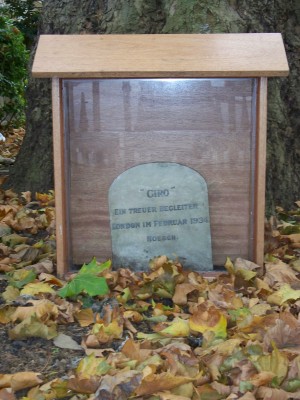 Well, Nazi might be pretty harsh, considering that Giro was only a dog, but Giro just happened to be the favourite pet of Leopold von Hoesch, the German ambassador from 1932 until his death in 1936, having been part of the Weimar Republic government before the Third Reich took over in 1933.  Unfortunately for Hoesch, in 1934, Giro chewed through a wire in the embassy's back garden and was electrocuted.  The ambassador buried him there, but the gravestone was moved in the 1960s when work was done on the building.  Hoesch had been quite popular in Britain, and after his own death two years later, his body was sent back to Germany where no Nazi officials attended his funeral.
Southwark Needle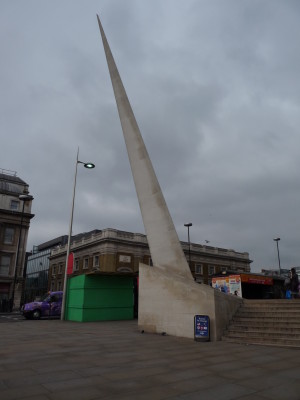 Located at the south end of London Bridge, this diagonally pointing sculpture is made of Albion stone and is 16 metres in height.  The Southwark Council intended for it to be part of a gateway to the borough and a larger visitor/information centre.  Eric Perry architects were working on the centre, but it was never completed, so the needle just stands there with no other real purpose.  Today, in addition to being an odd landmark, it also serves as a meeting point for bicyclists and others.
Nose – Admiralty Arch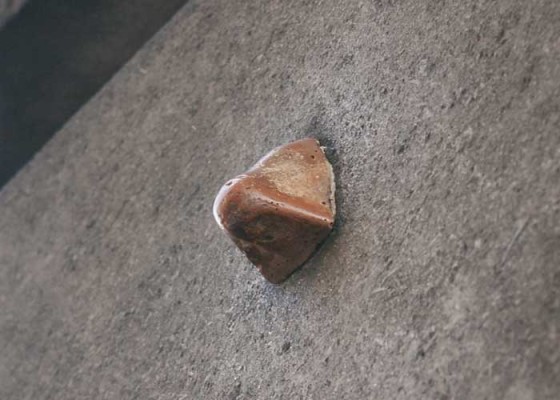 While the Admiralty Arch that links the Mall with Trafalgar Square is certainly its own significant landmark, it has another hidden within it.  In 1997, artist Rick Buckley placed a stone-carved human nose on the inner wall of the northernmost arch.  This was part of an installation/protest piece as Buckley objected to the increased use of CCTV cameras in the city, feeling that the government was becoming too "nosey".  The nose in the arch is one of many that can be found throughout the city, though this one is in the most prominent location.
Farting Lane Gas Lamp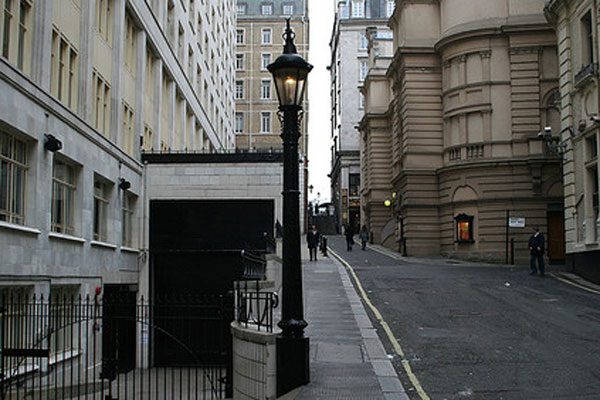 A part of London's old technology that has remained long after its primary use, the gas lamp on Farting Lane served a dual purpose.  First, as a sewer gas destructor lamp, it served to burn off smells and germs from London's sewer system.  Second, it actually recycled the noxious fumes to keep the city bright at night.  Before you start laughing too much, the sewer gas wasn't quite strong enough to light the lamps on its own, and town gas was used as the initial light.  Despite the good intentions, the lamps did very little to actually burn off the odour of the sewers.
Duke of Wellington's Horse Block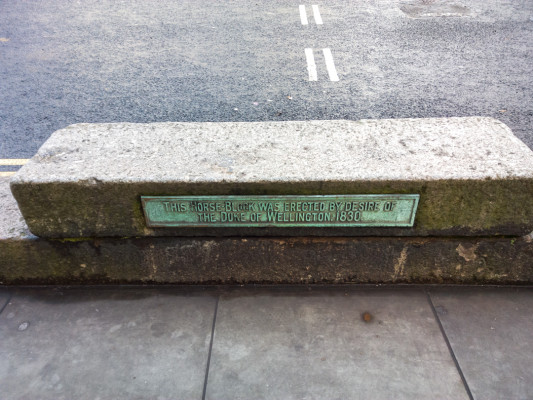 Another strange landmark that has since lost its meaning, the Duke of Wellington had a very good intention for installing this stone at Waterloo Place in 1830.  The Duke's purpose was to help more elderly gentlemen to mount and dismount their horses, essentially making it the first disabled parking space.  A plaque serves to commemorate his efforts.
Ferryman's Seat – Bear Gardens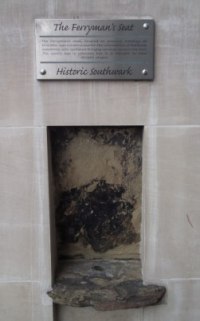 The last of the vestigial pieces of London's history on this list, the Ferryman's Seat in Bear Gardens once served as a waiting place for the ferry pilots who would transport passengers across the Thames in Medieval times.  Without as many bridges, it was necessary for some people to use ferries to cross to Southwark where favourite pastimes such as the theatre, brothers and bear baiting were held (the latter representing how the street earned its name).
Macklin Memorial – St. Paul's Church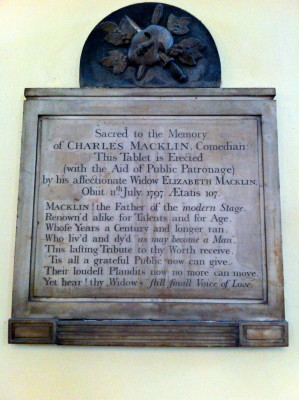 Charles Macklin was a great Irish actor of the 18th Century, though he had a bit of a temper.  In a row with a fellow actor, Thomas Hallam, backstage, Macklin allegedly accidentally stabbed his cane through Hallam's eye.  Hallam died and Macklin was tried for murder, but ultimately only found guilty of manslaughter, which carried no jail time but instead, Macklin received a cold branding of the letter M on his hand.  One would assume he didn't feel too much remorse for the crime, since his memorial plaque at St. Paul's Church in Covent Garden depicts a theatre mask with a knife through the eye.
Republic of Texas Embassy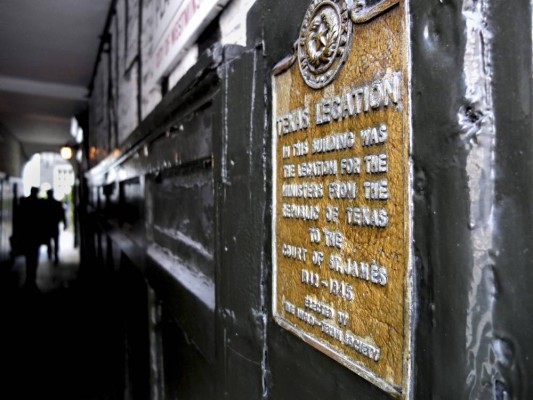 Many people might forget that there was a time when the American state of Texas was an independent republic before it gained US statehood.  During this period, a Texas Legation (a smaller form of embassy) existed in Washington, D.C., Paris, and London.  Located at No. 4 St. James Street in Westminster, the embassy was located next to Barry Bros & Rudd wine merchants, who also served as the Texans' landlords.  This location was rather convenient for the Texans, who were admitted as ambassadors to the Court of St. James across the street.  When Texas joined the United States in 1845, the delegation vacated No. 4, leaving behind an outstanding rent bill of £160.  A plaque from the Texas-Anglo society marks the spot on the building where the Legation once existed.
Jamrach's Tiger Statue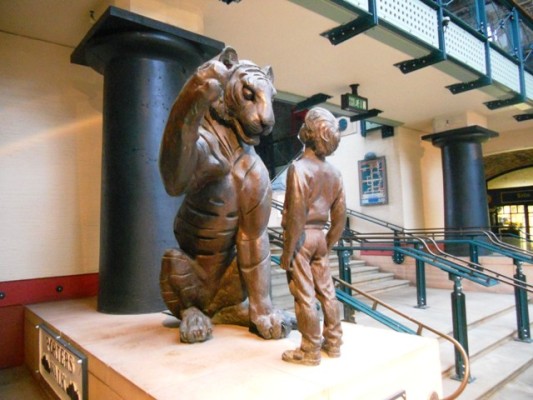 In the 19th Century, Charles Jamrach was an importer and keeper of exotic animals.  He operated a shop that sold all many of creatures including elephants, alligators, monkeys, and tigers.  One day in 1857, a Bengal tiger that Jamrach had acquired managed to get loose form his cage and took a stroll down near Tobacco Dock.  While everyone else presumably fled in terror, one nine-year-old boy attempted to pet the tiger and was met with a large paw that knocked him out.  The tiger picked up the boy with his mouth and began carrying him down the street until Jamrach arrived and thrust his cane in the tiger's mouth to get it to release the lad.  Jamrach then guided the tiger back to its cage and the boy was relatively unharmed.  A statue at Tobacco Dock of the tiger and the boy serves to commemorate the event.
Cross Bones Garden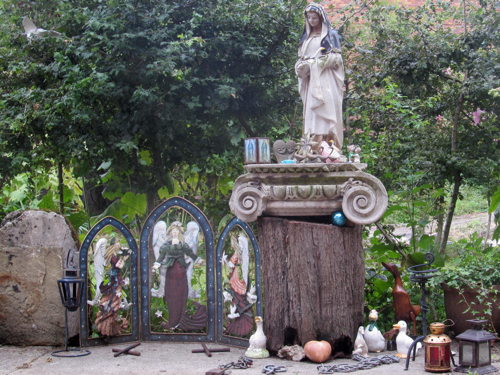 Also known as Cross Bones Graveyard, this disused burial ground in Southwark was once an unconsecrated gravesite for the area's many prostitutes, who could not receive a Christian burial.  These ladies of the evening were often known as the "Winchester Geese" because it was said that they received their license from the Bishop of Winchester.  Beyond prostitutes, it also served as a pauper's graveyard and a resting site for the city's other less-desirable citizens.  Eventually the graveyard was closed to new residents in 1853 after it could not hold any more bodies.  Author John Constable based his Southwark Mysteries here and the Southwark Council and other groups have worked hard to transform it into a memorial garden.