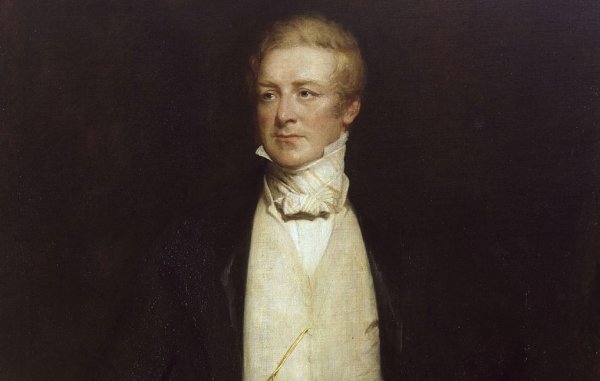 Sir Robert Peel was born in Bury, Lancashire to Sir Robert Peel, the 1st Baronet Peel, and Ellen Yates in 1788.  His father's status and wealth from being one of the Industrial Revolution's most successful cotton mill owners meant that Peel grew up in relative luxury.  He attended Bury Grammar School and then Harrow School before studying classics and mathematics at Christ College, Oxford.  Peel also spent some time in the military as a captain in the Manchester Regiment of Militia in 1808.  He was later admitted to Lincoln's Inn as a law student in 1809.
The same year, he entered politics by becoming a Conservative Member of Parliament for the Irish borough of Cashel, Tipperary.  Cashel is what was known as a "rotten borough" because it had so few electors that it could be bribed by a wealthy patron to elect their candidate and build up support in Parliament.  In this case, that patron was Peel Sr., whose ambitions for his son once led him to claim that he would disinherit Robert if the boy never became Prime Minister.  Besides his father, Peel was sponsored for the seat by none other than Sir Arthur Wellesley, the future Duke of Wellington.
During his early parliamentary career, he would serve as the Under Secretary for War and Colonies and Chief Secretary of Ireland.  He made his maiden speech in 1810 to second the reply to the King's speech.  Peel's speech would be hailed by the Speaker, Charles Abbott, as "the best first speech since that of William Pitt."   He also served as chairman of the Bullion Committee to help stabilise Britain's finances after the Napoleonic Wars. He then resigned his seat in Ireland and became the MP for Oxford in 1817.  Only five years later, he would become the Home Secretary under Prime Minister Robert Banks Jenkinson, Lord Liverpool, in 1822.
Peel would resign the post with the rise of George Canning, but later regain it in 1828 under the premiership of his longtime ally, the Duke of Wellington.  It was during this time that he created his most enduring legacy–the Metropolitan Police.  Created in 1829 and based in Scotland Yard, Peel's police force did not carry weapons except for a wooden truncheon.  This was part of Peel's policy that any police officers should be seen as members of the public and to use force only when absolutely necessary, which became part of what was known as "Peelian Principles."  These officers would become known as "Peelers" (and later "Bobbies") in reference to Peel.
After the Whigs were swept out of office in 1834, the Tories returned to power and Peel was selected as Prime Minister.  However, Peel's Tories were still a minority in Parliament and were forced to work with the Whigs for a coalition.  It was during this time that the Tamworth Manifesto was adopted, which became something of a founding document for the modern Conservative Party.  The tenuous relationship with the Whigs led to a general election being called the next year and the conservatives not maintaining enough seats to keep the majority.
Peel then became the leader of the opposition in 1835, but would come back to power as Prime Minister in 1841.  To help alleviate a budget deficit created by the Whigs, Peel reintroduced the income tax in 1842.  Peel was also responsible for two major pieces of legislation aimed at reforming the working requirements for women and children, first with the Mines Act of 1842 which forbade them from working underground, and then the Factory Act of 1844 that curbed the number of hours that employers could force them to work.  He passed the repeal of Corn Laws to free up food for a starving Ireland dealing with the Potato Famine in 1846, but his own party would not support the bill.  Knowing that the repeal meant the end of his ministry, he stepped down as Prime Minister shortly after the repeal's success.
The Whigs attempted to recruit him after he left office, but Peel stood on his conservative principles and politely refused.  He later helped to repeal the Navigation Acts as an effort to support free trade and also served on the committee for the House of Commons Library.  Even though Peel survived an assassination attempt in 1843, a fall from his horse in 1850 would create complications that led to his death shortly after.