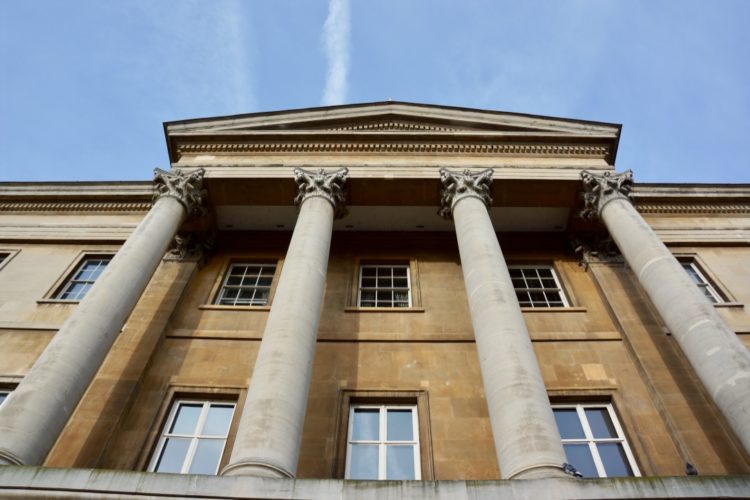 Mayfair isn't just home to the Werewolves of London, and even if it were, they would be some pretty posh lupines considering it's one of the most affluent districts in the city.  Part of the City of Westminster, it's believed that the Romans settled here for a time before founding Londonium.  The city's annual May Fair was held here for a time until the upper classes found it detestable and had it canceled, all the while buying up and developing properties in Mayfair to keep lower-class activities from reemerging.  Still a wealthy neighborhood, Mayfair offers visitors much to do.  We've identified our top ten favorite things to do in Mayfair below and you can let us know your own favorites in the comments.
Mr. Fogg's Residence
I've mentioned Mr. Fogg's before in a list of some of London's most immersive bars.  Patterned after the protagonist of Around the World in 80 Days, Mr. Fogg's Residence is one of three such places in London, with this one a cocktail bar made to look like the character's house.  The interior combines an old Victorian look with miscellaneous items related to Phineas Fogg's travels.
Shopping
There's no shortage of places to spend your money in Mayfair.  International brands such as Victoria's Secret, Adidas, and Abercrombie & Fitch have shops here alongside more bespoke stores.  Additionally, two of London's most well-known stores are nearby, with Selfridges occupying space on Oxford Street while Fortnum & Mason is on the opposite side of Mayfair bordering Piccadilly.
Claridge's
Claridges is a five-star hotel that has long had an association with royalty, the upper class, and celebrities.  At one time home to everyone from Empress Eugenie of France to Alfred Hitchcock, you don't actually have to stay there to enjoy its posh amenities.  Afternoon tea is quite a treat in its restaurant and its Christmas tree display is one of the most famous in London.
Apsley House
Named for Lord Apsley, for whom it was built from 1771 to 1778, it is more famous for having become the home of Arthur Wellesley, the First Duke of Wellington as well as his successors.  After the 7th Duke of Wellington gave the house to the nation, it is now in the care of English Heritage who run Apsley House as a museum dedicated to the Duke of Wellington as well as an art gallery.
Grovesnor Square
One of London's Royal Parks, Grovesnor Square was developed by Richard Grovesnor, 4th Baronet, as a garden park to accompany a series of homes facing it.  Today it is a public park that hosts many events throughout the year from concerts to public art exhibitions.  It also has a distinct American presence, owing to John Adams who established an American mission here in 1785 (the precursor to modern-day embassies) and the statue in the square dedicated to Franklin Delano Roosevelt.
Handel Museum
From 1723 to 1759, famed composer George Frederic Handel lived at 25 Brook Street where he composed a number of his great works, including Messiah.  Now the building is a dedicated museum to his life as well as another famous resident, Jimi Hendrix, who rented a flat here at the time he was a rising star in music.
Royal Institution of Great Britain
For centuries, the Royal Institution has been home to some of the greatest scientific minds in the United Kingdom.  The RI was founded in 1799 and amongst its chief missions since then has been to engage the public in scientific discovery and discourse.  To that end, it regularly puts on public lectures during the Christmas season as well as hosting a number of exhibits.
Royal Academy of Arts
Located in Burlington House, the Royal Academy of Arts is celebrating its 250th anniversary since it was founded by King George III.  Today it hosts a number of permanent exhibits and displays as well as sponsoring classes and lectures for the public in its mission to promote art in the United Kingdom.  From the classics to more modern works, you can find art to suit any taste here.
Wellington Arch
Built to celebrate Britain's victories in the Napoleonic Wars, Wellington Arch stands on the northwest corner of Mayfair.  For many years it was located in Hyde Park Corner with a statue of the First Duke of Wellington on the top but was moved in the 19th Century and the statue replaced with one of a quadriga driven by the goddess Nike.  It also provides a gateway to our no. 1 location.
Hyde Park
Adjoining Mayfair is Hyde Park, perhaps the best public green space in the city.  The park is home to several significant attractions such as Speakers Corner, the Serpentine lake, and the Princess Diana Memorial Fountain and playground.  Whether you're looking to waste some hours or really want to see one of the top city parks, you need to make Hyde Park a destination while in London.