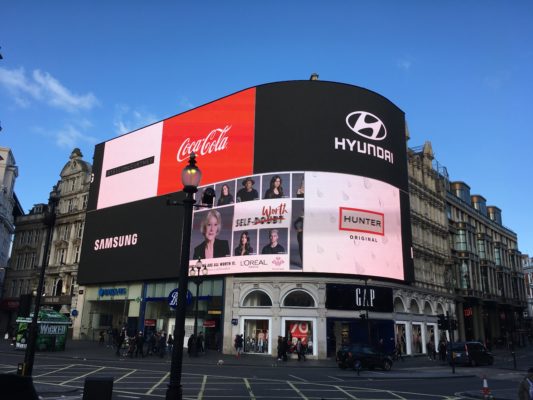 In this article, I'm going to review a billboard.
But not just any billboard, the most famous billboard in the world. Well, in London at least.
I'm talking about, of course, the new electronic billboard that has replaced the previous iconic billboards at the heart of Piccadilly Circus.
First some terminology – in Britain they don't really use the word billboard. It's a bit of an Americanism. They use the term advertising hoarding. That's what they call the new billboard in Piccadilly Circus, a hoarding. You will not find hoardings in very many places in Britain – there are none along the sides of motorways, unlike the USA. So, they're a bit unique. The one in Piccadilly Circus is only allowed because it got grandfathered in essentially because it's always been there.
There have been advertisements and lights in Piccadilly Circus since the early 1900's and they've rarely been turned off except during wartime. Several months ago, the latest iteration of the Piccadilly hoardings was turned off so that the board could be replaced with something more modern.
It was switched on last October and I finally had a chance to see them for myself last month. It's quite a change.
Change is not, in itself, a bad thing. London is a continually changing city. You won't find a unified architectural style here. London is a mix of Medieval, Georgian, Victorian, Edwardian, and modern architectures. It's a hodgepodge. It's beautiful in its own way (and those that lament new construction would have fit in perfectly with people in the early 20th century who wanted to tear down all the Victorian buildings because they were thought to be ugly).
I don't think I like this change, to be honest.
The sign is a technological marvel, it has to be said. The stunning 4K LED screens are beautiful – they're basically giant TV's and the picture quality is incredible. It's a seamless screen across the entire curve of the building (itself an engineering feat). As the screen is now unified into one surface, it allows advertisers to customize their ads. It's more like looking at a giant TV now than looking at a series of single billboards.
The biggest shock is that the sign is LIVING. The ads are in a continual rotation. Moreso than it was before. The sign is constantly moving. The old sign was digital, but this one is now a seamless screen across the entire surface. On the old sign, each ad was still very separte, now all the ads blend together.
See video below for an example – but keep in mind it's a timelapse so it's very sped up.
I stood there for a good ten minutes watching the sign change. It was interesting to watch the progression of each ad as it changed its position. See my picture above for the ads that were in the rotation – Coca-Cola, of course, still had pride of place. The ads change slightly as their form factor changes. As someone who knows what kind of work goes into graphic design, I weep for the poor asset manager who has to create each individual piece.
I think I much preferred the billboard when it was more static.
I do realize it's a bit odd to care so much about how what is essentially a billboard looks, but this is a special billboard in a special place. Does it add to Piccadilly Circus? I'm not sure people will flock in their millions just to see the new billboard, but they will flock to Piccadilly Circus anyway and it will be in millions of pictures.
During the day, I think the sign was fine, even once you get used to the change.
I visited again at night and that's a whole different thing.
My Lord, the sign is BRIGHT at night; much brighter than the old sign. It's so bright you don't even need street lights in on. It's almost blinding. That was when I decided that I really don't like the new sign. It's intrusive. Whereas the old sign was more in the background of Piccadilly Circus, the new sign, at night at least, is yelling at you to look at it. It's unpleasant. It's remarkable that they were able to get planning permission for such a drastic change to the sign.
I'm sure you can see this bloody thing from outer space now.
Time marches on. Years will pass and people will forget the sign ever changed at all. It will have always looked like this. Then 20, 30 years down the line, it will change again. I can't wait to see what they do next.