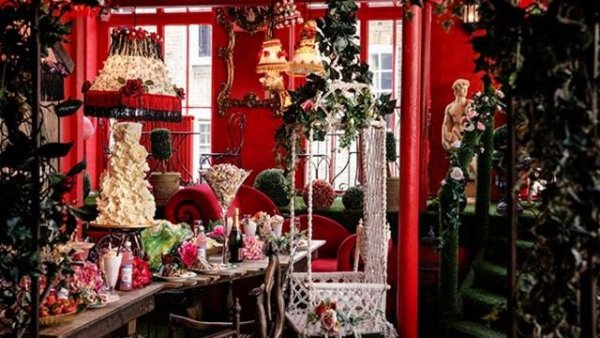 Chocolate is one of the most gifted items around Valentine's Day and London has plenty of shops from which you can purchase a special treat for your special someone.  Whether you want to find a box full of sweets or something custom made, the city has plenty of chocolatiers that will satisfy your partner's sweet tooth.  Of course, there's more than just one kind of chocolate, and we've found five shops in London that offer everything from British favorites to French and even South American candies.  You can let us know some of your own favorite places for chocolate in the comments.
Choccywoccydoodah
The original shop is in Brighton, but this Soho location is just as fantastic as its progenitor.  Sweets are meant to be fun, and Choccywoccydoodah certainly hasn't forgotten that.  For Valentine's, you can find everything from chocolate hearts to chocolate dinosaurs and any number of original creations.  Additionally, the shop also has a café as well as offering several non-edible gifts such as mugs, so if you can't bring back chocolate from your trip to London, you still find something that will prove memorable.
Melt
If you want your chocolate made fresh, Melt's open atmosphere and onsite kitchen means you watch the chocolate being made right in front of you.  Those more inclined to supporting local and environmentally-friendly sources for their edibles will be happy to know that melt sources its ingredients from companies that support their local communities and the planet.  One of the most interesting options they offer is their smoke bar, which is made from cocoa beans that were grown in volcanic soil.  If you're not sure what to get your partner, the gift box contains several of their bars, so it's sure to have something they'll like.
Montezuma's
If you want a mixture of South American and British chocolates, Montezuma's in Spitalfields Art Market is a must-visit.  You can find flavored chocolates that contain anything from spcies to sea salt & lime.  The "build a bar" feature lets you personalize the package, so you can spell out a special message for your loved one.  Montezuma's also has a number of specially made British pudding bars such as Eton Mess and Apple Crumble, so you gift something uniquely British for your special somebody.  They also offer fudge, truffles, and ice cream.
Rococo
Rococo Chocolates is dedicated to luxury sweets as their King's Road boutique and distinctive blue and white packaging will evidence.  They have more than twenty flavors of chocolate inside that you can try, from orange marmalade to organic duck.  They also offer a range of artisan bars based on the works of beloved children's author Road Dahl, so you can pick your favorite work or buy the entire set that offers such options as Mr. Twit's Beardy Breakfast and "Perfectly Normal" 65% Cocoa.  If you have an allergy or prefer to keep vegan, Rococo has sweets that you can enjoy as well.
Pierre Herme
The shop with locations in Covent Garden and Burlington Arcade is mostly known for being the master of the macaroon, but there is also a fine selection of chocolate that shouldn't be forgotten.  Done in a Parisian style, you can get chocolate versions of the macaroons as well as hot chocolates, bonbons, tuffles, and the shop's signature PH Cubes, which feature Madagascan bitter chocolate encased inside dark chocolate.  Of course, if chocolate isn't your thing (which would make this author wonder why you're still reading at this point), Pierre Herme still offers a number of pastries, tea, waffles, and cakes.