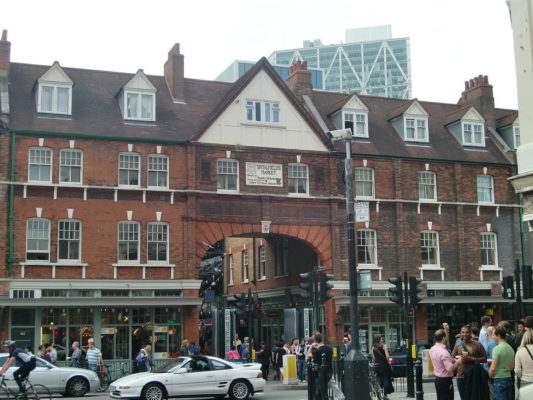 Spitalfields was once full of green grass meadows and gardens until the first roads came in the 17th Century.  Now, this former parish in the borough of Tower Hamlets has been absorbed into Greater London.  Over its history, it has been a haven for groups from French Huguenots to European Jews.  It's also been a major place of trade with Old Spitalfields market and the parish's garment district.  At one point, it was terrorized by one of the most famous serial killers in history.  Today, it's a vibrant place filled with many cultures, important buildings, and interesting things to do.  Here are our top ten favorites, let us know your own in the comments.
Swings – Crazy Golf Club
Swings is a bar in Spitalfields that brings all the fun of crazy golf (known in America as putt-putt) to London.  It's actually the city's first permanent crazy golf club and has two courses for you to play.  Full of challenging obstacles and mind-bending turns.  Naturally, Swings also offers some great street food as well as beer and cocktails for before, during, or after your game.
The Alternative London Tour
East London is a colorful place that has historically drawn society's misfits to it.  Alternative London tours take you on the highlights of this creative and cultural hub whether you up to walk or bike.  A large part of the tour involves visiting a number of the area's street murals with tour guides who either know the artists who made them or worked on the art themselves.  The fact that the tour guides are themselves local artists will grant you unprecedented knowledge of Spitalfields and East London.
Old Truman Brewery
Once a major brewery in London, the Old Truman Brewery is not a multi-use building filled with artisans, shops, and places to eat and drink.  The Brewery complex is also home to many creative and innovative businesses.  What's more, even though Truman's is no longer brewing ales, there are several excellent bars where you can have a pint or another drink of your choosing.  The area also holds special events during the week from anti-sweatshop pop-up shops to vegan restaurant specials.
Broadgate Ice Rink
One of the most popular winter attractions in Spitalfields, the Broadgate Ice Rink comes back in 2017.  Exchange Square is home to the city's longest-running ice rink and stays open from 10 AM to 10 PM every night (except holidays) from mid-November until February.  There aren't any lockers, so make sure to keep track of your stuff while you're skating, and if you need some help for the kids, penguin and seal ice skates are available for their first time, and skating classes are available to help children of all ages learn.
Brick Lane Market
Located in the heart of Spitalfield's Bangladeshi community, Brick Lane Market is one of the more charming shopping pavilions in the area.  The market is comprised of several smaller markets that sell everything from bespoke items to antiques.  The UpMarket on Sunday is a great place to find hand-made and second-hand crafts, while the vintage market takes over on Thursdays and Fridays.  The markets are open seven days a week, but the weekends are when things are most lively.
Jack the Ripper Tour
Jack the Ripper murdered five Whitechapel prostitutes (that we can prove) in 1888 and the fact that he was never caught turned him into one of history's most notorious serial killers.  This walking tour will take you back in time to the Ripper's haunts, focusing primarily on the places where the victims were found, but also locations related to the suspects and the victims, such as the pub where Mary Nichols had her last drink before falling prey to the Ripper's knife.  The knowledgeable tour guides will not only give you history but provide clues to let you play amateur detective and see if you can solve London's greatest mystery.
Dennis Severs' House
Dennis Severs' House is like a time capsule inside a home.  Mr. Severs redressed each room in the house so that it looks like a different period in the home's life from the 18th to the 20th Centuries.  During the Christmas holidays, each room is done up with decorations commiserate to that era.  Regardless of when you decide to go, the tour is a very worthwhile look at how Spitalfields has changed through the centuries.
30 St. Mary Axe
Also known as the Gherkin thanks to its distinct shape, 30 St. Mary Axe is one of the unique of London's skyscrapers in more ways than one.  While home to many offices and companies, the Gherkin has plenty of amenities that are open to the public.  Restaurants in the building cater to every taste from street food to gastro fare to fantastic sweets.  The restaurant Searcys has the best view of the surrounding city, situated as it as at the top of the building.
Christ Church Spitalfields
Designed by Nicholas Hawksmoor and built in the 18th Century, Christ Church Spitalfields was a result of the Commission to Build Fifty New Churches so that many smaller neighborhoods could have a local parish church.  The organ has been part of the church since 1735 with refurbishments and is one of the church's biggest draws.  Tours of the church are available during the week at a cost of £6, and once you're done seeing the sights, you can relax with a nice cup of coffee in one of the most unique cafes imaginable—a crypt.
Old Spitalfields Market
The Old Spitalfields market is perhaps the area's biggest draw, a marketplace that sells everything from handmade crafts to high-end fashion.  It is one of the oldest attractions in the neighborhood, with the first market having been given a license by King Charles I for vegetables and meat in 1638, then reopened by King Charles II in 1682 to provide food to the growing city.  The current building has been around since Victorian times, and in addition to the vast array of goods, the market also places host to a number of events each week.