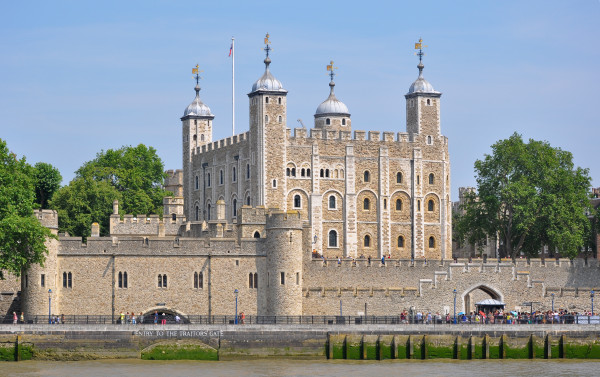 The Borough of Tower Hamlets inherited its name from the unit located there that was once obligated to defend the Tower of London.  It was born in 1965 with the creation of the Greater London Council and the merger of Stepney, Poplar, and Bethnal Green.  As a result, Tower Hamlets is a very large borough that covers many important London neighborhoods from Whitechapel to Canary Wharf.  Such a huge part of London certainly has plenty of great places to visit and things to do.  We've outlined our ten favorites below, but you can let us know your own in the comments.
Tower Hamlets Cemetery Park
One of the "Magnificent Seven" Victorian cemeteries in London, Tower Hamlets Cemetery Park opened in 1841 and closed to burials in 1966.  It is a glorious monument to the dead, with many gorgeous monuments, crypts, and tombstones that are surrounded by the park's greenery.  It has its own interesting history and people interred there.
Jack the Ripper Tour
Speaking of death, the neighborhood of Whitechapel was home to a series of grisly murders in the 19th Century attributed to the mysterious Jack the Ripper.  While the Ripper was never identified or arrested, his legend lives on in the annals of police history and Richard Jones leads the first and oldest of tours dedicated to the Ripper, having done so since 1982.  Jones will walk you through many spots where the bodies were found, and important parts of the investigations took place.
Whitechapel Gallery
Of course, Whitechapel isn't known solely for gruesome Victorian deaths but has a lot of life and culture.  A prime example of this is Whitechapel Gallery, which bills itself as "the artists' gallery for everyone" thanks to its public nature.  Exhibitions here can very from modern classics such as Jackson Pollack to the more conceptual work of Mikhail Karikis.
Columbia Road Flower Market
London's street markets are some of the city's greatest attractions, and the Columbia Road Flower Market is perhaps the top market for flora in London.  Interestingly enough, it actually started life as a food market in 1869 before plants became the dominant item for sale.  The market is open every Sunday from 8 AM to 2 PM and the plants for sale range from flowers to bulbs for amateur gardeners.  There are also plenty of stores and cafes that peruse before, during, or after your market visit.
Old Spitalfields Market
Amongst the oldest markets in the city is Old Spitalfields Market, which has had a stalls on site since 1638.  The original buildings for the covered market were constructed in 1887 to make Old Spitalfields a whole service market.  In addition to hosting stalls catering to fashion, antiques, and crafts, Old Spitalfields also hosts pop-up markets and special events.
Dennis Severs' House
Located at 18 Folgate Street, previous owner Dennis Severs lived here from 1979 to 1999 and slowly converted each room in the house to a time capsule of different eras in London's history, showcasing how a family in each period from the 18th to the 20th Centuries lived.  During the Christmas holidays, each room is adorned with period-appropriate decorations.
Victoria Park
One of many places in London named for Queen Victoria, Victoria Park opened in 1845 and features over 86 hectares of open public space.  The park features two lakes, playgrounds, sports fields, and cafes, amongst numerous other amenities.  Parts of Victoria Park are Grade II listed and were landscaped by Sir James Pennethorne, so the park has some real historical pedigree in addition to being a relaxing green space.
V&A Museum of Childhood
A branch of the Victoria & Albert Museum, the V&A Museum of Childhood has exhibits and collections that focus on interactive learning to give children more direct knowledge of history and its influence on the present.  The museum in Bethnal Green has the largest collection of children's artifacts of the V&A buildings and hosts regular activities that will keep you and your kids engaged.
Museum of London Docklands
Those wanting to learn more about the history of London will want to visit the Museum of London's Docklands location.  The Docklands museum focuses on the history and importance of the River Thames with exhibits that include the history of trade, how the river changed the city, and even London's regrettable role in the slave trade.  Temporary exhibits are also part of the museum's offerings, so be sure to check the website to see what else is going on here.
Tower of London
Tower Hamlets wouldn't have its name without this castle that began as a motte-and-bailey castle after King William I conquered England in 1066.  He constructed the White Tower not long after, and it has expanded over the centuries.  Once a royal home, the palace's buildings are now dedicated to its history as a seat of power, prison for the realm's enemies, and home of the Crown Jewels.  It's a must-visit site for London and the top place you have to visit in the Borough of Tower Hamlets.