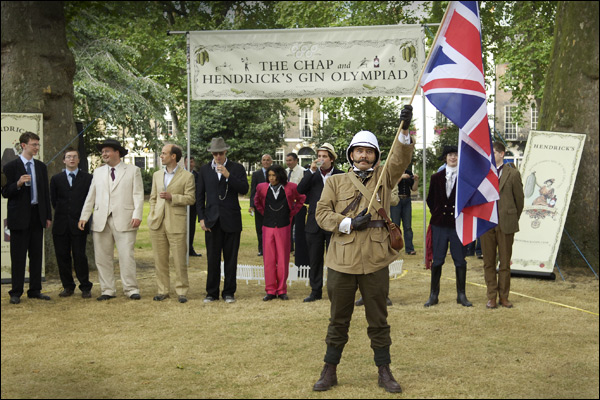 There are plenty of well-known sports to watch in London.  Over a half-dozen football clubs, rugby teams, cricket matches, and even a couple American football teams.  With all this sporting activity in the city, there are some sports that tend to be overlooked.  They may not be as popular or anywhere near professional, but their athletes are just as passionate about the game as the big boys (and girls).  These games may seem a little odd to you and me, but sometimes they can make for some of the most fun.  Let us know some of your favourite odd sports and contests in the comments.
Bicycle Polo
This sport is pretty much what it says on the tin—polo with bicycles.  Cycle polo has been around since 1891 and while not as popular as its equestrian counterpart, it nonetheless has a devoted following.  It can certainly be argued that the control and balance needed to play the sport on a bicycle is possibly more difficult.  What's more, the game is played on a hardcourt for the sake of the conveyance and the rules were actually devised by the North American Hardcourt Bicycle Polo Association.  The main organisation for the sport in London is the London Hardcourt Bike Polo Association and there are several smaller leagues that will help you form a team or find other participants if you wish to play or just watch a match.
Net Rugby/Rugby Netball
More commonly known as simply "Netball", Net Rugby was originally born of the American sport basketball and, like the previous entry, got its start in the UK in the 1890s.  As with basketball, the point is to get the ball into one of the nets at either end of the court, but like rugby, each player can only hold the ball for a limited time (three seconds) before having to either take a shot or pass to another player.  British Pathe, London Touch Rugby and Netball, and Netbusters are some of the leagues available for people to join and find more information.
Octopush
The actual name for the sport is "underwater hockey", and requires two teams to move a puck along the surface of a swimming pool and into the net on either end using a small hockey stick.  Players are also equipped with snorkels, fins, gloves, and a diving mask.  The sport was created in 1954 by Alan Blake and began spreading across the world in the 1960s to former colonies such as America and Australia.  The British Octopush Association is the main body for the sport, though several London organisations exist, such as the West London Underwater Hockey Club, Lewisham, Crystal Palace, and others.
Rat Race
Sometimes a running course just isn't difficult enough for people.  In the last few years, a new type of race has popped up that throws in added challenges similar to an obstacle course.  This 10K race through London's Docklands sees individuals and teams tackle a total of 35 obstacles that include water jumps and giant inflatables.  Participants can also choose to race for charity or participate in fancy dress.  Rat Race is definitely the right activity for those looking for a challenge and possessing a sense of humour.
Chap Olympiad
Possibly the most dapper sport in the city, the Chap Olympiad has been running for twelve years since 2004.  Sponsored by Chap Magazine, it requires very well-dressed gentlemen and ladies to participate in events that require the least amount of effort.  Events include umbrella jousting with bicycles and a Tug of Hair with an elongated handlebar mustache instead of a rope.  The Georgian buildings of Bedford Square Gardens provides the backdrop for the games and if you feel so inclined, you can spring for a ticket that includes a picnic lunch.