The birth of the modern restaurant is attributed to 18th Century France, where a man named Boulanger opened a new eating establishment near the Louvre that served "restorative" soups also called "restaurants."  His dining option was clean with separate tables and a menu, a far cry from the dirty and noisy taverns where the food available depended on what the owner had on hand.  It didn't take long for this concept to cross the English Channel and English restaurants to establish themselves in London.  While some have changed locations, many of these restaurants continue to operate today.
Sweetings – 1830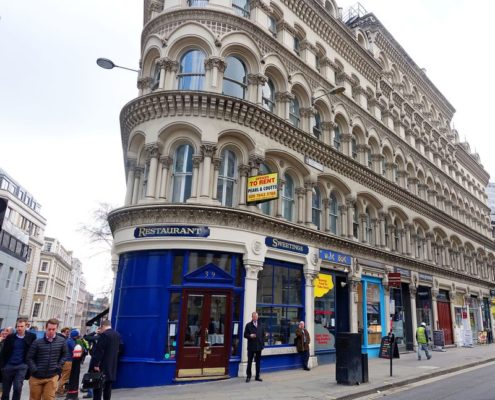 Possibly the oldest fish and oyster restaurant in London (according to its website), Sweetings began as John S. Sweeting's fish and oyster merchant shop on Lad Lane, Islington, in 1830.  Not really a restaurant when it started, Sweeting sold his wares to other restaurants and hotels in the area and even expanded into two other shops before Sweetings opened as a restaurant in 1889 at 39 Queen Victoria Street.  Sweetings can still be found at this address well over 125 years later, serving up some of the best seafood in the city.  While other restaurants might be older, their origins don't extend quite as far as Sweetings and our next entry.
Simpson's in the Strand – 1828
This restaurant didn't quite open as a restaurant either, and Simpson's in the Strand actually started as a chess club and coffee house when it opened in the Savoy buildings in 1828.  What was known as Samuel Reiss's Grand Cigar Divan quickly gained fame as the "house of chess," attracting the attention of the game's most important Victorian figures.  Founder Samuel Reiss then partnered with caterer John Simpson to start serving food in 1848.  Some of the biggest names in art and literature such as Vincent van Gogh and Charles Dickens have been through its doors during its history and chess has long since given way to some of the city's best cuisine.
Rules – 1798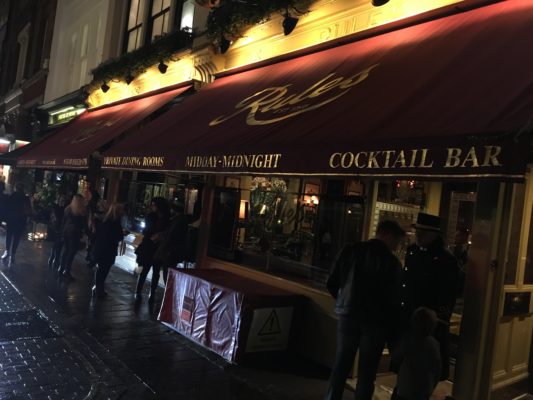 Rules is often credited (especially by itself) as the oldest restaurant in London, though that's more because it has been in the same location as a restaurant longer than any other dining establishment in the city.  It opened in 1798 at 34-35 Maiden Lane in Covent Garden as an oyster bar and traditional British eatery, founded by Thomas Rule.  Rule's descendant, Charles Rule, then swapped businesses with Thomas Bell, who was running a Parisian restaurant called Alhambra, shortly before WWI.  Bell's daughter later sold the restaurant in 1984, but it remains one of the oldest and most popular restaurants in the city.  It even appears in the most recent James Bond film, Spectre.
Simpson's – 1757
Not related to Simpson's in the Strand, this restaurant began as Simpson's Tavern in 1757 and claims to be the city's first chophouse.  The restaurant was a gift to Thomas Simpson from his father, replacing the Fish Ordinary Restaurant that Thomas had run in Billingsgate.  For much of its history, Simpson's was a male-only establishment and women were not admitted until 1918.  Today, everyone is welcome to try some of the best traditional tavern fare in London.
Wilton's – 1742
Even though its location has moved a few times over its history, Wilton's is undoubtedly the oldest restaurant in London.  George William Wilton opened the original location in Haymarket as a shellfish mongers.  It passed down through his family until the name became Wilton's Shellfish Monger's and Oyster Rooms and then moved to King Street.  It left the Wilton family when Frank Wilton died childless in 1886 and has passed through a few more owners and locations until it landed at 55 Jermyn Street in St. James.  275 years later, it maintains its shellfish menu alongside high-end takes on British favourites in a very classy atmosphere.