Certainly the busiest airport in all of the United Kingdom, it's worth flying into at least once in your life. Heathrow started life as the Great West Aerodome in 1929 and was named for the nearby hamlet. The major expansion of Heathrow began in 1944 designed to handle long-distance military flights, but when the war ended, those plans were scrapped and it was turned to commercial flights instead. So what interesting facts can you find in its tarmac and terminals? Read on.
Love Actually
The arrivals gate at Heathrow is certainly one of the coolest parts about landing there and will make anyone feel like a rock star, even if you know no one is waiting there for you. For the 2003 film, Love Actually, Hugh Grant's opening monologue espouses the virtues of the location. The people shown during this scene aren't actors, but actual people reuniting with their loved ones. The film crew had a camera set up to record their reactions and had to chase them down with waiver forms in order to use the footage in the movie.
The Numbers
Heathrow's size is 1,227 hectares and it has six terminals and two runways that serve 80 different airlines. At least 201,000 passengers depart from the airport every day and 73.4 million flew into and out of Heathrow in 2014. Besides passengers, the airport moves 1.5 million metric tonnes of cargo per year. It also employs approximately 76,000 people within the airport boundaries.
The Posh Terminal
Terminal Six is used for VIPs and as such is very small and only opened for special occasions. It includes the Royal Suite used for members of the House of Windsor, visiting dignitaries and heads of state, as well as certain celebrities.
Pedal to the Metal
While most first responders typically arrive in an ambulance (and Heathrow certainly has them), many of them use mountain bikes to arrive more quickly to the scene of an emergency.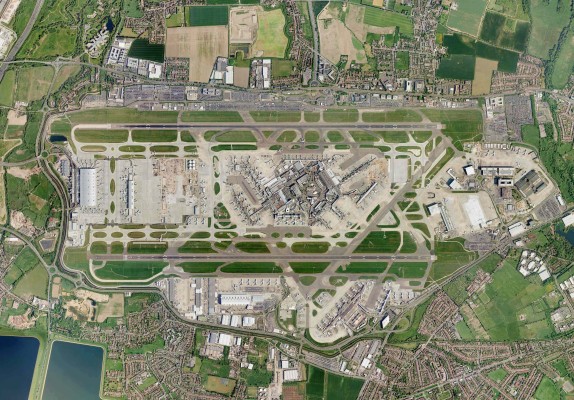 Down Time
Flights stop at 23:30 and do not resume until 04:30. The reason for this is to service security equipment, resolve engineering problems, restock outlets, and clean the airport. It also has to do with noise relief for nearby residents.
What's in a Name?
The original two terminals at Heathrow were named Oceanic and Europa. They opened in 1961 and 1968. Of course, as the terminals expanded, with the original third terminal built in 1986, they were changed to more traditional designations. The most recent terminal to open was Terminal 2 in 2014.
Destinations
While the airport's website lists New York, Dubai, Dublin, Hong Kong, and Frankfurt as its five most popular destinations, the largest destination for most flyers is Spain at 27 million passengers per year. The US only nets about half that at 13 million passengers. Within the UK, the Heathrow to Edinburgh routes carries 1 million passengers a year.
Smelling Good
A single bottle of Chanel no. 5 is sold in the airport duty-free every five minutes.
Heathrow Gets the Bronze
Airport Council International's figures put Heathrow as the third-busiest airport in the world for 2014, a position that the airport has held since 2011. The only two that rank above Heathrow are Hartfield-Jackson International Airport in Atlanta, Georgia (#1) and Beijing Capital International Airport in China (#2).
New Runway?
A third runway was approved for Heathrow in 2009, however, when the new Conservative-Liberal Democrat coalition government came into power in 2010, they nixed the airport's expansion plans. Building a new runway is a political hot potato despite it being very needed, all options are unpopular and no party wants to support it. Anyone who has had to circle Heathrow 5 times waiting for a landing slot can attest to the need for a third runaway. There is currently a commission due to report on expansion AFTER the 2015 general election (to protect the politicians!). London First, an organisation that represents many of London's businesses and employers continues to push for the runway.