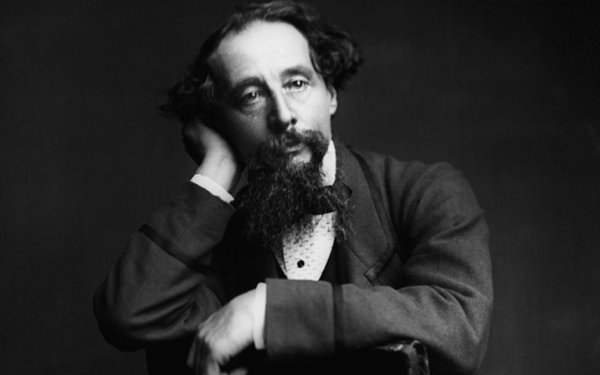 While Dickens was not born in the city, he came to live there at a young age.  It wasn't long after moving that his father, John Dickens, was thrown into Marshalsea Prison for failure to pay his debts.  This event would have quite an impact on the future author, leading many of his novels to deal with the plight of London's impoverished masses.  Even after becoming a famous author, Dickens would continue to live in the city when not on tour and base many of his stories in it.  Dickens would often walk through the streets drinking the city in, so it is little surprise that many of the places he visited end up in his novels and short stories.
His first novel, The Posthumous Papers of the Pickwick Club (known more commonly as The Pickwick Papers), features a group of men who travel around England, but a few of their stays include inns in London such as the George and Vulture on Lombard Street and the Golden Cross at Charing Cross.  St. Bartholomew's Hospital appears as well, as it would in other works such as Martin Chuzzlewit, Little Dorrit, and Great Expectations.  Oliver Twist, published two years later and one of his most famous works, includes visits to Saffron Hill and Jacob's Island.  Dickens would occasionally go on patrol with the Metropolitan Police on the island and became intimately familiar with the poverty and crime there, ultimately making it the setting for Bill Sikes' death.
Covent Garden presents another interesting location for Dickens, his newspaper, All the Year Round, was located on the upper floors of 26 Wellington Street, which is now the Charles Dickens Coffeeshop.  The area was also one of the settings for Little Dorrit, where Arthur Clennam lives in a dingy flat much as Dickens once did.  Mashalsea also plays a role in the novel, as Amy Dorrit's own father is sent there and no one can figure out how to get him released, much mirroring the imprisonment of John Dickens.  The prison has long since been torn down except for one wall.  Covent Garden also features in Great Expectations, which includes Gray's Inn, one of the Inns of Court, where the narrator Pip and Herbert Pocket have chambers.  The same location also features in The Pickwick Papers and David Copperfield.
Another novel that is heavily based on the author's own life, David Copperfield features many locations with which Dickens was familiar.  The Strand is where David and his Aunt Betsey find lodgings, and also the Adelphi theatre, one of Dickens's favourite haunts.  Dickens also spent much time on Fleet Street as a young report and consequently, so does Copperfield.  Prince Henry's Room on Fleet street also makes and appearance, and is nearby one of Dickens's favourite pubs, Ye Olde Cheshire Cheese.  The Micawbers of the novel lived in Camden Town, as did the Cratchits of one of my own favourite works, A Christmas Carol.  The story also features the Royal Exchange as the site where two men try to get Scrooge to contribute to charity and where he acquiesces after his change of heart.
Of course, these are only a small sample of the real-world places that Dickens featured in his writing.  There are also plenty of locations where you can walk in the footsteps of the man himself.  In addition to Ye Olde Cheshire Cheese, Dickens and other authors would often visit The George Inn in Southwark, which has been on its site since the 16th Century and is owned by the National Trust.  Further, Rules restaurant is considered to be the oldest in the city and Dickens had a table reserved overlooking the factory where he worked in his youth.  The Dickens House Museum is another place to visit, which is where the author lived with his family for a number of years.  Lastly, if you want to get an even closer look at Dickens's life and the city's impact on him and his work, there are any number of walking tours that will take you all over London from Southwark to Camden and everywhere in-between.