They say it's the most important meal of the day. Breakfast has certainly evolved over the years from a big meal meant to give farmhands the energy they needed for work to a more slimmed-down repast for desk jockeys on the go. Of course, just because we may want something quick in the mornings, that doesn't mean that we don't crave a big spread once in a while. With its dozens and dozens of restaurants, there are more than enough to satisfy your desire for a big English, Irish, or Scottish breakfast, and even something if your appetite trends more American or international. While no means an exhaustive list, here are five of the best restaurants for a good breakfast. Let us know your favourites in the comments.
Roast
Let's start with the traditional, shall we? Roast prides itself on being "deliciously British, "," and the atmosphere (and more importantly, the menu) reflect its goal to be an upscale ambassador for its own nation's cooking. The menu includes a full English breakfast referred to as "The Full Borough" (with a veggie edition) and also "The Full Scotti," which is similar but also includes a tattie scone and haggis. There's also some smaller fare that includes waffles, pancakes, or eggs and bacon made many different ways. Located in the Borough Market, one of the city's oldest, you can really get a sense of the city by walking there over London Bridge.
Electric Diner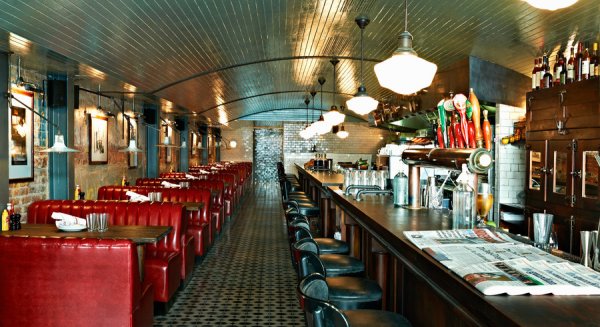 One of the great icons of Notting Hill (besides that famous blue door) is the Electric Cinema, one of best movie theatres in all of London. If you're looking to kill some time in the morning before the movies start, the Electric Diner next door offers a great menu. Traditionally serving American diner food, the diner goes beyond offering cheeseburgers to serving a breakfast that includes several egg dishes and many healthy options including oatmeal, salmon, and granola. Breakfast is served from 8 AM to 12 PM, and if you come in later for lunch or dinner, your ticket from the Cinema can get you 50% off your bill. Brunch cocktails and smoothies are also available.
Brew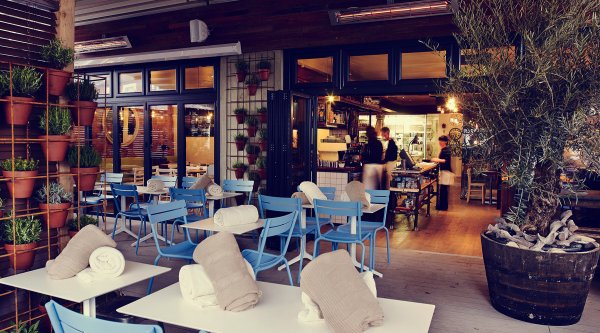 While other places might present some trouble getting in, Brew has six different locations to pick from, and the food is excellent at all of them. If you didn't roll out of bed until late, the day menu includes all the breakfast items and is available from 7 AM to 5 PM. Just about all the egg dishes include toast; there are more colorful dishes that include toasted banana bread or a croissant, and some healthy choices such as organic porridge and homemade granola. For an even more mouth-watering feast, you can have the bacon sandwich with the house-made treacle-cured bacon, or the smoked Boston baked beans with bacon. Did I mention they have bacon?
Milk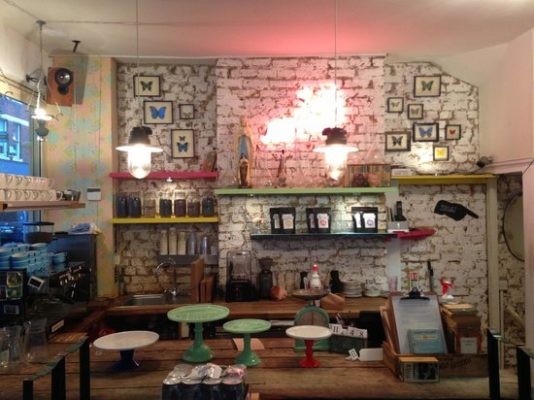 Big and bright and right in the market on Hildreth Street, Milk is happy to serve coffee, tea, and a mix of breakfast dishes from all over the world. Whether you're looking for a full English breakfast, Kurdish eggs, beans, fritters, or a little bit of everything, they have it. What's more, Milk prefers to locally source its ingredients. The coffee and tea are going to be better than what you can find at Starbucks, and they also serve lunch and dinner if you happen by later in the day. While the website doesn't tell you much except how to contact and book a reservation, the 8-bit inspired theme is a delight as well.
Duck & Waffle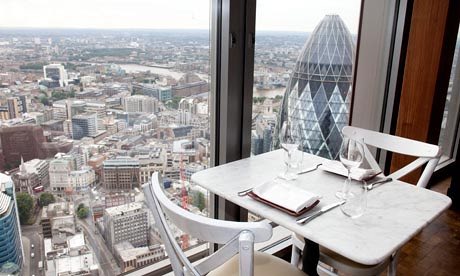 Consistently on every list for Breakfast in London, Duck & Waffle gets its name from its signature dish—a crispy duck leg confit topped with a fried duck egg and mustard maple syrup over waffles. The rest of the menu is very worldly, offering Elvis-inspired waffles peanut butter and jelly, banana brulee, Greek yogurt with homemade granola, Colombian eggs, and a full English breakfast. Even better is the view, provided by the 40th floor of Heron Tower, which allows you to take in the entirety of the city as you dine on these exquisite creations. The downside to all this is that D&W isn't the cheapest place in the city, but it's certainly one that you will remember.