Everybody yearns for something sweet. Whether as part of a meal or as a small snack, once in a while, we all just want something with some sugar in it, and of course, there are plenty of options out there. Whether you want pastries, chocolate, ice cream, or something else, London certainly has plenty of restaurants and shops that can meet your appetite for desserts. These five locations represent some of the best of each type of sugary delicacy. Feel free to add suggestions for your own favorites in the comments.
1. Dum Dums – Donuts
Everyone loves a good donut, and while a certain number of bakeries in London provide them in addition to their other fare, Dum Dums specializes in them and offers its share of succulent pastry treats. Choose a delectable Peanut Butter and Jelly, Strawberry Puree Fondant, or one of their famous Croissant Donuts.  Regardless of your choice,  you will find some of the best donuts in the city there. Besides the regular Croissant Donuts, they also have cake-sized Croissant Donuts for birthdays, parties, or for treating yourself. The shop's main location is in is in Boxpark on Bethnal Green Road, but they also have a smaller "Donutterie" in Harrods Food Hall.
2. Primrose Bakery – Baked Goods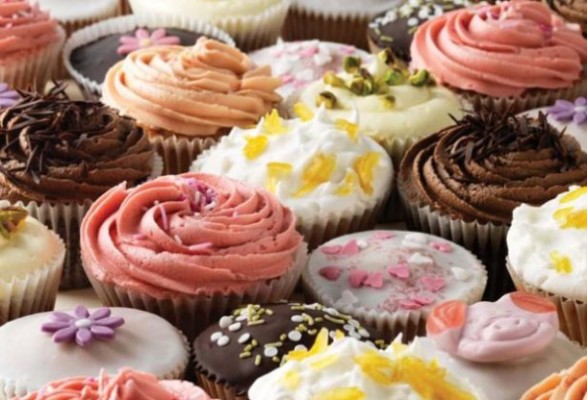 If you're after baked goods, but don't want a donut, Primrose Bakery with its locations on Tavistock Street and Gloucester Avenue, has everything else you could want. They have croissants, cakes, brownies, loaves, biscuits, and even their own signature cupcakes and mini-cupcakes. Beyond the normal cupcakes, they also have a variety of cocktail-themed cupcakes from Margarita to Moscow Mule. The cakes they offer include layer cakes, candy-filled piñata cakes, giant cupcakes, individualized cakes, and even wedding cakes if you plan to tie the knot.
3. Hope and Greenwood/Cybercandy – Candy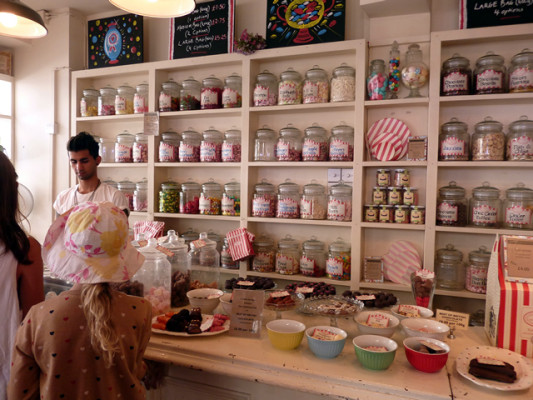 Honestly, I tried to find a single place that encompassed both old favorites and new, but most seem to be split into those two categories, so I chose both. Hope and Greenwood is a more traditional confectionery with its own brand of lollipops, hard candy, gummies, licorice, truffles, and any other old-fashioned sweets you can recall. With two locations in Dulwich and Covent Garden, you might be lucky enough to run into one of the founders, Kitty Hope or Mark Greenwood. Cybercandy, meanwhile, specializes in more conventional and modern favorites with a particular focus on American sweets. What's more, you can also find British, Australian, and Japanese sweets as well. It can found on Garrick Street in Covent Garden and offers several exclusive sweets you won't find in other shops.
4. William Curley – Chocolate
If you're solely in the mood for chocolate, William Curley Dessert Bar has won Britain's Best Chocolatier five times, and with good reason. Curley and his wife Suzue are both highly regarded chefs not afraid to mix the traditional methods with new and different flavors. Opening in Richmond in 2004, it is now one of the largest chocolate shops in the city and has since opened boutiques in Belgravia and Harrods. The Belgravia location offers a small coffee bar and other desserts (in case those with you aren't big on chocolate) as well as hosting classes.
5. Ruby Violet – Ice Cream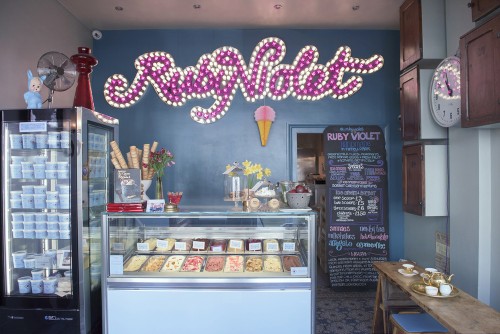 If you're looking for high-class ice cream, gelato, and sorbets, this lovely creamery located on Fortress Road has a great selection. From Belgian Chocolate to Melon, each of Ruby Violet's flavors is made with free-range eggs, organic milk, and other natural ingredients. Much as William Curley does, Ruby Violet also offers classes so you can learn to make your own delicious frozen treats.