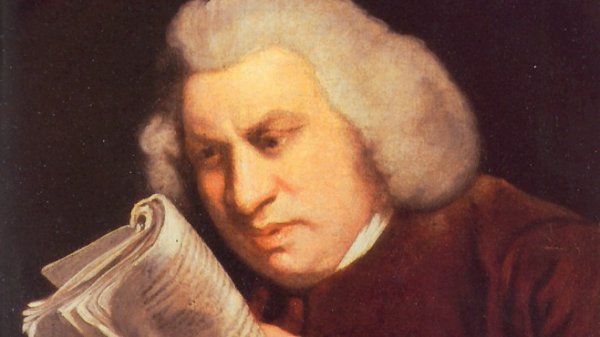 Dr. Samuel Johnson is one of the most prolific writers in British history.  While his most famous contribution to language and literature was "The Dictionary of the English Language", he was also a poet, essayist, biographer, critic, and editor.  At the age of twenty-eight when he realised that the life of a teacher wasn't for him, he moved to London and began his career as a writer.  An odd man during his life, his intellect and writing skill would see him go down in the annals of history as one of the city's greatest residents.
Born in Lichfield, Johnson seemed to be destined for a literary career thanks to his father's status as a bookseller.  He attended Lichfield Grammar School and spent some time at Pembroke College in Oxford University. It was there that he read much and translated his first poem, for which he received much praise.  However, while his family once had money, his father's debts caused their wealth to dry up and Johnson was forced to leave due to a lack of money.  He moved back in with his parents in Lichfield until he found work as a teacher in Market Bosworth.
At the age of twenty-five, he married Elizabeth "Tetty" Porter, a widow more than twenty years his senior.  Elizabeth and her husband, Harry, had befriended Johnson when he moved back to Lichfield and after Harry's death, Elizabeth encouraged a more personal relationship.  After several attempts to find a teaching position closer to Lichfield or a Headmaster post, Johnson and Tetty user her money to open Edial Hall School as a private academy.  Unfortunately, the venture was not successful and Johnson was starting to consider other options for his life.
During his time running Edial Hall, Johnson began to write his first major work, the historical tragedy Irene, in which a sultan named Mahomet captures the City of Constantinople and pursues the title character while letting his kingdom fall apart.  In 1737, he and Tetty, along with one of Johnson's students, David Garrick, moved to London where Johnson took a job as a journalist and also wrote poetry to help make money, publishing the poem "London" anonymously in 1738.
However, success was not quickly forthcoming, and Johnson moved out of his home with Tetty so that he would be less reliant on her money.  During this period, he spent most of his time with Richard Savage, a fellow poet.  The two were often without money and spent most of their time in pus or wandering the streets until dawn.  It was out of this friendship that Johnson wrote his first biography, Life of Savage, which he published anonymously in 1744.
Two years later, a group of publishers commissioned him to write the authoritative "Dictionary of the English Language".  Johnson believed he could finish the project in three years, but it ended up taking him eight.  It was finally published in 1755 and while it wasn't the first such document, it quickly became the most widely-used in the United Kingdom.  While working on the Dictionary, Johnson had moved back in with Tetty and filled the house with his books and assistants while completing the work.
However, during the tie he was working on the Dictionary, Tetty fell ill.  Eventually moving to the country to help recover and escape the busy atmosphere of their London home, she died in 1752.  Johnson grieved over his wife and continued to struggle financially, once being arrested on a debt of £5, eight shillings.  However, he made friends who provided him with funds and connections.  He continued to write as well, and in 1765, he published his work "The Plays of William Shakespeare", a collection of the Bard's works that sold out its first printing.
By the 1770s, Samuel Johnson was finally becoming a major figure in the literary world.  He also wrote an analytical examination of other poets titled The Lives of the Poets.  In 1763, he met James Boswell, who was Johnson's first biographer, who completed Life of Johnson in 1791.  The work would boost Johnson's reputation even further after his death in 1784.  Having long suffered from ill health, Johnson was buried in Westminster Abbey's Poets' Corner on 20 December.  As a writer, he contributed to poetry, literary criticism, biography, and the English lexicon.  Less than 100 years later, the Royal Society of Arts would recognise his legacy as one of London's greatest citizens with a blue plaque on his Gough Square house in 1876.