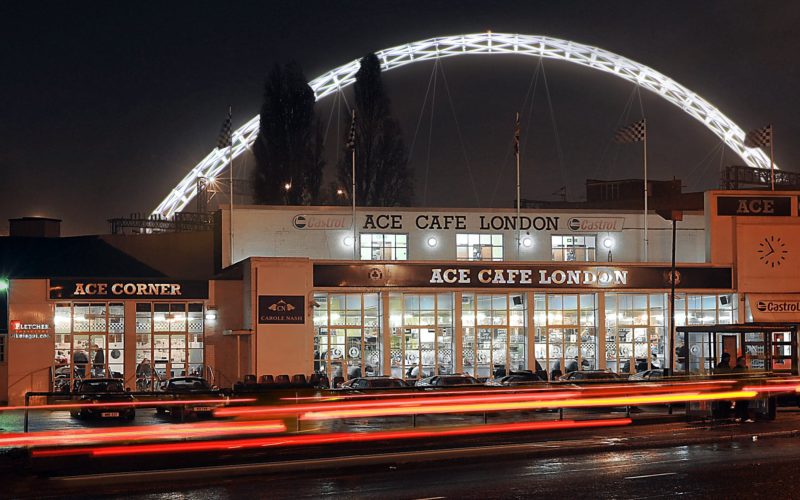 Formed with the establishment of the Greater London Authority in 1965, the Borough of Brent was actually carved out of the former boroughs of Wembley and Willesden.  The borough was named for the River Brent which flows through it and despite being a more recent creation of London government, it certainly has its attractions both historical and recent.  From major attractions to small, but beautiful gardens, Brent has plenty of reasons for tourists to visit.  We've outlined ten of our favorite places to visit in the borough below, and you can let us know some of your own favorites in the comments.
Ace Café
A must visit not only for a bite to eat but also its long history with cars and motorcycles; the Ace Café has been around since 1938 as a roadside transport café.  Built primarily to cater to cars on the A406, it later became a haven for motorcycles and rockers before it was closed in 1969.  It then sat vacant until its renaissance in 1994, then fully reopened in 1997.  Today, it regularly hosts car and motorcycle club meetups as well as concerts to celebrate all aspects of its history.
Lexi Cinema
If you're looking to feel good while watching a feel-good movie, Lexi Cinemas is your kind of place.  100% of the cinema's ticket sales go to the charity The Sustainability Institute, which helps villages in South Africa better support themselves.  The theater shows many independent films, broadcast of cultural events, big tentpole movies, and classics such as Labyrinth.  There's also a performance space and art gallery.
Queens Park Farmers Market
On any given Sunday at Salusbury Primary School, you can find 40-plus stalls in the Queens Park Farmers Market selling everything from vegetables to poultry and even fresh fish.  You can guarantee just about everything there is going to be local and organic, so it's the perfect spot to buy ingredients when you're health-conscious.  I would definitely recommend taking a visit if you want to plan a picnic at our next entry.
Roundwood Park
One of the largest parks in the borough at 26 ½ acres, Roundwood Park, has been around since 1895 and is one of the finest examples of a Victorian park.  As such, it still maintains several iconic buildings of the area including the gazebo and the drinking fountains and its flower beds and public greens are as lovely today as when it first opened.  It remains a perfect place for that above-mentioned picnic or simply a relaxing stroll.
Mapesbury Dell
For a smaller flora experience, you'll want to seek out one of Brent's finest secret gardens—Mapesbury Dell.  Surrounded by townhomes, you really have to seek out this special spot in the borough that is full of flowers, manicured lawns, and picnic tables.  Despite its location, Mapesbury Dell is not a private garden, but was purchased by the Borough of Brent and is available to members of the public.  Its seclusion makes it a perfect getaway from the business of the city.
Kiln Theater
Once known as the Tricycle Theater, the Kiln Theater is the premiere performance venue for plays, readings, and even films.  Brent's demographics put the borough at 54% minority communities, and as such, the theater's repertoire embraces the area's multiculturalism.  Plays and films shown there often deal head-on with issues of the day as well as celebrating what makes Brent a unique part of London.
SSE Arena
For music, you won't find a better spot than SSE Arena, Wembley.  Not to be confused with another entry on this list, the SSE Arena was once known as Wembley Arena and actually opened as the Empire Pool in 1934, a status it maintained even as it began to serve as a concert venue with performances from the Rolling Stones, the Grateful Dead, and David Bowie, among others.  No ones goes swimming here anymore (unless you count crowd surfing) and the arena plays host to everything from eSports tournaments to the comedy rock stylings of Tenacious D.
Welsh Harp Nature Reserve
The Welsh Harp Nature Reserve and reservoir straddles both the boroughs of Barnet and Brent.  Besides the lush flora throughout the reserve, the primary attractions include the number of birds, fowl, and animals that live within the area.  It can also be a very popular place for water sport or a bike ride, though walking through the reserve will be the option to see everything at nature's own pace.
Wembley Stadium
Wembley Stadium is as famous for football as it is for the concerts that go on here.  From Live Aid to the Premier League championships, Wembley has seen some of the biggest events in Britain's history.  The original stadium was constructed in 1923, and the current edition broke ground in 2007.  Home of the Football Association, as well as the England National Team, visitors, are welcome to go on the stadium tour.
BAPS Shri Swaminarayan Mandir
The BAPS Shri Swaminarayan Mandir earns the top spot on this list because it is one of the largest and most beautiful Hindu temples outside of India.  It was constructed from more than 5,000 tons of stone and marble with incredibly intricate carvings and designs that visitors can wander over for hours.  Besides serving as a house of worship for London Hindus, it is also a cultural center, "Understanding Hinduism," that only costs £2 to enter.  A small price to pay to learn about one of the world's foremost religions.