London is a city of laughs, and that has been on display for decades in British film.  From the poshest part of Kensington to the most Cockney neighbourhood in the East End, many humourous stories have been put to the screen.  They feature some of Britain's greatest actors from Sir Alec Guinness to John Cleese.  As always, some films we've written about before may have been left on this list, but we have an excellent selection of ten great comedy movies, and you can let us know some of your favourites in the comments.
In the Loop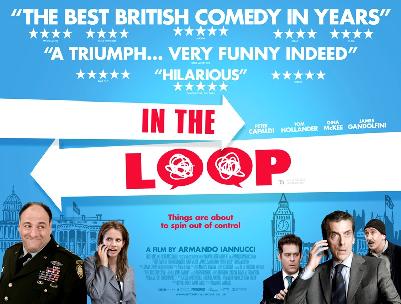 Whitehall is at the very heart of London and Her Majesty's government, so it's fitting that the dodgy business of politics would be hilariously lampooned in cinema.  2009's In the Loop is actually a spinoff of the programme The Thick of It, with nearly all of the actors playing different characters except for fan-favourite Peter Capaldi as Alastair Campbell expy Malcolm Tucker.  As with its telly counterpart, the film aims to ridicule some real events in government, this time the 2003 invasion of Iraq.
Passport to Pimlico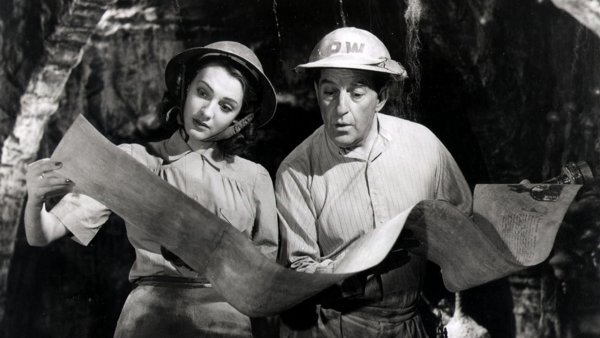 As you may guess, the story takes place primarily in Pimlico.  Premiering only four years after the end of World War II, the discovery of an unexploded bomb yields a more unexpected discovery of a document from King Edward IV that makes Pimlico a part of the French territory of Burgundy.  With a descendent of the duke, the residents form their own separate government and everything goes mad from there.  Everything ends up in a standoff with the British government, which has cut off all support (including water and power) for Pimlico, though it all builds to a satisfying conclusion.
Happy-Go-Lucky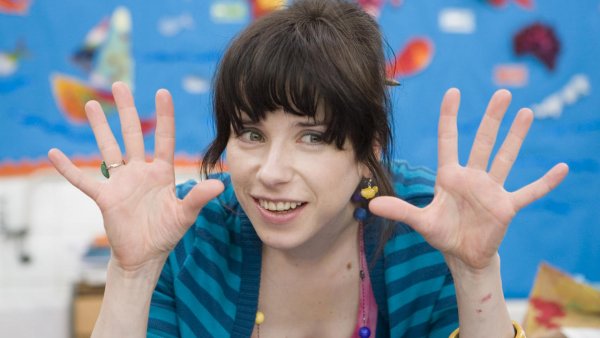 Sally Hawkins plays Pauline "Poppy" Cross in this 2008 comedy about a London schoolteacher with a very sunny outlook on life.  A great deal of the comedy in this film comes from Poppy's bubbly personality rubbing against more cantankerous persons, such as her driving instructor Scott (Eddie Marsan).  Nothing and no one is able to dampen Poppy's spirits and we get quite a lot of views of London as she and Scott drive through it.  The film also won a number of awards, including a Golden Globe for Sally Hawkins and a British Independent Film Award for Eddie Marsan.
The Ladykillers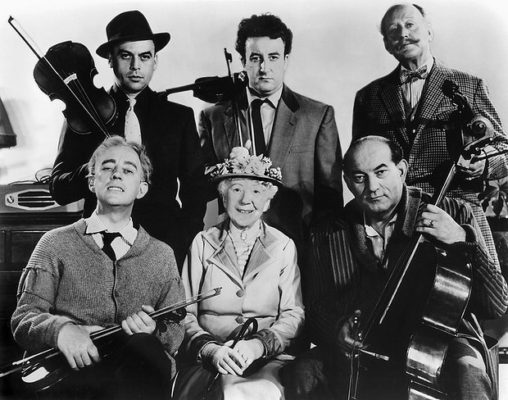 While most people might still think of Alec Guinness as Obi-Wan Kenobi or Colonel Nicholson, these more dramatic turns make it easy to forget what a great comedic actor he could be.  Long before the remake with Tom Hanks, 1955's The Ladykillers sees Guinness as Professor Marcus and his band of thieves (including Peter Sellers) use attempt to use Mrs. Wilberforce's lodging house in their scheme to rob a security van at adjacent King's Cross Station. Of course, things end hilariously badly for the robbers, but not so bad for Mrs. Wilberforce.
A Fish Called Wanda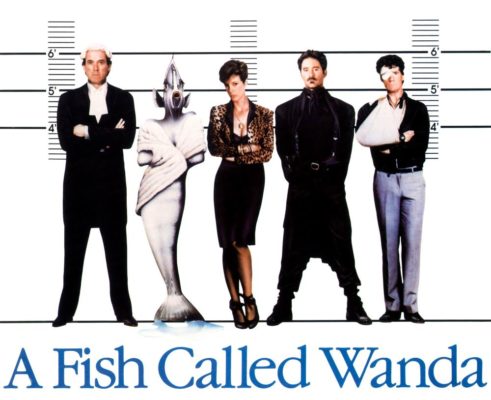 Another London caper film, this one manages to combine great British and American talents with John Cleese, Michael Palin, Jamie Lee Curtis, and Kevin Kline all involved in a jewel heist.  Thieves Wanda, Otto, and Ken, and George end up roping George's barrister, Archie into the plot and everything goes downhill from there.  With no honour amongst thieves, everyone ends up turning on each other, but ultimately find some form of happy ending.  Kevin Kline won an Academy Award for his role, while Cleese and Palin both earned BAFTAs from the film.
Withnail and I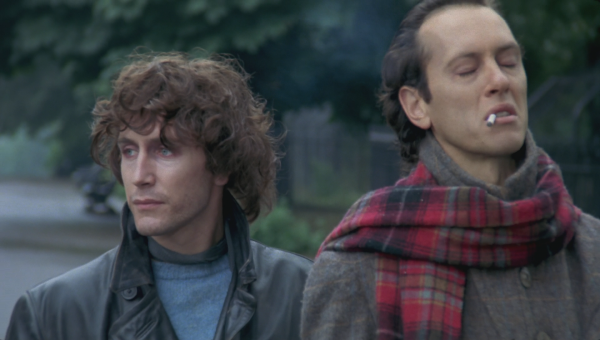 Star-defining roles for both Richard E. Grant and Paul McGann as Withnail and Marwood in this 1987 dark buddy comedy about a couple of two unemployed actors in 1960s London.  Living in a flat in Camden, they squabble often while Withnail drinks and dopes his way through their misadventures.  The film is very much a British version of a bad drug trip, but ultimately, despite the up-and-down nature of their relationship, the two rely on each other to get through it all.
Spice World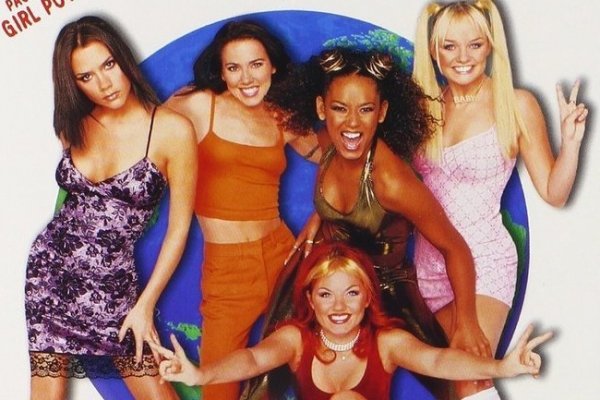 What a strange time the 90s were, my friends.  It was a time when one of the world's most popular pop groups could have its own movie, with the Spice Girls attempting to make their own modern incarnation of the Beatles comedy films.  There's no shortage of famous guest stars in this two-hour-long music video, including Richard E. Grant, Meat Loaf, Richard O'Brien, Hugh Laurie, Alan Cumming, Roger Moore, and dozens more besides.  While pretty dated today, the movie was a commercial success and certainly has its diehard fans.
Snatch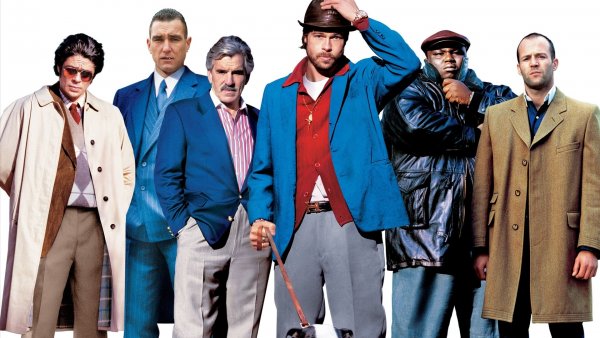 Director Guy Ritchie's second crime comedy, Snatch features a huge cast and multiple storylines that would make Richard Curtis jealous.  Most of the film revolves around the stealing of a giant diamond and a group of Irish Travellers, one of whom has some serious bareknuckle boxing skills.  The film features Ritchie favourites Jason Statham and Vinnie Jones alongside Alan Ford, Lennie James, Dennis Farina, Benicio del Toro, and Brad Pitt.  As with his previous endeavor, Lock, Stock, and Two Smoking barrels, things end on a good note for our "heroes", but not so much anyone else.
Bridget Jones's Diary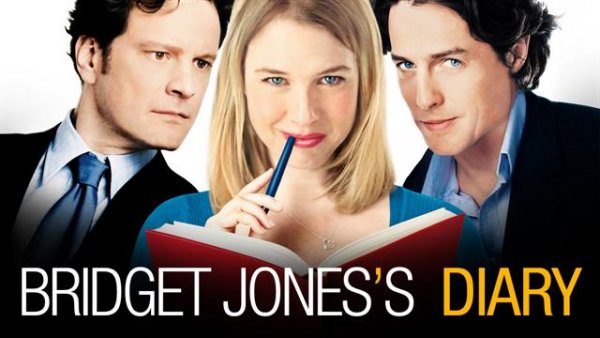 Based on Helen Fielding's novel of the same name, Renee Zellweger takes on Fielding's title character in this 2001 film that serves as a modern adaptation of Pride and Prejudice.  Joined by the quintessential Darcy in Colin Firth and the womanizing Daniel Cleaver (Hugh Grant), Bridget attempts to transform herself into a strong, independent woman while sorting out her love life between Darcy and Cleaver as well as managing the rift between her parents in 21st Century London.
Monty Python's The Meaning of Life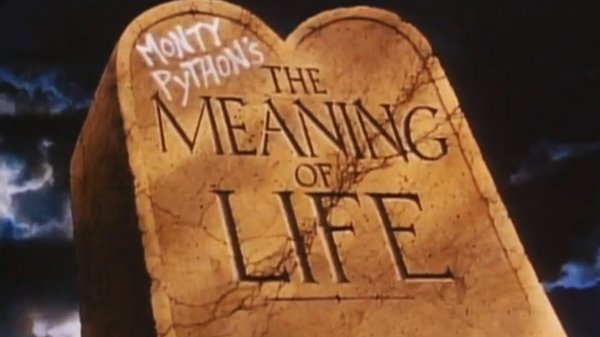 Harkening back to their sketch comedy days, the Monty Python troupe strings together a series of bits that follow the course of life from birth to death in this 1983 film.  Many parts of London feature prominently throughout, including Battersea Power Station for the "Find the Fish" sketch and Porchester Halls for the well-known "Mr. Creosote" bit.  Ultimately, the Pythons end their film series with the same madness that made them popular in the first place.
Which one is your favourite? Let us know in the comments!