London is a city that is the setting of many a children's book from One-Hundred and One Dalmatians to Peppa Goes to London.  With hundreds of years of literary history under its belt, the city has many monuments to great works and authors—and these include statues dedicated to children's literature.  There are at least five statues dedicated to some of the most well-known juvenile books spread throughout London, including one that has been commemorated twice.  We've outlined these five below with a little bit of their histories and locations, so be sure to visit them the next time you're in the city and travel back to the stories of your childhood.
Paddington Bear – Paddington Station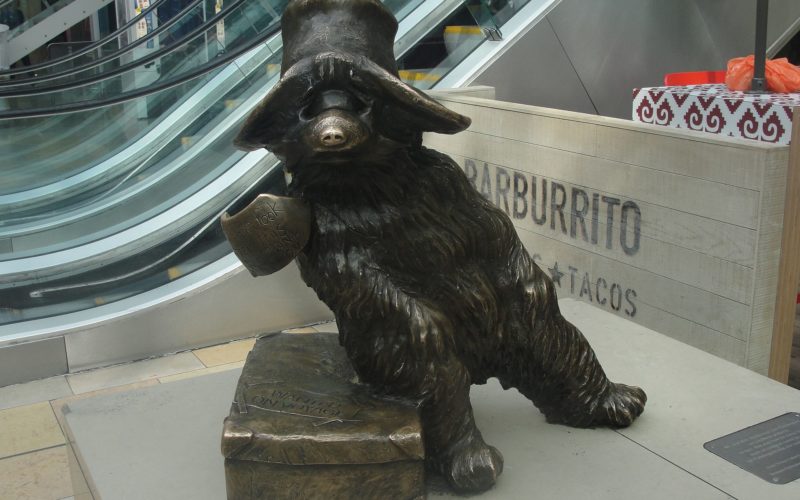 Created by Michael Bond, Paddington first appeared in A Bear Called Paddington in 1958.  Based, in part, on the children sent away from London during World War II, Paddington arrives at Paddington Station as an orphan where he is taken in by the Brown family.  Appropriately, a statue commemorating this favorite children's lit character appears in the station, appearing as he does in the first book with his trademark hat and sitting on a suitcase with the note that says "Please look after this bear.  Thank you."  Whether traveling to the station or making a touristy stop, the statue is a location that many fans of Bond's books visit.
Peter Pan – Kensington Gardens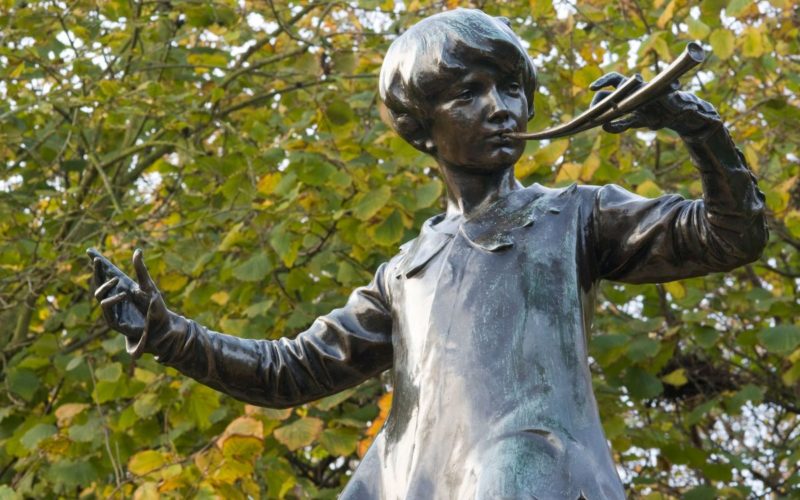 J.M. Barrie's most well-known creation, Peter Pan first appeared in a novel The Little White Bird as a baby in the story "Peter Pan in Kensington Gardens" in 1902.  He's best known for the play of the same name, first performed in 1904, that sees a child Peter taking the Darling children to the fantasy world of Never Never Land.  With the success of the character, Barrie himself commissioned a bronze statue of Peter from Sir George Frampton to go in Kensington Gardens.  Using the app Talking Statues, visitors to the gardens can help bring Peter Pan to life.
Platform 9 ¾ – Kings Cross Station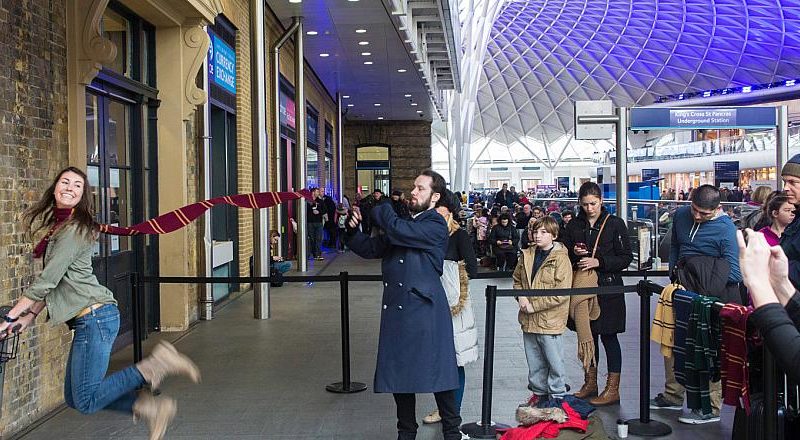 Not a statue in the traditional sense, Platform 9 ¾ is immortalized at Kings Cross Station where fictional child wizard Harry Potter first takes the journey to Hogwarts School of Witchcraft and Wizardry.  First appearing in Harry Potter and the Philosopher's Stone in 1997, Harry and the platform have become immutable parts of British literature.  Kings Cross chose to place a plaque in the building housing Platforms 9 to 11 in the early 2000s, and it has since had a half-disappeared trolley cart as well as a nearby Harry Potter Store added to it.  Naturally, it's a popular place to have your picture taken as if you're headed off to Hogwarts yourself.
Peter Pan – Great Ormond Street Hospital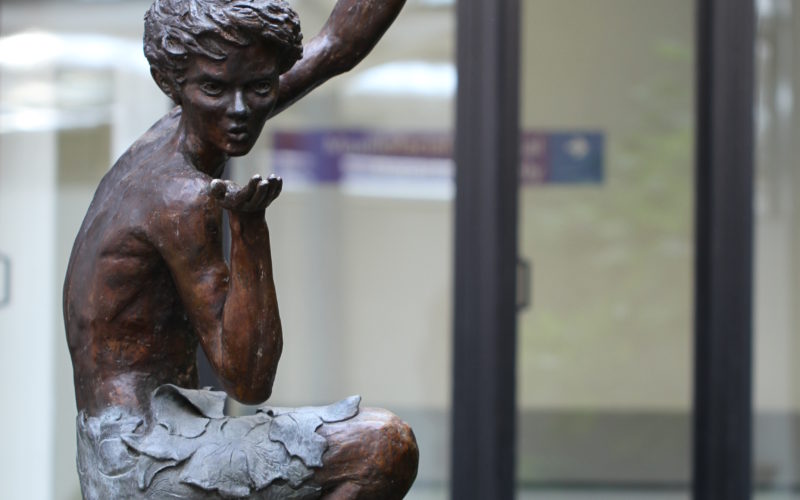 Kensington Gardens isn't the only place in London with a Peter Pan statue as Great Ormond Street Hospital also displays one of the immortal children.  J.M. Barrie had a unique history with the hospital itself, having lived in a house behind it when he first moved to London and eventually became a patron of the hospital.  In 1929, Barrie gave the hospital the copyright to Peter Pan to aid the hospital financially.  In 2000, the hospital commissioned a statue from Diarmuid Byron O'Connor to commemorate Barrie's special patronage and the benefit of the Peter Pan copyright.
Winnie the Pooh – ZSL London Zoo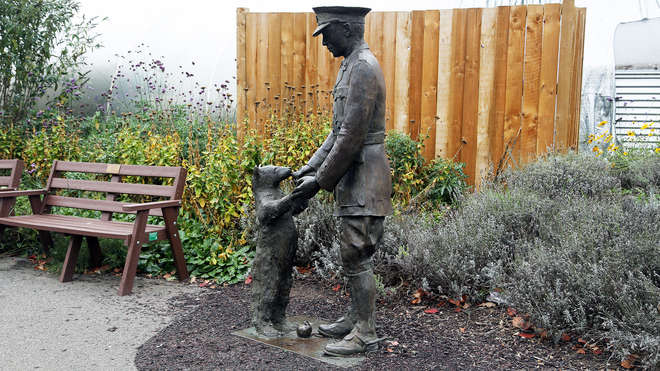 While not exactly a statue of the character himself, the Winnie the Pooh statue in ZSL London Zoo instead remembers the actual bear that inspired A.A. Milne's famous character.  Originally named Winnipeg, Winnie was a bear cub rescued by Canadian Army Veterinary Corps member Harry Colebourn, who had to leave Winnie in the zoo's care when his unit left for France during World War I.  Winnie subsequently served as Milne's inspiration when he took his son, Christopher Robin, to ZSL London Zoo as a child, and purchased a stuffed bear that Christopher named after Winnipeg.  Today, a statue of Winnie and Colebourn stands in the zoo that was given by the people of the Canadian Province of Manitoba in 1995.