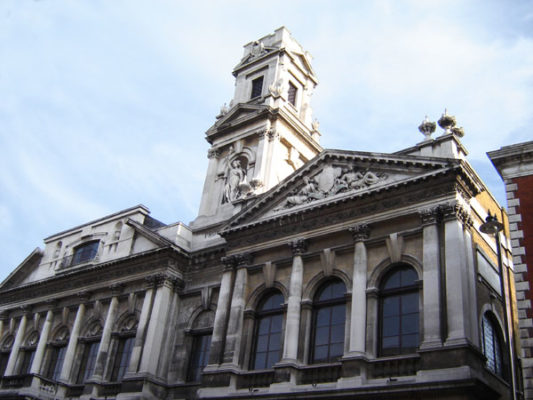 Shoreditch is a treasure of London's East End.  It's hard to believe that this inner-city London neighborhood was once part of the suburbs.  Centered around Shoreditch Church at the crossroads of Shoreditch High Street and Kingsland Road meet Old Street and Hackney Road, today the area is an exciting place to be.  Shoreditch is full of life, art, food, and events have been a part of the area since Elizabethan times when James Burbage established the first playhouse here and later as it became a home for Victorian shows.  We've identified our top ten things to do in Shoreditch, but you can let us know your own favorites in the comments.
Brick Lane Beigel
If you're a fan of bagels, you wanna try Beigel Bake or Beigel Shop, the area's only twenty-four-hour bagel bakeries.  You can get a great salted beef bagel sandwich at the former or a rainbow bagel at the latter.  The shops have been dubbed the "White One" and the "Yellow One" for their signage, and Beigel Shop also advertises itself as the oldest in the city.
London Shuffle Club
While the sport is typically associated with pensioners on a cruise, shuffleboard has found new life with London's young people in this Shoreditch establishment.  Old Truman Brewery has the classic floor shuffleboard while the Little Shuffle Club has four tables of table shuffleboard for you to play while you enjoy a pint.  There's also food and DJs that keep you fed and entertained as you play.
Lady Dina's Cat Emporium
Animal cafes have become something of a trend over in Asia, but Britain has its own take on the phenomena with this tearoom full of furry felines.  The café has thirteen cats that occupy the restaurant, lounging, sleeping, and requesting head scratches as you enjoy your tea and scones.  Its popularity means you'll definitely need to book in advance or you'll find yourself on the waiting list.
Pillow Cinema
Independent establishments are a cornerstone of Shoreditch, and that includes several independent cinemas.  One of the best is Pillow Cinema, a rooftop theatre where the seats are actually massive beanbags with comfy pillows for maximum relaxation.  They'll even give you a blanket if you and your special someone want to get cozy while you watch a comedy or good drama.
Rich Mix
Rich Mix is an all-in-one for the best entertainment Shoreditch has to offer.  Operating as a cinema, it also offers dance performances, spoken word, standup, concerts, and more.  On any given evening you may be treated to a showing of Star Wars or a poetry slam.  This arts venue is run on a charity basis, so it can focus on art for its own sake rather than trying to make a profit.  This attitude has nearly threatened to close it before, but it has been saved by Shoreditch's arts-loving patrons.
Columbia Road Flower Market
The Columbia Road Flower Market is one of the most colorful places in Shoreditch, and whether you want to stop and smell the roses, take some great photos, or maybe buy something for a special someone, you can spend hours browsing the flora that's available for sale.  It opens at 8 AM every Sunday and is the perfect place to go before or after brunch.
Boxpark
Boxpark is notably firstly for being constructed mostly out of shipping crates, a newer trend in architecture that finds new constructive purposes for these old containers.  It's also a great mix of shops and restaurants, from Gap to Porky's BBQ.  Boxpark also hosts regular events throughout the year, including Thursday parties that are complete with DJs, so make sure you get there for all the fun.
National Centre for Circus Arts
Everybody has wanted to run away and join the circus at some point.  The National Centre for the Circus Arts will give you just the right opportunity to figure out if the trapeze, tumbling, or clowning around is right for you.  The center teaches classes in all the physical aspects of circus performance and also has a number of fitness classes that are available for children of all ages.
Street Art
London's East End is known for some of the best street art in the city, and Shoreditch is certainly a part of that.  There are a number of interesting tours you can take, including ones led by some of the artists themselves, though you're more than welcome to wander the area looking for it yourself.  If you choose your own tour, Redchurch Street, Fashion Street, Brick Lane, and Toynbee Street are where you'll find most of these urban galleries.
Geffrye Museum
Geffrye Museum is one of the most interesting historical locales in the entire city.  The museum dedicates itself to London through the ages by having each room done in a different era, showing what life was like for families through each era of London.  During Christmastime, the rooms are done up with appropriate decorations for that period, so it's certainly not to be missed. (Editor's Note: The Geffrye Museum is closing for renovations from January 2018).