Cookies in the United Kingdom are not so different from those in the United States.  Most Americans might think that all cookies are "biscuits" in Britain, but these two baked goods have very different meanings.  While a "biscuit" is harder and crunchier, while a cookie is meant to be soft and chewie.  Cookies can be found in bakeries all over London, and each one offers standards such as chocolate chip along with their own unique creations.  With all the bakeries and cookie shops in London, we've narrowed down five of our favorites.  Let us know your own favorite places and your favorite cookies in the comments.
Outsider Tart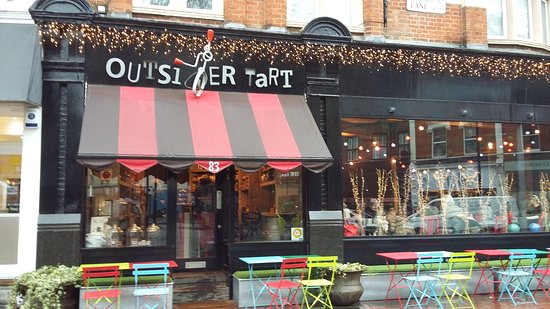 Expats and visitors to London may want to visit this American bakery on the Chiswick High Road that was founded by two guys from New York.  Outsider Tart offers a number of great and unique cookies such as chocolate snickerdoodles, oatmeal sour cherry, brownie chunk, and apricot white chocolate.  Widely regarded as their best cookie is the XXX Rated Chocolate Chip, featuring triple chocolate, marshmallows, walnuts, and pecans.  OT's restaurant also serves a number of American dishes for those who miss a taste of home.
Millie's Cookies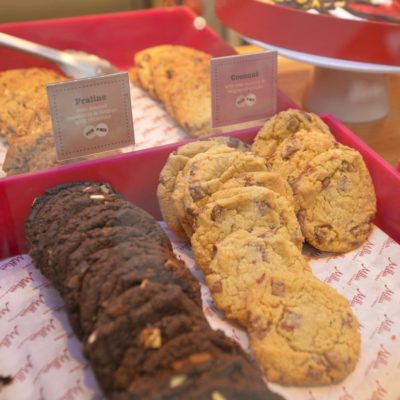 One of the only chains you'll find on this list, Millie's Cookies has locations all over the United Kingdom and got its start in store within Selfridges food court.  At its several London locations, Millie's offers a variety of cookies from chocolate chip to coconut as well as such sweet treats as cookie pops, cookie boxes, giant cookies, and personalized cookies.  If you ask specifically for them, you can get the warmest ones fresh out of the oven.  As far as chain bakeries go for cookies, Millie's is your best bet.
Ms. Cupcake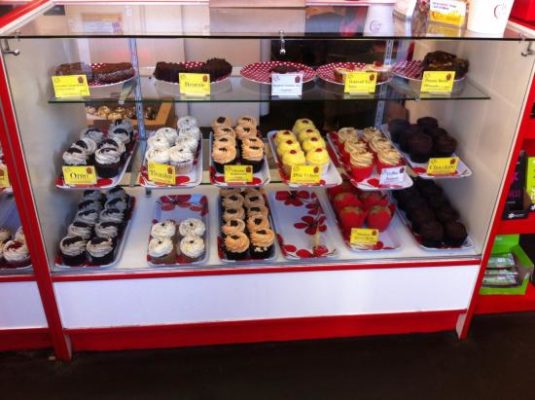 Keeping vegan doesn't mean you have to go without cookies as long as Ms. Cupcake in Brixton is around.  Understandably, cupcakes are the cornerstone of this vegan bakery, but of course, it also offers cookies and cookie sandwiches with delicious icing in-between.  If you're starting out on the road to veganism, Ms. Cupcake has plenty of baking supplies and cookbooks as well as offering classes to help you eat healthier.  Out of all the bakeries on this list, Ms. Cupcake is the most dedicated to having an inclusive and fun establishment that just might make you a believer.
Dominique Ansel Bakery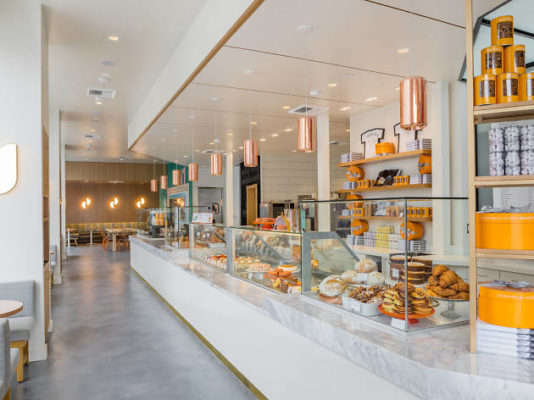 Now to some of the high-end stuff with Dominic Ansel Bakery in Belgravia.  While the bakery is best known for its croissant and donut creation, the cronut, it has a few interesting cookie options as well such as the flourless chocolate pecan, macaroons, and the salted caramel brownie cookie.  Perhaps the most interesting on their menu is the chocolate chip cookie shot, which is a shot glass made out of a chocolate chip cookie and filled with delicious vanilla milk.  If you're not in the mood for something sweet, the bakery offers plenty of treats on its savory menu from the Coronation Chicken Salad Sandwich to the Ham Hock and Streaky Bacon Muffin.  Might be a little more money than the other options on this list, but totally worth it.
Ben's Cookies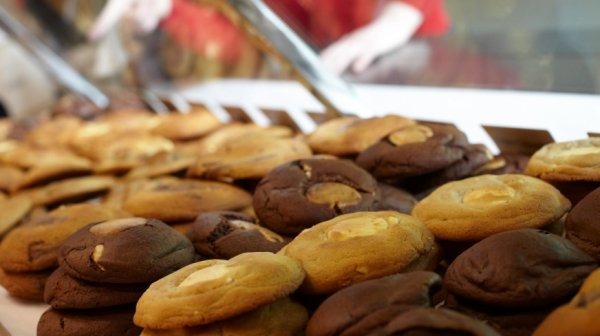 Certainly, the top option on this list, Ben's Cookies has three locations in London and prides itself on baking with "CHUNKS not chips since 1983".  And when Ben's says they use chunks, they mean it.  Ordering their dark chocolate chunk, the cranberry, and white chocolate chunk, or the triple chocolate chunk means you're getting a lot of chocolate for your money.  Additionally, if you want something less chunky, Ben's offers snickerdoodles, coconut, lemon, and oatmeal raisin cookies.  If you can't decide on one, Ben's has options for you to take home a box or a tin of cookies so you can taste as many as you'd like.