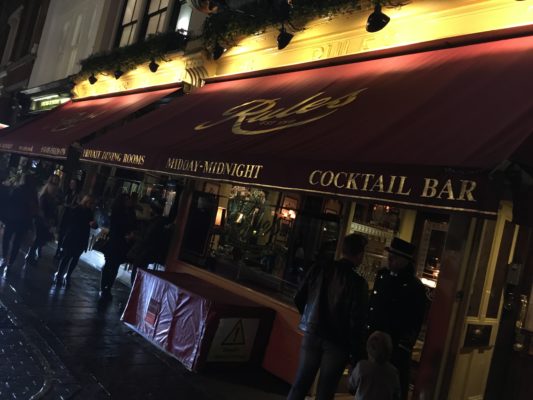 With over 15 years of London travel below our belts, we've eaten at quite a few restaurants. Some terrible. Some great. We thought it would be a good idea to finally put together a list of our favorite restaurants in London so that others can get the same joy from them that we have. Keep in mind that these restaurants are our own personal preferences so your tastes may be completely different. This will be a 'living' list; we try new places every time we go to London so that we will update this post in the future (and will keep this easily accessible in the sidebar).
The list is divided into four categories: fine dining – expensive places with unique menus, casual dining – cheaper places in some cases chain restaurants, fast food – cheap and quick food and pubs – because they deserve their own category and you can't swing a cat in London without hitting a pub.
With most fine dining restaurants, you must book ahead and reserve a table. With most restaurants, you can do this online or simply call.
What's your favorite restaurant in London? Share with everyone in the comments!
Fine Dining
Rules
London's oldest restaurant. It is your duty as a London lover to eat here at least once. They specialize in British game food but have relatively normal things like steak and fish on the menu. It's a very formal restaurant, with linen tablecloths and proper wait staff. We went for a special occasion and enjoyed our meal very much. It felt like dining in an old world movie set. Booking ahead is essential.
Clos Maggiore
We went here to celebrate Mrs. Anglotopia's 30th Birthday because we happened to be London at the time (it's a state secret how long ago this was). The food was phenomenal, and their location in Covent Garden is beautiful.
Whistler Restaurant
The fine dining restaurant located in the Tate Britain, this is a great place for a nice meal or Sunday Roast after you've had a civilized afternoon browsing the great art on display in this free museum (don't miss the Turners!).
Maze Grill
One of Gordon Ramsey's steakhouses located in Grosvenor Square (where the US embassy is located, but not for long). The place is run to a precision you would expect from Ramsey, and the steaks were divine.
Barbecoa
It seems that all celebrity chefs have to have their own steakhouse and this one is Jamie Olivers. The location we dined at was in One New Change, a new building across from St Paul's Cathedral. This means that most of the tables have an incredible view of St Paul's. The steaks were great too.
Scoff & Banter
A newer chain of nicer restaurants around London. We dined at the location in the Radisson Edwardian Vanderbilt. The book is 'British' but with a modern twist. Our meal was very good, and we'd go back.
Black & Blue
An American-style steakhouse with several locations around London. We dined at one in the City of London. The steaks were good, they serve them with an American twist, and we appreciated it.
Casual Dining
Burger & Lobster
Another newer chain that specialized in two things: hamburgers and lobster (or both). I love burgers and can report they're good. Mrs. Anglotopia loves Lobster and can confirm it's good as well.
Nando's
This South African/Portuguese chain specializes in Jerk Chicken. It's spicy but oh so good (especially the chips). If we see a Nando's, we have to have some (they're started to appear in the USA, and now we can get a cheeky Nando's in Chicago).
Strada
A chain of Italian restaurants. The food is pretty good, standard Italian fare. It's a bit on the pricey side, but it's reliably good.
Zizzi
Another Italian chain, I can't really tell the difference between them and Strada other than the food is also good.
Wagamama
The best place in London to get Asian noodles. Mrs. Anglotopia would recommend the spicy beef ramen.
Maxwell's Covent Garden
This place is in Covent Garden and is shamelessly geared towards American tourists. The food is recognizably American and pretty good.
Borough Market
If you're a bit more adventurous, go down to Borough Market in Southwark and get some street food. Many options on the table from food stalls to small cafes.
Garfunkel's
The easiest way to describe Garfunkel's is 'TGI Friday's' or Chili's. I've always had a soft spot for them but the food isn't anything special, and if you're in the tourist zones, the prices are outrageous.
Flat Iron
Newish chain of steakhouses that serves only one thing: the Flat Iron steak (which happens to be my favorite cut). They have daily specials but the menu is very limited. If you like steak, you'll like this place. It's very popular but you can't book ahead so plan to go early or you'll be waiting in line.
The Diner
Another new chain of restaurants modeled on American style diners. Known for their breakfasts which attempt to mimic the type of breakfast you'd get in an Ameican diner. The food was very good but it's a bit on the pricey side of things.
Gournet Burger Kitchen
Another one of the new burger chains that appears to have popped up in London in recent years. I found the food to be pretty good – the burger was tasty as were the included chips. Service was decent. And they didn't mind that I camped out for a couple of hours to work with their free WiFi.
Fast Food
Byron Burger
A 'fancy' burger chain. They purport to serve American style Milkshakes and burgers. I would agree with the burger one but what they call milkshakes… are not milkshakes.
Five Guys
This American chain has started to colonize Britain. You know how you go to American chains in Britain and find the food tastes completely different to back home? The food at Five Guys tastes exactly the same than it does back home.
Shake Shack
We've missed the Shake Shack wave here in the States (the closest one is in Chicago) but we were hungry after a show and decided to stop for a late night burger and shake. It was delicious.
Ben's Cookies
These are by far the best cookies you can get anywhere in London. They have several locations but the easiest one to get to is in Covent Garden.
Hummingbird Bakery
This bakery popped up a few years ago and specializes in bringing American style baked goods to Britain. Their cupcakes are amazing. They have several locations.
Pret a Manger
Perfect shop for a quick sandwich.
Pretty Much Any Fish & Chip Shop
No trip to London is complete without fish & chips. You can get it in a pub or from a special fish and chip shop. The older and grottier looking the betters. If you don't spot any tourists inside, you're good.
Ed's Easy Diner
Another chain that tries to mimic the American diner experience. The food is just OK. I've never been particularly impressed.
Gregg's
Basically the Dunkin' Donuts of Britain except they sell more than just donuts. You must introduce yourself to the concept of a sausage roll.
Pubs
We've been to some truly dreadful pubs and only started to appreciate them once we found some good ones. Quick tip – ordering food in a pub is not like in a restaurant. You have to know what you want and order at the bar with your drinks and your food will be brought out to you (make note of your table number). If you sit down and wait for a waiter, you will find yourself waiting for quite some time (we made this mistake on our first few trips!).
Mayflower Pub (for Sunday Roast)
This pub was reportedly the last stop in London for the crew of the Mayflower. The pub relishes this connection – if you have ancestors who came over on the Mayflower, you can ask to see the guest book and sign your name. We went for Sunday Roast, and the food was fantastic. It's very atmospheric. Book ahead.
Bear & Staff
A chain pub in Leicester Square that we had a decent meal at. Actors and actresses used to drink a lot there after their shows, and they play up the celebrity connection.
Ye Olde Cheshire Cheese
One of the oldest pubs in London has that very English pub feel. Food is pretty good. Tucked away in an alley and popular with the 'city' crowd.
The Ship Tavern
We booked in here for Sunday Roast. The food was very good. A very 'pubby' atmosphere, especially upstairs. The place is known for their large gin bar. We enjoyed our meal but found it a bit loud for a busy Sunday lunch. Hard to have a conversation with your friends.
Two Chairmen
Located in Westminster, this pub was recommended to us by an MP. The food was fantastic and it was pretty quiet on a weekday afternoon. Great atmosphere, great good, and pretty good service. Would highly recommend this pub!
Places to avoid
Here is a quick list of places we tend to avoid or had bad experiences at:
Pizza Hut (the one in Covent Garden was truly dreadful)
Basically most American Fast Food (yes that includes McDonald's)
Angus/Aberdeen Steak Houses (pretty bland and overpriced and filled with tourists)
TGI Fridays (come on, you have these back home, don't go to one in London!)
Bella Italia (chain of Italian restaurants where we've never had a good meal and Mrs. Anglotopia once got food poisoning)
Hard Rock Cafe
What's your favorite restaurant in London (or the worse one)? Share with everyone in the comments!