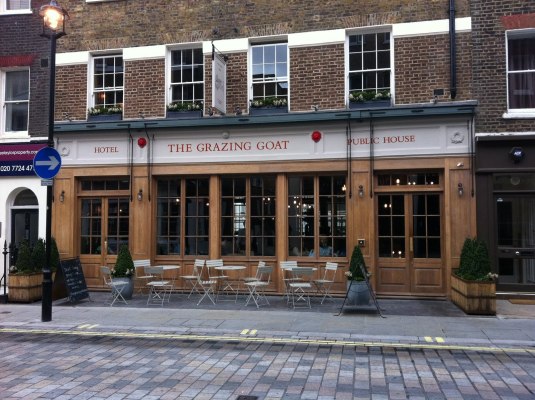 Long ago, pubs weren't just a gathering place or a bar to get plastered in, many were also inns, giving weary travelers a place to for food and shelter. Though hotels have since risen up as the premier place to stay when you're away from home, the pendulum has swung back as several companies have renewed the accommodations aspect of several London pubs. Have a look at 10 of these accommodating pubs below and book your next stay.
The Grazing Goat, Marylebone
Located on New Quebec Street, the Grazing Goat exemplifies the idea of an old-fashioned inn, combining pub, restaurant, and hotel. The hotel portion has eight rooms on three floors, six standard rooms and two superior rooms. Continental or cooked breakfast is available from the bar as well as room service. Price runs a bit high, though, with the rates going from £205-240 per night.
The Fox & Anchor, Smithfield
While some renovated inns take a more modern approach to their design, Fox & Anchor near Smithfield Market is owned by big brewery Young's and combines the classic pub look with modern rooms for overnight guests. F&A offers a Market Suite as well as double rooms. Like a lady in the street, but a freak in the bed, the pub end reflects the Victorian style that's been there since the 19th Century, while the upstairs rooms have a much more modern feel.
New Market Ale House, Camden
With 15 rooms, many possessing their own bathroom, the pub has been licensed since 1866. The pub level has a nice mix of classic and modern ambiance. Additionally, New Market has a varied international menu and several excellent ales for you drinking pleasure. They also serve up a great number of cocktails. If you support America or England in football, be aware this also seems to be a Brazil bar during the World Cup, though German patrons should easily be able to dominate it.
The Alma, Wandsworth
Emulating boutique hotels while keeping a local pub's charm, the Alma sports 23 rooms above its first-floor pub with modern amenities including a easy check-in and laundry service. There is also access to a nearby gym and spa. The pub is also dedicated to energy-efficiency, with solar panels mounted on the roof and an air-conditioning system that cuts off if the windows are opened. Another Young's Brewery location, you can be sure to find a selection of their ales and excellent food.
The Pilot Inn, Greenwich
Over in Greenwich, one of Young's rivals, Fuller's runs the Pilot Inn. Pub classics mix with modern fare in the dining room, paired with a selection of Fuller's ales to wash it down. Free parking, free wifi, and a short walk to the O2 are just a few of the perks the boutique hotel offers. TripAdvisor gives it a 4.5/5 and you can book directly through their website, but I had a little trouble with it when I tried to get on. Inside the rooms are a bit more traditional than some others on this list, but perfect if you want something a little less modern.
The Mitre, Greenwich
Another hotel and pub found in Greenwich, this one boasts status as a Grade-II listed building. They have twenty-four rooms available and have received a 4* AA inn status as well as boasting free wifi, a lift, and night porter service. Like many other boutique hotels, its first floor has traditional pub décor while the rooms above have a more modern look for guests. There's no parking, though, so guests who are driving to the Mitre will have to make other arrangements.
The Victoria Inn, Peckham
A country pub with eighteen rooms for let, it welcomes singles, couples, and families. There is indoor and outdoor seating in the pub and rooms that can accommodate all types of guests. Advertised on their website as "urban crash pads", they are simply, but excellently furnished. The inn also has a kid's room full of toys, games, books, and DVDs while also sporting a camera so parents in the pub can keep an eye on their children.
The Long Room Bar & Hotel, Tooting
Opened in 2007 after refurbishing the old Mitre Hotel in the same location, it offers not only a pub but 14 rooms for overnight guests. Befitting its name, the pub sports a very spacious bar and dining room filled with modern furnishings. The menu offers a wide variety of great looking food for reasonable prices. Not too much information on the rooms themselves, but it is owned by McLean Inns.
The Kings Arms, Ealing
Refurbished in 2009, it sports a great number of ales and wines as well as excellent food, with both a selection of English classics and Thai dishes. Like the Victoria, there are accommodations for single, twin, double, and families available. Prices are fairly reasonable as well, ranging from £60-95 per night. The rooms are more traditional as well, but it certainly looks like a great value for money, and the décor is straight up classic pub.
The Fox & Goose Hotel, Ealing
Another Ealing pub hotel, this pub is also owned by Fuller's and offers a range of its ales. One can expect a menu full of traditional English favourites and a la carte international items. Twin and double bedrooms are available with modern bathroom amenities. Like many of the hotels, it also offers flat screen TVs. It can also be booked for events and has outdoor seating with a great patio garden.