Over the years we've had the pleasure of visiting many pubs all across London. Some have been terrible. Some have been wonderful. Here's a list of five of favorites that we go back to again and again.
The Mayflower tries to claim the title of the oldest pub on the Thames (the history is murky). This pub was founded in 1550 as The Shippe and is said to be in the same location where its namesake was docked before sailing to America. Those visitors who can trace their ancestors back to the ship are welcome to sign the Mayflower Descendants book. Great place for Sunday Roast – but book in advance!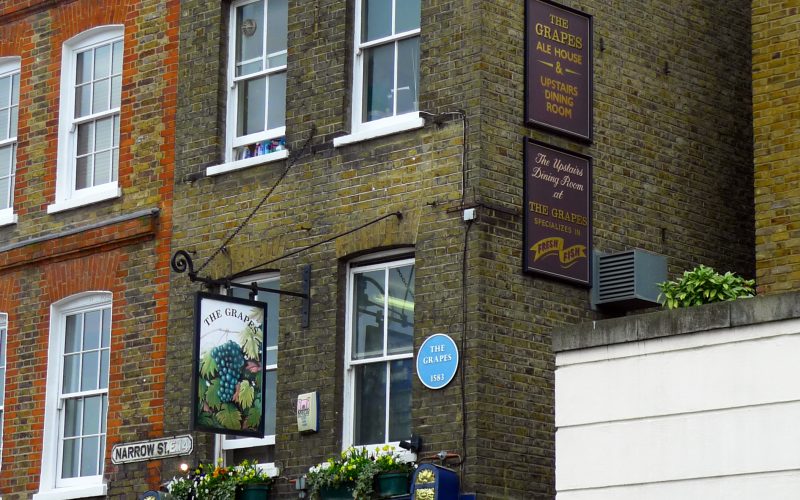 A spot frequented by Charles Dickens, the Grapes in Limehouse was also visited by renowned diary author Samuel Pepys. The pub also has some famous owners like Sir Ian McKellan, aka Gandalf. As with most of his favourites, Dickens mentioned the pub in "Our Mutual Friend", while Oscar Wilde mentions it in "The Picture of Dorian Gray", Arthur Conan Doyle does in his Sherlock Holmes stories, and Peter Ackroyd in Dan Leno and the Limehouse Golem.
Considered one of the oldest pubs in all of London. It was built only a year after the Great Fire of London in 1666, but on its site there used to be a pub called the Horn which was built in 1538. A unique feature of Ye Olde Cheshire Cheese is its cellar which dates to a 13th-century monastery. Great place for a spot of lunch or a pint while passing through The City.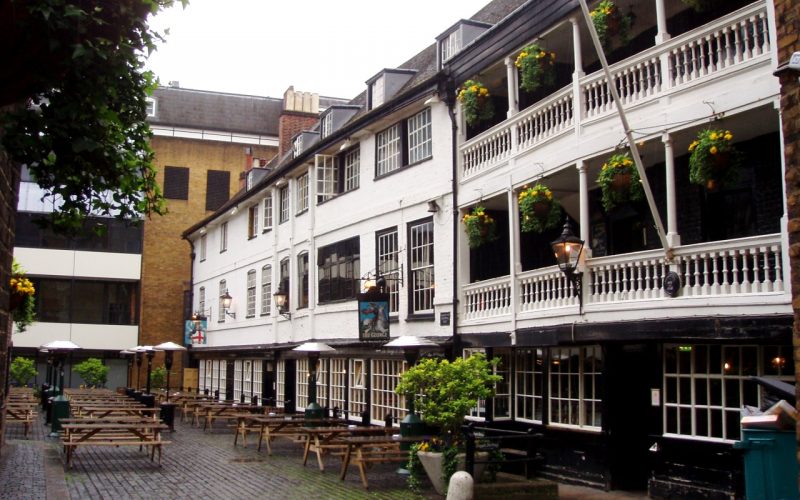 Near the London Bridge in Southwark is The George Inn, London's only surviving galleried coaching inn. Being rebuild in 1667, The George Inn has several different bars. What nowadays is called The Middle Bar, used to be called The Coffee Room and was frequented a lot by Charles Dickens. The George Inn is even mentioned by Dickens in one of its books (Little Dorrit). They don't serve food here, but they serve beer and other drinks – it can get quite busy!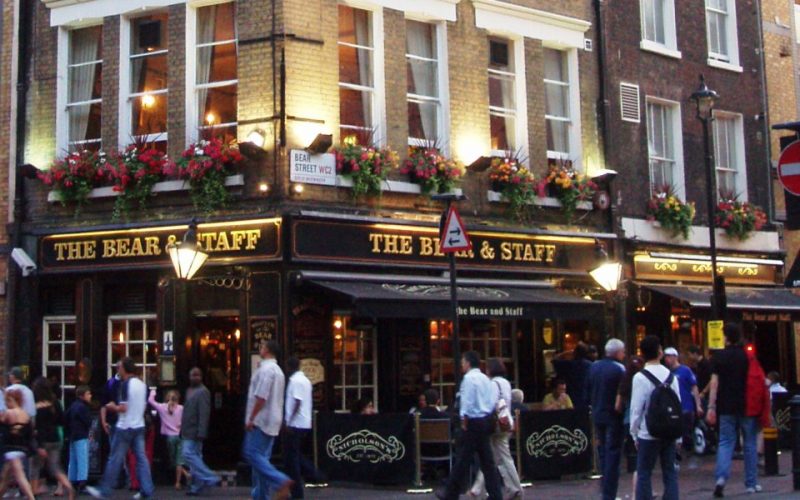 Located in the heart of London's West End theatreland, The Bear and Staff is the perfect place for a pre-theatre dinner or a post-theatre drink. The Bear and Staff pub has stood there since 1714, the name coming from the crest of the Neville Family. The pub counts villains and celebrities in its long history. The current building dates from 1878 and was once frequented by Charlie Chaplin, and the restaurant is named in his honor (the food is quite good as well!).