We have had some unseasonably warm weather in London recently, and we all know how stifling the heat can be while traveling on the tube. But there is another form of public transport in London that is much more enjoyable on a hot day. Uber Boat by Thames Clippers is part of Transport for London (TfL) and allows you the opportunity to travel along the route of The Thames (from Putney to Woolwich) with lots of stops along the way.
Thames Clippers is not a sightseeing service, so there is no tour guide onboard or a recorded commentary. This is, technically, public transport. The far ends to the west and the east are both only served during commuter times in the morning and evening. But nothing can stop you from looking out and enjoying the landmarks that the boat passes. And the view from the river is always a treat.
River Roamer
You can get single and return tickets for Uber Boats by Thames Clippers, but there is also a useful River Roamer 'hop on hop off' ticket available. You can buy tickets online or pay as you board by tapping your bank card on the reader. There is an app too, which is handy as it has timetables and live departure information as well.
The River Roamer ticket is valid for a full day, so I tried a day out to give you an idea of what can be achieved. I wanted the day to take in some long trips on the boats so I could just admire the views but also to get off at some well-known stops and others I had never visited.
My Route
You can see the full Thames Clippers route on their website. There are 23 pier stops, so lots of options. (If you want to really get to know the route of the river, do have a look at my Thames Path post.)
I decided to start in central London and then head west to see Battersea Power Station as this area is now being regenerated as the building is being converted to (a headquarters for Apple, but mostly) – yes, you guessed it – luxury apartments.
From here, I could then do a long trip to reach Greenwich in the east. After lunch, I wanted to go to a stop I'd never used before and see a viewpoint I'd heard about. Then get a ferry that is expensive if you had to buy a single ticket, but it is included in the River Roamer ticket. Another long trip to go far west and then a final journey back to a central London stop to get the tube home.
As I traveled on the first day of the summer timetable, I did do some planning at home, but we remained flexible and also enjoyed going with the flow (no pun intended). I would have loved to go down to Woolwich in the east as well, but I didn't want to have to start the day ridiculously early to reach there, and then not have enough time to explore as the boats stop departing from the far ends of the route around 11 am and then restart after 5 pm. I wanted a relaxed day out, so I met a friend at Westminster Pier at 11 am.
Westminster Pier
Westminster Pier is next to Westminster Bridge, on the other side to the Houses of Parliament. The London Eye is opposite, so you can start your sightseeing even before you have boarded!
Rather like the way bus routes have numbers, the river services do too. We got the RB2 to Battersea Power Station. It's only three stops away, so the journey was under 15 minutes.
Battersea Power Station
I'm not sure what I was expecting here – maybe more of a building site? – but the 'cool millennials' disembarking at the pier should have been my clue that it is much more a destination than I realized.
It's described as a "curated neighborhood" (I can picture you rolling your eyes at that!), and I'd say that's a fair representation. There are colorful deck chairs on a jetty and oversized plant pots along the waterfront. Enormous inflatable white tulips are the centerpiece of the open space, and the water feature with no more than 2 inches of water has a "no swimming" sign.
This is Circus West Village and, for now, there are mostly just places to eat or drink. The only retail I saw open was a delicatessen that I knew before entering would be beyond my budget. For the few residents in the iconic Grade II* listed building, there is a cinema and theatre open too.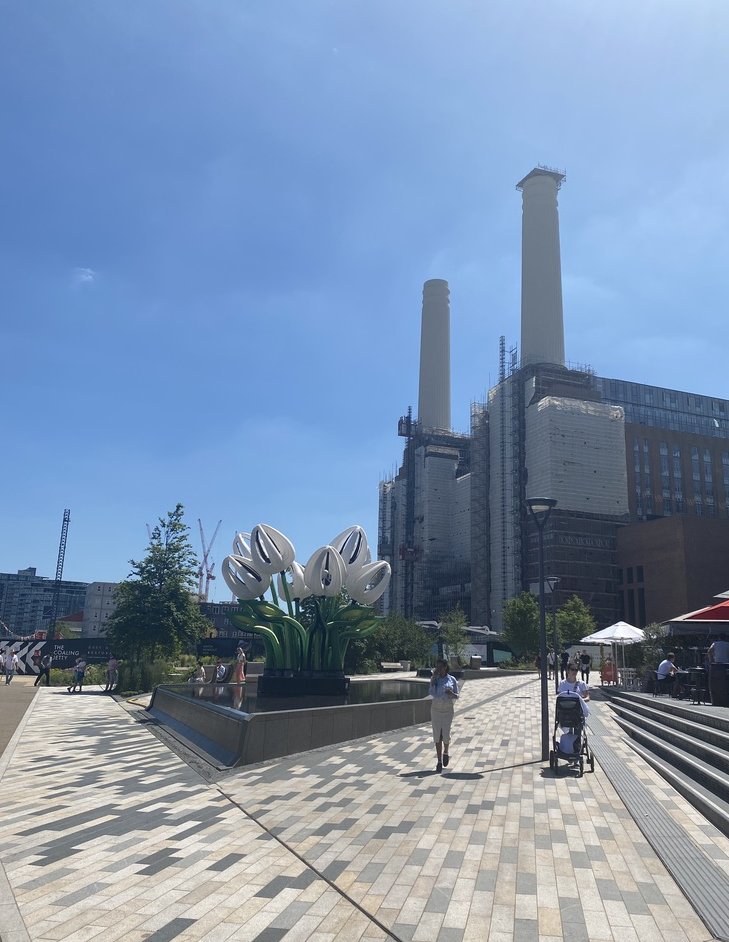 I visited on a sunny day, and the colorful bunting gave the location an upmarket festival atmosphere. I felt like I had left London, though as it looked so different; somewhat reminiscent of the King's Cross regeneration but definitely a 'more money in west London' style.
The railway arches was the only area that still had a London vibe.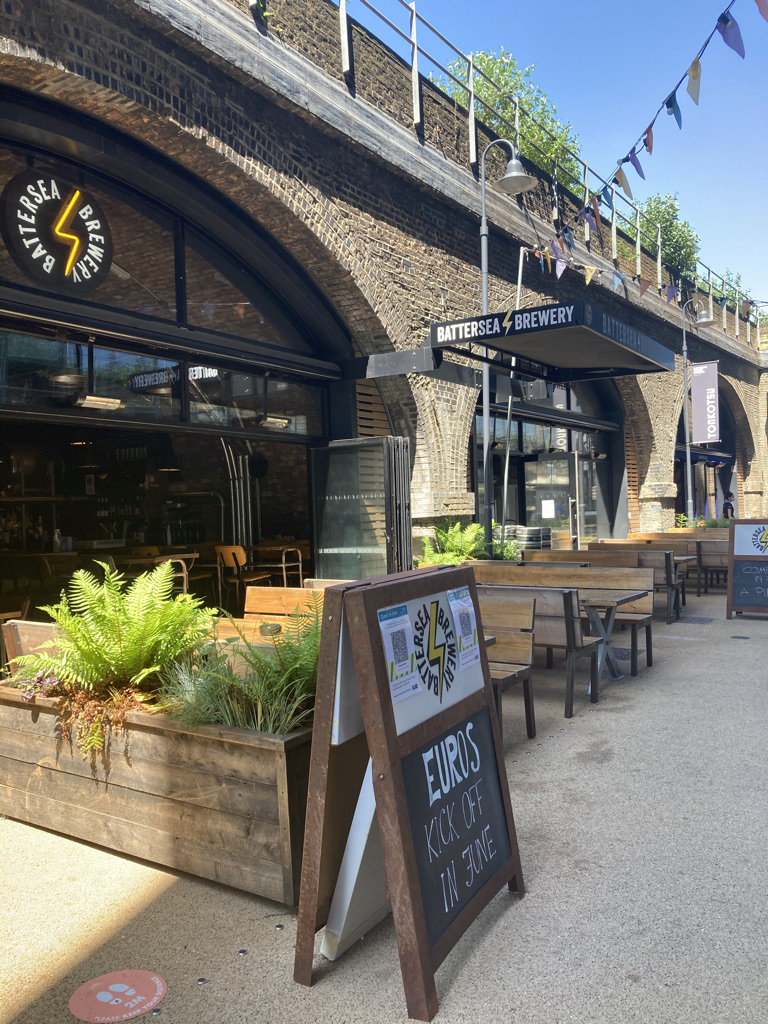 I stayed for an hour then set off for Greenwich. This was one of the long trips I'd been looking forward to as we had nearly an hour to embrace being on the water.
Journey to Greenwich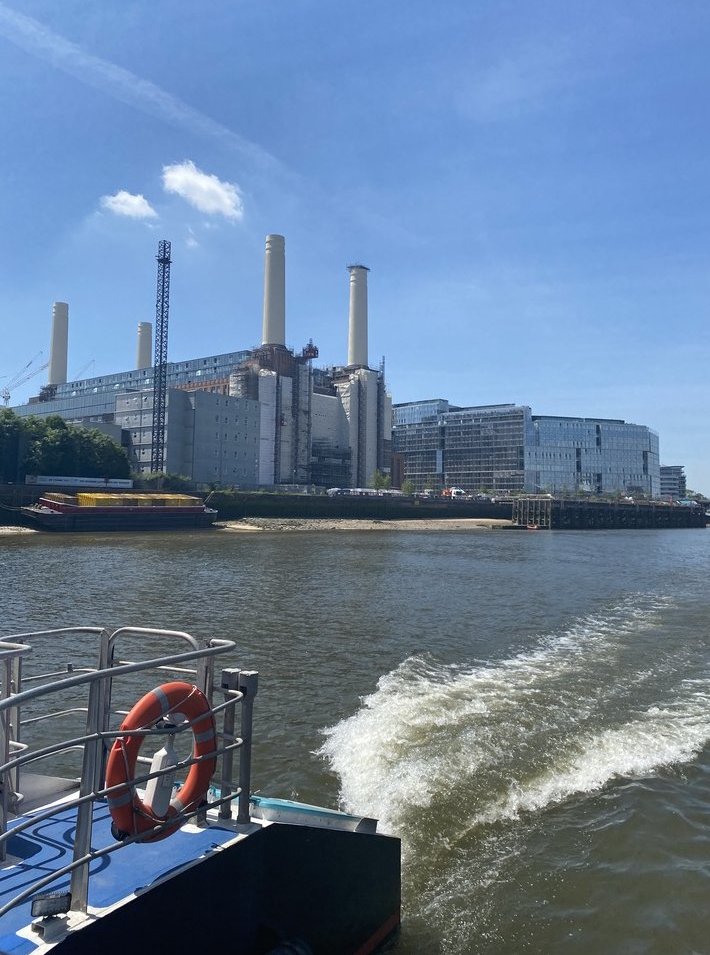 You could easily use this journey for sightseeing as you pass the Houses of Parliament, the London Eye, Cleopatra's Needle, the South Bank, the Royal Festival Hall, Tate Modern, St Paul's Cathedral, Shakespeare's Globe, London Bridge, HMS Belfast, the Tower of London and Tower Bridge. And that's just in the central London section! If you would like to know more about the bridges, I've written about them all in this History of London's Bridges post.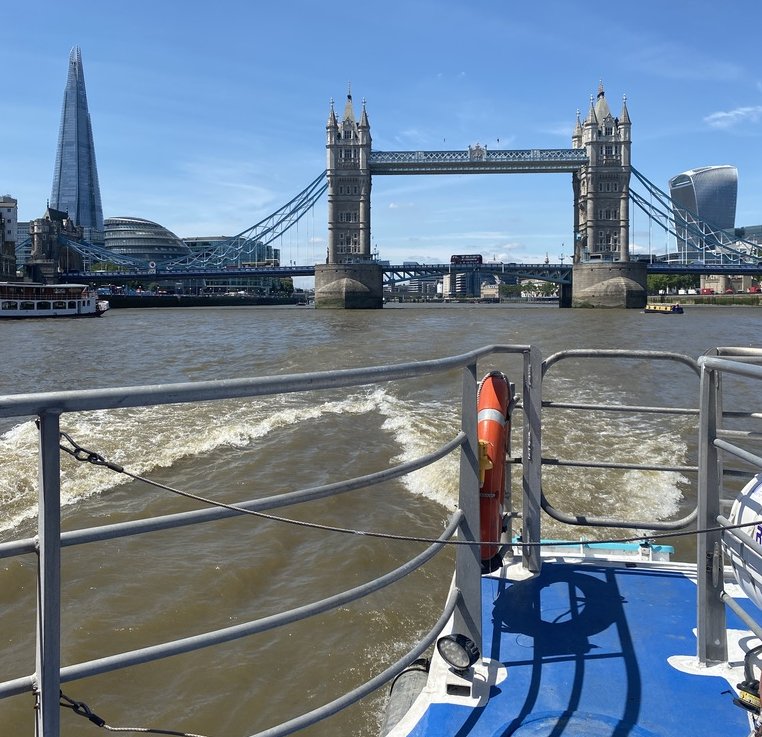 Soon after you pass under Tower Bridge, the boat can increase speed, and you whizz through the docklands and Canary Wharf before reaching the Maritime Greenwich World Heritage Site in the Royal Borough of Greenwich.
Greenwich
There is so much to see and do in Greenwich; you could easily fill a day and more here. The Cutty Sark is iconic, and the National Maritime Museum is free to visit. The Museum's current special exhibition – Tudors to Windsors – is well worth seeing. Next door, the Queen's House has the Armada Portraits on display, and I'd recommend seeing them too. And The Painted Hall at the Old Royal Naval College is stunning.
We stayed for about 1.5 hours and kept things simple. We got a takeaway lunch from Greenwich Market and sat in Greenwich Park to just enjoy being there.
The only 'sight' we stopped to see was the "Monument To A Dead Parrot." Something most people never notice, it's a painted bronze sculpture on the grounds in front of the De Vere Devonport House Hotel (next to the National Maritime Museum). The artwork is by John Reardon, and I'd presumed was a homage to the Monty Python dead parrot sketch. But my friend pointed out this is not a Norweigan Blue (as in the comedy sketch) but actually is a cockatoo.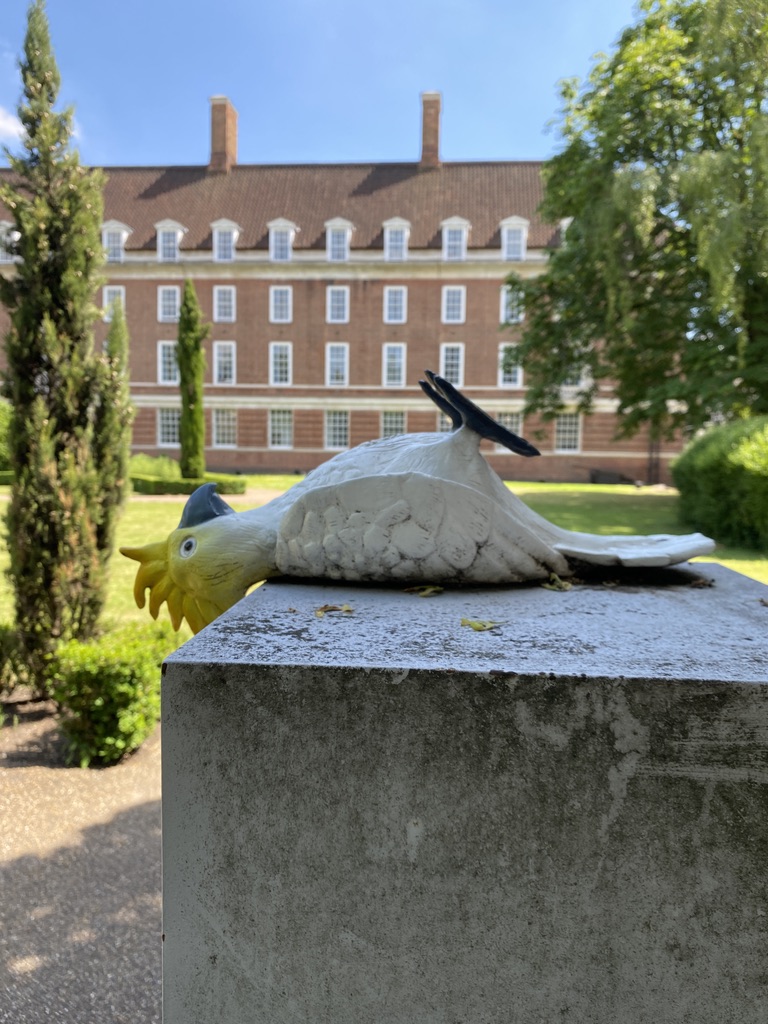 We walked through the grounds of the Old Royal Naval College, where you can often hear music students from Trinity Laban Conservatoire. We admired the artworks on display outside by the students of the University of Greenwich and then heading back to the pier to continue our day out.
Stave Hill
Just 8 minutes by boat from Greenwich (on the RB1), we got off at the Greenland (Surrey Quays) pier in search of the viewpoint at Stave Hill. It was suddenly much quieter compared to the hustle of bustle of Greenwich. Google Maps guided us for the 15-20 minute walk, and it was very different from west London.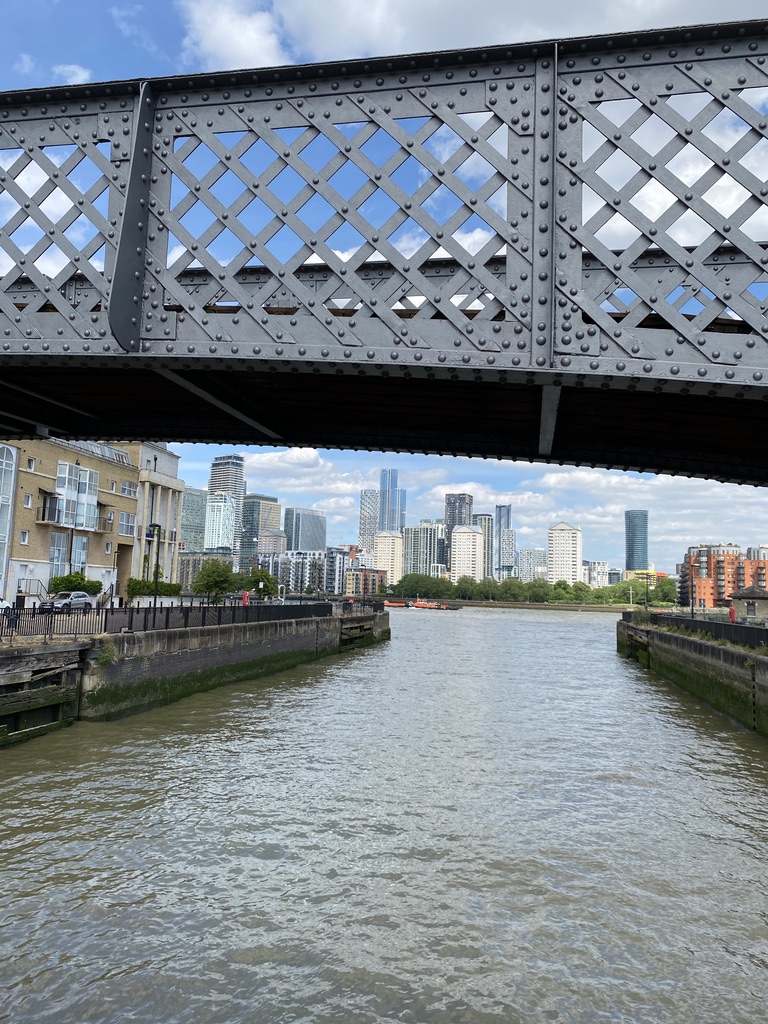 There's a marina at Greenland Dock, the oldest of London's riverside wet docks. From the 1720s, it was used by whaling ships, and whale blubber was boiled on the quayside to produce oil. The whaling ships came in from Greenland, which is why it has that name.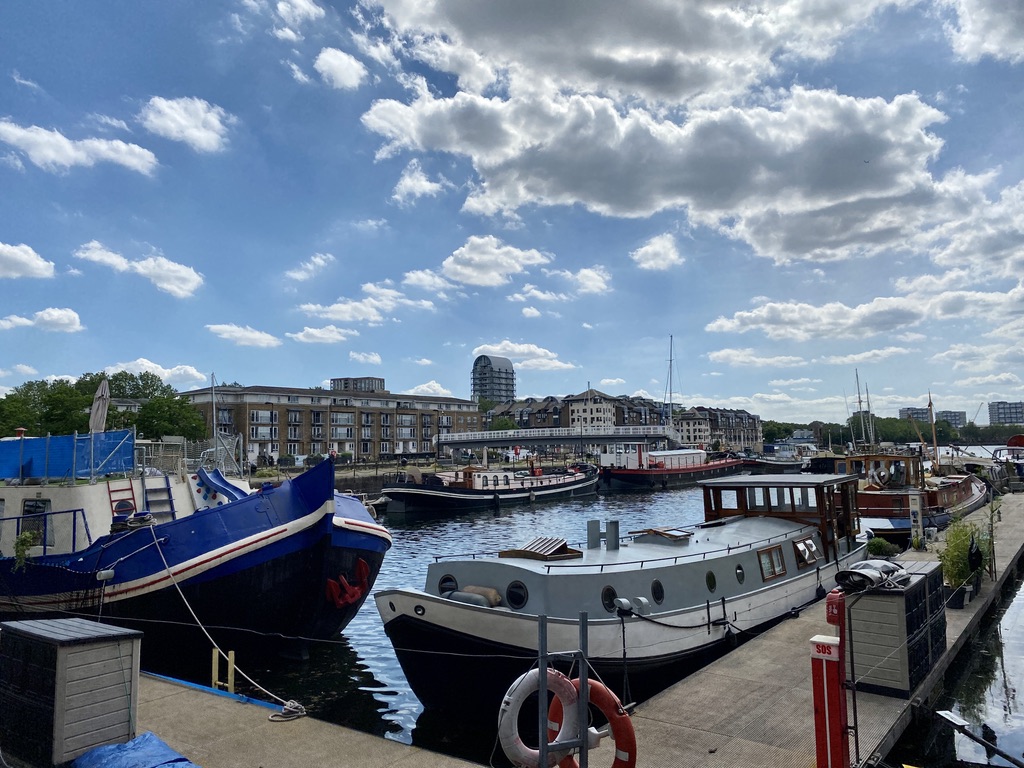 This is a residential area, and our stroll took us along tree-lined avenues and past direction signs that guide you towards many areas with historical names.
We walked through Russia Dock Woodland that still has signs of its maritime past, including the retaining wall capstones and mooring chains. Russia Dock was used for importing timber from Norway, Russia, and Sweden) so this wonderful park is a very fitting legacy.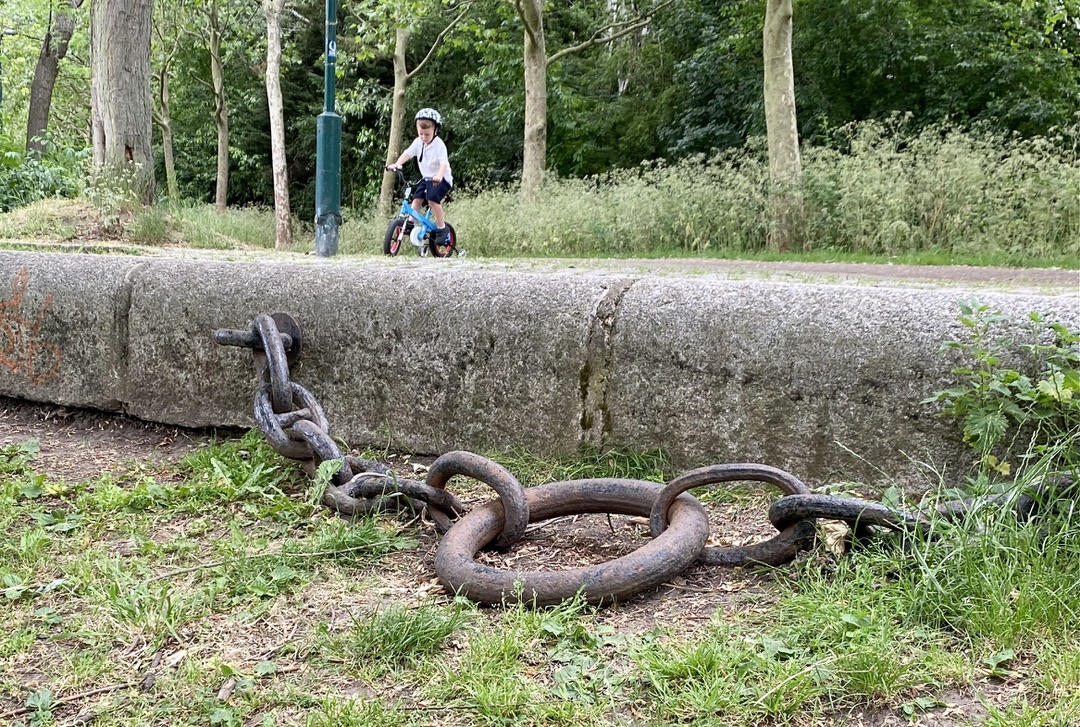 This really isn't the London you might expect to find in zone 2. The Docklands were in desperate need of regeneration after all of the docks closed between 1960 and 1980. Eight square miles of derelict industrial land became the Canary Wharf business district and over 20,000 new homes.
Stave Hill, in the Stave Hill Ecological Park, is a 10-meter high artificial mound created from landfills and rubble. (This site has a sound recording of local birdsong plus photos showing the area's regeneration.) There are steps to reach the top, and it's not a hard climb; I saw lots of children stopping off on their way home from school.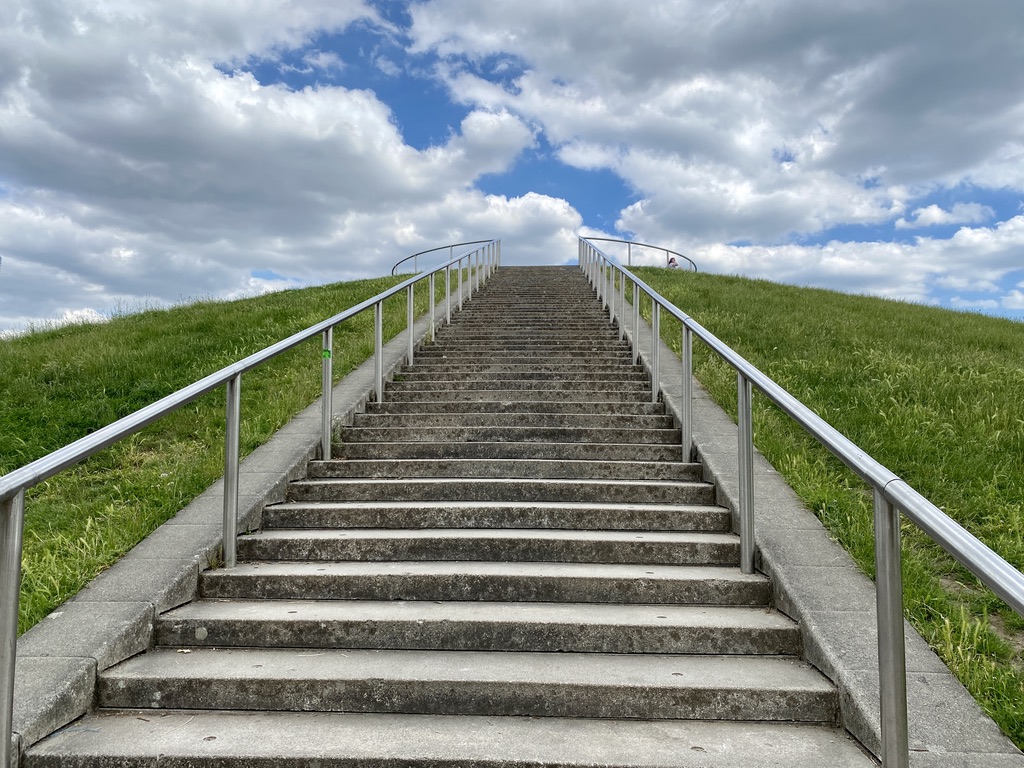 At the top, there's a bronze relief of the London Docklands created in 1989.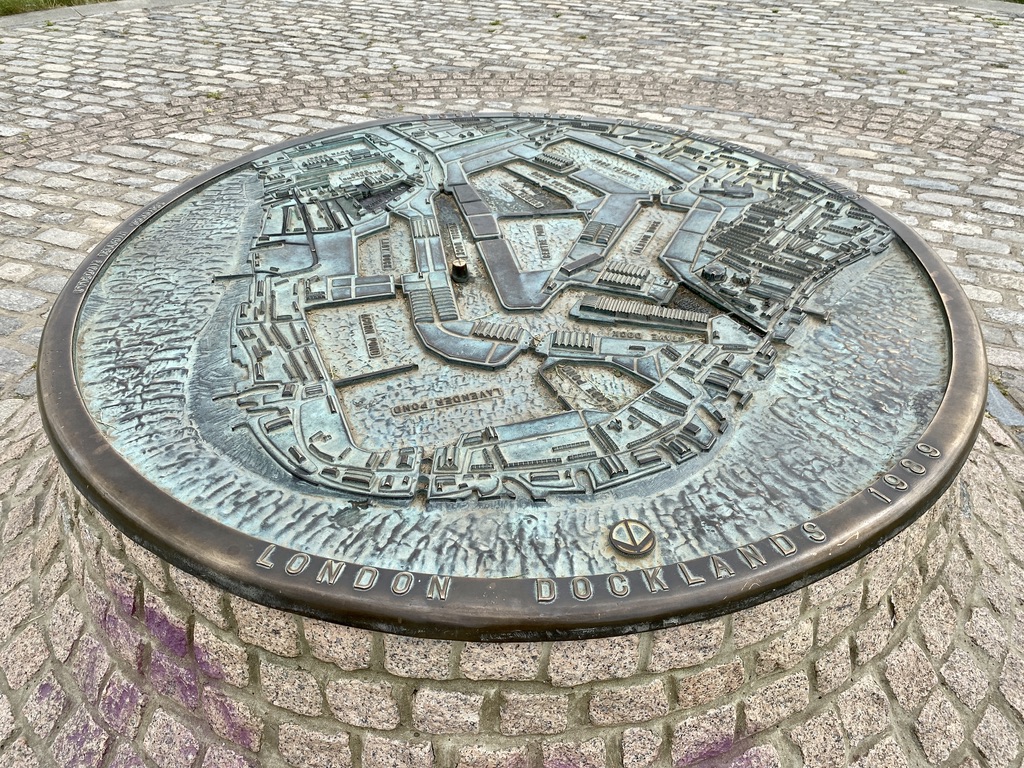 It's interesting but hard to relate to the area we now have here. Most people climb up to look across to Canary Wharf, but you can also see The London Eye and The Shard as well as the skyscrapers in the City of London.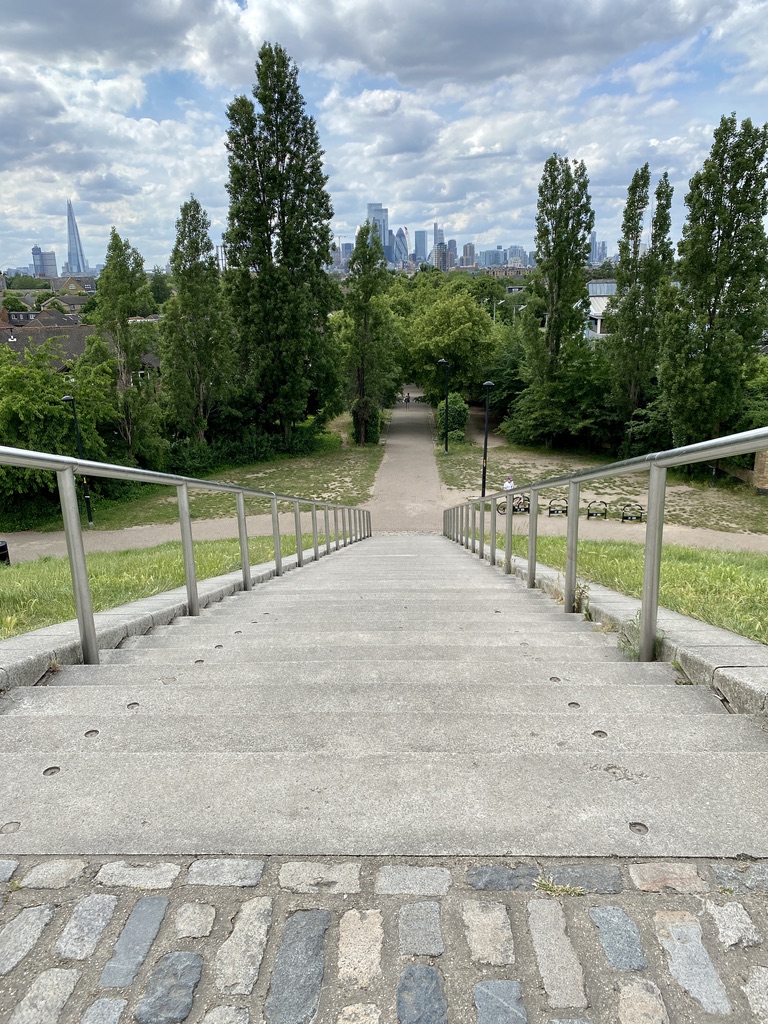 Back down on ground level, we wandered through the Ecological Park, which is a fantastic nature reserve. We saw hidden ponds and lots of greenery. I'm sure this would be a lovely day out for families with younger children. Surrey Docks Farm is nearby too.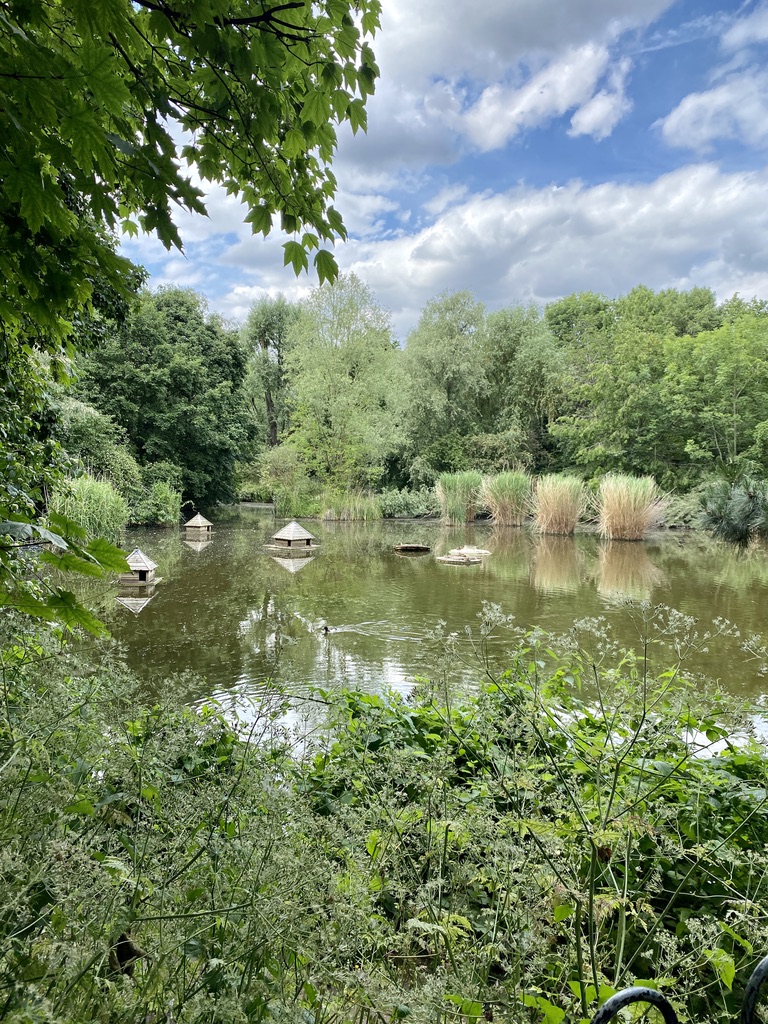 RB4 Ferry
We walked to a different pier next as I wanted to go on a ferry that connects straight across the River Thames to Canary Wharf Pier. If you had to buy a single ticket, it's nearly £5, but it is included on the River Roamer ticket. The RB4 runs between the DoubleTree Docklands and Canary Wharf, and the journey is only 3 minutes long. When we couldn't see how to get to the pier, we went into the DoubleTree Hilton by Docklands hotel reception with the intention of asking for directions but discovered that was the only way to access the pier. We exited on the other side of the hotel reception and caught the ferry. (Do note, it currently does not run between 11 am and 3 pm.)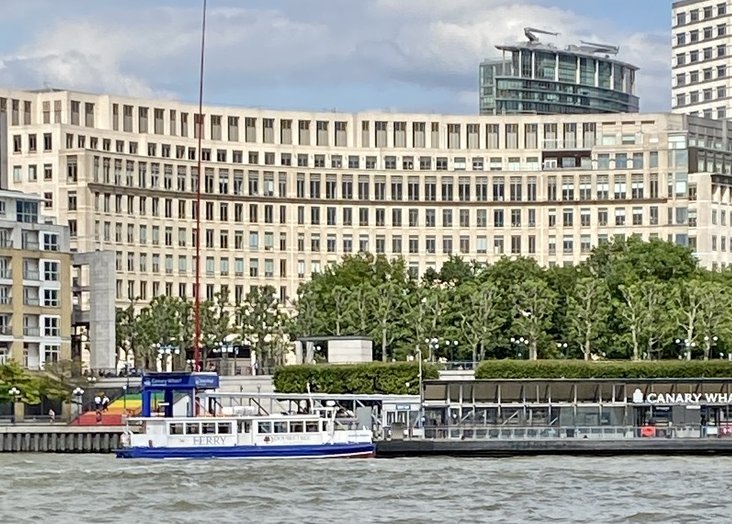 It's never a busy service, and we were the only passengers.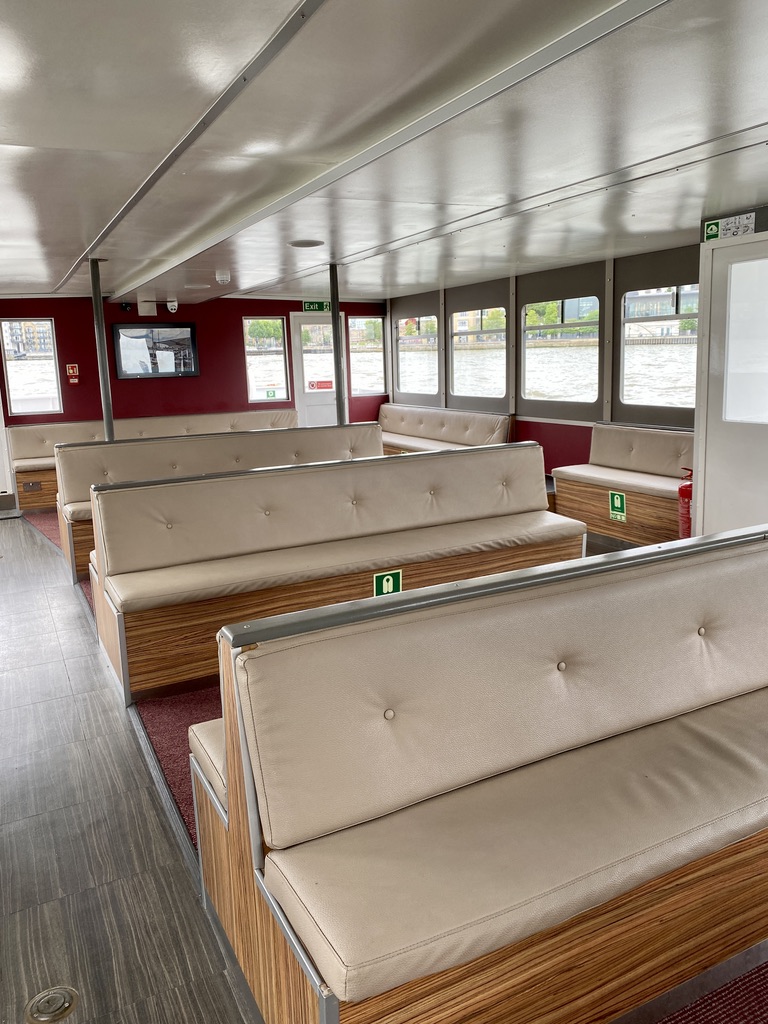 Heading West
As it was now later in the afternoon, we could catch the RB6 from Canary Wharf all the way to Putney at the far west end of the Thames Clipper route. The boat starts from Canary Wharf, so we didn't have to contend with the crowds on the RB1 that stopped here a few minutes before – full of people who were heading back to central London from Greenwich. This journey took over an hour, so we had plenty of time to relax after our woodland wanderings.
For your information, the vessels often appear similar but are not the same. You can actually find out a bit more about each of the boats on the website.
I didn't get a photo, but do look out on the right as within a minute you pass the back of Sir Ian McKellan's pub, The Grapes. You'll spot it as there's an orange mannequin standing in the garden. But do look closer as in the water there is a life-size sculpture of Antony Gormley by Gormley entitled 'Another Time.' It was installed in 2013, but I don't think I had noticed it until now. When I passed this time, the tide was so high I thought there was someone standing on the water!
Before you reach Tower Bridge, the boat can go at much higher speeds, so it can be fun to sit on the outside deck and feel the wind in your hair. You'll pass many more historic pubs, including the Prospect of Whitby and the Captain Kidd on the north side and The Mayflower on the south.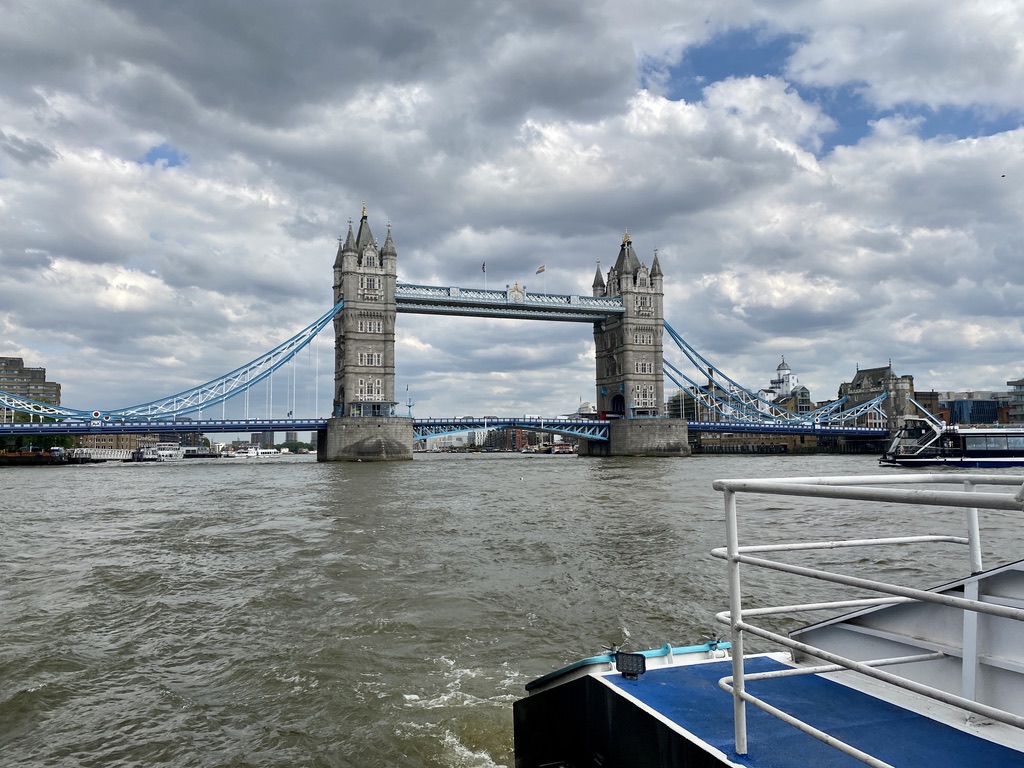 Everything slows down once you're back in central London. But that's OK as you have all that sightseeing to do again.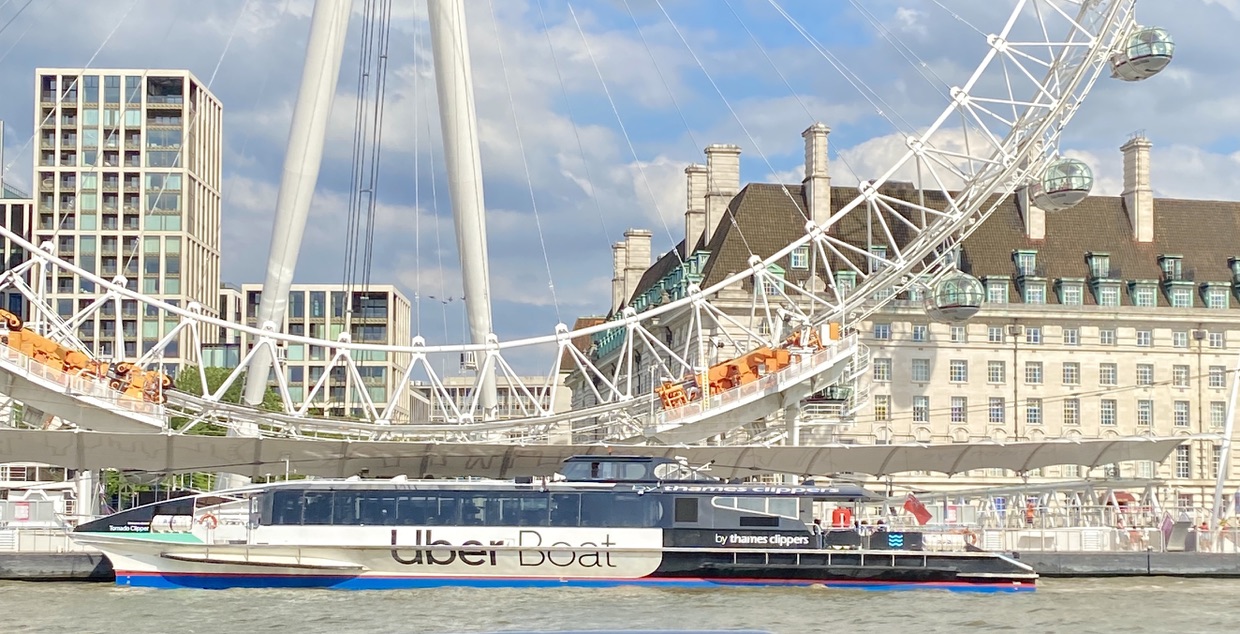 This time heading further west than Battersea Power Station, you get to see Chelsea and Wandsworth on the way to Putney. Once beyond Chelsea Bridge, you can see Battersea Park on the left and the gloriously gold Buddha in the Peace Pagoda. I'm not actually sure if it is, but the river felt wider from here on. It definitely seems to be bordered by more greenery than you might expect in a capital city.
The boat stops at Cadogan Pier, so you have time to admire the whimsically pastel-colored Albert Bridge that has always reminded me of a wedding cake.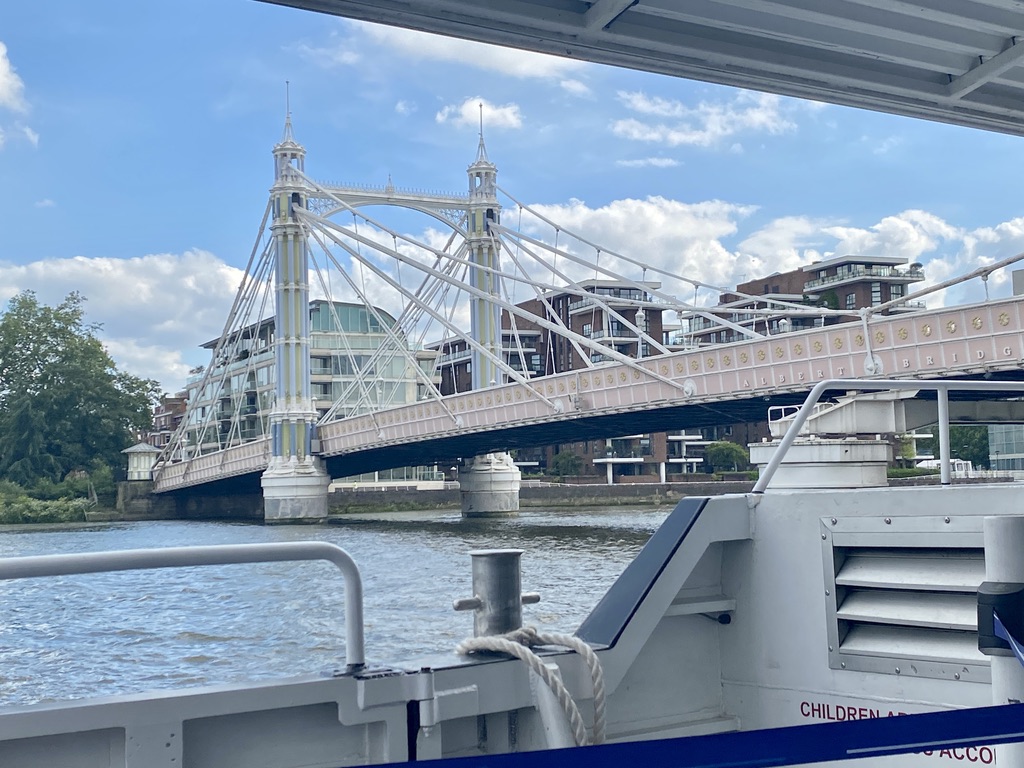 Wandsworth Bridge wasn't looking as good as it's undergoing structural repairs. We passed under at high tide (goodness, we were close to the underside of the bridge!), and I noticed a hay bale hanging down. This is because of an ancient law that dictates that a hay bale is a warning to boats on the river of the work being done on the bridge.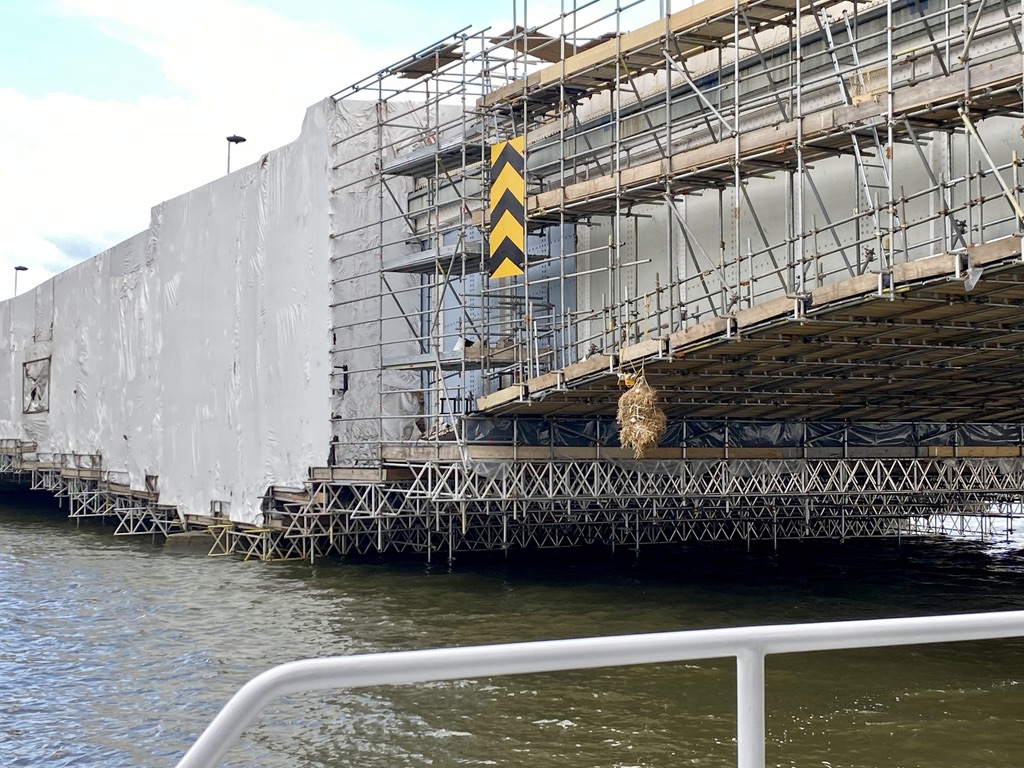 We passed the mouth of the River Wandle, where it reached The Thames before we got to Putney.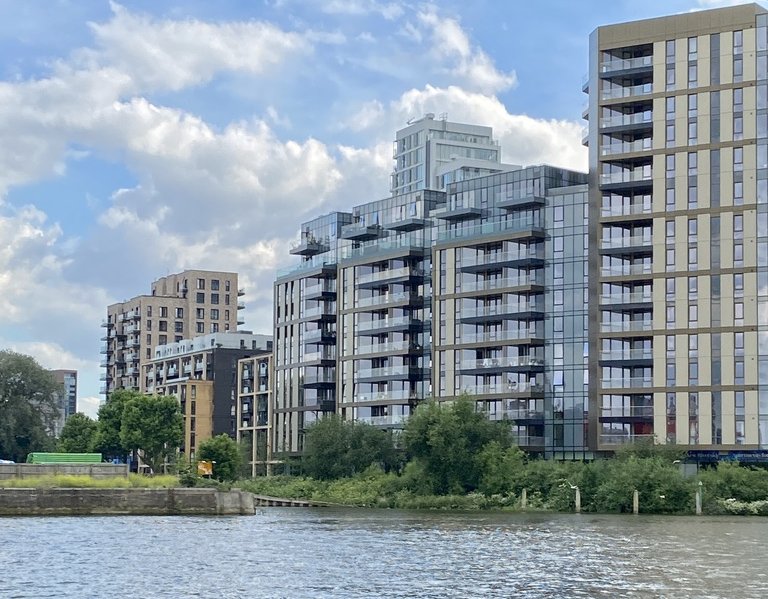 Putney
This southwest London neighborhood is best known for its association with rowing and the annual Oxford V Cambridge Boat Race. I forgot to look for the University Boat Race stone, which is the marker of the start of the Boat Race. It's set into the towpath on Putney Embankment, a few meters below Putney Bridge.
I did notice this bronze relief on the wall of the Dukes Head Rowing Club.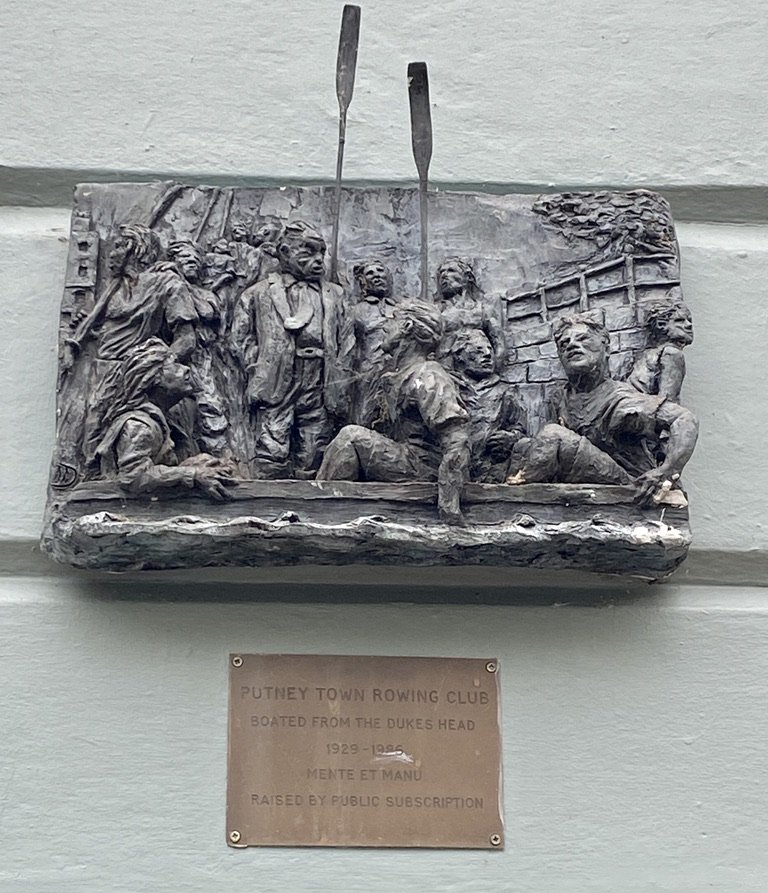 But we came to the area for a drink at a riverside pub or a pub with a garden. You've got plenty of choice on either side of Putney Pier. As we waited it out to avoid the rush hour on the tube, I thought what a wonderful day it had been. Having spent the day in London, each location had been very different. We'd seen central London landmarks and the iconic Battersea Power Station. Then a World Heritage Site before a wander through woodland to climb a hill. We'd had a boat to ourselves and then made it to a quiet neighborhood for an early evening drink.
One more boat ride on the RB6, and we ended the day at Vauxhall (St George's Wharf).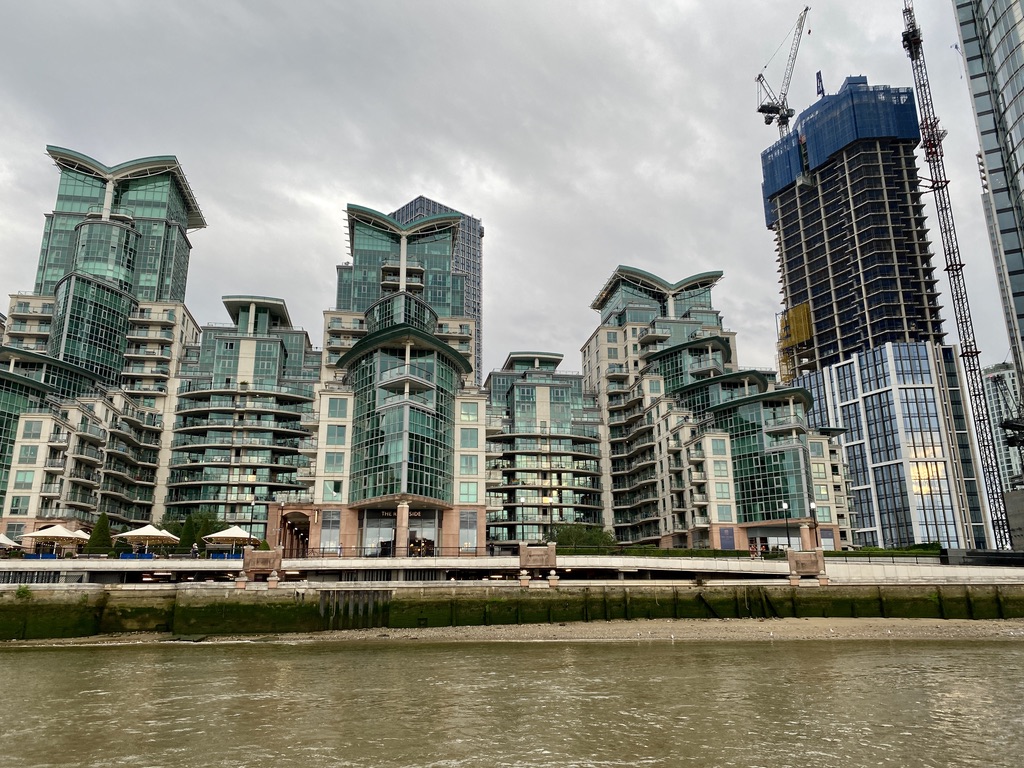 Luxury Apartments
Something I did question as we saw so many riverside luxury apartments along the route is who actually lives in them? Certainly the very wealthy, that's for sure. There's no uniformity as each architect appears to have wanted to make a statement without necessarily thinking about how their building has to fit in with others on this prime real estate.
Saving
You can get a discount on tickets if you have an Oyster card, but here's a cost comparison with the full-rate single tickets.
The River Roamer ticket is valid for a day and costs £18.40.
£8.50 Westminster to Battersea Power Station
£8.20 Battersea Power Station to Greenwich (this is a longer journey but costs less because I didn't stop in zone 1)
£4.60 Greenwich to Greenland (Surrey Quays)
£4.60 Doubletree Docklands to Canary Wharf
£8.50 Canary Wharf to Putney
£8.50 Putney to Vauxhall (St George's Wharf)
My day out could have cost £42.90, but my 'hop on hop off' ticket meant a saving of £24.50.
Conclusion
I really enjoyed this day out, and it was a wonderful way to see London. There were definitely fewer people on the boats than on the tube or buses, but mask-wearing wasn't enforced. Another time it would be good to see Woolwich (Royal Arsenal) and to get off at more central London piers. I'd definitely recommend the Uber Boat by Thames Clippers River Roamer ticket.
Credit
I'd like to thank Uber Boat by Thames Clippers for providing the River Roamer tickets so I could try this day out and show you many different sides of London.