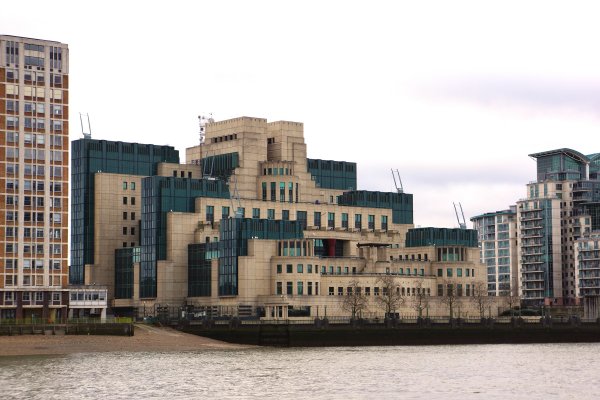 Part of the Metropolitan Borough of Lambeth, Vauxhall came about from one of King John's loyal servants, Falkes de Breauté, who owned a house in the area that was called Falke's Hall.  As the industrial revolution took hold in England, the ward became a mixture of industrial and residential.  The area's industry led to the establishment of Vauxhall Motors, one of England's top car manufacturers.  Today, Vauxhall is a very diverse part of London with a mixture of social housing, gentrified neighborhoods, sports venues, gay clubs, and government buildings.  We've identified ten of our favorite places to visit, and you can let us know your own in the comments.
Whistle Punks Urban Axe Throwing
An activity that's taken off with a younger crowd all over the world is ax throwing.  Essentially, it's darts but with axes, as you try to throw the ax as close to center of the target as you can.  Even if you've never held an ax in your hand, Whistle Punks can teach you what to do and even get you ready to join their league for fun competitions against your friends.
Royal Vauxhall Tavern
It might not be for everyone, but the Royal Vauxhall Tavern is the center of gay culture in the neighborhood.  This Grade II listed building was once a Victorian music hall and pub that became a venue for drag and burlesque performances after World War II.  It still hosts these performances today and has made the RVT quite the major venue in the area.
VauxWall Climbing Center
A great spot to be active in Vauxhall, the VauxWall Climbing Center is a dream for beginning or expert alpinists.  If you're one of the former, the VCC can help you get started with easy walls and classes hosted by trained climbers.  The center also hosts events every month, so be sure to check out their calendar and join some fellow bouldering enthusiasts.
White Bear Theatre
If you're looking for an entertainment venue and pub that's a bit more family-friendly, the White Bear Theatre is one of the leading pub theaters in London.  It's more of a fringe theater than the others, though, participating in the Lost Classics Project to revive more obscure, underperformed, and unperformed plays.  What's more, if you present a paper or electronic ticket in the pub for your show, you get 10% off the bill.  Makes for a wonderfully unique dinner and show.
Vauxhall City Farm
Perhaps surprisingly for such a large city, Vauxhall is one of the London wards with a large farm.  Whether you're a child or an adult, you can get the experience of rural life from feeding animals, petting them, and even riding horses or ponies.  There are adoption options to help with the farm's upkeep, and while you don't get to take the animals home, you can do a prearranged meet and greet with the animal you've adopted and get a free bag of feed with each visit.
Vauxhall Cross – MI6
Home to the Secret Intelligence Service, otherwise known as MI6, Vauxhall Cross isn't a place you can tour, but it is a place you'll want to see if you're a fan of the James Bond films.  For years after it was built in 1994, its very existence wasn't fully disclosed to the public.  It wasn't even until The World Is Not Enough in 1999 that filmmakers even had permission to film the exterior.  And while the fictional MI6 has since moved out of the building, the real agency is still there, so don't expect that you can walk in for a visit, though there are a number of Bond-themed tours that will point it out to you.
Vauxhall Park
A beautiful respite in the middle of Vauxhall, Vauxhall Park has been a part of the community for over 125 years.  Besides its greenery, pergolas, and benches, there are a number of activities inside from a playground, tennis courts, chess tables, sports fields, and even a little model village to peruse.  The park has won the Green Flag Award for the last seven years in a row as one of the best green spaces in the country, so you'll definitely want to check it out.
The Kia Oval
Also known as simply The Oval, the Kia Oval is an international cricket ground and home to the Surrey County Cricket Club.  The ground was built on top of the Kennington Common, which hosted its first cricket match in 1724 and the Oval as it was was built in 1845.  In addition to hosting cricket matches, it tends to play home to a lot of football as well.  Be sure to check the club's schedule for tickets or see what else might be happening there.
Vauxhall Pleasure Gardens
Just a stone's throw from Vauxhall Park are the Vauxhall Pleasure Gardens, which rank higher on this list for its history and number of activities.  Vauxhall Gardens has been around since the 18th Century when the only way to reach the gardens was by boat until Vauxhall Bridge was built.  In addition to the playground, table tennis, and sports field, the gardens touch several other places on this list including the Royal Vauxhall Tavern and Vauxhall City Farm, letting you really make a day of it in one location.
Albert Embankment
Stretching from Vauxhall Bridge Road to Lambeth Bridge, the Albert Embankment is one of the Thames's main thoroughfares and has been since it was constructed by Joseph Bazelgette between 1866 and 1869.   As with Bazelgette's other embankment projects, the river is lined with lamps that have sturgeons at the base.  With a dockside restaurant and a bike share, you can grab a bite to eat then rent a Boris bike to take you anywhere you want in Vauxhall.