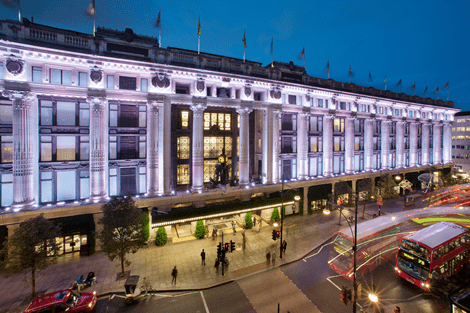 The Gimbels to Harrods Macy's, Selfridges was founded in 1909 by Harry Gordon Selfridge. Selfridge began his career at Marshall Field's in Chicago, but after realising that he could only move up so far and that many of his ideas were not taking root within the company, he left the United States for Britain and opened his own store on Oxford Street. As much an enigma as its founder, what secrets lie within the UK's second-largest retail store?
Second is First
Despite being second to Harrods in sales, Selfridges is the largest shop on Oxford Street with 650,000 feet of retail space. It has also been twice voted the World's Best Department Store at the World Department Store Summit; once in June 2010 and again in May 2012.
Women's Lib
Harry Gordon Selfridge focused much of his attention on women from all social classes. His store was the first to have women's toilets, permitting them to stay all day instead of having to go home. He even championed women's suffrage at a time when suffragettes bombed public buildings to bring attention to their cause. He flew their flag above the shop, published ads in their newspapers, and carried items in their colours. Selfridge's patronage is attributed as one of the reasons why his store was never attacked.
Innovative
Selfridge perhaps did more to change the perception of the department store than anyone else of his time. He made heavy use of advertising and gimmicks to draw in customers and also permitted browsing, let customers handle merchandise, and paid his employees a high enough wage that permitted them to live away from the business instead of over it. He also coined the phrase "the customer is always right".
Telly
One of its many attention-grabbing gimmicks, Selfridges was the first store in the UK to display a working television during the month of April, 1925.
Supporting the War Effort
During WWI, Selfridges lost the contract to make army uniforms, but ended up having the contract to make the underwear for the French army. During WWII, soldiers from the US Army Signal Corps used one of the basements for their operations. Located 60 metres below the street, it was safe from bombs, had secure telecommunications, and wasn't too far from the US Embassy.
A Hypocrite?
While Selfridge was all about equality for the masses, he was pretty snobbish when it came to his own family. He wanted his children to marry into the upper classes, so when Harry Jr. fell in love with his future wife, Charlotte, one of the employees of the store, Harry Jr. kept the relationship secret from his father for fear the elder Selfridge would not approve. In the end, Harry Sr. never met his daughter-in-law or grandchildren.
One of the Most Unique Bars in the World
The Wonder Bar in Selfridges has an Enomatic Wine System that allows customers to sample from 52 different wines before purchasing.
The Biggest and the Best
Selfridges has the world's largest women's shoe department. It stocks more than 100,000 shoes at any given time and sells more than 7,000 pairs per week.
From Riches to Rags
Following his wife's death, Mr. Selfridge became something of an elder socialite and entered into a relationship with one (if not both) of the sister act known as the Dolly Sisters. Jenny Dolly's gambling habit was shared and encouraged by Selfridge, who would often charge his and her gambling debts to the store. Eventually, he was forced out over this poor financial management. In later years, he would regularly travel to the store in shabby clothes, and once was even arrested for vagrancy.
Today
For a store that had 90,000 people at it's opening 105 years ago, Selfridge's has expanded to three other stores in Birmingham and Manchester. In 2013, an ITV programme starring Jeremy Piven as Harry Gordon Selfridge portrayed his opening of the store and its initial trials and tribulations. The original store can still be found on Oxford Street and is open from 9:00 AM to 10:00 PM Monday through Saturday and on Sunday from 11:30 AM to 6:15 PM.