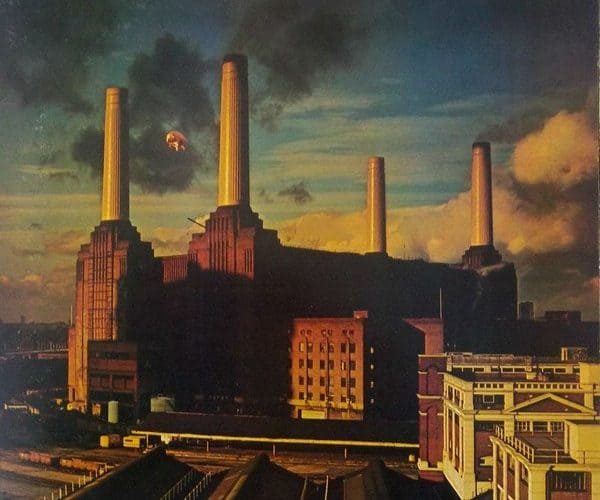 Battersea was once an undeveloped marshland and farms with a village centered around St. Mary's Church until the Industrial Revolution came along and built factories by the River Thames and the River Wandle.  The latter gave birth to a village known as Wandsworth that was eventually absorbed into Greater London.  Today mostly composed of neighborhoods, it is home to a number of unique London features and wonderful activities.  If you care to visit, and not just because you're a Pink Floyd fan, we've outlined our top ten favorite places to visit in Battersea.  You can let us know your own favorites in the comments.
Battersea Car Boot Sale
A different take on what we Americans would call a yard sale, as you might imagine, sellers at these events hawk their old stuff out of the back of their car boot (or trunk).  The Boot Sale advertises itself as the "original" Sunday boot sale, taking place each week, rain or shine, in the parking lot of Harris Academy at 401 Battersea Park Road.  Be prepared to find an amazing array of stuff and be sure to have cash.
Battersea Flower Station
Taking its name from one of Battersea's most famous landmarks (more on that later), this garden shop is quite a magical place.  Whether you need to buy flowers for someone or are looking for gardening supplies, Battersea Flower Station has everything you need, and it's like wandering into a secret garden in the middle of the city.
Battersea Dogs & Cats Home
Not your typical animal shelter, you don't have to end up adopting one of the furry critters if you visit, even if you really want to do so.  The shelter was established in 1860, and it has been under Royal patronage since Queen Victoria first became a patron in 1885.  Now simply called "Battersea," you can sign up to volunteer at one of their three locations or pay a modest fee of £2 for entry that goes to the shelter's support.
Battersea High Street Market
Whether you're shopping for ingredients or want some quality street food, the Battersea High Street Market is a destination you'll have to visit. The market is open on Saturdays and Sunday and in addition to all the wonderful food, it offers weekly educational activities.  The market is a foodie paradise, so you'll certainly want to check it out and sample some of the wares.
New Covent Garden Market
Battersea Flower Station may be the prettiest garden market in Battersea, but New Covent is by far the largest not only in the city but the entire United Kingdom.  The market covers 57 acres and features over 200 plant, fruit, and vegetable companies, so you're bound to find whatever you're looking for there.  The market is set for renovation in 2020, so be sure to see it before work begins.
575 Wandsworth Road
Once the home of Kenyan poet Khadambi Asalache until his death in 2006, it has since been given to the care of the National Trust that has preserved the Georgian terraced house.  Asalache bought the home in disrepair and did a lot of work to fix it up, living there until his death in 2006.  If you take one of the guided tours of the home, you'll need to bring socks or slippers, though you can also rent slippers so as to preserve the interior surfaces.
Battersea Arts Center
This magnificent Grade II listed structure is home to all manner of artistic performances from plays to dance recitals.  Originally the Battersea Town Hall when it opened in 1893 and later became an arts center in 1974.  A fire erupted during the building's renovation in 2015 that destroyed much of the structure, but it since been repaired and the Great Hall reopened for new performances.
St. Mary's Church
The first church on this site was built in 800 AD, making it one of the earliest consecrated sites in London.  As mentioned in the introduction, the area around the church is where some of Battersea's first residents made their home.  The current church was finished in 1778 and has great ties to the arts and history, having been the church in which poet William Blake married, artist J.W.M. Turner painted, and where Benedict Arnold is buried.  If you choose to visit, keep in mind that it is still a functional place of worship and plan accordingly.
Battersea Power Station
Battersea Power Station is a Grade II listed building known for more than the cover of Pink Floyd's album Animals.  Currently under redevelopment into a mixed-use area that will be home to residences, shops, restaurants, and office space, Battersea Power Station has had iconic status since it first opened in 1935.  The redevelopment will largely keep the structure of the power station intact, so once completed, you will still be able to enjoy its stark, immortal design.
Battersea Park
The top destination on our list has to be none other than Battersea Park.  There's so much to see and do in this 200-acre public park that we could make an article out of it alone.  Whether you're going for the greenery, the Children's Zoo, the Peace Pagoda, the bandstand, the Pump House Gallery, or more, you'll find this is a great place to spend the day.