This royal portraits exhibition at the National Maritime Museum in Greenwich looks at the kings and queens who have shaped British history for over 500 years. There are many loans from the National Portrait Gallery, which has been made possible while that gallery is closed for redevelopment until spring 2023.
For me, this was a real delight, and not only because it was my first time back in a museum for over a year. I had resisted the rush to go back to museums and galleries when they were allowed to reopen from 17 May 2021. But I couldn't resist this combination of history and art. As my friend Catherine said, Tudors to Windsors at the National Maritime Museum is like walking through a lavishly illustrated history book.
Five Centuries
Across 500 years and five dynasties, the exhibition features over 150 works, including famous paintings, miniatures, sculptures, costumes, photographs, medals, and stamps. The portraits presented are by some of the most important artists to have worked in Britain, often under the direct patronage of the royal family. You will see portraits from Sir Peter Lely, Sir Godfrey Kneller,  Andy Warhol, Cecil Beaton, and Annie Leibovitz. It certainly proves the enduring fascination of the British royal family.
There hasn't always been 24-hour news and the internet, and photography has only been around for the last 200 years. So we have to remember that for much of that time, most ordinary people would never have seen their king or queen. The only way they could 'see' them was in paintings hung in great houses or civic buildings, or public sculpture or the coins in their pocket.
It was only from the 16th century that reliable likenesses of kings and queens were produced by painters and sculptors skilled in the new art of portraiture. Monarchs then had the power to shape and authorize how they were shown. Depending on their personality, the political need, and the fashion of the day, the royal portrait could reflect anything from wealth, duty, and graceful elegance or maternal charm to raw power and extraordinary splendor. But more recently, royal portraits have tried to show the person behind the title with more intimate insights into their true character.
Five Dynasties
The exhibition includes these five dynasties:
Tudors (1485–1603): Henry VII, Henry VIII, Edwards VI, Lady Jane Grey, Mary I, and Elizabeth I.
Stuarts (1603–1714): James I, Charles I, Charles II, James II, Mary II, William III, and Anne.
Georgians (1714–1837): George I, George II, George III, George IV, and Willliam IV.
Victorians (1837–1910): Queen Victoria (including Edward VII r.1910–1910).
Windsors (1910–): George V, Edward VIII, George VI, and Elizabeth II.
Tudor
The location for this exhibition is excellent as Greenwich was one of London's key royal sites in Tudor times. Greenwich Palace, also known as the Palace of Placentia, was the birthplace of Henry VIII, Mary I, and Elizabeth I.
The Tudor dynasty was founded in 1485 after the Wars of the Roses. The rival Houses of Lancaster and York were united in 1486 by the marriage of the Lancastrian Henry VII to Elizabeth of York. This brought much-needed stability to England.
The Tudor period coincided with the foundations of portrait painting in England as the country became a major European power. The first painting you see as you enter is the oldest artwork in the exhibition. This portrait of Henry VII was painted in 1505. It was created as part of unsuccessful marriage negotiations with Margaret of Austria after his first wife, Elizabeth of York, died in 1503. It shows Henry as an astute and cunning king. Before paintings like this, representations of English kings and queens offered few hints as to their true likenesses or characters.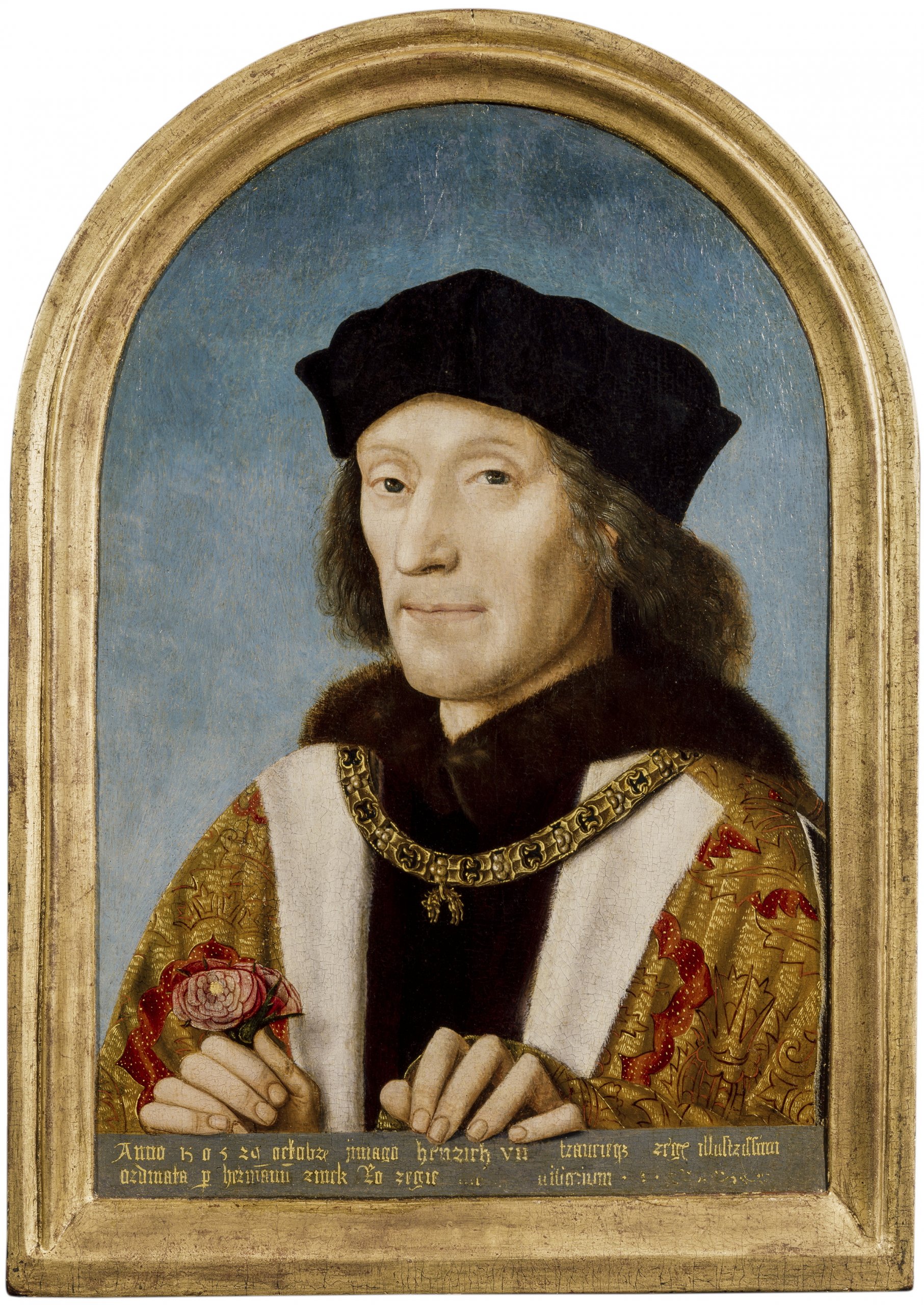 There are also bronze copies of the tomb effigies of Henry VII and Elizabeth of York (the originals are in Westminster Abbey). The king's likeness is considered to be good as it was most likely modeled on his death mask.
We think we know what Henry VIII looked like, but he wasn't always a rotund dictator. He was considered quite handsome as a younger man and enjoyed sports and hunting. He was king from age 17, and he married Katherine of Aragon within a few weeks. The marriage lasted nearly twenty years, and it was the lack of a male heir which led him to pursue Anne Boleyn.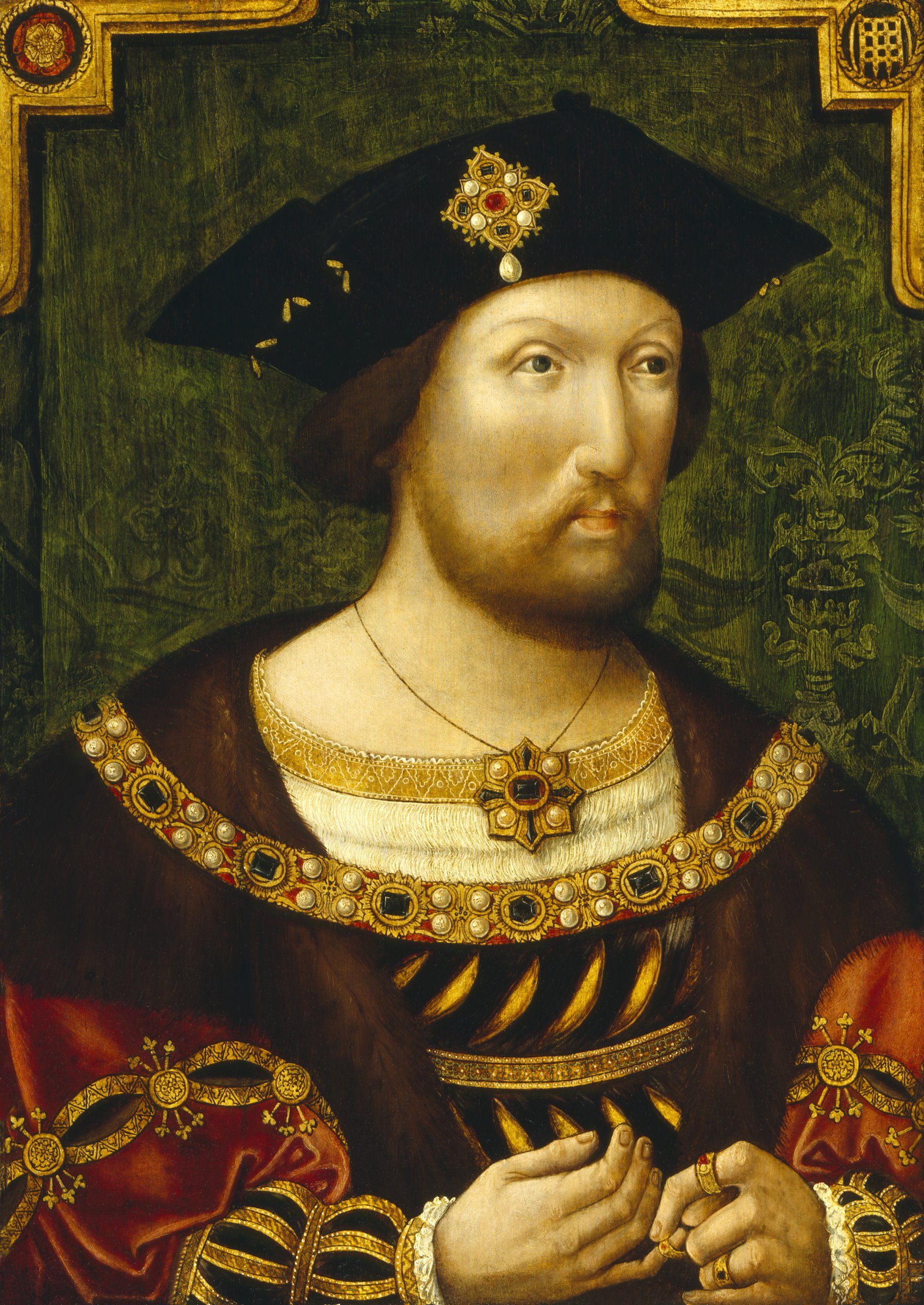 In an exhibition like this, you can get close to the paintings to inspect the detail. Notice the hands in the portrait above as Henry VIII is either putting on or taking off a ring. Royal portraits hold a lot of hidden meaning, and this could symbolize wealth, marriage, religious or political allegiances. It has been displayed next to a portrait of Katherine of Aragon.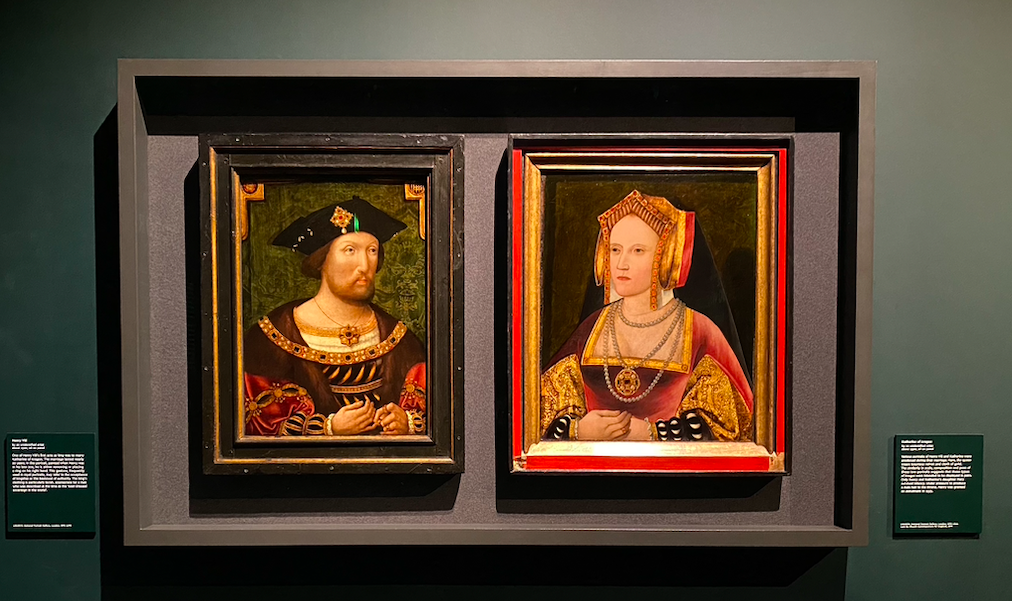 Henry VIII secretly married his second wife, Anne Boleyn, in 1533. No portraits remain of Anne that were painted during her lifetime, but this is the finest version of a work made around the time of her marriage to the king. While Anne was executed at the Tower of London in 1536, she did manage to produce a future monarch as she gave birth to Elizabeth I in 1533.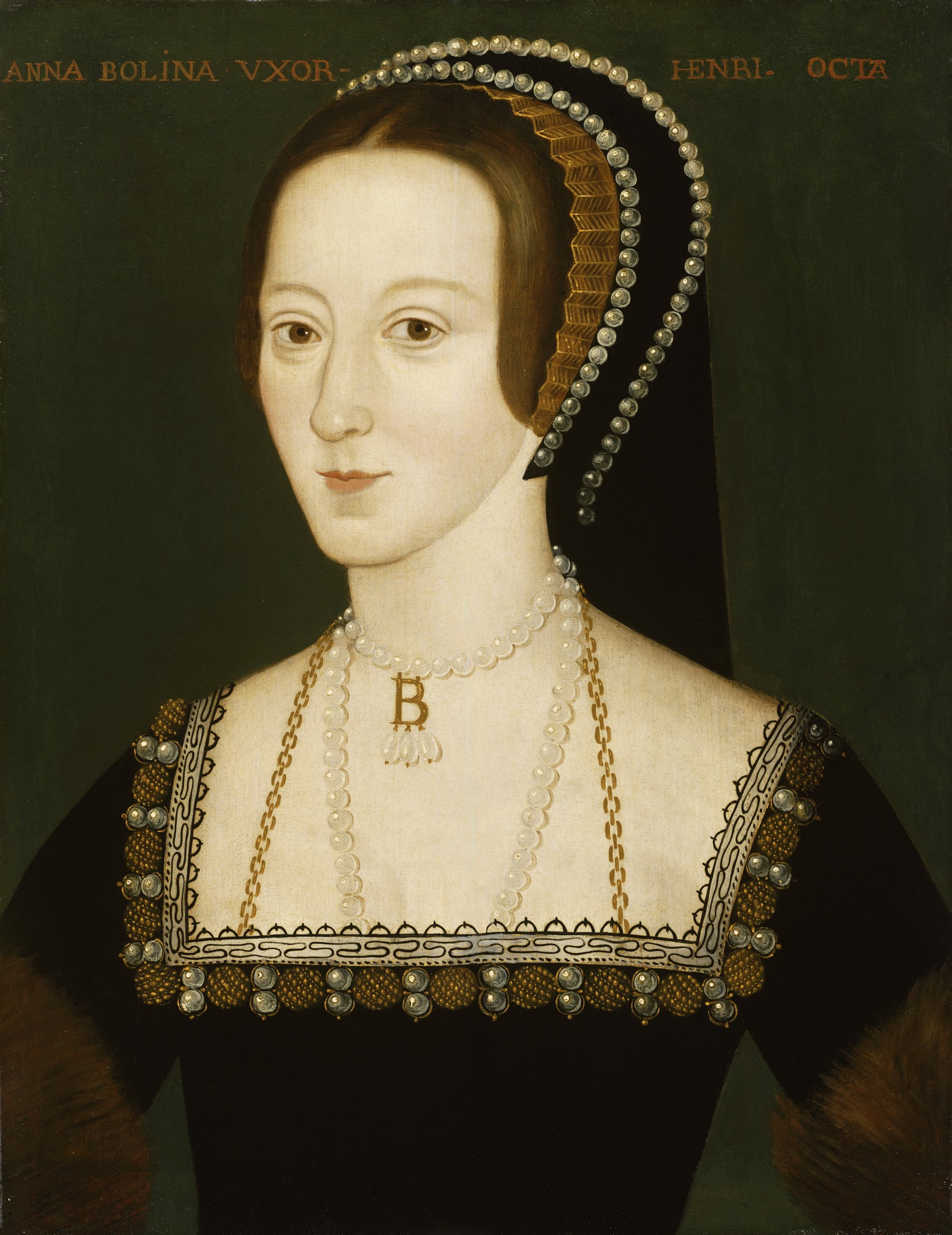 In this later and more famous painting of Henry VIII, he appears to be almost challenging the viewer in this elaborate full-face portrait by Hans Holbein. The rich costume and gems, fashionably shaven head, and close-cropped beard all underline the king's status and wealth. He was in his late 40s by this time and was married to Anne of Cleves (the wedding was in Greenwich). That handheld in a tight fist certainly feels more intimidating than the earlier example of the same man.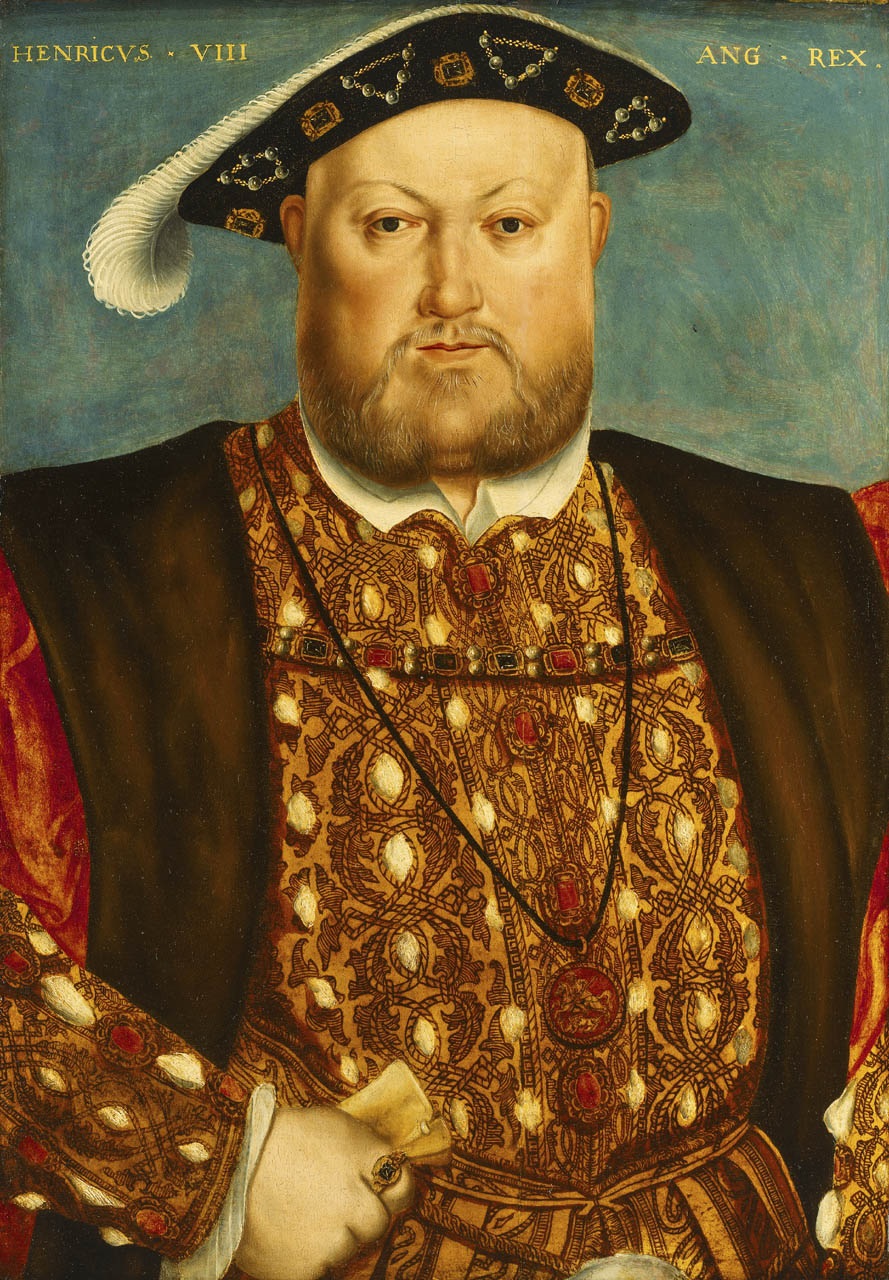 While I can show you the portrait here, what you miss from not visiting are the details such as this wonderful frame.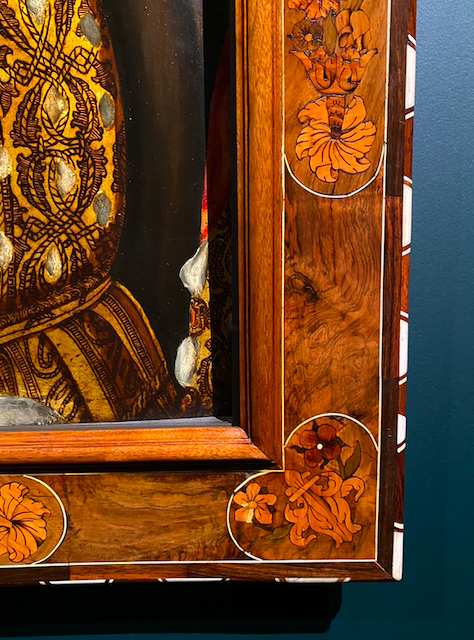 Edward VI was described by his father, Henry VIII, as his "most noble and most precious jewel." He was the legitimate male heir that his father craved. Sadly, Edward was a child king at just nine years old and only survived another six years as he died in 1553.
Katherine Parr, Henry's sixth and final wife, took a great interest in her stepchildren and made an effort to become close to them. Henry, too began to take a greater interest in his daughters. In 1544, he had Mary and Elizabeth reinstated in the line of succession, after Edward, by an Act of Parliament.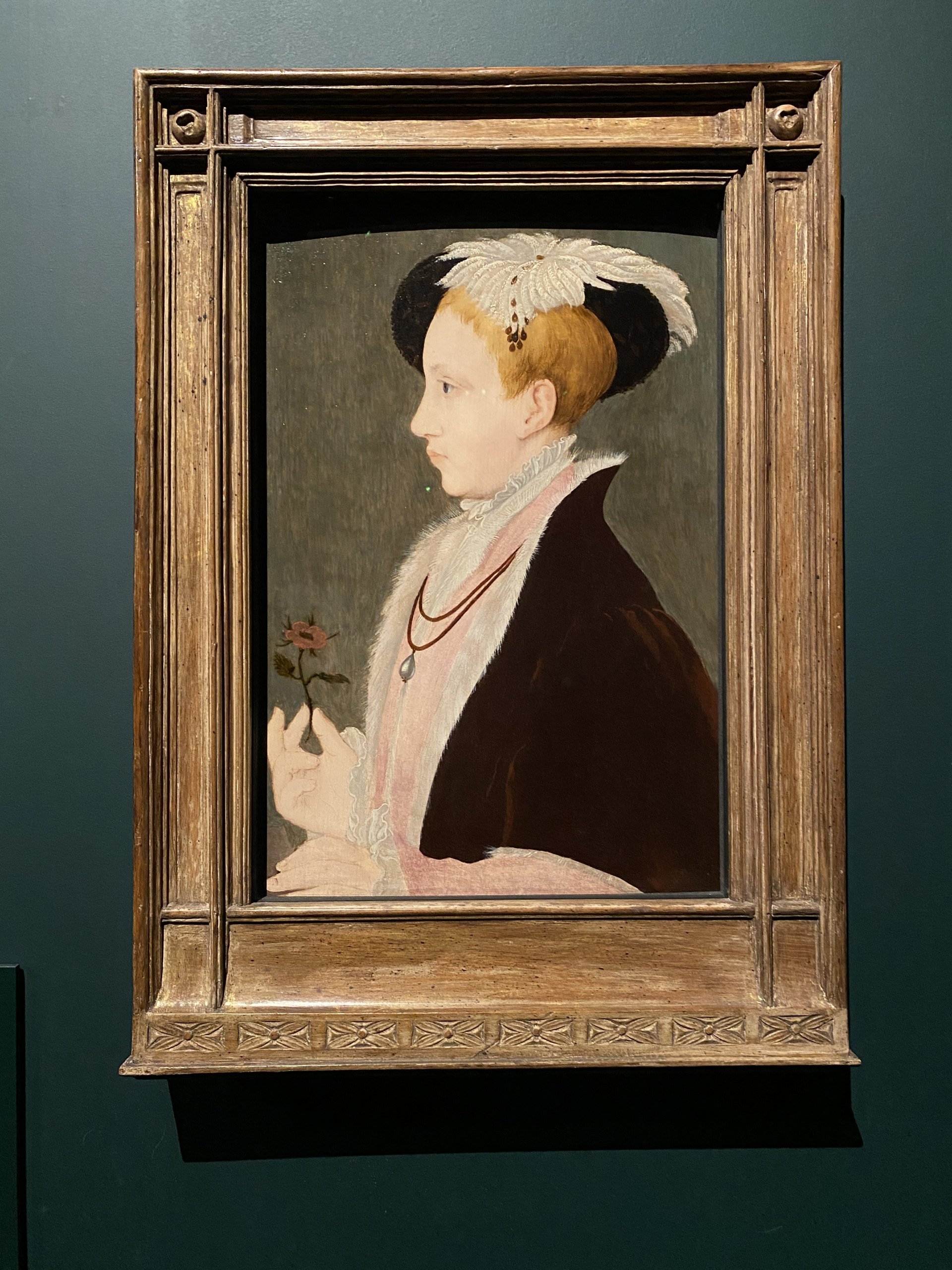 Edward VI did name his cousin Lady Jane Grey as his successor, but she only reigned for nine days as Mary had her imprisoned and later executed. This close-up on the face of Lady Jane Grey shows scratches that are most likely from deliberate damage to the painting.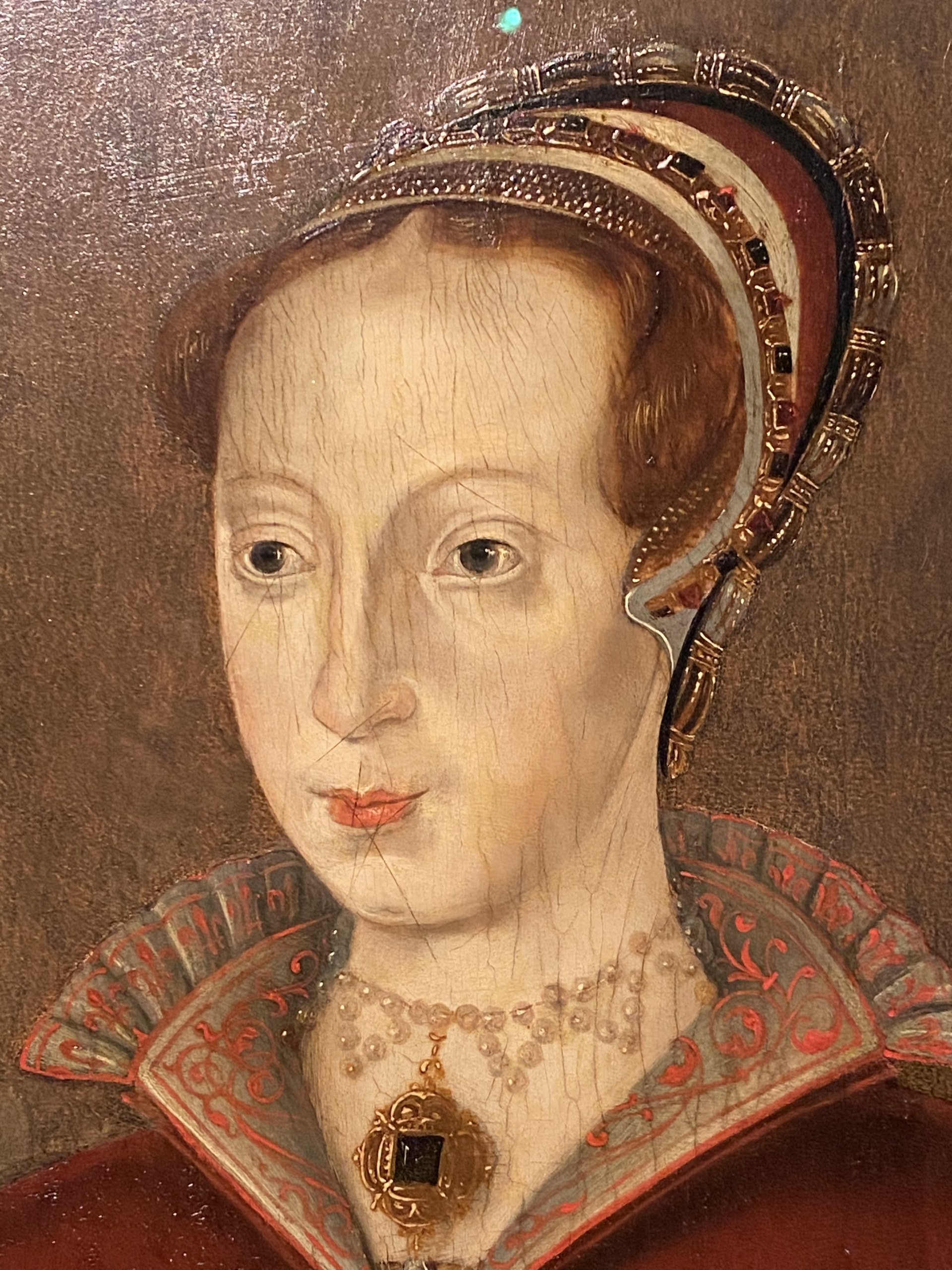 Below is the famous 'Ditchley Portrait' of Elizabeth I. It's monumental at over 8 feet high. It was probably commissioned by Sir Henry Lee, a favorite courtier of Elizabeth I and the first person to hold the office of 'Queen's Champion.' Like many portraits of Elizabeth, the painting is filled with symbolism – the storms behind her and the clear skies ahead, referring to her forgiving nature. She is standing on a globe of the world, with her feet on Oxfordshire – site of Lee's Ditchley home. Just know that nothing about this composition is without meaning.
Elizabeth I's portraits were designed to amaze, inspire and intimidate. Do go to the Queen's House (next door to the National Maritime Museum) to see the Armada Portrait of Elizabeth I. The Armada Portrait composition is a prime example of how portraiture was used to control the public image of Elizabeth I, presenting her as a powerful, authoritative, and majestic figure.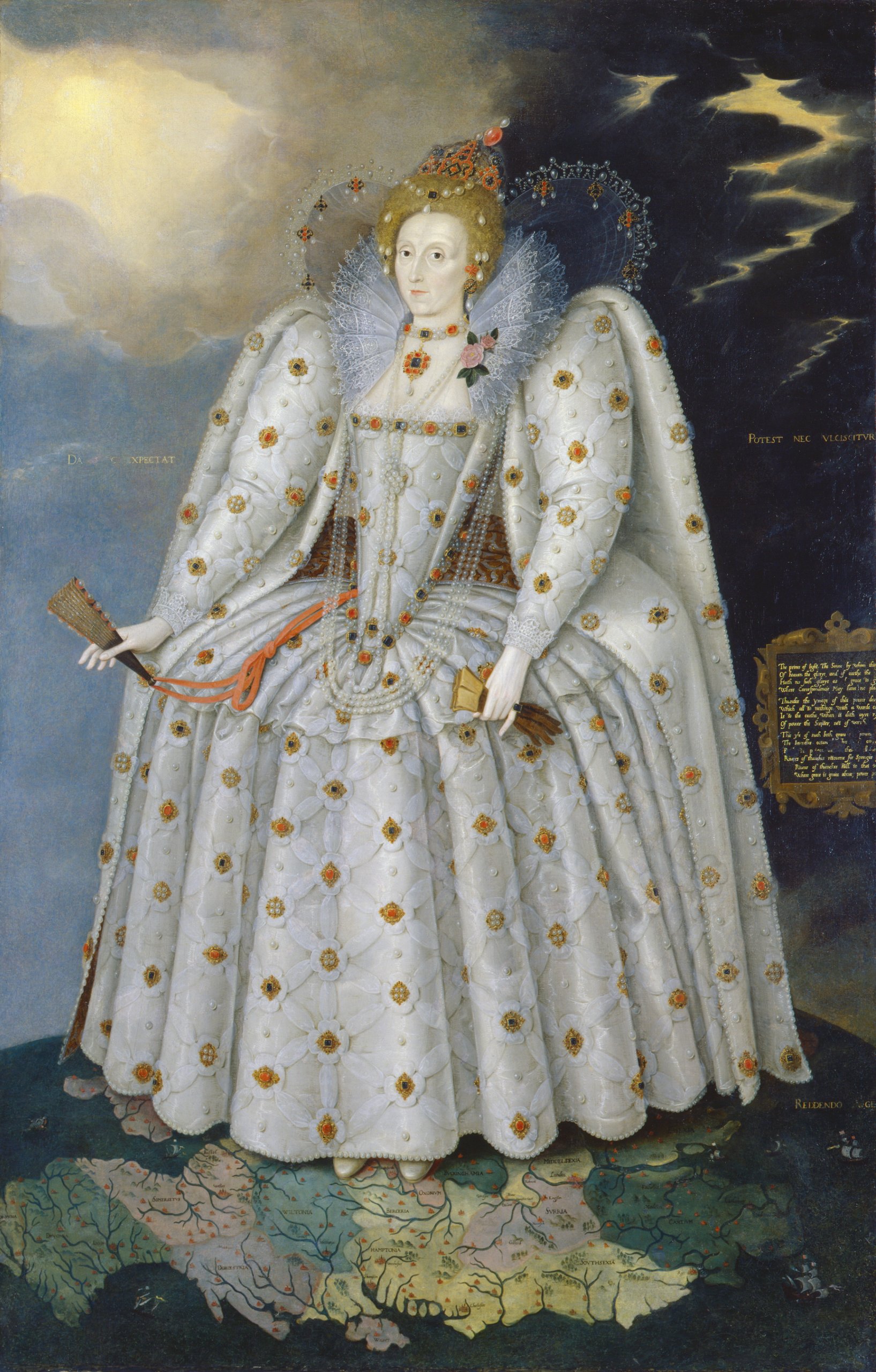 Again, being able to get close to the painting allowed me to see the writing on the right-hand side of the painting.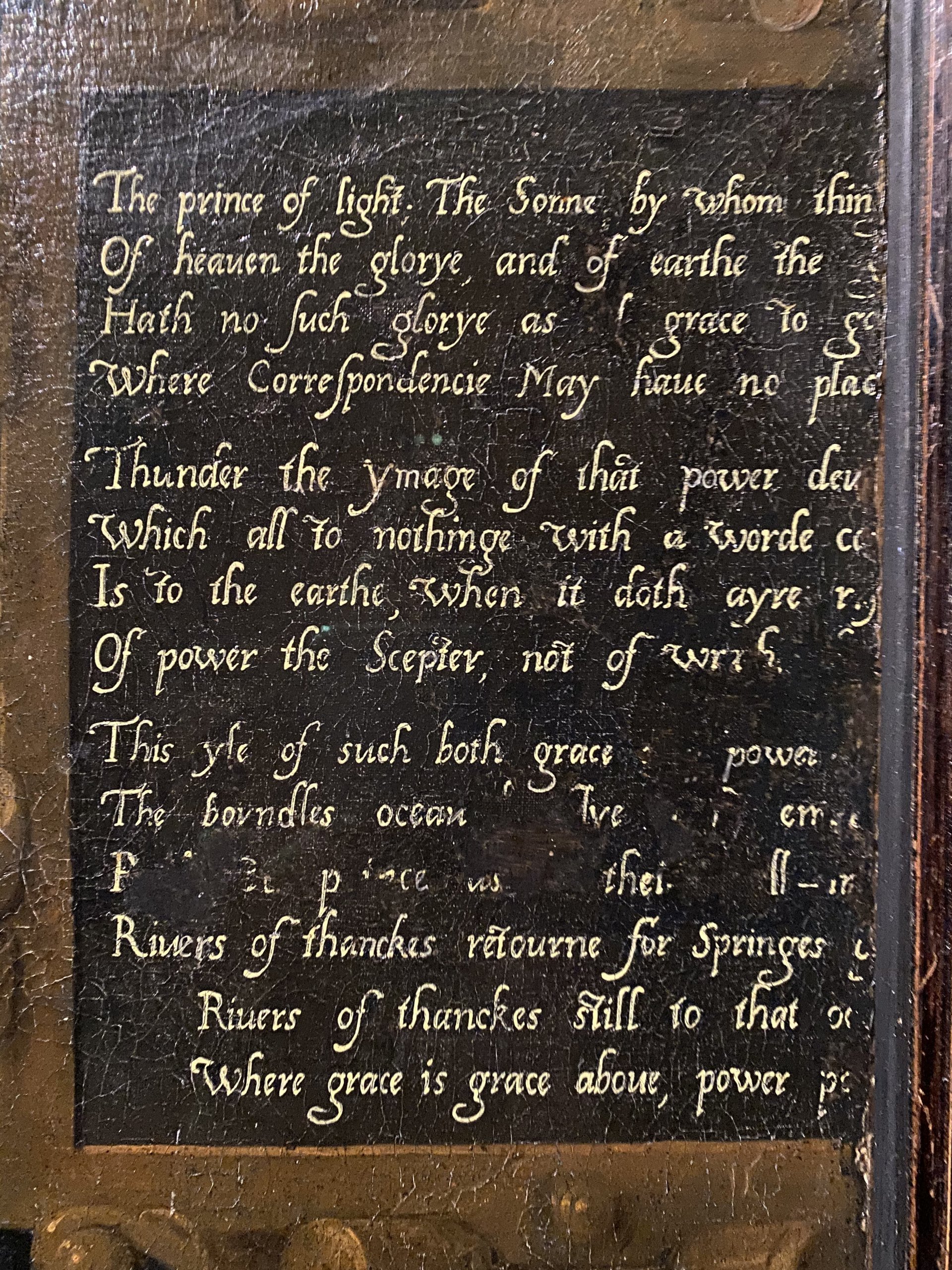 It can all seem rather complicated trying to remember how each person claims the throne, but there is a handy visual family tree in each section of the exhibition plus a useful timeline of historical events during each period.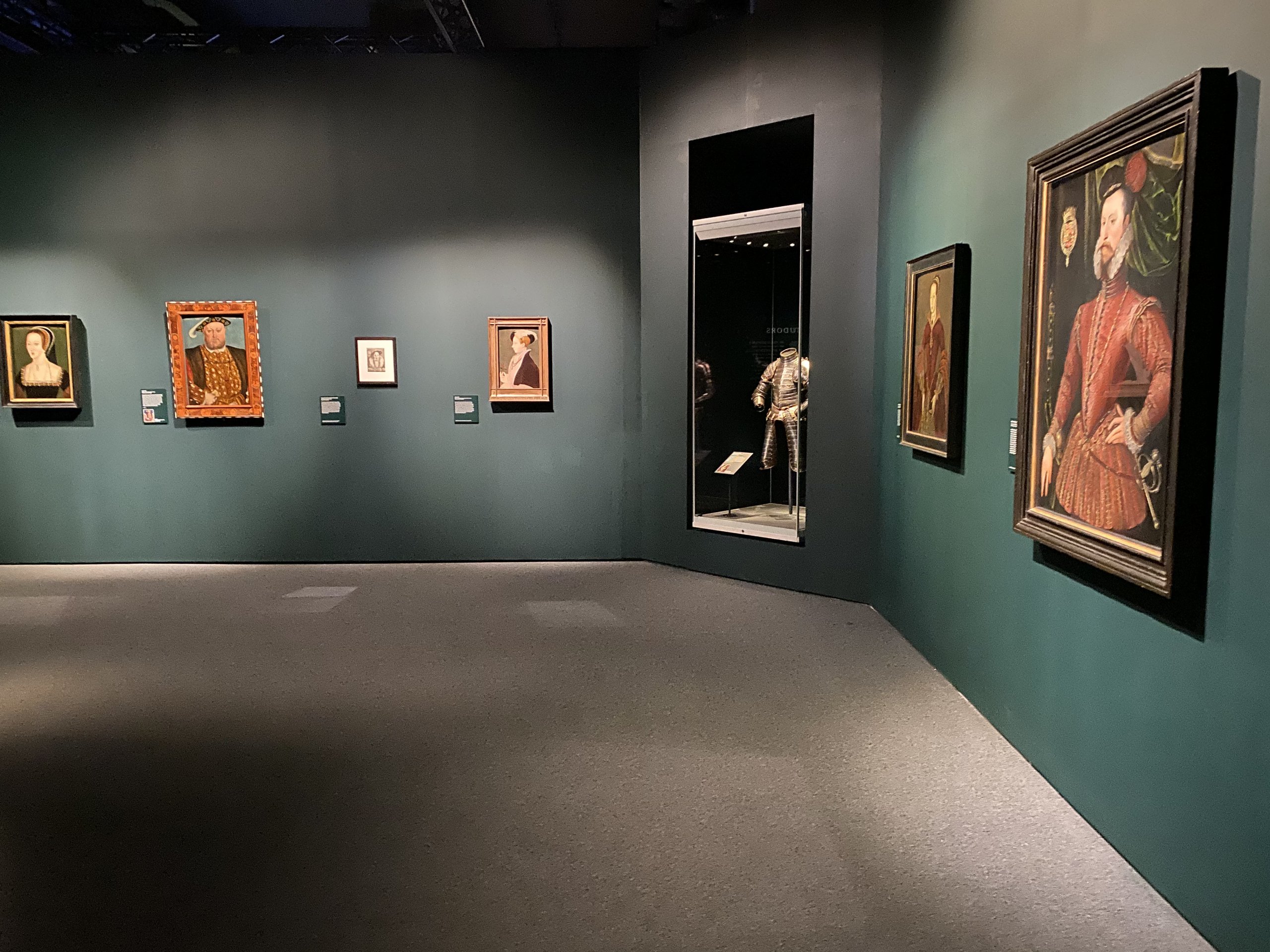 Stuart
Do not be fooled into thinking there is only royalty on show in this exhibition. There are also paintings of those who were important to the royal court. This is George Villiers, 1st Duke of Buckingham, who may well have been a lover of James I.
We can only imagine the relationship that Anne of Denmark, James I's wife, had to put up with. Her legacy has been rather wonderful, though, as we have her to thank for the Queen's House in Greenwich. This posthumous portrait (below) shows the queen dressed in black, in mourning for her eldest son Henry who died in 1612.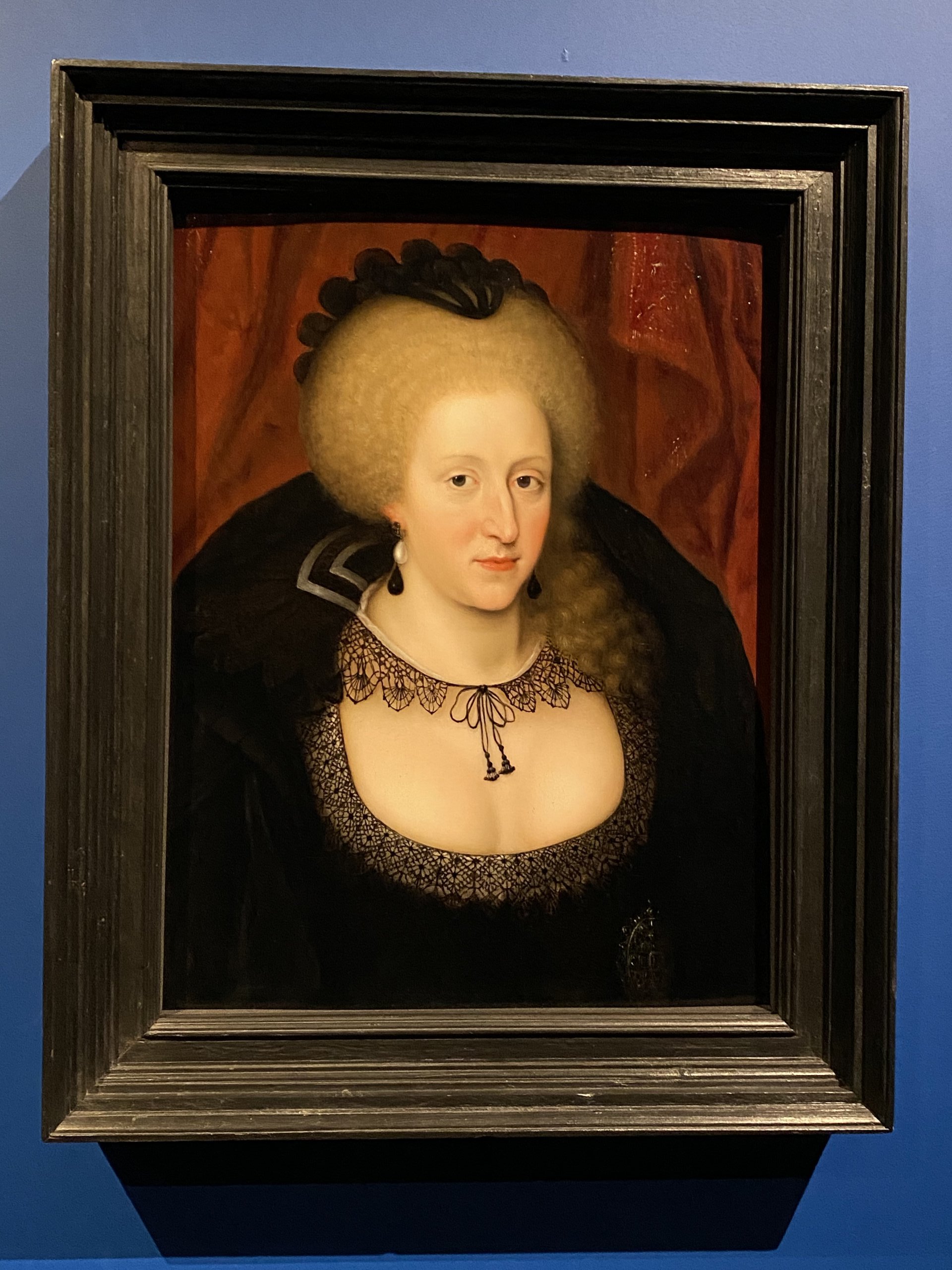 This is Henry, Prince of Wales, on the right. He died of typhoid when he was 18. On his left is his sister Princess Elizabeth Stuart.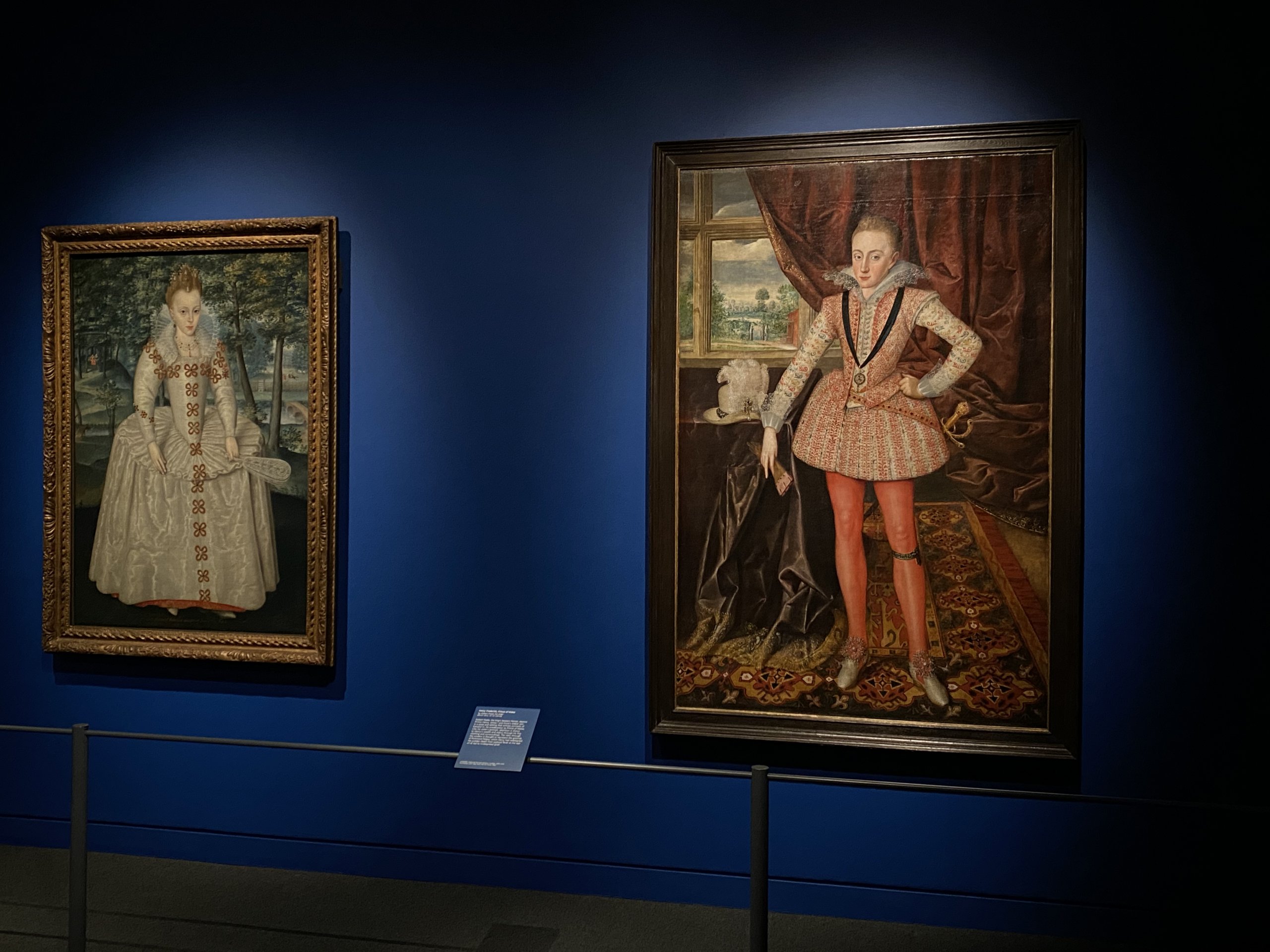 When Henry died, James I and Anne of Denmark's other son, Charles, became the next heir. Charles I was the greatest of all British royal art patrons and collectors. (Do see my review of the Charles I: King and Collector exhibition from 2018.)
Charles married Henrietta Maria in 1625. This painting was one of the most popular poses for her as the position of her arms, cradling her stomach, suggests her pregnancy. These paintings were often given as gifts to royal supporters at home and abroad. A master in rendering fashion, fabric, and flesh, Anthony van Dyck created some of the most enduring and reproduced images of the royal family.
Despite being one of the most important Tudor residences, Greenwich Palace fell into disrepair during the English Civil War, a series of conflicts between Parliamentarians (Roundheads) and Royalists (Cavaliers). Charles I was executed in 1649, and the Civil War lasted almost a decade ending with The Battle of Worcester on 3 September 1651. During the Civil War, the Palace was used as a biscuit factory before becoming a prisoner of war camp. It was subsequently demolished, but traces of the old Palace remain.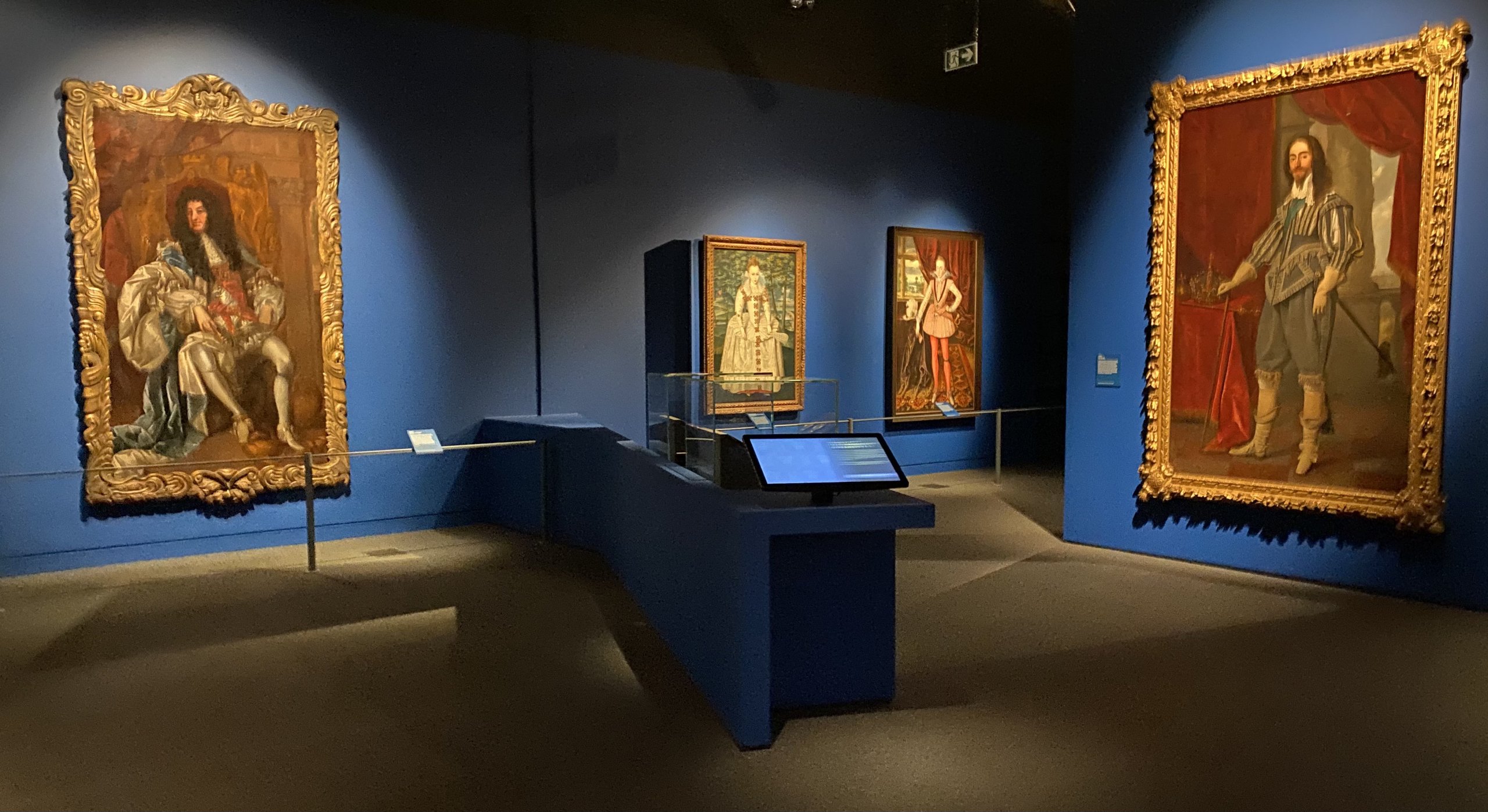 Charles II took the throne in 1660, and he founded the Royal Observatory in Greenwich for navigational purposes in 1675.
This imposing portrait was painted in the last decade of Charles II's life. It depicts him as a rather jaded and tired 50-year-old king. It perhaps reflects the political situation at the time: Charles had no legitimate children, leading to worries that his Roman Catholic brother would inherit the throne. (Do see my report on the Charles II: Art and Power exhibition in 2017.)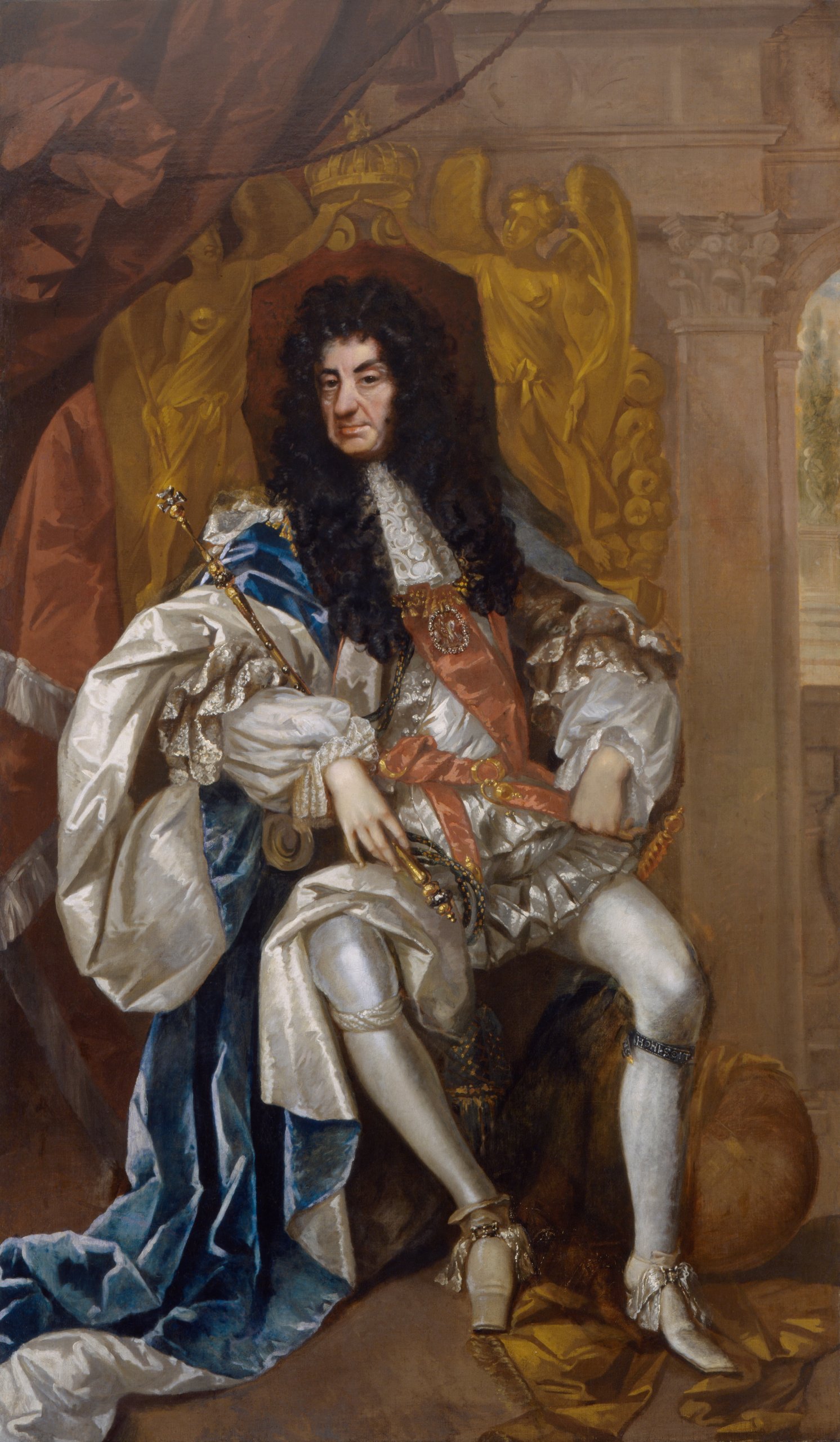 He may look like a grumpy old man in a spectacular costume, but he was loved by the ladies. I did smile at the curator's decision to position a portrait of his wife, Catherine of Braganza, right opposite a topless portrait of Nell Gwyn, one of the most popular of Charles II's mistresses. And in case we weren't sure how promiscuous he was, there is another mistress, Louise de Kérouaille, Duchess of Portsmouth, right next to Nell also looking across at poor Catherine.
William of Orange (later William III) is shown here as a great warrior. The future king is on a white horse, a symbol of the Dutch House of Orange. The Dutch invasion fleet can be seen in the distance. Willliam III reigned with Mary II.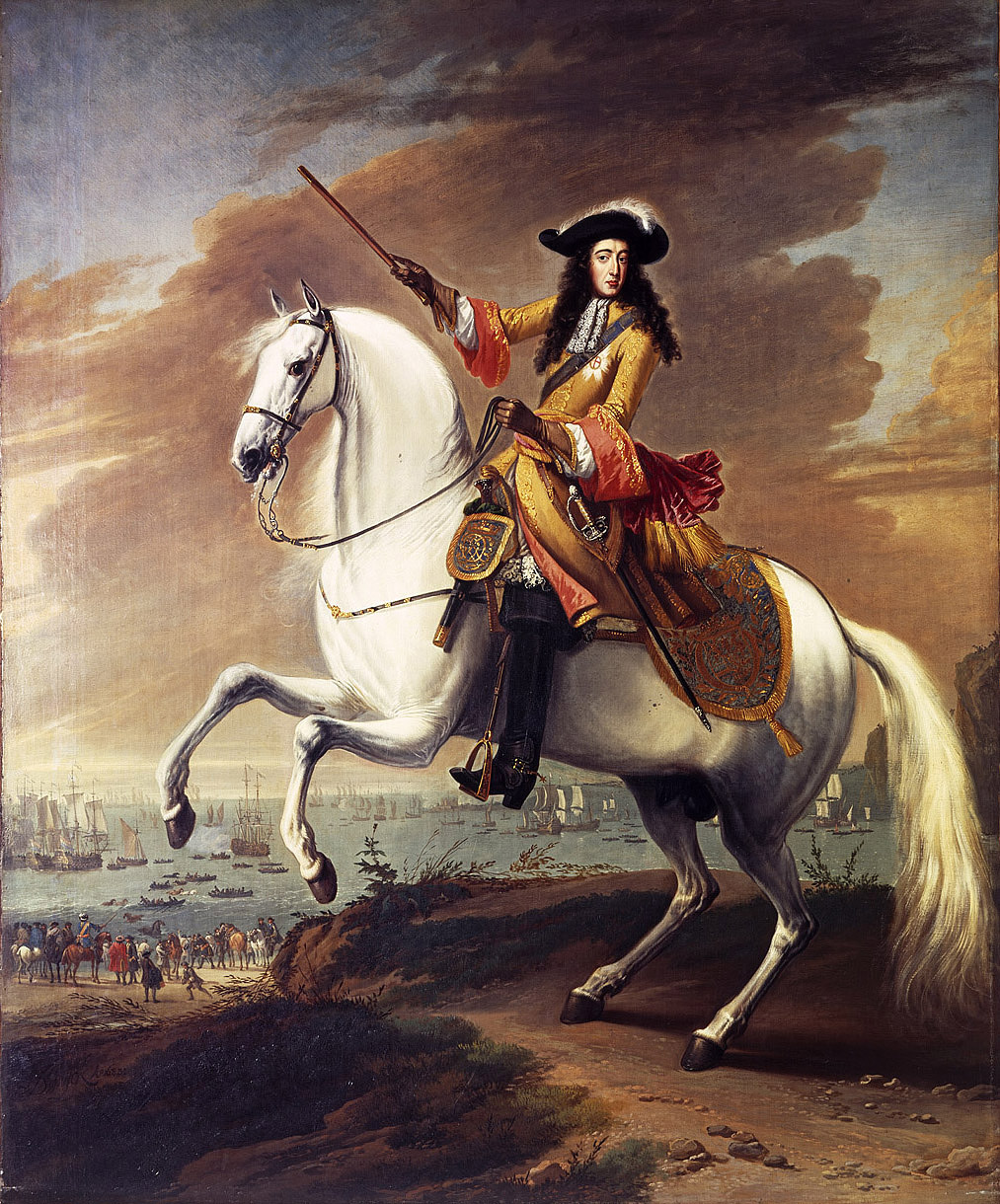 Georgians
After Queen Anne died without an heir, James I's grandson, George of Hanover, was invited by Parliament to be king. The Georgian age saw the birth of industrialization, the vast expansion of the British Empire, and emerging consumerism. This was an era of artistic and architectural elegance, as well as biting caricature, which satirized monarchs and politicians.
I loved reading the captions in this exhibition to discover more about the people in the paintings. This caught my eye as that's Kew Palace in the background. George II and Queen Caroline lived there as well as successive Georgian monarchs. What looks like a delightful family gathering of four of George II's children actually was far from harmonious. Frederick, Prince of Wales, in the center was George II's heir, and there was huge hostility between the siblings. He was later estranged from his parents and died young, at just 44, from a lung injury. His son became the next heir: George III.
He did, however, leave us a lasting legacy as Rule, Britannia!, one of the best-known British patriotic songs, was first performed on 1 August 1740 at Cliveden, the Prince's country home. This was part of the Prince's plan to ingratiate himself with his father, and the nation, after his wilder youth. (It was composed by the English composer Thomas Arne and written by the Scottish poet and playwright James Thomson as part of the masque Alfred.)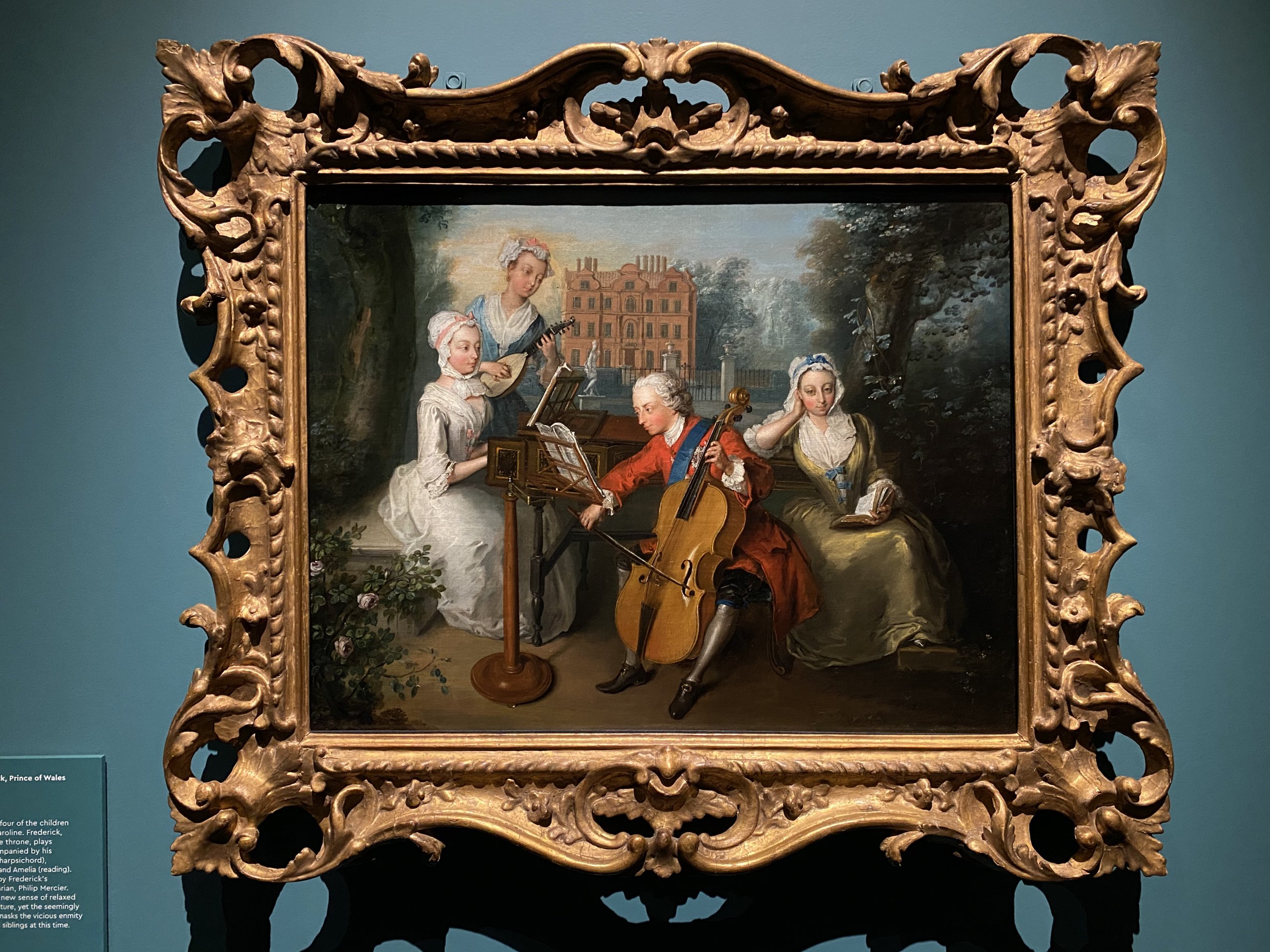 George II disliked having his portrait painted and often refused to sit for artists. In this version of one commissioned by the Corporation of London after George's coronation, you can see Westminster Abbey through the window.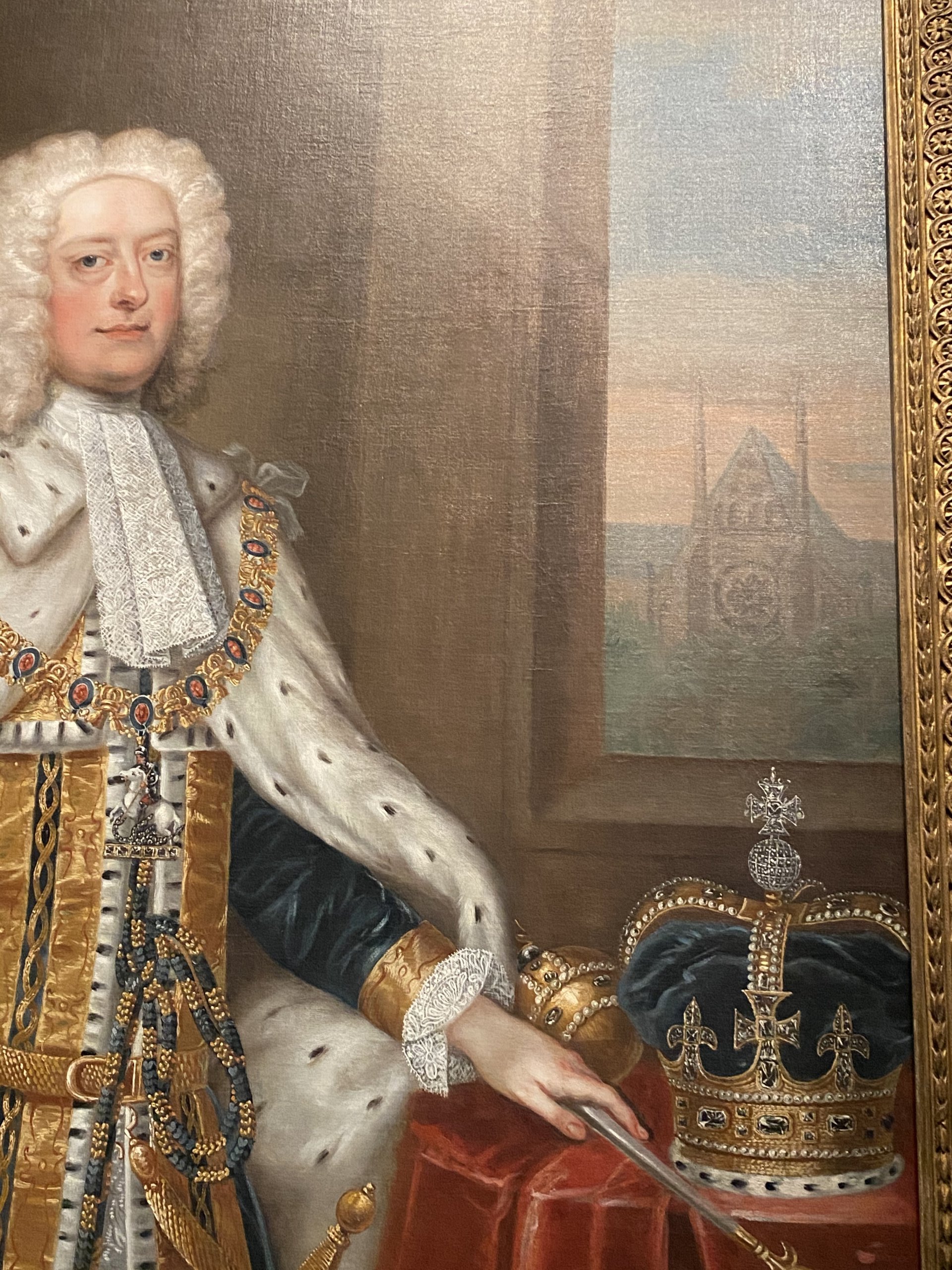 This portrait below was painted shortly after George III's coronation. It became the definitive portrait of the king. There was an insatiable appetite for this painting from courtiers, heads of state, corporations, ambassadors, and colonial governors, which meant that Allan Ramsay's studio was crowded with versions in various states of completion.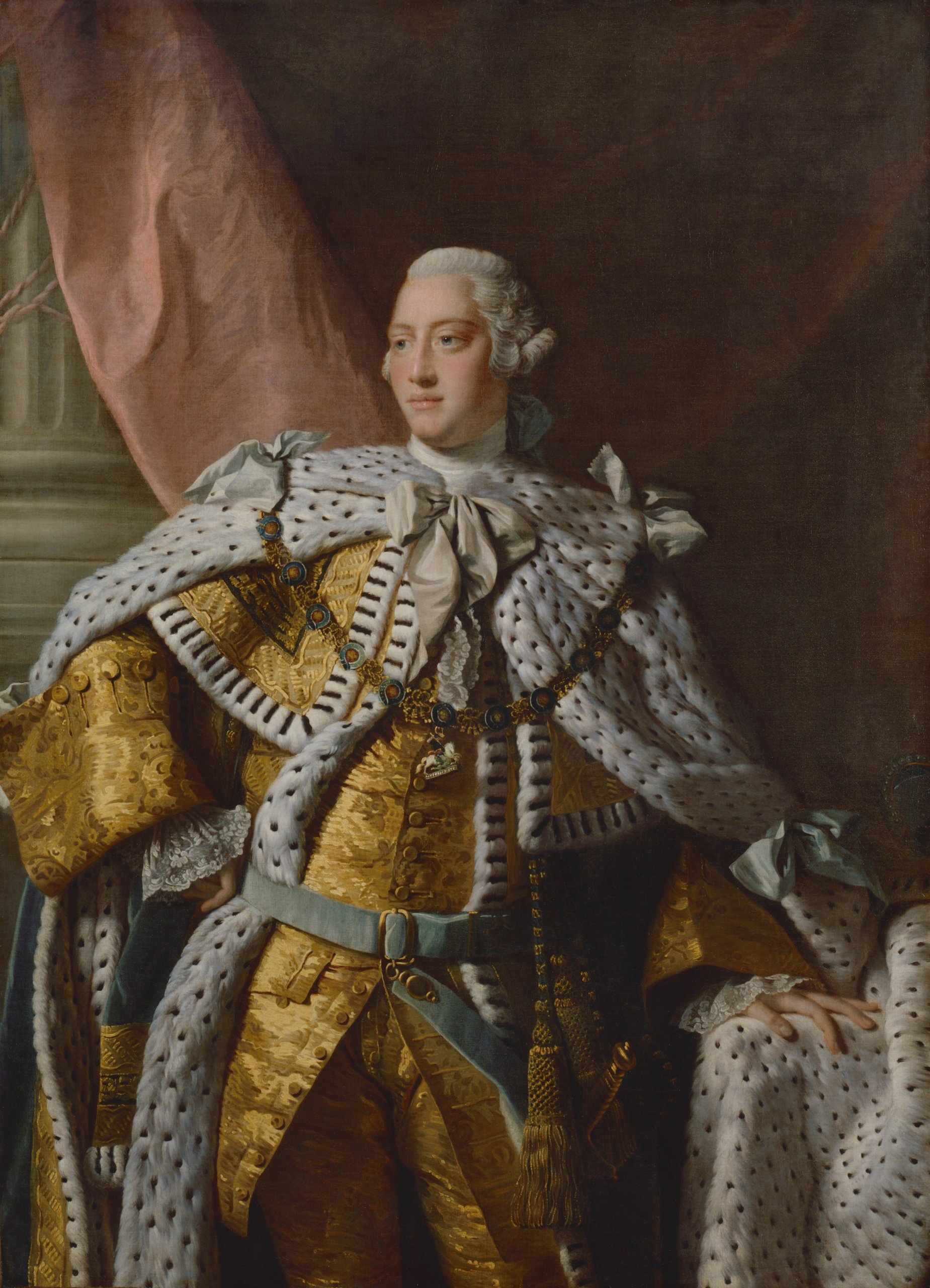 George, Prince of Wales (later George IV), had a reputation for vanity, self-indulgence, and debauchery. Brighton Pavilion was his play place (I visited just before the March 2020 lockdown and have written about Brighton for a future issue of Anglotopia magazine). He had no official duties as Prince of Wales as his father disapproved of his lifestyle. But he became king at the age of 60 and was a great patron of the arts. (You can read about his Buckingham Palace connections in my previous article about the palace.)
The miniature below is by Richard Cosway and was probably commissioned as a gift for a mistress. The unfinished painting is by Sir Thomas Lawrence and was intended for a medal that was never struck.
While still Prince of Wales in 1785, George married Mrs. Fitzherbert (below left) in a secret ceremony. As this wedding went ahead without the king's approval, the marriage was not legal.
In 1795, he married German princess Caroline of Brunswick (below right) in exchange for Parliament paying his debts. Never a marriage of love, he left her soon after she gave birth to their only child. He even tried to divorce her when he became king in 1820.
William, Duke of Clarence (later William IV), was the third son of George III and Queen Caroline. He was not expected to become king, and he joined the navy at the age of 13. (He saw active service in the American War of Independence). When his older brother, George IV, died in 1830, William took the throne until he died in 1837. While he was the last of the Georgians, The House of Hanover continued until the end of Queen Victoria's reign in 1901.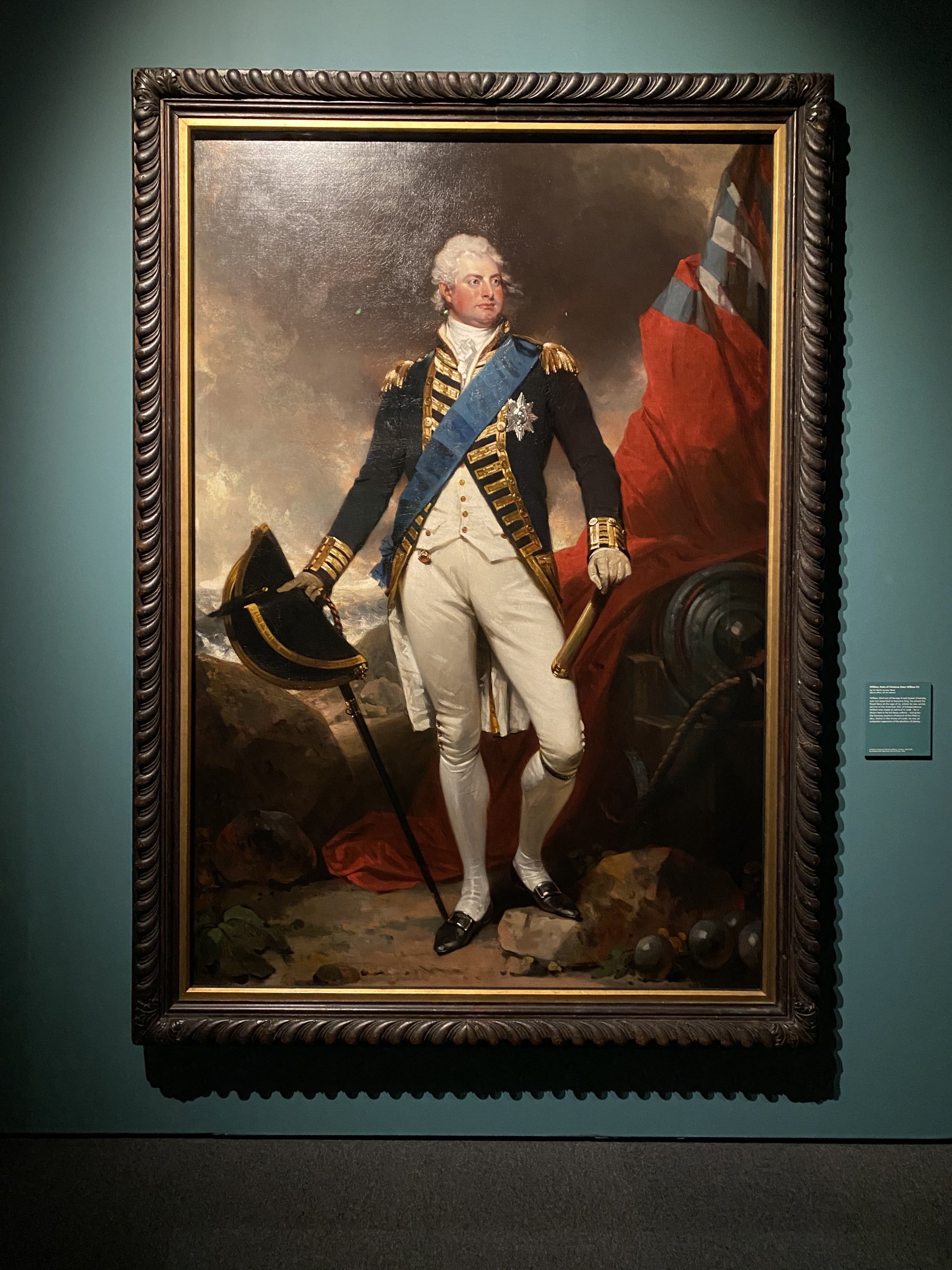 Victorians
Victoria reigned for 63 years, but by the 19th century, the monarch was more a figurehead for the nation and did not wield political power. In royal portraiture, artists attempted to reconcile the contradictory realities of the queen's public power with traditional feminine virtues.
Some might say, if there was a template for a royal portrait, then it would surely be this. Victoria's coronation was hailed as a new era of hope and optimism for Britain. That wave of feeling is conveyed in her portrait, with her upturned gaze and a shaft of light illuminating the scene. This official coronation portrait is also full of the traditions of royal iconography, including a scepter (a symbol of royal authority), and she is wearing the Imperial State Crown and coronation robes. The painting is imposing in more ways than one as it is over 10 feet high!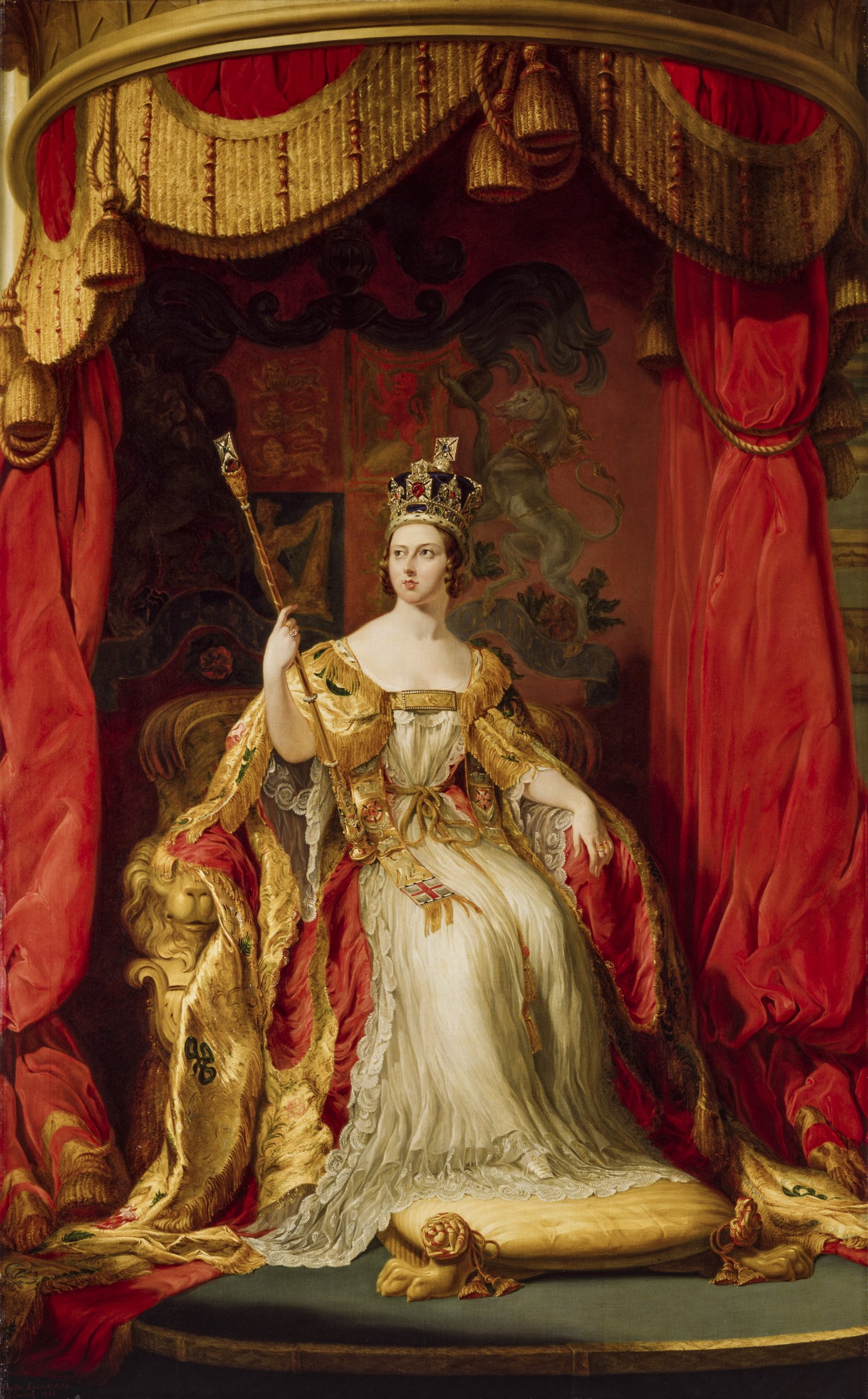 The queen indulged her public with more images of her and her family as photography revolutionized the practice of portraiture from the 1860s. She gave permission for photographs of her and her husband/consort, Albert, and also domestic images of their children to be released on sale. These cartes-de-visite (small, cheap portrait photographs mounted on card) were collected by the upper and middle classes and assembled into albums. She continued to release these commemorative souvenirs after returning to public life in 1871 (after Albert died in 1861).
The photograph below was taken at Osborne House on the Isle of Wight, shortly after the queen's 80th birthday.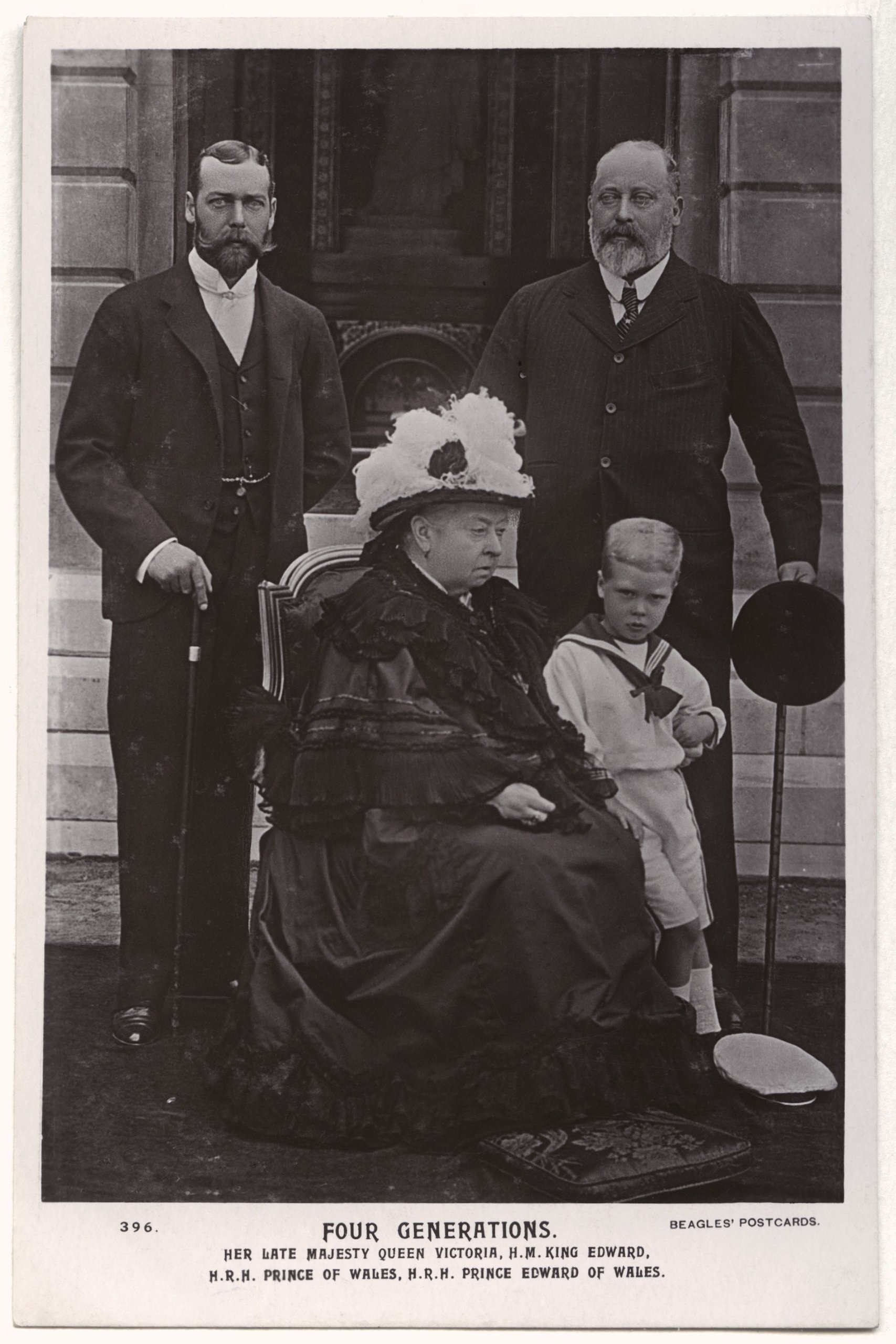 Victoria's successor was her son Albert Edward who became Edward VII in 1901. (He chose to be King Edward as he felt his first name was too closely associated with his father.) Even while married to Alexandra of Denmark (from 1863), he enjoyed affairs with beautiful women, including Alice Keppel (see below). Keppel's great-granddaughter was Camilla Parker Bowles, who married Charles, Prince of Wales, in 2005, although their relationship started in 1971.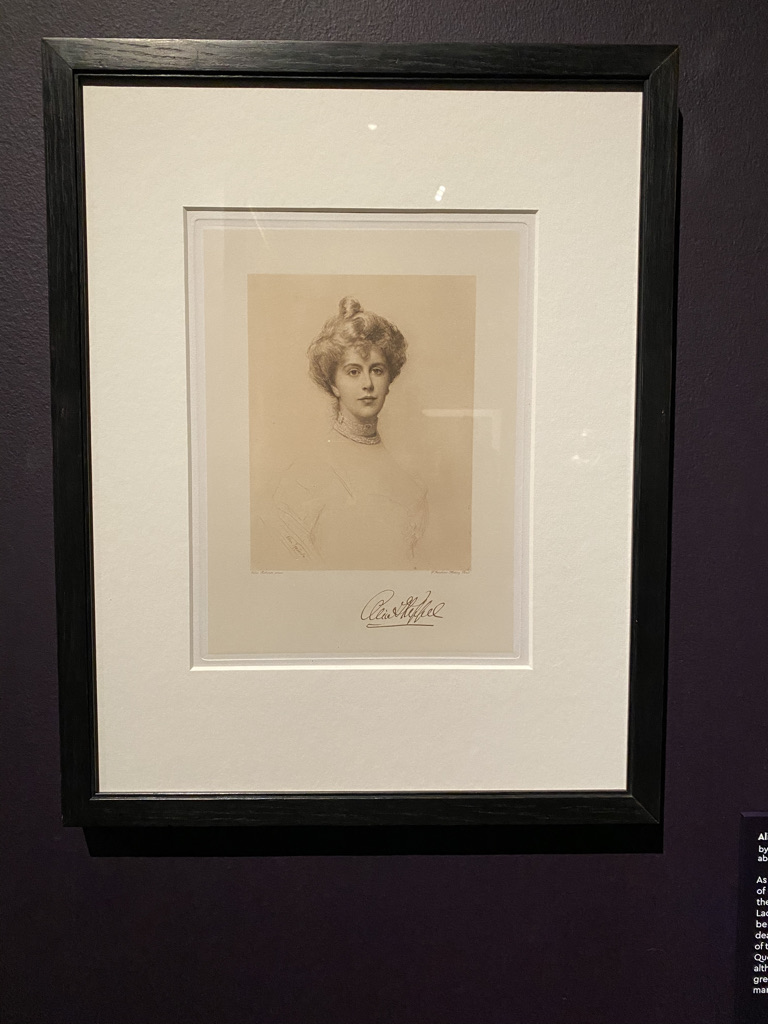 Windsors
During the First World War, George V changed the royal family's name from Saxe-Coburg-Gotha to Windsor to distance themselves from their German origins. During this final dynasty, we have seen much more intimate portraits that show the character of British royalty. We are now used to hearing about their private lives and have much more access than previous generations.
The exhibition has these wonderful portraits of Edward, Prince of Wales (later Edward VIII and Duke of Windsor), and the woman he fell in love with, Wallis, Duchess of Windsor. While it was clearly not unusual for princes to have mistresses, Edward saw Wallis as a life companion. He became king in 1936, but when he couldn't marry Wallis Simpson, he abdicated in the same year. They married in 1937. None of the British royal family attended the ceremony.
George VI was also an Albert who wanted to rule under a different name. He was known as Prince Albert, and the family called him 'Bertie.' He married Lady Elizabeth Bowes-Lyon (later Queen Elizabeth, the Queen Mother) in 1923. While they were happy together, she turned down Bertie's earlier marriage proposals due to concerns about living in the royal media spotlight. As George V's second eldest son, Bertie was not expected to be king, but she clearly had good instincts considering the way history played out.
The studio of Alexander Bassano (Bassano Ltd) continued to take official royal photographs after the death of Victoria in 1901. (Alexander Bassano himself died in 1913.)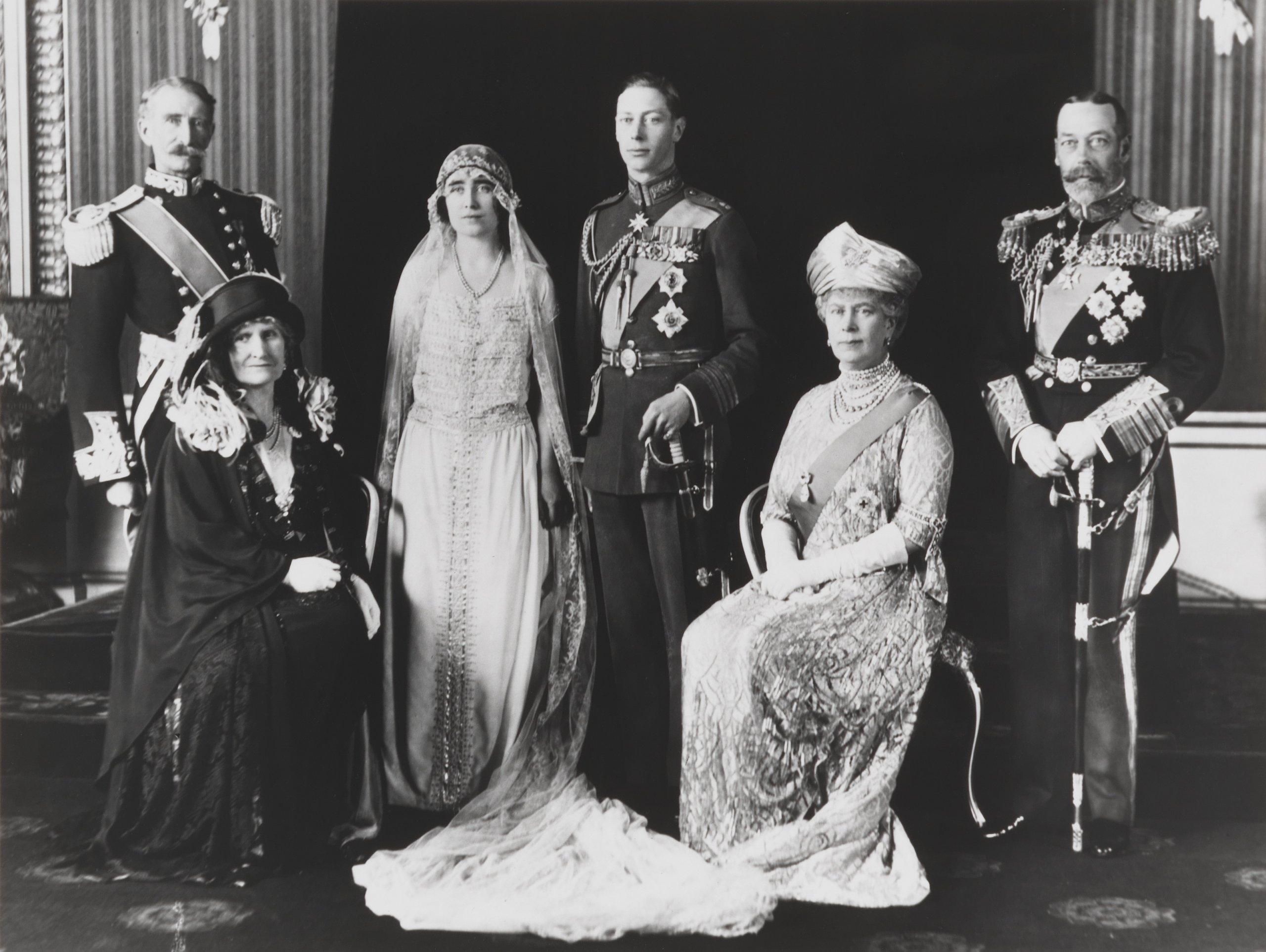 Royal portrait postcards continued to be enjoyed by the public, especially after the birth of the princesses: Elizabeth and Magaret. Below is a cropped image of 'Conversation piece at the Royal Lodge, Windsor' by Herbert James Gunn, painted in the 1950s. I really liked the portrayal of family life and the very British tradition of afternoon tea. It suggests there was strong love and respect within this family.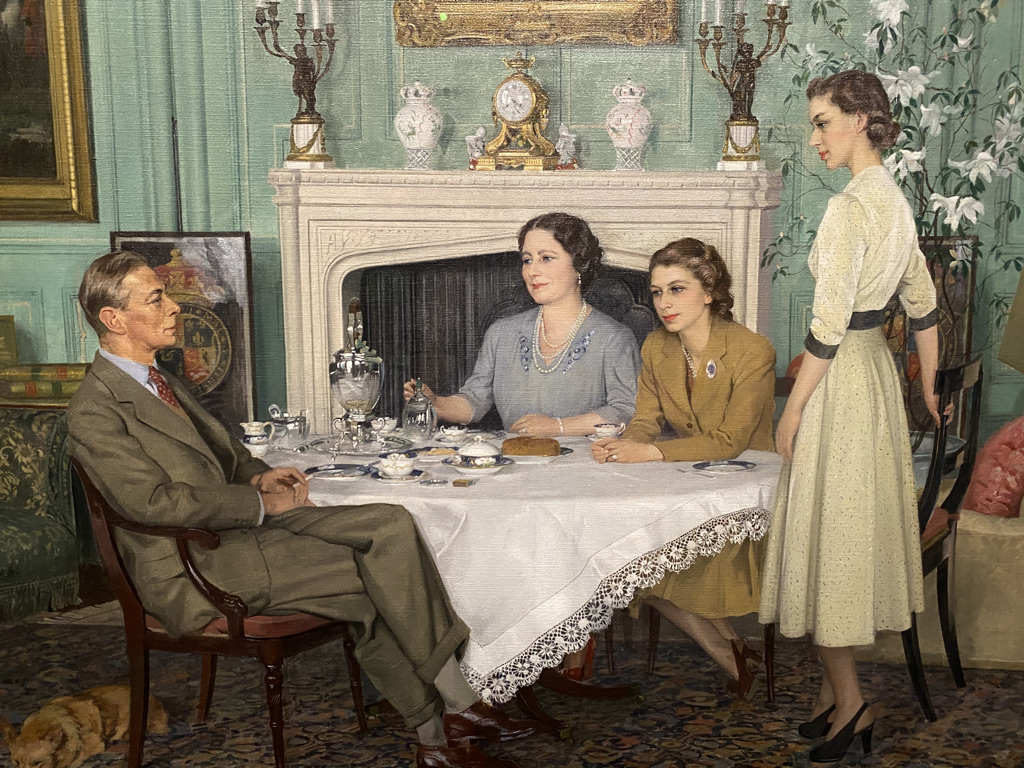 Elizabeth II inherited the throne in 1952, aged just 25. There are portraits on display here by Cecil Beaton, Annie Leibovitz, Mario Testino, and even Andy Warhol. The only one I didn't like was the 1969 portrait by Pietro Annigoni. The artist wanted to show her not as a film star but as a monarch standing alone with the problems of her responsibility. Nevertheless, it felt sadder than other images of Queen Elizabeth.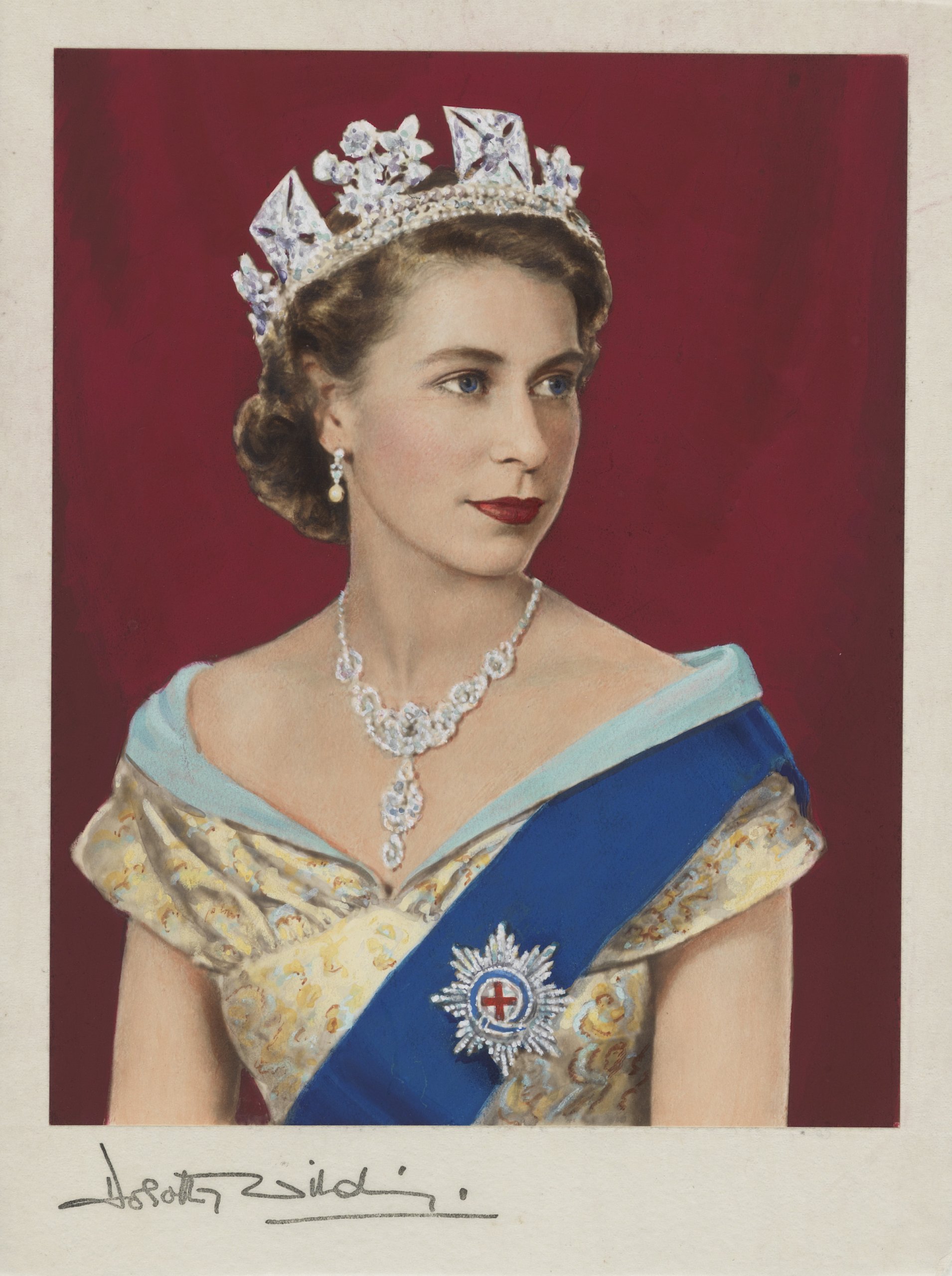 The 1981 engagement portraits of Charles and Diana by Bryan Organ are here and do not seem anywhere near as shocking now as they did at the time. Diana was lambasted for wearing trousers and sitting with her legs crossed. Soon after these paintings were unveiled at the National Portrait Gallery, Diana's portrait was attacked by a member of the public in protest at British involvement in Ireland. Charles is sitting in a very relaxed pose which seemed incredibly informal for a future king.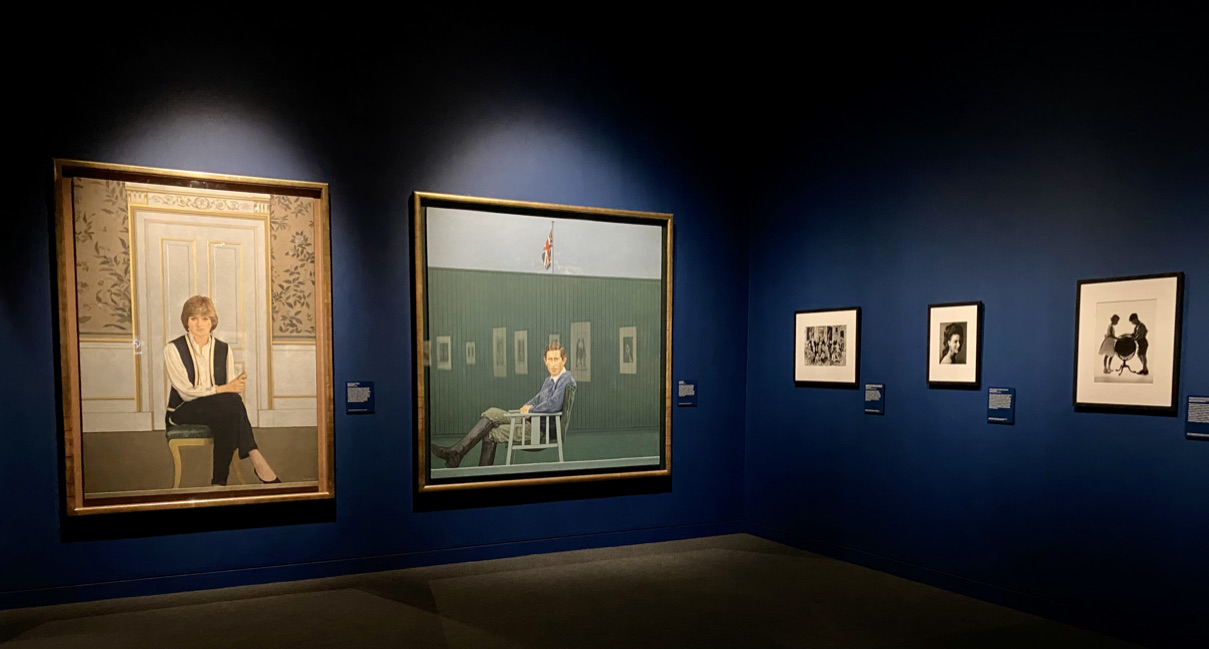 Prince Charles married Camilla, Duchess of Cornwall, in 2005. There is a lovely photo on display here of the two of them laughing together in the Garden Room of Clarence House, their official London residence. The photograph was taken in 2018 by New York-based photographer Alexi Lubomirski for Vanity Fair. Lubomirski was the official wedding photographer for Prince Harry, Duke of Sussex, and Meghan, Duchess of Sussex, when they were married on 19 May 2018.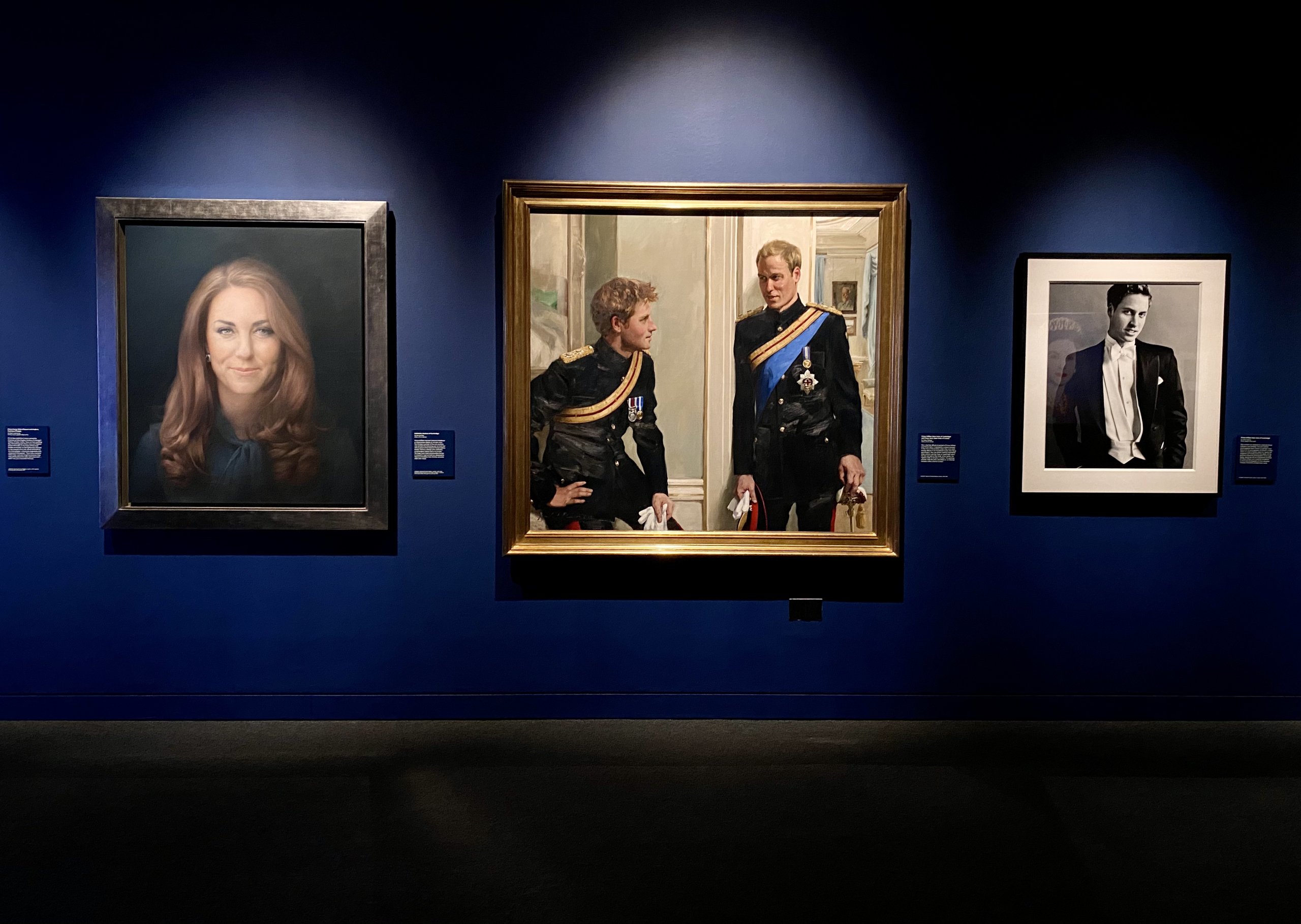 Due to the recent loss, it seems fitting to end with this portrait of Prince Philip, Duke of Edinburgh, and Queen Elizabeth II (he died on 9 April 2021). She described her husband as "her constant strength." He was 99 years old, and they had been married for over 70 years.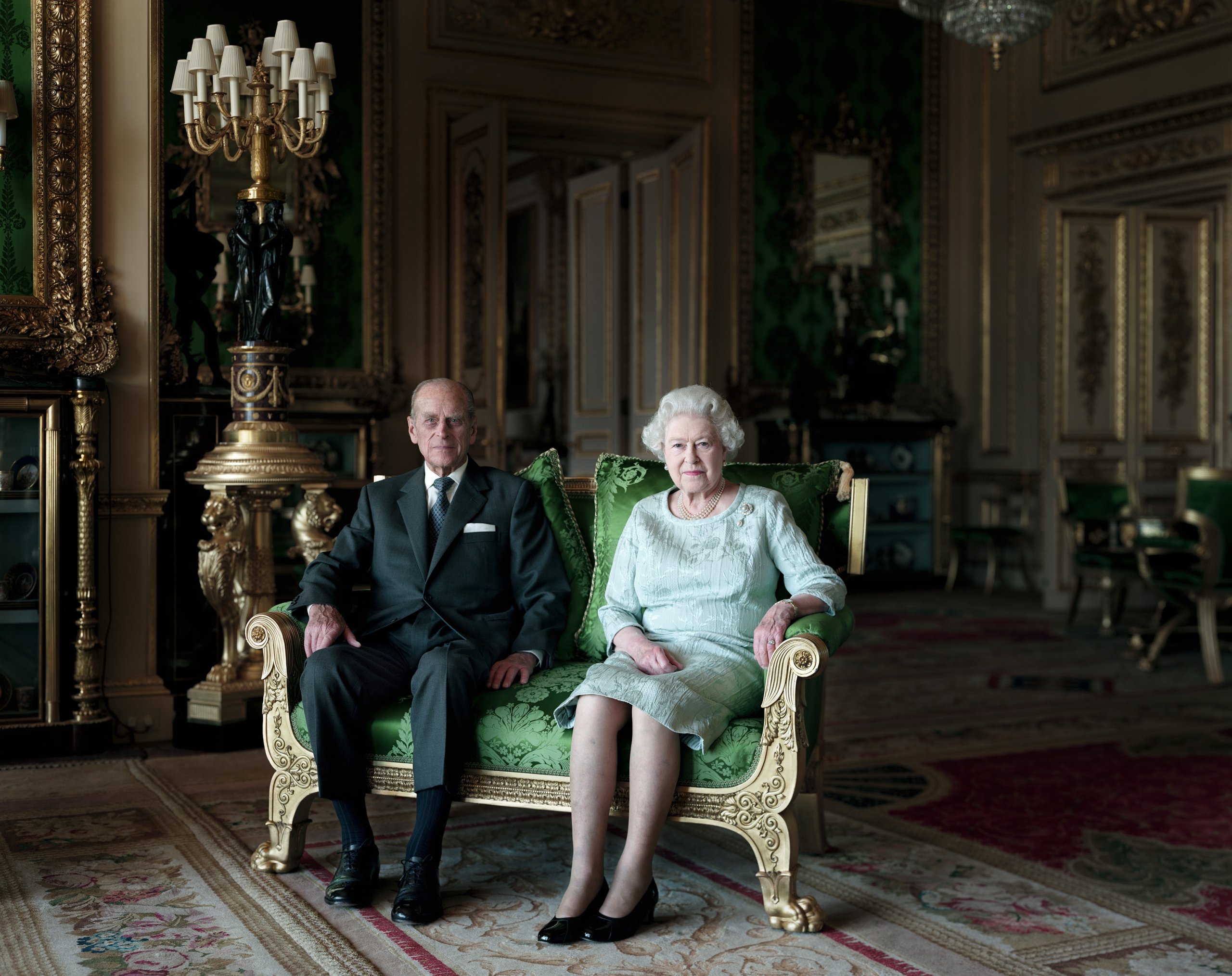 Key Information
I realize this is longer than the average exhibition review, but there was so much I wanted to show you! And I promise, there is still more to see. I also feel having some background knowledge of the people will help you enjoy your visit even more.
Exhibition Title: Tudors to Windsors: British Royal Portraits
Dates: 28 May – 31 October 2021
Prices: Adult £10 | Child £5 | Under 25s & students £6.50
You must book your time slot in advance, even if you're a Member. Pre-booked tickets ensure that visits are spread out throughout the day and that the gallery doesn't exceed capacity. There is no limit to the time you can spend in the exhibition.
Address: National Maritime Museum, Romney Rd, Greenwich, London SE10 9NF
Official Website: www.rmg.co.uk/national-maritime-museum
I recommend also booking a free ticket to go to the Queen's House as it is literally next door. The Faces of a Queen was one of the last exhibitions I saw before the first lockdown, and I still think it was exceptional.