After over a decade of austere Cromwellian rule, the restoration of the monarchy in 1660 led to a resurgence of the arts in England. The court of Charles II became the centre for the patronage of leading artists and the collecting of great works of art. This served not only as decoration for the royal apartments but also as a means of glorifying the restored monarchy and reinforcing the position of Charles II as the rightful king.
But, let's not rush ahead without looking a bit at the history that led to this impressive art collection.
The Backstory
Charles II's father was Charles I – the king who was executed outside Banqueting House in 1649.
Charles I's reign was a rocky one from the start as he offended his Protestant subjects by marrying Henrietta Maria, a Catholic French princess. He responded to political opposition to his rule by dissolving Parliament on several occasions and in 1629 decided to rule entirely without Parliament.
But as Charles I was raising taxes and imprisoning without trial those who didn't pay, unrest grew and there were English Civil Wars from 1642 to 1651. The Royalists initially had the upper hand but by 1646 Charles I had to surrender. In 1648 he was tried and convicted of treason leading to his public beheading on 30 January 1649.
Oliver Cromwell assumed control of the new English Commonwealth and led the country until his death in 1658. It was a short-lived Republican rule though as his son, Richard, who succeeded him fled to France after the restoration of the monarchy. And the dishonour continued as Oliver Cromwell was posthumously convicted of treason, and his body was disinterred from its tomb in Westminster Abbey and hanged from the gallows at Tyburn.
Which brings us to Charles II taking the throne in 1660 and the restoration of the monarchy.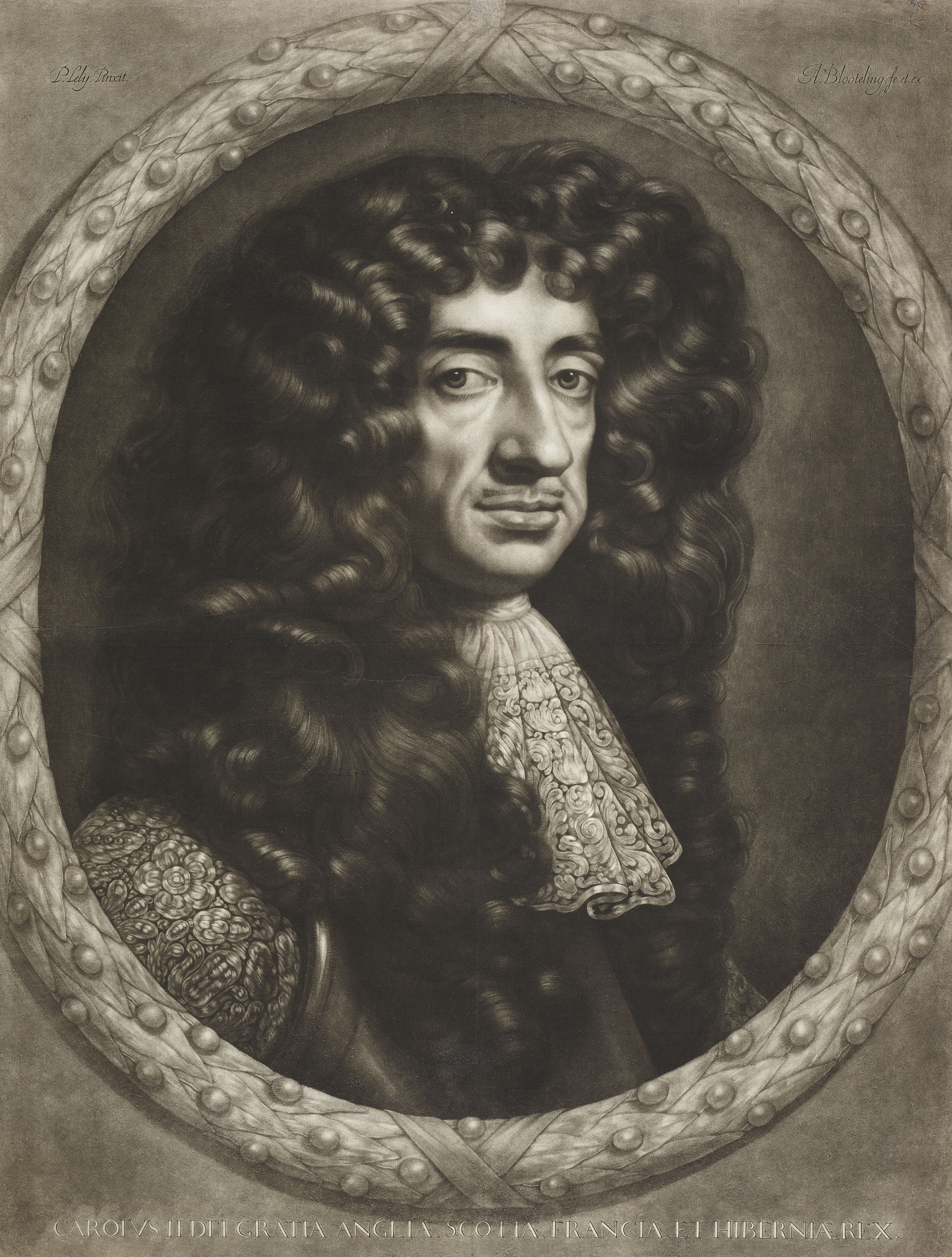 Abraham Blooteling, Carolus II Dei Gratia Anglia Scotia Francia Et Hibernia Ibernia Rex, c.1680/90.
Royal Collection Trust/© Her Majesty Queen Elizabeth II 2017
Charles II
Born in 1830, Charles spent 14 years in exile at the royal houses of Europe. It's said he filled his days partying, riding, sailing and seducing women.
On 29 May 1660, his 30th birthday, Charles II made his triumphant return to London and to the throne of England, ending the severe Republican rule.
Charles II was known as the 'Merrie Monarch' in reference to both the liveliness and hedonism of his court and the general relief at the return to normality after a decade of rule by Cromwell and the Puritans. Sex and seduction often seemed more important than politics to the monarch. Charles had a dozen illegitimate children with various mistresses, yet he had none with his wife, Catherine of Braganza.
He ruled for the next 25 years and the arts would play a critical role in reinforcing Charles' authority. Court life was colourful and The Royal Collection was re-established. A selection of the items that were commissioned or acquired by Charles, as well as items returned to the collection following the Inter-regnum, are presented in this Queen's Gallery exhibition.
The lack of an official son and heir left his Catholic brother James as next in line for the throne which brought Charles into conflict with parliament, which he dissolved in 1681. He then ruled alone until he died on 6 February 1685, converting to Catholicism on his deathbed.
Charles was succeeded by his brother, who became James II of England and Ireland and James VII of Scotland.
Diana, Princess of Wales
As an interesting aside, Diana, Princess of Wales, was descended from two of Charles's illegitimate sons: the Dukes of Grafton and Richmond. Diana's son, Prince William, Duke of Cambridge, second in line to the British throne, is likely to be the first British monarch descended from Charles II.
The Exhibition
From John Michael Wright's monumental portrait of Charles II in his coronation robes and a glittering silver-gilt plate which adorned the high-altar of Westminster Abbey during the King's coronation, to old master paintings, tapestries and spectacular silver-gilt furniture, the exhibition shows the rich material world of Charles II's court and the role of the arts in the re-establishment of the Stuart monarchy.
Charles II was keenly aware of the importance of princely tradition and magnificent display in enforcing his right to the throne and his position as Head of the Church.
He ordered new royal regalia and crown jewels to replace those sold off or melted down by the Parliamentarians, and his coronation on 23 April 1661 was the most extravagant since that of Elizabeth I.
Wenceslaus Hollar, The Coronation of King Charles the II in Westminster Abbey the 23 of April 1661, 1662. Royal Collection Trust/© Her Majesty Queen Elizabeth II 2017
After the restoration of the monarchy, there was a need to replenish the Jewel House. The exhibition has a display cabinet of the silver-gilt delights that formed this initial collection.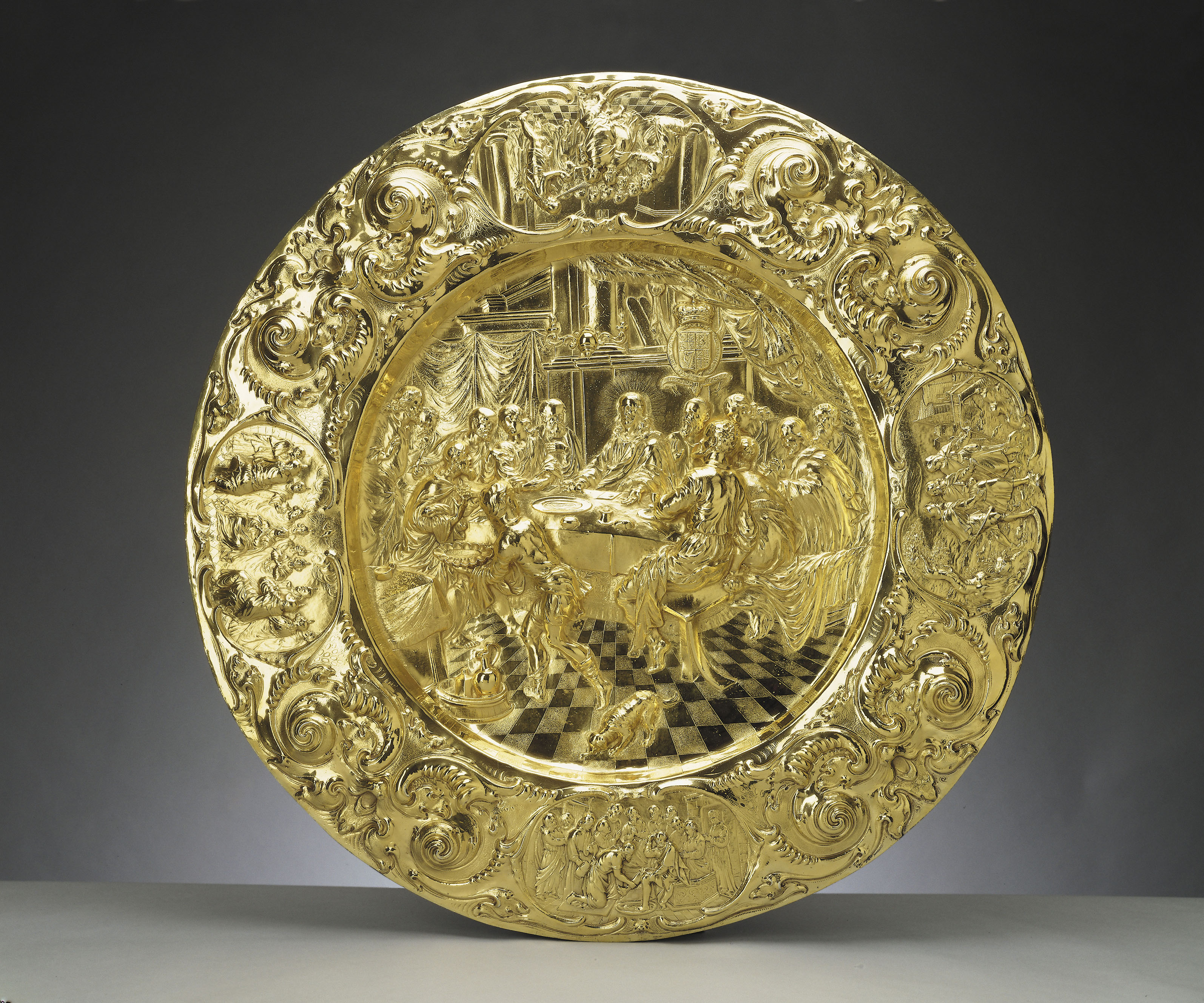 Henry Greenway, Alms dish, c.1660-61. Royal Collection Trust/© Her Majesty Queen Elizabeth II 2017
A day before his coronation, Charles II took part in a magnificent procession from the Tower of London to the Palace of Westminster to allow people to see and applaud their new king. Charles cut an imposing figure,  at least six feet tall and resplendent in a plumed hat and embroidered suit.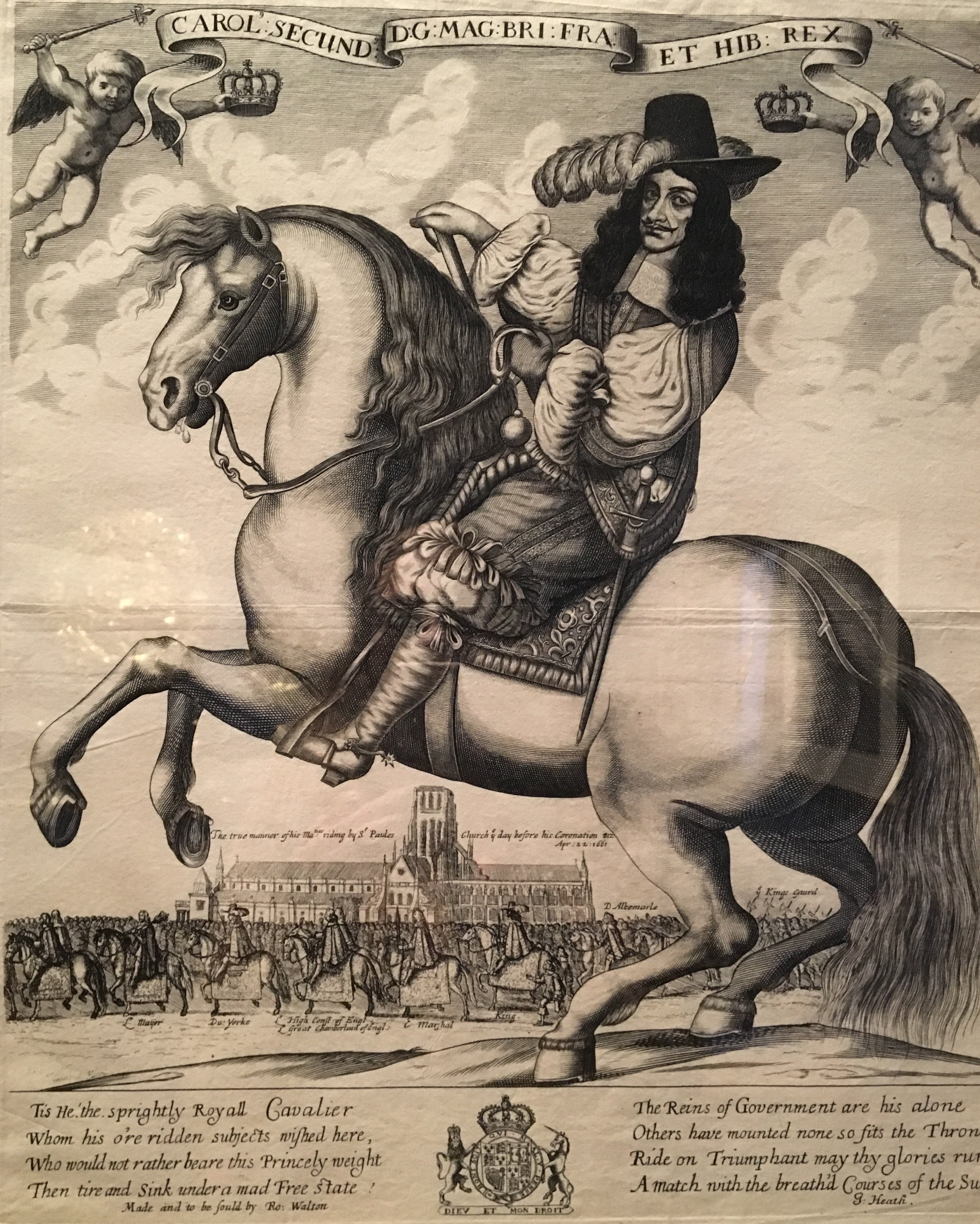 In this commemorative print, the king appears twice, once in the foreground astride his horse (see above) and again in the background as the procession passed in front of St Paul's Cathedral (see close-up below).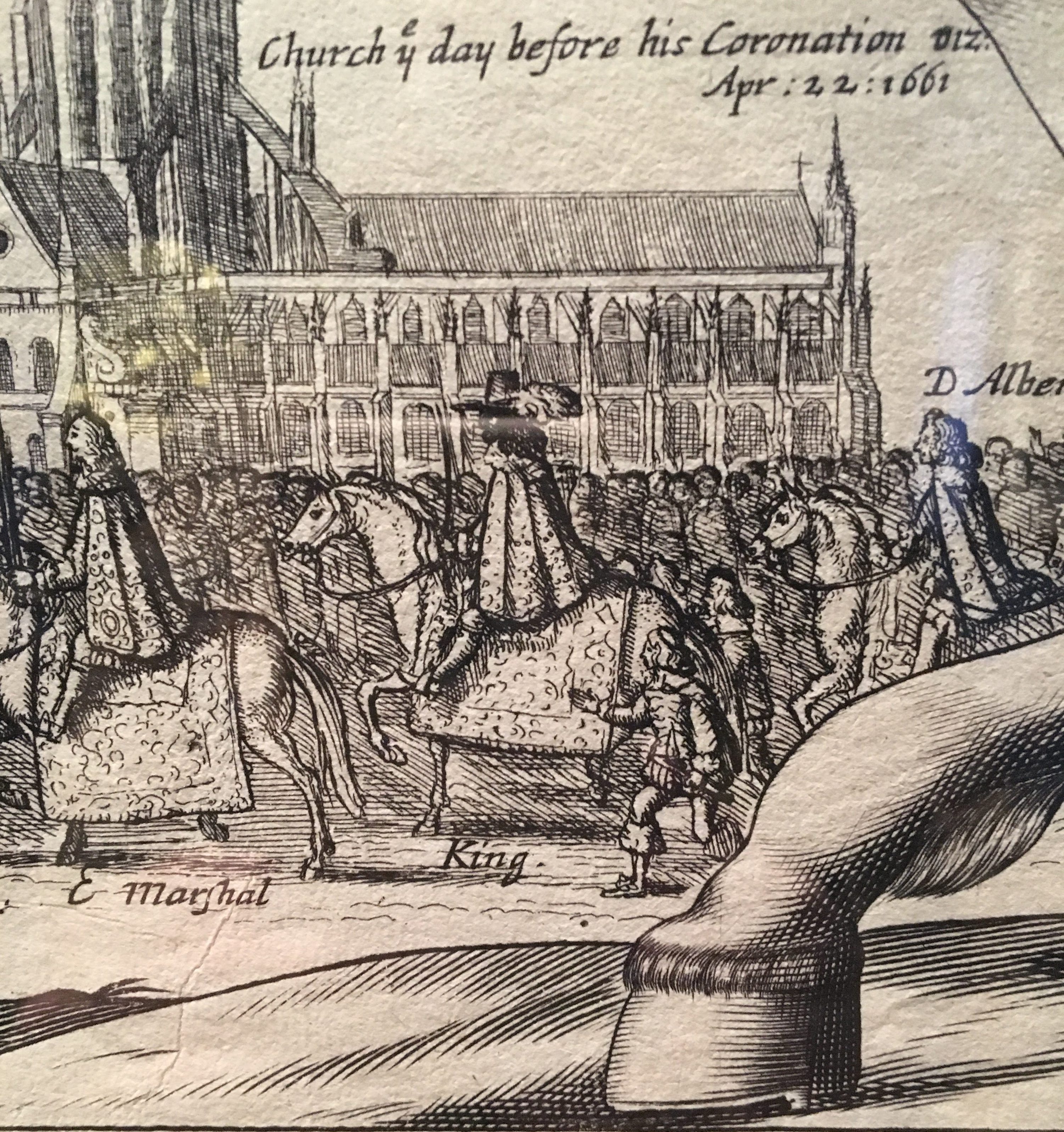 Recovery of the Royal Collection
One of the first acts of Charles's reign was the recovery of his father's art collection. The Commonwealth government had sold off most of the contents from the royal residences. In May 1660 Parliament commanded that all persons holding goods formerly belonging to Charles I, Queen Henrietta Maria or the new king were to return them with immediate effect. This order was made legally binding in August of that year.
Charles II owned over 1,000 paintings as a significant proportion of the artworks were returned.
What stands out from seeing these here at the Queen's Gallery is the intense, bright colours of paintings that are 400 years old. There is also an impressive room-by-room inventory of the works that were on display in the royal palaces which helps us to know what was in the collection plus how and where it was displayed.
William Frizzell
While still in exile in the Netherlands, Charles had placed an order for a large group of paintings from the dealer William Frizell, who had sold works to his father in the 1630s. Among these paintings were Peter Bruegel the Elder's The Massacre of the Innocents, c. 1565-67 (seen below).
The Dutch Gift
In the same year, the king was presented with an extraordinary gift of paintings, sculpture and furniture by the States of Holland and West Friesland, designed to strengthen the alliance between the two countries and to discourage Charles II from entering into a treaty with his cousin Louis XIV, the Dutch republic's bitter enemy. The 'Dutch Gift' included the paintings below. Within a few years England and Holland were at war.
Lorenzo Lotto, Andrea Odoni, 1527. Royal Collection Trust/© Her Majesty Queen Elizabeth II 2017
Paolo Veronese, The Mystic Marriage of St Catherine of Alexandria, c.1562/69. Royal Collection Trust/© Her Majesty Queen Elizabeth II 2017
Titian, Madonna and Child in a Landscape with Tobias and the Angel, c.1535/40. Royal Collection Trust/© Her Majesty Queen Elizabeth II 2017
Giulio Romano, Margherita Paleologo, c.1531. Royal Collection Trust/© Her Majesty Queen Elizabeth II 2017
Sir Peter Lely
Having grown up surrounded by his father's art collection, Charles II knew that paintings were not just for pleasure and decoration, but also served as expressions of power. Only three weeks after his return to England, he appointed the portraitist Sir Peter Lely as official 'Limner and Picture Drawer'. Lely was seen as the natural successor to Van Dyck, the first holder of the post established by Charles I.
The royal palaces were the setting for lavish masques and balls attended by actors, scientists, poets, writers and beautiful women, several of whom were painted by Sir Peter Lely in a series known as The 'Windsor Beauties'.
Sir Peter Lely, Barbara Villiers, Duchess of Cleveland, c.1665. Royal Collection Trust/© Her Majesty Queen Elizabeth II 2017
Sir Peter Lely, Elizabeth Hamilton, Countess of Gramont, c.1663. Royal Collection Trust/© Her Majesty Queen Elizabeth II 2017
The portraits on display also include Charles II's wife, Catherine of Braganza, flanked by portraits of his mistresses which rather shows how royal life was for her.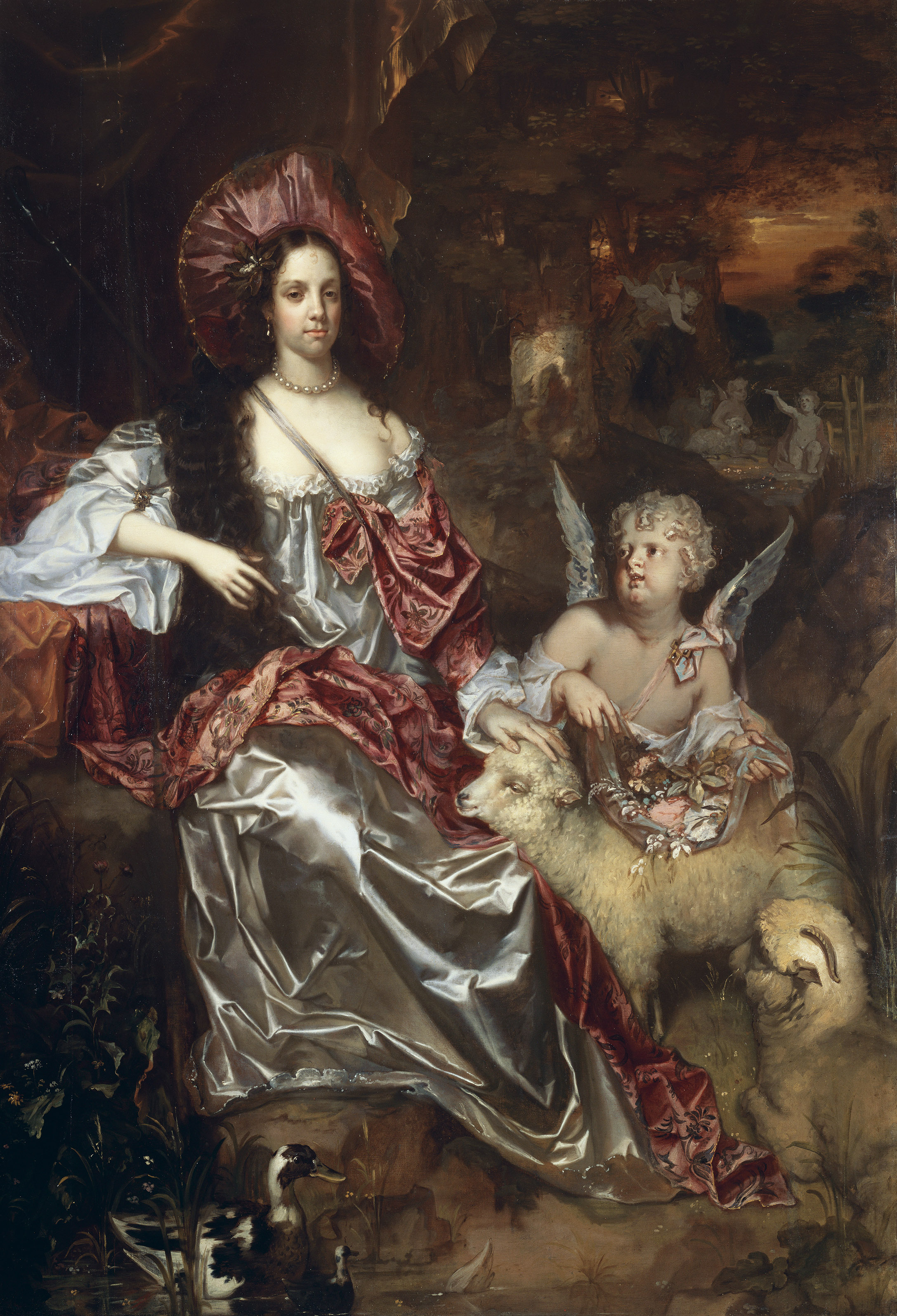 Jacob Huysmans, Catherine of Braganza (1638-1705), c.1662/64. Royal Collection Trust/© Her Majesty Queen Elizabeth II 2017
Most unusually, the paintings here include a portrait of a servant but it shows her importance to the king. Bridget Holmes (second from the right) is shown at 96 years old. She died aged 100 years.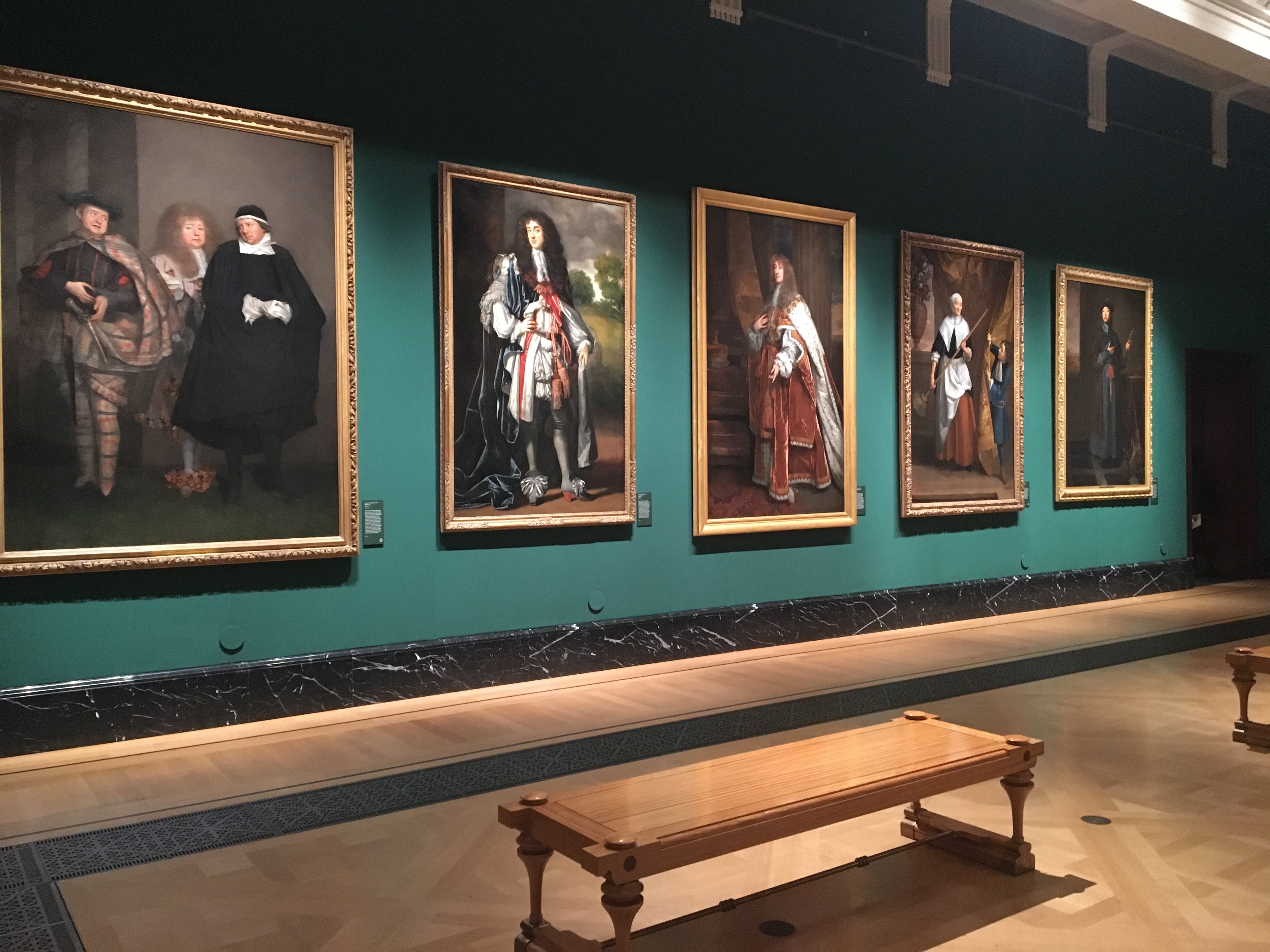 Antonio Verrio
Around 1674 the Italian artist Antonio Verrio, who had probably assisted the artist Charles Le Brun at Versailles, presented the king with his large canvas, The Sea Triumph of Charles II (see below). Verrio was subsequently commissioned to decorate the newly built State Apartments at Windsor Castle and in 1684 was appointed 'Chief and First Painter' to the King.
It's truly marvellous, isn't it?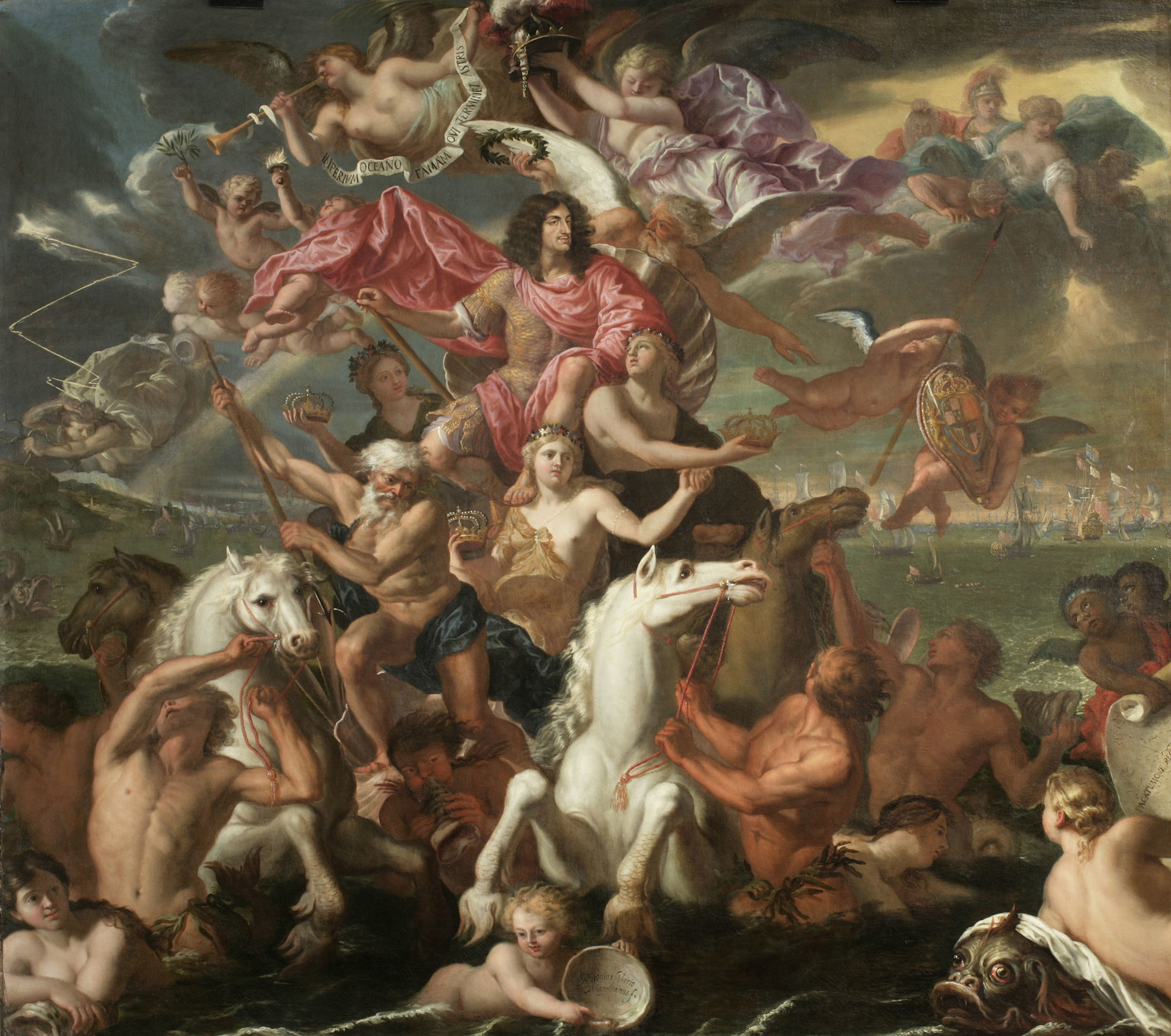 Antonio Verrio, The Sea Triumph of Charles II, c.1674. Royal Collection Trust/© Her Majesty Queen Elizabeth II 2017
Renaissance Drawings
A very significant collection of Renaissance drawings entered the Royal Collection during Charles II's reign. Charles I had little apparent interest in drawings and his son's taste for such works may have developed during his years in exile.
(Charles I had famously swapped a book of Holbein drawings for one Raphael.)
Michelangelo Buonarroti, The head of the Virgin, c.1540. Royal Collection Trust/© Her Majesty Queen Elizabeth II 2017
Leonardo da Vinci, Oak (Quercus robur) and dyer's greenweed (Genista tinctoria), c.1505/10. Royal Collection Trust/© Her Majesty Queen Elizabeth II 2017
Birth
This tapestry is one of a set of six or seven depicting scenes from the life of Diana, the goddess of the moon, nature and the hunt. They were probably purchased by Charles II from the Scottish merchant, John Coupar, in December 1668 for use in Parliament House and the Palace of Holyroodhouse in Edinburgh.
This tapestry depicts the goddess Latona, the lover of Jupiter, giving birth to twins, Diana and Apollo, the god of the sun. It was suggested by the lead curator for the exhibition that this tapestry, on display in the Red Gallery, is the first depiction of a birth at the Queen's Gallery.
And here it is on display in the Queen's Gallery: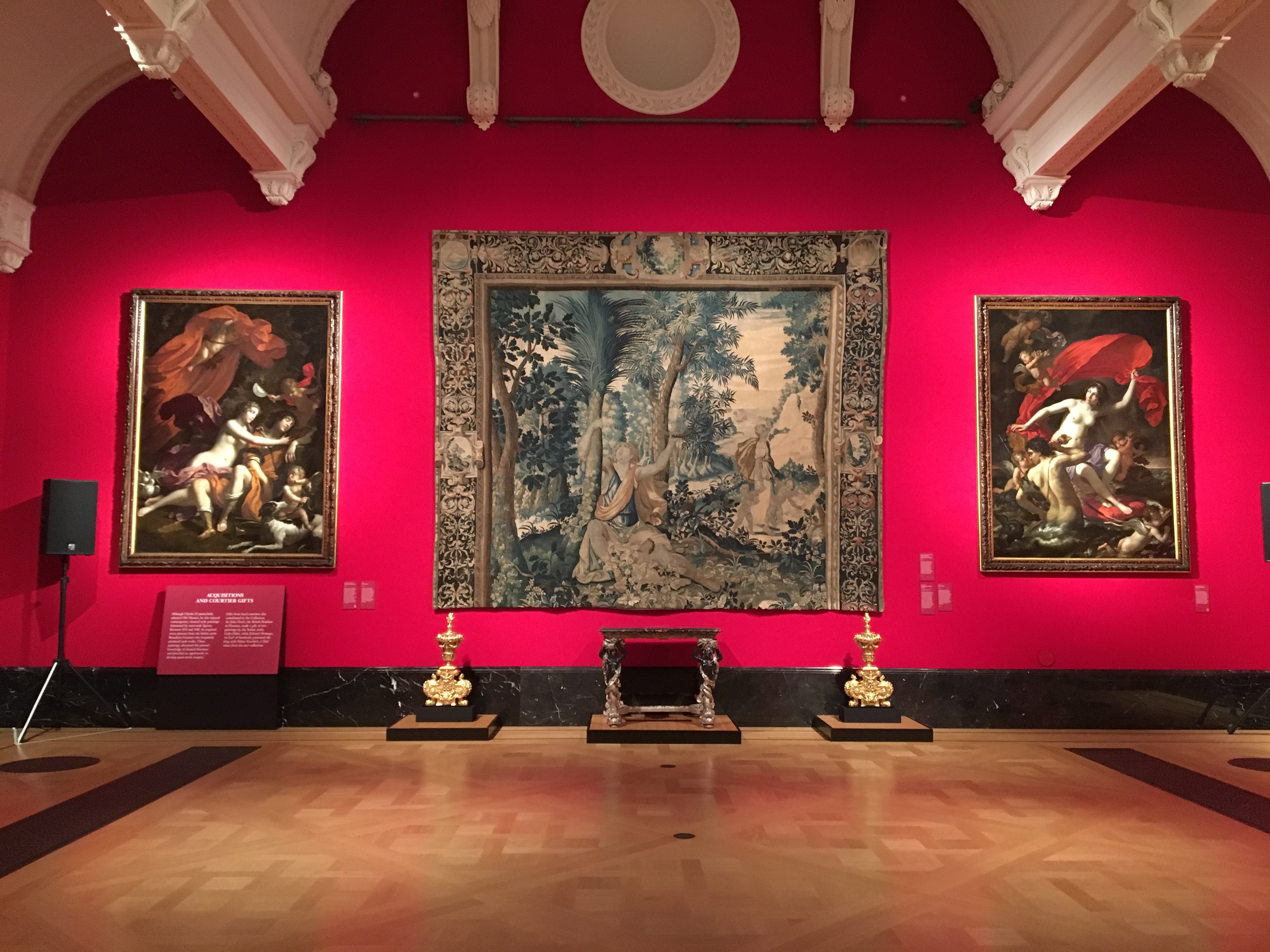 Science
As well as being a lover of women and parties, Charles II's intellectual fascination was for science.
In 1660, he founded the Royal Society, which included such great scientific minds as Isaac Newton and the astronomers Flamsteed and Halley, who worked from the newly established Royal Observatory in Greenwich.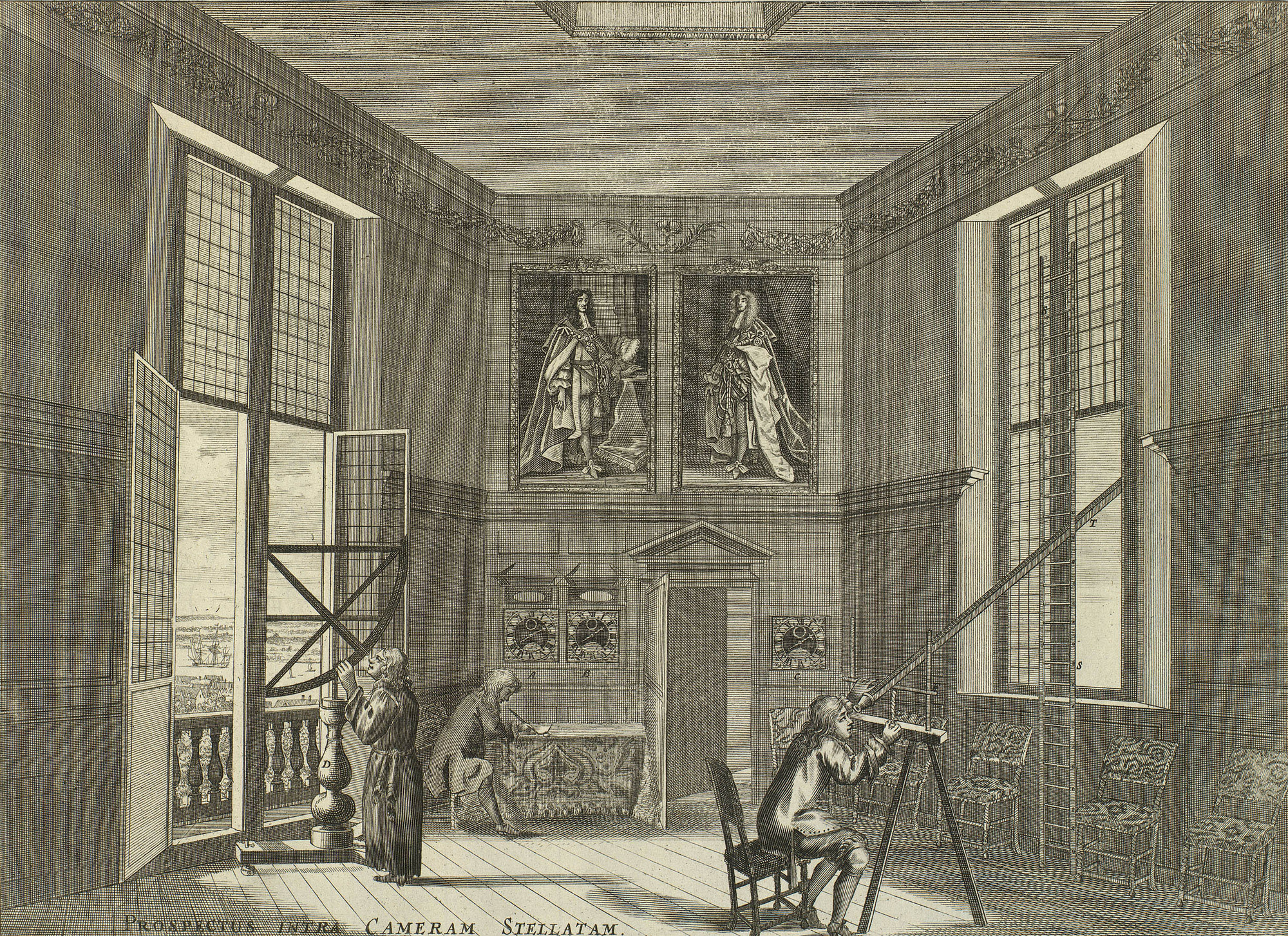 Robert Thacker, Prospectus Intra Cameram Stellatam, 1676, showing astronomers at work in the Royal Observatory. Royal Collection Trust/© Her Majesty Queen Elizabeth II 2017
Detail
One of the joys of seeing an exhibition like this is to glory in the detail. I loved seeing the king's flamboyant attire, especially his shoes!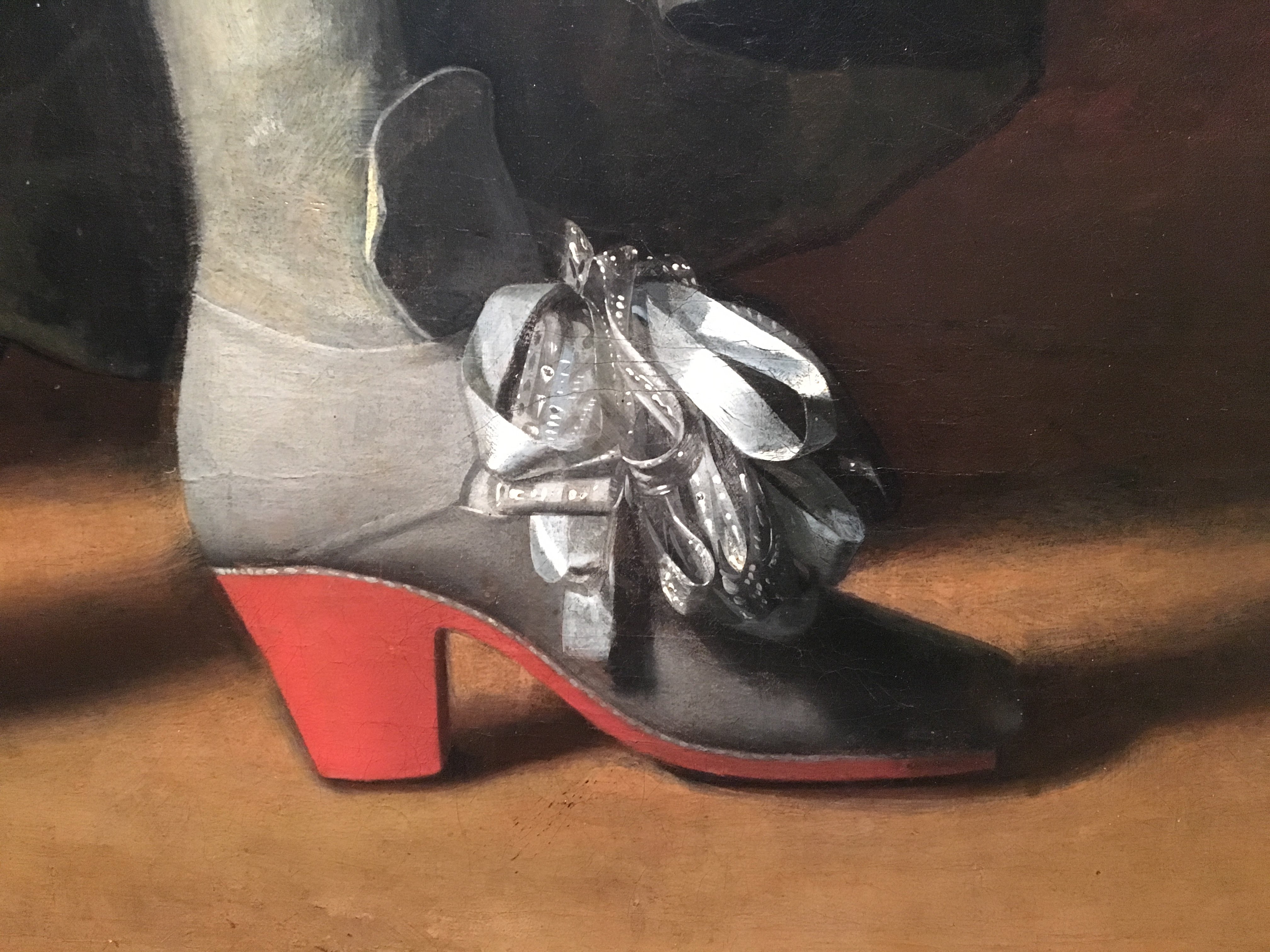 That Provocative Smile
I couldn't help but notice the king's provocative smile. It's a flirtatious and knowing look that only contributes to his self-indulgent, pleasure-loving reputation.




Yet he clearly did love the arts and we can be grateful to him for amassing such a fine collection that can still be enjoyed today.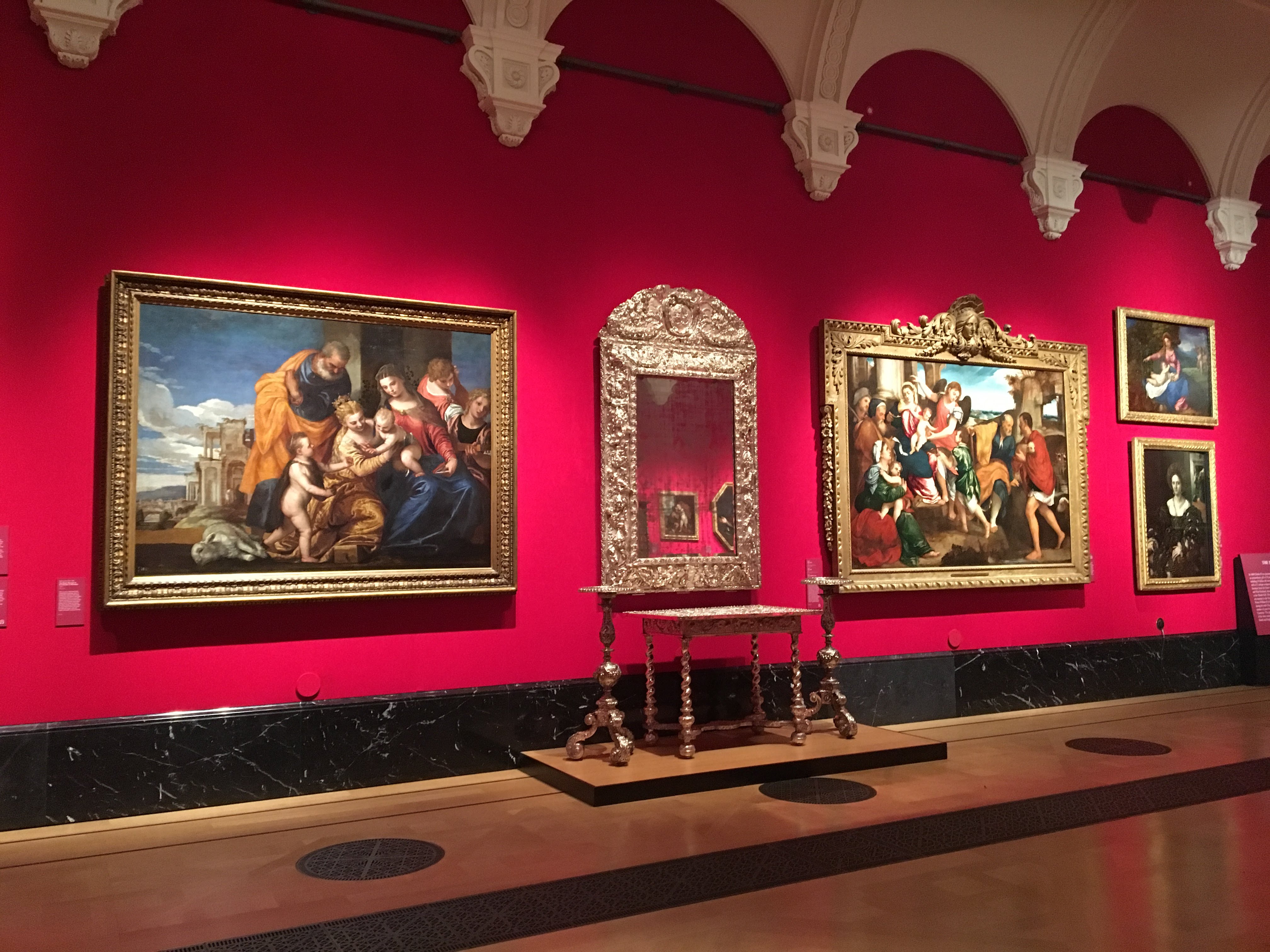 Charles II: Art & Power
Address: Queen's Gallery, Buckingham Palace Road, London SW1A 1AA
Dates: 8 December 2017 to 13 May 2018
Official Website: www.royalcollection.org.uk
Charles I: King and Collector
The Royal Collection has teamed up with the Royal Academy to offer a special ticket for both this exhibition and the RA's Charles I: King and Collector exhibition (27 January to 15 April 2018).
King Charles I had one of the most extraordinary art collections of his age, acquiring works by some of the finest artists of the past – Titian, Mantegna, Holbein, Dürer – and commissioning leading contemporary artists such as Van Dyck and Rubens.
Yet, following the king's execution in 1649, his collection was sold off and scattered across Europe. While many works were retrieved by Charles II during the Restoration, others now form the core of museums such as the Louvre and the Prado.
Charles I: King and Collector reunites the greatest masterpieces of this magnificent collection for the first time. Celebrating its breadth and grandeur, it includes over 100 works of art, ranging from classical sculptures to Baroque paintings, and from exquisite miniatures to monumental tapestries. In showing these works together, the exhibition demonstrates the radical impact they had at the time and shed light on how they fostered a vibrant visual culture that was hitherto unknown in England.
BBC Royal Collection Season
The BBC's Royal Collection Season is to be broadcast to coincide with the Queen's Gallery and Royal Academy exhibitions in January and February 2018.