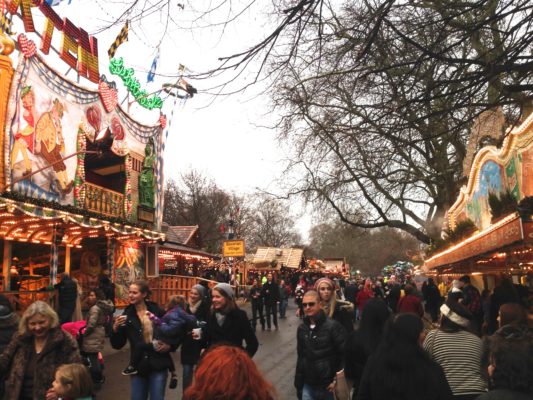 London is a magical place around the Christmas holidays, but city practically shuts down on 25 December.  If you're there over the holiday, it may be difficult to find something to do with seemingly everything closed, but London is still a vibrant place full of Christmas activities.  We've managed to compile some ideas for activities covering Christmas Eve, Christmas Day, and Boxing Day.  Whatever you choose to do, we certainly hope you'll have a very happy Christmas when you visit London.
Hyde Park Winter Wonderland
The Winter Wonderland carnival in Hyde Park is one of the city's top holiday highlights.  Among the bright lights of Winter Wonderland, visitors will find rides, food, drink, activities, and winter markets.  You can also see a number of expertly crafted ice sculptures, try singing some of your own carols in the karaoke tents, or take in a performance of Cinderella on Ice.  The carnival is very popular on the weekends and the evenings, so make sure you buy your tickets well in advance.  The carnival is open on Christmas Eve, but not Christmas Day, and remains open into January.
Services at St. Paul's Cathedral
Plenty of London's churches offer special Christmas services and concerts, but many of them can't compare to St. Paul's Cathedral, the magnificent place of worship designed by Christopher Wren.  St. Paul's has several opportunities for you to celebrate Jesus's birth on the 24th and 25th, starting with the Christmas Carol Service on Christmas Eve.  Those who wish to stick around until 11:30 PM can join for the Midnight Eucharist service.  There are three services on Christmas Day itself, beginning with the Holy Communion at 8:00 AM, the Sung Eucharist at 11:00 AM, and the Festal Evensong at 3:15 PM.
Peter Pan Cup
If you go back to Hyde Park on Christmas Day, you'll find one of the city's oddest festive celebrations in the Peter Pan Cup.  Named for the creation of author J.M. Barrie, who donated the first cup in 1904, swimmers jump into the chilly waters of the Serpentine Lake in the park for what has to be the city's coldest race.  The race is held by and for members of the Serpentine Swimming Club, who take the plunge into the 4C water at 9:00 AM and swim a distance of 100 meters to claim the cup.
Christmas Lights on a Bike
If you think you do pretty well with your Christmas light display at home, you haven't seen anything until you've taken a tour of London's streets at Christmastime.  All the major high streets and shopping areas do it up special for the season, and the lights stay on for Christmas evening even though the shops are closed.  Everywhere from Carnaby Street to Seven Dials will be lit up for the holiday, and as very few taxis or public transport is running on the holidays, the best way to see it all is to use the Santander Cycles public bicycle scheme.  Also known as Boris Bikes for Boris Johnson, the London Mayor who launched the scheme, it's only £2 for 24 hours, so you can see as much of the city as you like before you return the bicycle.
Boxing Day Sales
With all the money and gift cards people get for Christmas, they're eager to blow the lot as soon as possible, and London's shops are more than happy to oblige on Boxing Day.  January Sales start on 26 December, and department stores such as Harrods and Selfridges are going to be your best bets to find the largest number of deals.  Major shopping centers such as Oxford Street, Carnaby Street, Seven Dials, and Oxford Street are bound to have their own special offerings as well.  With a little bit of research, you should be able to find a deal on just about anything you're looking for, from electronics to clothes and more.
Editor's Note: We spent Christmas in Britain in 2013. One thing to keep in mind that MOST shops and restaurants are closed (and certainly all tourist attractions). So plan to have food and provisions to survive for the day. There are some restaurants that will have special Christmas day meals; these must be booked in advance.