Once part of the Palace of Whitehall, today Banqueting House is all the remains of this once-great royal palace. Today it is a museum while the rest of Whitehall has been rebuilt as government offices. Banqueting House is important to London for several reasons, including its architectural notoriety and the kings and queens that once called it home. We'll explore the history of this great building from its time as part of a greater palace to its current status and examine everything that makes Banqueting House a great London building.
Of course, in talking about Banqueting House, we have to start with the Palace of Whitehall. The palace was originally a stately home constructed for the Archbishop of York, Walter de Grey, which was known as York Place. Cardinal Thomas Worsley had it rebuilt in the 15th Century to the point where it rivaled the royal palaces. It should not be much of a surprise, then, that when King Henry VIII had Worsley removed in 1530, he decided to claim York Place as his own. Prior to this, the Palace of Westminster had been the main royal home until a fire gutted most of the residence in 1512. Henry hired Anthony van den Wyngaerde to redesign and expand York Place even more and the building's white stone earned it the name "Whitehall".
By the 17th Century and King James I, the Palace of Whitehall had grown considerably and James commissioned architect Inigo Jones to design a new banqueting house in 1619. Two banqueting houses had existed on the site before this, and ironically it was a fire that destroyed the previous structure. Jones, as Surveyor of the King's Works, knew that James wanted a building very different from the old banqueting house. Influenced by the work of Andrea Palladio, Jones departed from the Jacobean style that had been popular at the time by introducing Italian classicalism and ultimately introducing Britain to the Neo-Classical style of architecture. Jones completed the building in 1622 and it saw many uses not only for banquets, but for any celebration or ceremony, especially the performance of masques, or plays. The hall was not intended only for functionality, but a showing of prestige for King James.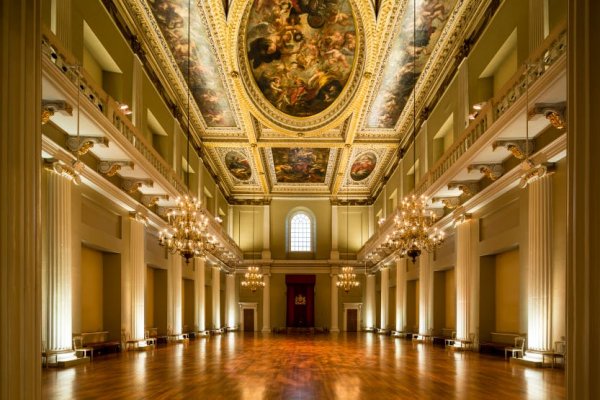 Banqueting House was the basis on which Jones drew up plans to complete reimagine the entirety of Whitehall. King Charles I commissioned the plans to renovate the palace in 1638, but he was not able to gather together the resources to begin the project before his execution in 1649, which coincidentally took place outside Banqueting House. Christopher Wren, John Webb, and others had plans for the building, but none of them came about. King William III and Queen Mary II opted to live in Kensington Palace when they came to the throne in 1689 and after a fire destroyed much of Whitehall in 1698, there was no further reason to seek the building's renovation as a royal palace. Wren opted instead to turn Banqueting House in to a chapel royal, and the building continued to see use as a chapel for another 200 years.
In 1774, the multi-colored stone exterior was replaced with white Portland stone to a more monochrome look. The building underwent further renovations and Queen Victoria granted it to the United Service Institution as a museum in 1891. The building eventually earned Grade I listed status and still exists today as a museum, but one dedicated to its own history and that of the Palace of Whitehall. Open to the public, one of the most striking things to see is Peter Paul Reubens' nine-paneled work, The Apotheosis of James I, detailing the union of the English and Scottish crowns and glorifying James's reign. Banqueting House also hosts numerous events throughout the year from weddings to the plays that once used it as a stage. Banqueting House is open from 10 AM to 5 PM every day and tickets are a modest £5.50, so there's no reason not to see this great building in which so much history occurred.