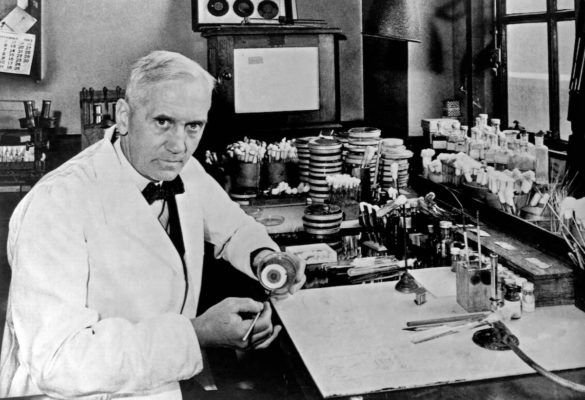 Progress in science is one way by which we may judge a society, and London is a city that certainly has made a lot of progress over the centuries.  Some of the greatest discoveries in biology, physics, chemistry, and medicine have been made on the streets and in the laboratories of London.  Some of them are very well-known, while others might surprise you to know.  Each of the discoveries below has had a major impact on your life in one way or another, and they all came out of the UK's capital.
Nuclear Chain Reaction
Hungarian scientist Leo Szilard had gained German citizenship by 1930, but wasn't quite so sure about that Hitler fellow, so he up and left Germany for the UK.  While living in London, he read an article in The Times concerning Lord Rutherford arguing against the practical use of nuclear energy and decided to prove him wrong.  While waiting for a stoplight to change at Russel Square so he could cross, he was struck with inspiration that led to his discovery of the nuclear chain reaction, the breakthrough that made atomic energy possible.
Neon
Sir William Ramsay is notable for several important discoveries in chemistry, including the identification of the first noble gas, argon, which he named from the Greek word for "lazy."  He came to University College London from Bristol in 1887, and while he was there, he also discovered xenon, krypton, and neon, a discovery that you can still see in many signs today.  He was knighted in 1903 and won his first Noble Prize in short order in 1904.  After his death in 1916, UCL's Department of Chemical Engineering was named after him in 1923.
Cells
In 1661, King Charles II commissioned Sir Christopher Wren to create a series of microscopical studies, a job that ended up falling to twenty-six-year-old scientist Robert C. Hooke, a newly minted member of the Royal Society for Scientists.  Hooke was a prodigy who was largely self-taught and put his technical skills to creating all manner of microscopes, and while his original mission was mainly to examine insects for the king, he took to using his devices on nearly everything.  It was when he looked at plants and discovered small spaces blocked off by walls; he named them "cells" for their similarity to a monk's quarters.
Sodium, Potassium, Barium, Calcium, and Magnesium
Sir Humphry Davy is another notable chemist on this list, responsible for several elements from his laboratory in Mayfair.  Inspired by the works of Volta, Davy studied electrochemistry and used it to discover alkaline and alkali earth metals.  From this discovery, he also used a voltaic pile to separate common compounds and discover an array of elements including sodium, potassium, barium, strontium, magnesium, boron, and chlorine.  Even though he lost some esteem in his later years, he still received a baronetcy and became President of the Royal Society.
Penicillin
Perhaps one of the most important medical discoveries of the modern era, Alexander Fleming actually accomplished this one by accident.  Fleming was a doctor at St. Mary's Hospital in Paddington and about to go off for a two-week holiday in 1928 when the discovery occurred.  He'd piled up several Petri dishes of bacteria that he hadn't sealed properly, resulting in them becoming affected with mold.  However, on going to clean the dishes, he discovered that the bacteria's growth had been arrested around the mold and wrote a paper on his findings, inadvertently discovering antibiotics in the process.  Unfortunately, his slow work at publishing his discoveries meant it would be years before he was recognized for the discovery