A new exhibition at the Queen's Gallery, Buckingham Palace, looks at a king who collected and commissioned many of the finest works of art in the Royal Collection. George IV: Art and Spectacle makes it clear he was a patron of the arts and while he didn't hold back on the spending, he did have good taste.
This is the official state portrait of George IV by Sir Thomas Lawrence, made to hang in the Throne Room at St James's Palace. Look at the slight 'halo' around the head and you can see it was painted over an earlier portrait showing George in Garter robes. It is hanging in the Red Gallery which is the final room of the exhibition. The walls are covered in lifesize portraits that have an impressive impact.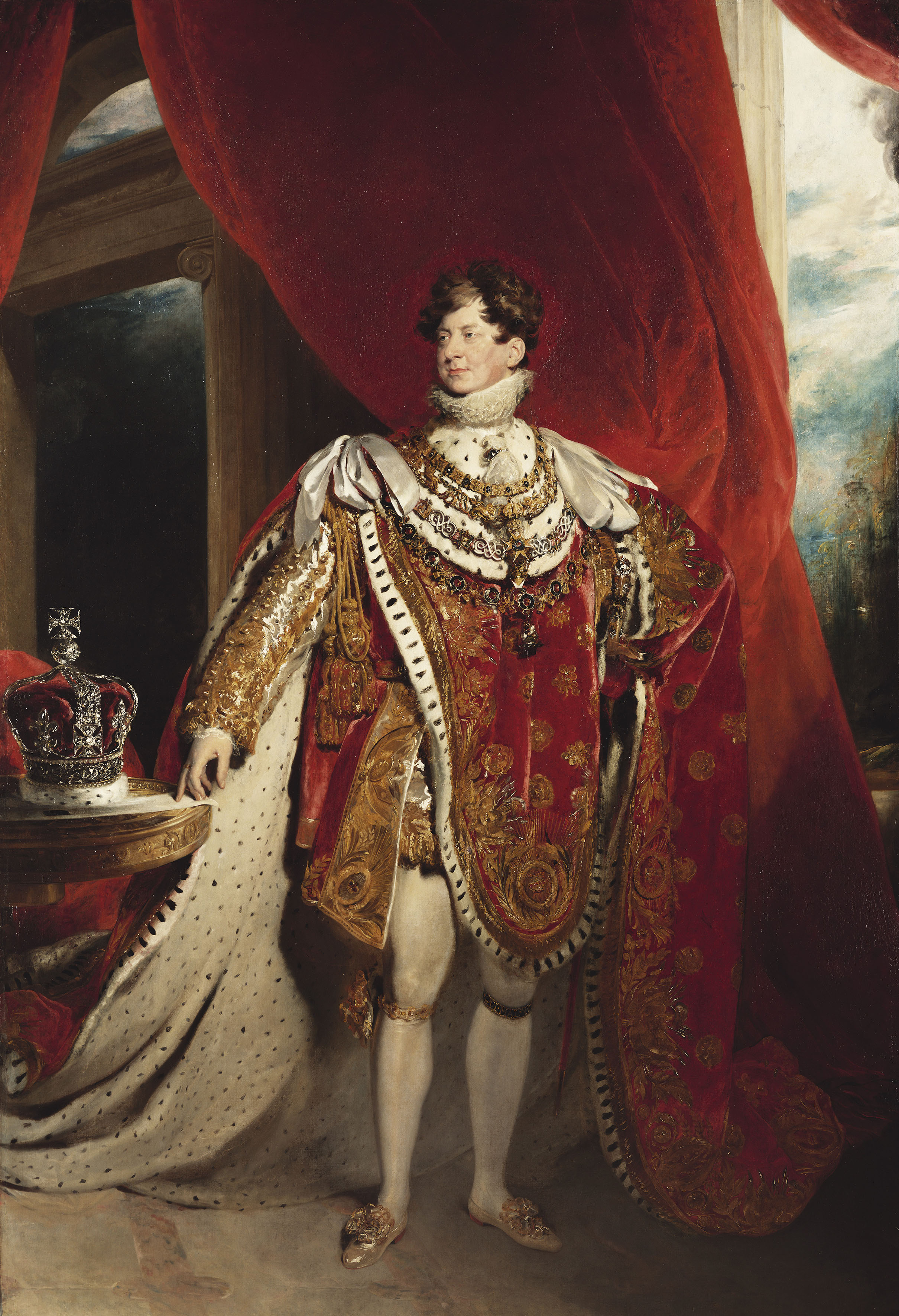 Family
George III had fifteen children so George IV (1762–1830) had fourteen siblings. He was king for only ten years (1820–1830) but he was Prince Regent from 1811 and took on many of the monarch's roles as his father was mentally unwell. He was married to Caroline of Brunswick and they had one child – a daughter. Charlotte Augusta of Wales was married to King Leopold of Belgium for just one year before she died in childbirth. As George IV had no heirs, the third son of George III, William IV followed him to become the last king and penultimate monarch of Britain's House of Hanover.
George IV loved his family and commissioned some wonderful portraits of his sisters. The one below is of Princess Sophia, by Sir Thomas Lawrence, and it hung in his bedroom.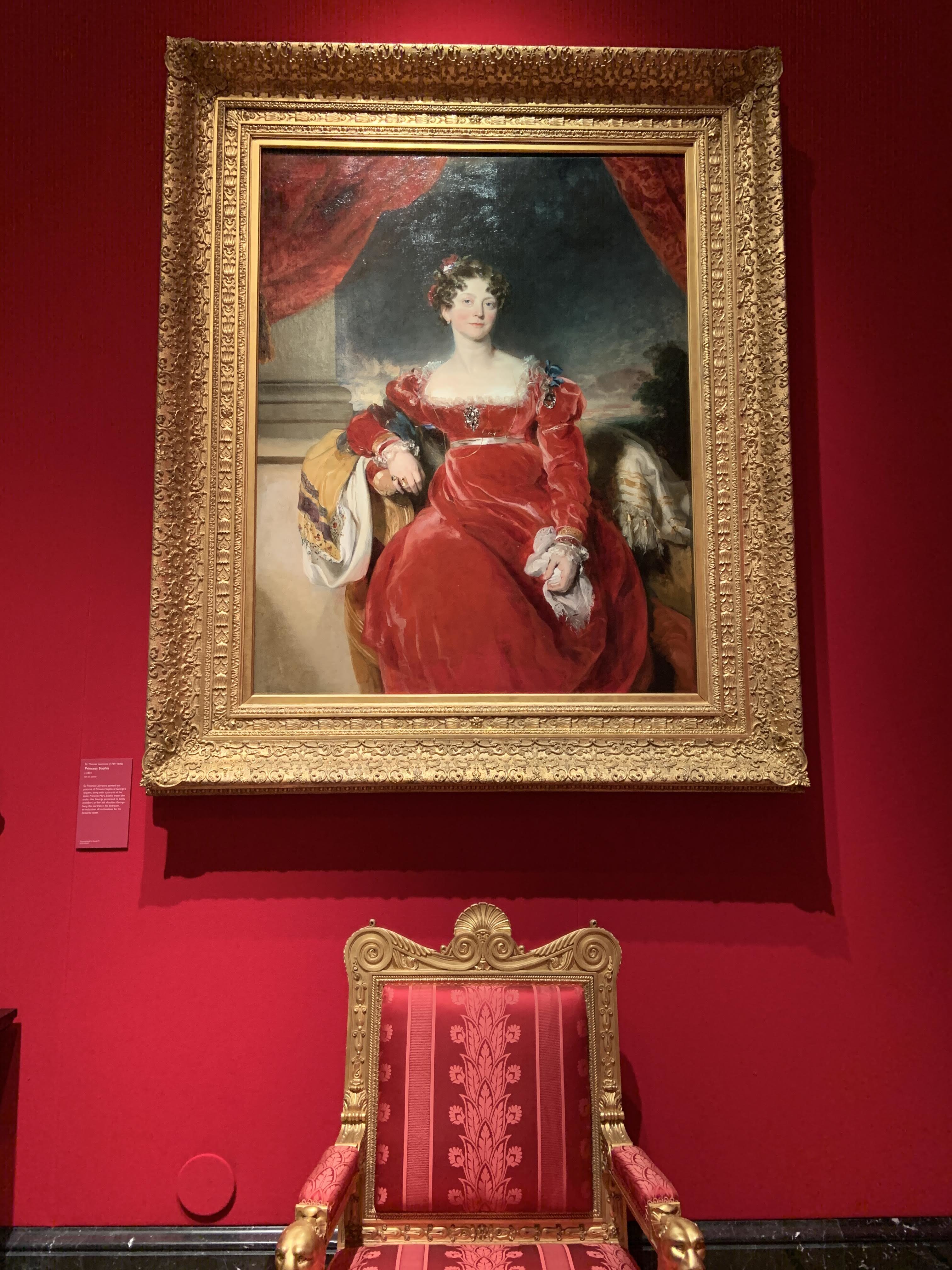 He collected portraits of his parents and his Stuart ancestors whose descendants pursued a rival claim to the throne. In 1814 George traded four paintings from his collection for this single outstanding work by Rubens, depicting Charles I in the guise of St George. In acquiring it, George was making reference to his own namesake, the patron saint of England, as well as paying homage to Charles I's magnificent artistic patronage.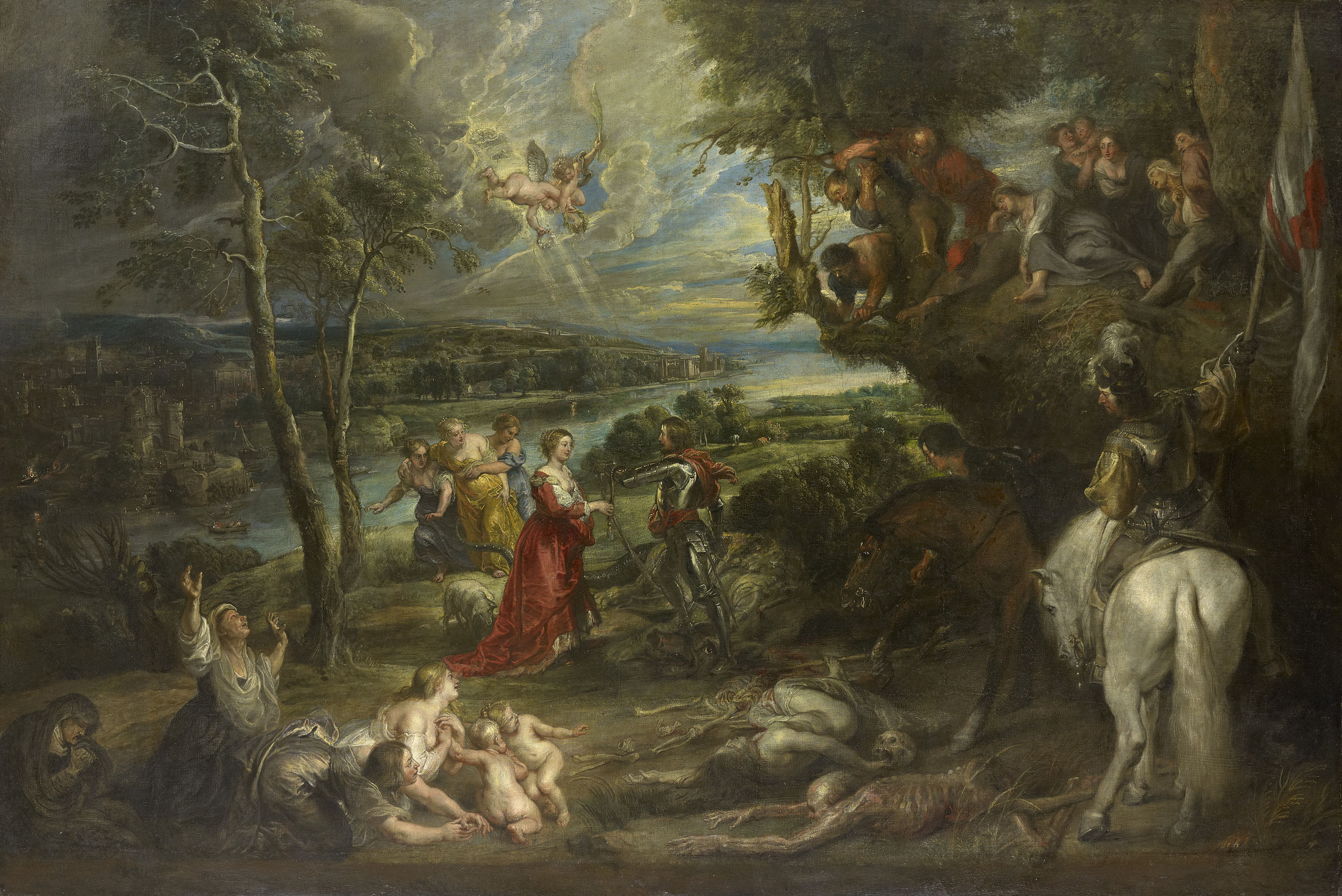 George adored beautiful things and surrounded himself with beautiful society women too (George and Caroline did not have a happy marriage). His favourite mistress was Maria Fitzherbert who he met when he was 22 years old but they couldn't be together officially as she was twice widowed and his father wouldn't consent to it. George described her as 'the wife of my heart and soul' and when he died in 1830 he was buried was a miniature portrait of Maria around his neck. A newly acquired portrait of Maria is on display here.
George wasn't universally appreciated during his reign as the nation was clearly tired of his extravagant lifestyle. Despite the King's efforts to control his image, satirical artists of the day mocked him mercilessly in widely circulated prints. The caricatures of Thomas Rowlandson, John Doyle and Robert Seymour share the recurring themes of George's excesses in food, fashion and sex. Although George collected some satirical prints of himself when Prince of Wales and King, these were of the gently comic kind. At the same time, he tried to suppress the more hostile images, threatening legal action and, through his agents, bribing publishers not to criticise him or his mistresses, with little success.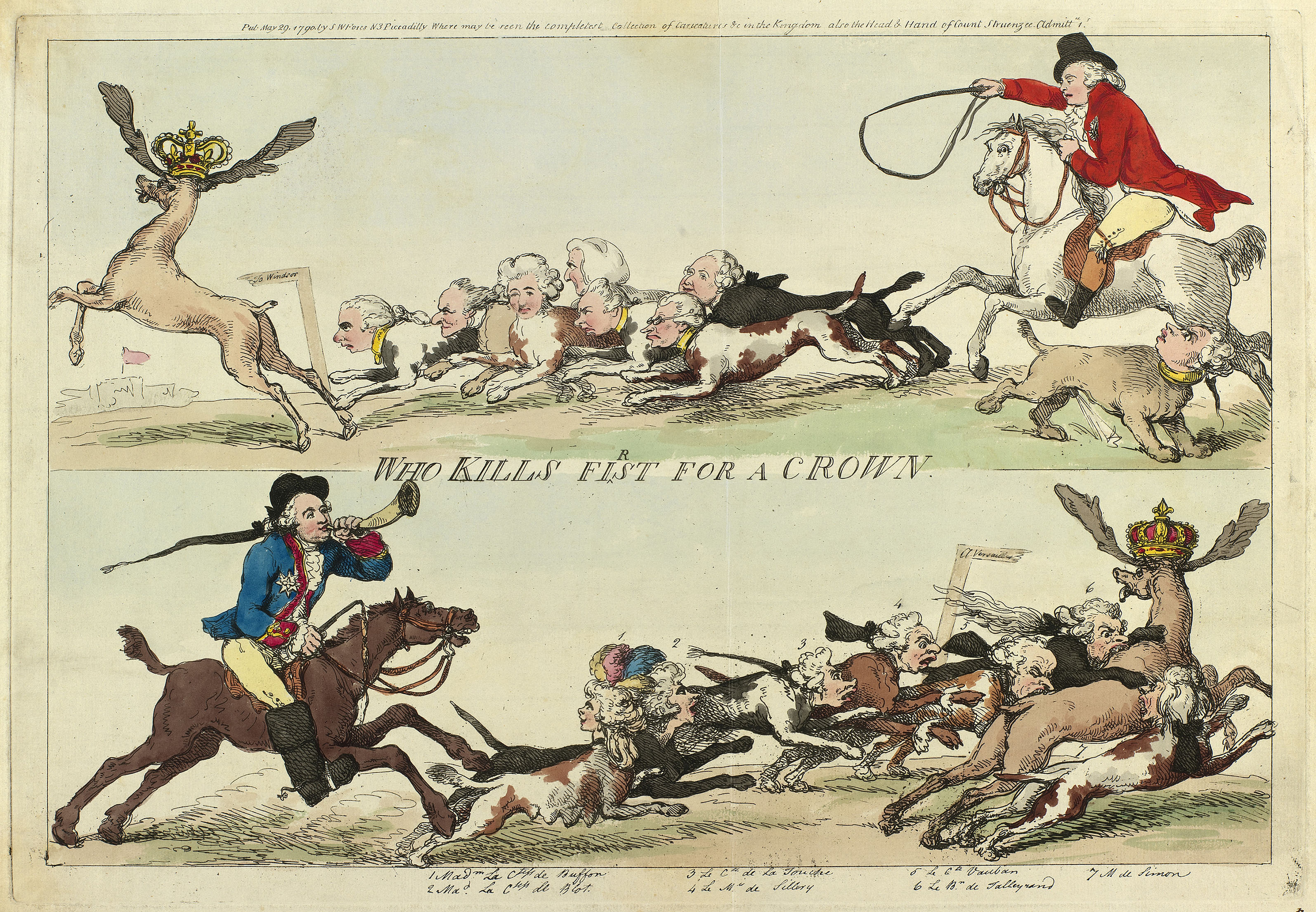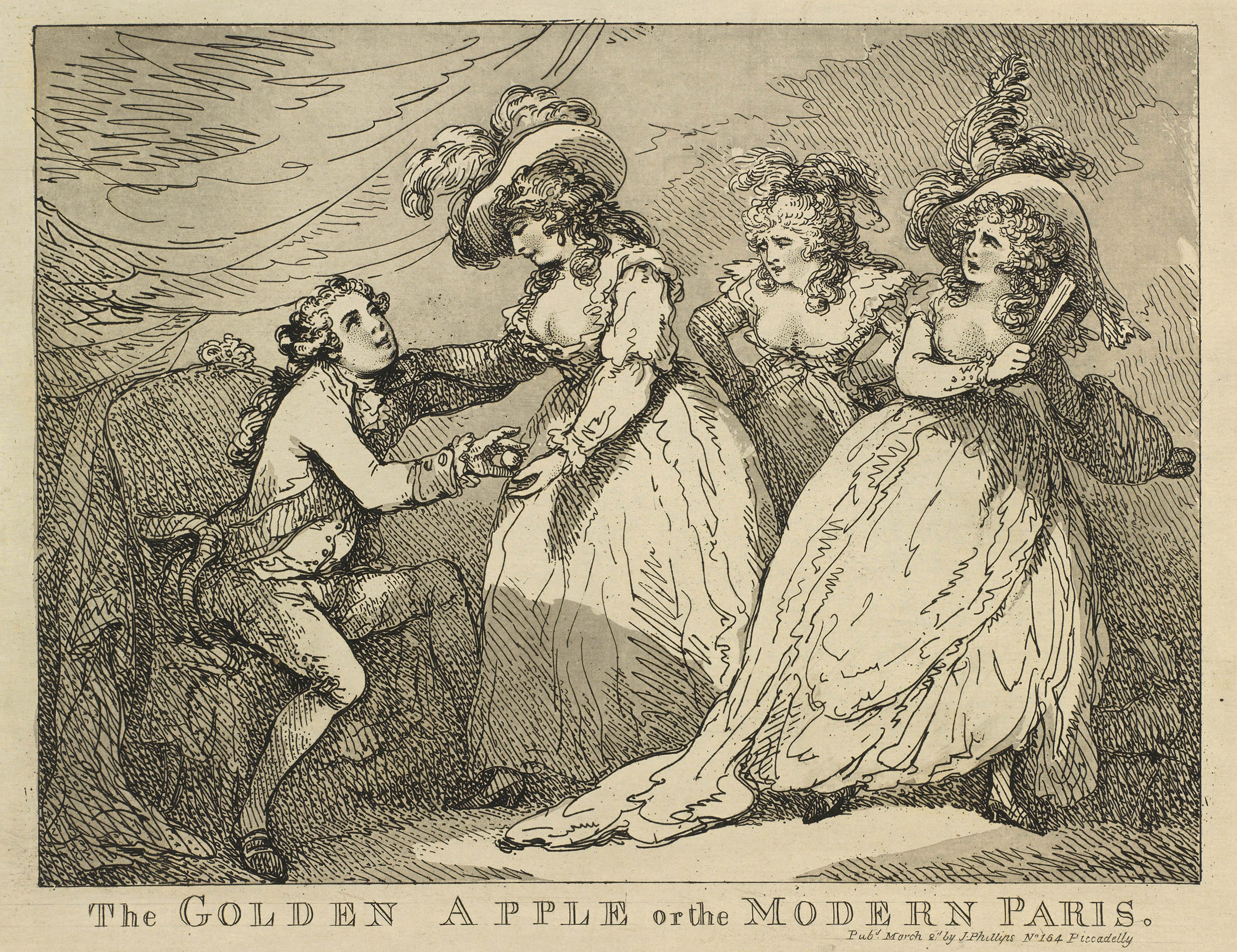 The etching below criticised his extravagant expenditure and his love of 'oriental'-style art and architecture inspired by the art of China, India and Japan. It shows him as an obese man in Chinese dress surrounded by his spoils, among them Brighton Pavillion (on the shelf behind) and the giraffe he kept as a pet in Windsor Great Park.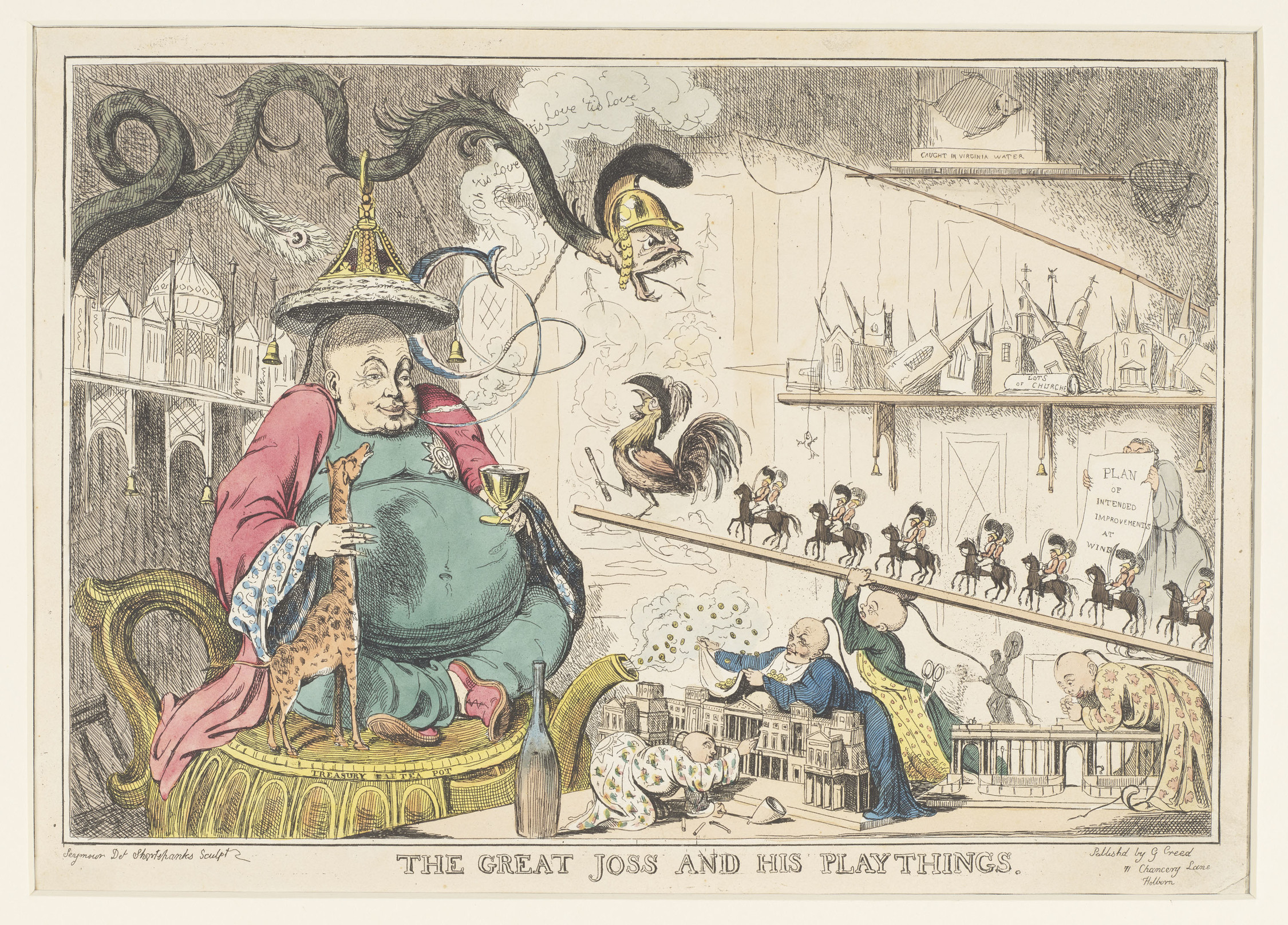 Legacy
When you think of George IV, what comes to mind? His lavish spending is well known, and the outrageous Brighton Pavillion – an oriental-style pleasure palace by the sea – is a fine legacy. He also turned Buckingham House into a Palace, radically remodelled Windsor Castle inside and out, and his architectural vision in London extended to the laying out of Regent Street and Regent's Park.
Two of the three models of antique arches George acquired from Rome are on display. The Arch of Constantine was the inspiration for the John Nash-designed archway that originally stood in front of Buckingham Palace but was later moved to the corner of Hyde Park, where it is now known as Marble Arch.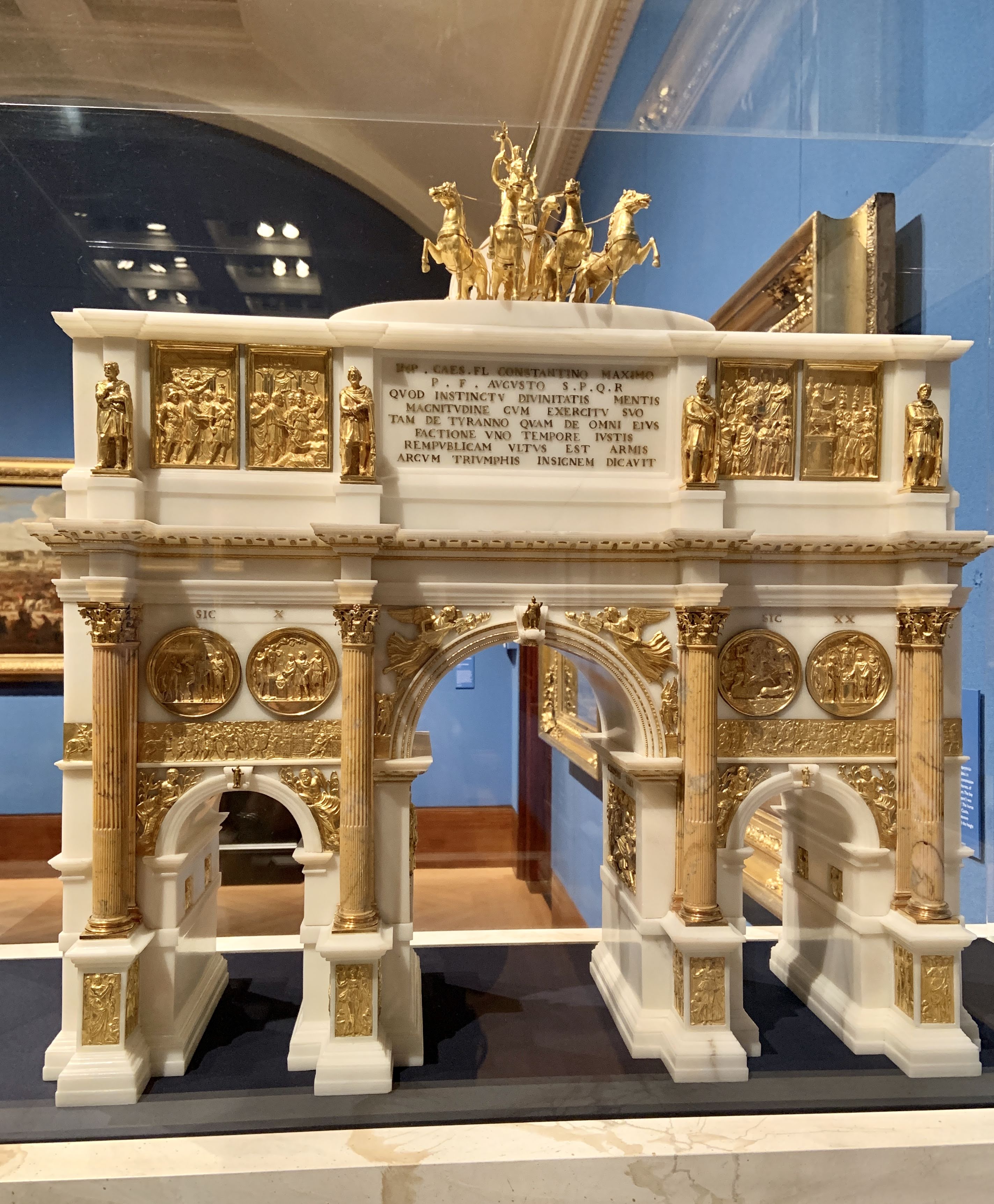 Carlton House
As Prince of Wales, George lived at Carlton House on London's Pall Mall from 1783 (aged 21 years). This was his 'palace' so, within ten years of taking possession of his residence, he had run up debts of around £400,000 (around £31 million today).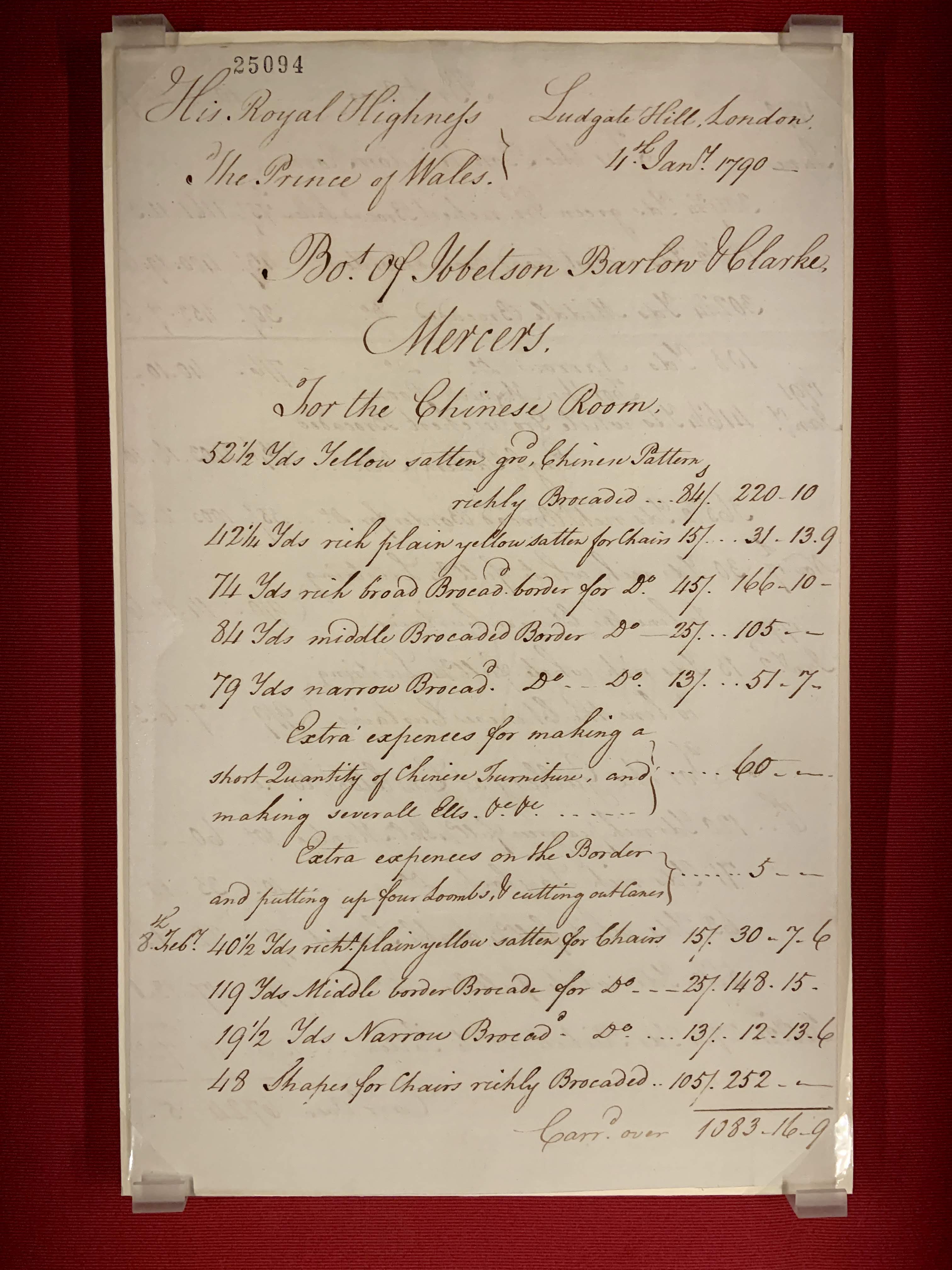 He bought the best works available by the seventeenth-century Dutch and Flemish painters whose reputations had been established in French aristocratic circles. The walls of Carlton House were hung with luminous works by Aelbert Cuyp, the lively interiors of Adriaen van Ostade, intimate domestic scenes by Jan Steen, and David Teniers' depictions of village life, which appealed to George's taste for narrative subject matter.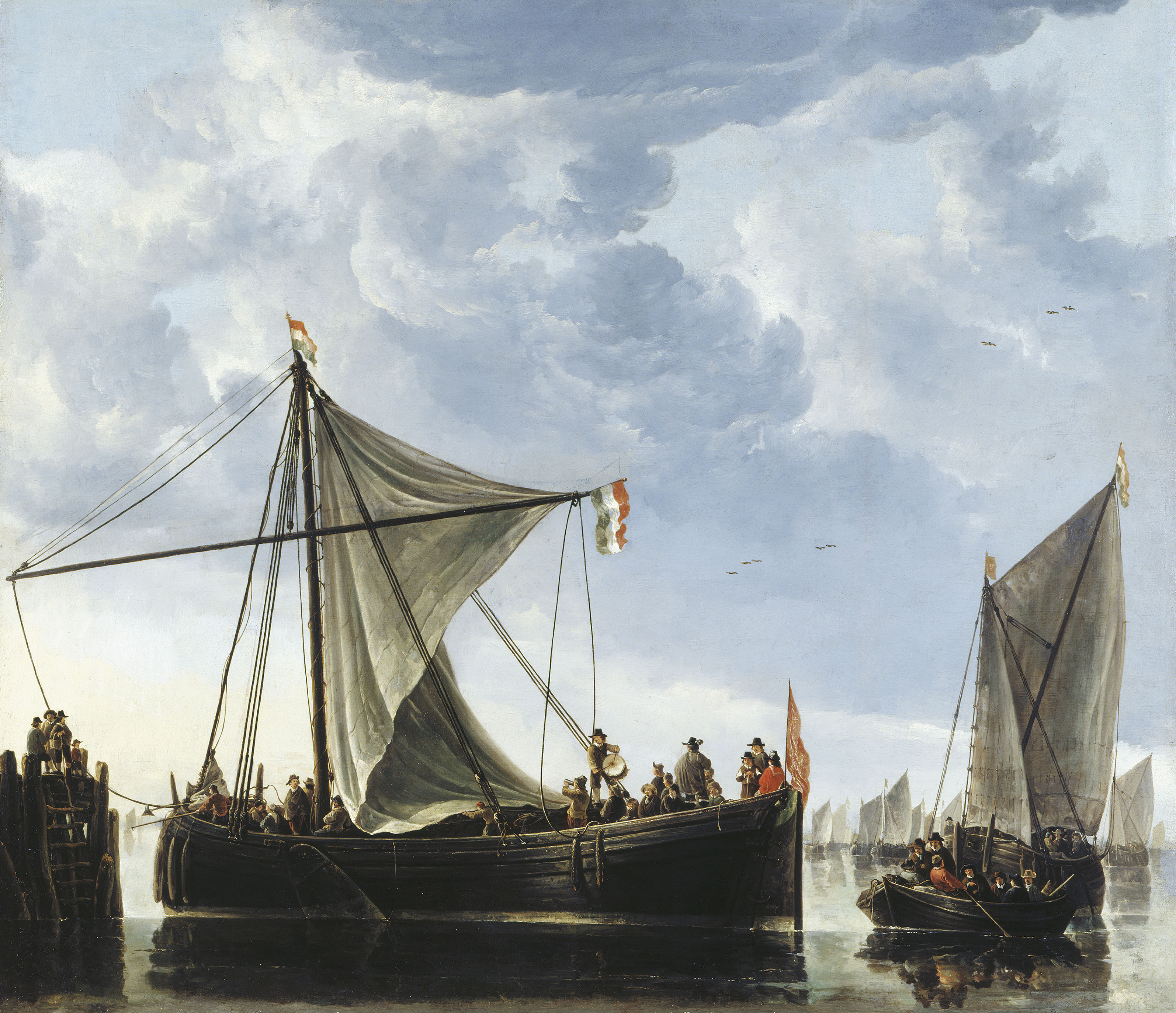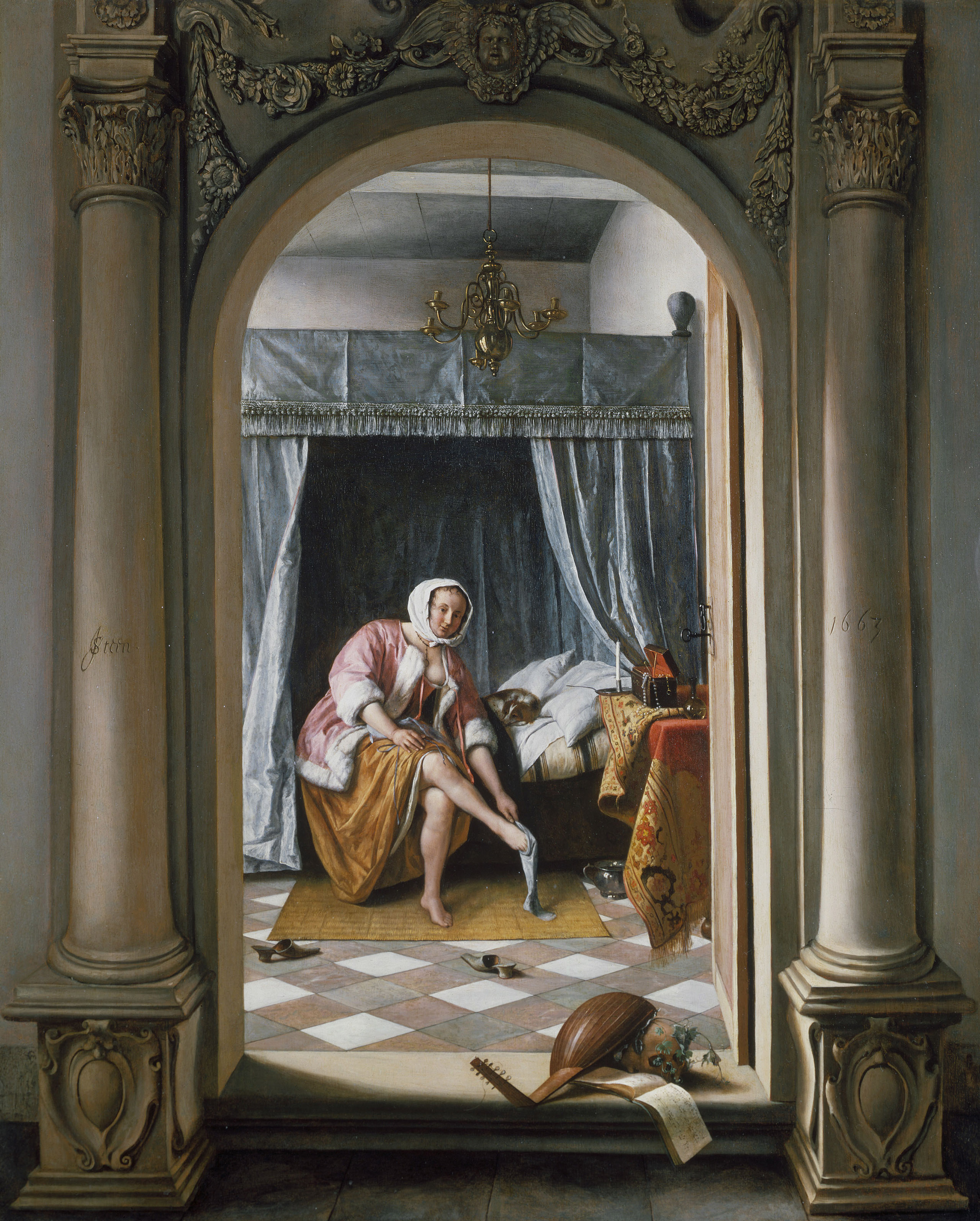 In 1811, George purchased Rembrandt's The Shipbuilder and his Wife, 1633, for 5,000 guineas (£5,250), the most expensive painting he ever acquired.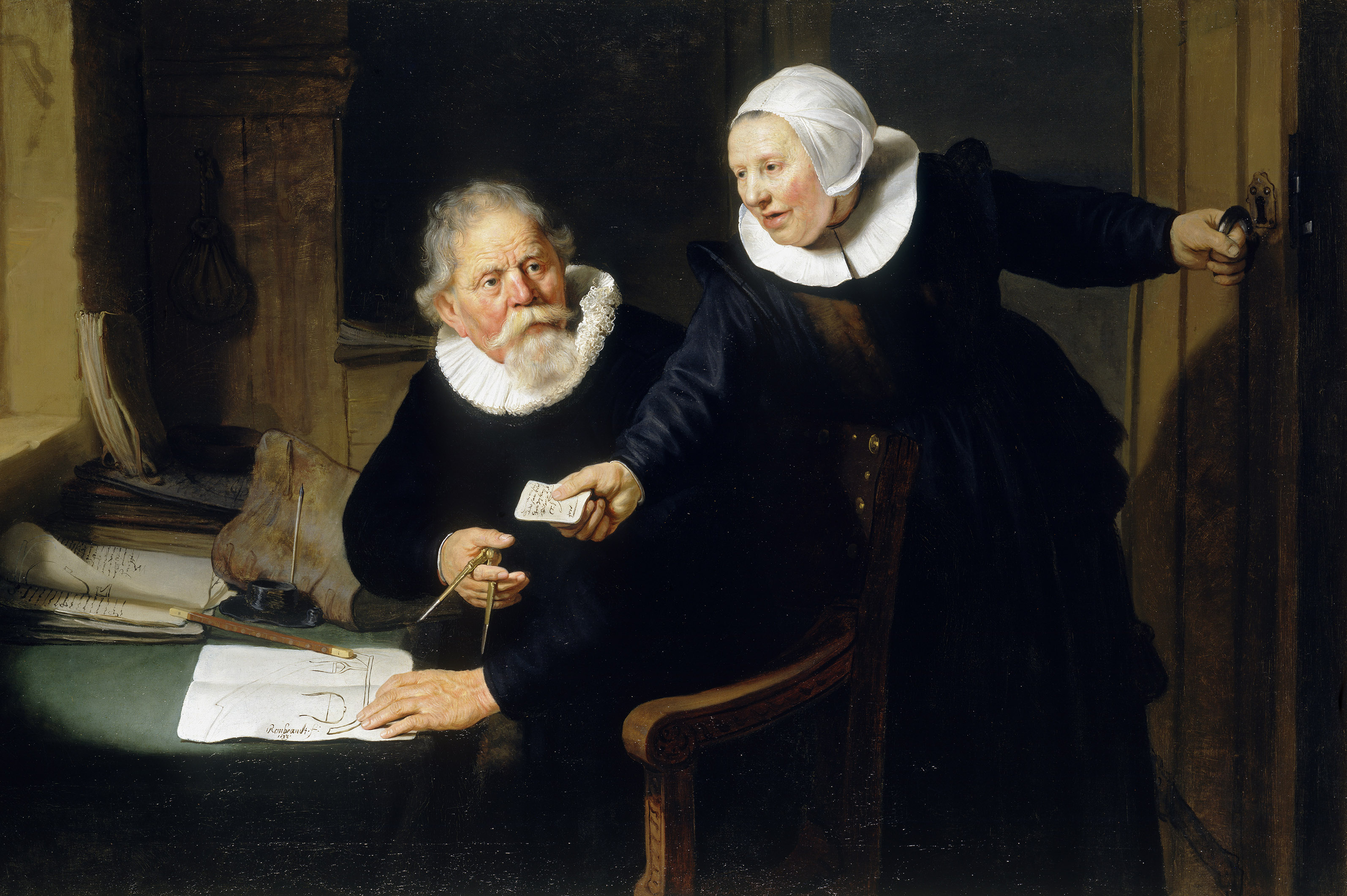 This painting records a fencing display that took place at Carlton House on 9 April 1787. George can be seen standing behind the sparring figures.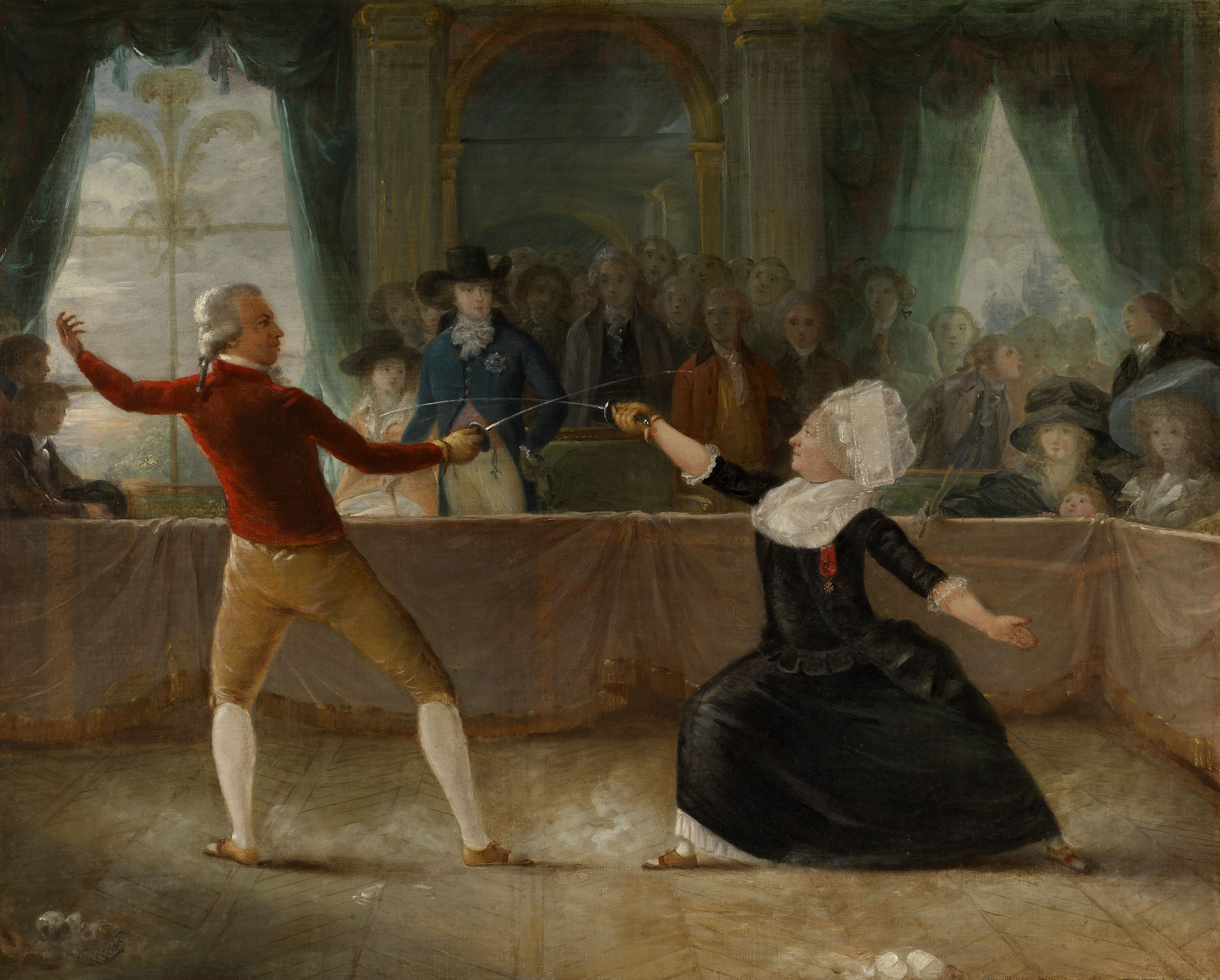 At the heart of Carlton House, George created an Admiral's Room to contain four full-length portraits of the naval heroes of the day. (This one is of Horatio, Viscount Nelson.)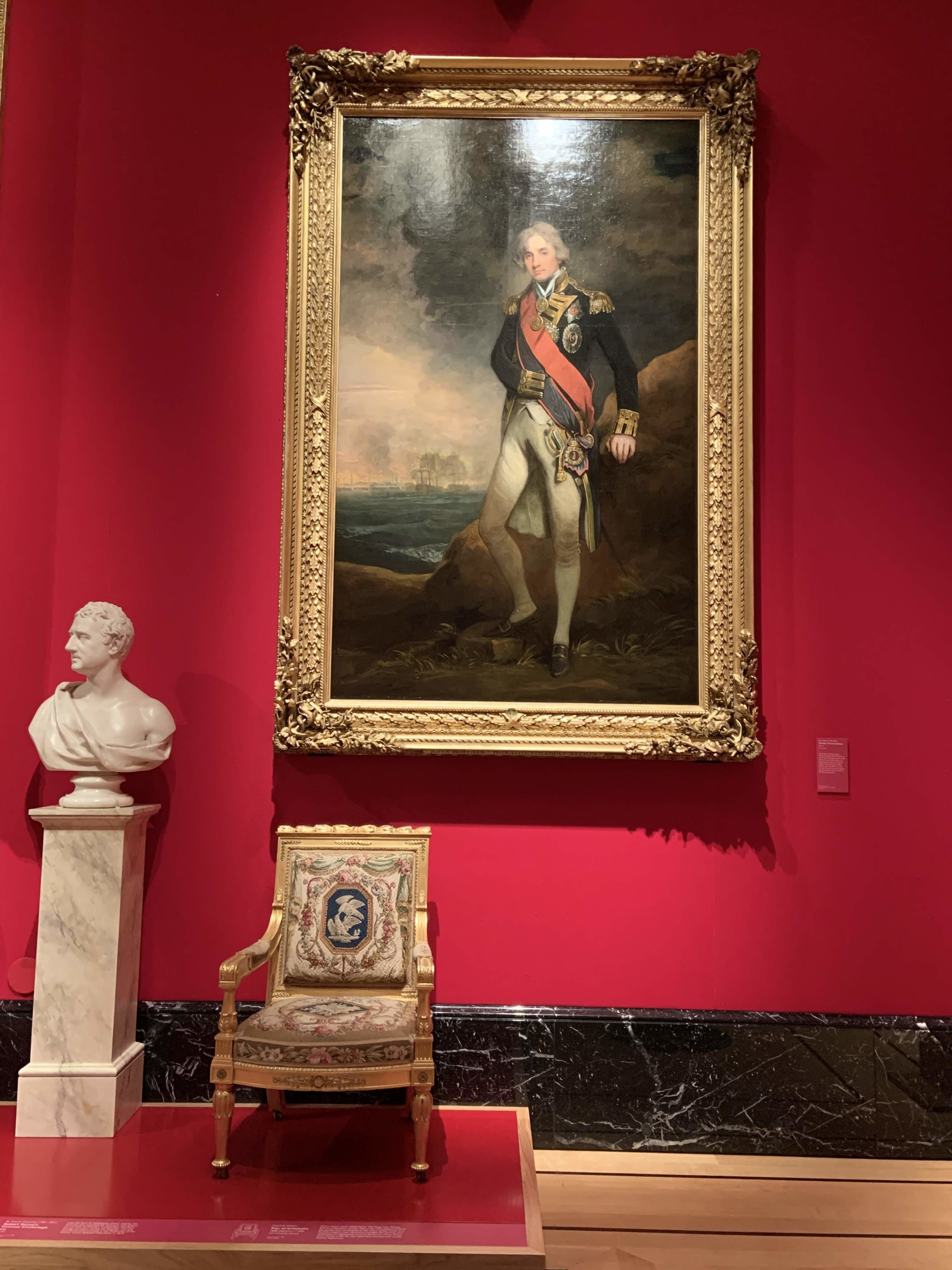 I particularly liked the medal cabinets on display. Cabinets of this design were created for Louis XIV in the first decade of the eighteenth century. They were more likely made for books or other small works of art. George IV kept these at Carlton House.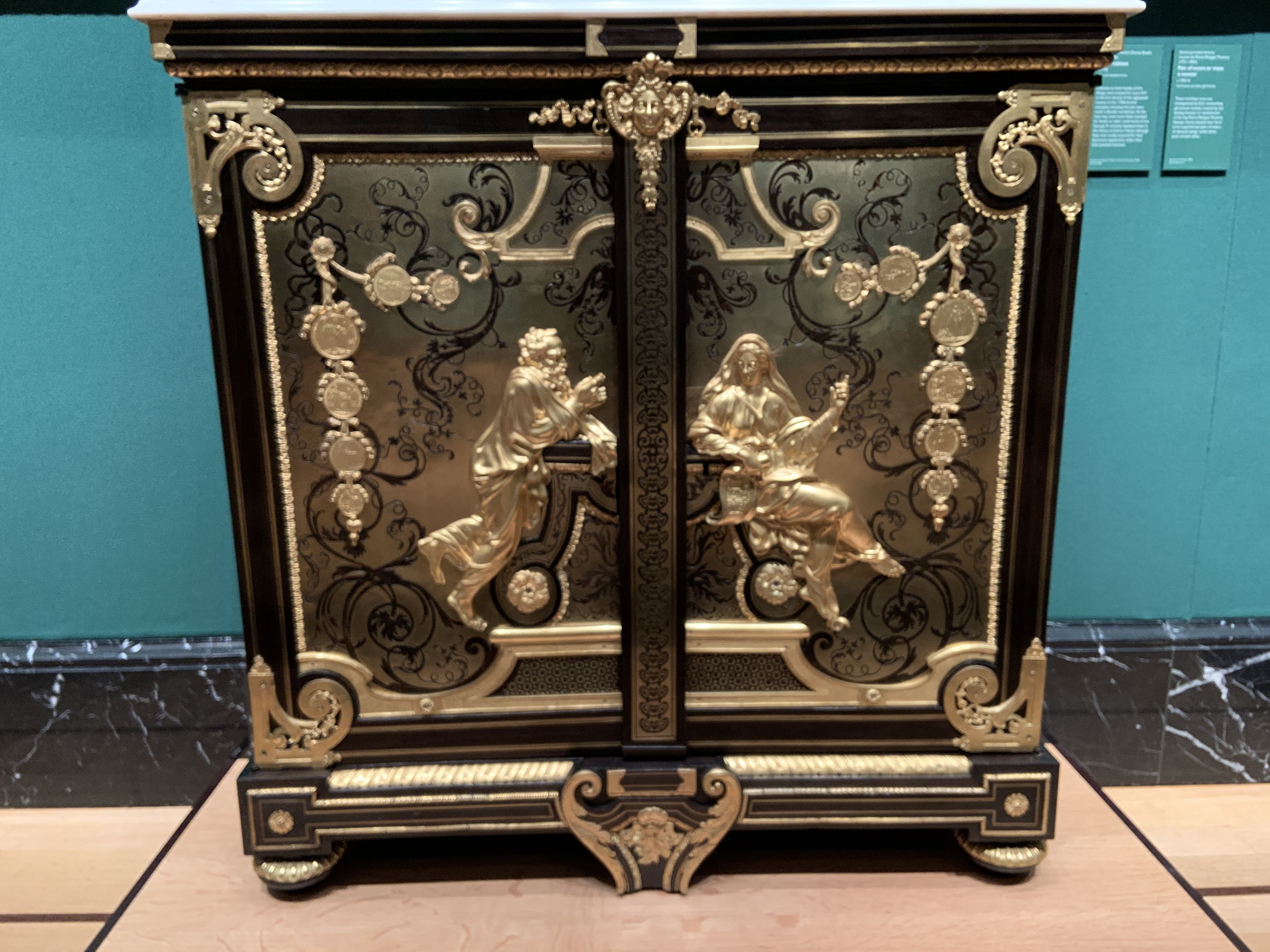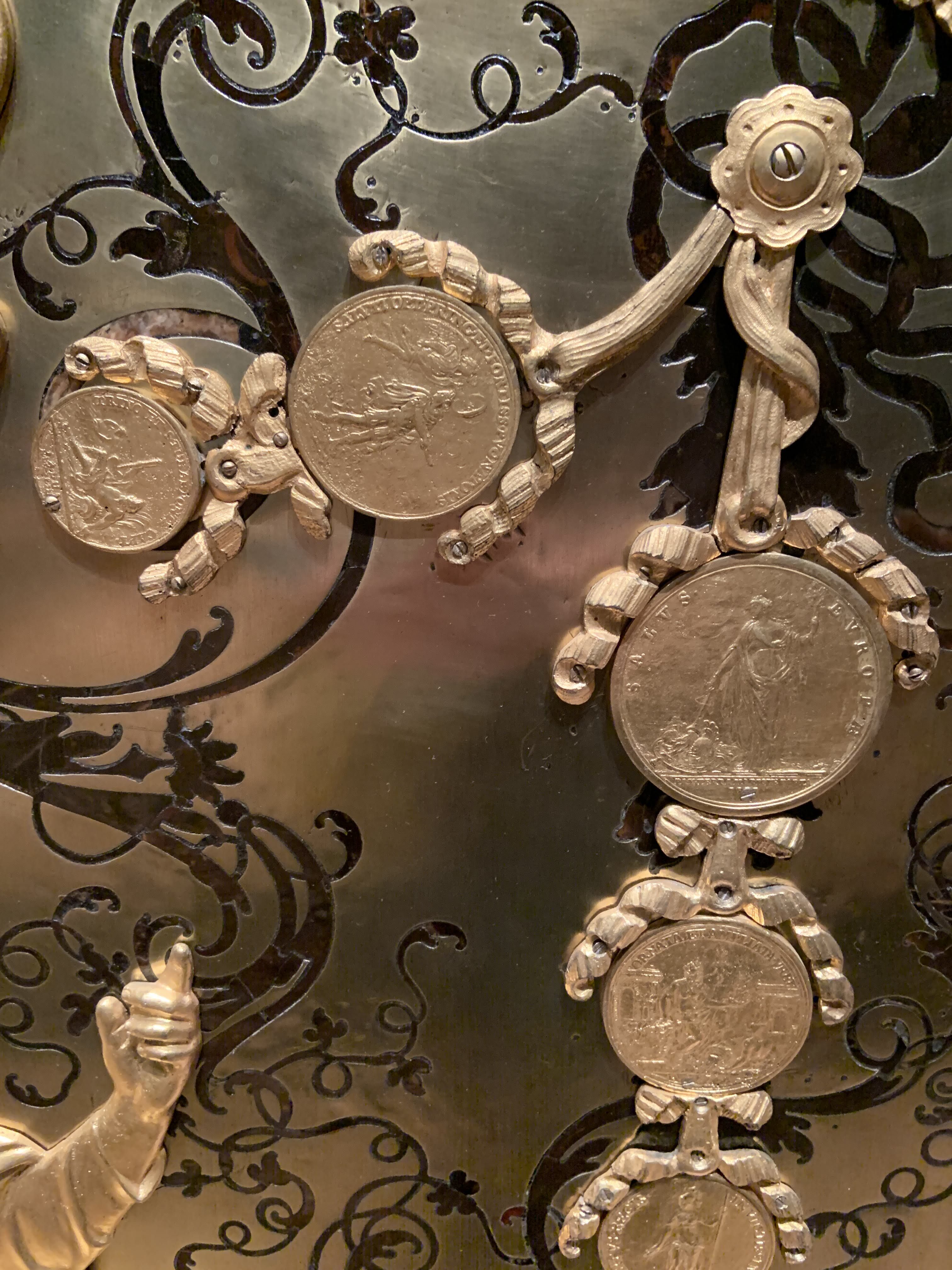 During the Regency and in the early years of George IV's reign, Carlton House became the centre of court life. The building, however, suffered from structural defects and was therefore demolished in 1827 so it was interesting to see it in the watercolours on display. The furnishings from Carlton House were reused in the new architectural schemes at Buckingham Palace and Windsor Castle that became the focus of the final decade of George IV's life.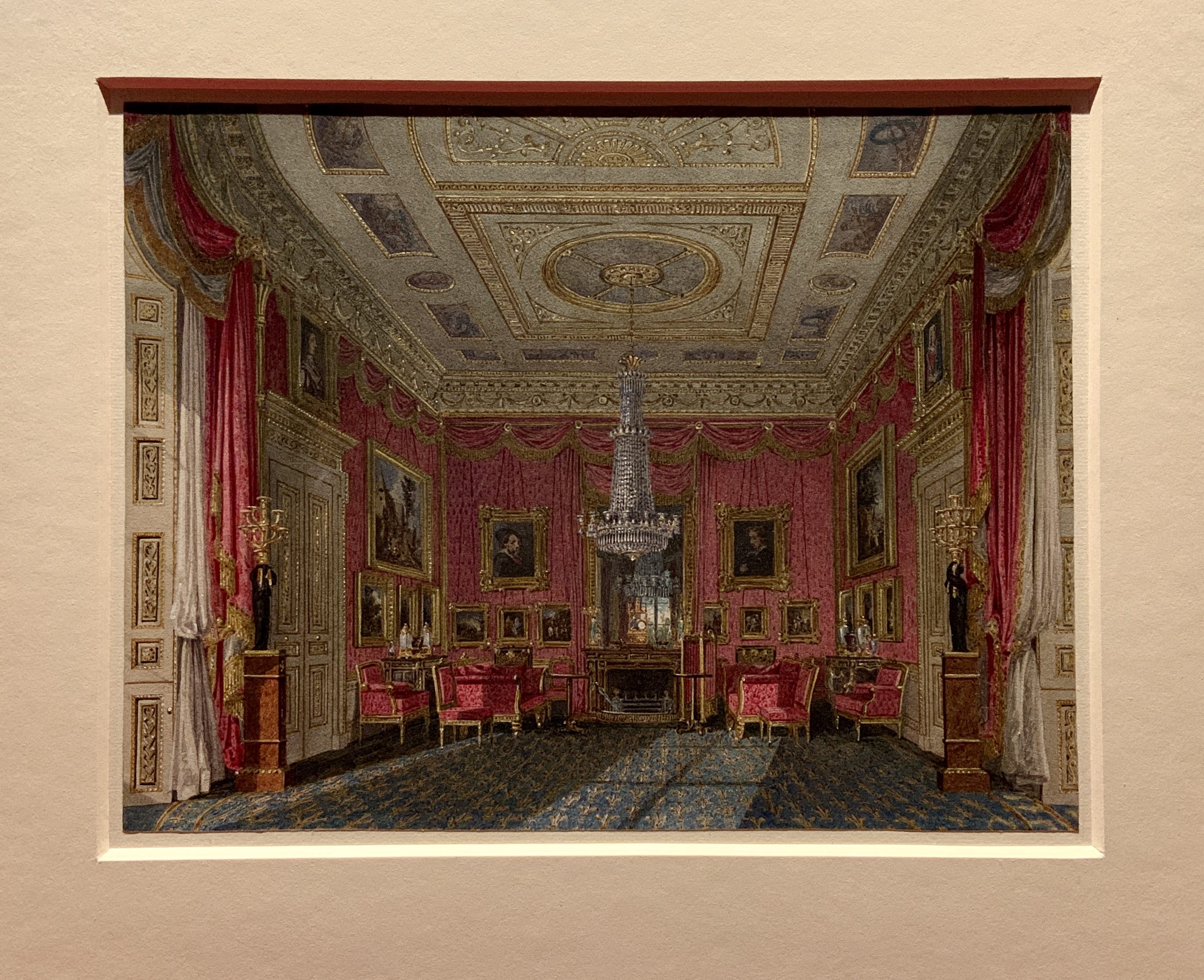 George enjoyed unusual furniture such as this bureau which transforms from a desk into a lecturn via hidden spring mechanisms. The desk was believed to have come from the French royal collection which may have added to its desirability.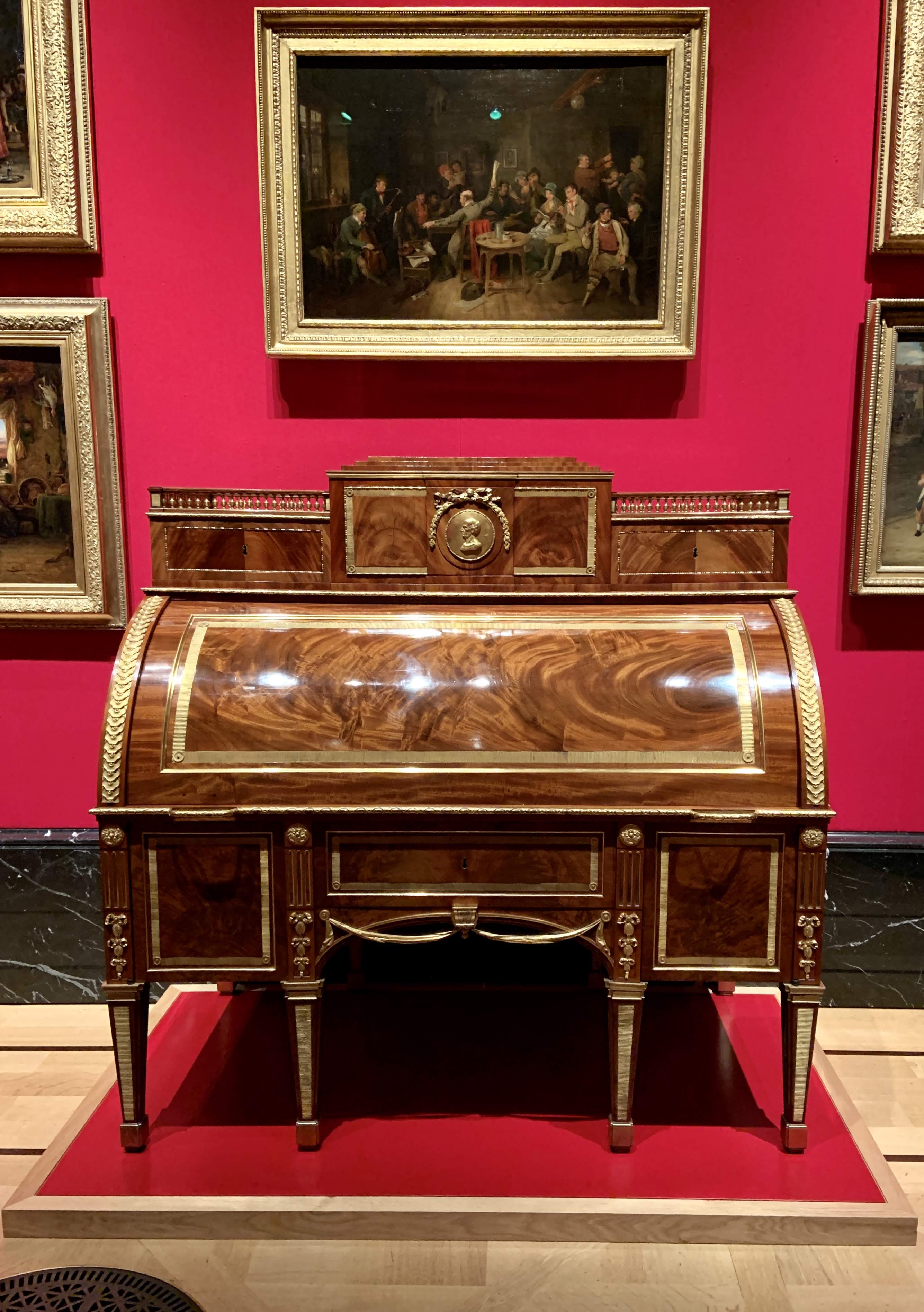 Do look at the other furniture in this exhibition as each piece has some wonderful detail.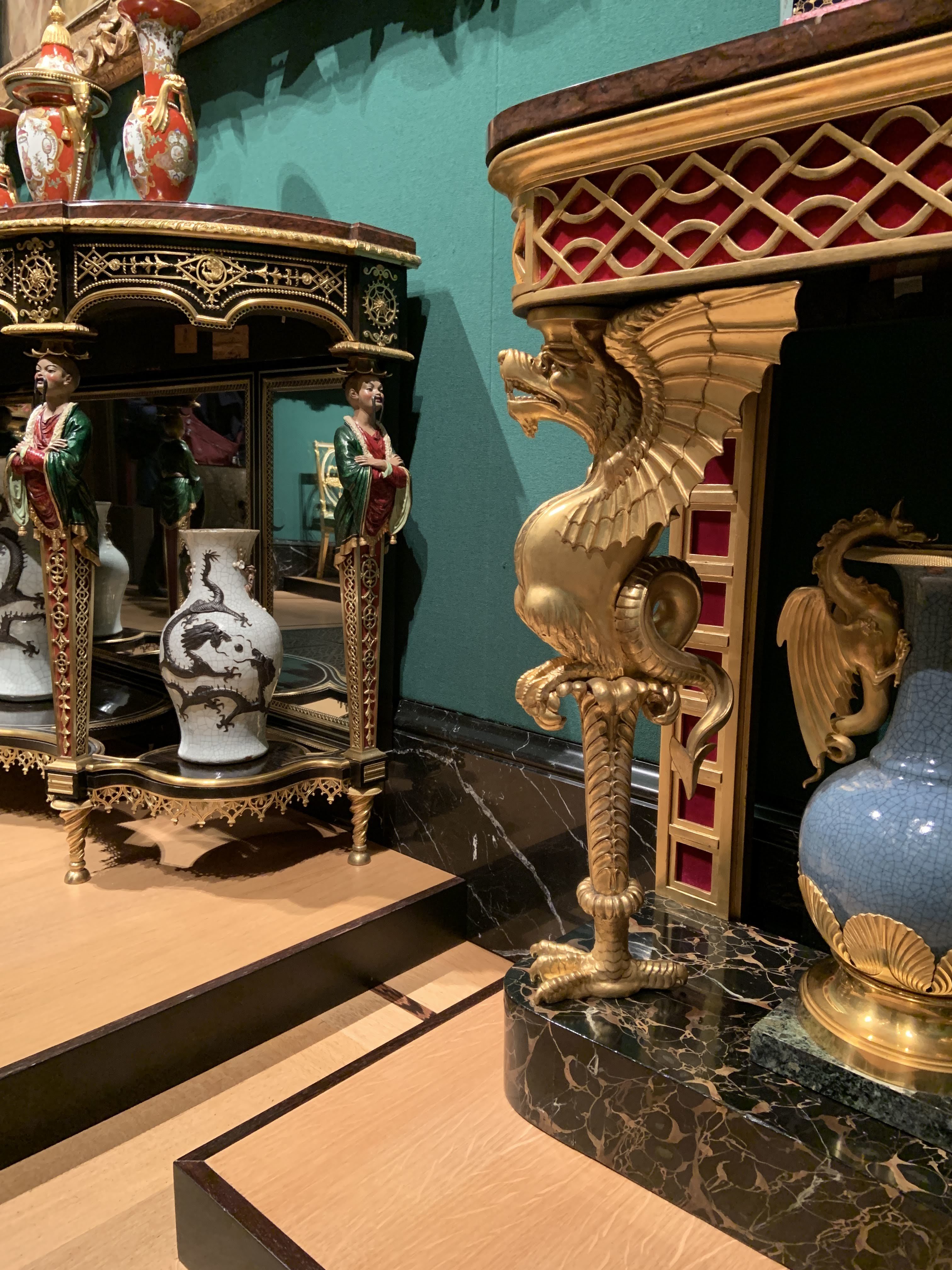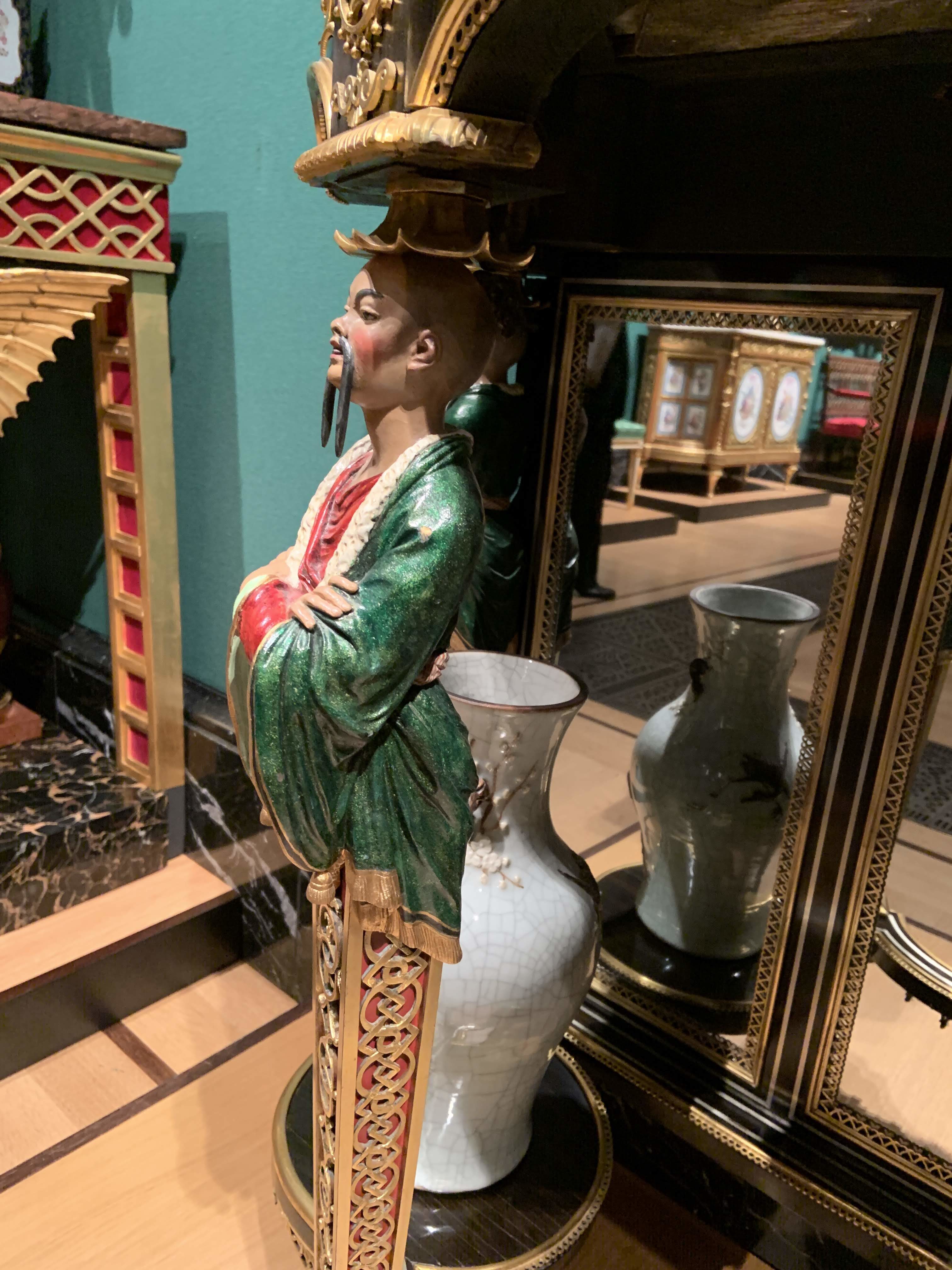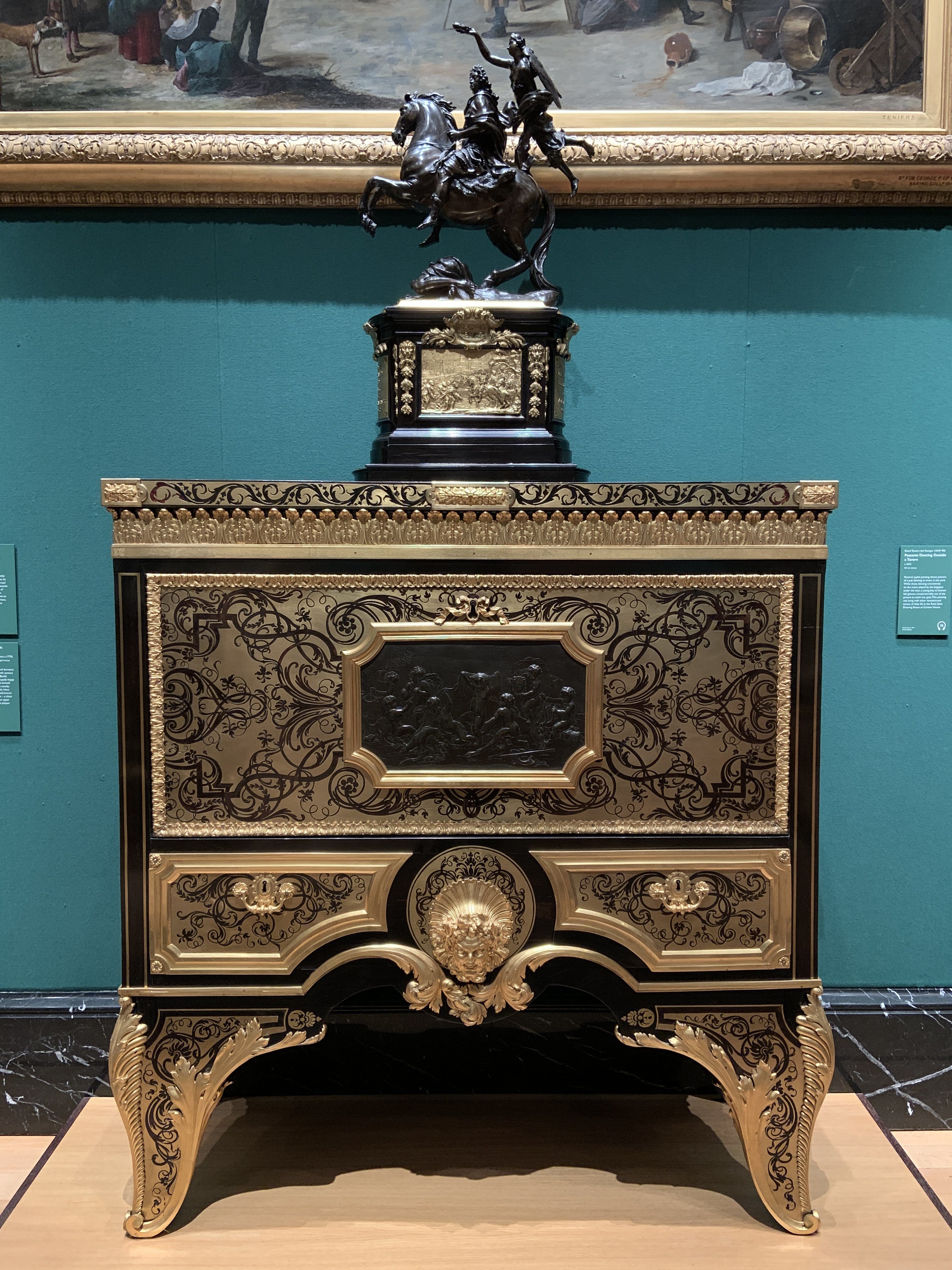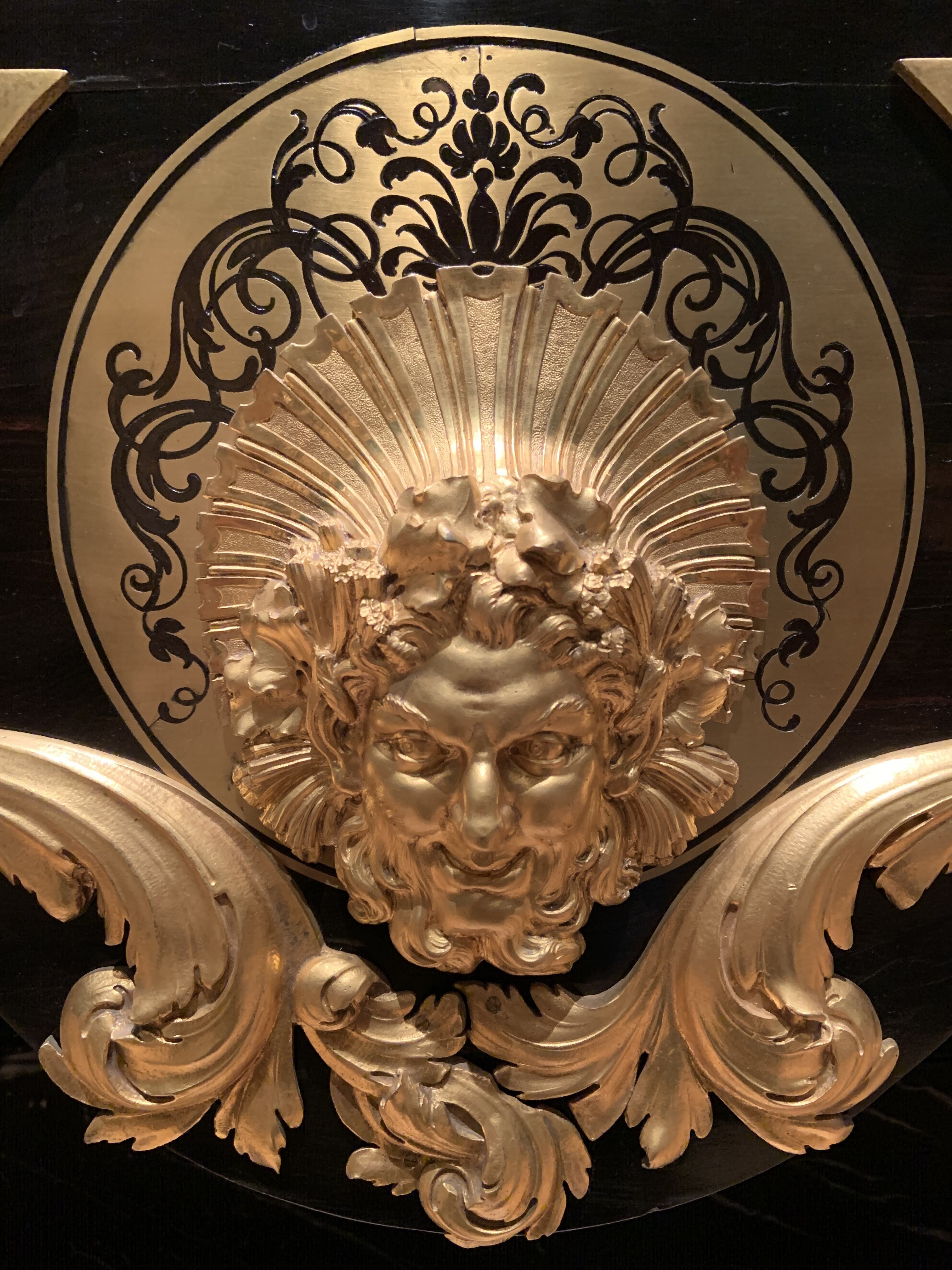 No Grand Tour
While most aristocratic young men of the time went off on their 'Grand Tour' around Europe to learn and discover the world away from home, this opportunity was denied to George IV.  The French Revolution (1789–1799) and the Napoleonic Wars (1803–1815) meant it was safer for the monarch to be at home so George III kept his eldest son close. Different alliances were formed to prevent Napoleon from expanding his influence beyond the French border, and battles were fought from Russia to the Iberian Peninsula.
Although he did not have practical military experience, George, as Prince Regent, became the figurehead of the opposition to Napoleon, bringing together a conference of allied powers in London in 1814 following the French Emperor's abdication. George commissioned Britain's pre-eminent portraitist, Sir Thomas Lawrence, to paint several of the allied leaders and commanders. After Napoleon's final defeat at Waterloo, Lawrence travelled to the Congress of Peace at Aix-la-Chapelle, then to Vienna and Rome to complete the series. The paintings were later installed in the purpose-built Waterloo Chamber at Windsor Castle. In George's mind, he was one of this cast of heroes, as responsible for the victory over Napoleon as the Duke of Wellington.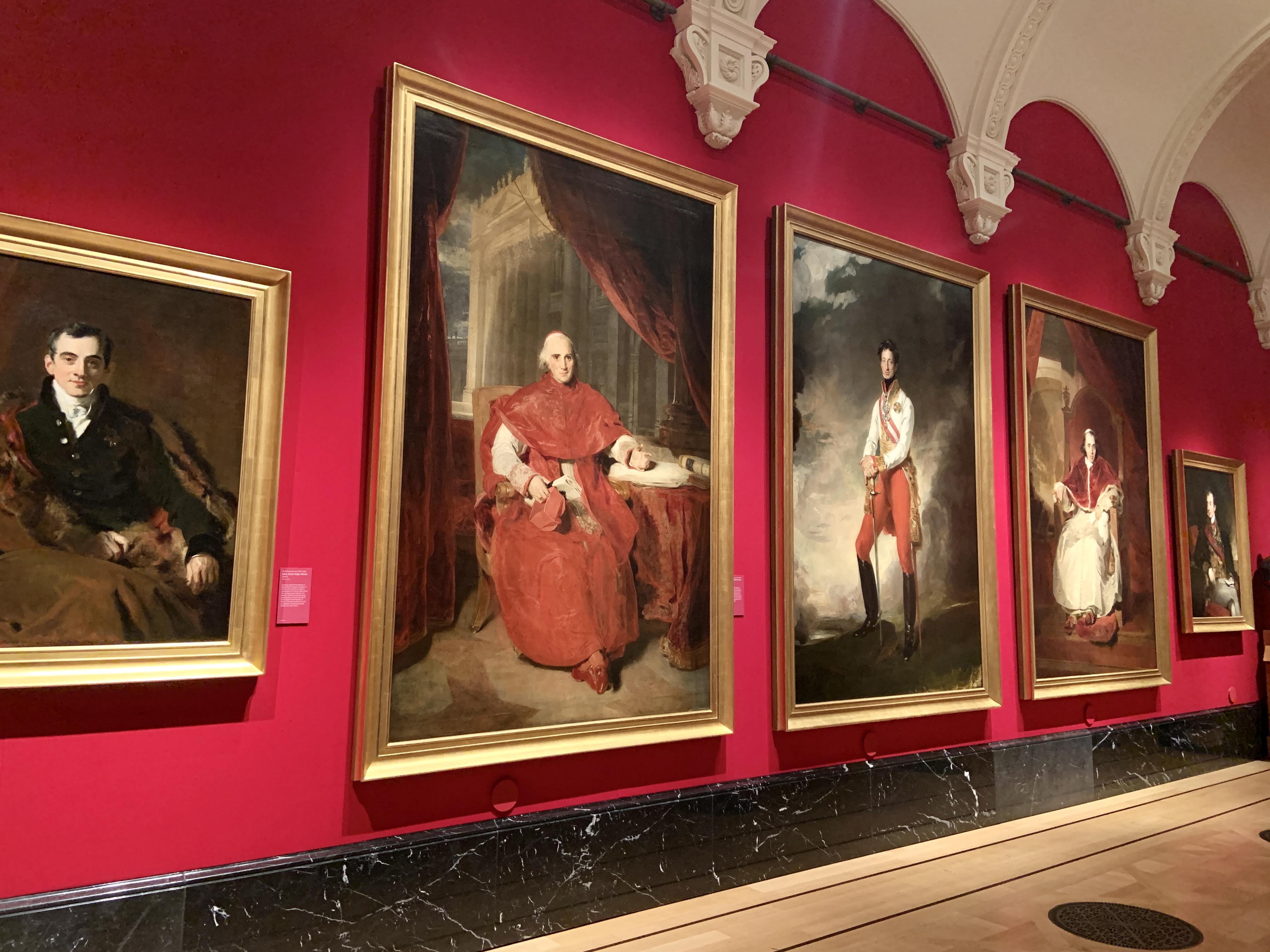 Long regarded as Lawrence's greatest portrait, this painting celebrates Pope Pius VII as a symbol of the victory of peace over war. Imprisoned for five years by Napoleon, after his release, the Pope became a figurehead for the political and cultural regeneration of Europe.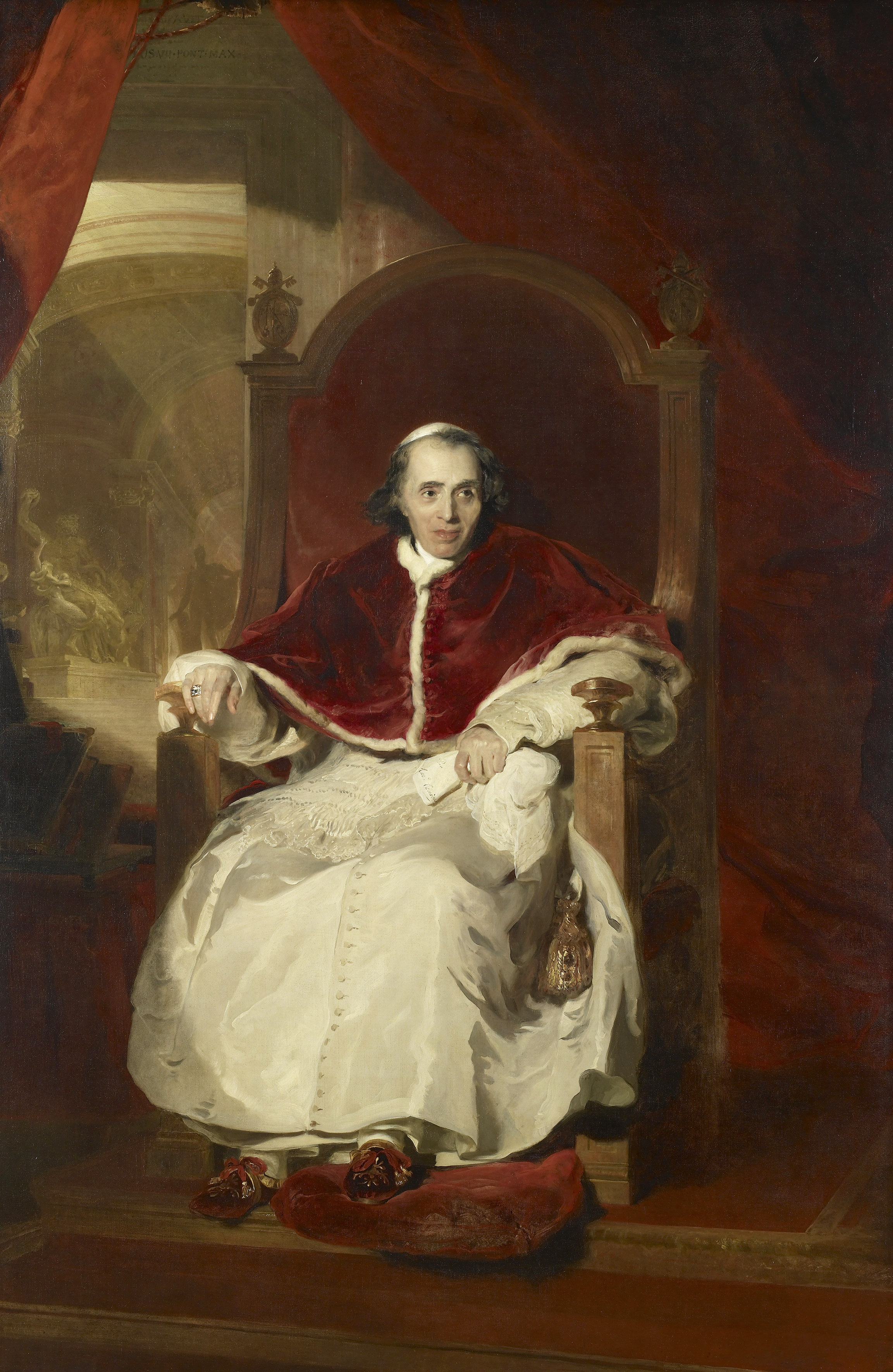 Even though he didn't get to travel extensively, George IV enjoyed buying art from across Europe. Upheavals on the Continent following the French Revolution flooded the market with works of art that had belonged to the French aristocracy. With the help of agents and friends, George acquired the finest examples of eighteenth-century French decorative arts, including bronzes and furniture mounted with pietra dura panels by André-Charles Boulle. He had a particular passion for Sèvres porcelain. His most important acquisition of works by the French factory was the Louis XVI service, 1783–92, the most costly service ever created by Sèvres and so extensive that it was delivered to George in batches over 23 years.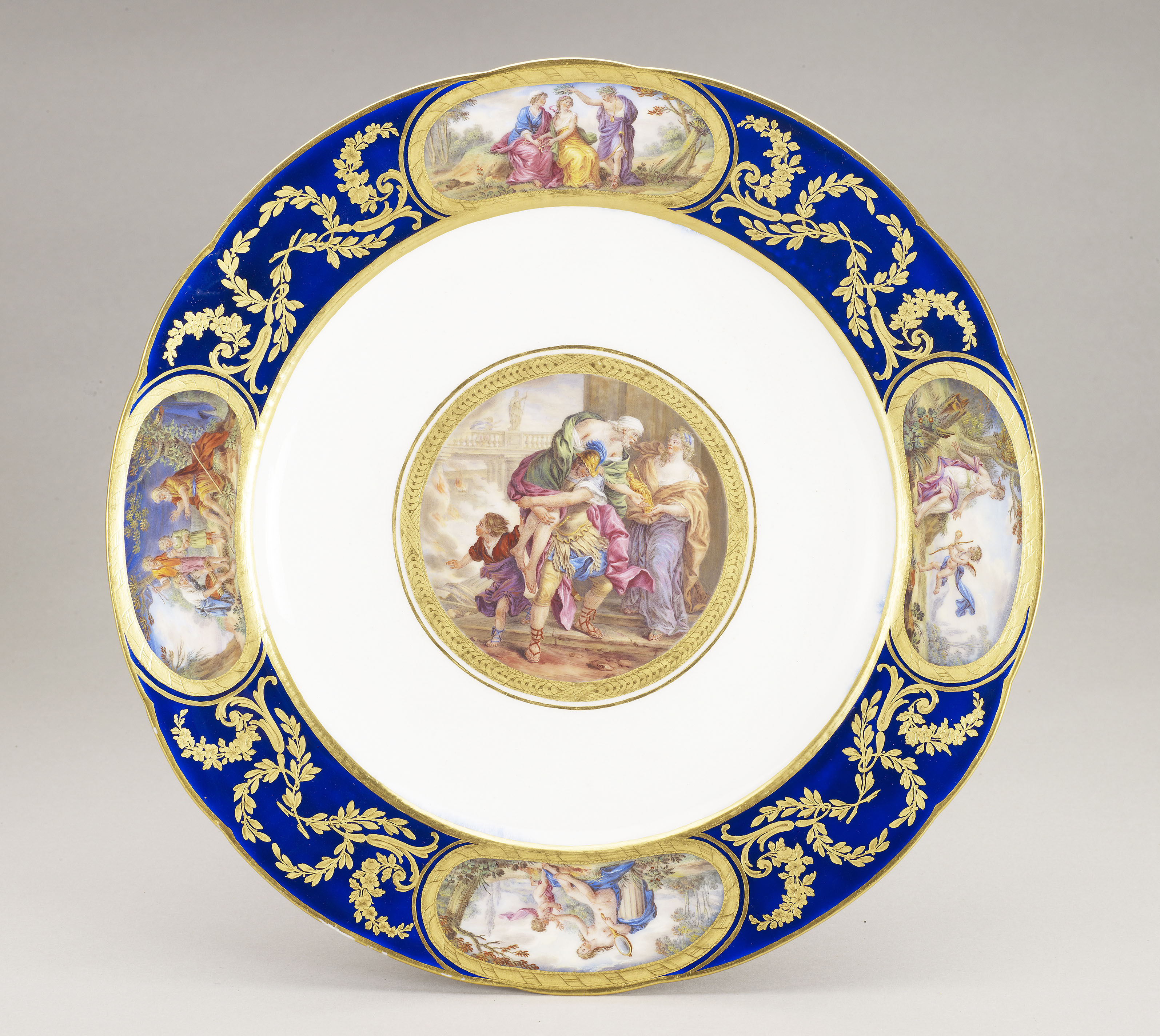 Showman
George IV's coronation at Westminster Abbey was the greatest theatrical production of his life and came at a cost of £240,000.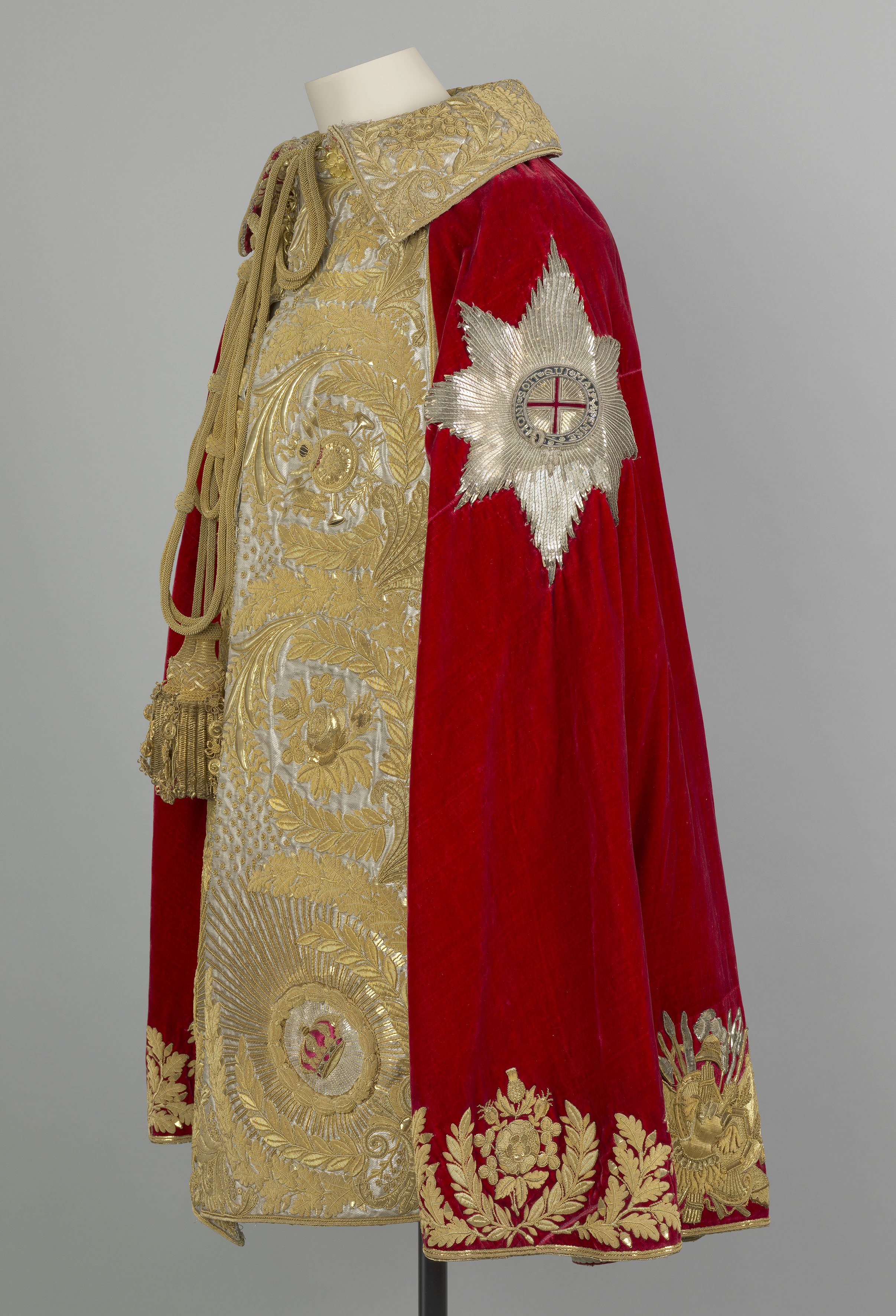 The Imperial State Crown George wore for his Coronation was set with more than 12,300 diamonds that had been hired for the occasion. He did want to keep the crown after the ceremony but Parliament refused to support the cost. The King, therefore, commissioned a gilt-bronze cast of the Crown which is on display here for the first time.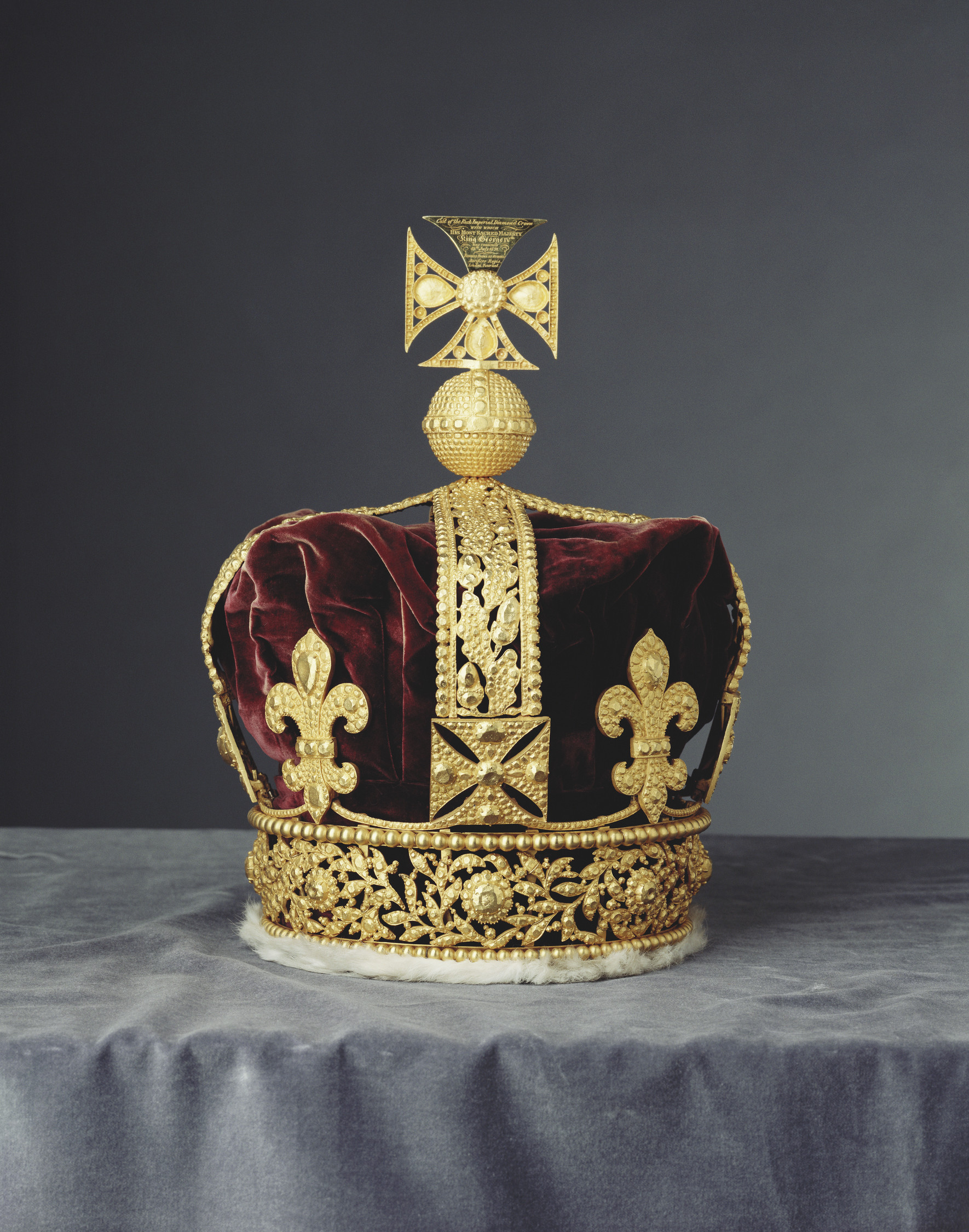 He personally oversaw the designs for his elaborate coronation robes and the Diamond Diadem set with 1,333 diamonds, made for the occasion by the goldsmiths Rundell, Bridge & Rundell. During the walking procession to Westminster Abbey, George wore it on top of a large velvet 'Spanish' hat surmounted by ostrich feathers, with a curled wig beneath.
You may well recognise it as it is the 'crown' the Queen is wearing on our coins and postage stamps. She still regularly wears it to and from the State Opening of Parliament. Seeing it here, I hadn't realised before it incorporates two lines of pearls.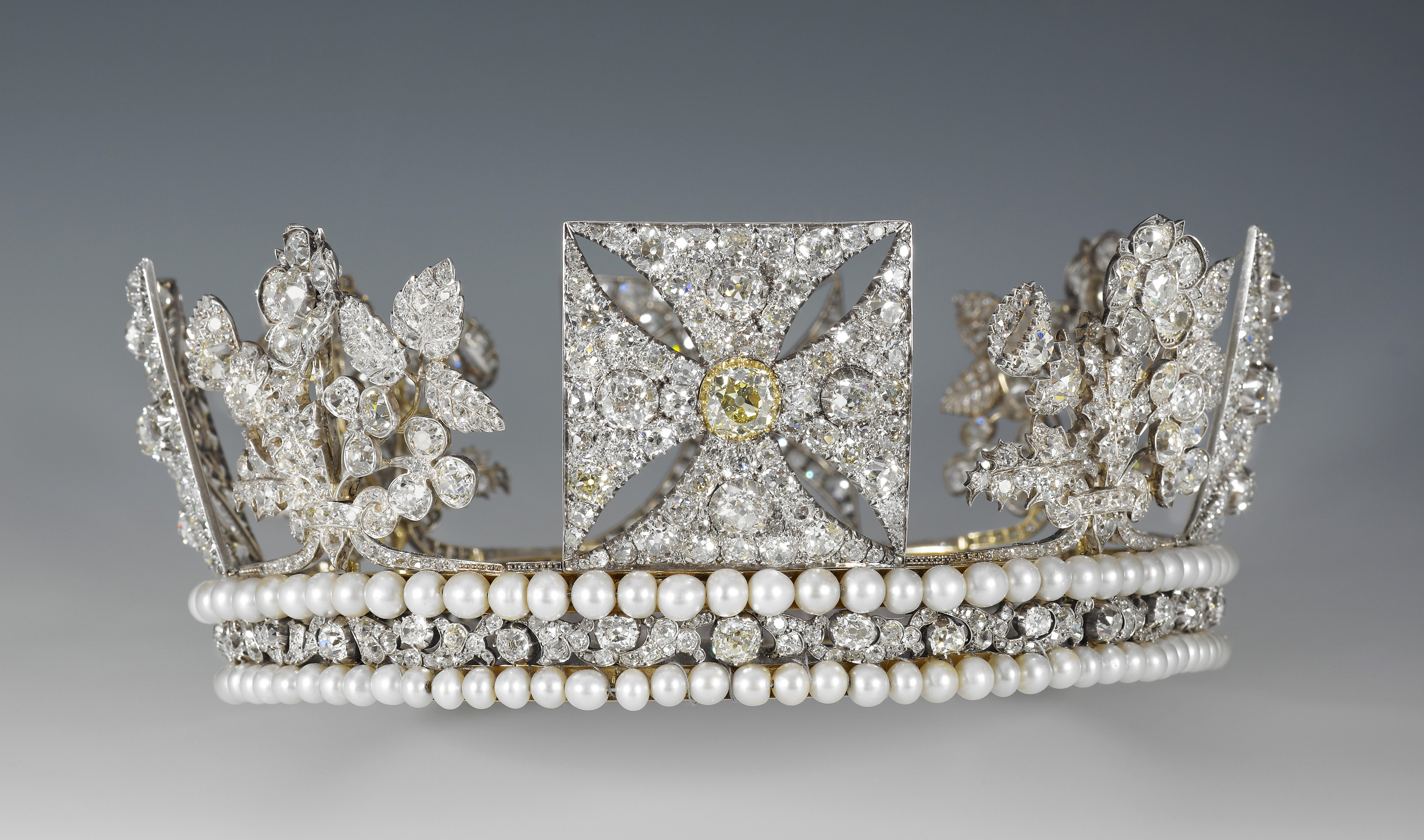 At the coronation banquet in Westminster Hall, the great Shield of Achilles, 1821, designed by John Flaxman, was among many pieces of spectacular dining and buffet silver-gilt on display from the Grand Service. There are 4,000 individual elements of the service and it remains in use today.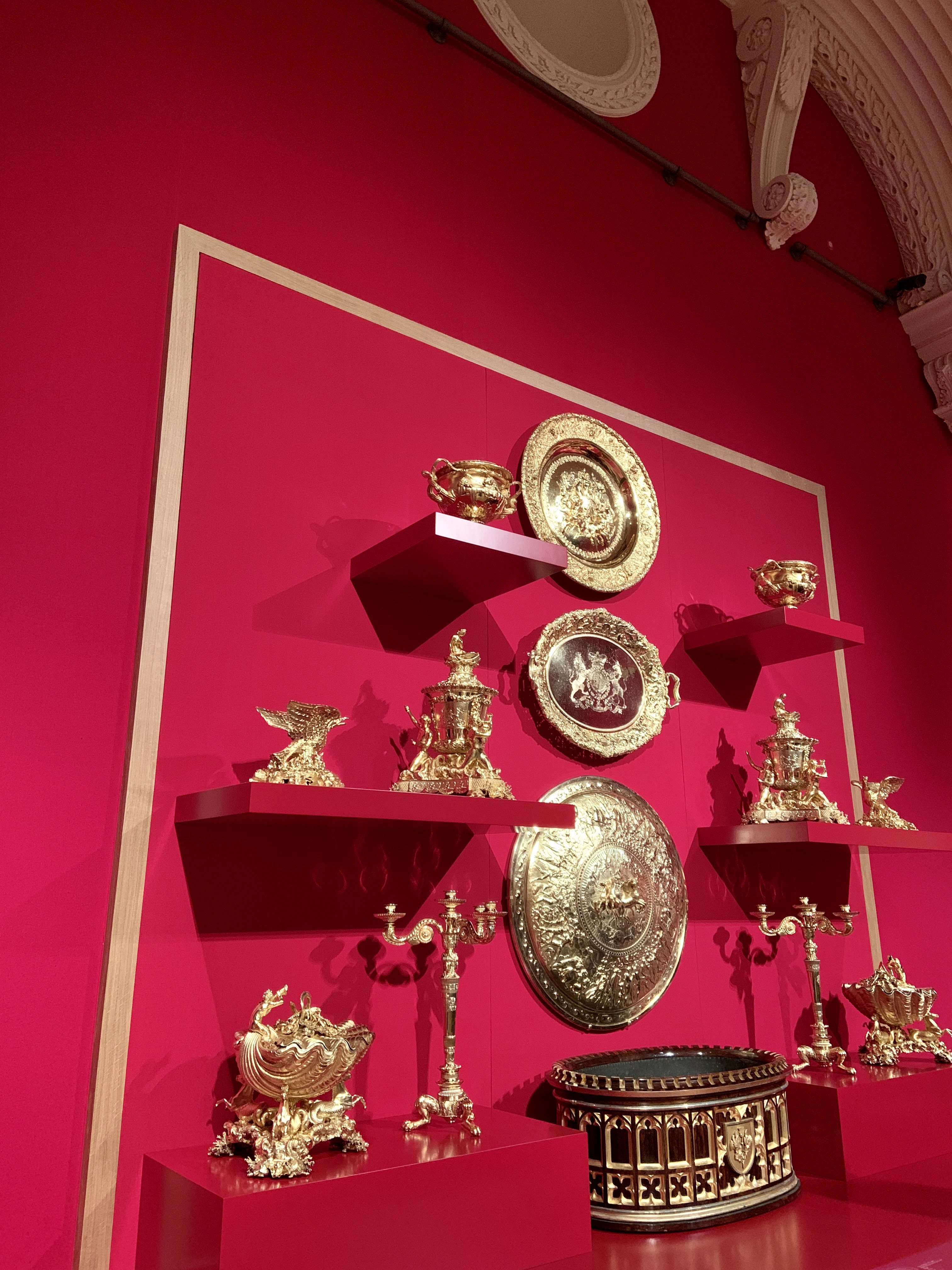 The Shield is in the centre of the display and it looks to be at least 3 feet in diameter!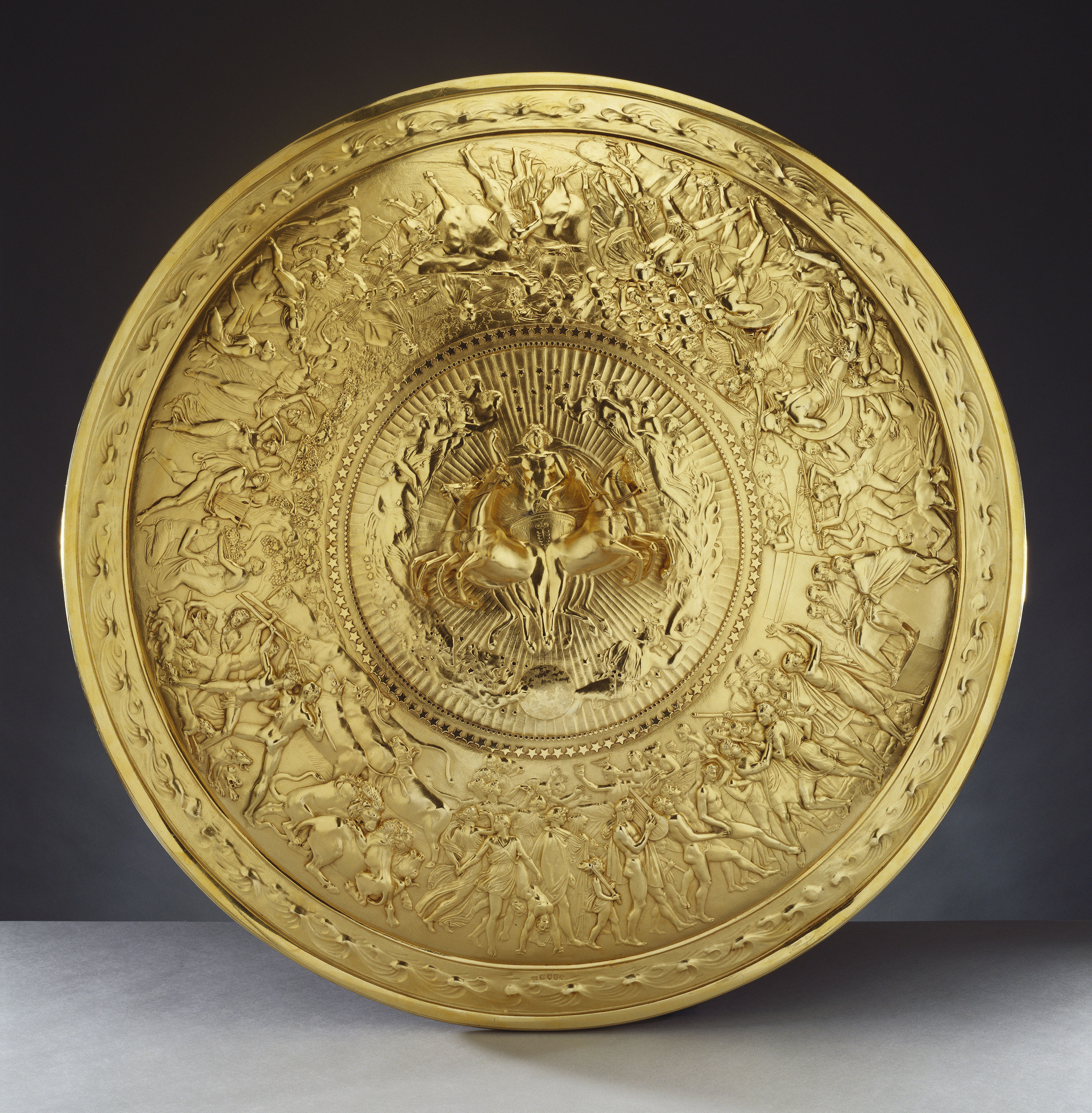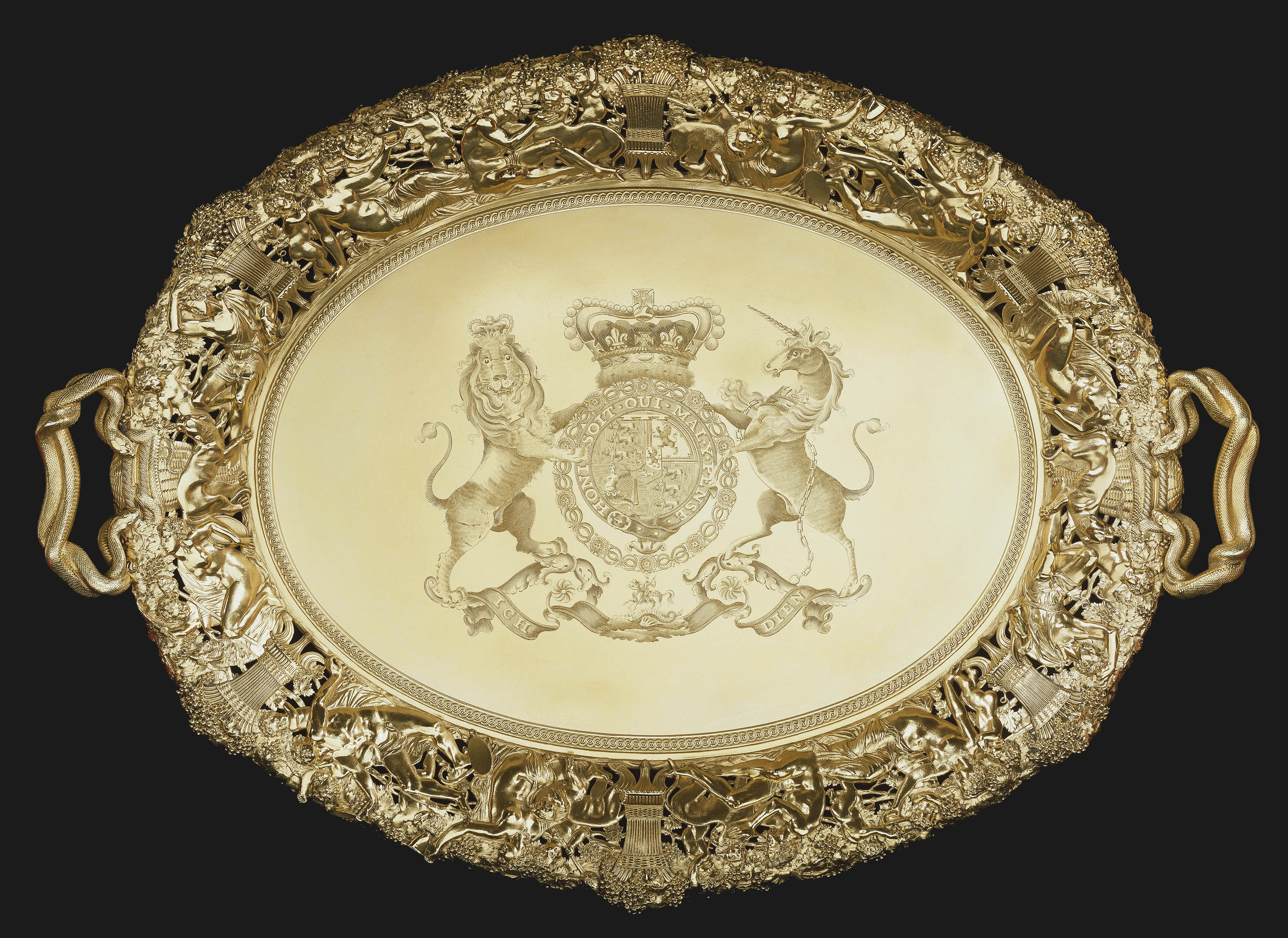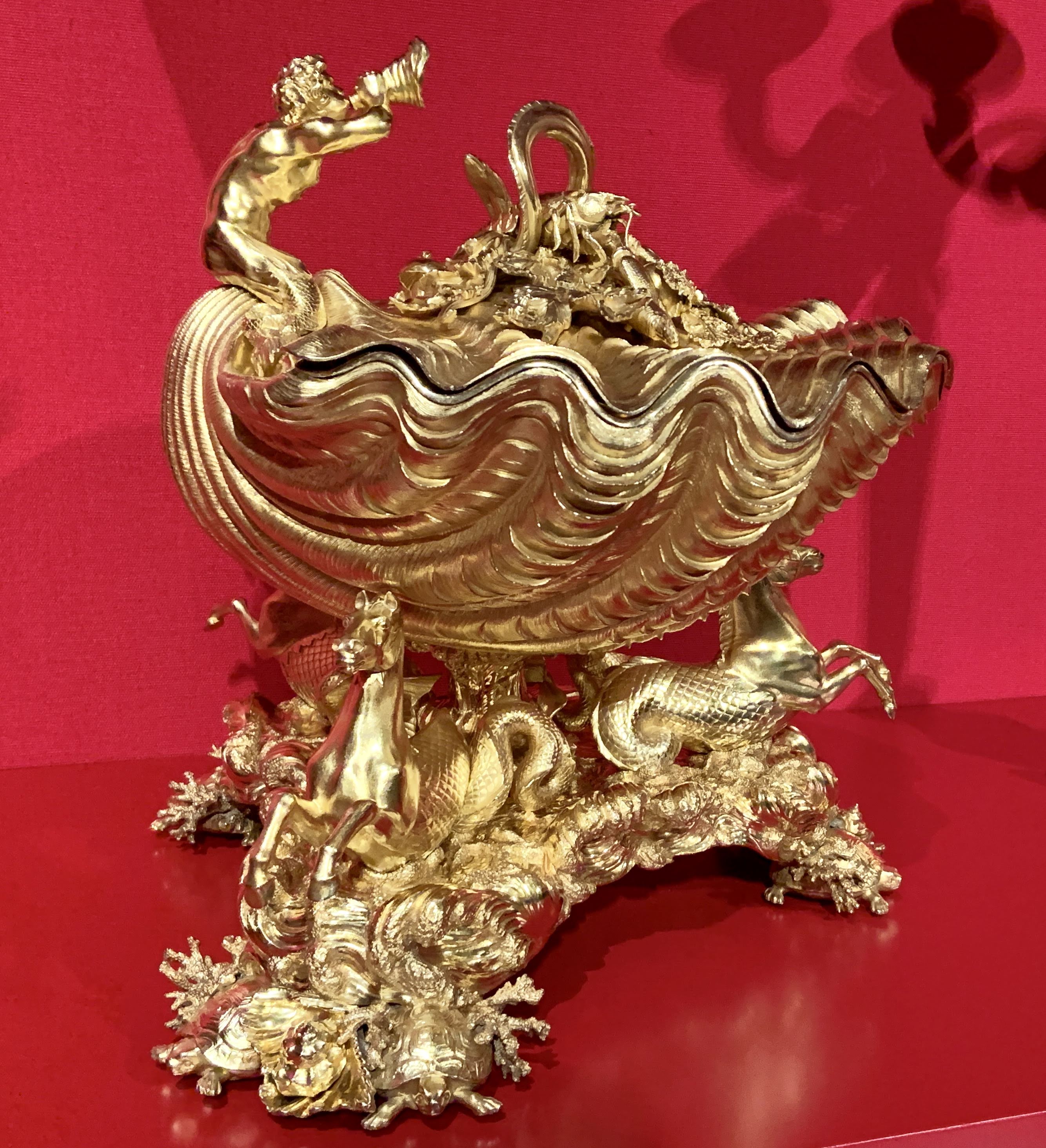 Spendthrift
George IV was gregarious and extravagant and spent well beyond his means. That must have been hard to watch at the time but his endless acquisitions have made him one of the most important figures in the formation of the Royal Collection.
Wider World
As Prince Regent or Monarch, George never travelled beyond Europe but amassed a large collection of artefacts from the wider world. Between 1800 and 1830, he assembled the most important group of Asian porcelain in Britain. To harmonise with the gilded interiors of his residences, these pieces were augmented by elaborate gilt-bronze mounts – converting a simple jar into an incense burner, candelabrum or even a clock. His taste for the oriental found its greatest expression in the Royal Pavilion at Brighton, designed by John Nash in 1815–33.
Many of the finest non-Western pieces in George's collection were received as diplomatic gifts, among them a First Nations coat of caribou skin, and a red and yellow feather cape ('ahu'ula) from King Kamehameha II and Queen Kamamalu of the Sandwich Islands (now Hawaii). These feathers were naturally this bright and have not been dyed.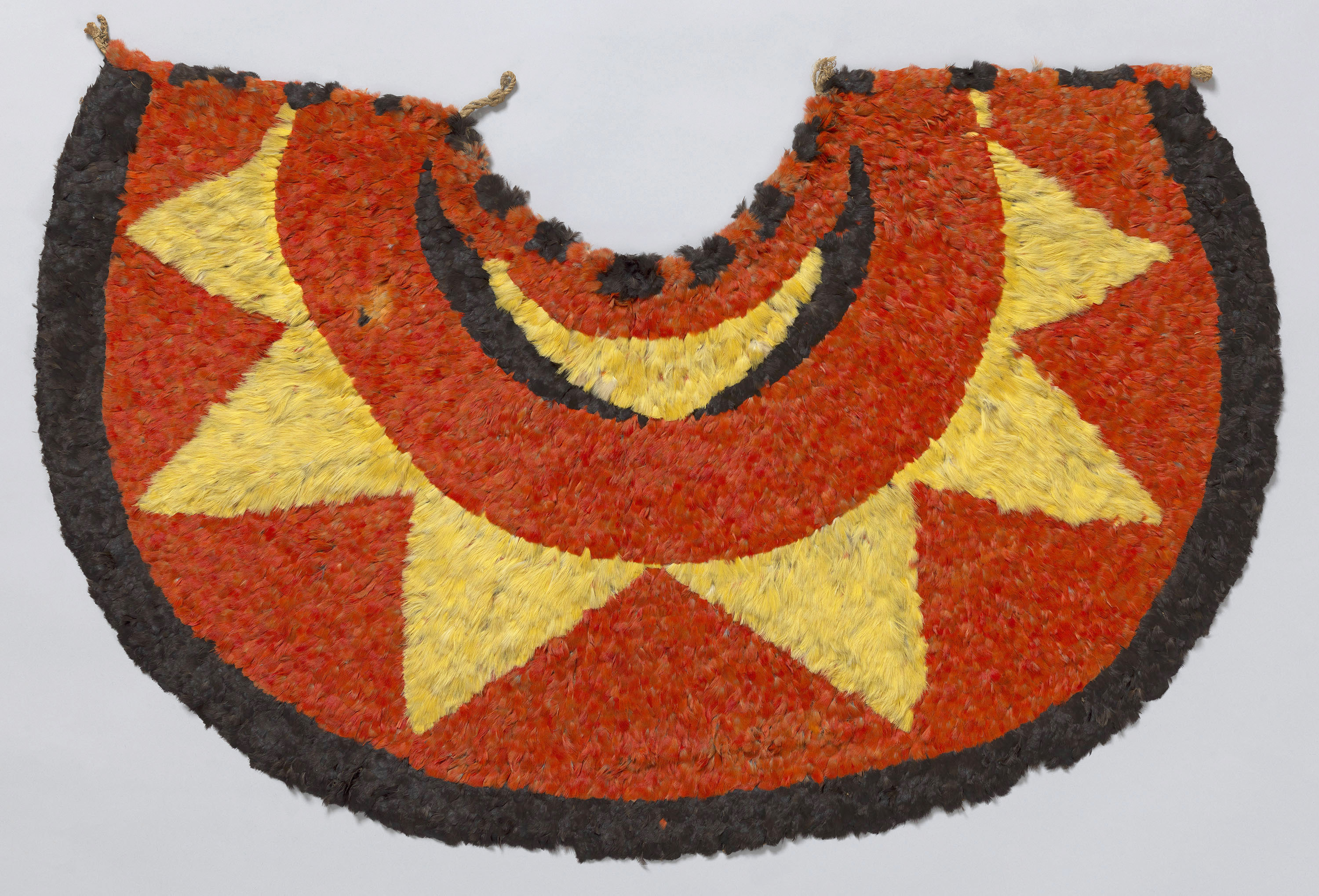 His collection of arms and armour covered almost every part of the world, from a Maori club brought from Hawaii by Captain Cook's ship Resolution, to a Persian sabre and a samurai sword. At Carlton House, this took up five rooms but a small selection are on display here.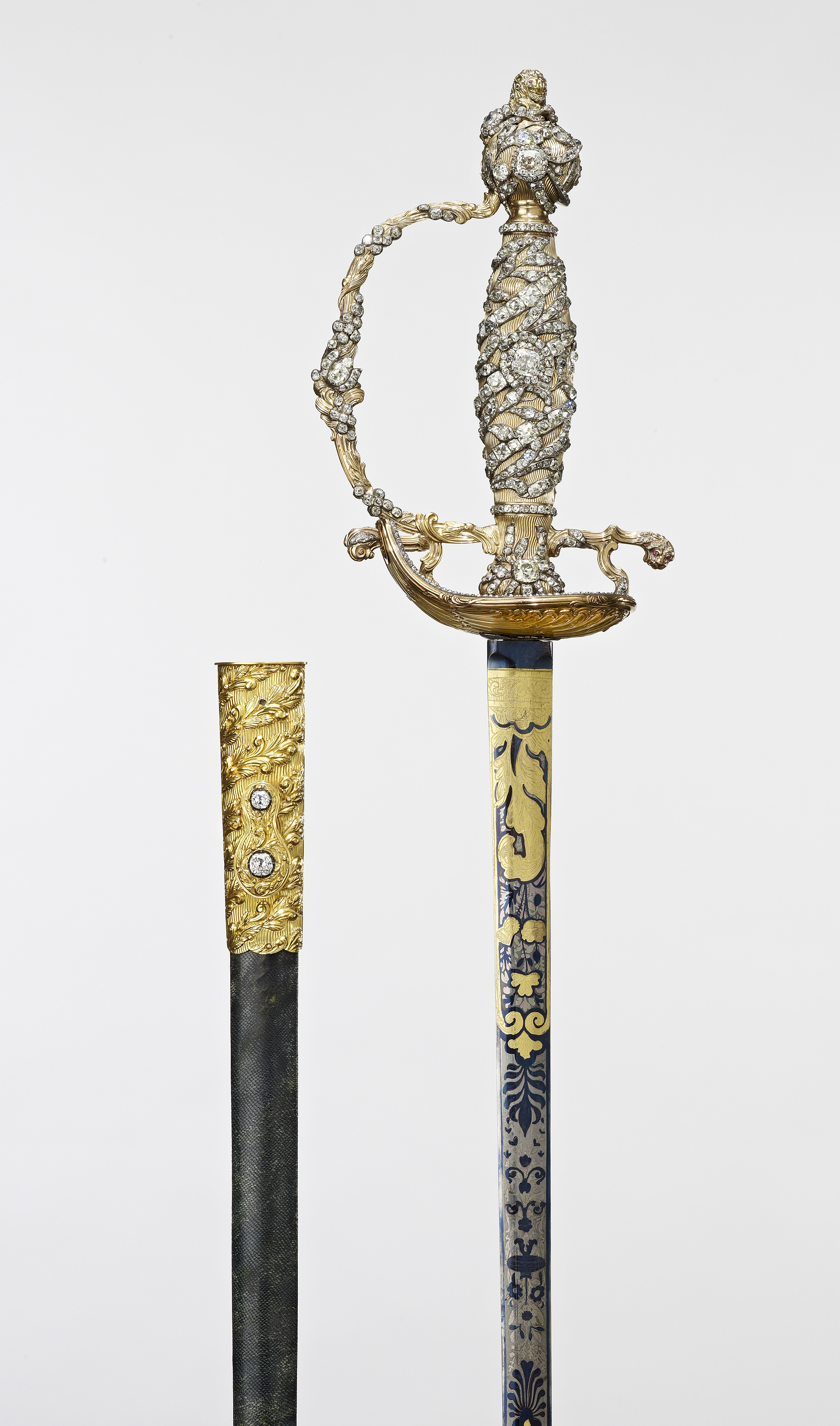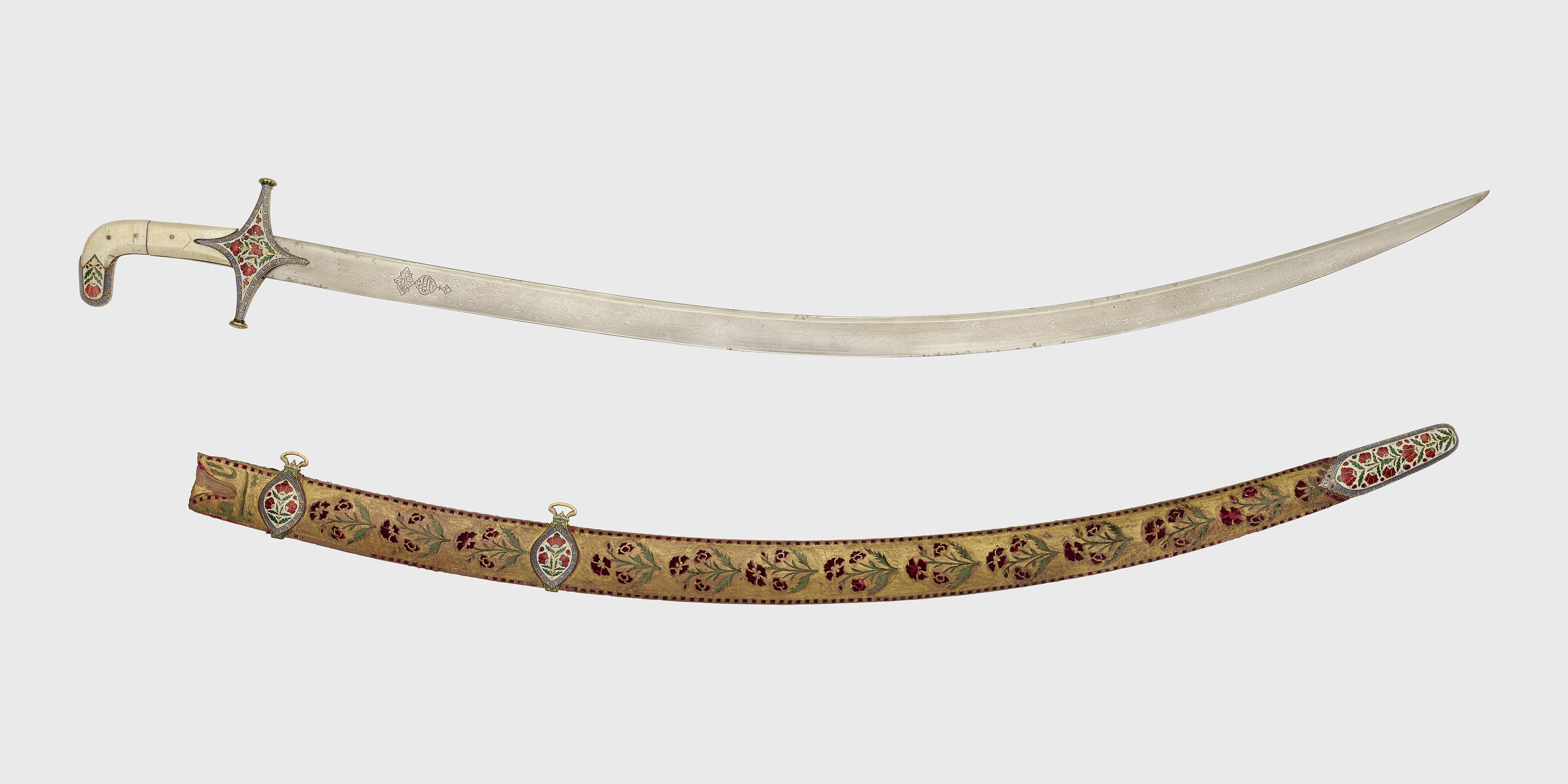 Commissions
The King was among the leading patrons of British artists of the day, favouring the work of Sir Thomas Lawrence, Sir Joshua Reynolds and Richard Cosway. In 1784, he commissioned Sir Thomas Gainsborough to paint his three eldest sisters, the Princesses Charlotte, Augusta and Elizabeth, and after the artist's death purchased Gainsborough's only surviving mythological painting, Diana and Actaeon, c.1785–8.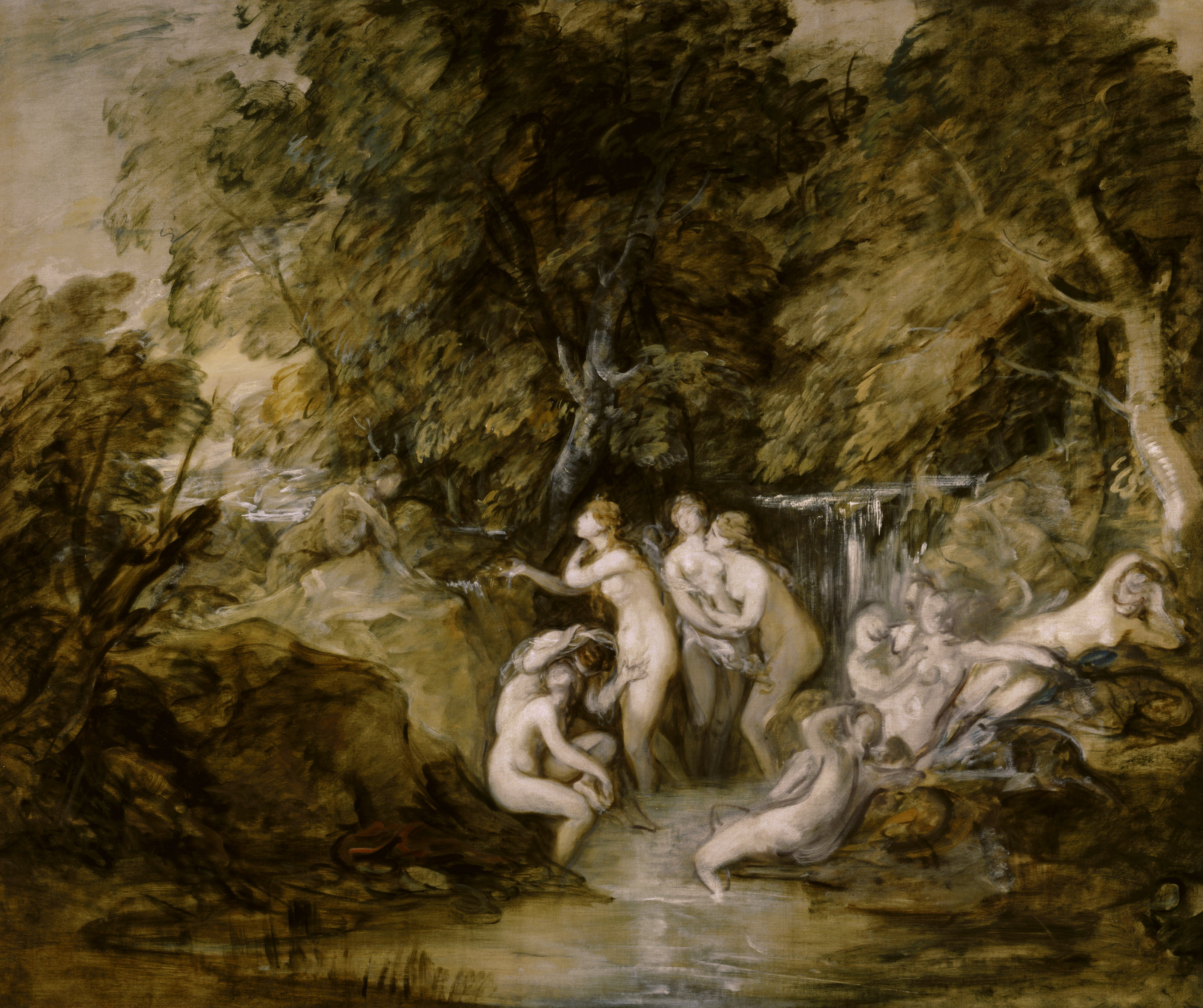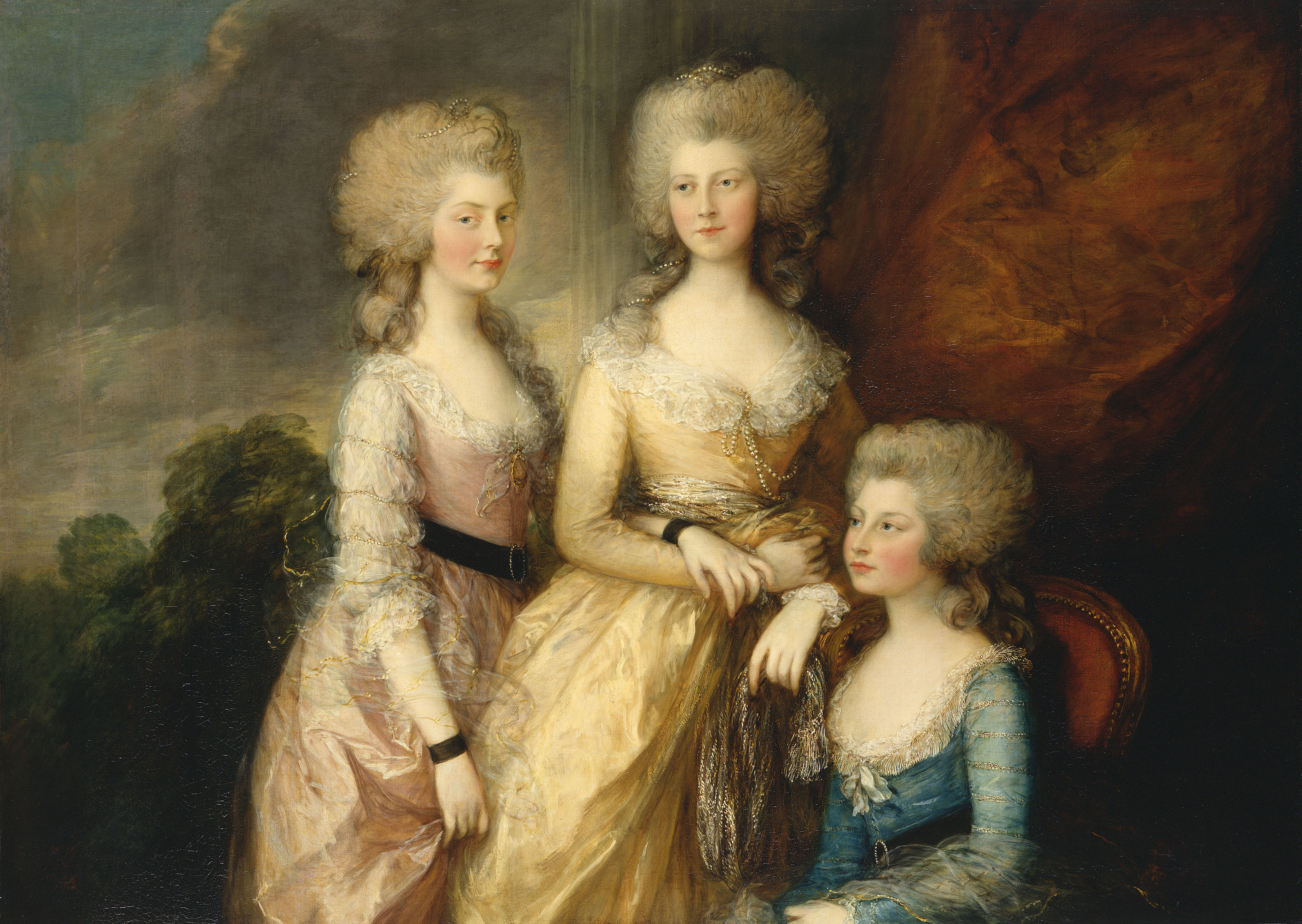 I recognised the tall ceramic pagoda-style ornaments with bells on either side of the painting as I'm sure they were on display in the State Rooms at Buckingham Palace. (I remember commenting on how difficult they must be to dust.)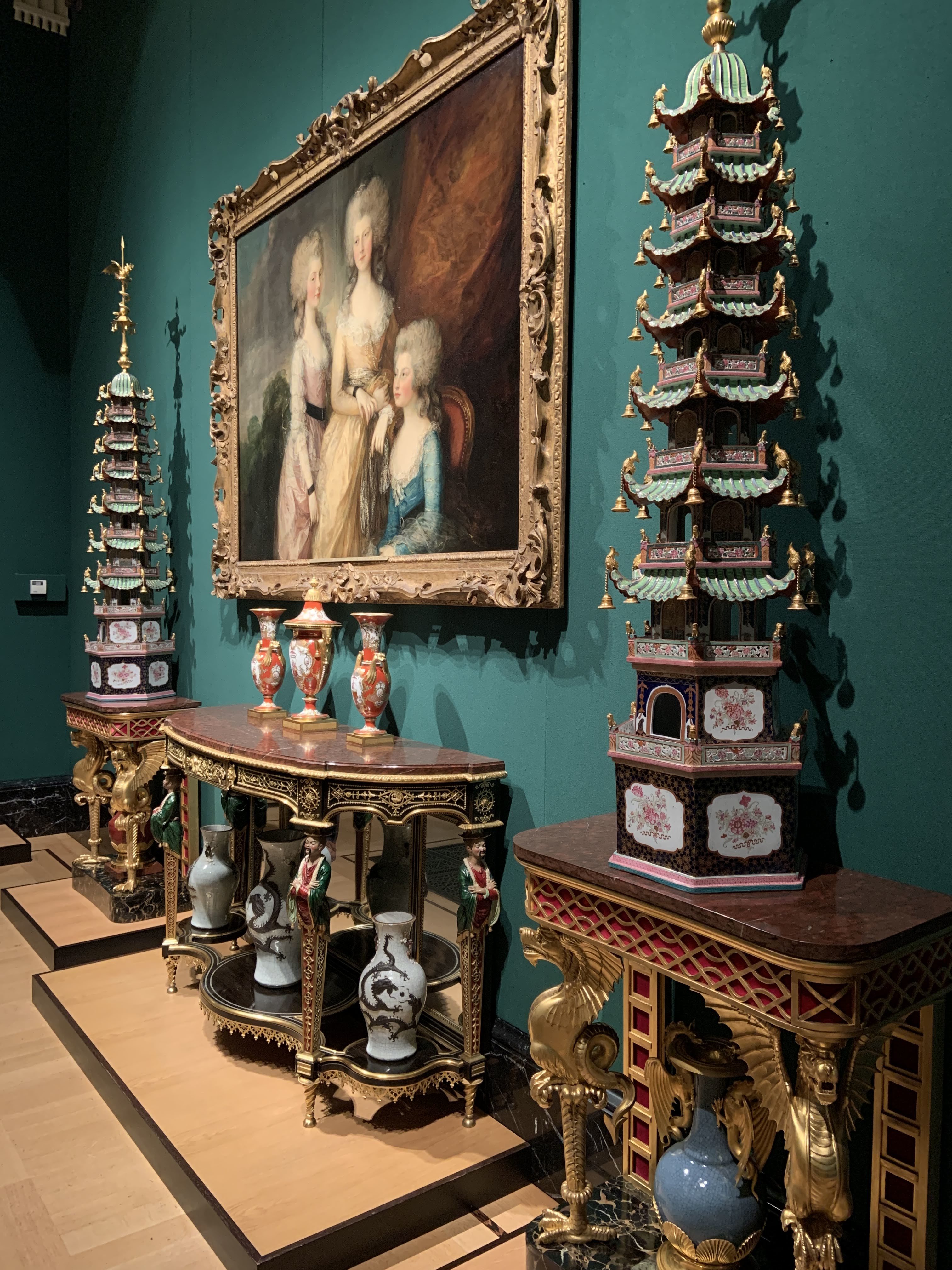 George was a significant patron of portrait miniatures, many of them of himself, commissioned as gifts for friends and family. Richard Cosway was his favourite miniature painter and he produced over seventy such works for George.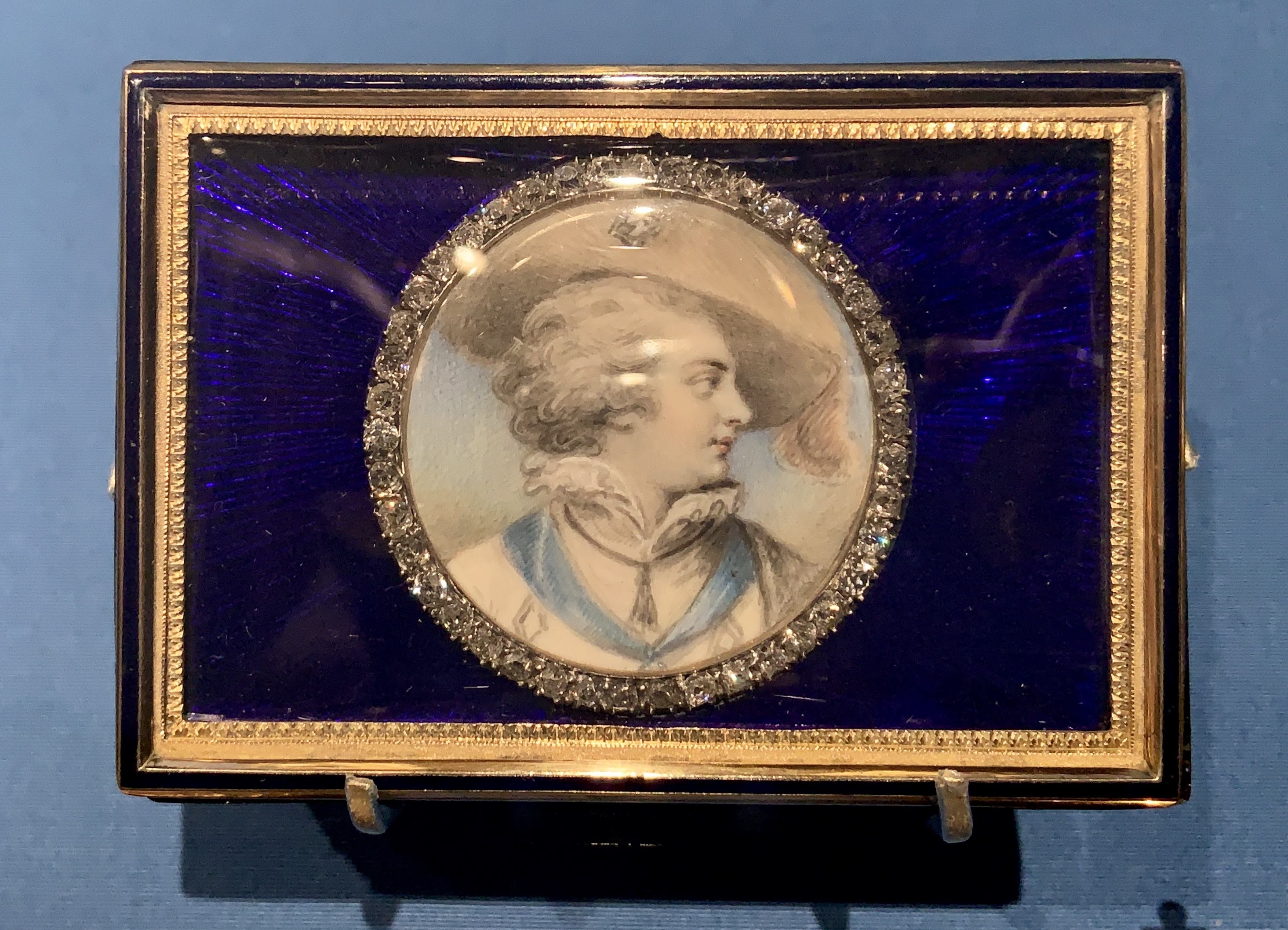 I also really like this marble bust by Sir Francis Chantrey depicting George IV as a Roman Emperor or General, appearing both lofty and amiable.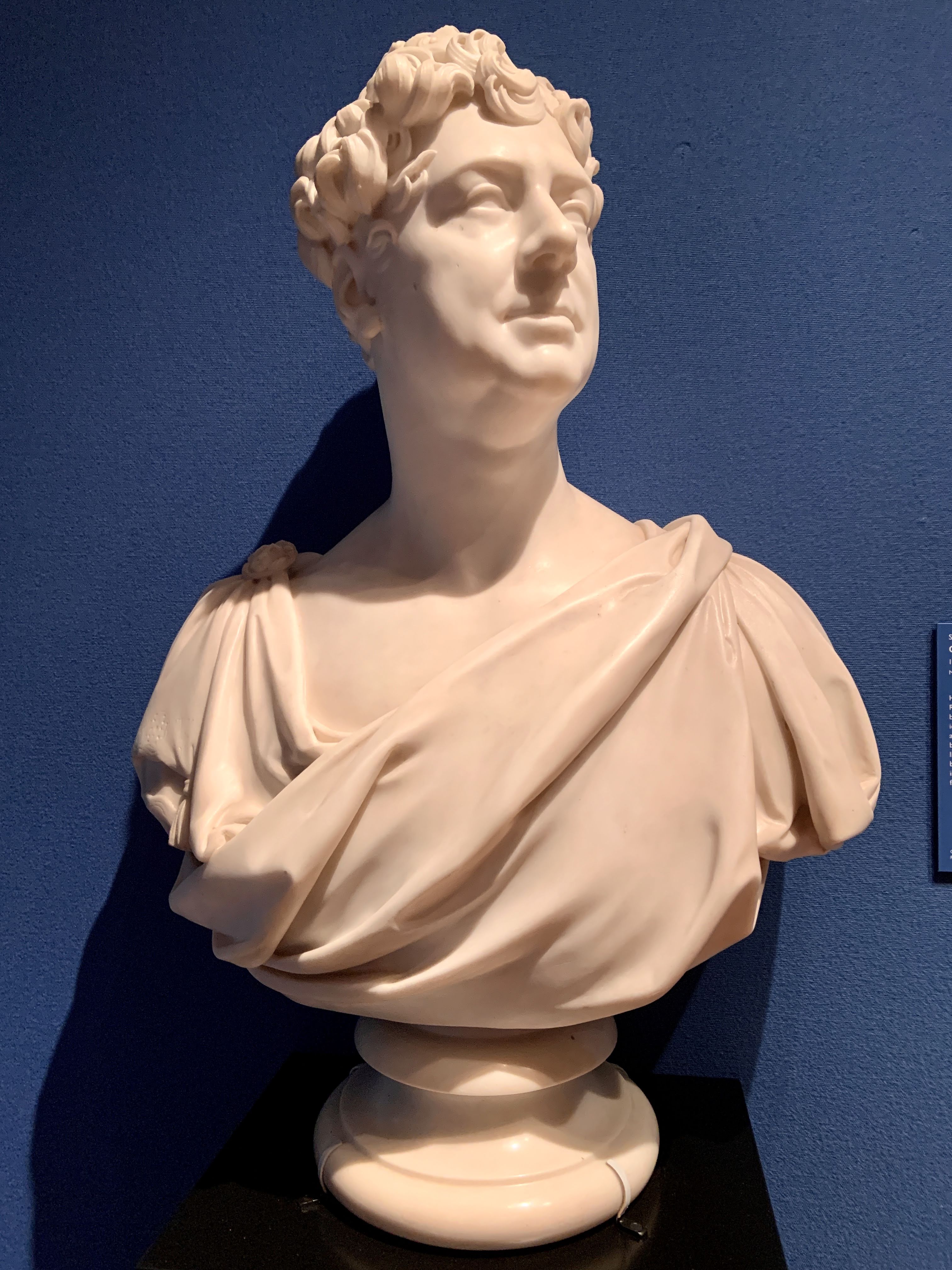 Equestrian
George's favourite pastimes were equestrian, as captured in George IV, when Prince of Wales, 1791, an elegant portrait by George Stubbs. In the portrait you can see George loves clothes and horses but, from being in a room with other portraits of the man, it was clear Stubbs's focus had been on the horse as George (quite frankly) looked nothing like his image.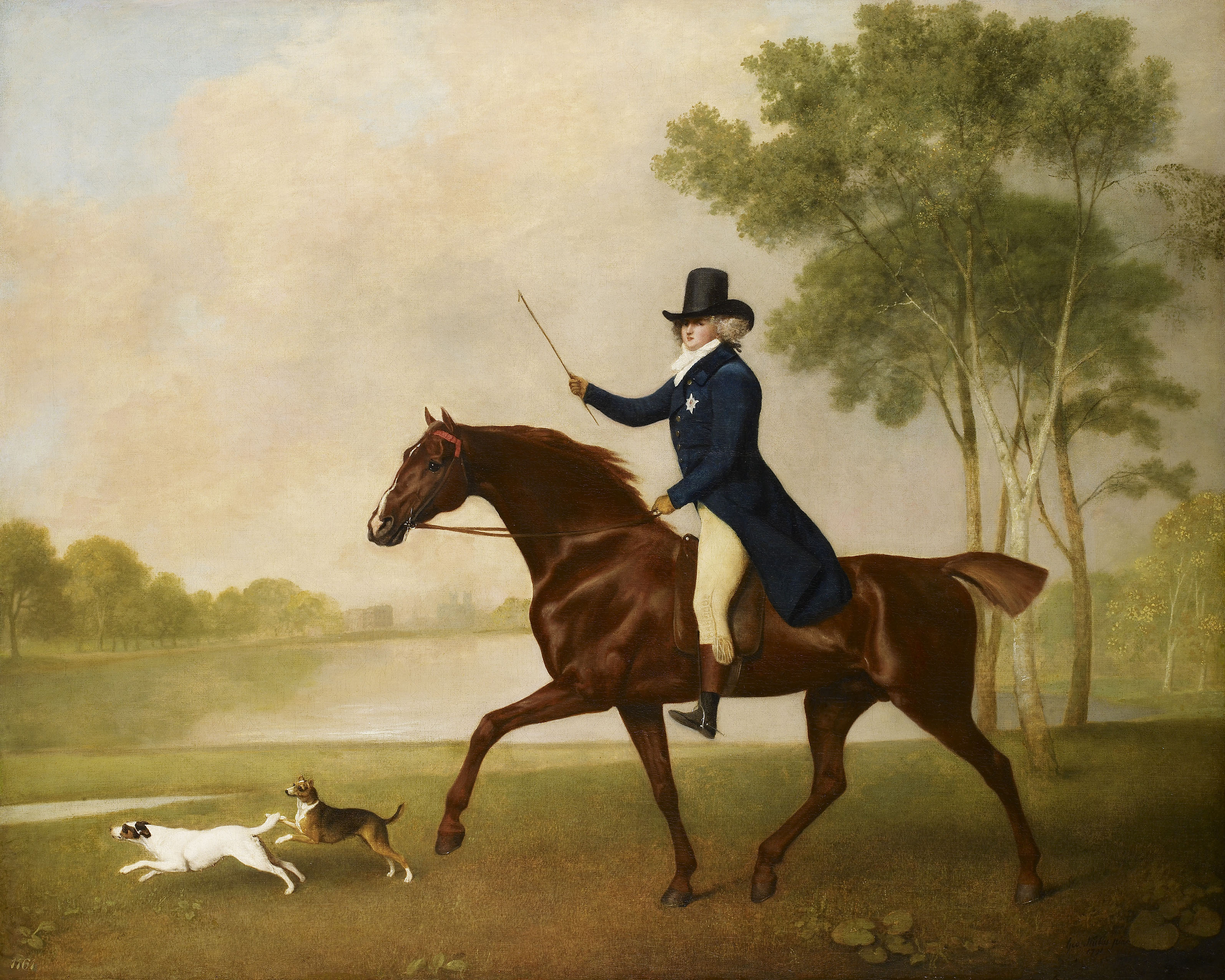 James Ward was also a superb equestrian artist. He worked in the stables at Carlton House to fulfil the commission to paint three of George's horses (two are displayed in the gallery here).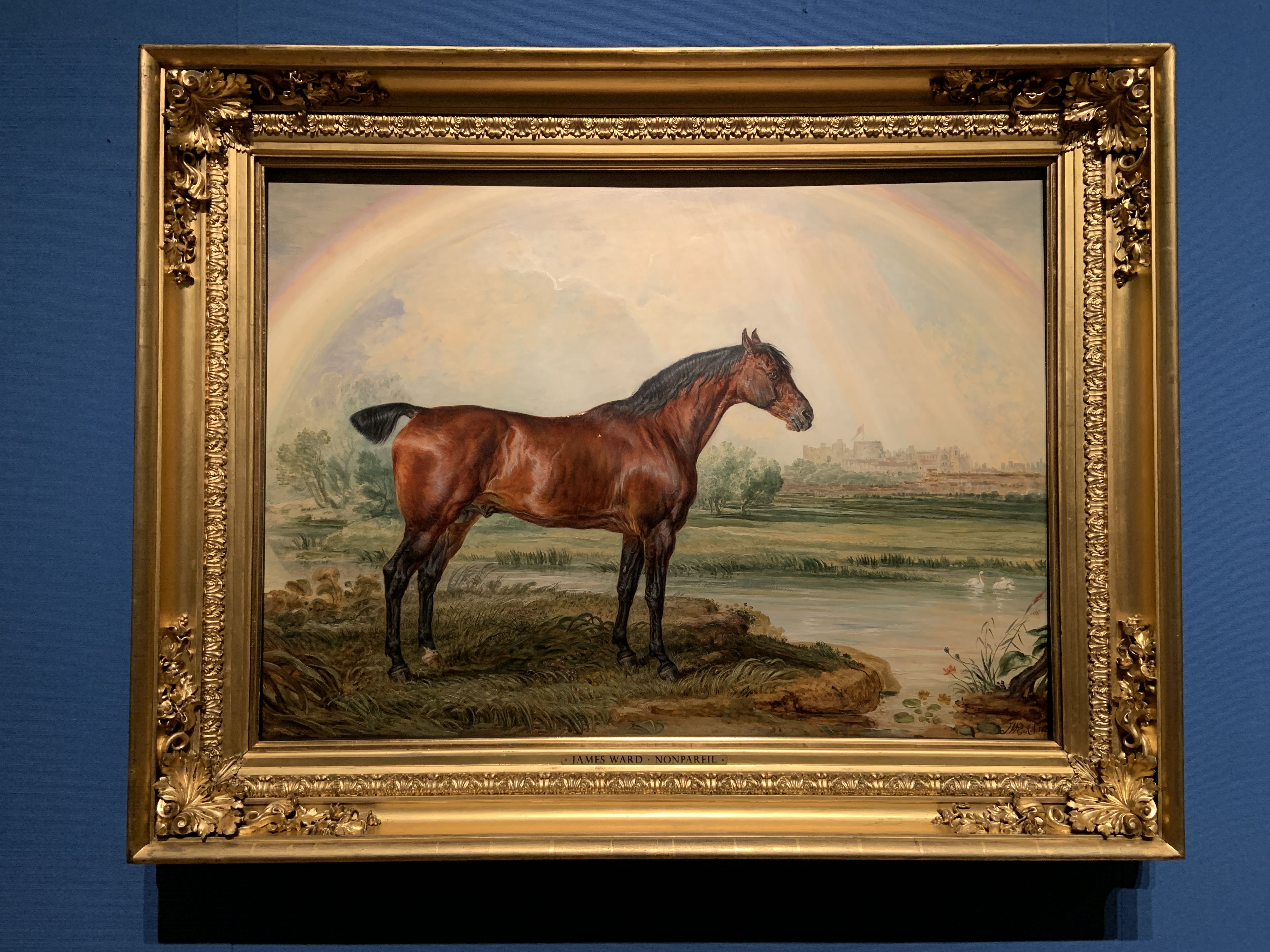 Jane Austen
George IV's print and book collection reveal a more measured side to the Monarch in the variety of his intellectual pursuits. The books that he acquired for his Carlton House library, included a copy of Emma sent to him by Jane Austen's publisher following the writer's visit to the royal residence, highlight his interest in literature, geography, theology, European history and the antique.
Emma was dedicated to the prince after Austen was given a tour of Carlton House by his librarian James Stanier Clarke who hinted that such a dedication would be much appreciated. Austen obliged but was critical of George, deploring his poor treatment of his wife, Caroline.
He was widely read and while no precise records of the appearance of George's library at Carlton House survive, a bill of 1806 indicates that the room was furnished at that date with bookcases, tables and reading stands of ebony and ivory.
George's books provided him with a freedom he did enjoy in real life. Through his books, prints and drawings he could learn about those countries he was unable to visit in person.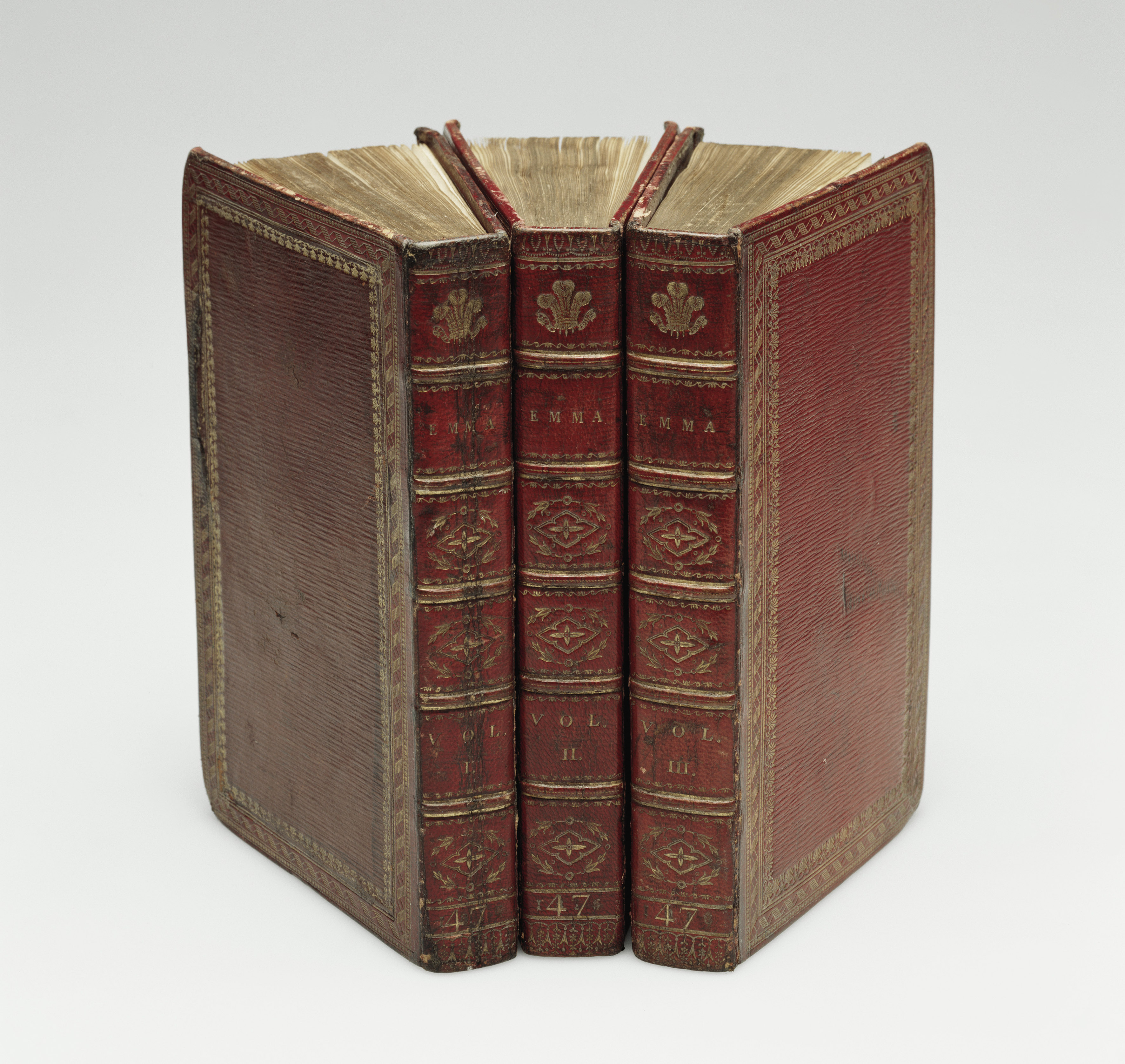 More Photos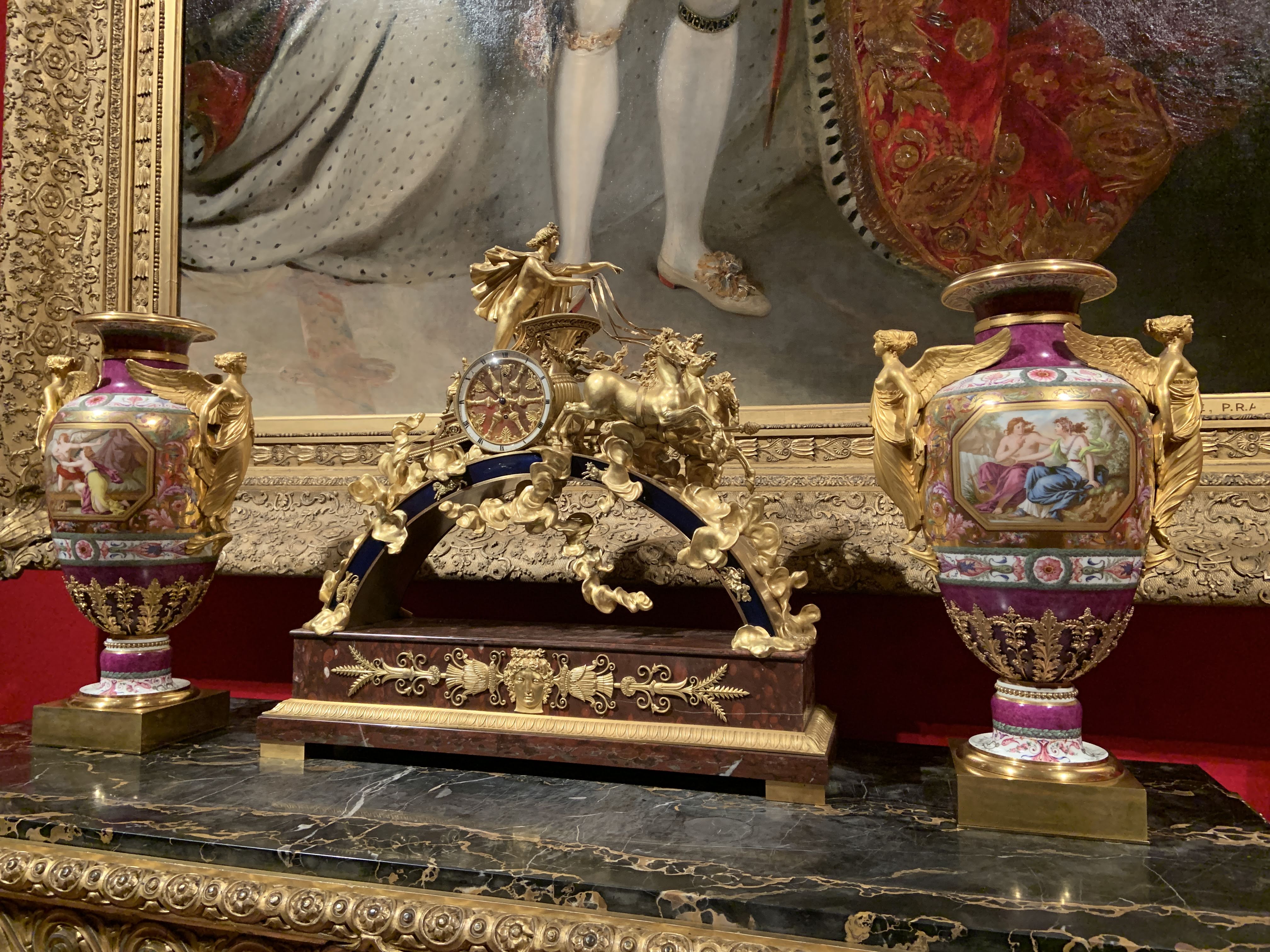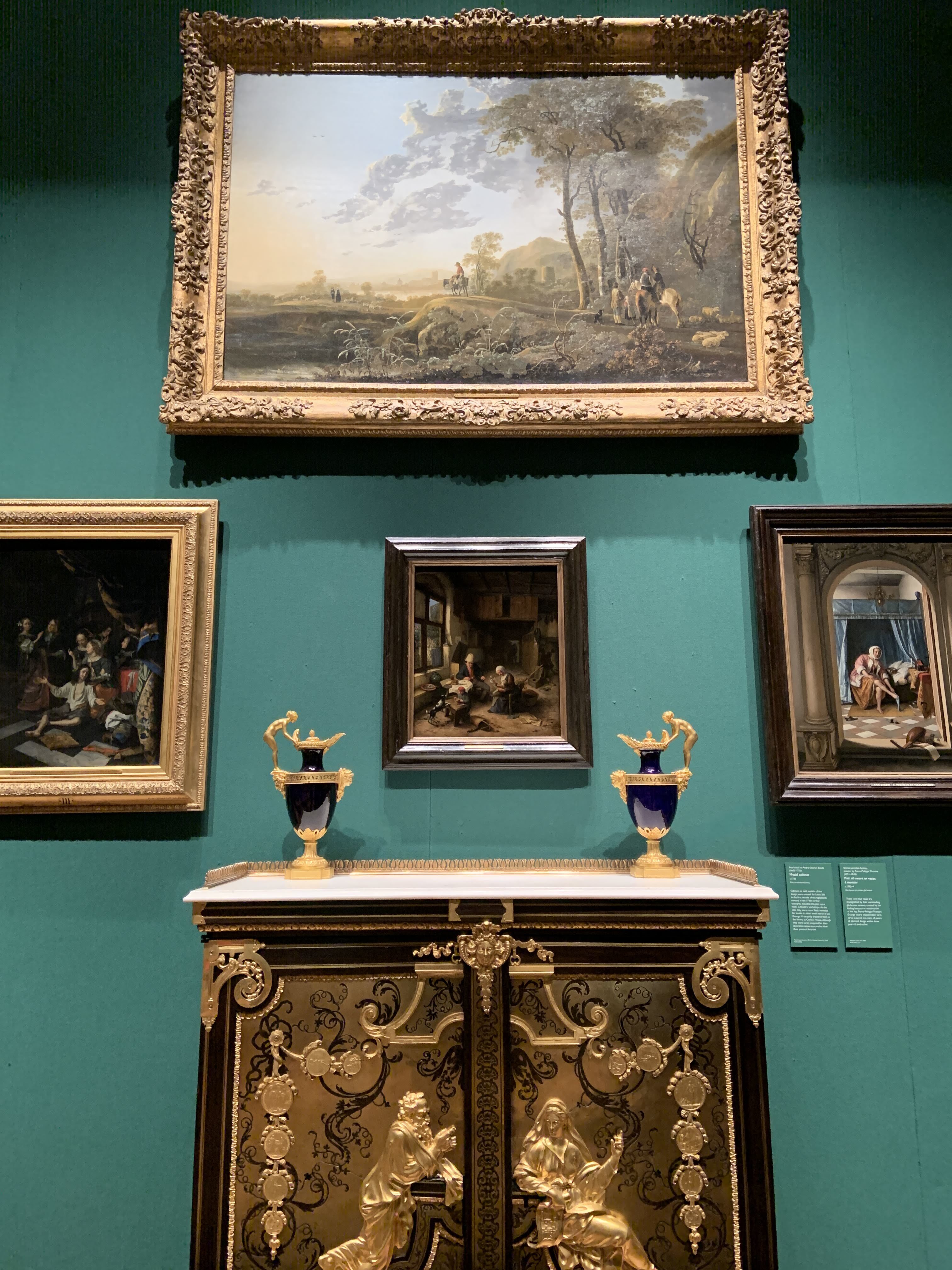 Visitor Information
Venue: The Queen's Gallery, Buckingham Palace, London SW1A 1AA
Nearest Tube Station: Victoria
Dates: 15 November 2019 – 3 May 2020
Adult Ticket: £13.50 (Do note, all tickets become a 1-year pass so you can enjoy re-admission as many times as you like.)
All admission prices include an audio or multimedia tour.
Official Website: George IV: Art & Spectacle