St Ermin's is a four-star hotel close to the Houses of Parliament and Buckingham Palace. That means it is also close to many government offices and has a history of involvement with the UK intelligence services from WWI to the present day.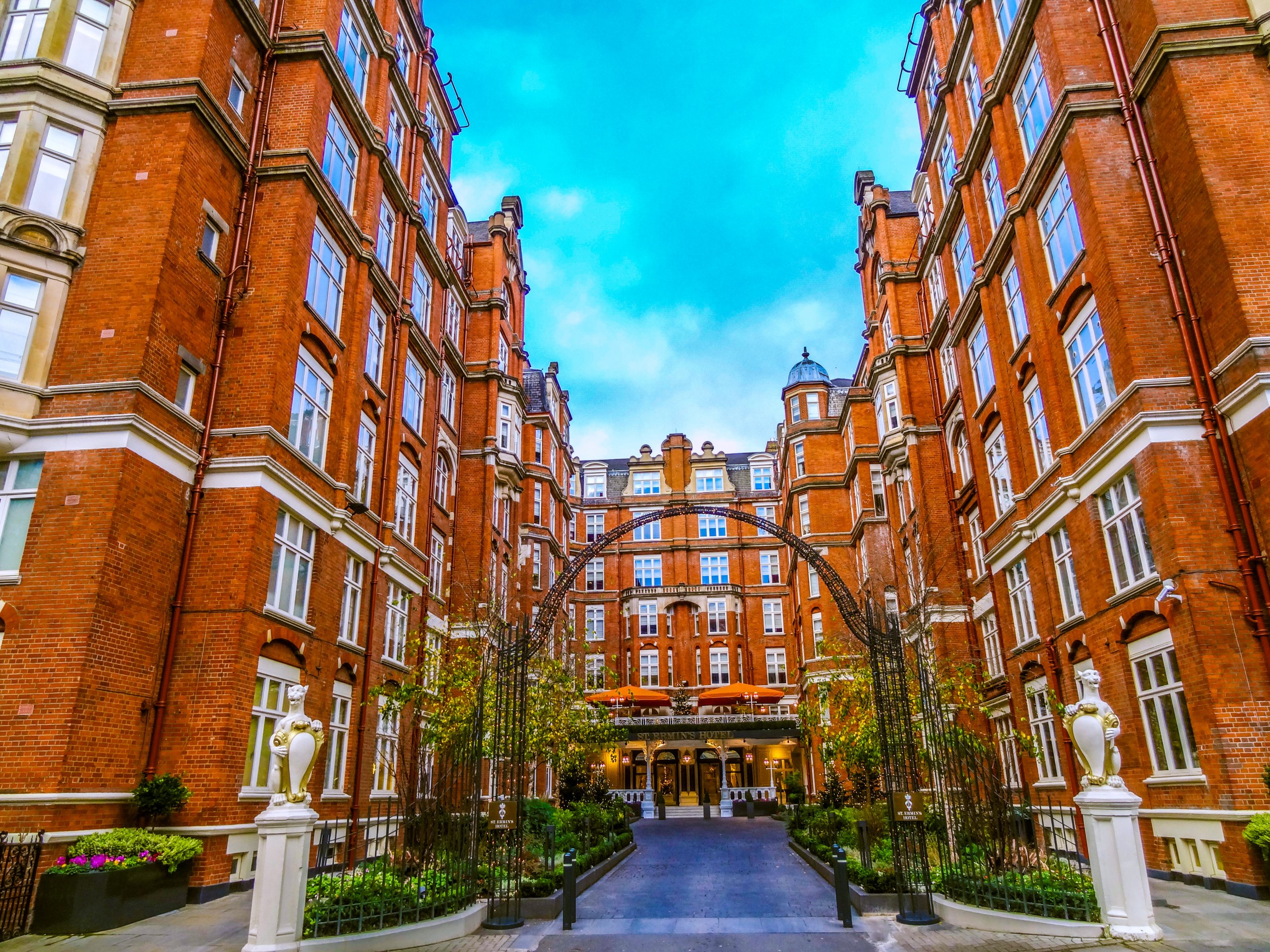 St Ermin's Hotel History
Initially built as a mansion block in 1889, it was always going to be better suited as a hotel as all of the serviced apartments were built without kitchens. The red-brick, Queen Anne-style building was designed by E.T. Hall, who also designed the Liberty & Co department store on Regent Street.
Just ten years after opening, it became a hotel. The interior was uniquely modernized with elaborate rococo ceilings, large chandeliers, and Art Nouveau plasterwork. This was the work of theatre designer J.P. Briggs – hence the sense of drama (he also designed the Savoy Theatre). The incredible sweeping staircase certainly has the 'wow factor.'
While it was all painted a dark brown before, after a £30 million extensive refurbishment, this stunning heritage building reopened in 2011 with a gleaming white finish in the lobby. The hotel is Grade II listed and has 331 rooms and 41 suites. After the refurbishment, St Ermin's chose to remain a four-star hotel as civil servants can't stay (for business) in a five-star hotel. Being based in the heart of Westminster, it made sense to continue to welcome guests from the nearby government departments.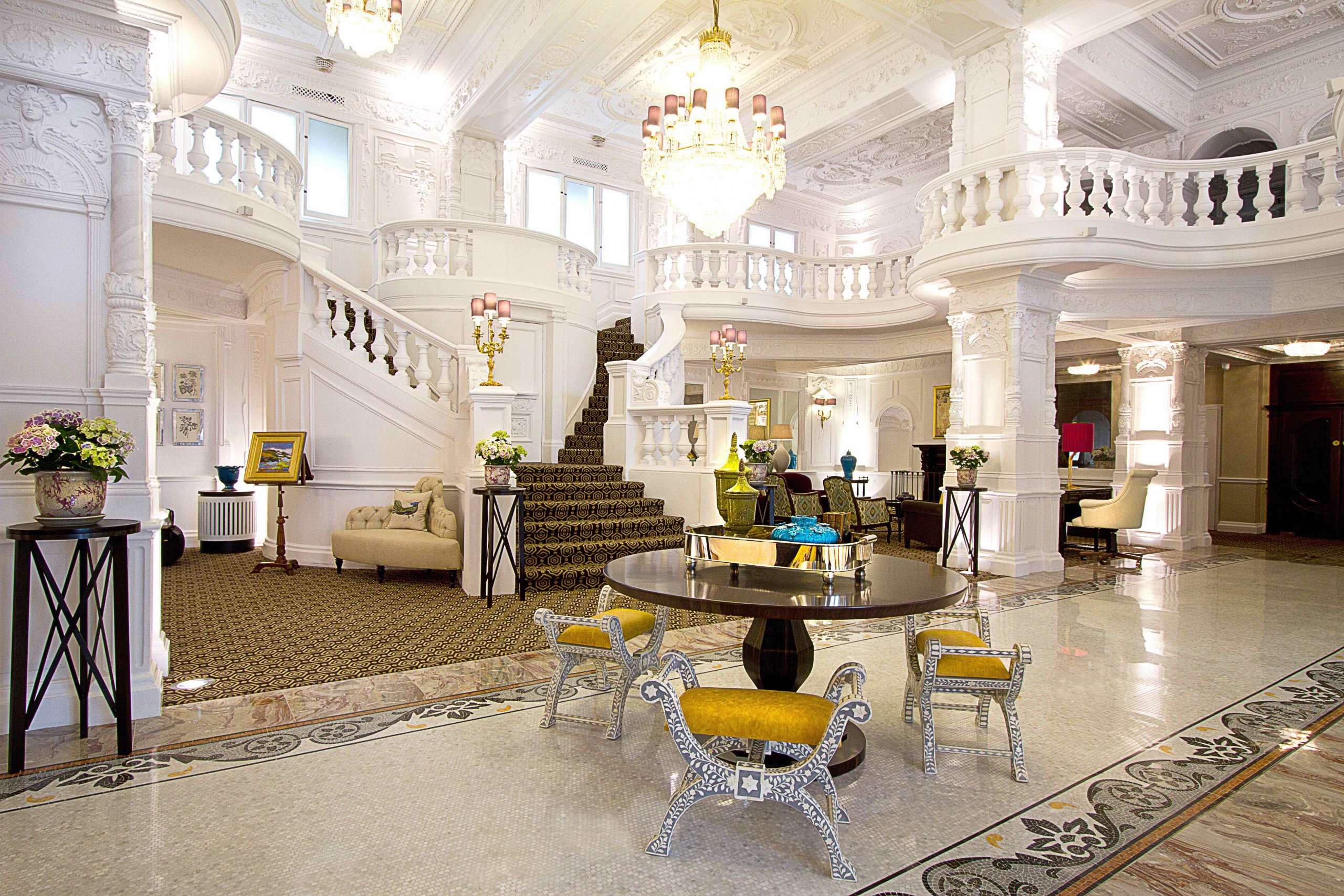 Espionage and Intrigue
St. Ermin's Hotel is the only publicly accessible establishment in London closely associated with the history of British espionage. 

During the 1930s, the hotel and the next-door building at 2 Caxton Street were used by officers of the Secret Intelligence Service (SIS or MI6) to meet agents as their offices were located close by at 54 Broadway. Ideally placed for the establishment's secret London, rumor has it a tunnel runs from underneath the grand staircase in the sumptuous lobby all the way to the Houses of Westminster.
From March 1938, the upper floors became the headquarters first of SIS's Section D, headed by the Australian George Taylor. This department was comprised of demolition agents who would eat and drink in the bar, then head upstairs to plot against Germany.
The hotel's fourth floor was next to the home of the Special Operations Executive (SOE) – under the cover name of the 'Statistical Research Department.' Well-known personnel who worked from offices in the building are Kim Philby, Guy Burgess, Laurence Grand, H. Montgomery Hyde, and Eric Maschwitz. And, of course, Ian Fleming, the author of the James Bond series.
The neighborhood was full of other secret organizations, including the London branch of Government Communications Headquarters (in Palmer Street); MI9 in Caxton Street; the SIS Chief's office at 21 Queen Anne's Gate; the SIS offices in Artillery Mansions on Victoria Street and in the basement of St Anne's Mansions and the MI8 listening post on the roof of the Passport Office in Petty France. For some time, the hotel was used as an MI5 safe house.
So even if they weren't working from the hotel (or staying at the hotel as it remained open for guests throughout), the Caxton Bar at the 'spy hotel' was a popular meeting place for covert operations and even traitorous meetings involving double agents. In the 1950s, eventual defector Guy Burgess of the Cambridge Five frequently met his Russian counterparts in the bar to hand over top-secret government files. (More info below.)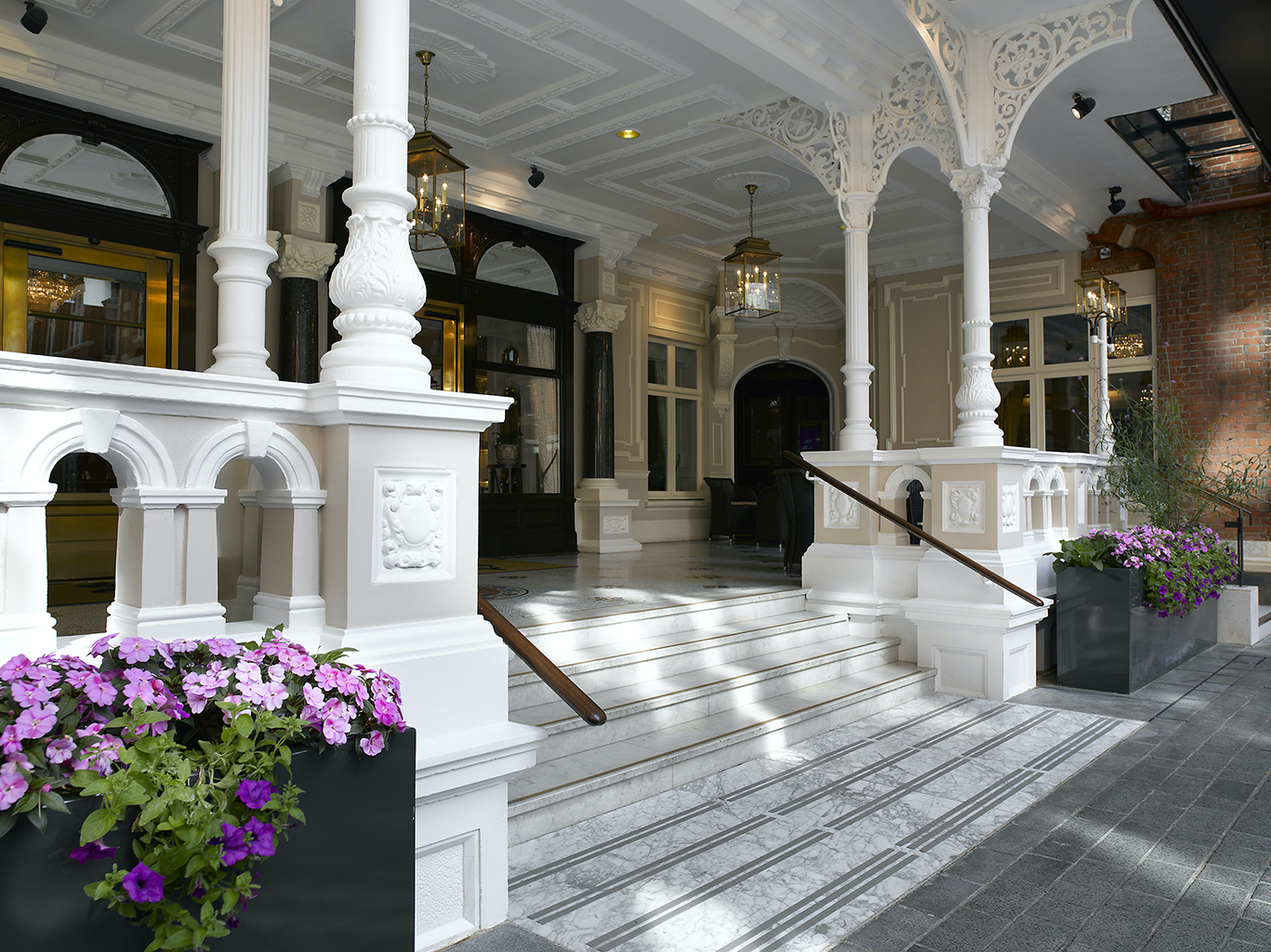 Guerilla Warfare Classes
Shortly before WWII, the hotel was the venue for guerilla warfare classes run partly by MI6. Notable students included Noël Coward plus art expert and member of the notorious Cambridge Five spy ring, Anthony Blunt. (The Cambridge Five were a group of double agents recruited while at Cambridge University and who eventually rose to offices of both power and prestige in the British establishment.)
Winston Churchill
In 1940, the newly-appointed British Prime Minister, Sir Winston Churchill, held an historic meeting at St. Ermin's Hotel. He asked a group of individuals that were later to become the SOE (Special Operations Executive) to "set Europe ablaze." Their main aim was to conduct espionage, sabotage, and reconnaissance.
The unit carried out covert operations during WWII from their headquarters at the St. Ermin's Hotel. SOE agents printed secret coded messages on pieces of silk. On display (near the lifts) is a silk scarf printed with radio codes necessary to send information back to the UK from occupied France. Silk was used as it was light, easily packed, and quick to burn if the information was compromised. The SOE, also known as 'Churchill's secret army', formed the basis of the SAS.
During WWII, Churchill held several press conferences next door at Caxton Hall. He was also known to have enjoyed a glass of his favorite Champagne in the Caxton Bar.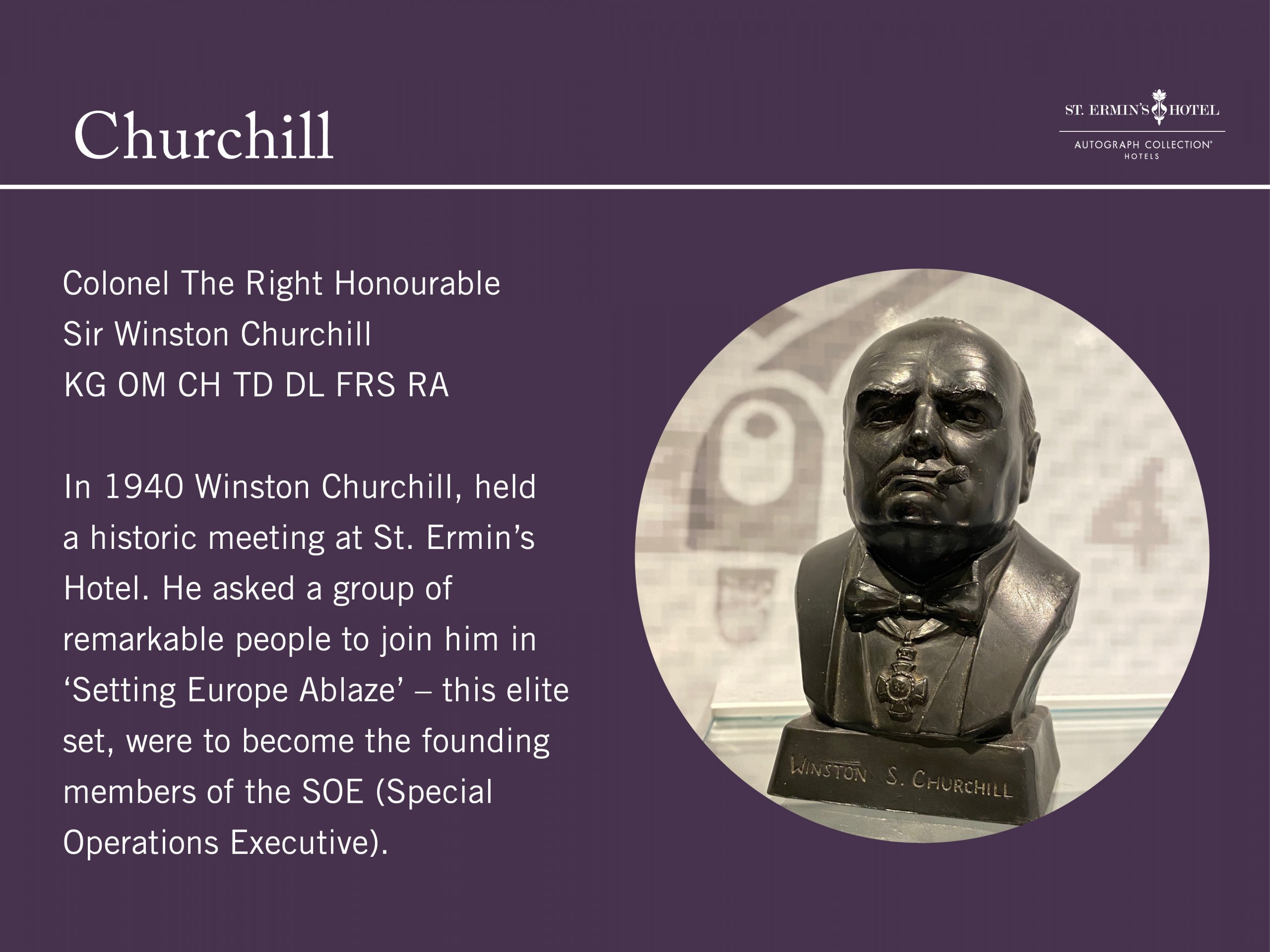 SOE (Special Operations Executive)
in July 1940, soon after the fall of France in June 1940, Churchill held the meeting to create the SOE. Hugh Dalton was tasked with forming the SOE to help local resistance movements and to conduct espionage and sabotage in enemy-held territories. The SOE recruited agents, men and women of many nationalities, to be trained in unarmed combat, firearms, sabotage, and wireless techniques. By working with resistance forces, they provided a boost to the morale of occupied societies.
Agents operated in countries under the occupation of Nazi Germany, including France, Belgium, Greece, Albania, Yugoslavia, and Italy. Agents were generally dropped by parachute, although some were transported by submarine. By 1945, the SOE had over 13,000 men and women in its ranks.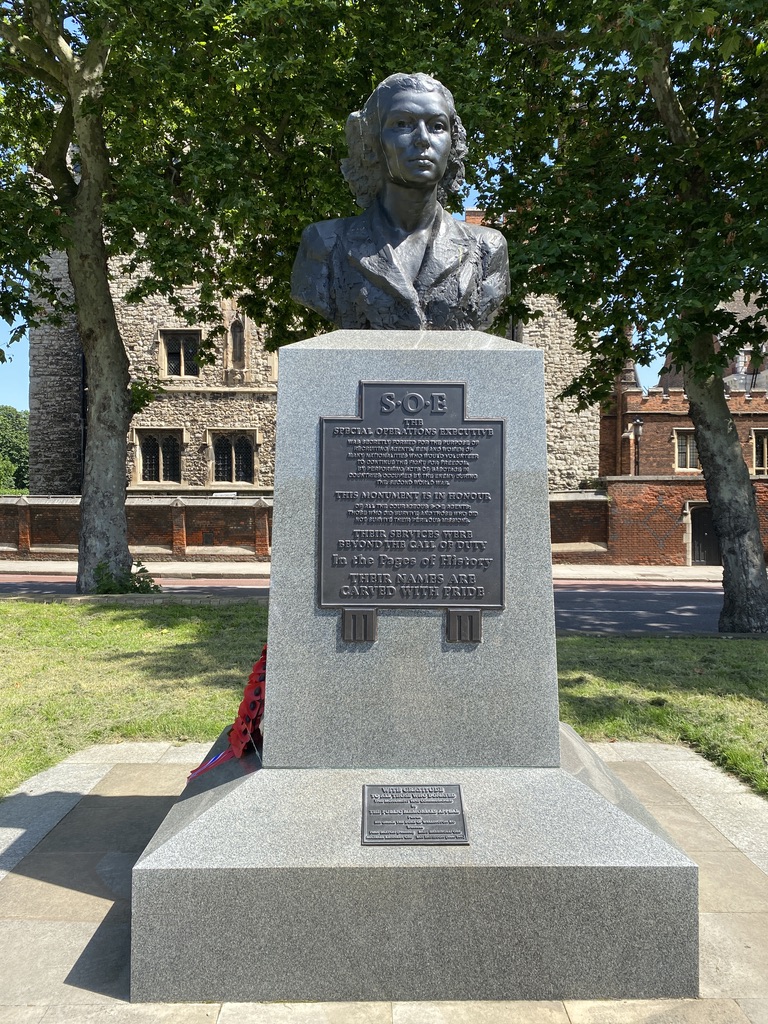 Violette Szabo
On Lambeth Palace Road, almost opposite the Houses of Parliament, there is the SOE Memorial which has a bust of one agent, Violette Szabo. She didn't survive the war after she was captured during a mission in occupied France. She was tortured and sent to a concentration camp, where she was eventually executed. She was posthumously awarded the George Cross and the Croix de Guerre.
Violette Szabo grew up in London. She had a French mother and an English father. Following the death of her French husband at the Battle of El Alamein in 1942, she joined the Auxiliary Territorial Service. Her French background made her an ideal recruit for the SOE's French Section, and she was enlisted in the  FANY (First Aid Nursing Yeomanry) as cover.
After the war, the SOE was officially dissolved on 15 January 1946.
St Ermin's SOE Display
The hotel has a new display of SOE artifacts in association with the London Clandestine Warfare Collection. I'll admit, I've never heard of the LCWC, but I guess that's the point – it's secret! A private collector amassed these objects (and many more). This display alone is worth around £50,000.
FANY
You can see an original WWII hat and jacket of the First Aid Nursing Yeomanry. First formed in 1907 as mounted nurses, by WWII, the FANYs were involved as coders, trainers, and forgers, which made them ideal recruits to the SOE. By the end of WWII, over 3,000 FANYs had served in SOE, their work often highly skilled and sometimes very dangerous.
Of the 50 women sent by SOE into France, 39 were members of the FANY. Of these 39 women, 12 were killed by the Nazis, and one Corps member died in the field. Noor Inayat Khan was a radio operator who died in captivity. She was featured in an episode of Doctor Who (along with Ada Lovelace). Radio operators were said to have a lifespan of about a month. A very sobering thought to know these trained agents knew the likely outcome and still did their job for their country.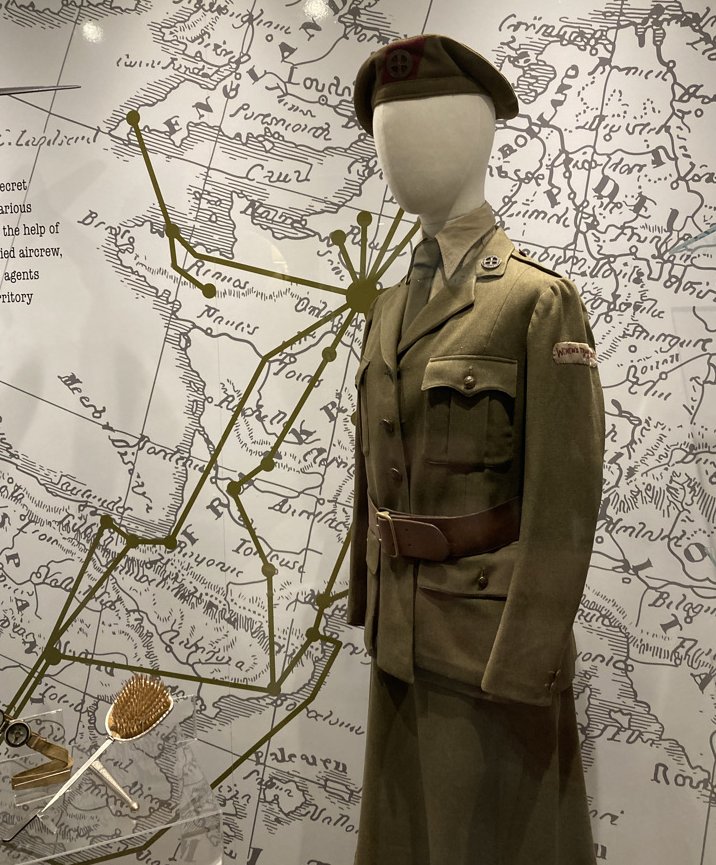 FP-45 Liberator Pistol
You can see an FP-45 Liberator pistol which was a cheap, mass-produced gun. The 5-inch-long, one-pound pistol was manufactured in the US. It was a single shot, close-quarters gun (range of 25 feet) to be supplied to resistance fighters in occupied territories. Five extra rounds were stored in the grip, and after use, it was expected to be thrown away.
Apparently, a million liberator pistols were made, but few were distributed as intended. Most were destroyed by Allied forces after the war.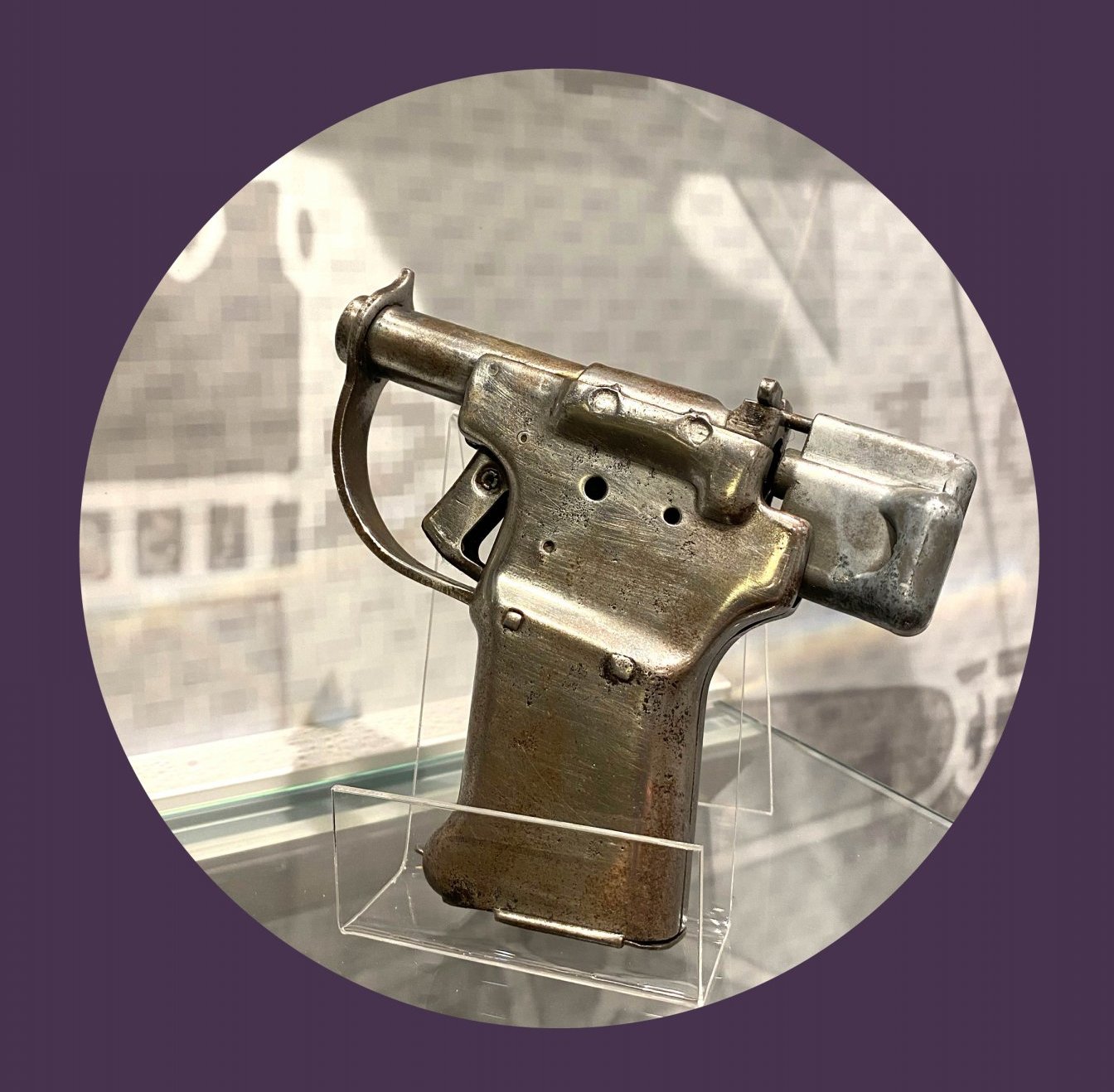 Hairbrush Dagger
What initially seems to be an innocent-looking lady's dressing table hairbrush actually had a removable sheath on the handle to expose a lethal blade. This design was based on the hairbrushes used by the prostitutes in Soho to keep themselves safe.
For the men, a shaving brush was adapted in a similar way. And the display also has flying boots with a hidden knife. This was so the leg part of the boots could be cut off quickly to turn them into shoes making the agents less conspicuous.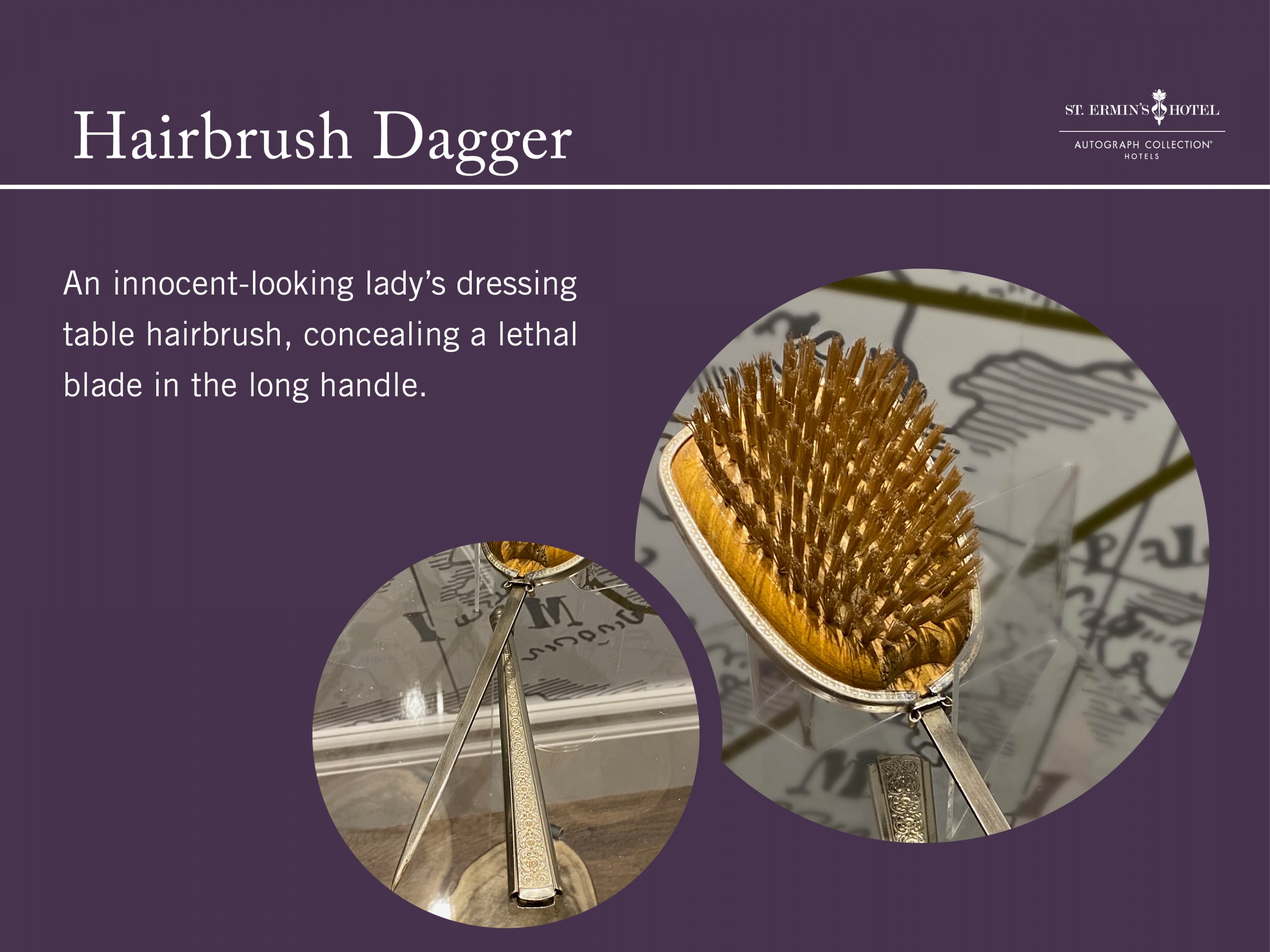 Collar Compass
Also, for the male agents, a detachable shirt collar had a compass hidden in the stud button. It really was 'hidden in plain sight.' It was made using a cheap gilt metal collar stud into which an integral compass pivot and rotor were added. It's interesting to note that many of the studs used for this purpose were actually purchased from Woolworths, a well-loved High Street retail chain.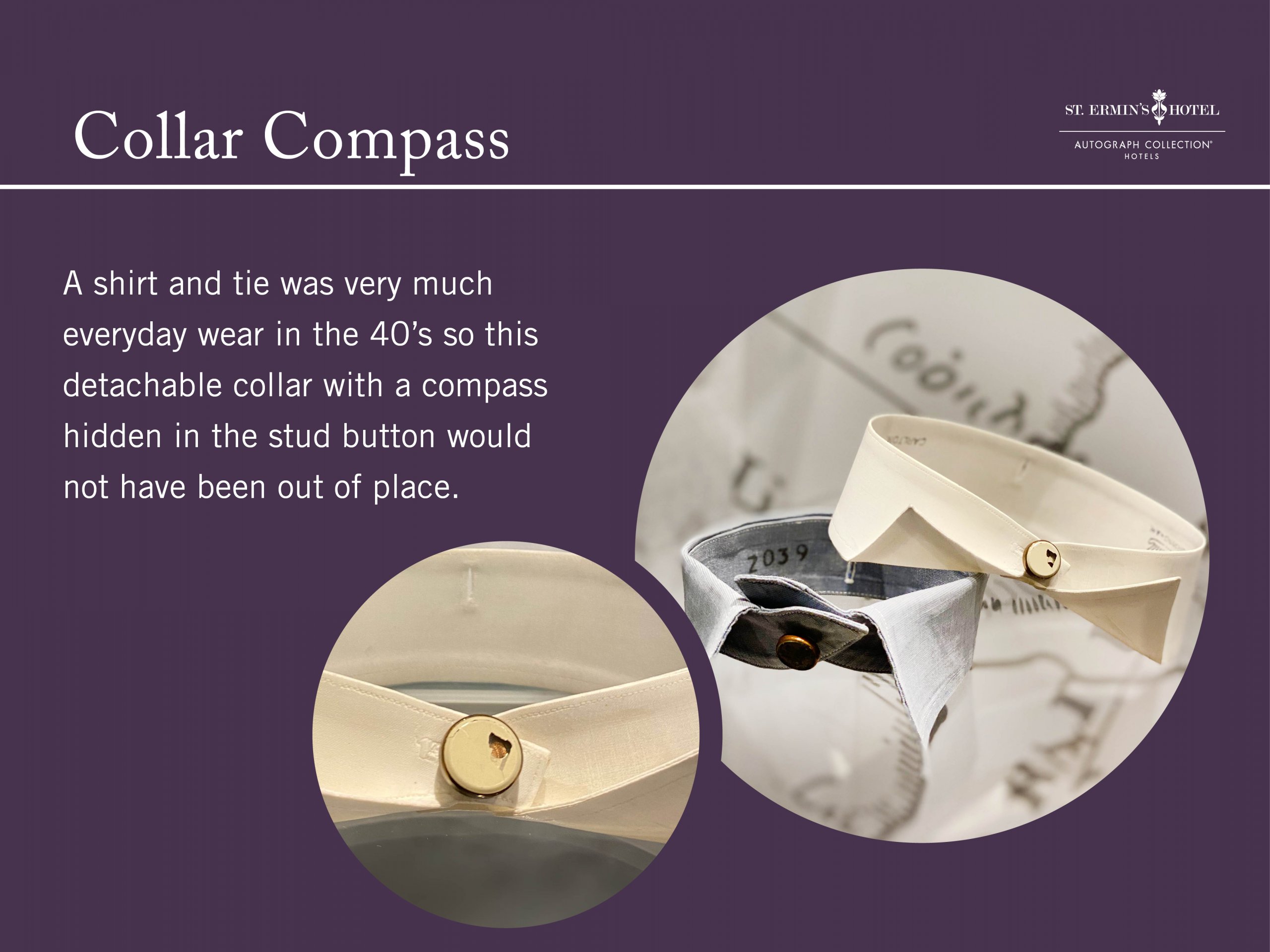 Westland Lysander
There is a model airplane to represent the Westland Lysander. This was used by RAF Squadrons 138 (Special Duties) and 161 to support SOE operations as it had very short take-off and landing capabilities. This meant it could land in a field. Often painted black for night operations, it would ferry arms and other supplies into occupied Europe as well as SOE agents to and from their missions.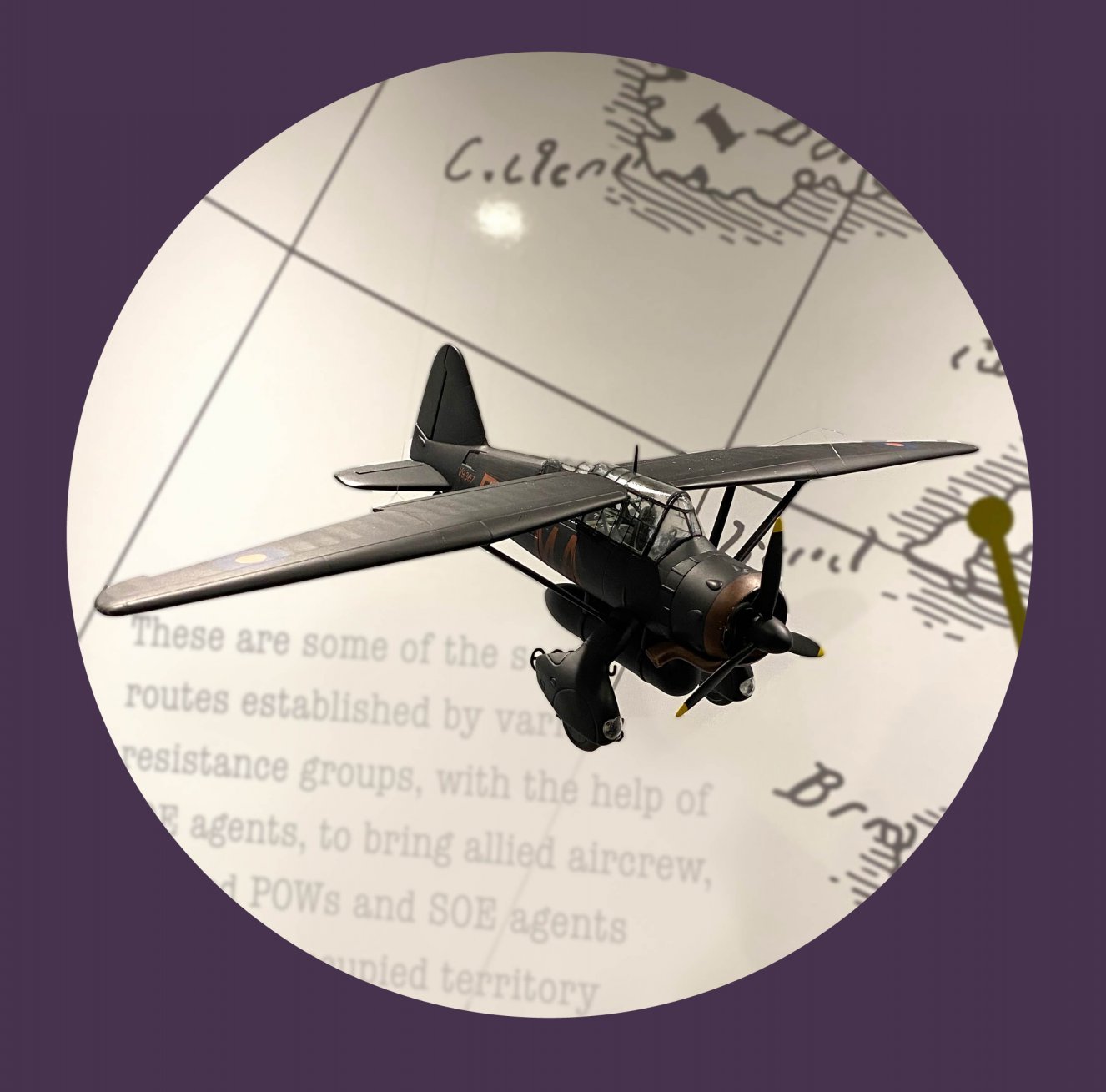 Hidden Compartments
Using everyday objects that would often be dismissed to hide things was a clever idea. Coins – of the right currency for the country – could be hollow to conceal messages or even a weapon. And a matchbox could hide a map in a hidden compartment under a layer of matches.
Chess sets were sent to POW camps throughout WWII. These could be adapted to hide a map or compass.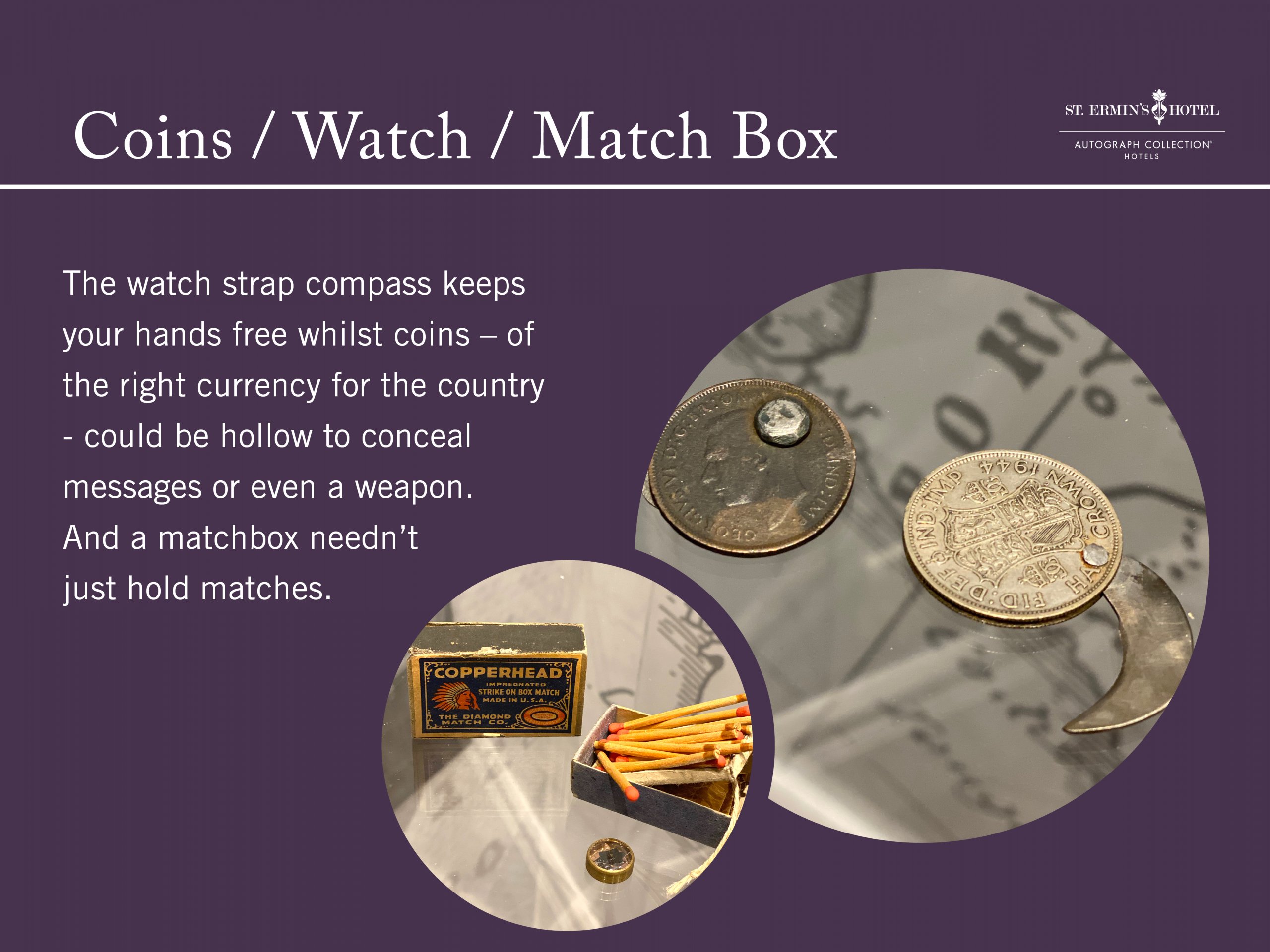 Division Bell
Not part of the SOE display but worth seeing; the hotel has a Division Bell in the lobby. You'll find these in other locations within an eight-minute walk from the Houses of Parliament. It's rung to alert Members of Parliament they need to return to the House of Commons to vote for or against a referendum.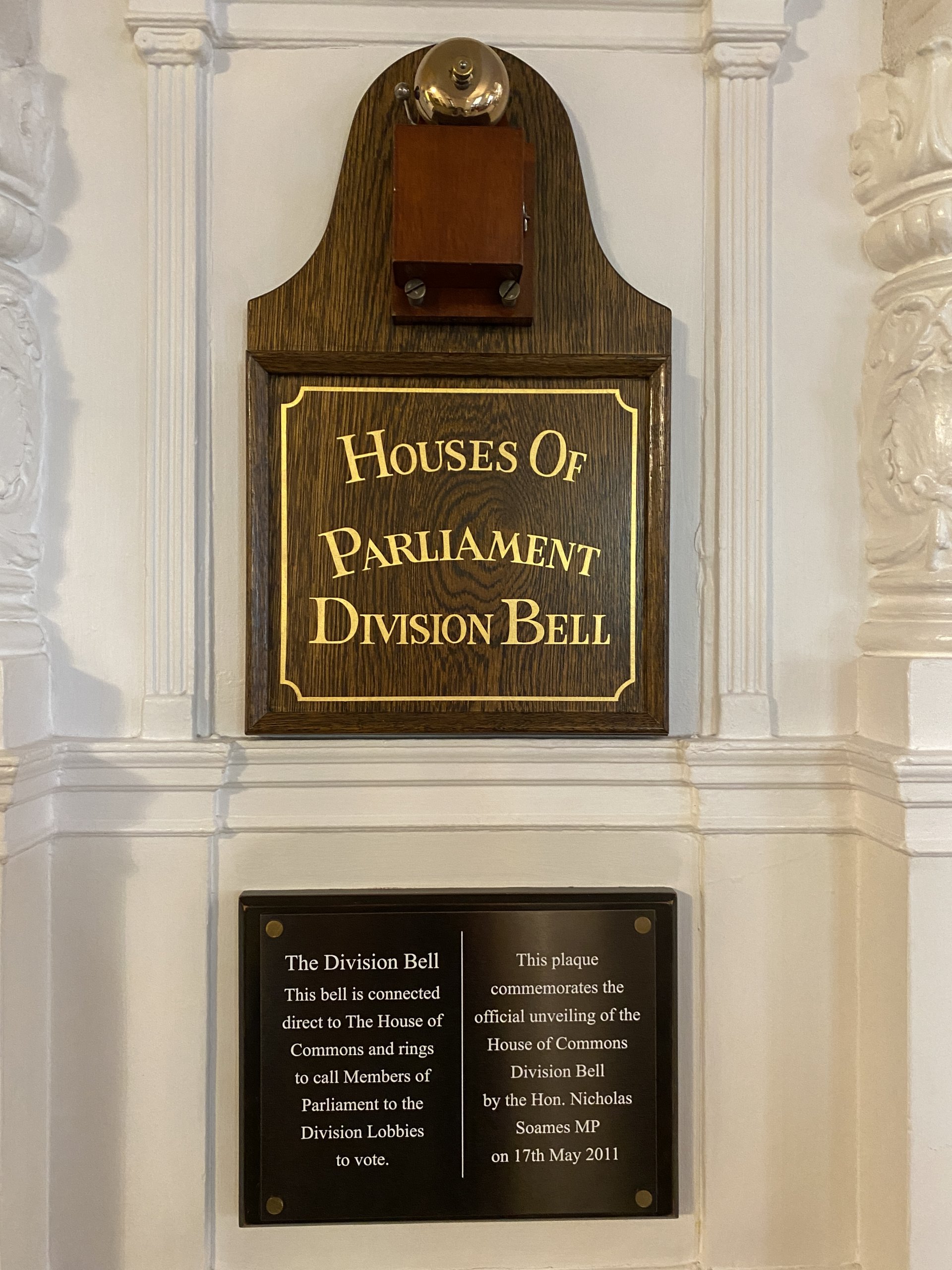 Bee Terrace
Nothing to do with the SOE, the Bee Terrace on the third floor of St Ermin's is worth seeing too. The 300,000+ Buckfast bees in the hives can fly within a three-mile radius so can easily reach St James's Park or even the Buckingham Palace garden. Their honey is harvested annually in September and used in the kitchens at the hotel. (I can recommend coming back for afternoon tea as the honey treats included are amazing.)
The hexagonal boxes are a 'tiny animal safari park'. They are used by a variety of solitary bees such as the leafcutter bee and the tree bumblebee, and by lots of insects.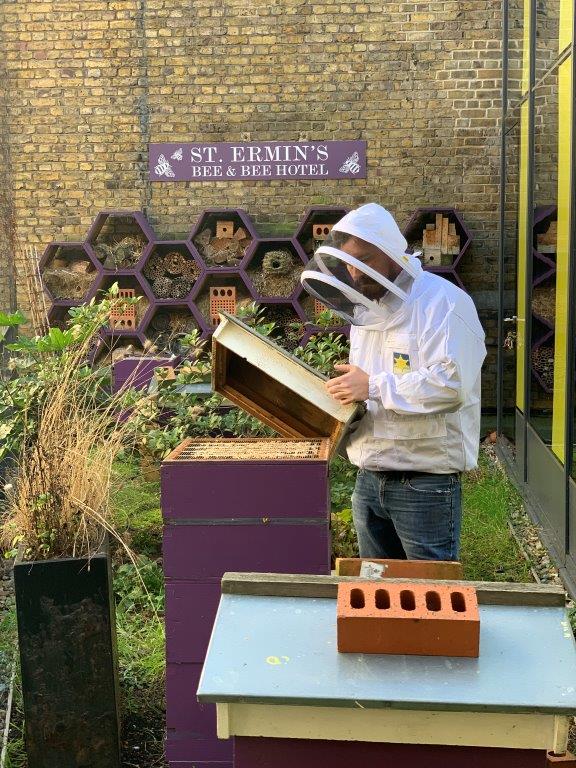 The hotel also has a kitchen garden on the roof where they grow fruit and vegetables including apple and pear trees and an extensive herb garden.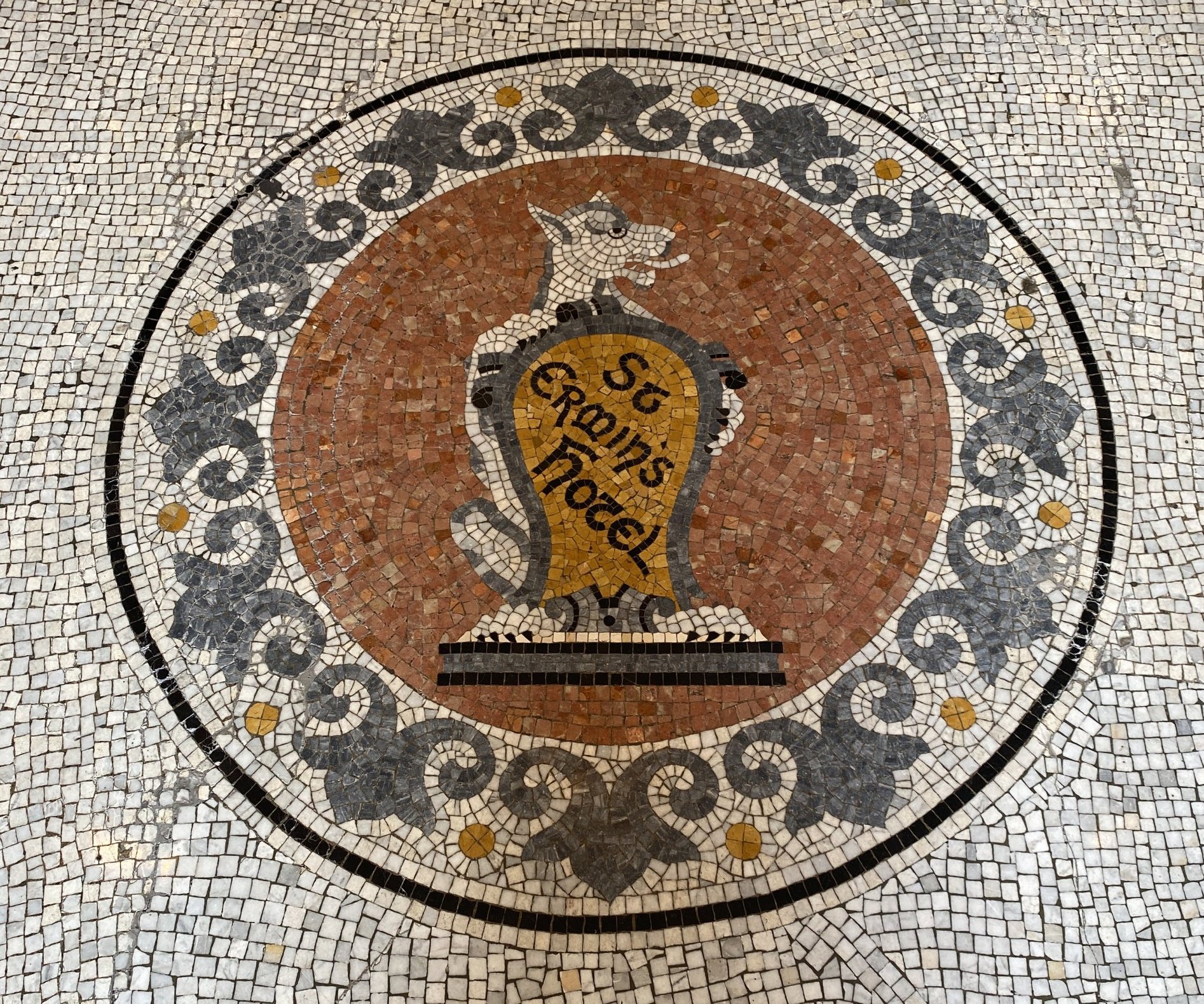 Address: 2 Caxton Street, Westminster SW1H 0QW
Official Website: sterminshotel.co.uk
Recent Awards:
Voted a 'Top London Hotel' in Condé Nast Traveller Reader's Choice Awards
Recent winner of Four AA Red Stars
Winner of a Tripadvisor 2021 Travellers Choice Award