In London later this week? This you're in for a treat. Lumiere London was last here in January 2016 and everyone is really looking forward to it returning this month.
Even though I live in London, last time I booked a hotel stay in central London so I could walk to see a lot of the lights but this year I'll be travelling in from home (zone 3) so I'll need to do a lot more planning (which, of course, means I have a lot more advice to share with you!)
We can expect a lot of crowds as the 2016 event brought 1.3 million into central London and this year's light festival is going to be bigger.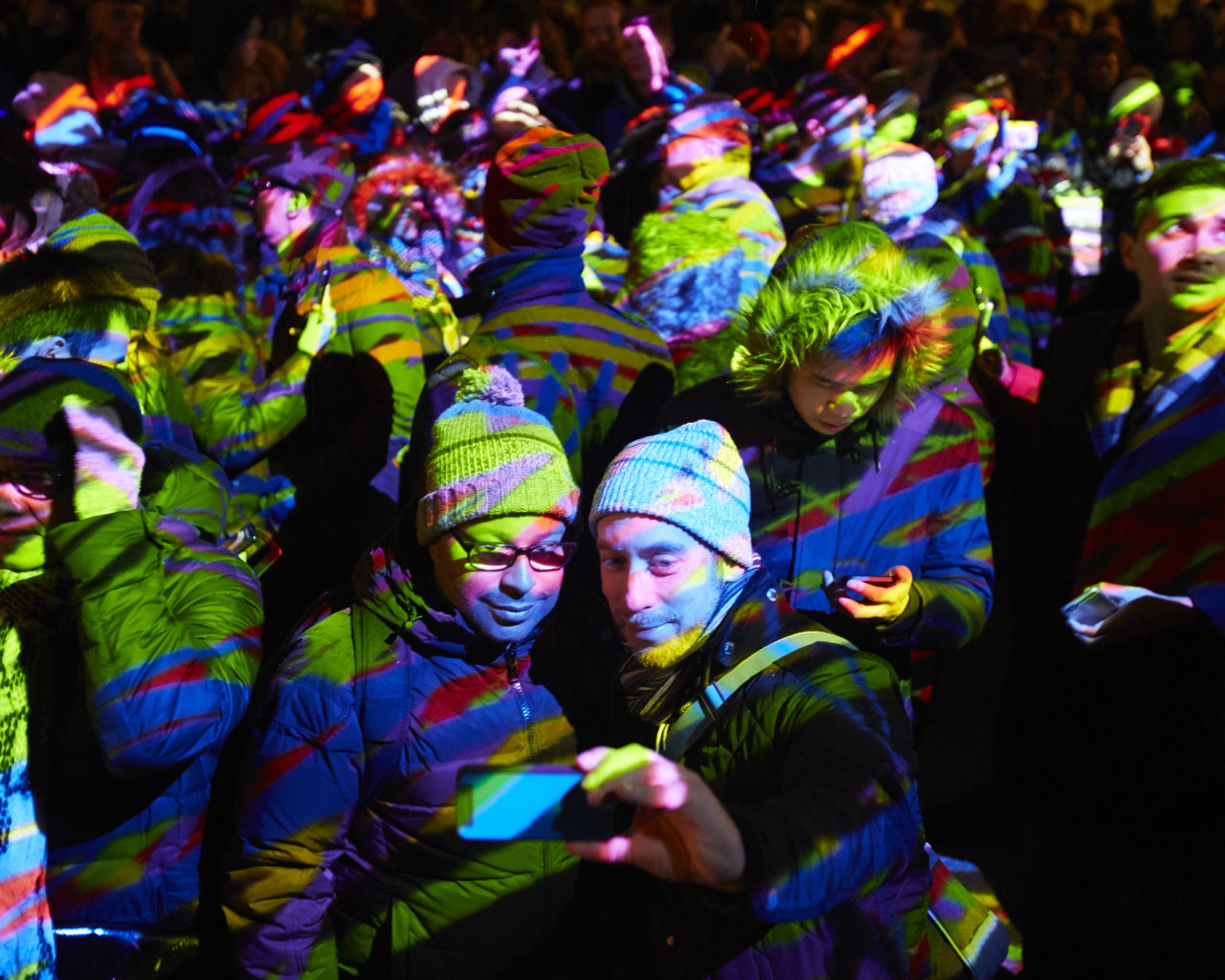 What Is It?
Lumiere London is a free four-night light festival commissioned by the Mayor of London. It's the UK's largest light festival and is produced by arts charity Artichoke who also brought us The Sultan's Elephant in 2006 which brought one million people onto the streets (and was truly brilliant).
Even bigger, brighter and bolder than its inaugural event, for Lumiere London 2018 we can expect to see some show-stopping installations reimagining London's iconic architecture and streets.
Mayor Sadiq Khan has said, "Festivals like this showcase London at its international, creative and open best." (We're all about being 'open' these days.)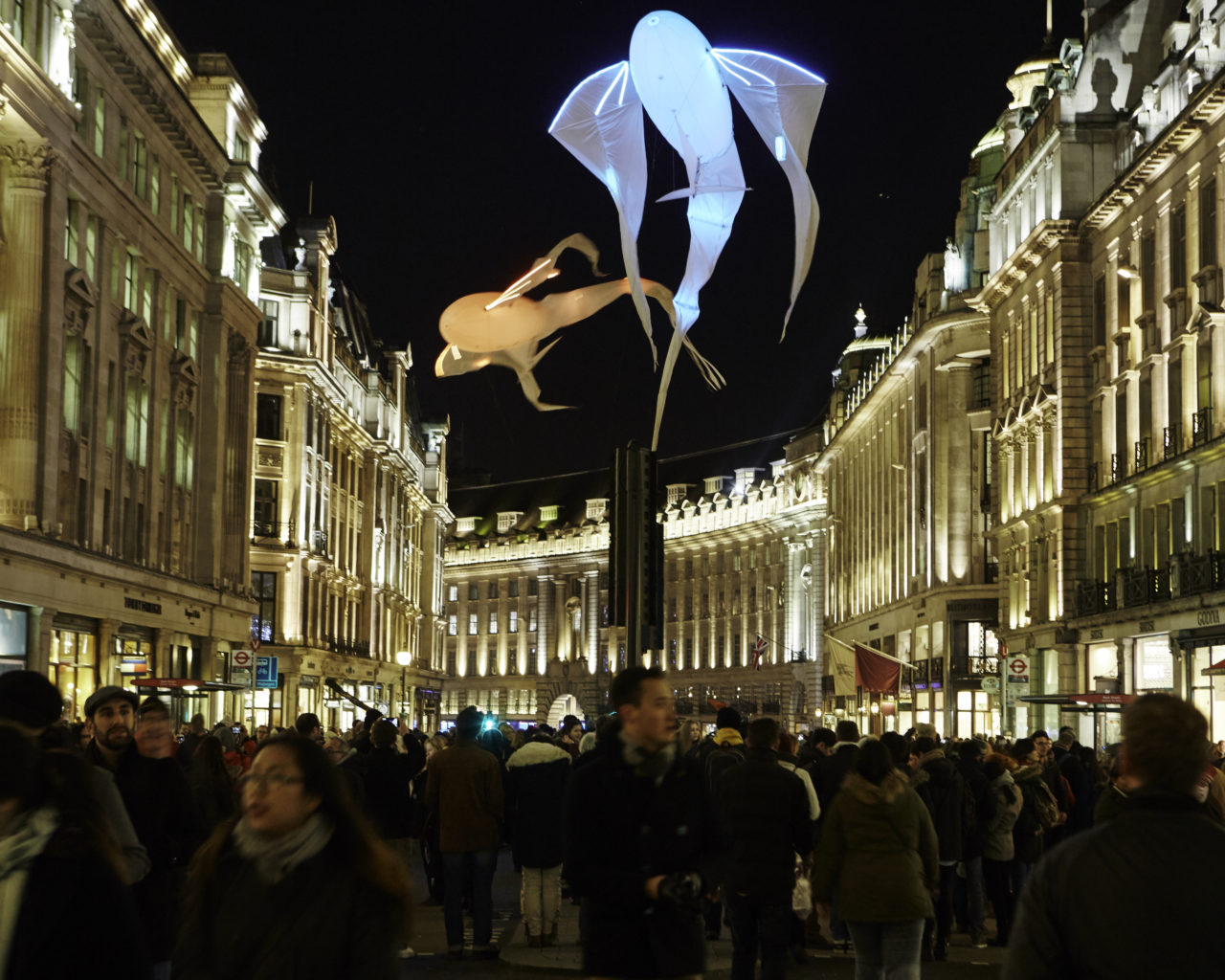 When Is It?
It's happening from Thursday 18 January to Sunday 21 January 2018. As it's a nocturnal light festival the lights go on from 5.30pm and off at 10.30pm each evening.
Where Is It?
There are more than 50 stunning outdoor light installations throughout six central London areas:
King's Cross
Fitzrovia
London's West End (including Carnaby Street, Leicester Square, Oxford Circus Piccadilly, Piccadilly Circus, Regent Street, St James's and St James's Market)
Mayfair
Westminster & Victoria
South Bank & Waterloo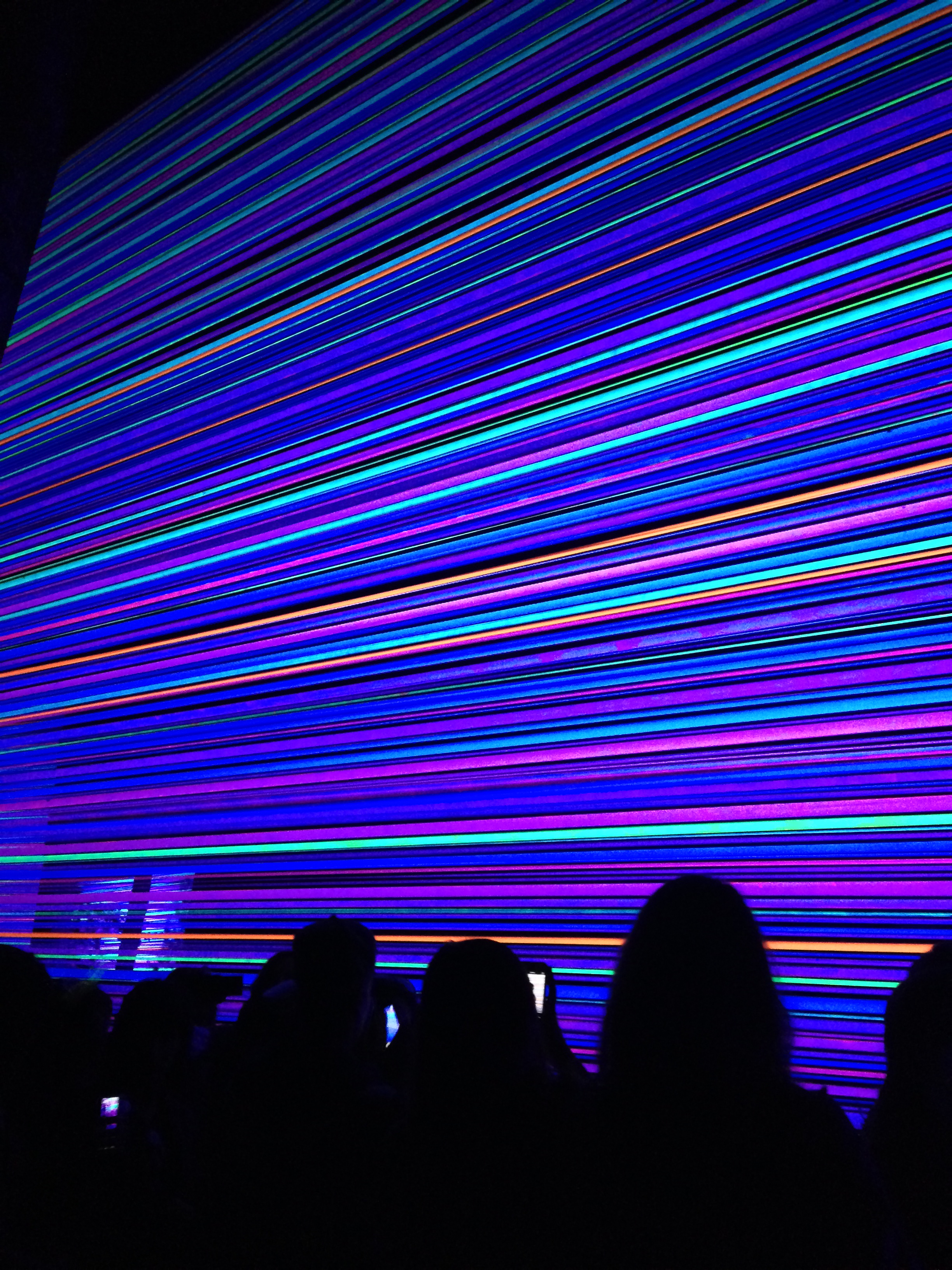 See the City in a New Light
The 50+ artworks made using the medium of light will explore some of London's most iconic buildings, landscape and architecture. Some of the locations include Trafalgar Square, Chinatown, Leicester Square, the National Theatre, the Royal Academy of Arts and Westminster Abbey.
The festival features artists from across the UK, France, Germany, the Netherlands, Spain and Canada amongst others.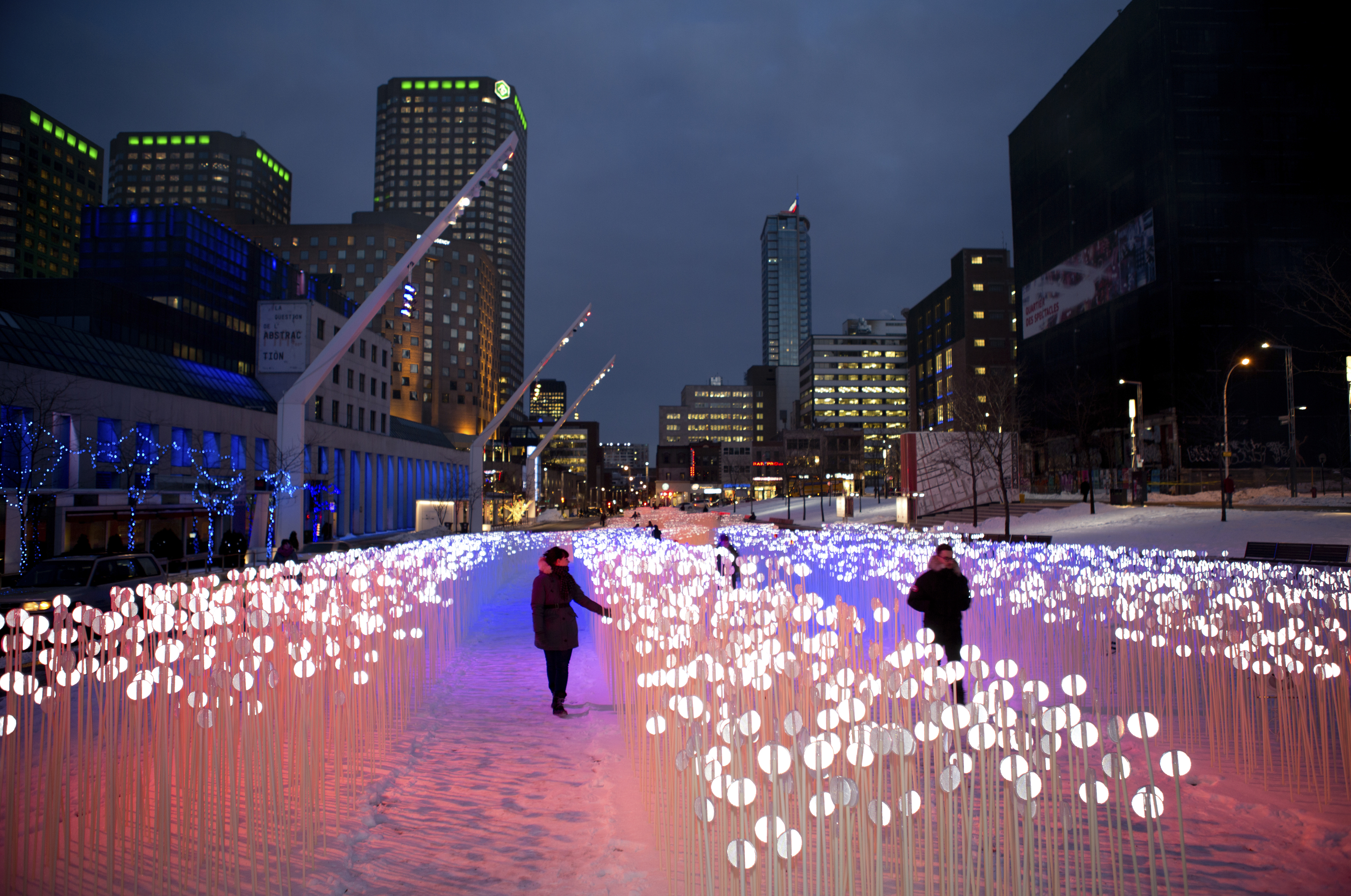 Highlights
As there is going to be plenty to see I definitely recommend planning which ones you want to see the most on the free Visit London app where you can save your favourite installations.
You can also buy the Lumiere London map to help you navigate the festival areas (pay by donation from £1 so no actual fixed price). Or purchase a souvenir guide with more details of the festival (£5).
Some of the highlights include:
Interactive illuminated singing seesaws in South Molton Street, just off Oxford Street, in Mayfair. Yes, actual seesaws you can play on – and these are not just for the kids. Impulse invites the public to find their inner-child and play in an urban, public space. The more you move the seesaws, the more light and sound is produced.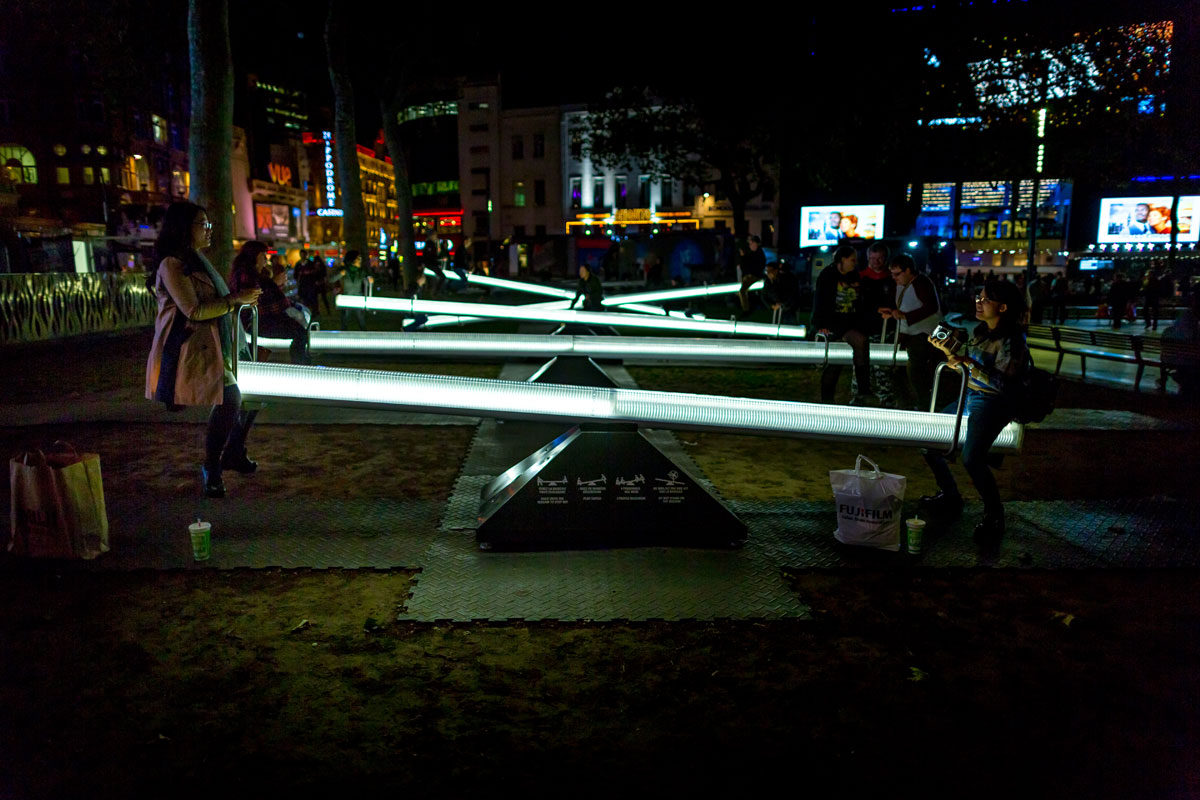 An immersive work that imagines a world underwater at King's Cross. Inspired by our changing relationship to water along with global warming and rising sea levels. Waterlicht underlines the power and poetry of water, enveloping viewers in a virtual flood.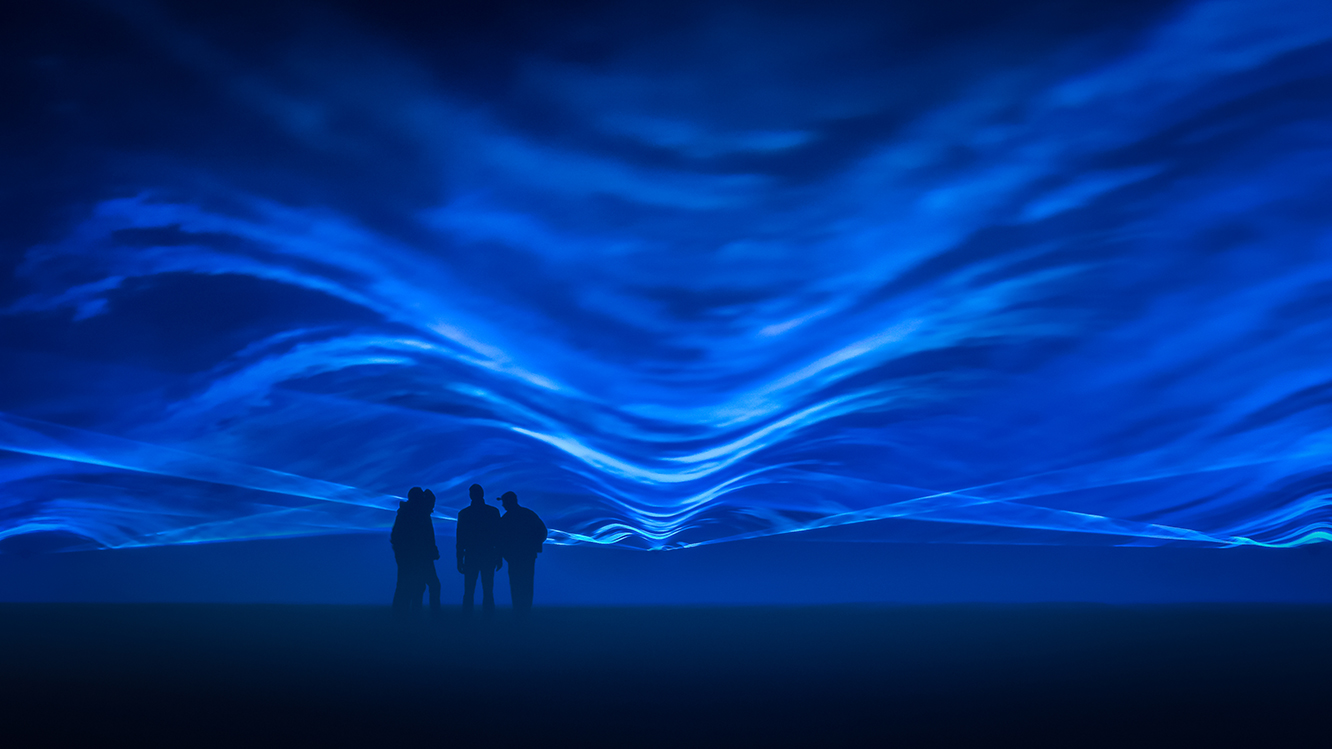 A meditation on time from the Industrial Revolution to the present day projected onto the facade of the iconic Hotel Café Royal building on Regent Street. At the Piccadilly Circus end of Regent Street, Voyage explores the journey through time and space. It's a large station clock and as the hands of the clock swing around they mark our travel through to the frantic pace of today.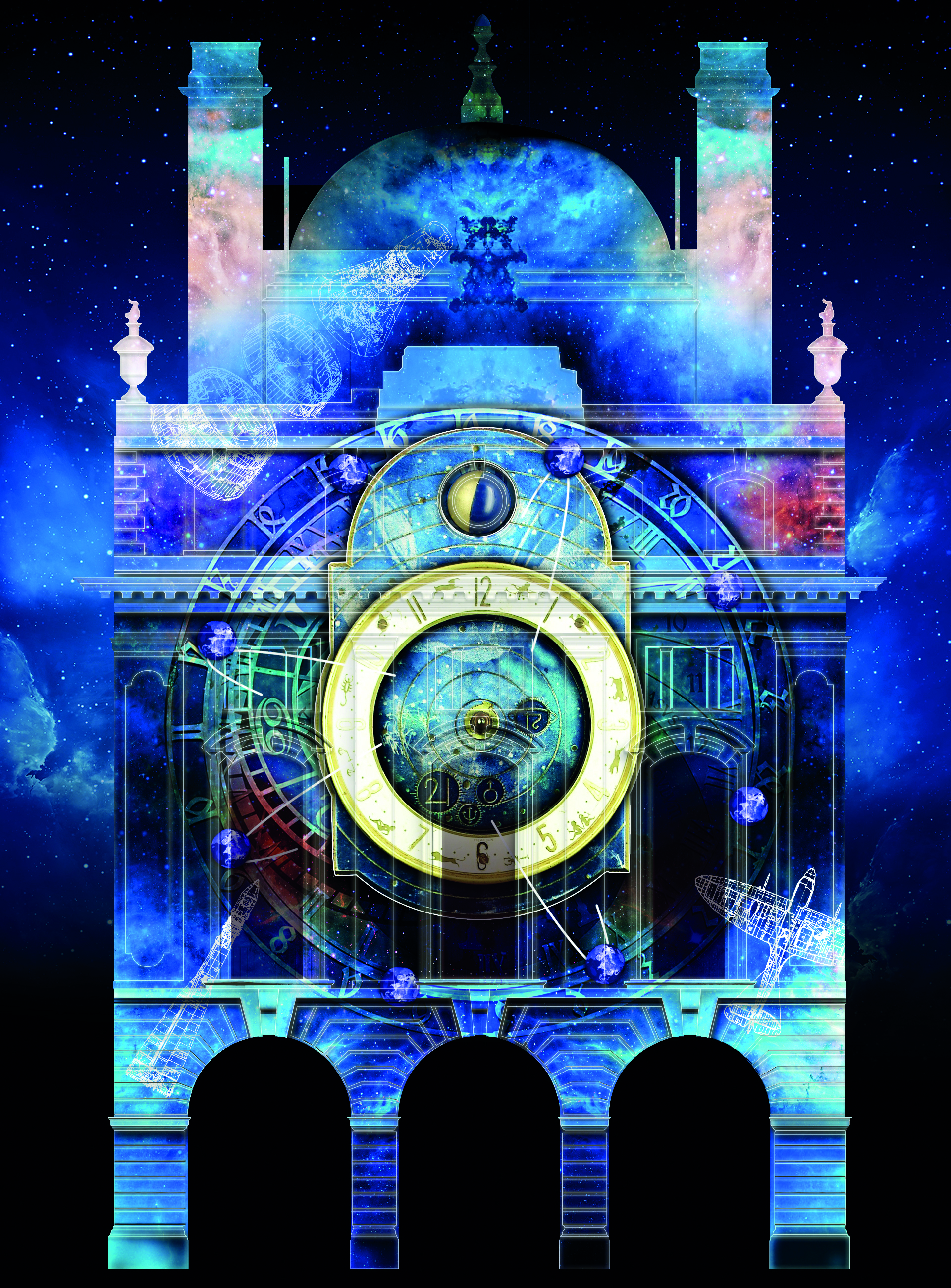 Look out for the flamingos flying through Chinatown London. Flamingo Flyway sees these extraordinary flame-coloured birds wafting serenely over the crowds.

There's a triptych of animated self-portraits in Leake Street. Ruby, Santiago & Adam has 750 photographs as Ruby sees Allen's painted face transform from a skull into a sky full of shooting stars; while Santiago traces the history of humankind mapped out from its single cell origin.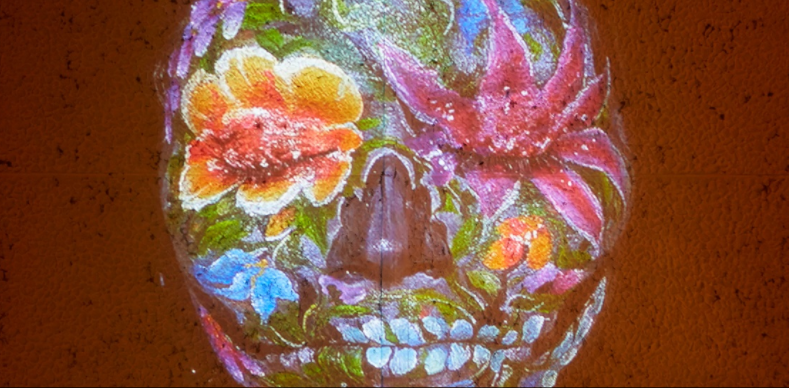 A Matisse-inspired animation will be dancing across the facade of the Royal Academy of Arts on Piccadilly. Love Motion is inspired by the flowing lyrical movements of Matisse's dancing figures. It's an animation of two intricately paper-cut figures who will dance elegantly across the building's stone facade, clasping each other in romantic embrace. The lights are accompanied by a moving and original soundtrack to bring a joyful burst of simple pleasure on a cold, dark wintery night.

Leicester Square Gardens will be transformed into an evocative illuminated world entitled Nightlife. Populated by a host of curious nocturnal creatures in a luminous secret garden, the installation plays with the tension between wild spaces and urban city life.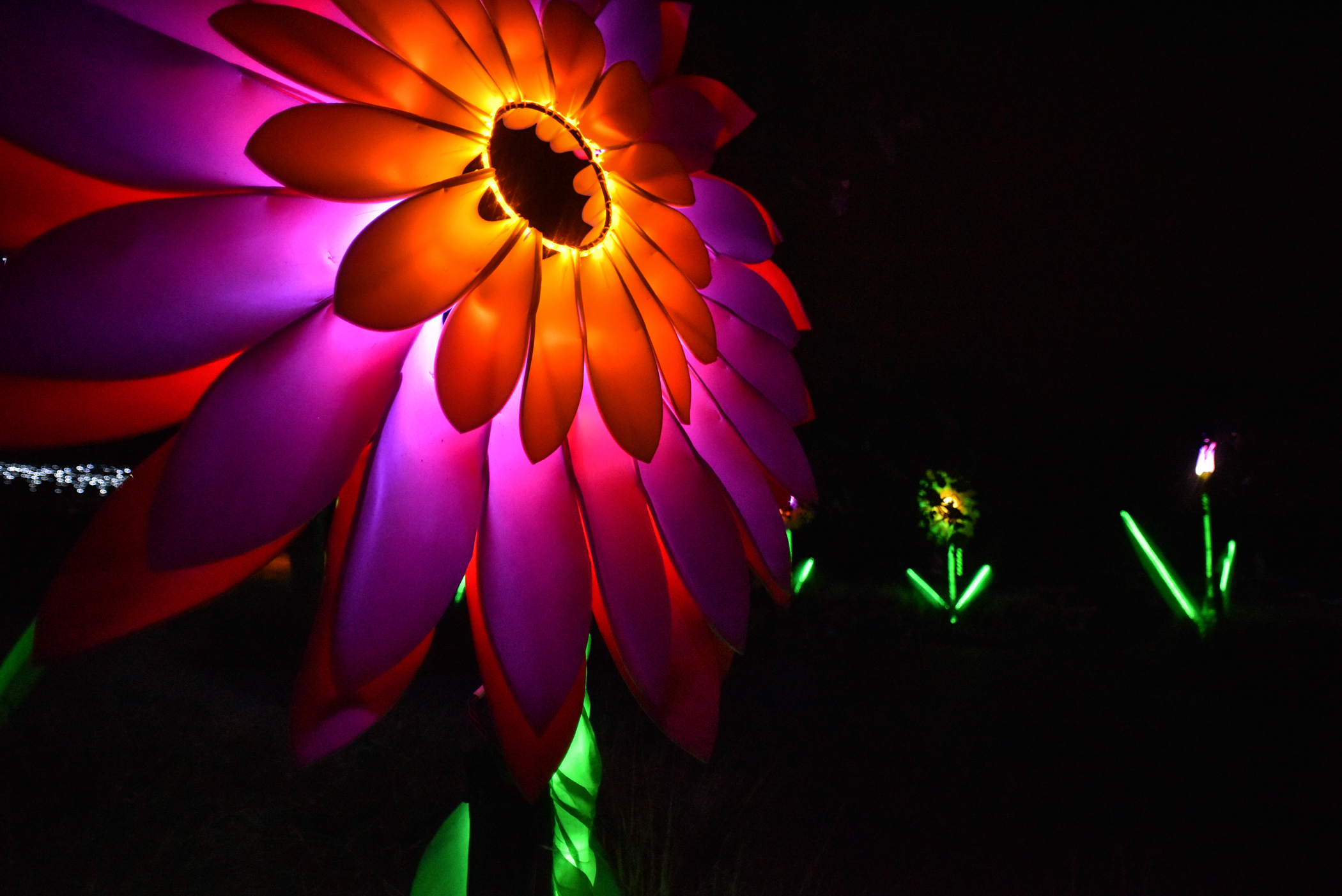 And back again as it was one of the most popular light installations in 2016 is The Light of the Spirit (Chapter 2)  on Westminster Abbey. The projection highlights the architectural mastery of the building, enabling us to witness the glorious statuettes of 20th-century martyrs reimagined. Usually perched unobtrusively on the facade above the Great West Doors, the figures are transformed into kaleidoscopic illuminations, a tribute to their lives in technicolour.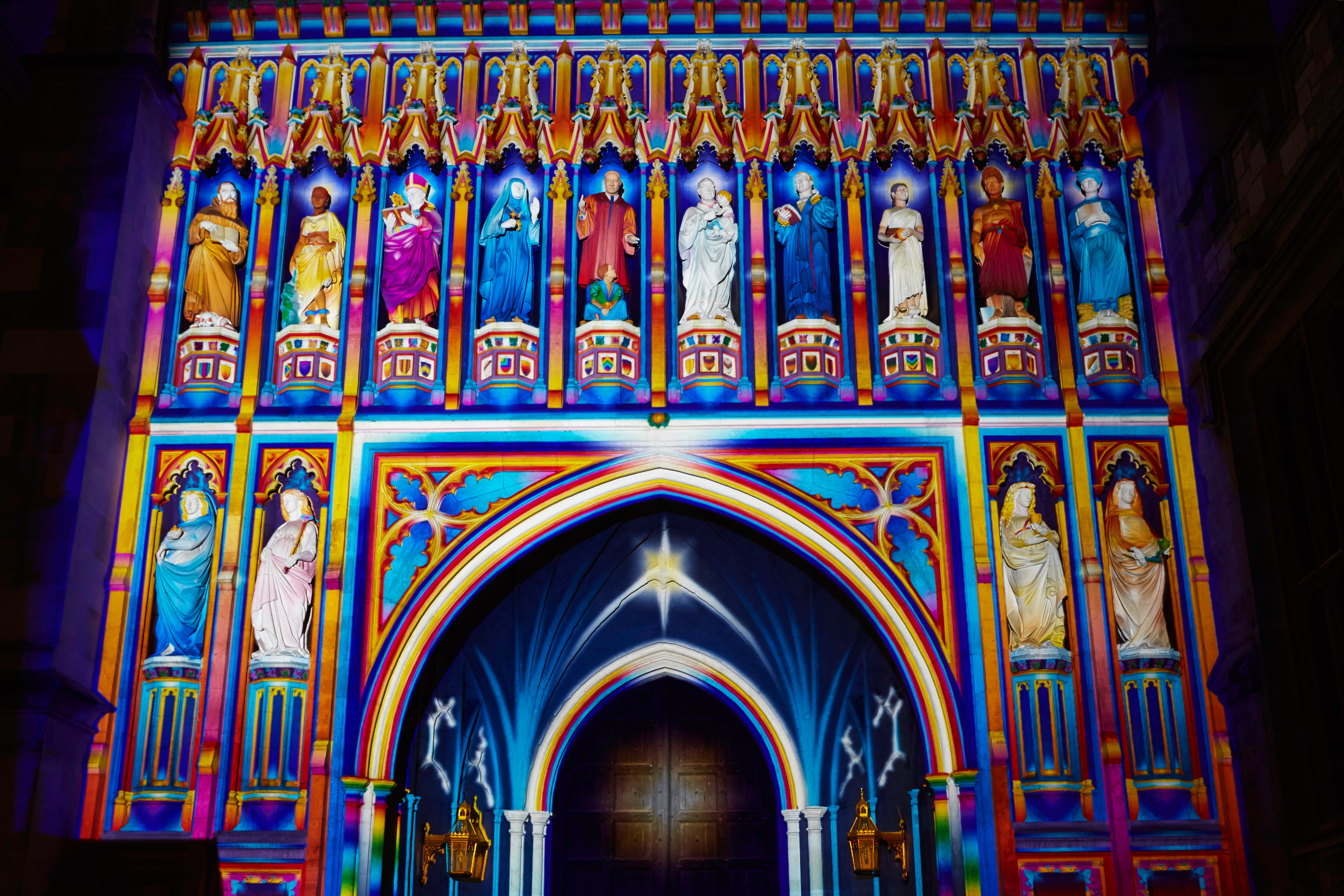 Travel Planning
No Driving
The key thing to know is it's going to be busy so don't consider driving (not that many Londoners choose to drive into central London as we have such a comprehensive transport system).
Bus Travel
There are going to be lots of road closures so many bus routes are diverted or are terminating either side of the Lumiere London area to avoid major delays.
The following bus routes in the West End will be diverted or terminate earlier than usual:
3, 6, 7, 9, 10, 12, 14, 19, 22, 23, 25, 38, 43, 55, 63, 73, 88, 94, 98, 113, 139, 159, 390, 453, and C2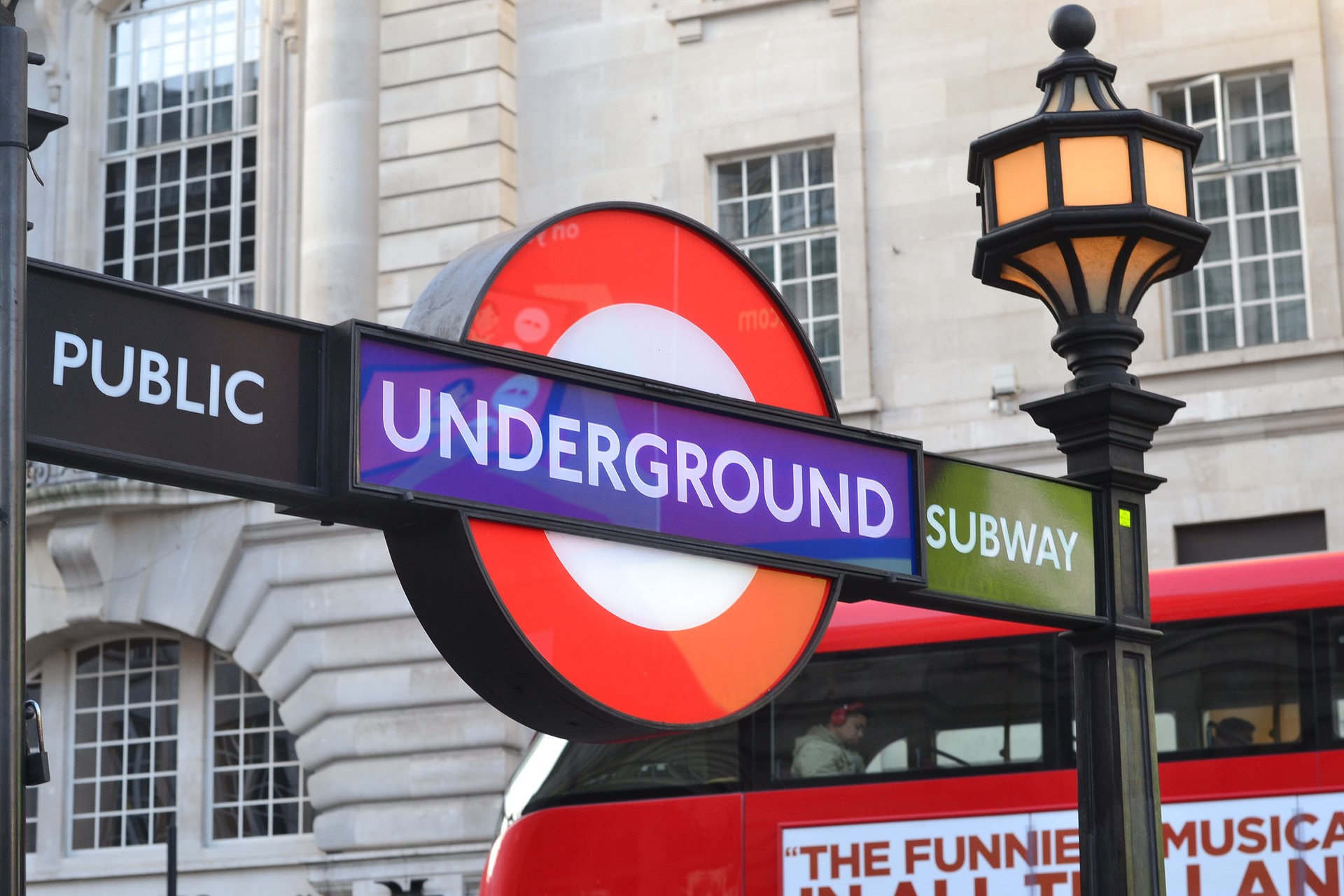 Tube Travel
Tube stations near installations are going to be busiest and are marked on this handy map which also includes really useful walking times between central London stations. It could help to download this 'walking between tube stations' map which lists the distances in minutes across stations in zones 1, 2 and 3.
The busiest stations are likely to be Oxford Circus, Piccadilly Circus and King's Cross but Holborn and Covent Garden are also expecting higher than usual passenger numbers.
If the number of people inside the stations gets too crowded the entrances will be closed so you won't be able to join the network here but, hopefully, they will be able to remain open for exit only.
Walking is Best
The best advice is to put on your walking shoes and know that you can't see it all in one night.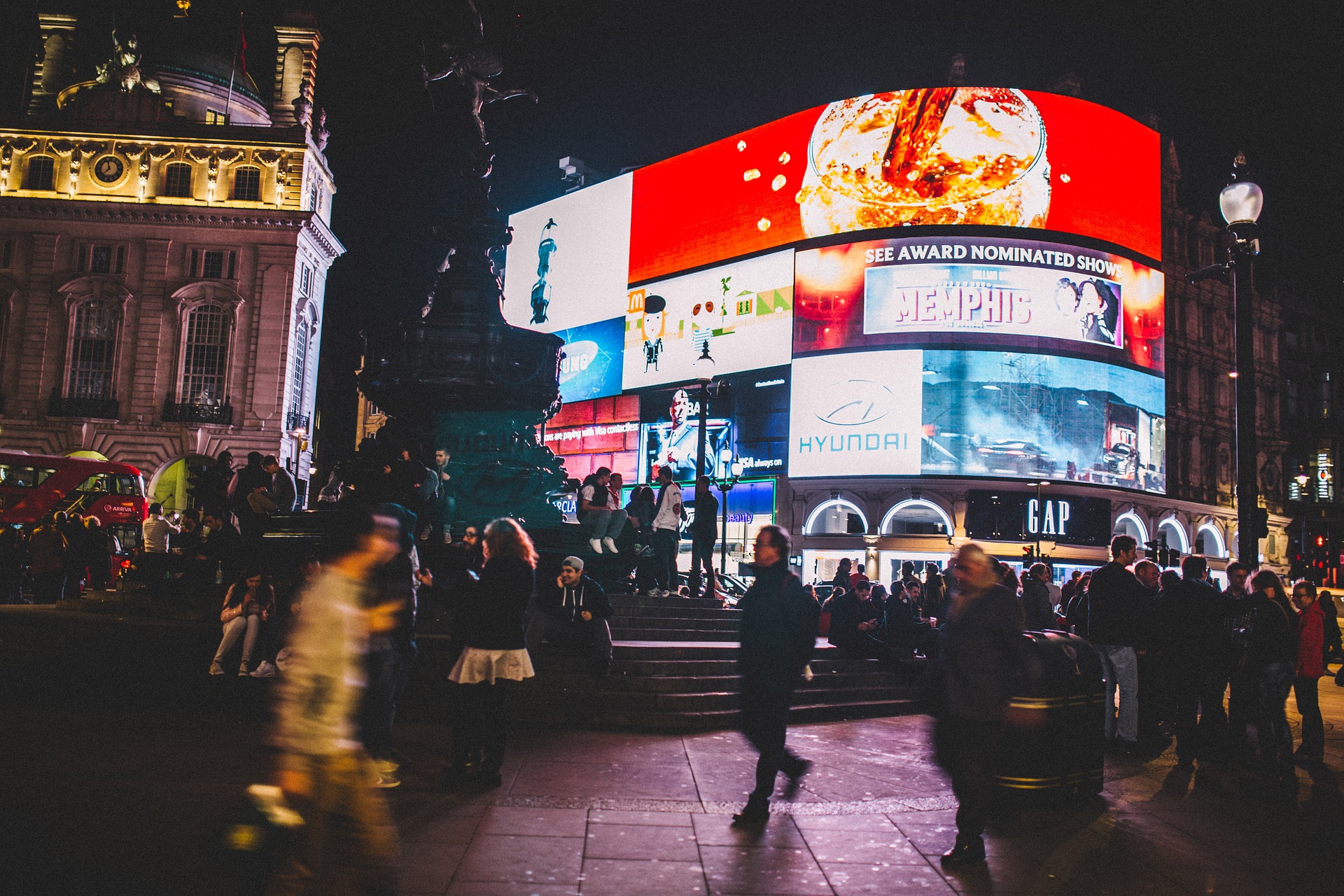 Travel Early
Aim to get into central London before the lights go on at 5.30pm as there will be significant travel disruption (not just in central London) in the hour leading up to the illuminations starting.
The official advice is to travel before 4.30pm and after 11.30pm to avoid the most disruption.
Be Flexible
Be flexible in how you travel to and from your home/hotel/London base and ensure you know some alternative options in case tube stations close due to crowding or buses terminate at different locations.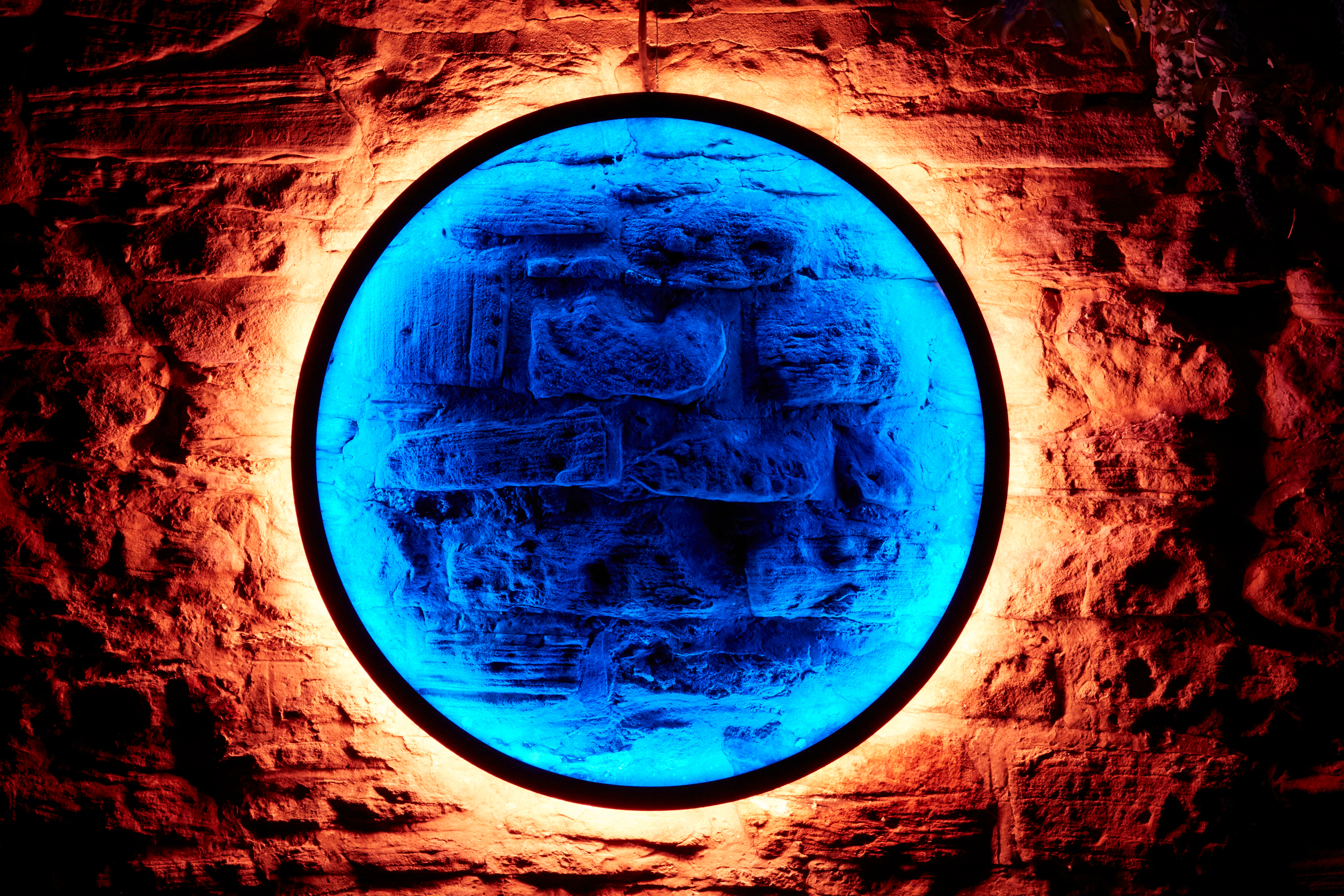 Special Offers
Seven Dials has the playful 'Aquarium' installation on Earlham Street by French duo Benedetto Bufalino and Benoit Deseille, which transforms an iconic London telephone box into an aquarium full of real, exotic fish.
Each night a number of Seven Dials stores and restaurants will be running exclusive offers.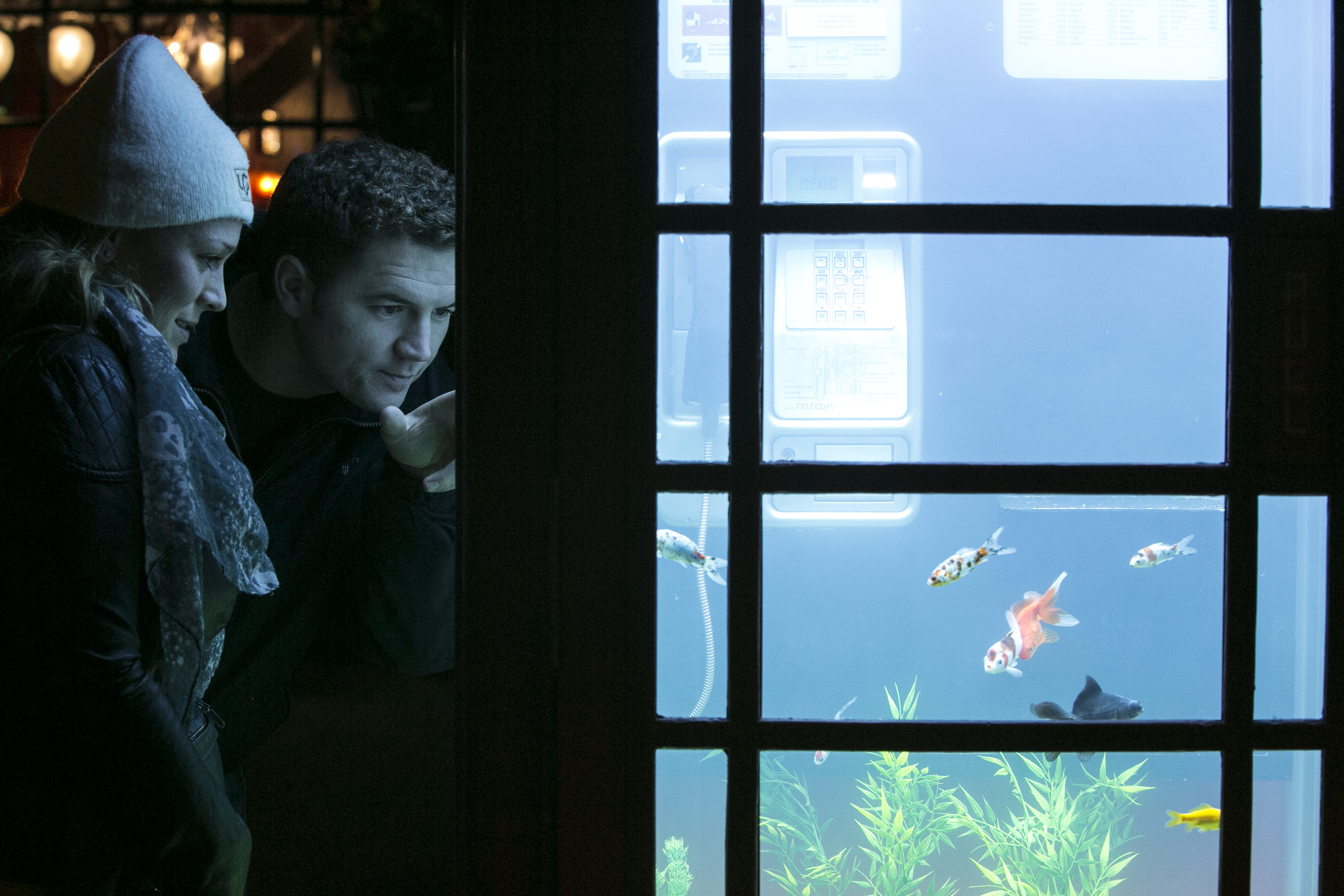 There are central London hotel stay deals and restaurant offers available for the weekend too.
Carnaby (Carnaby Street and the surrounding streets) have on offer free hot chocolate, free Lumiere-inspired cupcakes, complimentary cocktails and a luminous makeover too.
Westminster Abbey is opening on Thursday and Friday evenings from 6.30-9pm. There is a special reduced entry fee of £10 for adults and £5 for children (the usual entry fee of £22/£9 during the daytime). The Abbey Shop and Cellarium Cafe will also be open.
Also See
Watch local groups from several outer London boroughs take part in a series of choreography and performance workshops to create the Umbrella Project, by Bristol-based Cirque Bijou, roaming artworks that will pop-up in Piccadilly and Fitzrovia locations during the festival.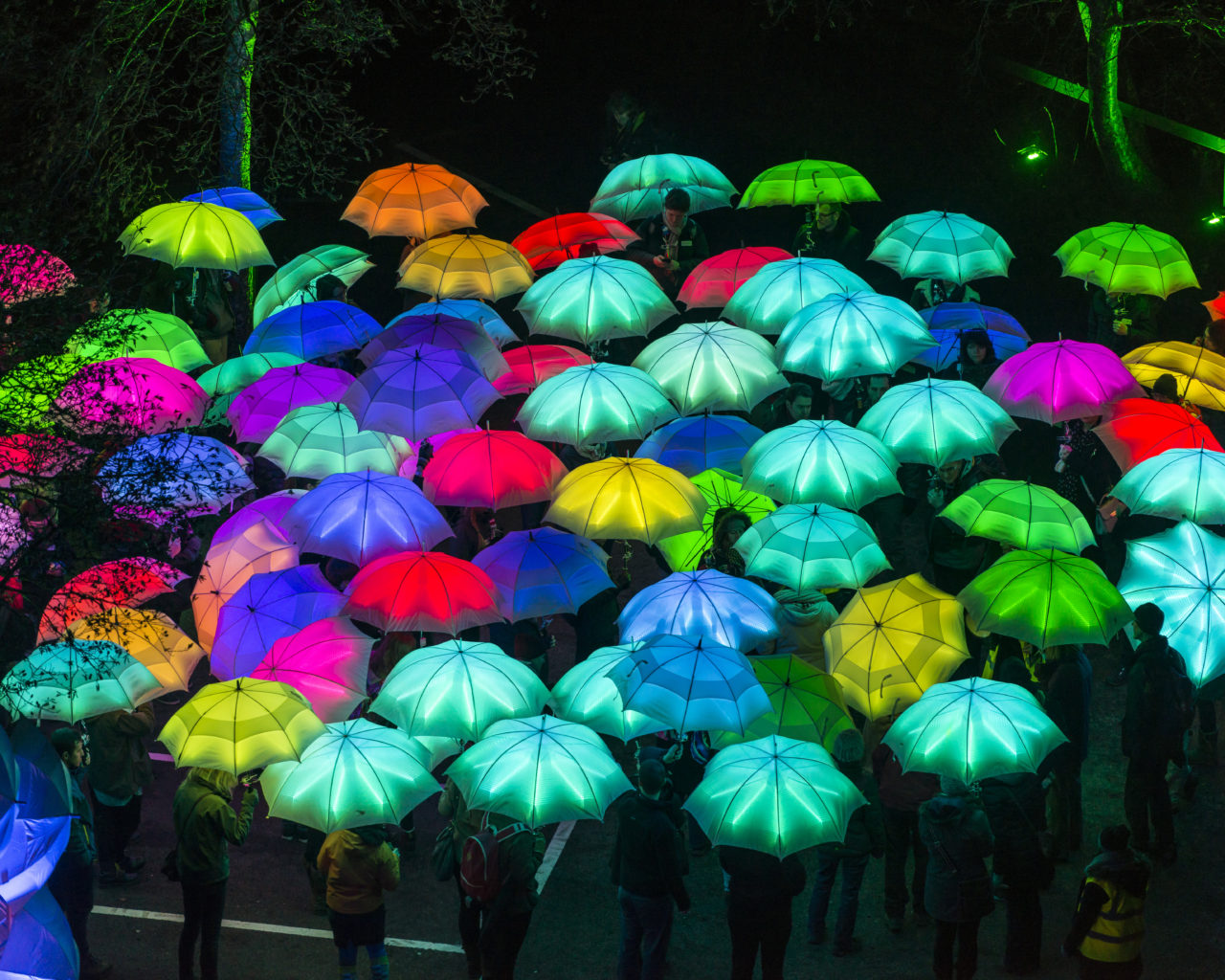 Ordinary Londoners have also helped create Bottle Festoon installations of shimmering chandeliers made from recycled plastic bottles which can be seen in King's Cross, at Brown Hart Gardens in Mayfair and on the South Bank. These will be used for a one-day light festival taking place on Thornton Heath in south London following Lumiere London at the end of January.
The Thornton Heath Light Festival will also give Londoners a further opportunity to see a version of Leicester Square's Nightlife commission.
Lumiere London Official Website: www.visitlondon.com/lumiere
I'll be going to see the lights so will have photos, videos and news to share in another blog post soon.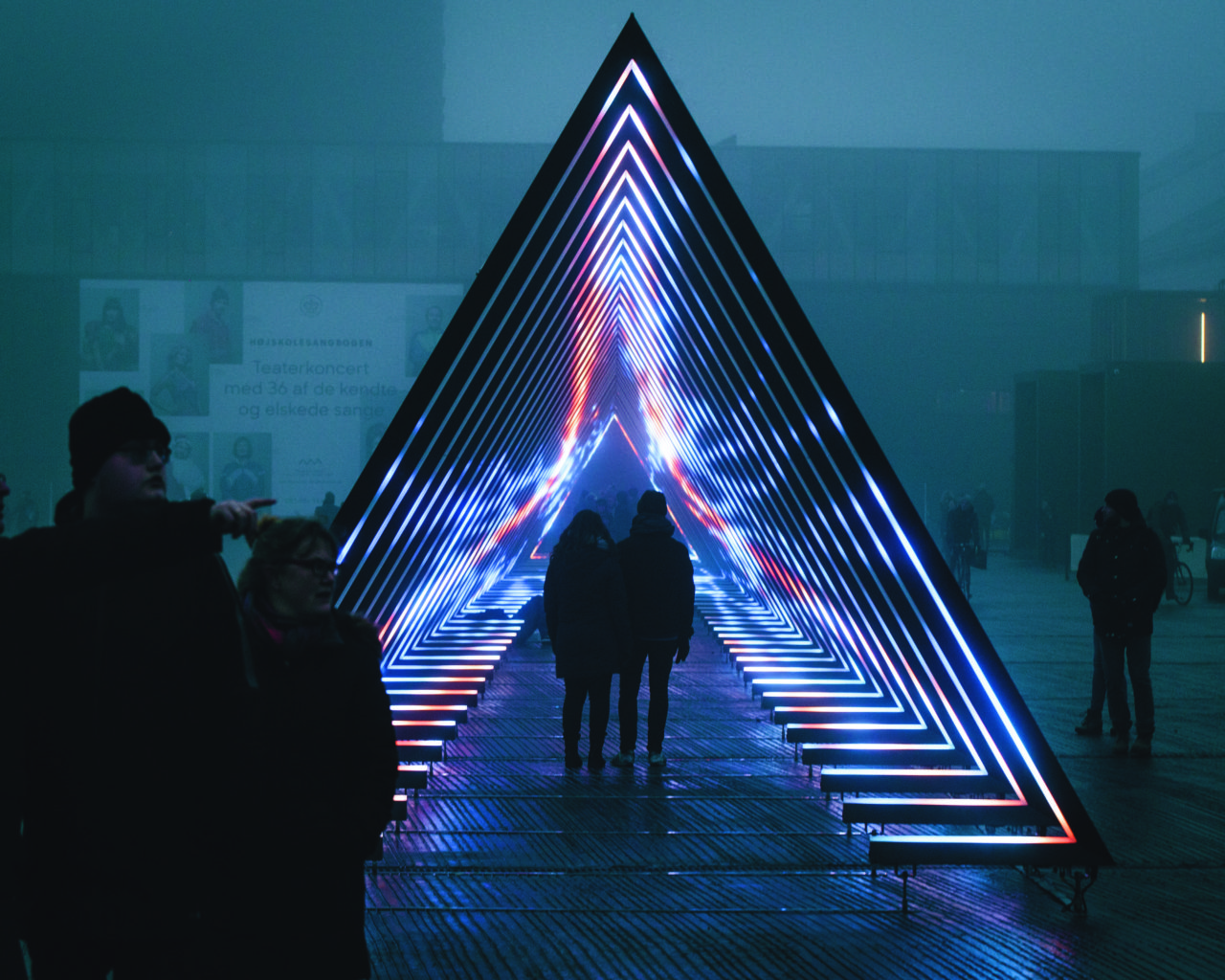 Canary Wharf Winter Lights
And there's another free light festival on at the same time as Lumiere London but with more dates so it doesn't tend to get crowded.
Canary Wharf Winter Lights is on from 16 to 27 January 2018 and includes some fun interactive sonic art too.
Ice Rink Canary Wharf is one of the few winter ice rinks still open in London so you could skate in the evening too.