A great view can be absolutely breathtaking.  Whether looking out over the distance on the ground or observing everything below when you're high in the sky, a different look at a place can help give you a new perspective on a place.  Every city has some pretty fantastic spots from which to view it, and London certainly possesses some very unique viewing points.  On land, water, and sky, you can check out the city from any of these vantage points.  Have any of your own favourites?  Let us know in the comments.
Primrose Hill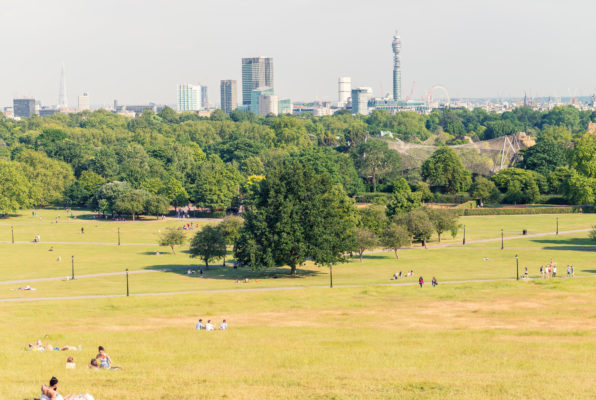 Part of Regent's Park, Primrose Hill is one of the greenest places from which to view the city.  The summit is 63 metres above sea level, offering an excellent look at London, which makes it a very popular place for tourists and locals alike.  Primrose Hill is possibly the best place in the park to take a picnic lunch and snap some photos.  You can also find "Shakespeare's Tree," and oak that was planted in 1864 to mark the 300th anniversary of the Bard's birth. This view is free!
Thames River Taxi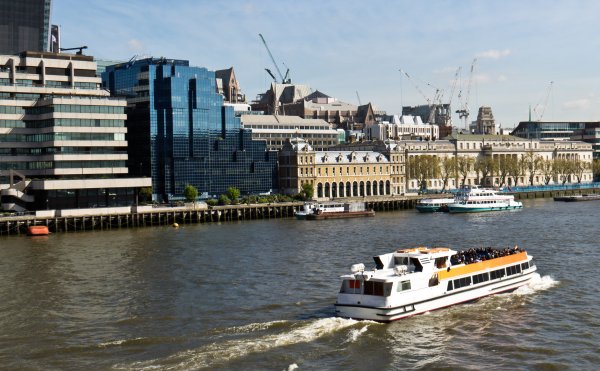 From the ground to the water, one of the many river taxis that move up and down the River Thames are a different way to take a tour without getting on a double-decker bus.  MBNA Thames Clippers is one of the most popular river taxis and shuttles commuters as well as tourists along the river each day.  If you're doing more than just getting to work, you can buy an audio guide for the trip.  Even better, they serve a number of drinks and snacks, and it even takes Oyster cards. It's a cheap ride with great views.
London Eye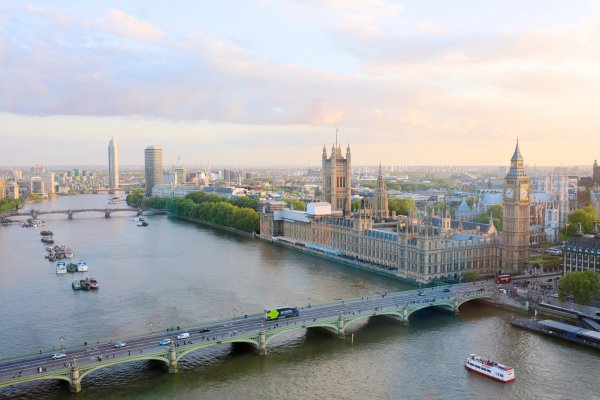 Moving right along, when it was erected in 1998, the London Eye was the world's tallest Ferris wheel (a status that has since been eclipsed a couple times over) and is still Europe's tallest Ferris wheel.  Each ride on the Eye is known as a "flight," and it is 443 feet high at its tallest point, providing an excellent view of surrounding Westminster and beyond.  For an extra special trip, you can buy tickets for a "champagne flight" or reserve a private capsule. The London Eye has an admission charge and we advise booking in advance.
St. Paul's Cathedral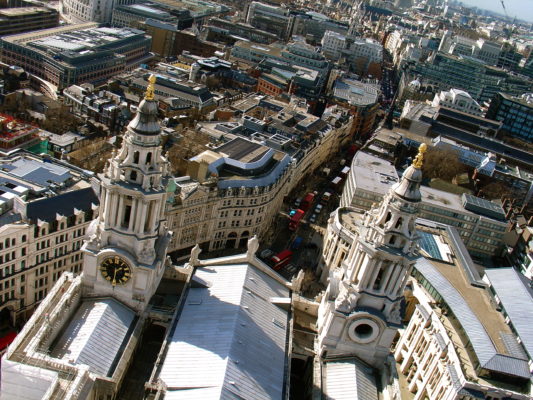 This great church by Sir Christopher Wren includes a magnificent viewing area in its dome, or rather, it's three domes.  The main dome is actually a three-dome structure, each dome holding a gallery, including the Whispering Gallery, from which visitors can hear conversations on the other side.  To get to the view of London, visitors need to climb 528 steps to the Golden Gallery, which sits 85 metres above the cathedral floor.  From this vantage point, you can see the Globe, the Tate Modern, and much more. It's quite a climb and can be claustrophobic at times, so if you're not in fit condition, avoid it! There's no lift! It's included in your admission to the cathedral.
Tower Bridge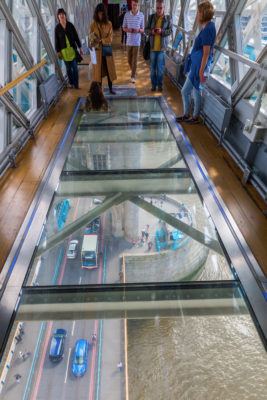 The original walkway over Tower Bridge was a popular pedestrian location since it opened in 1894, but it developed a notorious reputation as a place for pickpockets and prostitutes and was closed in 1910.  It opened again in 1982 as part of the Tower Bridge Exhibition.  Eventually, the walkway was refurbished to include a glass-bottom portion that lets visits look directly onto the river below.  If you can't make it, Tower Bridge offers a couple of apps that let you take in the experience from your mobile phone. There is a small admission charge for this experience.
ArcelorMittal Orbit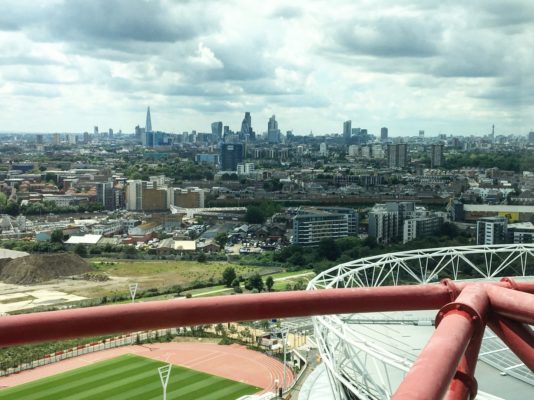 The ArcelorMittal Orbit is the tallest sculpture in Britain, and sitting in the middle of Queen Elizabeth Olympic Park, its 80-metre height offers an excellent view of the 2012 Olympic facilities.  However, if you're going up just or the view, you're not getting the entire experience.  You might take the lifts to get to the top, but getting down offers a couple of intriguing options, a set of steps that move all around the tower or a slide for those who want to get back down to a faster (and more fun) pace.  If that's not daring enough, special events include opportunities to hang off of the sculpture for a very intense view. There is an admission charge and we advise booking in advance as the new slides are quite popular.
Sky Garden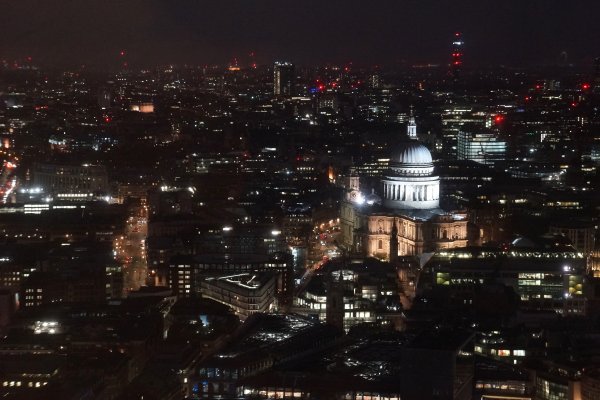 At the top of 20 Fenchurch (also known as the Walkie Talkie) is the Sky Garden, occupying the buildings 35th to 37th stories and featuring a small garden, restaurant, a brasserie, and a couple of bars.  What view you can get of the city is pretty stunning, even offering a good look at another entry on this list, but it has met with some criticism since opening.  Some don't care for the view as much as the public has to make the reservation to get up there 30 days in advance and three days at the soonest.  Still, for only a 90-minute window, the panorama is still pretty exhilarating. It's free but you must book several weeks in advance.
Emirates Cable Car/O2 Arena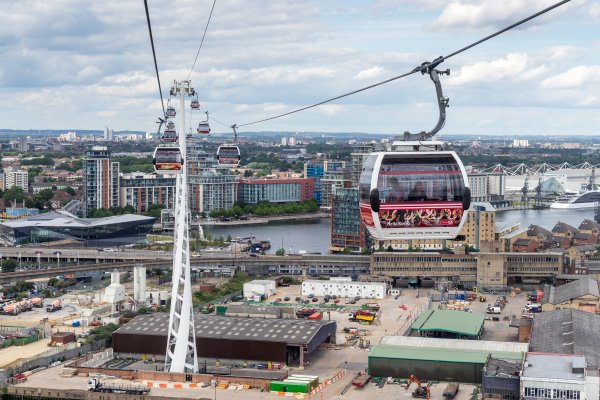 Much as when British Airways owned the London Eye, Emirates Air likes to describe their cable cars rides as "flights" over the River Thames from the Royal Docks to Greenwich Peninsula and the O2 Arena.  Cabins arrive every thirty seconds, and the flight takes ten minutes as it moves over the three pylons.  While offering an excellent view of the city, the flights also have the option of a video tour and night flights take an extra fifteen minutes so you can enjoy the city lights.  Once you get over to the O2, Up at the O2 offers patrons the chance to climb over the arena's massive dome, the top of which can offer views of landmarks fifteen miles away on a clear day.  The arena also offers dusk and evening climbs, as well as a mobile app to enhance your experience. It's not an expensive ride and you can use your Oyster Card.
Royal Observatory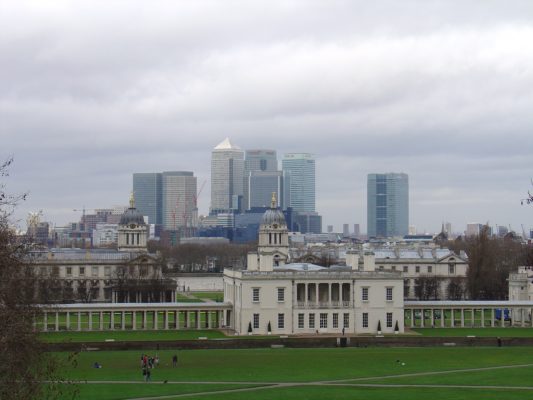 The hill on top of Greenwich Park doesn't just offer a chance to view the stars, but to see out over the borough and to the city beyond.  Looking out over the rolling greens of the park and past the Old Royal Naval College, you'll get a view that's every bit as nice as Primrose Hill.  Plus, after you're done, you can take in the Observatory and its incredible history of science, navigation, and astronomy.  The sights from the Royal Observatory are fantastic any time of day. There is now an admission charge to this attraction.
The Shard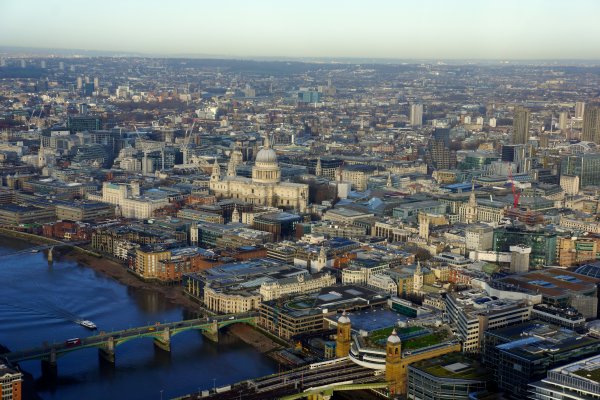 The newest and tallest vantage point for London, observation decks can be found on floors 68, 69, and 72.  Buying a ticket in advance will guarantee any visitor a chance to view the city from its highest vantage point, one that offers a 360-degree view of London for forty miles.  The building also offers day and night views for an extra £10 as well as guided tours.  If you're in the mood for a meal and a view, the Shard's six restaurants and bars are more than happy to accommodate you, provided you have a reservation. The Shard is one of the most expensive tickets in London, we advise booking in advance, but it's very much work it!