We rely pretty heavily on our smartphones when we're traveling in London. This can be both a good thing and a bad thing when you consider how ridiculous international data roaming charges are.
Despite this, we found a few useful apps that were indispensable on our recent trip to London that we just had to share with everyone. Many don't rely on data roaming if you use them carefully. Even with roaming turned off on your phones, some of these apps can be very useful.
Where possible we'll provide both the Android and Apple App Store links.
Hailo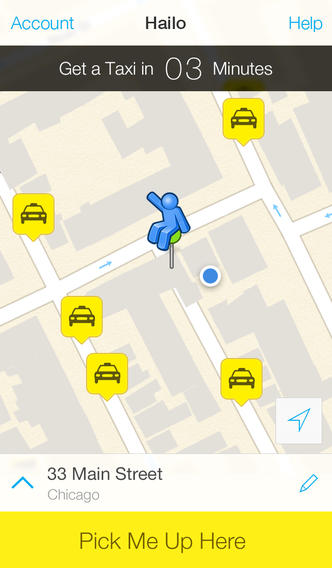 This simple app changed the way we got around London. Hailo is pretty simple, wherever you are, you simply open the app and tell a cabbie to pick you up. Personally I hate having to hail a cab from the curb and it can be very difficult to get one in a neighborhood if you're not on a main street. This app changes all that, you simply tell the App to pick you up, a London cabbie takes the hail and comes and picks you up. You tell him where to go and then when you get there, the app charges you for your ride. You don't have to pay cash and you can even tip from the app (but you don't have to).
While using Black Taxi's is not the most affordable way to get around London, it can be the quickest and most efficient way. We used it mostly when we had somewhere to be by a certain time and a Tube ride was going to take too long. This app requires data to be functional, so we generally used it in our flat and had the Taxi pick us up there. What's really cool is that you can watch the Cabbie's progress as he heads to pick you up so you know where to be waiting. You can also call the Cabbie directly if you have trouble finding him.
We used the app probably a dozen times and only had one FAIL – when the app thought the cabbie was a few minutes away but in actuality was 20 minutes away due to horrible traffic. We had to cancel the hail (which carries a fee unfortunately). You can also use the app in most major US cities (some don't allow it).
Click to Download on the Apple App Store.
Click to Download for Android.
Citymapper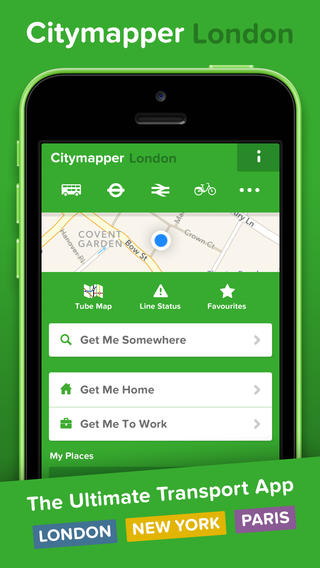 There are ample mapping apps out there (in fact we're going to recommend two) and people usually just rely on Google Maps or Apple Maps. After using Citymapper in London, you'll never use those apps again when you travel there. Citymapper is a fantastic took in route planning in London.
You start by telling it where you want to go. Then it tells you how to get there by Tube, Bus, Train, Bike, On Foot, etc. It will also tell you approximately how much a cab ride will cost to get to your destination (which makes this a great companion to Hailo so you can see how much your ride will be before you hail one).
We found this app to be very useful when planning our days our and figuring out the best way to get somewhere. If something is easy enough to get to on the Tube, we'd take that (and it will guide you the whole route). If we could walk, we'd let the app guide us to that. It's best to use this app before you've left free WiFi but you can still use it without data because the GPS will work anywhere (it's not part of your data usage). It has a handy little compass in the app too to point you in the right direction if you're having it show you how to walk somewhere.
Best of all – this app is free and indispensable for your London trip.
Click to Download from Apple App Store.
Click to Download for Android.
London Tube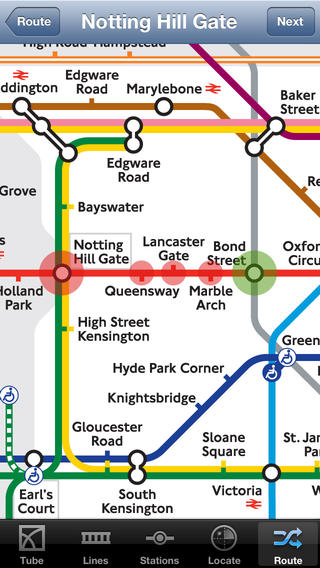 If you need a simple Tube app then London Tube is the app to get. While the app is not free – it's by far the best Tube app out there. It will give you a standard map of the network. It also breaks down the individual lines and stations. You can also have it located you not he Tube map so you can find the nearest Tube stop. But by far the killer feature is the route planner which will tell you in detail how to get from one station to another (and taking into account transfers to different lines).
The app costs $.99 and is worth every penny. You can also expand the app with several in-app purchases with additional information (but you don't need to do this for the app to be useful). It also works completely offline – which is great since you won't get cellular reception on most of the underground anyway.
Click to Download from Apple App Store.
Click to Download for Android.
London Mini A-to-Z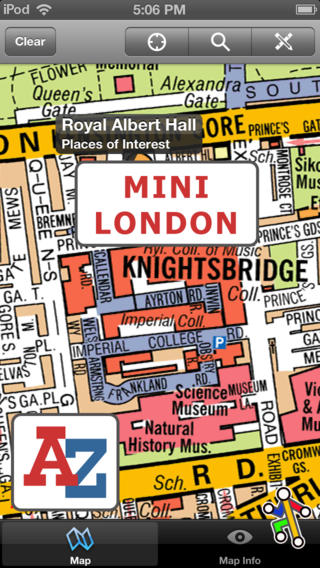 The London A-to-Z book is the standard for London mapping and the mobile app version is equally as useful. All the data is stored in the map and you can use the GPS locate function without data charges. It's not as user friendly at the Citymapper app but it's by far the most beautiful map of London and it's useful for learning the streets and neighborhoods.
The developer has several versions of the app out which can be confusing. The best one is the Mini Atlas version which has more than enough map info for most travelers in London.
It costs $4.99.
Click to download from Apple App Store.
Click to download for Android.
GoBaby London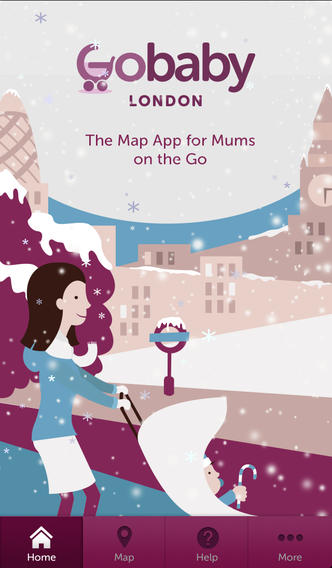 As parents of young children, this app was very useful for our trip as well. It provides a complete guide to London based on how kid friendly places are. It's useful for finding somewhere to change diapers, kid friendly restaurants and strategies for navigating the stroller unfriendly Tube network. Very useful for planning days out with the kids.
It costs $1.99.
Click to download from the Apple App Store.
Click to download for Android.
What apps did you find useful on your travels in London? Let us know in the comments!