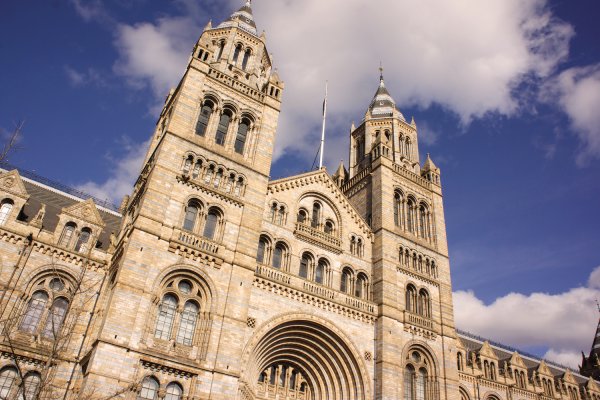 One of the greatest things about London is that most of the museums are free. Government funding and charitable donations ensure that many of London's best musuems are obligated to keep entry to the general public free (but they can charge extra for special exhibitions). This makes many of the museums more accessible to those who many not be able to afford a trip to the museum. It makes knowledge and art and culture free for everyone. It makes London a world class city. There are hundreds of free museums in London so we've gone through them all and picked the best. Which one is your favorite? Let us know in the comments!
Bank of England Museum
Only open on weekdays, this City of London museum has more than 300 years of history of the Bank of England. There are plenty of interactives and it's family-friendly. A popular highlight is the chance to try and lift a real gold bar.
Bartholomew Lane, London EC2R 8AH
Tube: Bank
British Library
This is the national library but it's not all about books. There are great temporary exhibitions and the permanent displays include the Magna Carta, handwritten Beatles' song lyrics and notebooks belonging to Jane Austen and Leonardo da Vinci.
96 Euston Road, London NW1 2DB
Tube: King's Cross St. Pancras
British Museum
There are more than 7 million objects here so don't try and see it all in one visit. Many come for the Egyptian mummies and the Parthenon Sculptures from the Acropolis in Athens, Greece. There are lots of free gallery talks and tours available daily too.
Great Russell Street, London WC1B 3DG
Tube: Tottenham Court Road
Grant Museum of Zoology
This UCL natural history museum was founded in 1828 as a teaching collection. It's full of skeletons and has many species now endangered or extinct. Do see the Micrarium display of microscope slides and the popular jar of moles.
21 University Street, London WC1E 6DE
Tube: Warren Street
Guildhall Art Gallery and Roman Amphitheatre
The Gallery houses the art collection of the City of London dating from 1670 to the present. Wonderful Pre-Raphaelite masterpieces are on permanent display. See the ruins of a real Roman Amphitheatre, in the basement, which was only discovered in the 1980s. (Note will be closed for two years starting in September 2018).
Guildhall Yard, London EC2V 5AE
Tube: Bank
Horniman Museum and Gardens
Founded by the Victorian tea trader Frederick Horniman in 1901, much of the original collection of still on display. Enjoy diverse exhibits from natural history to musical instruments. A popular highlight is the enormous overstuffed walrus.
100 London Road, London SE23 3PQ
Overground: Forest Hill
Imperial War Museum
The Museum tells the stories of people's experiences of modern war from WWI to conflicts today. The First World War galleries and the Holocaust Exhibition are deeply moving. The central atrium has large exhibits and there's a large art collection on display too.
Lambeth Road, London SE1 6HZ
Tube: Lambeth North
Museum of London
This is the place to find out about the history of London from prehistoric to modern times.
Look out for the Victorian Walk to explore shops of the time, the recreation of the 18th century Vauxhall Pleasure Gardens and the impressive Lord Mayor's Coach.
150 London Wall, London EC2Y 5HN
Tube: Barbican
Museum of London Docklands
Housed in a 200-year-old dockside warehouse, the museum tells the history of the River Thames and the Docklands. Ten permanent galleries cover trade, slavery, war and regeneration. Don't miss the dark alleyways of the Victorian Sailortown.
No.1 Warehouse, West India Quay, London E14 4AL
DLR: West India Quay
National Army Museum
The Museum is about the British Army and its impact on society past and present. The galleries explore how battle tactics and technology has changed over time, how the Army influences society and the impact the army has had around the world.
Royal Hospital Road, Chelsea, London SW3 4HT
Tube: Sloane Square
National Gallery
The neoclassical National Gallery takes up the entire north side of Trafalgar Square. Founded in 1824, it houses more than 2,300 paintings dating from the mid-13th century to 1900. It showcases works by artists including Botticelli, Titian, Raphael, Michelangelo, Rembrandt and Cezanne.
Trafalgar Square, London WC2N 5DN
Tube: Charing Cross
National Maritime Museum
Explore life on the sea and encounter dramatic stories from the Battle of Trafalgar to Turner's sea-inspired artwork and feats of engineering and discovery. The Museum is set in Greenwich Park and is part of the Maritime Greenwich World Heritage Site.
Park Row, Greenwich, London SE10 9NF
DLR: Cutty Sark
National Portrait Gallery
The Gallery houses a collection of portraits of historically important and famous British people from Tudor times to the present day. It was the first portrait gallery in the world when founded in 1856 and has been at this Trafalgar Square site since 1896.
St. Martin's Place, London WC2H 0HE
Tube: Charing Cross
Natural History Museum
Not just the 'dinosaur museum', the Museum is also a leading science research centre with over 80 million specimens spanning billions of years. It inspires a love of the natural world in a stunning Victorian building covered in animal and plant relief sculptures.
Cromwell Road, Kensington, London SW7 5BD
Tube: South Kensington
Ragged School Museum
The Museum is housed in canalside buildings that were Dr Barnardo's largest ragged school for poor children. It has a reconstructed Victorian classroom and popular holiday activities for children. Note, it's only open Wednesdays, Thursdays and the first Sunday of the month.
46-50 Copperfield Road, London E3 4RR
Tube: Mile End
Royal Air Force Museum
The Museum tells the story of the Royal Air Force through its people and collections. There are more than 100 historic and ground-breaking aircraft on site. Children love the interactive Fun 'n' Flight gallery full of exhibits designed to help you learn why aircraft stay up in the air.
Grahame Park Way, London, NW9 5LL
Tube: Colindale
Science Museum
The Science Museum is the most visited science and technology museum in Europe. There are more than 15,000 objects on display, including world-famous objects such as the Apollo 10 command capsule and Stephenson's Rocket.
Exhibition Road, Kensington, London SW7 2DD
Tube: South Kensington
Serpentine Galleries
The Serpentine is two exhibition spaces situated on either side of The Serpentine lake in Kensington Gardens: the Serpentine Gallery, in a Grade II listed former tea pavilion, and the Serpentine Sackler Gallery, designed by Zaha Hadid Architects.
Kensington Gardens, London W2 3XA
Tube: Lancaster Gate
Sir John Soane's Museum
The former home of architect Sir John Soane, the Museum displays his collection of antiquities, furniture, sculptures, architectural models, paintings – including work by Hogarth, Turner and Canaletto  – and more than 30,000 architectural drawings.
13 Lincoln's Inn Fields, London WC2A 3BP
Tube: Holborn
Tate Modern
Britain's national museum of modern and contemporary art from around the world is housed in the former Bankside Power Station on the banks of the Thames. You can see world-famous artwork by artists such as Cézanne, Matisse, Picasso, Rothko, Dalí, Pollock and Warhol.
Bankside, London SE1 9TG
Tube: Southwark
Tate Britain
See British art from 1500 to the present day including paintings by Gainsborough, Hogarth, Millais and Whistler, as well as the  largest collection of works by JMW Turner in the world.
Millbank, London SW1P 4RG
Tube: Pimlico
Victoria and Albert Museum
The V&A is considered the world's greatest museum of decorative arts and design, representing more than 3,000 years of human creativity, with collections unrivalled in their scope and diversity.
Cromwell Road, Kensington, London SW7 2RL
Tube: South Kensington
V&A Museum of Childhood
Operating as the UK's national collection of childhood objects from the 1600s to the present day, this is a popular family location. As well as toys and dolls, the museum has a wealth of objects relating to aspects of childhood.
Cambridge Heath Road, London E2 9PA
Tube: Bethnal Green
Wallace Collection
Housed in an historic London town house, the Wallace is home to one of Europe's finest collections of works of art, paintings, furniture, arms & armour and porcelain. The elaborate gilding and wall silks make it feel like you are visiting a palace.
Hertford House, Manchester Square, London W1U 3BN
Tube: Bond Street
Wellcome Collection
Aimed at the 'incurably curious', you can explore what it means to be human. From the bizarre to the beautiful, the ancient to the modern, you can find a Peruvian mummified male, Darwin's walking stick and a robot used in the human genome project.
183 Euston Road, London NW1 2BE
Tube: Euston