Understanding the time a famous figure worked in can help us to know them better. The latest exhibition at Tate Britain showcases works by the eighteenth-century English artist William Hogarth (1697–1764) alongside works by his continental contemporaries. Hogarth and Europe explores the parallels and exchanges that crossed borders and the cosmopolitan character of Hogarth's art.
Featuring over 60 of Hogarth's works, brought together from private and public collections around Europe and North America, the exhibition draws on decades of research to show Hogarth in all his complexity – whether as a staunch patriot or sharp critic, bawdy satirist or canny businessman. It also examines the shifting status of artists in the eighteenth century, from workshop artisans and court painters to independent freelancers enjoying prominence alongside actors, musicians, and writers.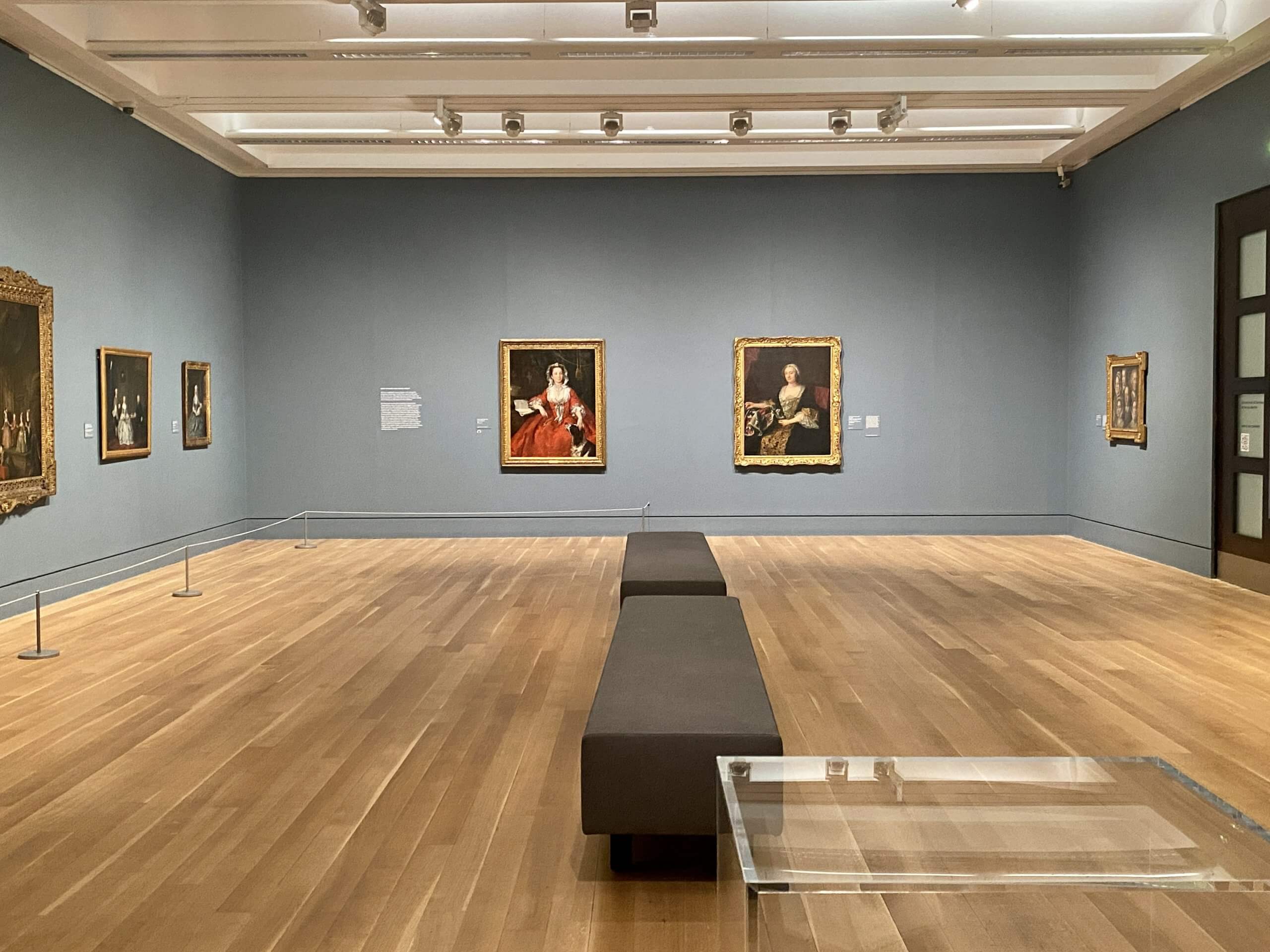 Setting the Scene
This was an age of opportunity and innovation, but also materialism, self-delusion, exploitation, and injustice. In Europe, new heights of luxury emerged with extreme poverty, while growing cities saw overcrowding and disease. The rising demand for consumer goods at home came at the expense of the labor and lives of enslaved and colonized people overseas. Against the backdrop of this changing world, artists like Hogarth pioneered a new painting of modern life, revealing its pleasures and dynamism but also its dangers and stark inequalities.
Hogarth's vivid, satirical depictions of eighteenth-century England continue to capture the imagination today. But look closely as his urban scenes are full of less obvious stories and many critical moral overtones.
European society and culture changed dramatically in the middle decades of the eighteenth century in Britain. After a century of conflict and war, this was a period of relative peace, political stability, and economic prosperity in much of Europe. The growing middle classes enjoyed access to art through prints and culture through theatre and music.
But the freedom and progress of the age often focused on European superiority and racial difference, manifested in the horrors of transatlantic slavery. The exhibition attempts to highlight these issues, so it's an education to stop and learn more from these artworks.
I do wonder if the artists included were as informed as some of the commentators here would have us believe. When you are surrounded by a way of life, it can be hard to see things differently. But then again, artists have always been known for looking at things in a different way, so maybe they were more politically aware than we may have previously given them credit for. Analyzing the meaning in paintings can seem open to interpretation, but maybe they were trying to spread their awareness in a subtle way.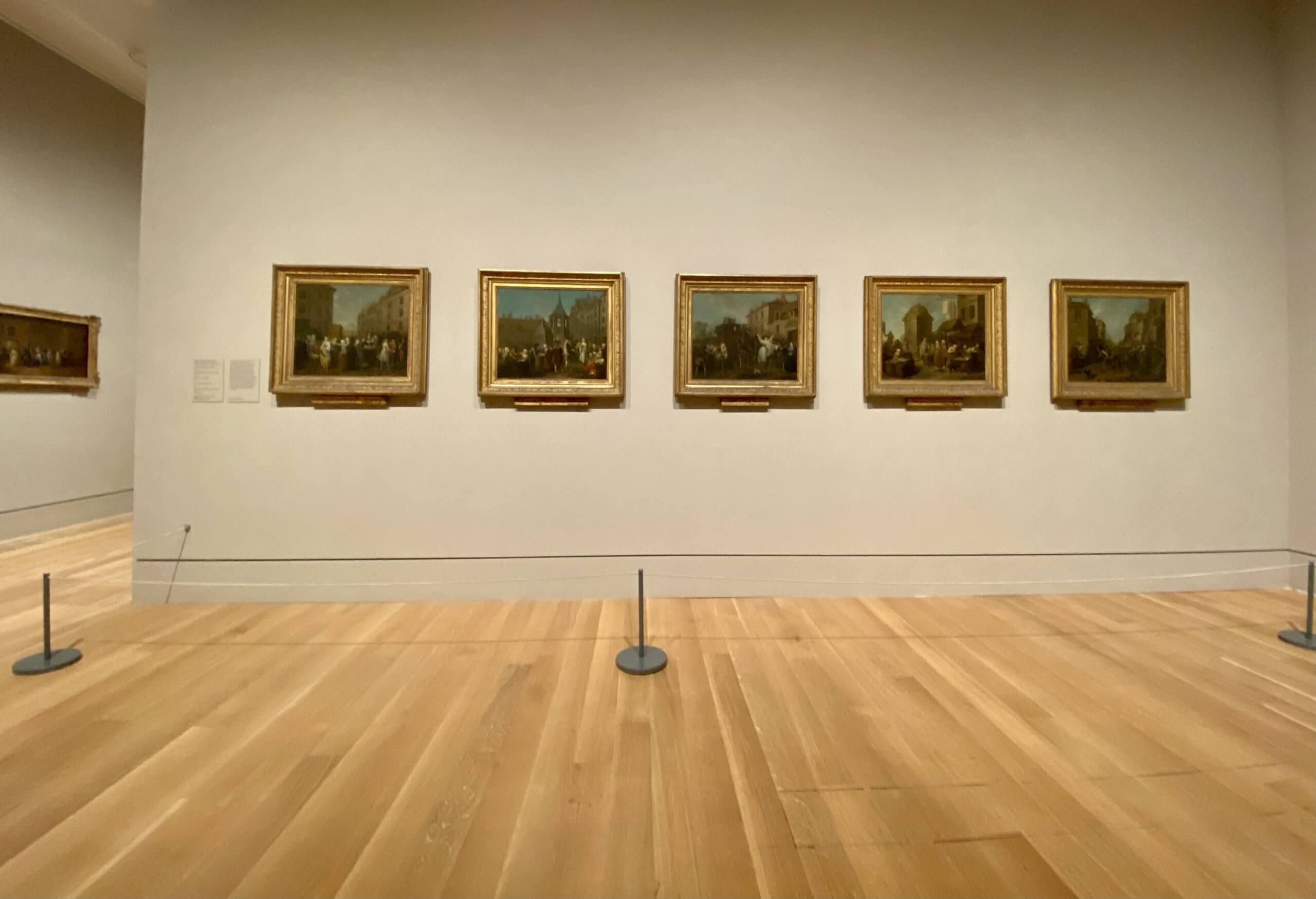 About Hogarth
Born and raised in London, he spent his childhood living around the City of London. His father was a classical scholar who earned a living as a schoolmaster. Richard Hogarth tried running a coffee house with the rule that everyone must speak Latin. That venture failed, and in 1708 he was sent to Fleet Prison for his debts. After the death of William's older brother (aged just ten), it is likely he would have had to work to support his mother and two sisters, Ann and Mary.
He started an apprenticeship as an engraver but didn't complete it. But he started working as an engraver in 1720. He took drawing classes and, at age 27, joined a drawing school at the home of history painter Sir James Thornhill, an artist he had long admired. It wasn't until he was 30 that he started his painting career.
In March 1729, he eloped with Thornhill's daughter Jane. They didn't have any children, but they had a happy marriage and fostered foundling children (more below). Their main home was in Leicester Square (then known as Leicester Fields). Hogarth's House in Chiswick – his country home – is now a visitor attraction.
In 1730 he began his work on his groundbreaking A Harlot's Progress – a series of six paintings (which he copied and circulated widely as prints) that told a story of a young women's corruption and subsequent decline in London.
The series became so popular that it was widely copied and produced as cheap, inferior engravings for the mass market by Hogarth's competitors. As Hogarth received no payment for these copies and the poor nature of the artwork damaged his reputation, Hogarth lobbied Parliament to provide legal copyright protection for engravers such as himself.
Hogarth delayed publication of Southwark Fair and A Rake's Progress until 25 June 1735, because Parliament passed an act the day before protecting prints from being copied "without the consent of the proprietor, and thereby preventing a scandalous and unjust custom (hitherto practiced with impunity) of making and vending base copies of original Prints." The Engraving Copyright Act, also known as Hogarth's Law, was one of the first of its kind in the world to provide protection for artists.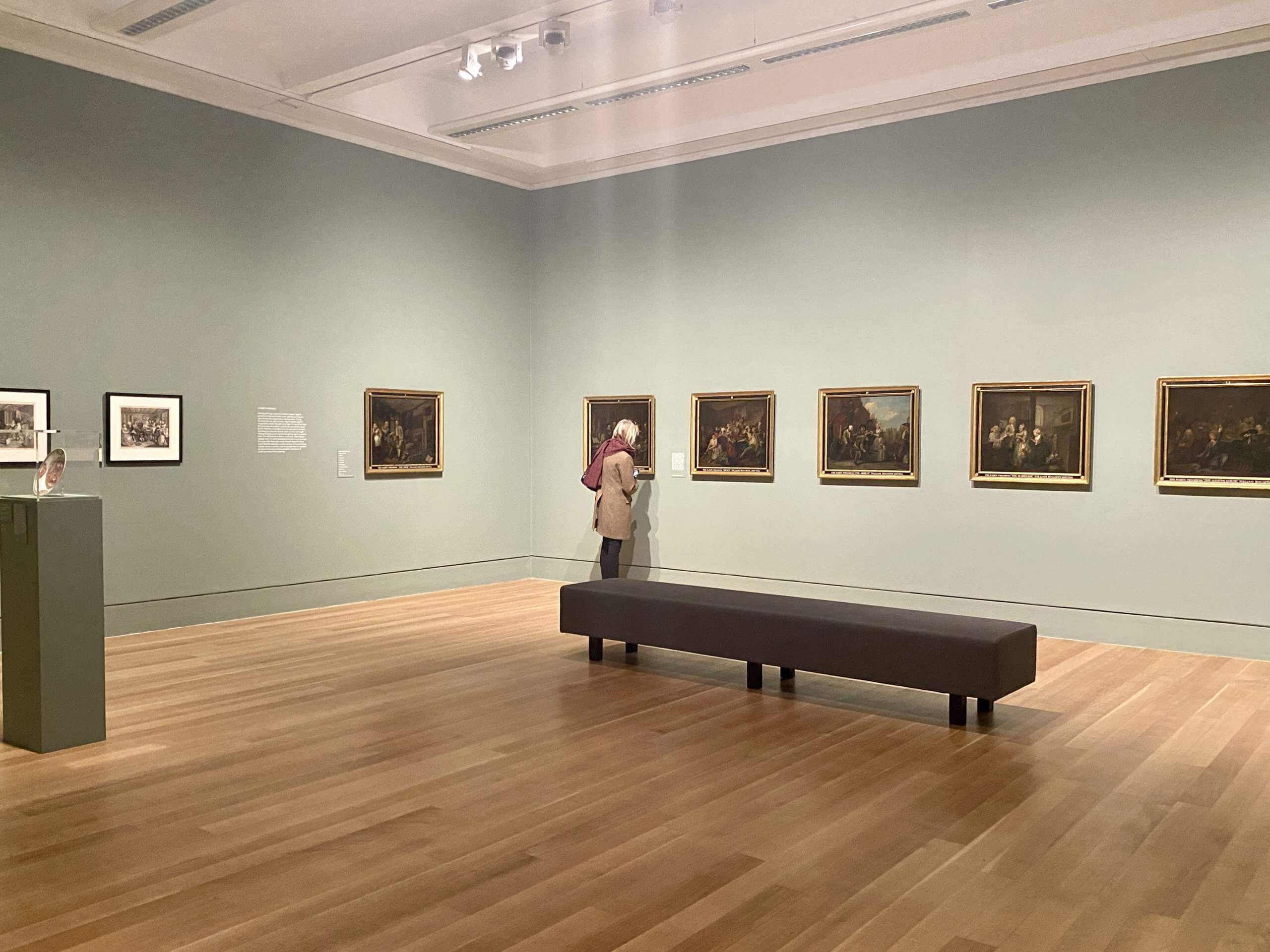 Some would say that before Hogarth, there was not really any such thing as British art. There was art made in Britain by such great European masters as Rubens and Van Dyck. But it was Hogarth who created the idea of a British school.
Hogarth's work was hugely important in promoting British painting and engravings abroad. He had a profound influence on American artist James McNeill Whistler, who in 1901 campaigned for Hogarth's Chiswick home to be preserved for future generations, writing angrily that "I am told that nothing official has been done, either by the Government, or The Royal Academy, to keep in respect the memory of [the nation's] one 'Master' who, outside of England, still is 'Great.'" Whistler had been given a book of Hogarth's engravings as a child and was inspired by the artists' paintings – specifically his brushwork and use of color. His multi-focal compositions can also be seen as inspirations in the work of David Wilkie (who was celebrated as "the Hogarth of his day"), William Powell, and Ford Madox Brown.
William Hogarth was by far the most significant English artist of his generation.
Foundling Hospital
William Hogarth supported Thomas Coram in setting up the Foundling Hospital – London's first children's home. Although he didn't have children of his own, Hogarth and his wife Jane fostered many foundling children. Hogarth donated artworks to the Foundling Hospital and encouraged other artists to produce work for the Hospital too. This philanthropy created a permanent art exhibition there, making the Hospital one of London's most fashionable charities. At this time, art galleries were unknown in Britain. Hogarth's fundraising initiative is considered to have established Britain's first-ever public art gallery.
Hogarth and Europe
The exhibition opens with March to Finchley (owned by the Foundling Museum), which allowed Hogarth to relish in his role as a social critic as he described this painting as "steeped in humor." This imaginary scene alludes to the many British Army soldiers that assembled at the barrier of Tottenham Court turnpike in late 1745. They were there to defend London from the threat of rebellious Jacobites marching from Scotland. The soldiers are not shown in the best light as they are portrayed as lecherous drunkards. The grenadier guard at the center of the painting is waylaid by two women: one pregnant with his child, the other accosting him with printed propaganda.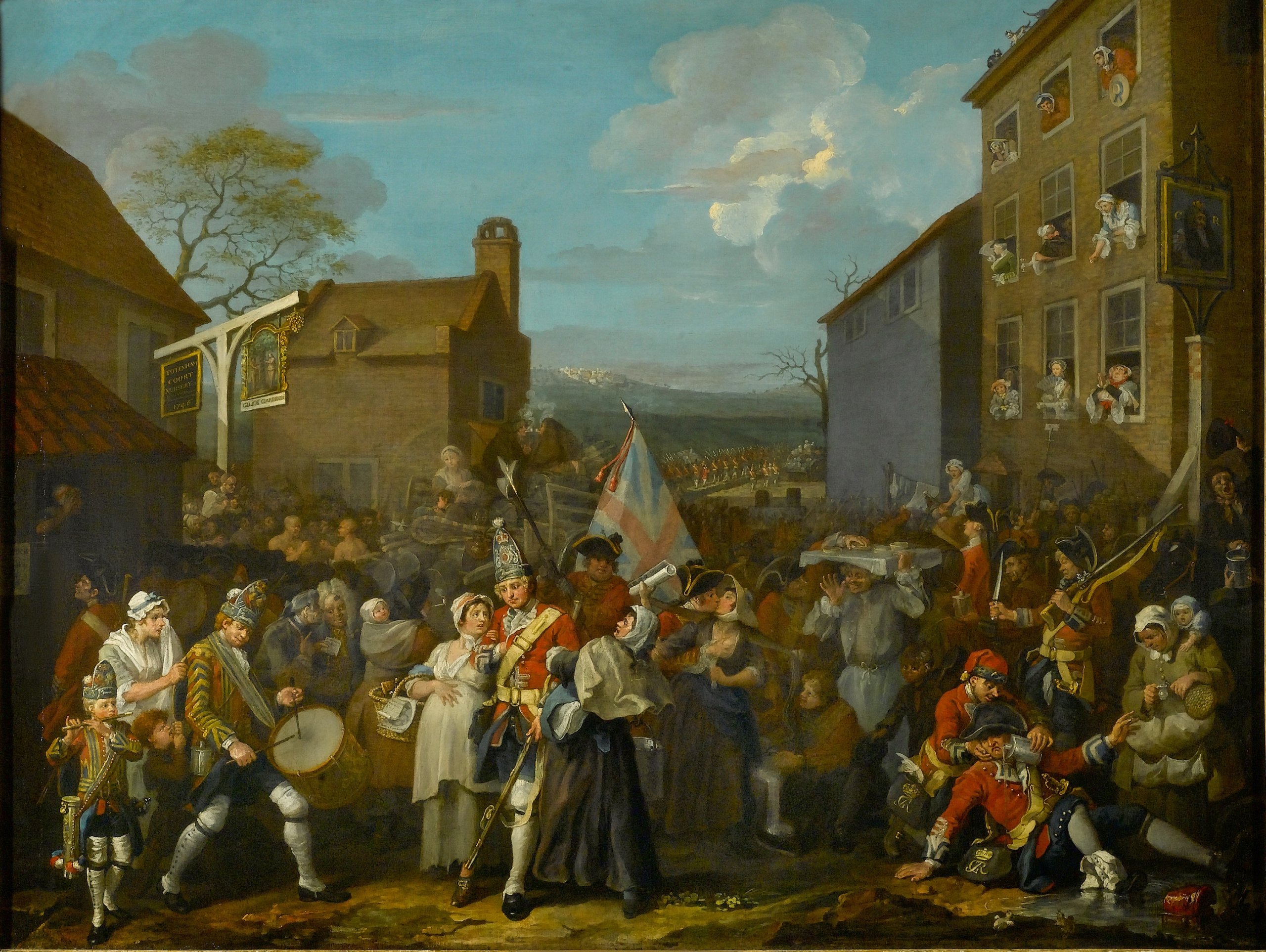 1. Modern Painters
The first section of the exhibition introduces the age and the artists. Hogarth paintings are shown alongside works by famed European artists, including Jean-Siméon Chardin in Paris, Pietro Longhi in Venice, and Cornelis Troost in Amsterdam. Together they reveal how changes in society took art in new directions, both in Britain and abroad.
When Stephen Deuchar was director of Tate Britain (1998–2010), he said, "Hogarth's contemporaries found him always 'ingenious,' variously zealous, flamboyant and self-righteous – a consummate operator and occasionally naive."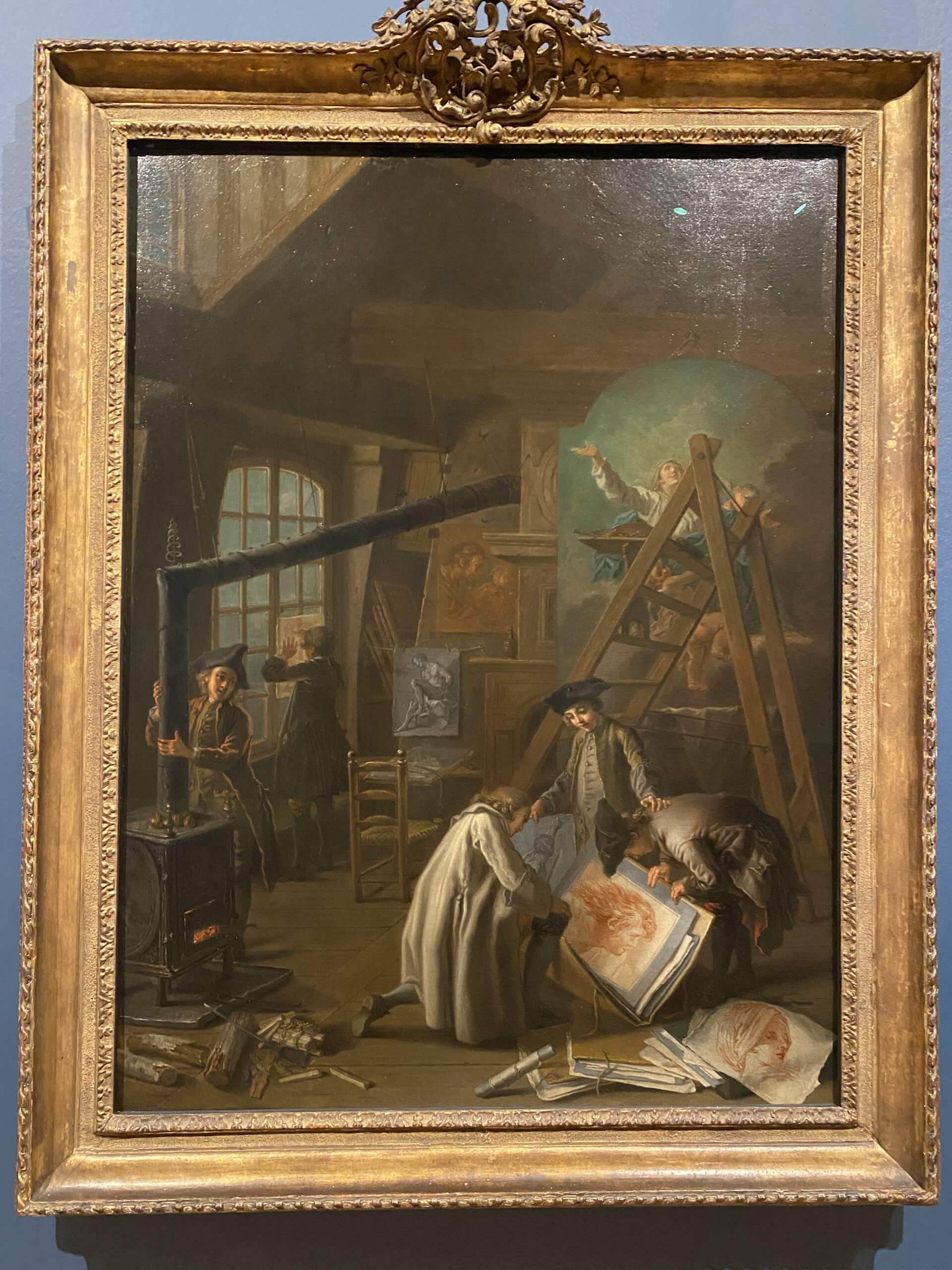 The Gate of Calais or O, the Roast Beef of Old England is a 1748 painting by William Hogarth, reproduced as a print from an engraving the next year. Hogarth produced the painting directly after his return from France, where he had been arrested as a spy while sketching in Calais. The scene depicts a side of beef being transported from the harbor to an English tavern in the port, while a group of undernourished, ragged French soldiers and a fat friar look on hungrily.
The anti-French imagery draws on accounts from the large Huguenot (French Protestant refugee) community in London. Hogarth lived and worked closely with many Huguenots, including André Rouquet, the Swiss-born miniaturist (see below).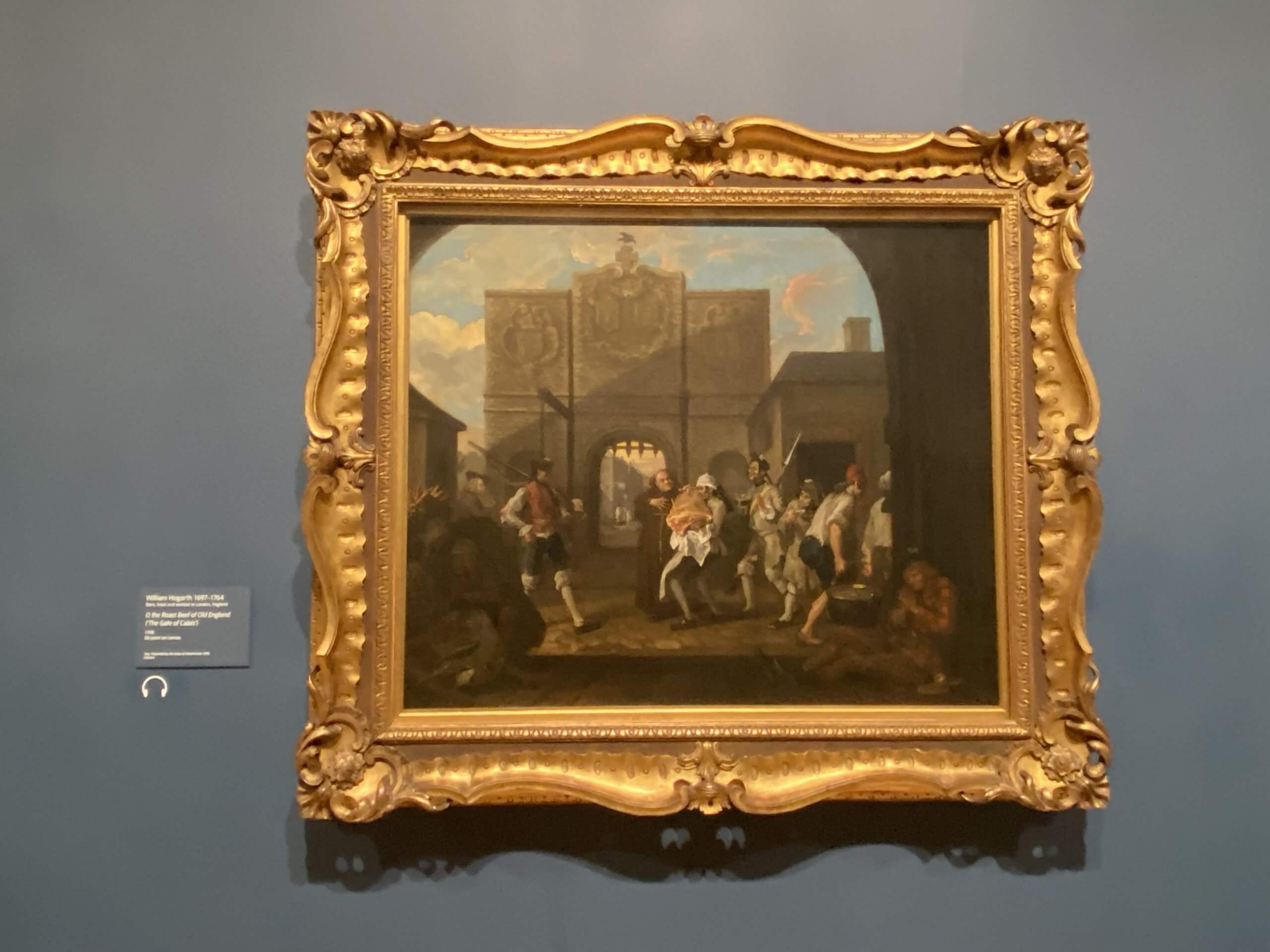 French miniature painter Rouquet made this portrait of Hogarth while he was temporarily living in London. In Paris, Rouquet was one of many French painters who lived in the Louvre. Before it was a museum, the Louvre was home to important art-world institutions and to numerous artists' studios. Rouquet was evicted from the Louvre due to drug addiction and mental health concerns.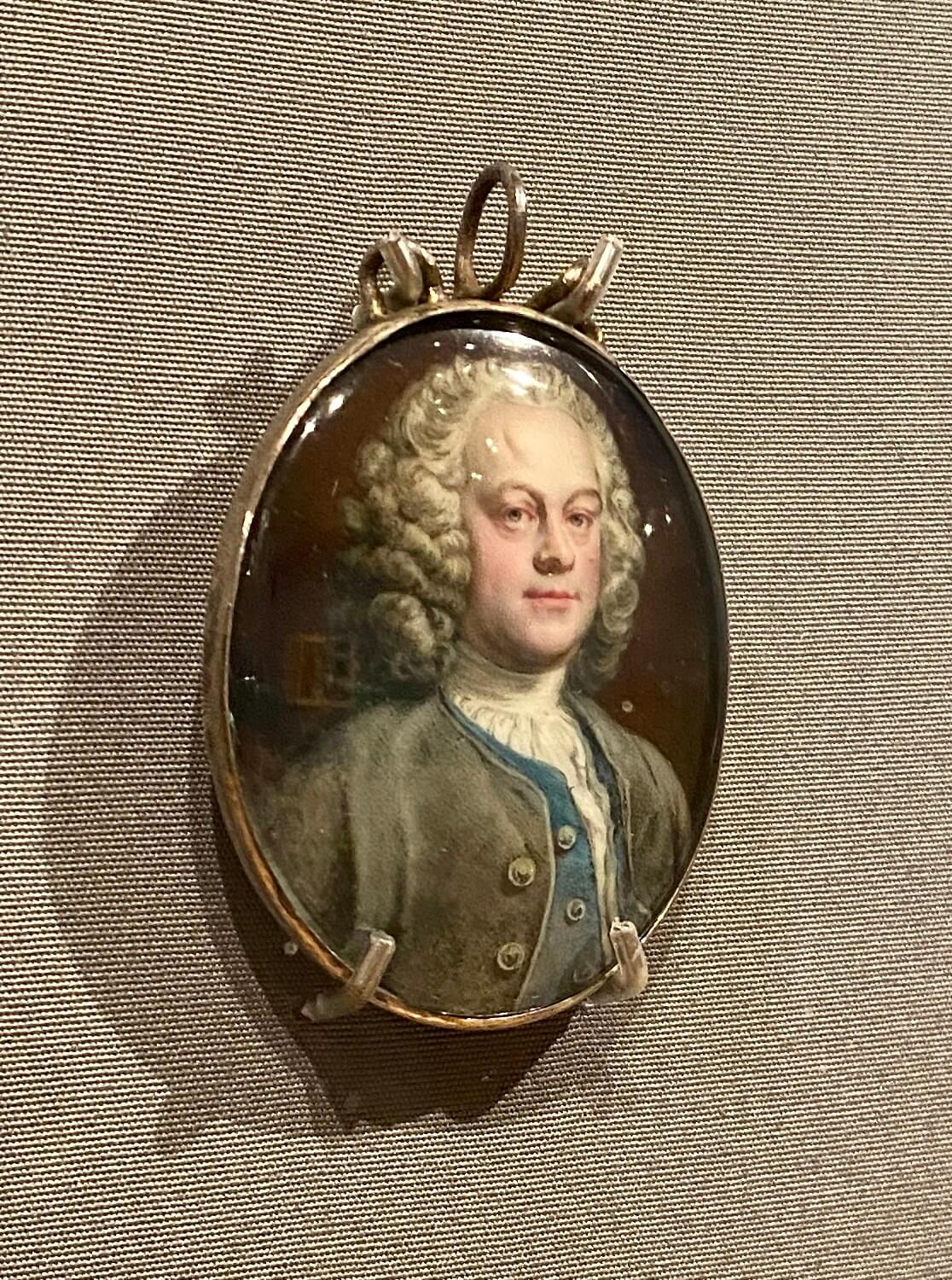 In this self-portrait, Hogarth is seated in a "colonial-style" chair. The commentator for this piece (Sonia E. Barrett) points out that the chair is made from timbers shipped from the colonies via routes that also shipped enslaved people. She also suggests that the chair is "a stand-in for all those unnamed black and brown people enabling the society that supported his creativity." Or is it just a chair? While I love to learn, I don't enjoy being preached at. Does everything have to have a hidden meaning?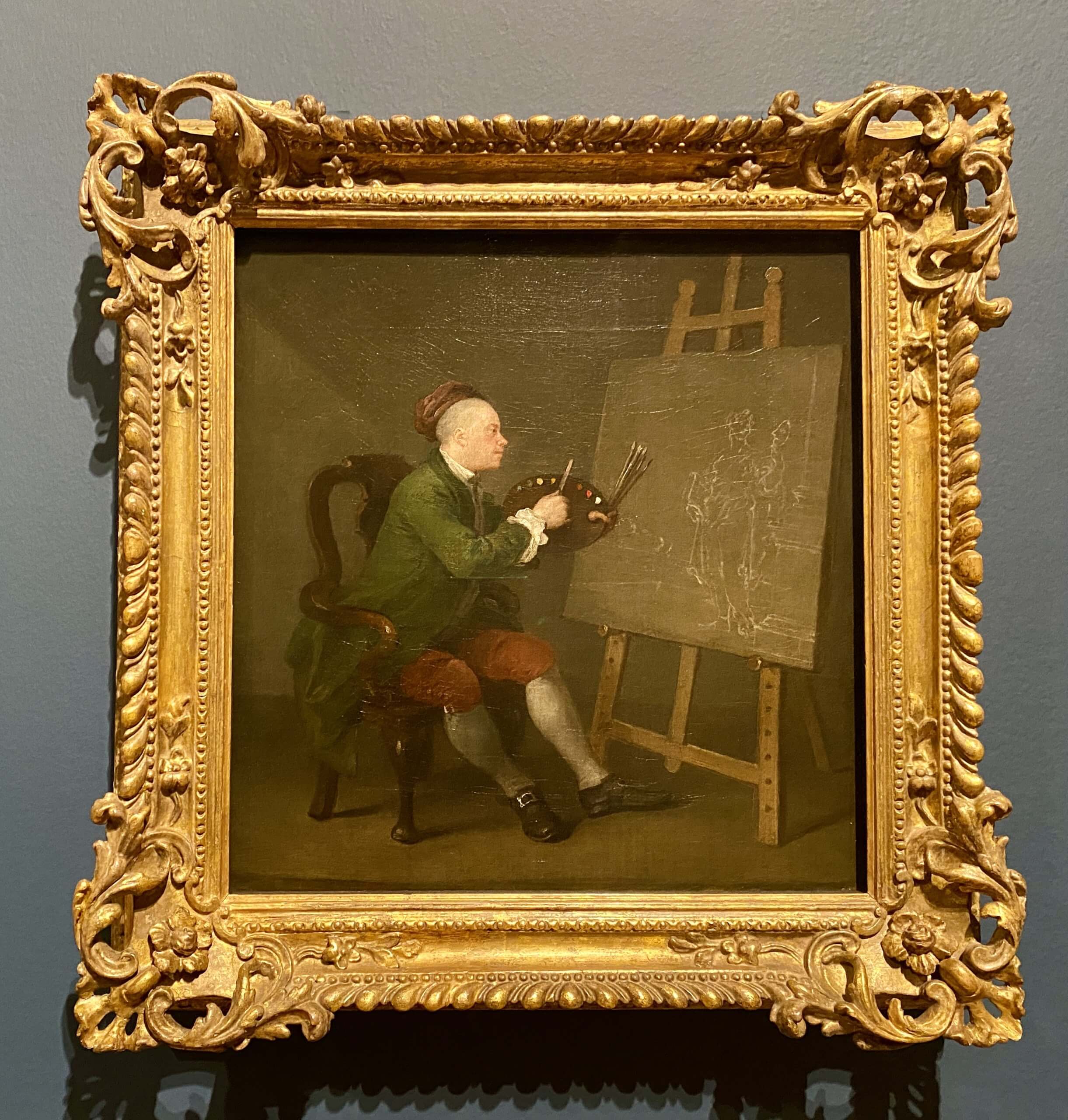 Another self-portrait of Hogarth hangs alongside his Dutch contemporary, Cornelis Troost (1696–1750). They both chose to paint a portrait-within-a-portrait, unveiled by a curtain. Hogarth's painting did originally have him wearing a wig like Troost, but he changed it to keep with his image as a down-to-earth painter.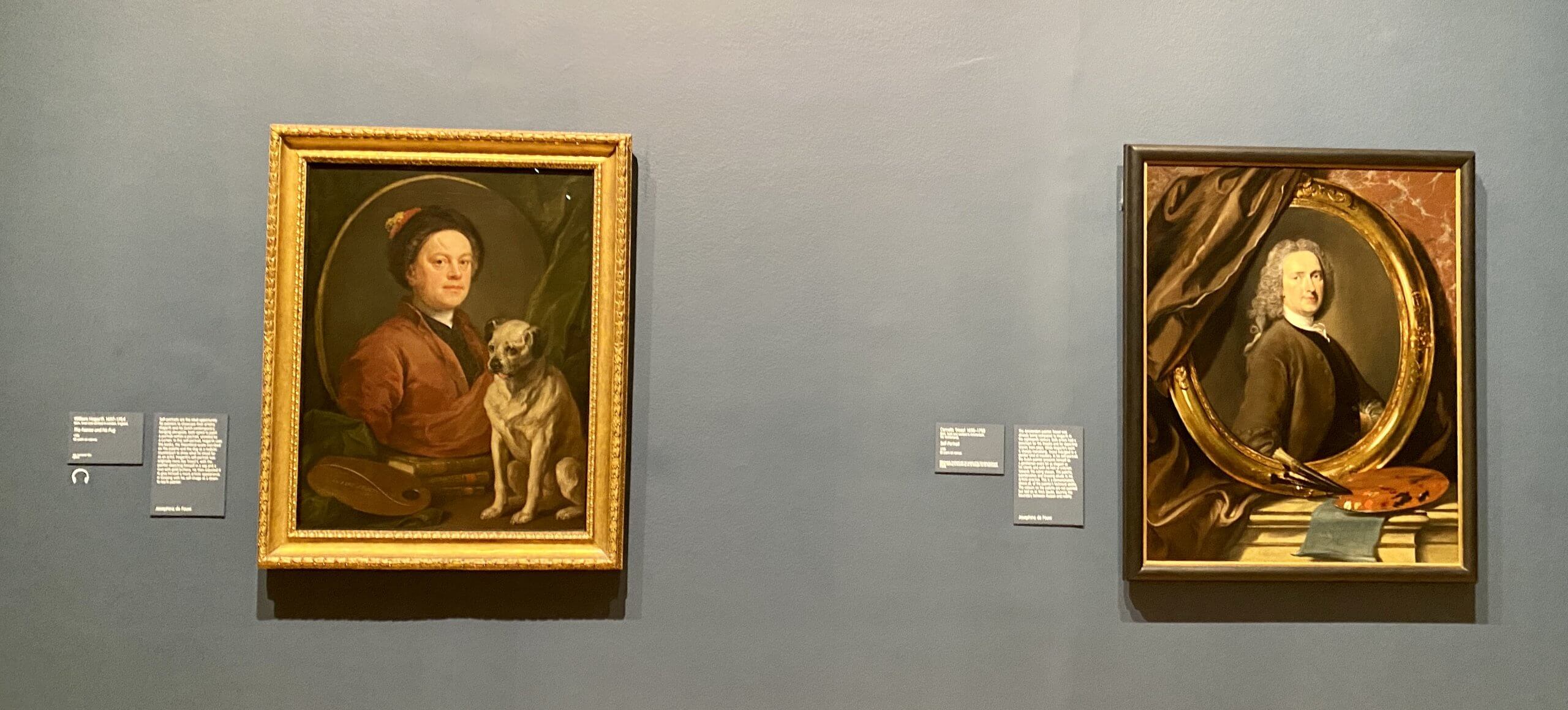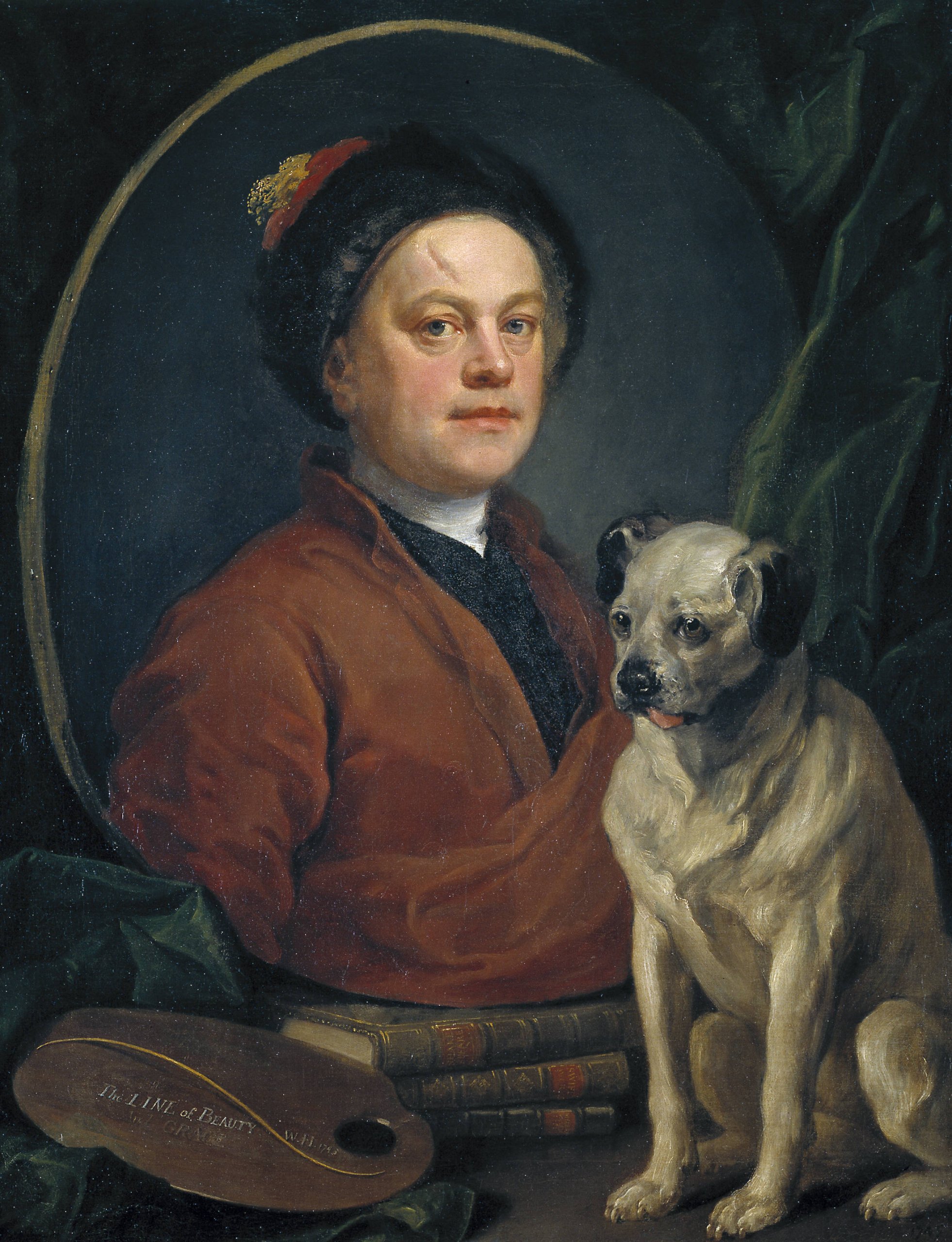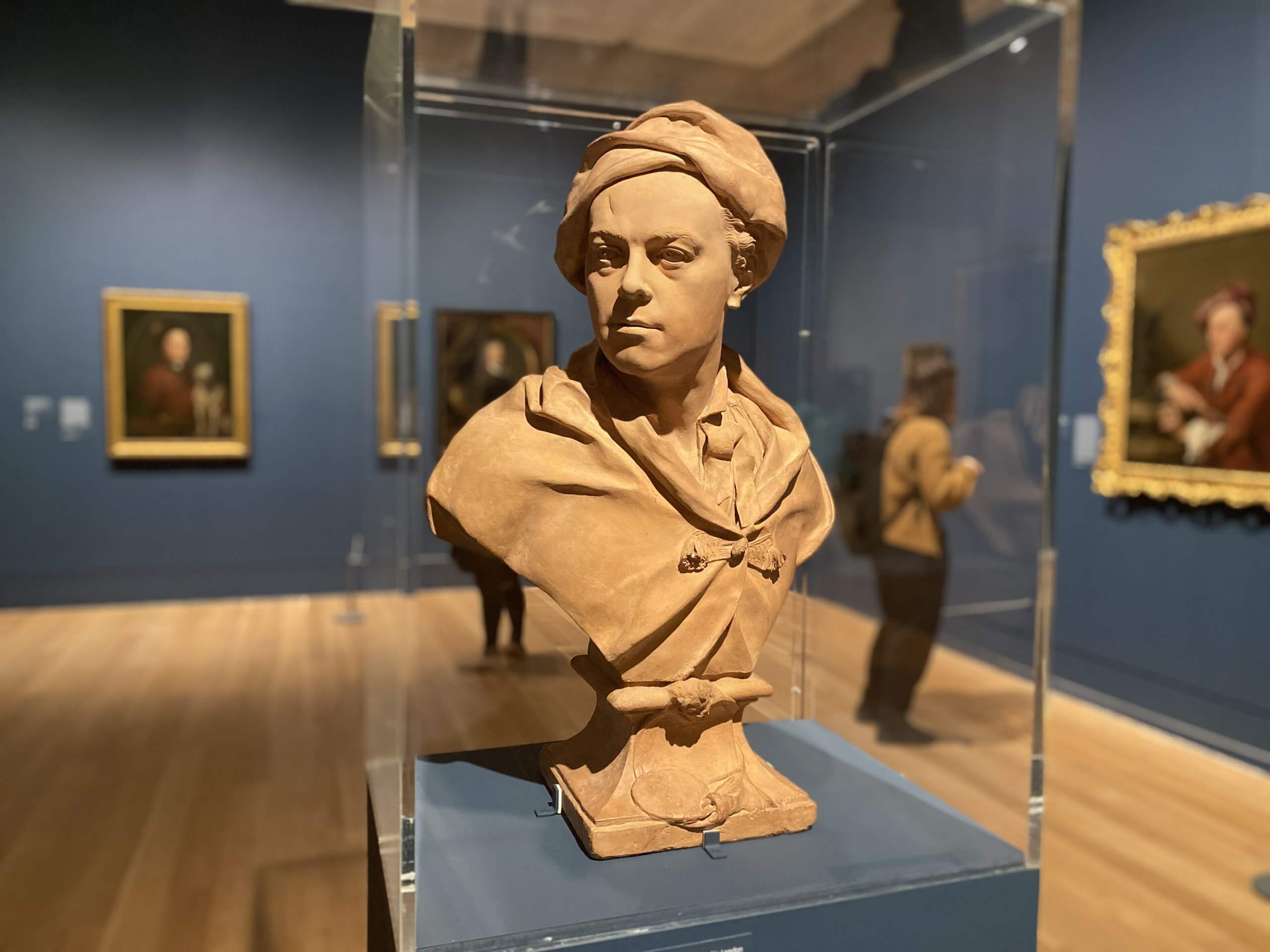 Italian Artist Andrea Soldi (c.1703–1771) made this portrait of French sculptor Louis-François Roubiliac while both were in London.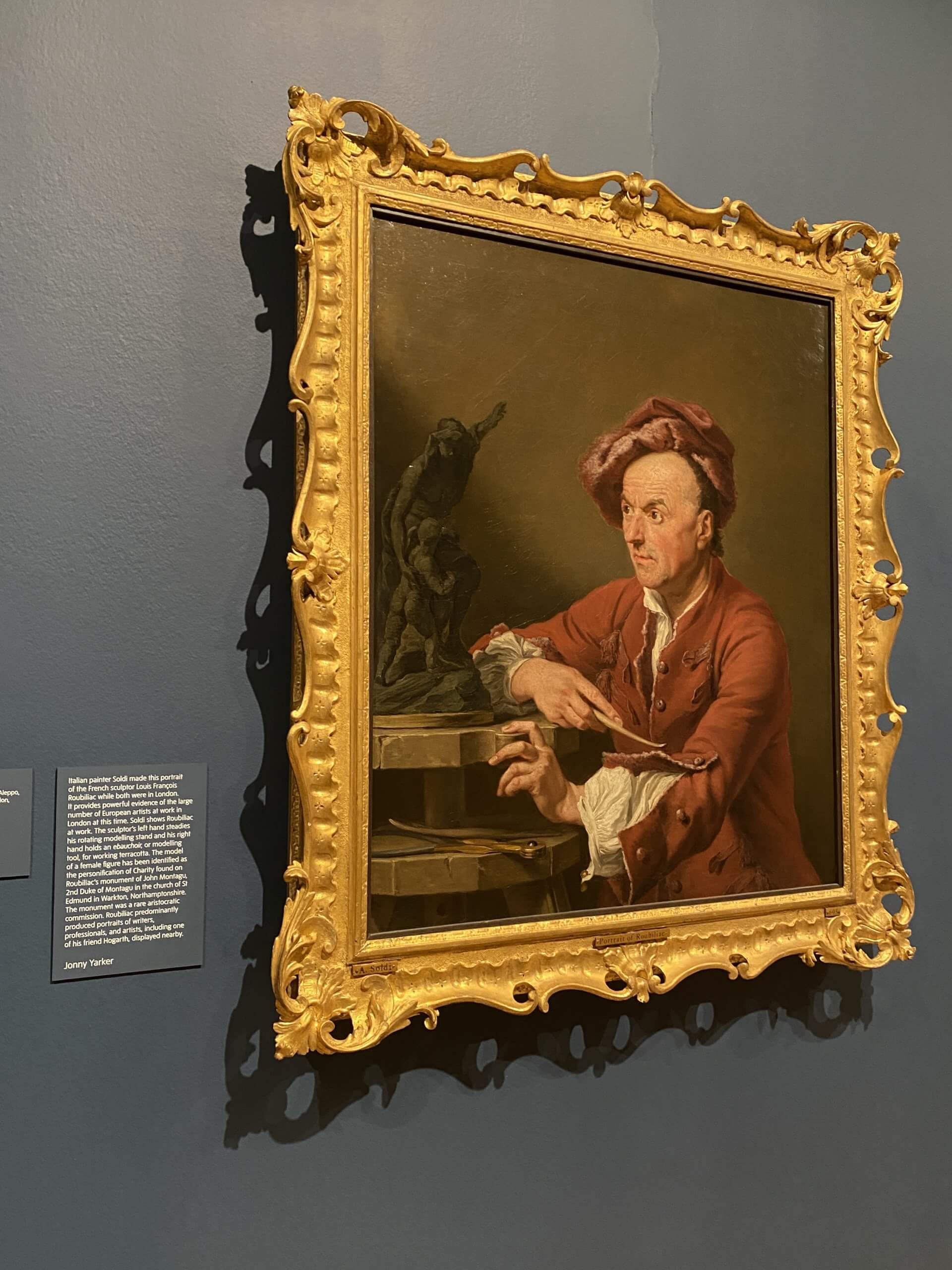 2. Artists and Cities
The spread of Hogarth's prints throughout Europe, together with the depiction of popular scenes from his prints in faked Hogarth prints, influenced continental book illustration through the eighteenth and early nineteenth centuries.
This gallery has large maps of London, Paris, Venice, and Amsterdam in the mid-1700s. By 1760, London was the most populous city in Europe, with a population of 740,000. The commentary for this London map reminds us that London played a leading role in the transatlantic slave trade and that 1-3% of the population had African heritage. (Again, this felt like a labored point but an important point nevertheless.)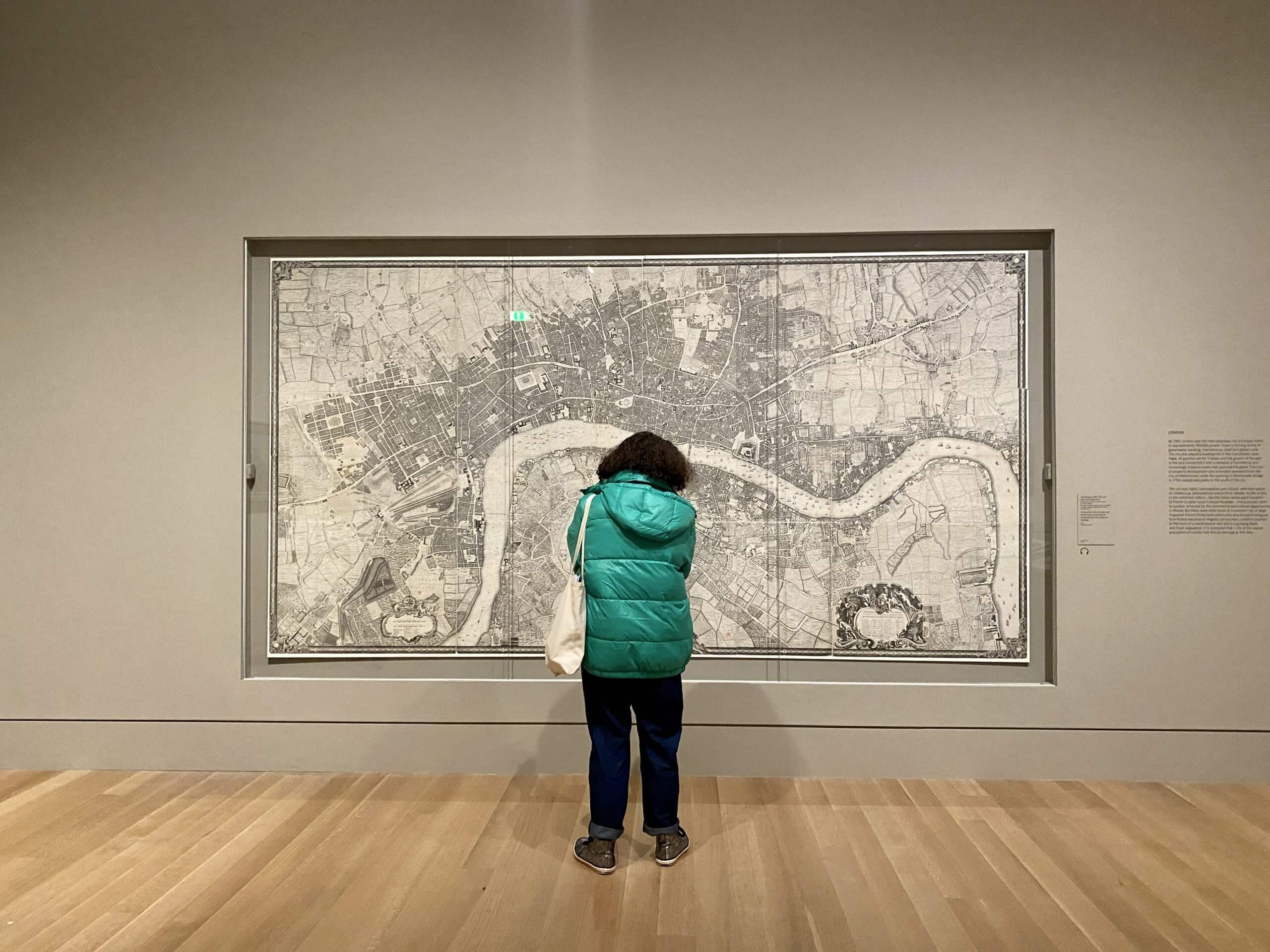 The rapid expansion of urban centers like London, Paris, Amsterdam, and Venice also saw the city itself become a major subject in art for the first time.
Hogarth's Gin Lane and Beer Street were propaganda supporting the 1751 Gin Act. While gin was associated with rising crime and depravity in the urban poor, beer drinking was synonymous with national health and prosperity.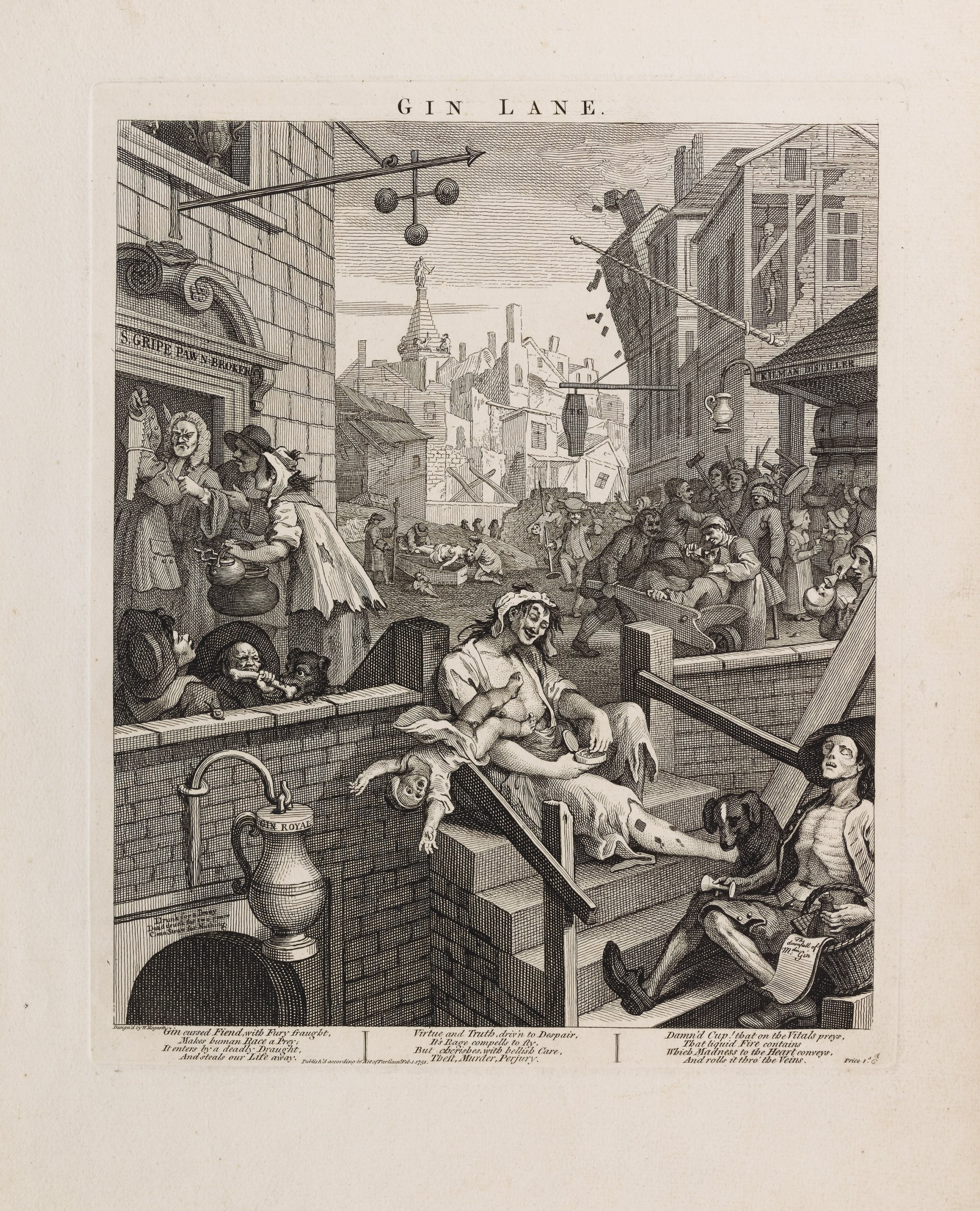 It was a treat to see two paintings by Canaletto included in the exhibition. Vauxhall Pleasure Gardens was similar to the aristocratic pleasure gardens in Italy and France. It was an unmissable attraction of eighteen-century London.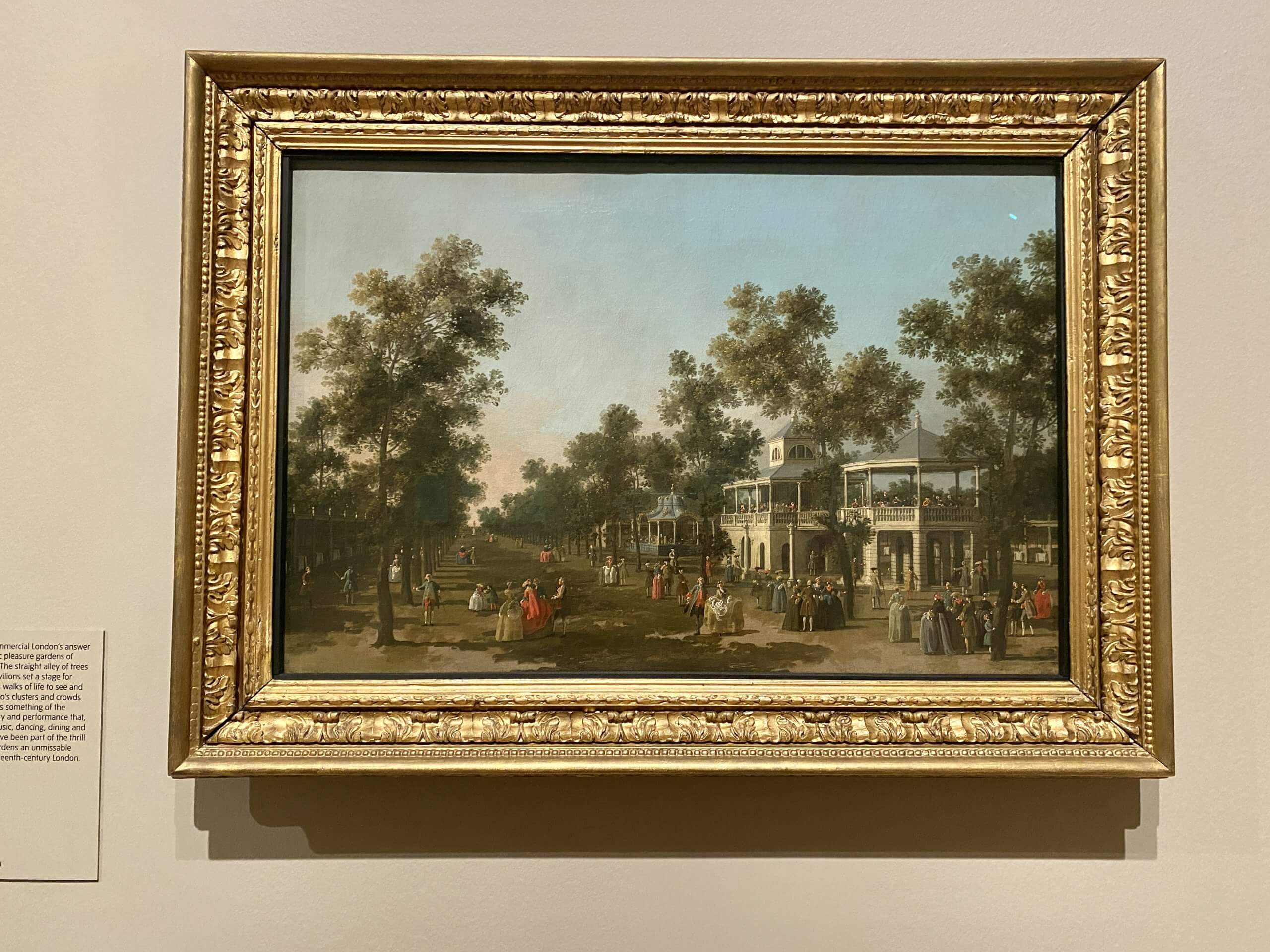 Theatrical scenes by Italian artist Marco Ricci (1676–1729) and Hogarth can be compared with a reminder to always look beyond the central scene. Many of the paintings in this exhibition have characters in the shadows, including servants or dogs and monkeys playing human roles.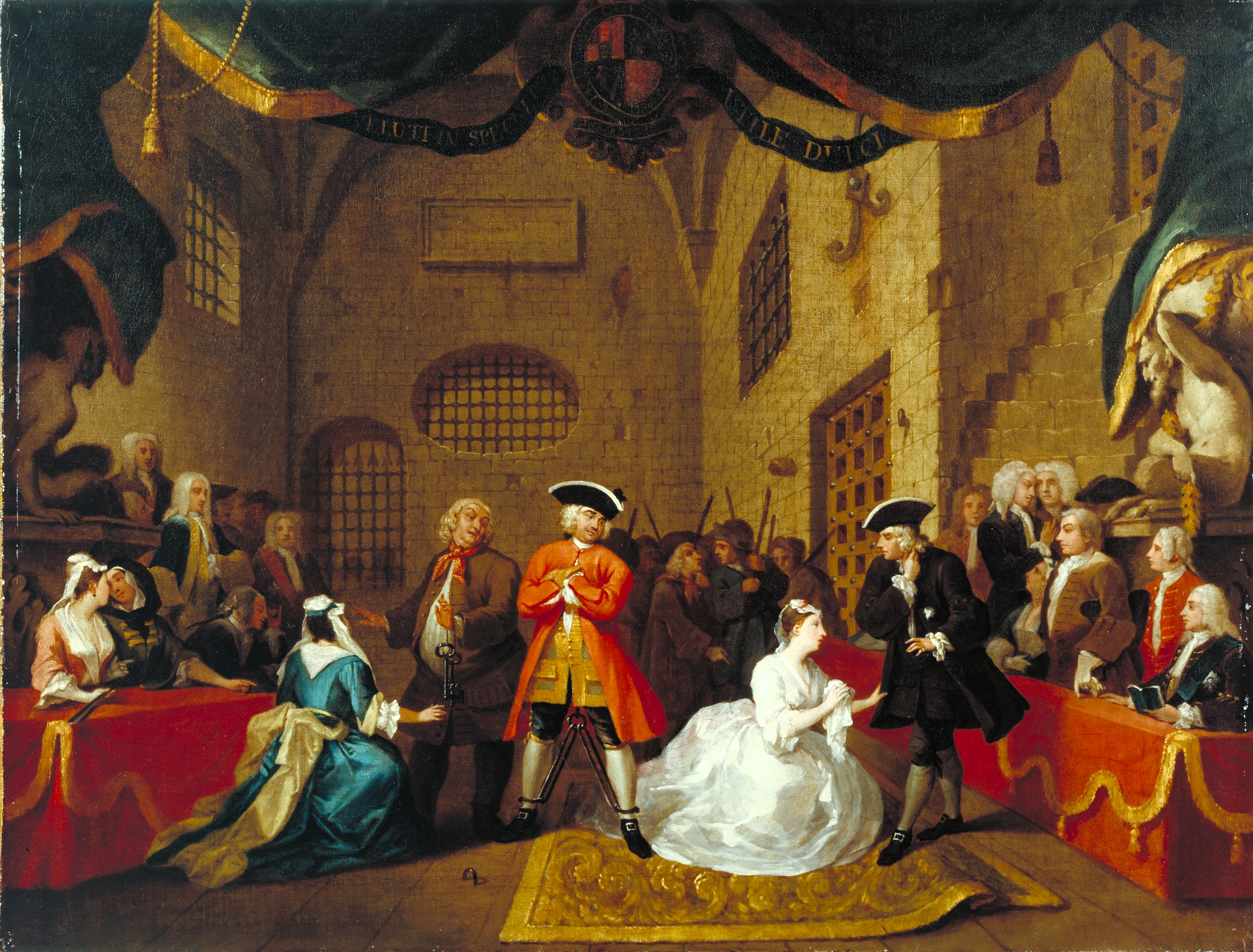 Hogarth's 'Times of the Day' series is a delight as you can keep on finding something new the more you look. I recognized the location of 'Morning' (below) immediately as Covent Garden piazza looking towards Henrietta Street. The other locations in this series are Soho, Islington, and Charing Cross.
Later in the exhibition, there are 'Fours Times of Day' by Nicolas Lancret.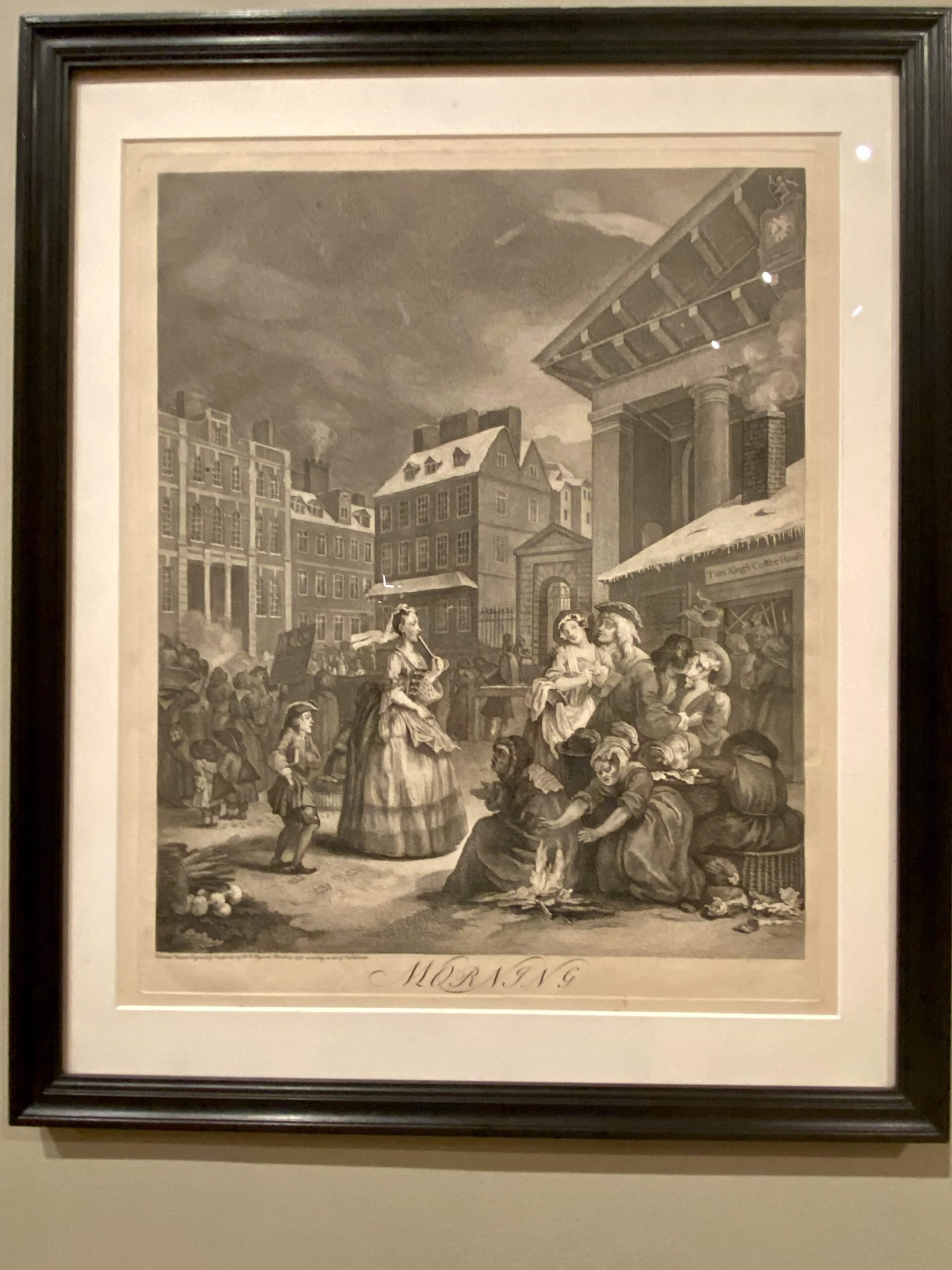 Hogarth's Southwark Fair (1733) is well worth taking the time to admire. One of the reasons that this work is so important is that it provides a "snapshot" of lower-class British society in the early eighteenth century.
There's a dog walking on its hind legs dressed as a man in the bottom right under a collapsing stage with performers clinging to scaffolding. There's a drummer woman, an angry-looking man on horseback entering from the left, a woman caressing another woman's face, a 'queen' in a window, and, above the chaos, the union flag is flying. I'll admit, I laughed out loud at the detail.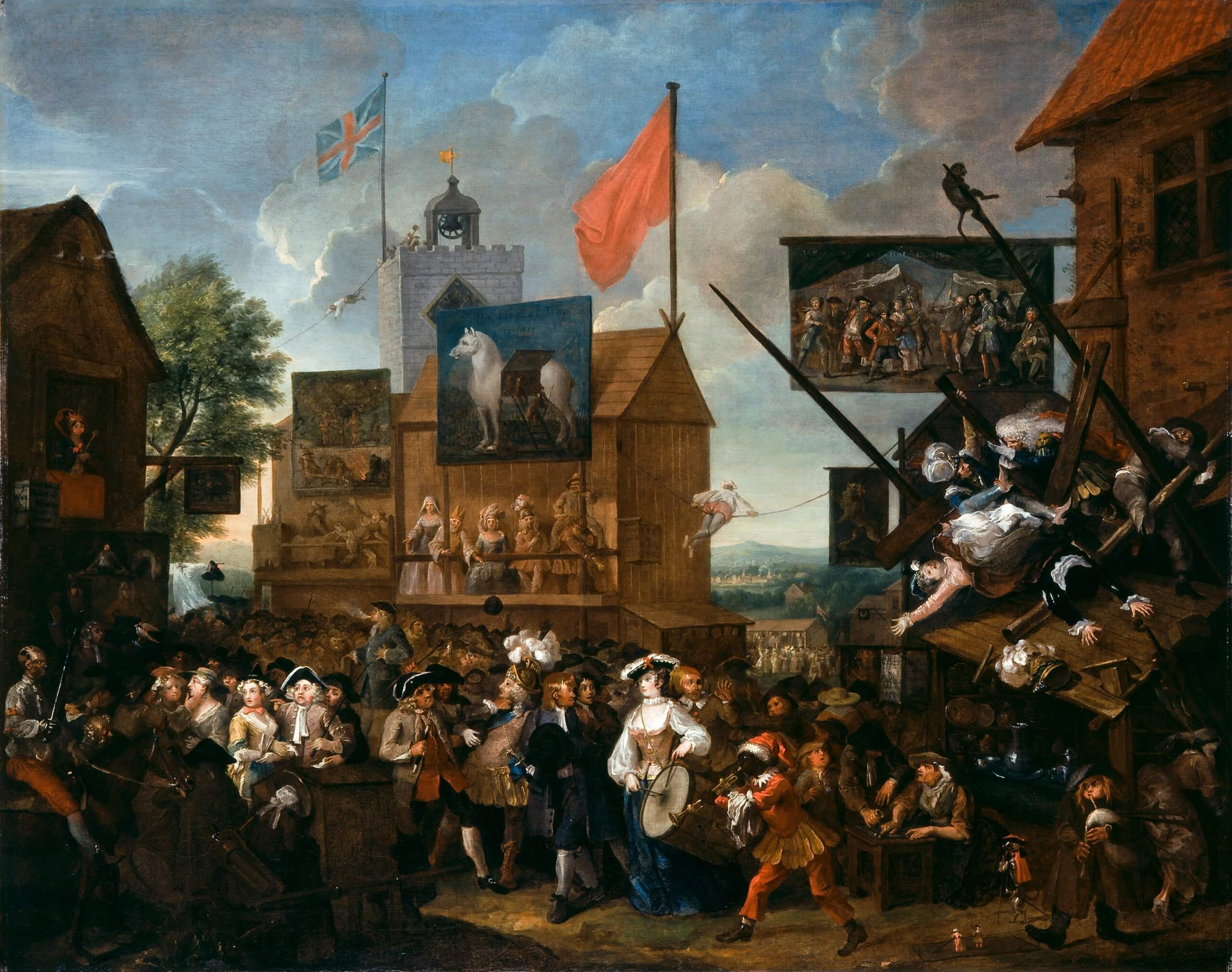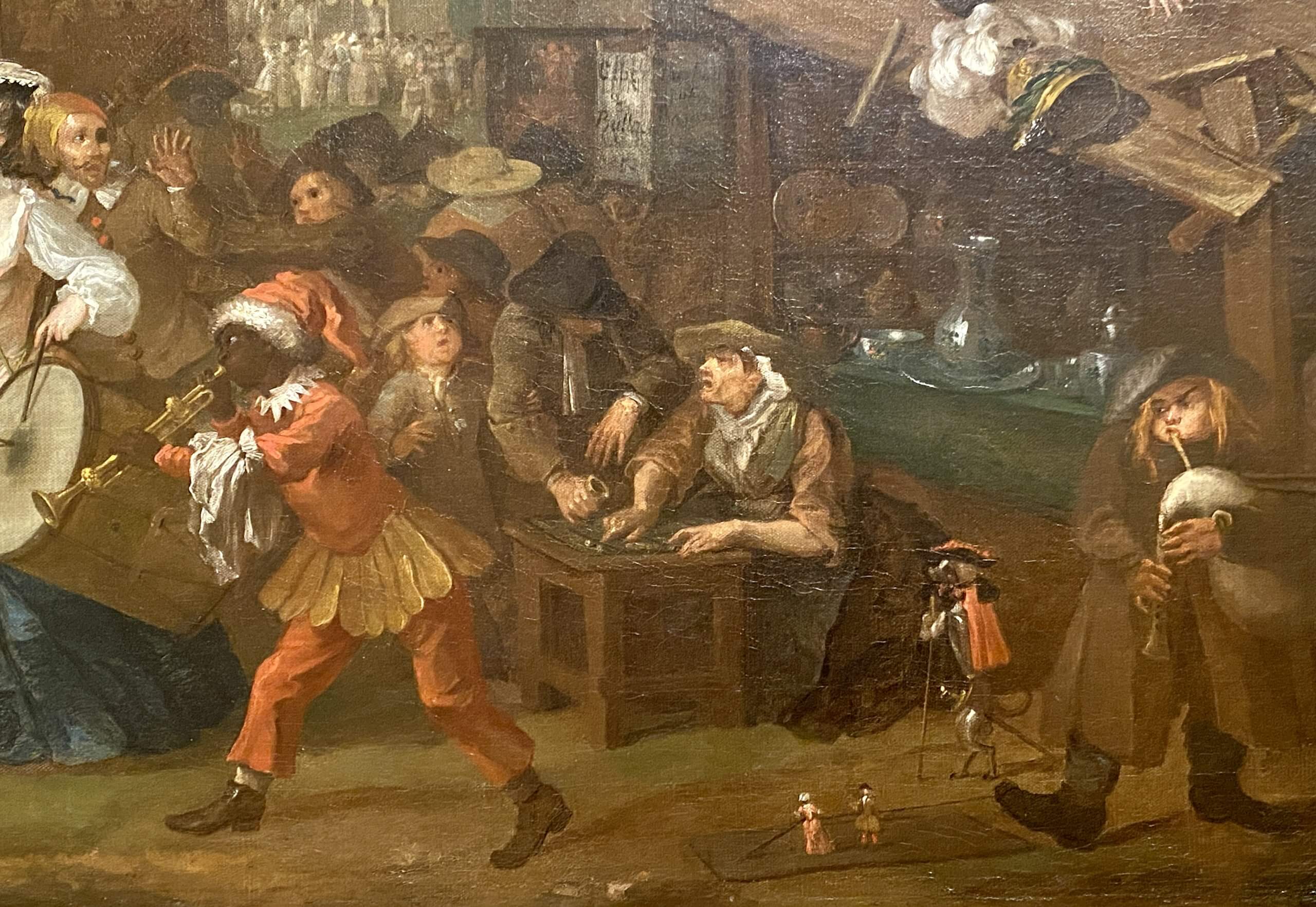 Here is another painting to make you chuckle. Not everyone is looking in the same direction.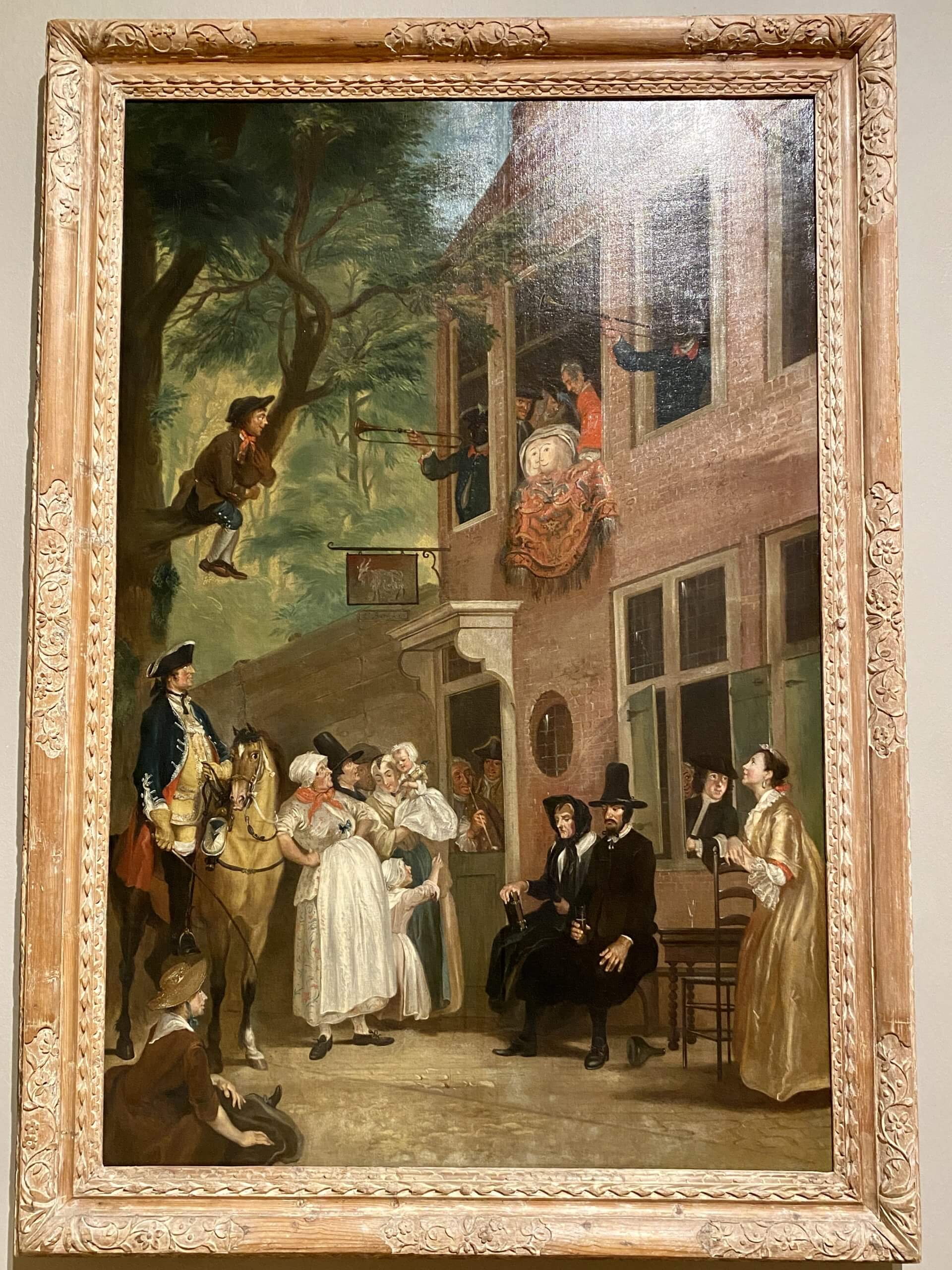 Did you spot it? There's a bare bottom in the upstairs window with a face drawn on it!
What I see is humor but the commentator (Raimi Gbadamosi) tells us the black trumpeters are being used as a device to separate people and that the bare bum represents white supremacy. I'll say it again, and I'm willing to hear all views, but this feels like very labored preaching to me.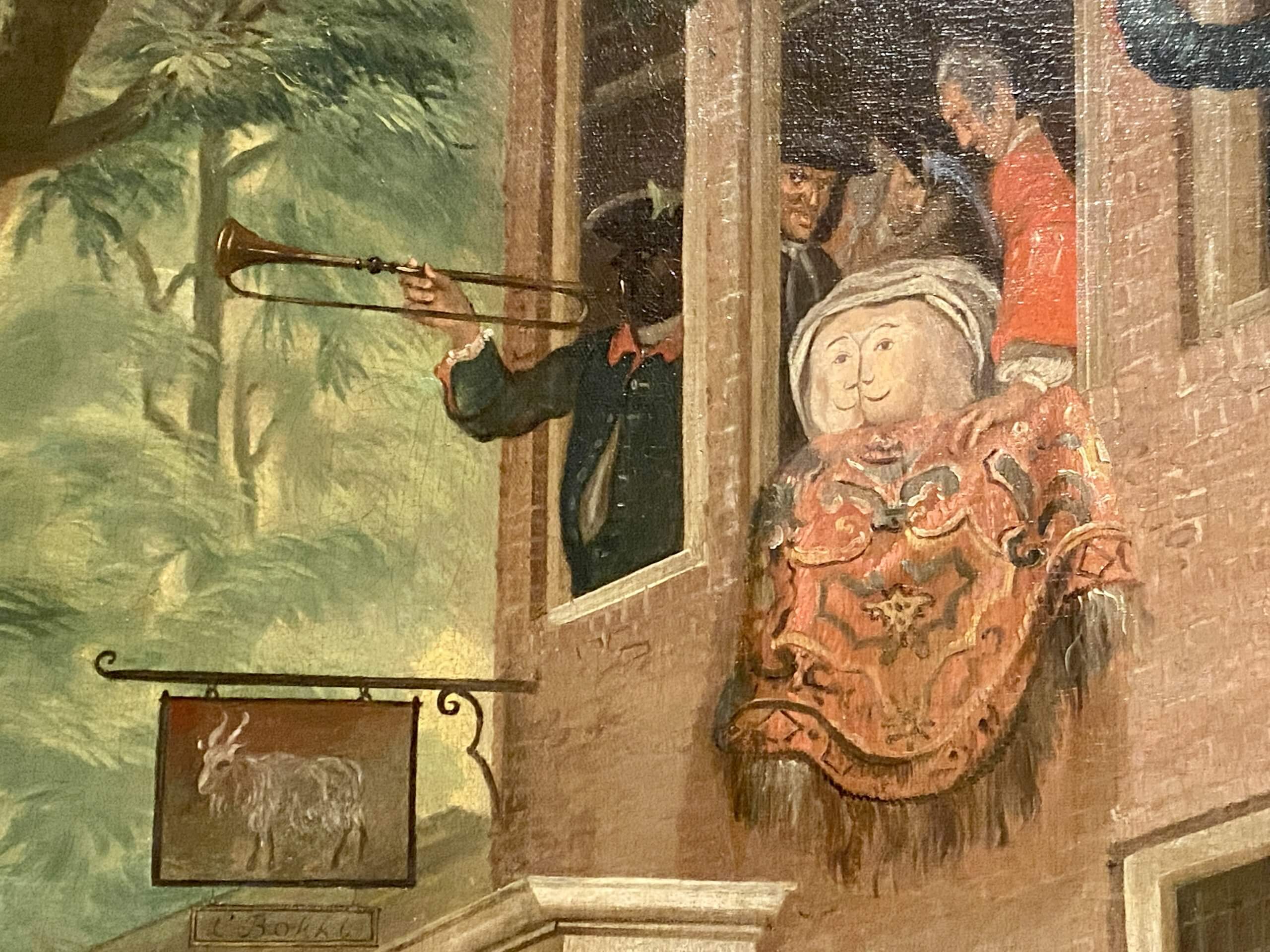 I simply liked the way not everyone had noticed the bottom. Although this young woman has seen it, the young man only has eyes for her. Should we be questioning this flirtation behind the back of a 'puritan'? Not in my opinion, as this is simply 'side theatre' to the main show in the painting. Is the chap behind the young man black, mixed-race, or simply in shadow? I don't know and don't particularly care either way as it's not the focus of the painting. The humor is simply that he is watching.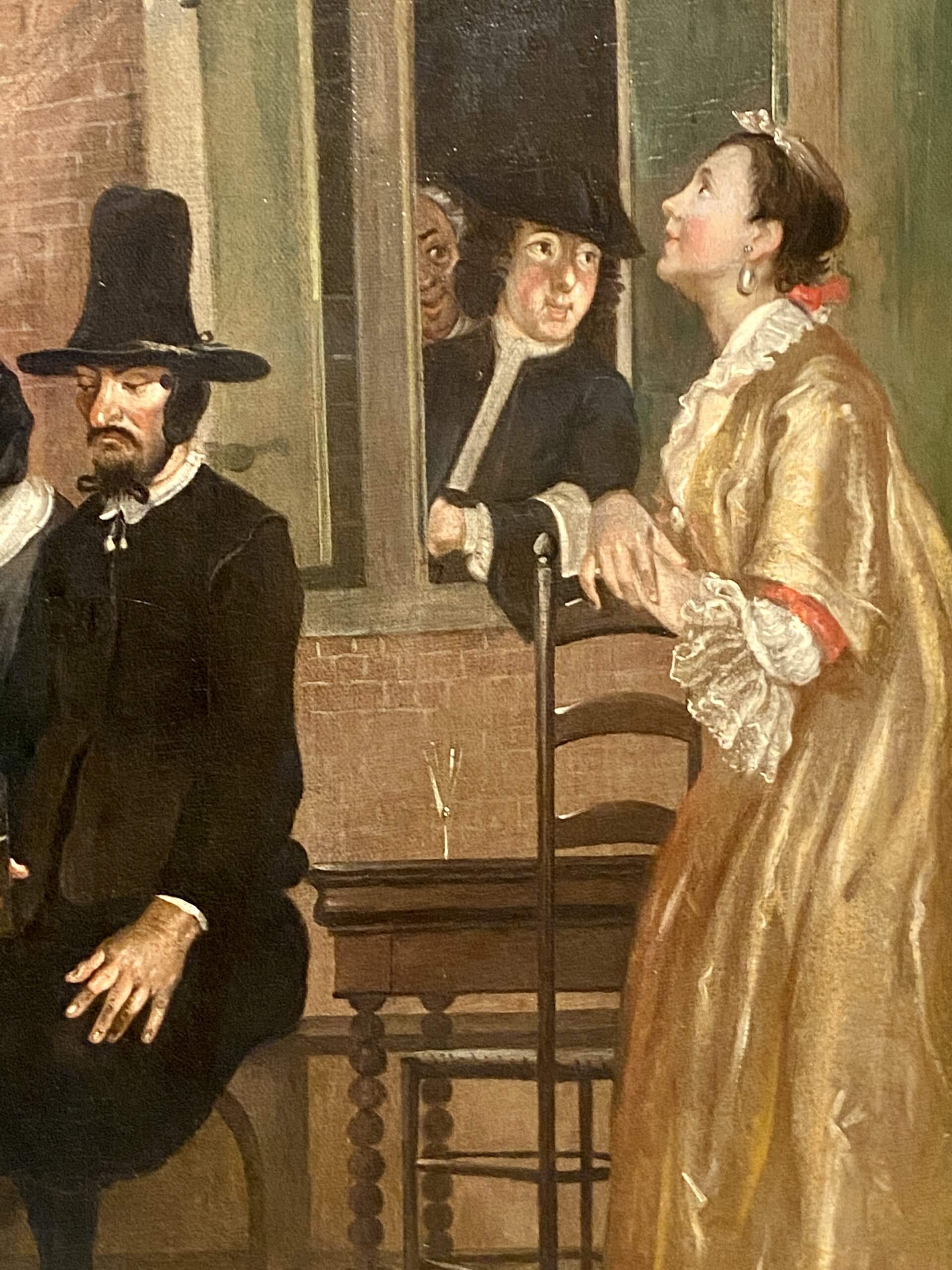 3. Modern Moral Narratives
The early 1700s saw the emergence of a new kind of story-telling painting across Europe. Often in a sequence or series of images, this section includes paintings by the Italian Giuseppe Crespi, including The Flea 1707-09 and the Parisian Nicolas Lancret.
Giuseppe Maria Crespi (1665–1747) often used everyday life as his subject. Here he shows a woman sitting on her bed searching for a flea within her clothes. The woman's state of undress made this subject popular with his male patrons, so he painted several versions of this picture.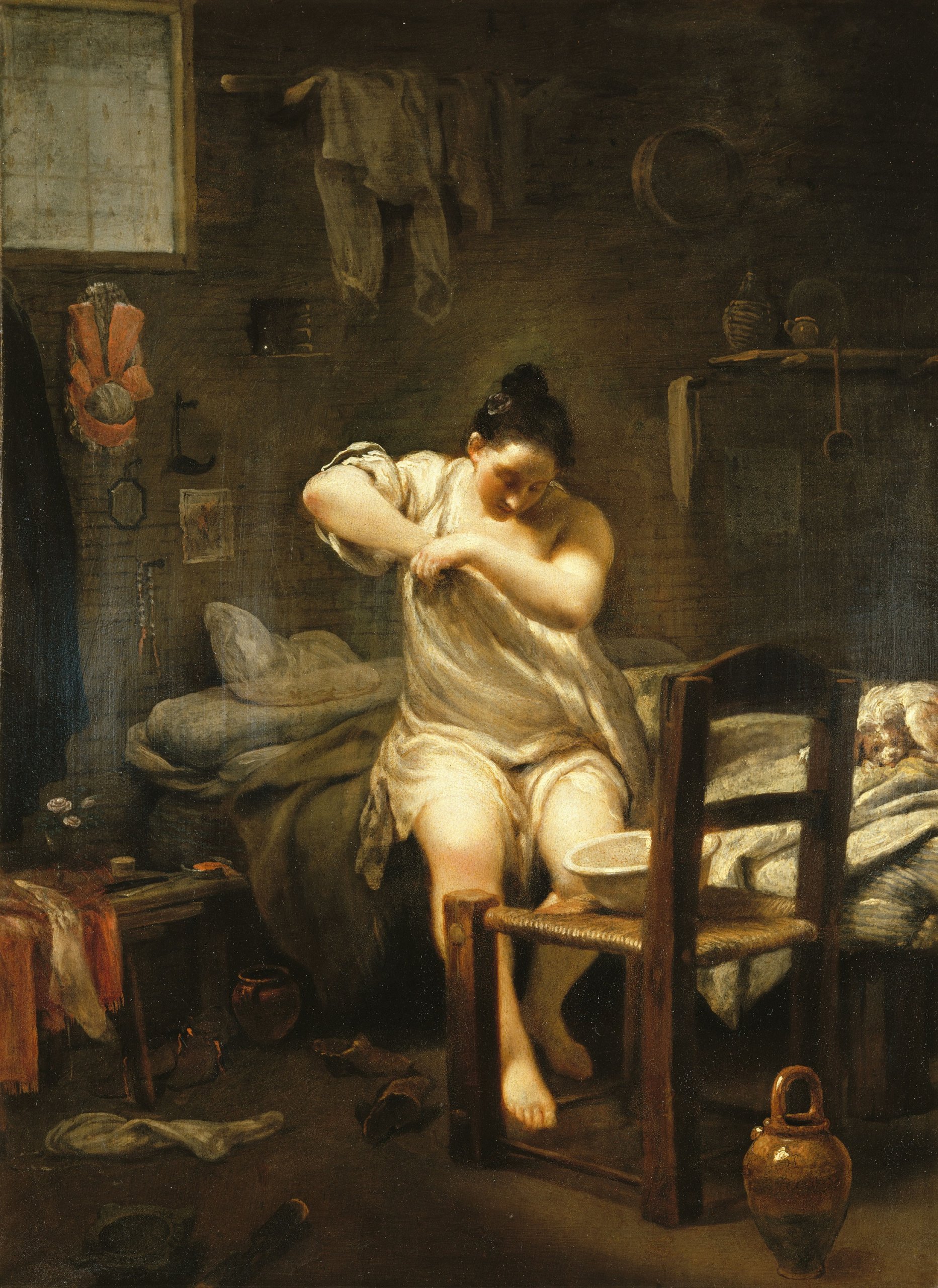 In 1788, Joshua Reynolds, the first president of the Royal Academy, said Hogarth should be celebrated for inventing "a species of dramatic painting" and for his ability "to explain and illustrate the domestic and familiar scenes of common life," but that his ambitions in the "great historical style" were not only impudent but presumptuous.
In the 1730s, Hogarth began his 'modern moral series': frank and engaging narratives charting the rise and fall of everyday characters corrupted by immorality and vice. A Harlot's Progress is a series of six paintings (destroyed by fire in 1755 so displayed here as engraving prints) showing a story unfolding of lost innocence, cynism, and tragic decline. The character is Moll Hackabout, who arrives from the countryside and gets drawn into life as a sex worker, ends up in prison, and dies a sorry death. Her fate becomes an indictment of the heartlessness of eighteen-century society.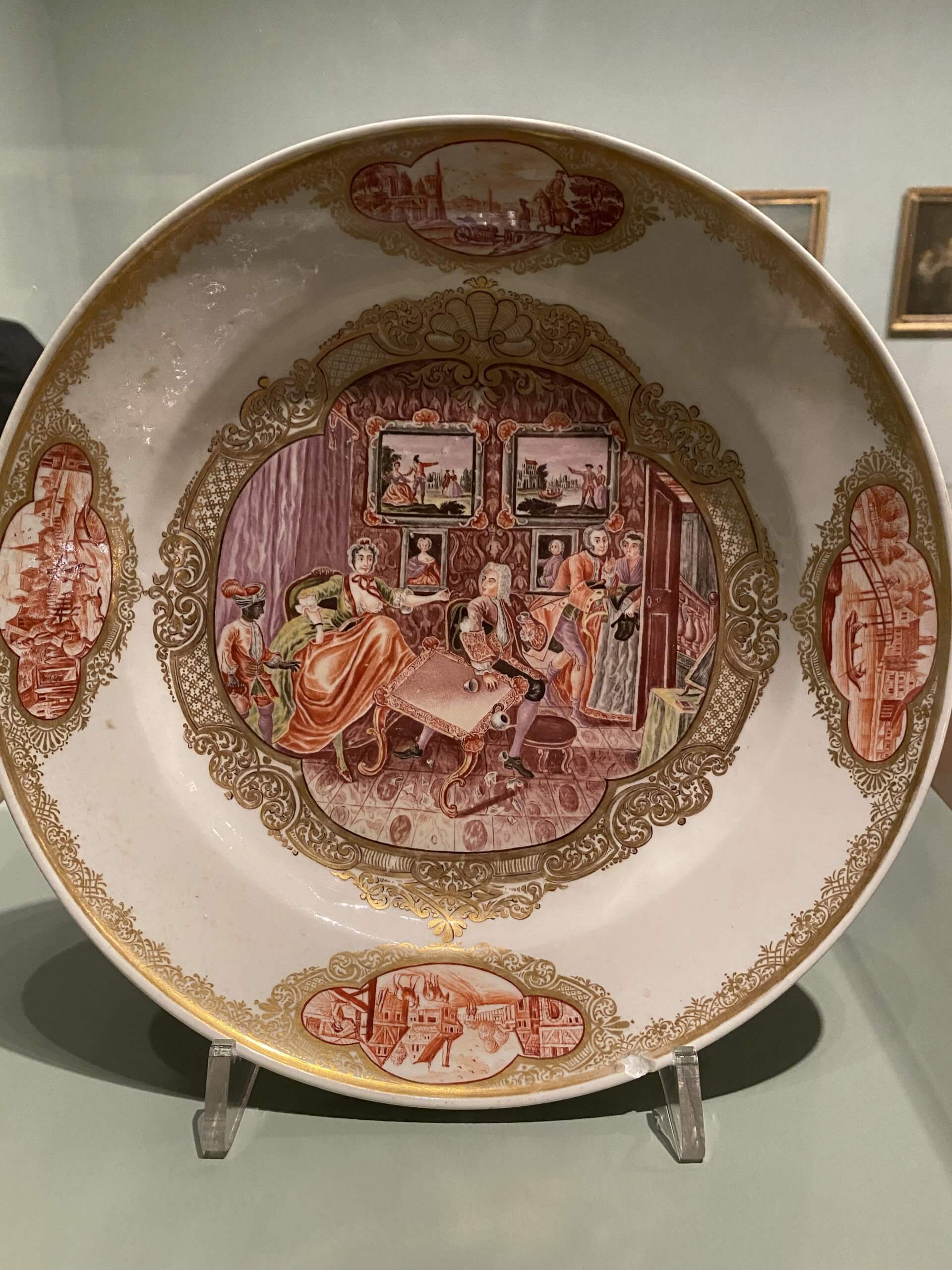 Following the huge success of A Harlot's Progress, Hogarth painted A Rake's Progress (1734) to offer a counterpart story of masculine waywardness and debauchery. (The canvases were produced in 1732–1734, then engraved in 1734 and published in print form in 1735.) Across eight pictures, the 'rake' (a fashionable or wealthy man of immoral or promiscuous habits) is Tom Rakewell. This merchant's son squanders his inheritance and ends up in a debtors' prison and finally Bedlam hospital. Here his mental breakdown is a cruel spectacle for supposedly respectable visitors.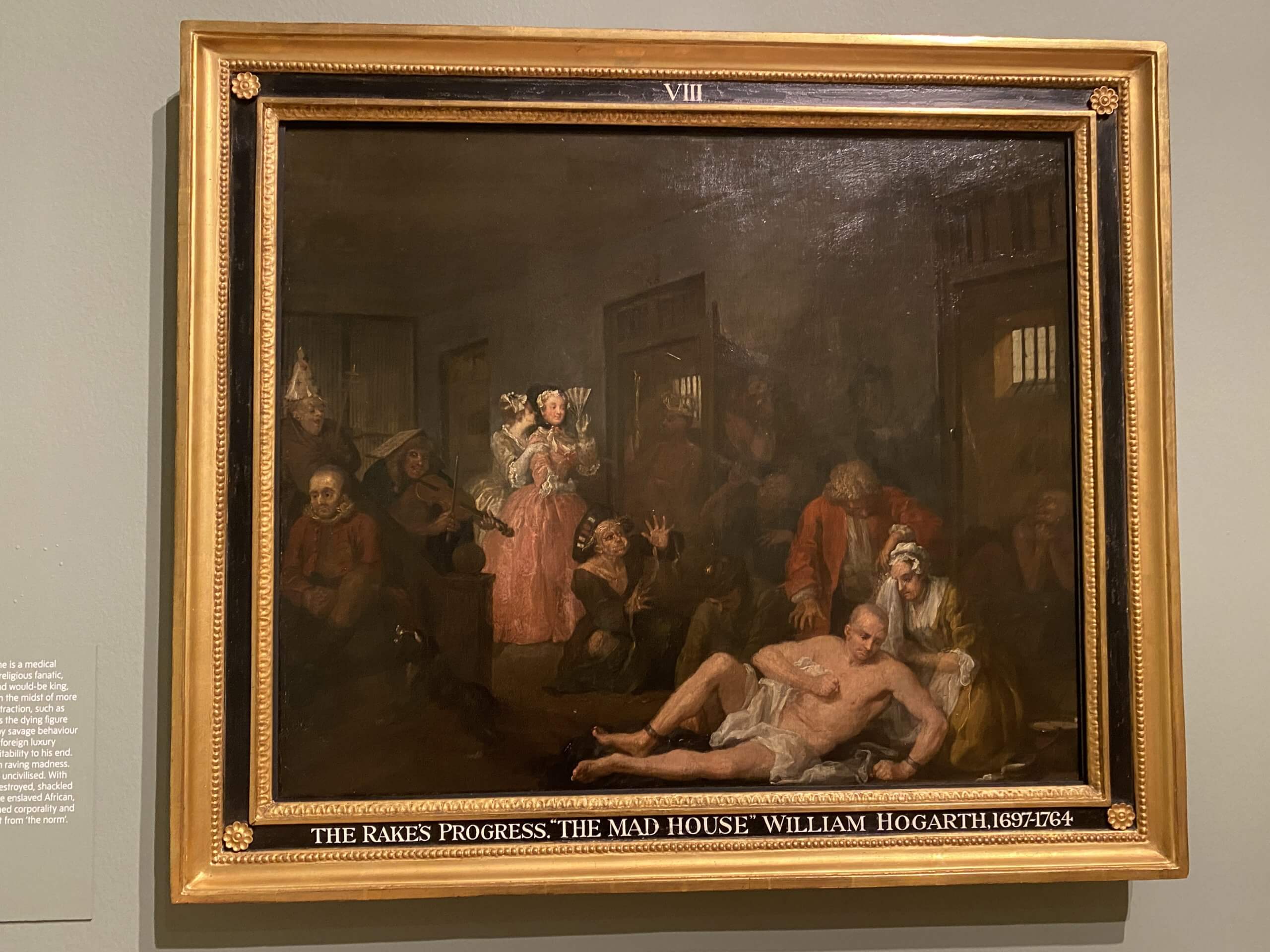 4. In The Company of Men
Hogarth's humor attracted those who wanted their portrait painted. It does seem as if the sitter was usually in on the joke otherwise, the depictions could be considered quite cruel. The commentary is quick to point out that for men to tolerate being publically shown as eccentric or disreputable would have meant they already had a level of power, status, and stability.
Below, Reverend Hoadly has devil's horns, asses' ears, and reptilian wings! A handwritten inscription in Latin extends the joke further, satirically stating, 'Painted from life by his wife.' Hoadly's first wife, Sarah Curtis, was a professional artist before her marriage, and it was probably through her that Hogarth's close relationship with the family began.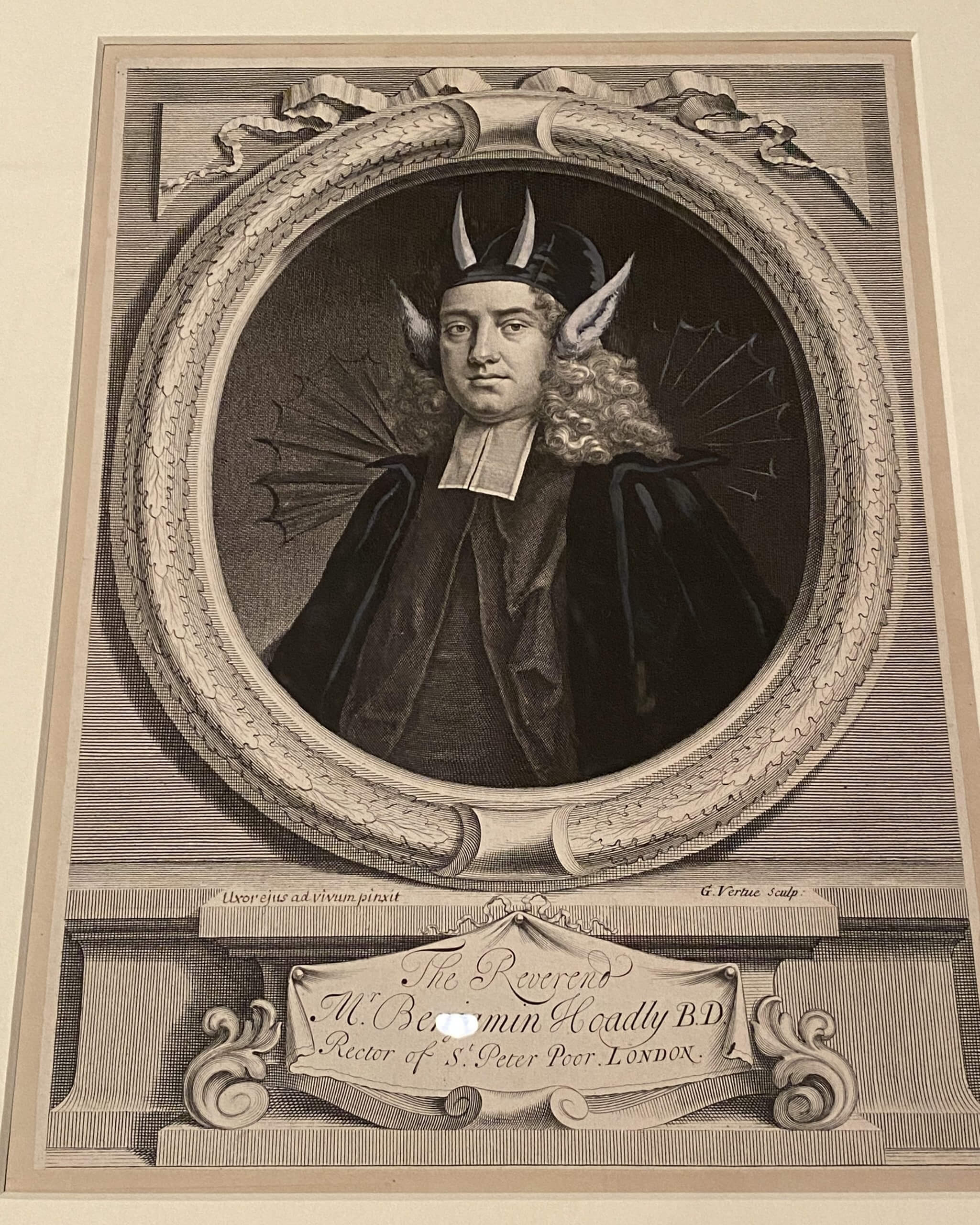 In contrast to Hogarth showing British Army soldiers as unprofessional, Troost shows Dutch officers off-duty but displaying exemplary behavior.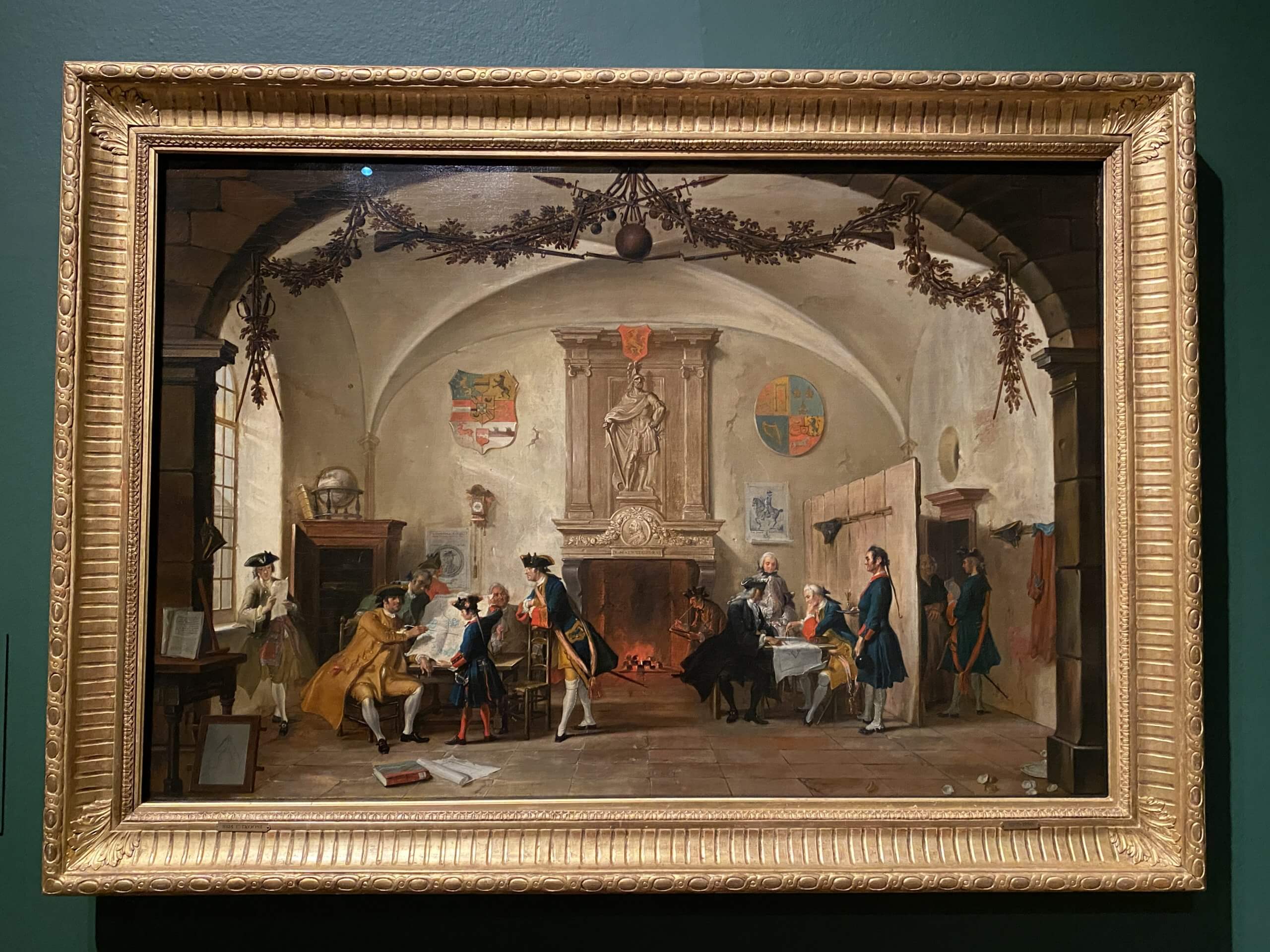 I wasn't expecting to see a man vomiting in bed in this exhibition. It's thought this was commissioned by the wife in an attempt to stop him from drinking. Later, his descendants arranged for the unflattering picture to be painted over, so the chamber pot looked like he was reading in bed. This late alteration was removed in 1990. That's conservation, eh?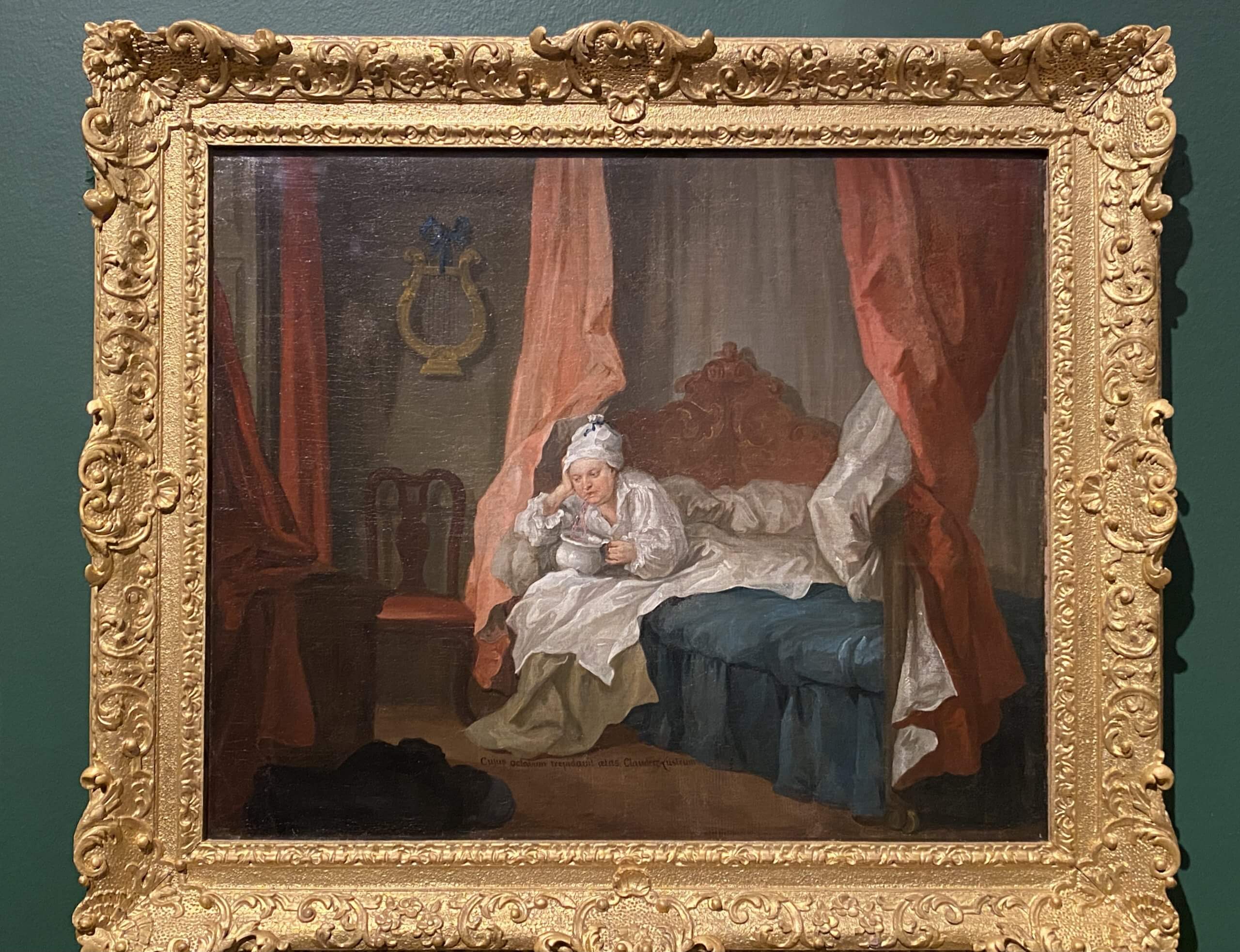 5. Questioning Hogarth
Much is made of this raucous drinking scene that represents masculine freedom run riot. It was hugely popular and reproduced in many forms, including on punch bowls (see below).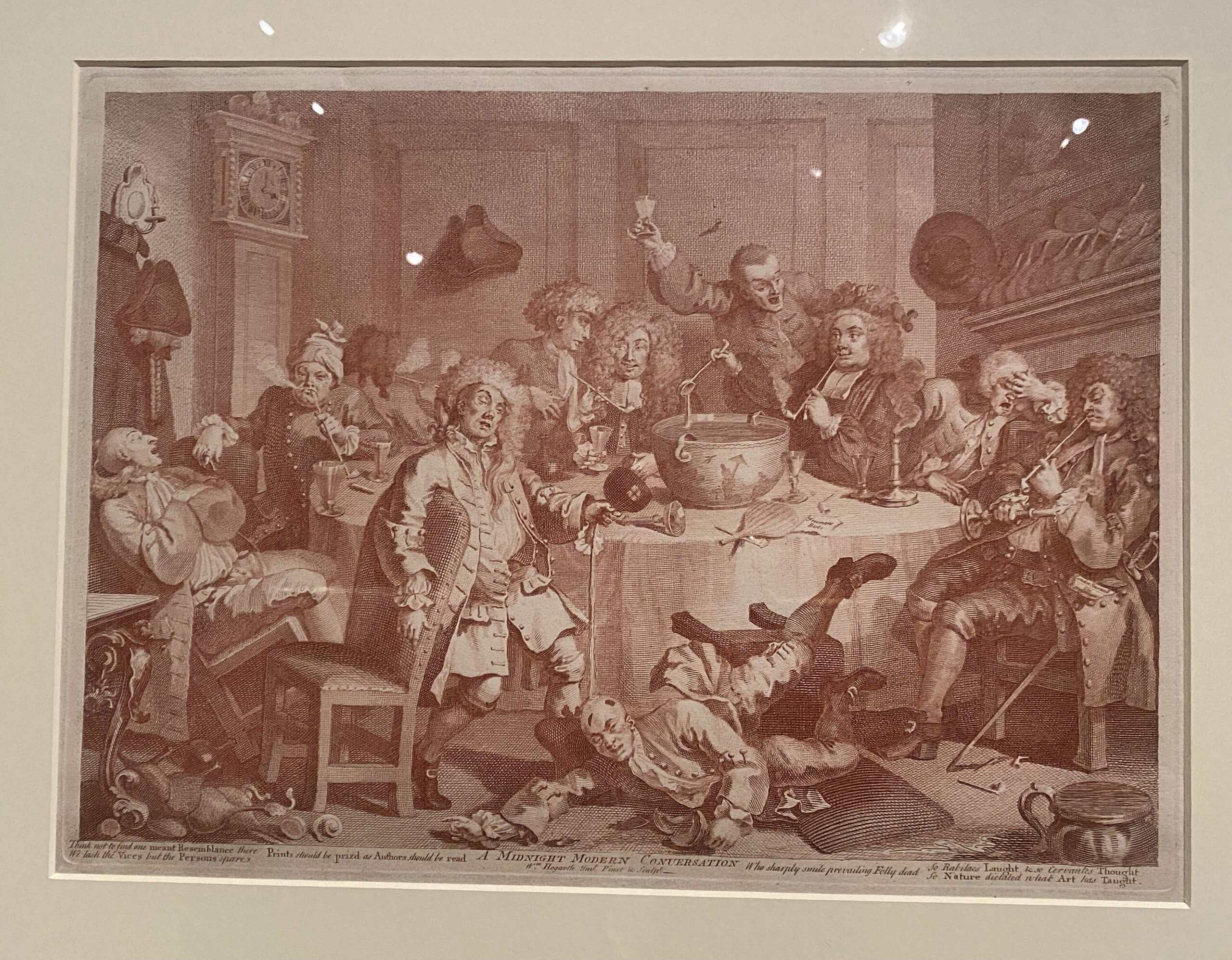 The exhibition commentary wants us to consider that the punch that is being drunk in this image and the tobacco being smoked "are material links to a wider world of commerce, exploitation and slavery." Why stop there? What about the material of their clothes and wigs? What about the wood on the wall paneling? Again, this point feels labored.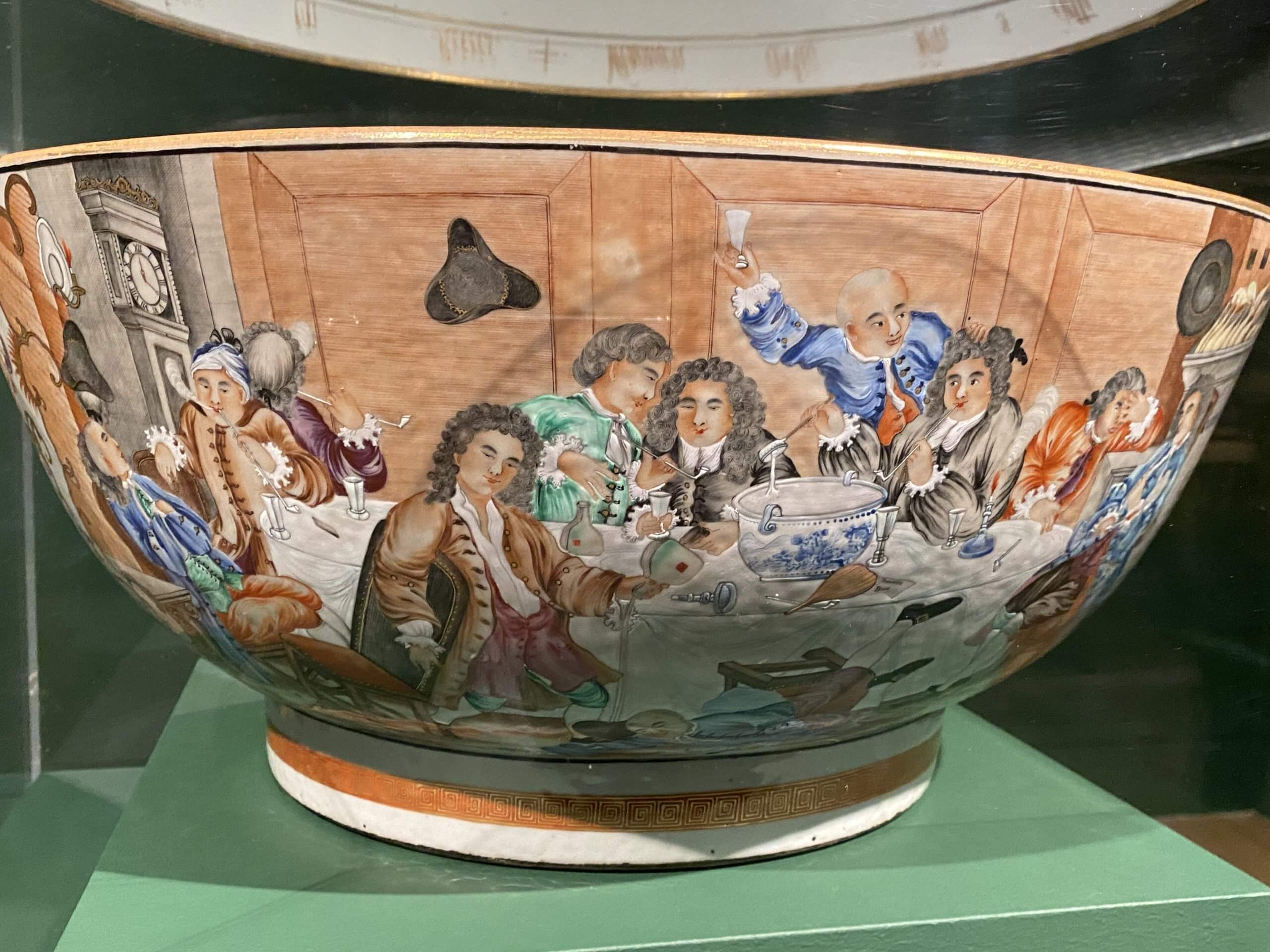 The Discovery is considered to be explicitly racist. It was made for the private amusement of a small group of his friends. After his death, his wife had the original copperplate destroyed.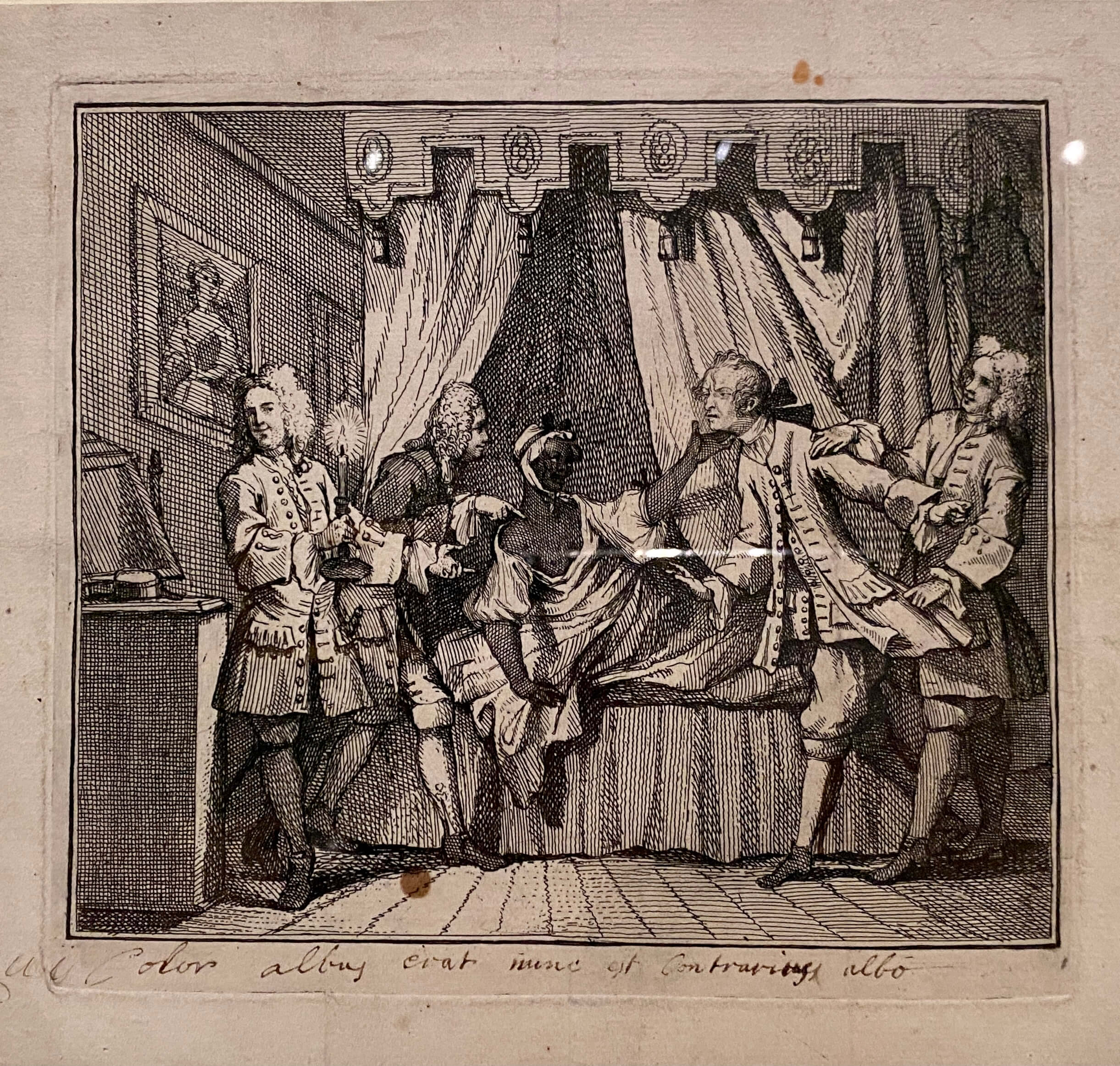 6. The New Europeans
Portrait painting was the most dependable source of income for artists across eighteenth-century Europe.
I liked this portrait of David Garrick, who was a major celebrity of his day. He was an actor and theatre producer and well connected in the London art world. I thought it interesting that he chose to be painted bald and wigless, which shows confidence in his appearance while being shown as vulnerable. (Heads were shaved to be hygienic under wigs.)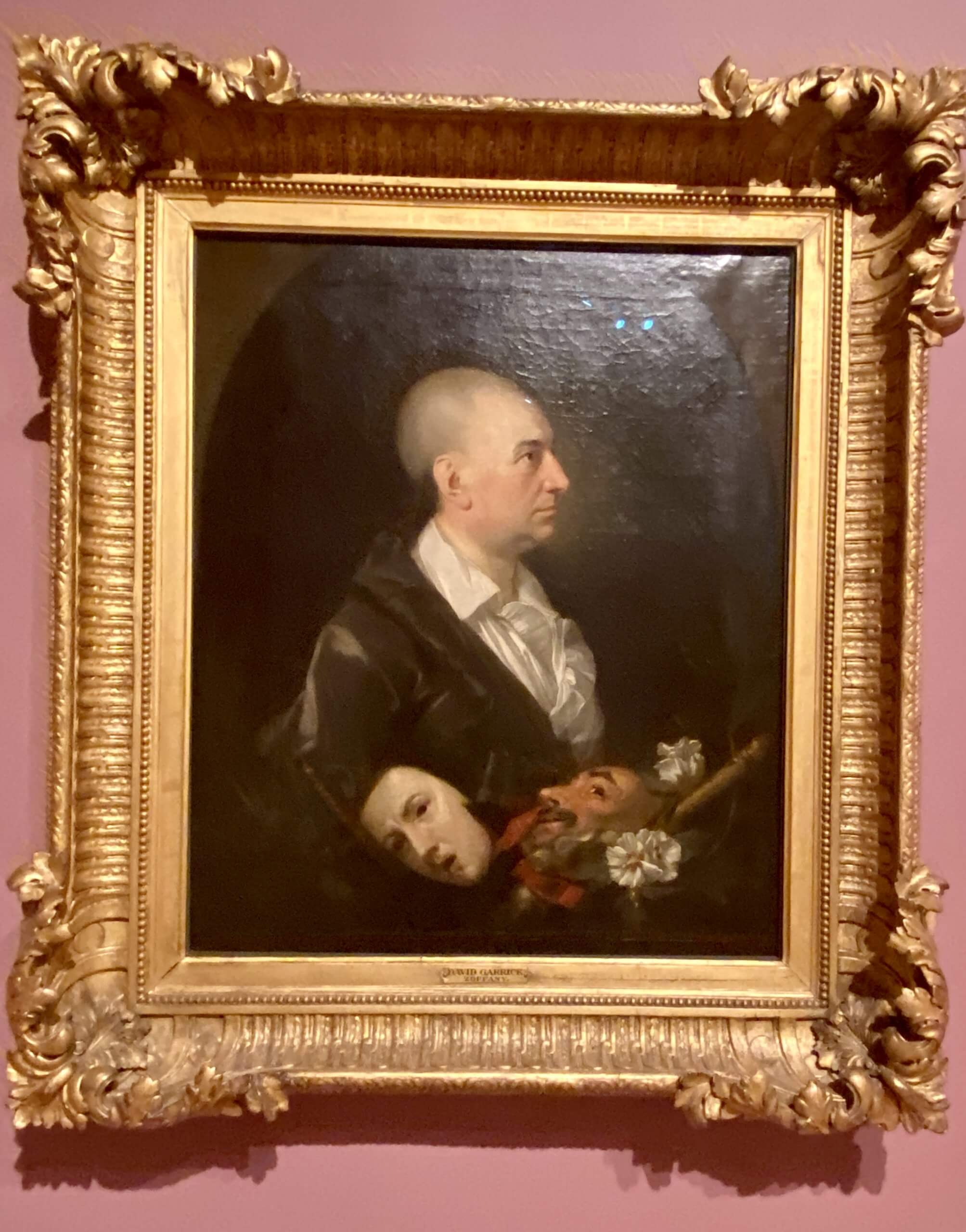 You can see another portrait of David Garrick later in the exhibition. This time by Hogarth, it shows Garrick and his wife. She was a dancer, and this sitting shows a less formal moment.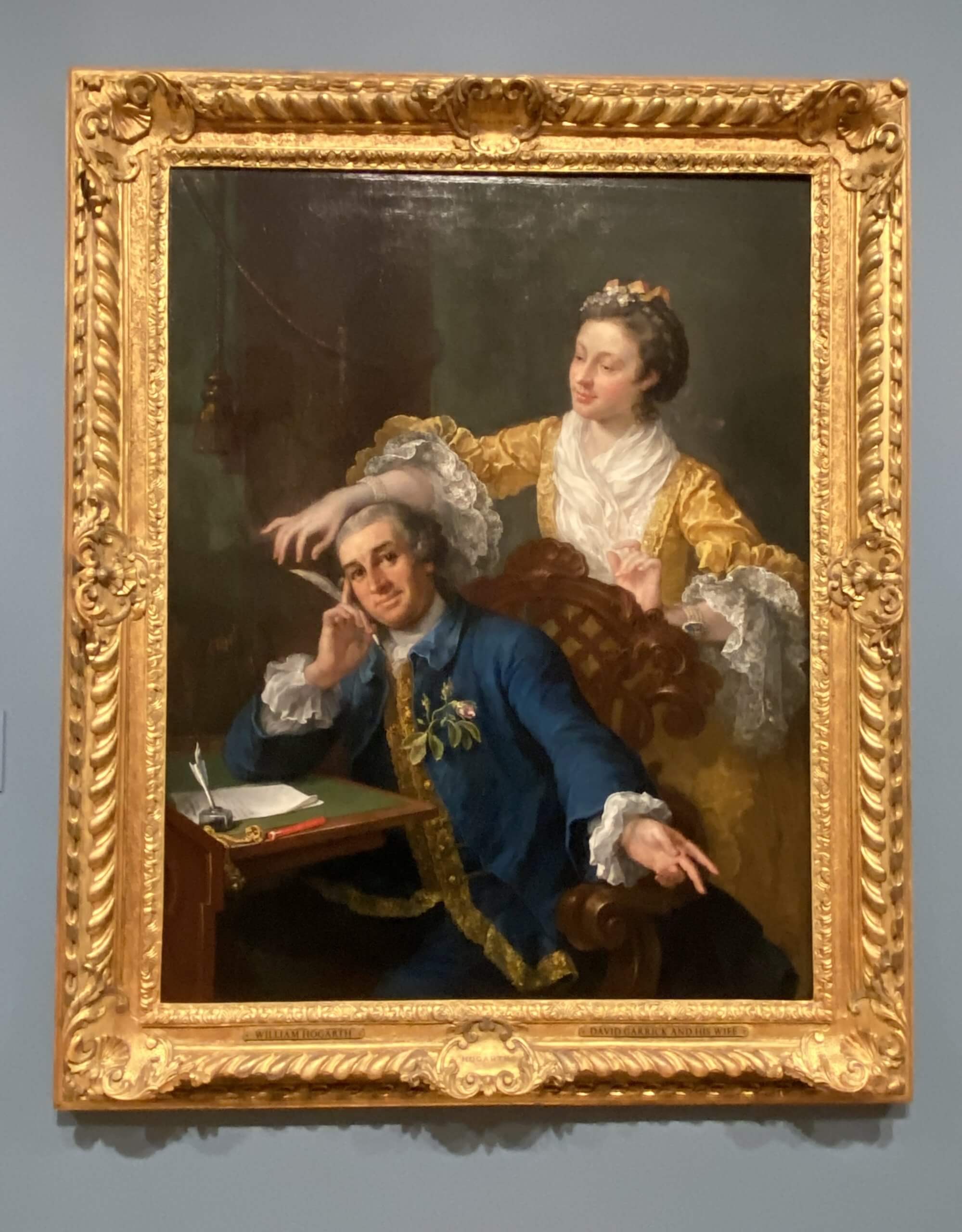 These portraits of Hogarth's younger sisters were intended to be hung as a pair, facing each other. The two sisters worked closely together and ran a draper's shop. After Mary's death in 1741, Anne gave up the shop and went to live with Hogarth and his family, helping with the sale of his prints.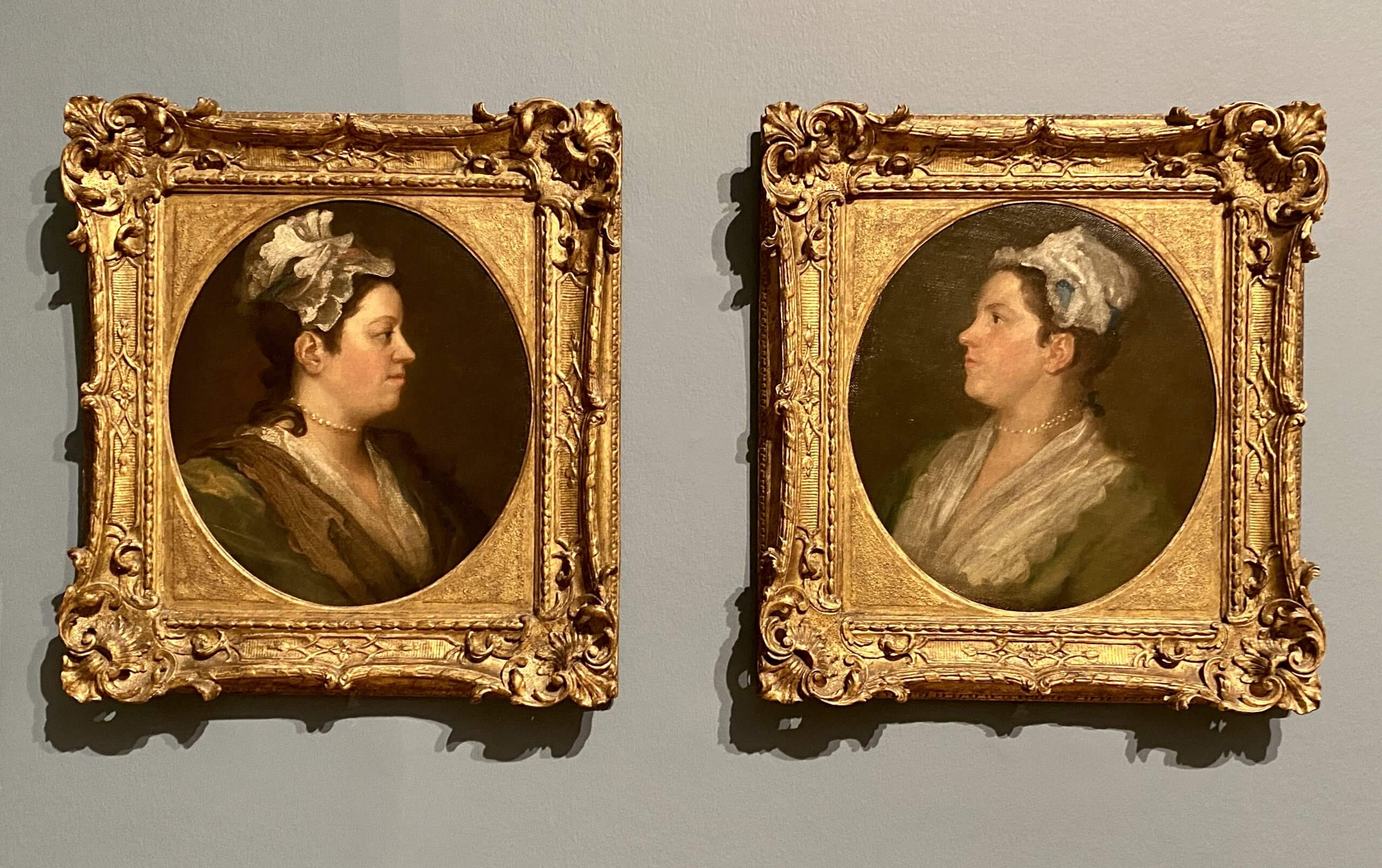 Miss Mary Edwards is a painting that has not been seen in the UK for over a century. It is of the eccentric, wealthy patron who commissioned many of Hogarth's best-known works. She's gone all out on the imagery with a large hunting dog, celestial globe, and busts of Alfred the Great and Elizabeth I. The papers by her elbow include a proclamation of individual rights from Joseph Addison's classical play Cato 1712. It was fascinating to read that she refused to acknowledge her husband, describing herself as a spinster in order to retain her estates and fortune. She was one of the richest women of her time.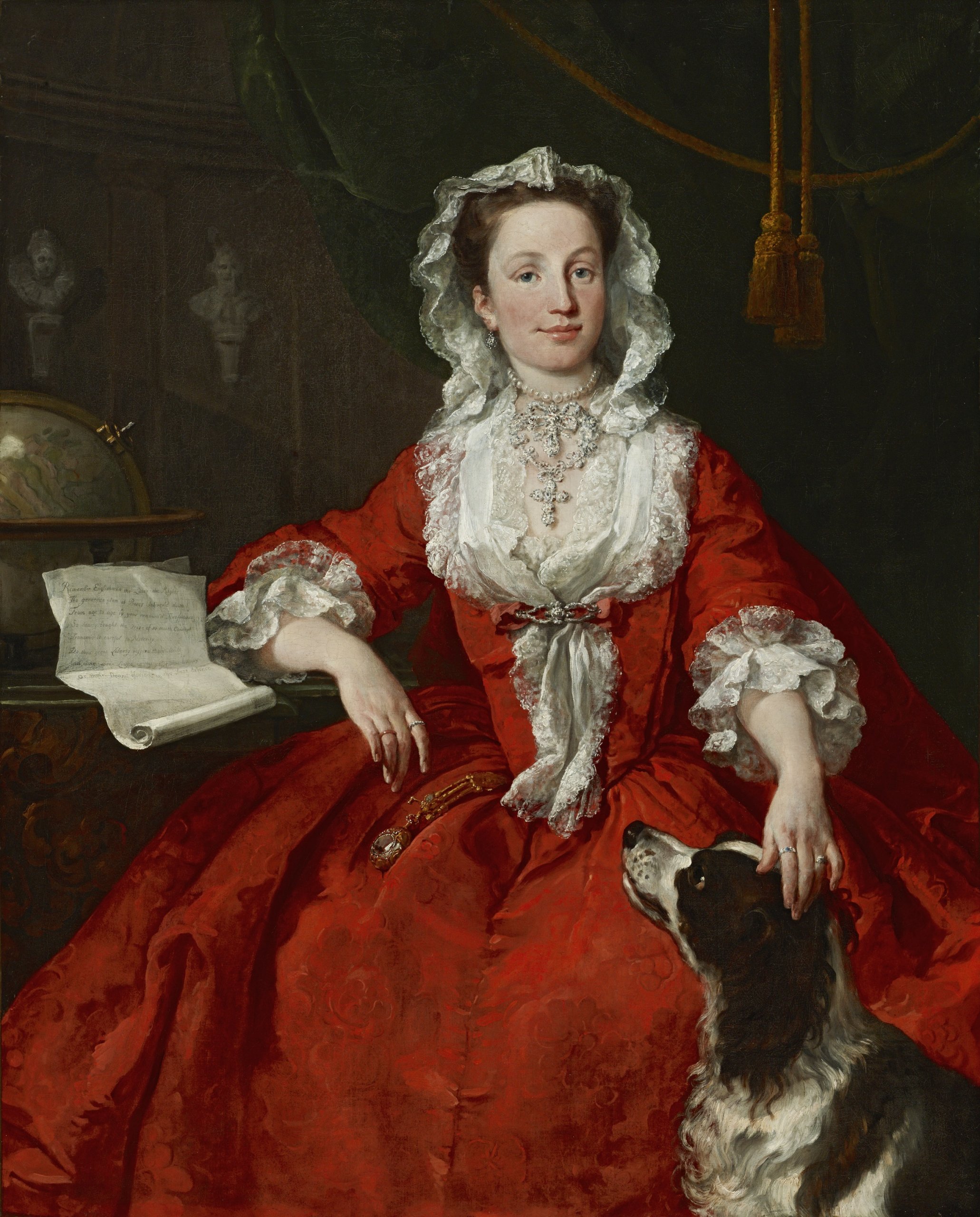 This is displayed next to the portrait of The Marquise de Castellane with her Embroidery by Jacques-André-Joseph Aved (1702–1766). The French painter is often held up as the most similar to Hogarth.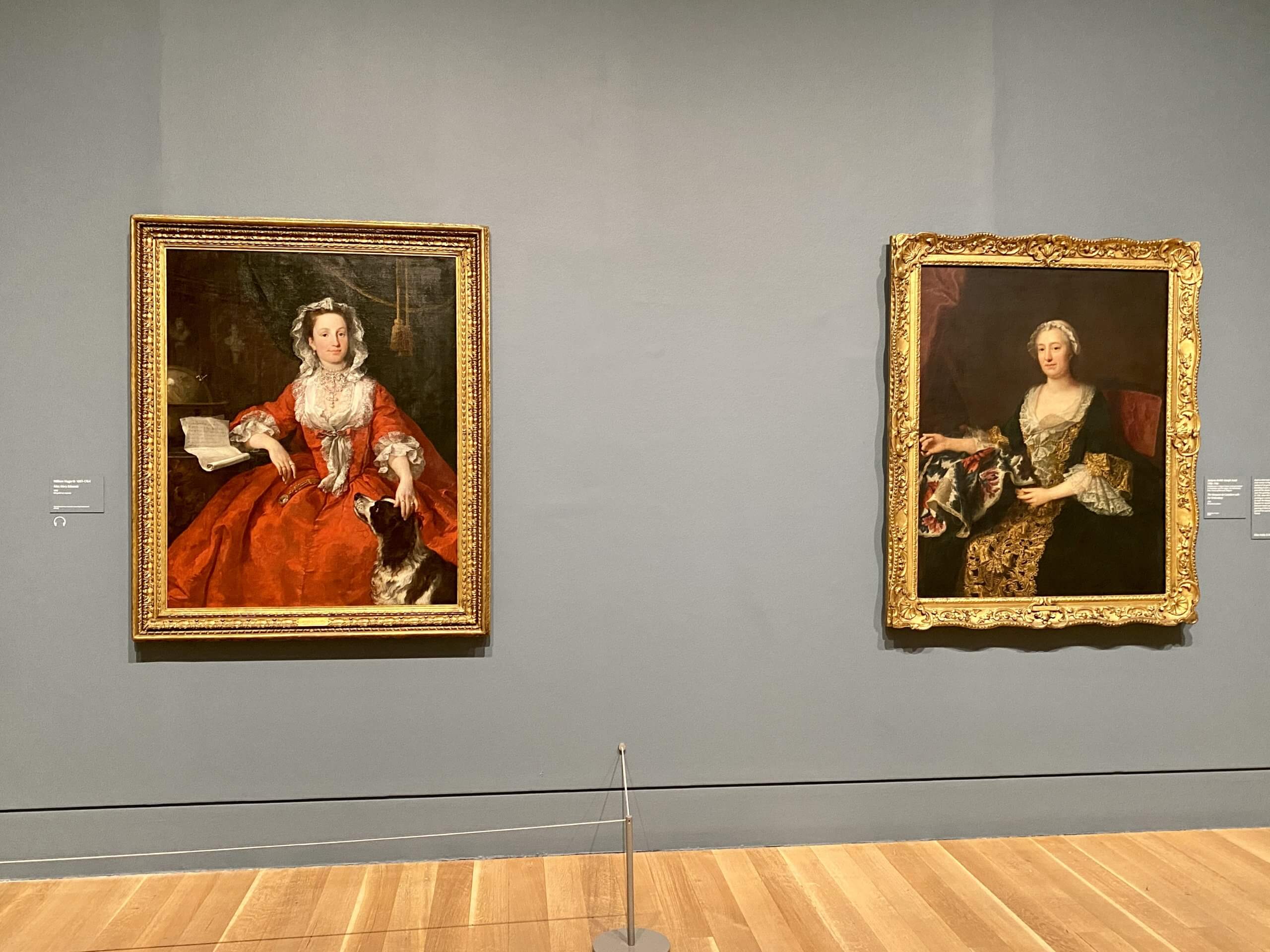 The exhibition ends with Heads of Six of Hogarth's Servants. It is suggested this might have been used as an advertisement for his portraitist skills. I'd like to think it was also painted as Hogarth enjoyed studying people, whatever their social status.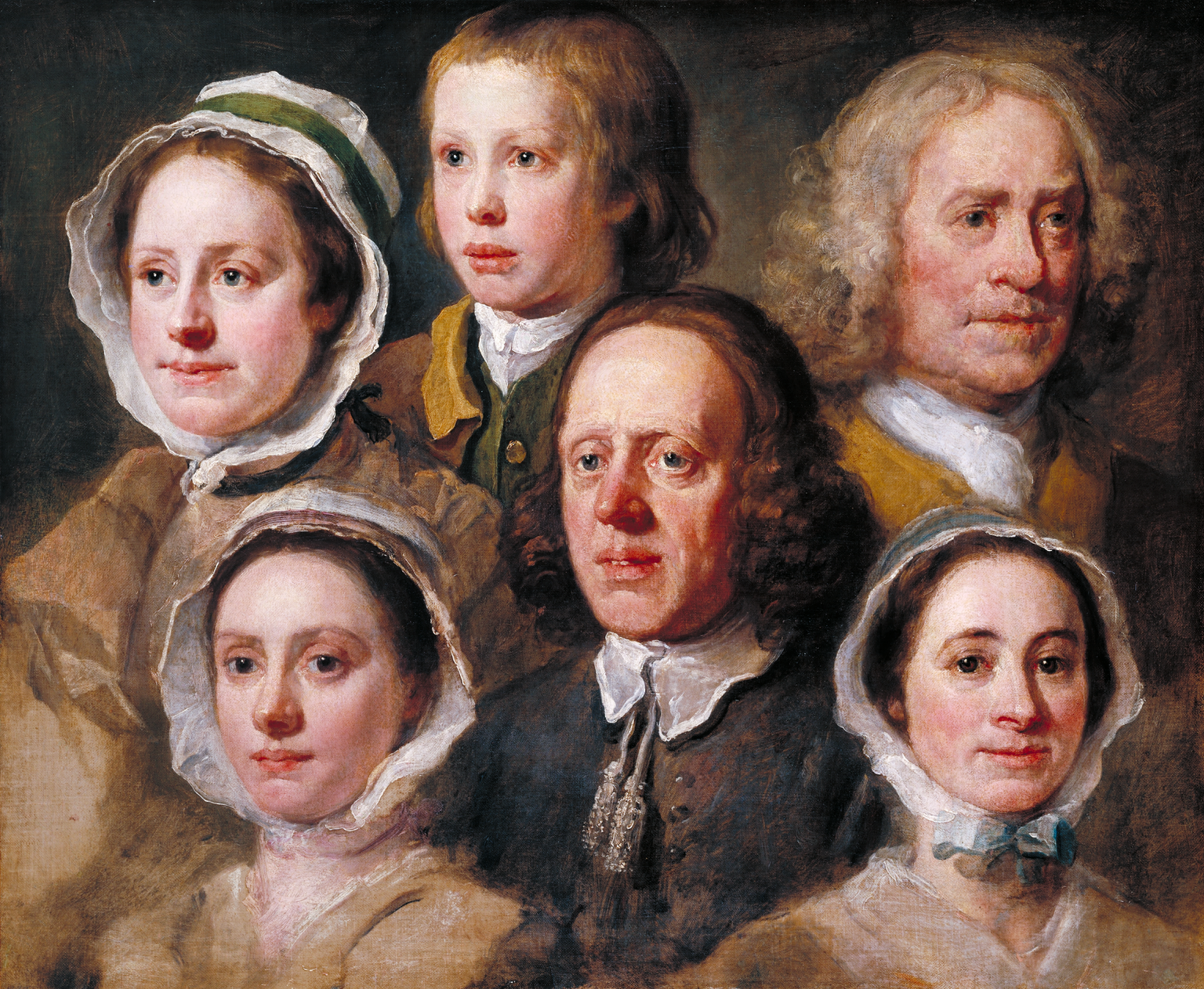 Conclusion
Tate Britain is trying hard to recognize slavery and raise awareness of its associated history. While that should be applauded, I felt it wasn't always used effectively here. I enjoyed seeing the artwork of some of Hogarth's European contemporaries, but the English artist is clearly the main attraction. There's a lot to see so I'd recommend allowing 1.5 hours for this exhibition.
Visitor Information
Exhibition Title: Hogarth and Europe
Venue: Tate Britain, Millbank, London SW1P 4RG
Dates: 3 November 2021 – 20 March 2022
Opening Times: Daily 10.00 – 18.00
Official Website: www.tate.org.uk/whats-on/tate-britain/exhibition/hogarth-and-europe
As well as the artworks, do admire the ornate frames.