The Foundling Museum is a wonderful place to visit and has really well chosen temporary exhibitions. The latest looks at a first-hand account of the 1805 Battle of Trafalgar. And the connection is that George King had started life at the Foundling Hospital, the UK's first children's charity).
Who was George King?
George King (10 June 1787–31 July 1857) was child number 18,053 at the Foundling Hospital, where he was taught to read and write – a rare skill for working-class people in the eighteenth century. His autobiography, and this exhibition, shares the story of a boy growing up in the eighteenth century.
George was admitted to the Foundling Hospital on 10 November 1787, aged five months. His unmarried mother, Mary petitioned for his admission.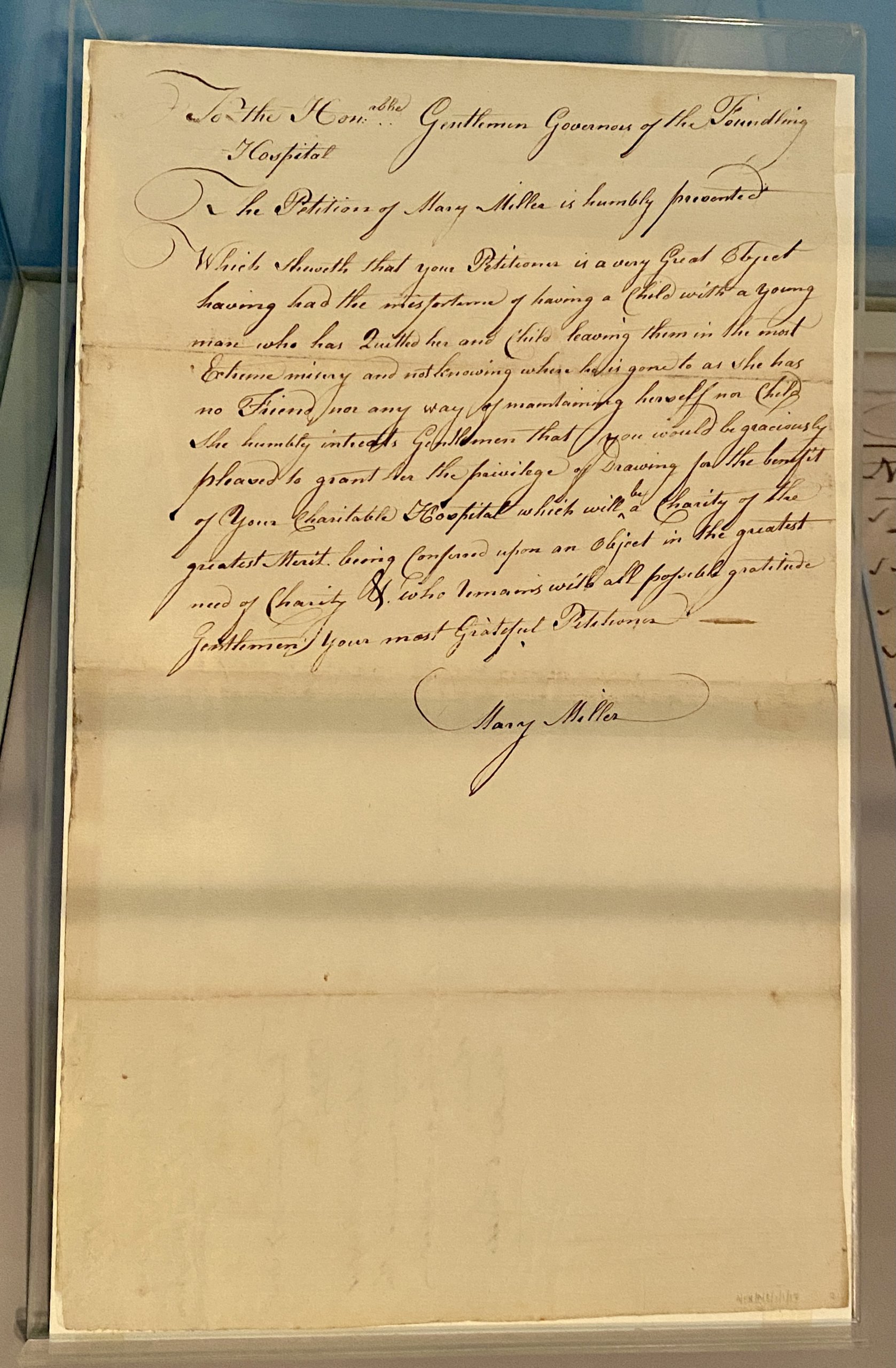 Lady Marchmont wrote to the Hospital Secretary stating she would send two wet nurses to London and requested two children to be sent to her area with them for nursing. She specifically asks that they should be named George or Charlotte King or Windsor in honor of King George III and his wife, Queen Charlotte. This is the origin of George King's name.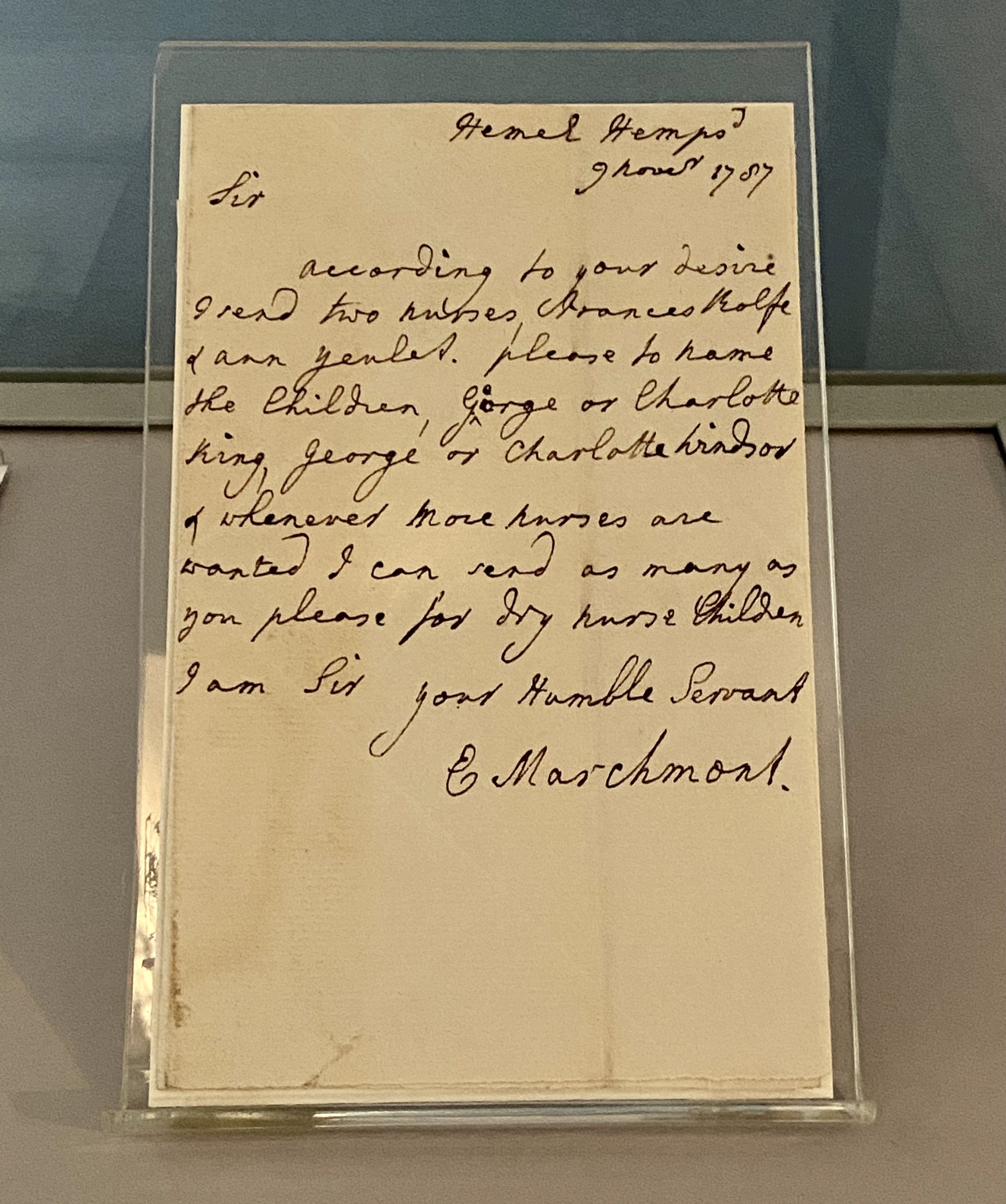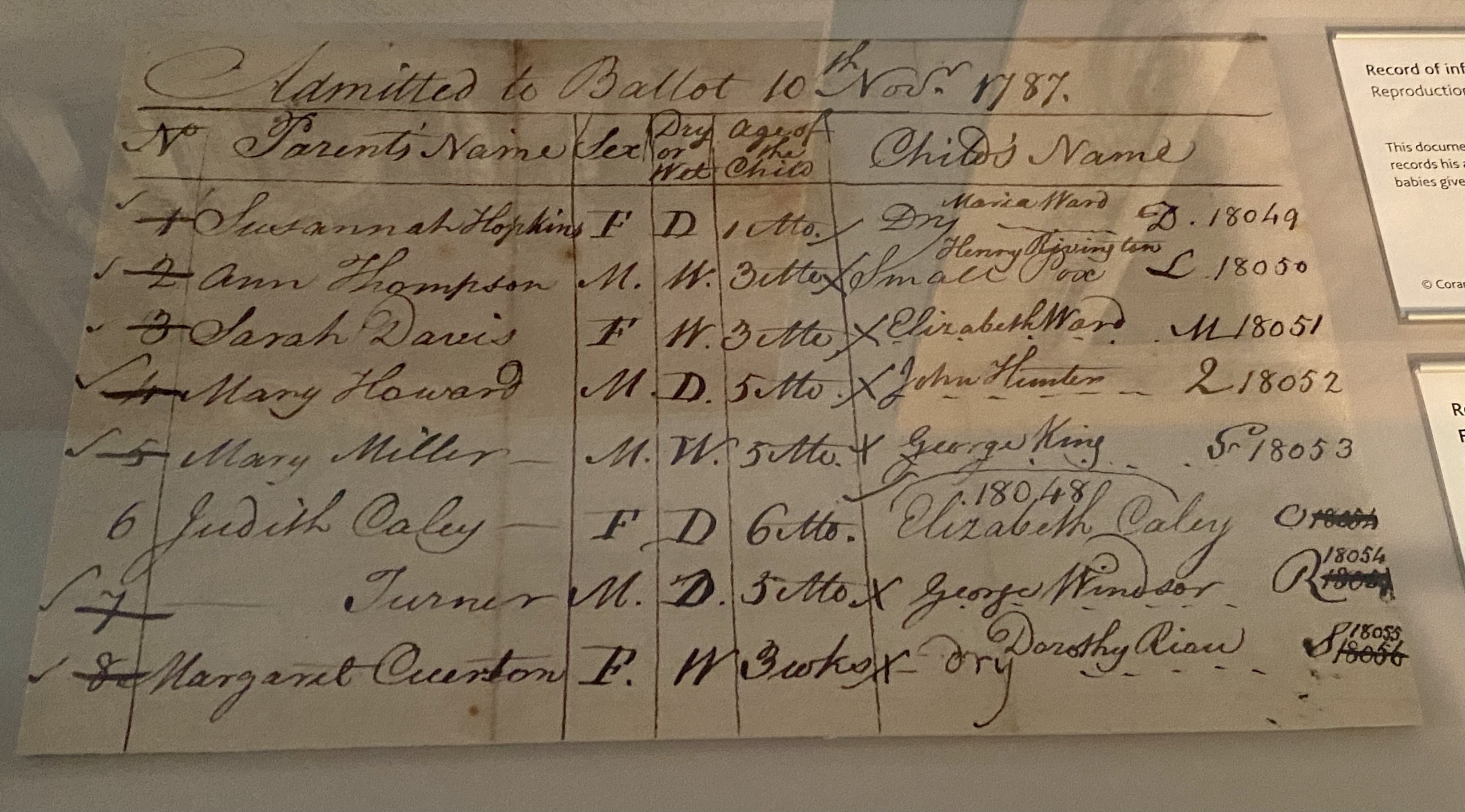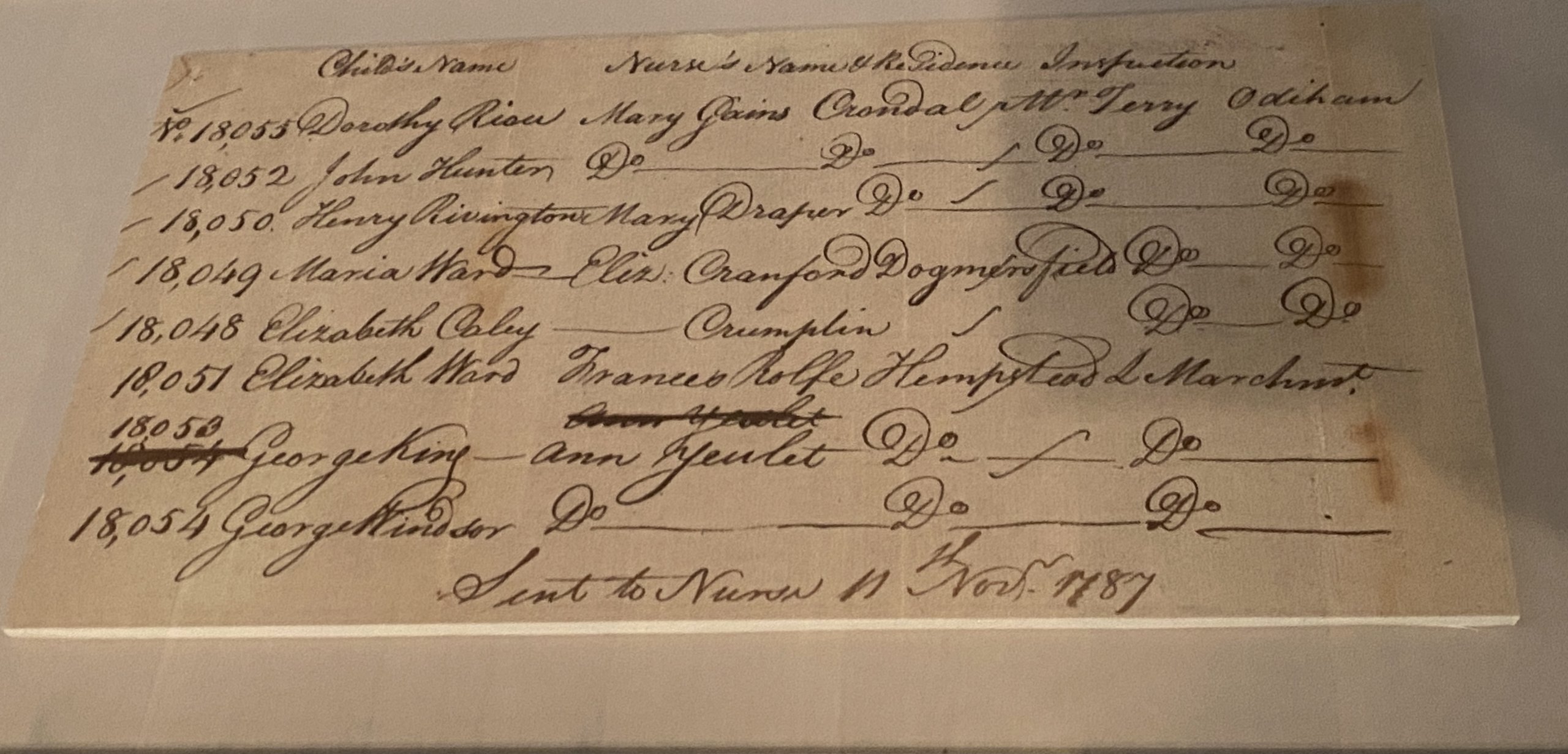 Clothing on display includes a right red waistcoat and brown jacket with gold buttons – a boy's Foundling Hospital uniform. The military-style reflected the fact that many boys went on to fight for their country (the girls were trained for domestic service).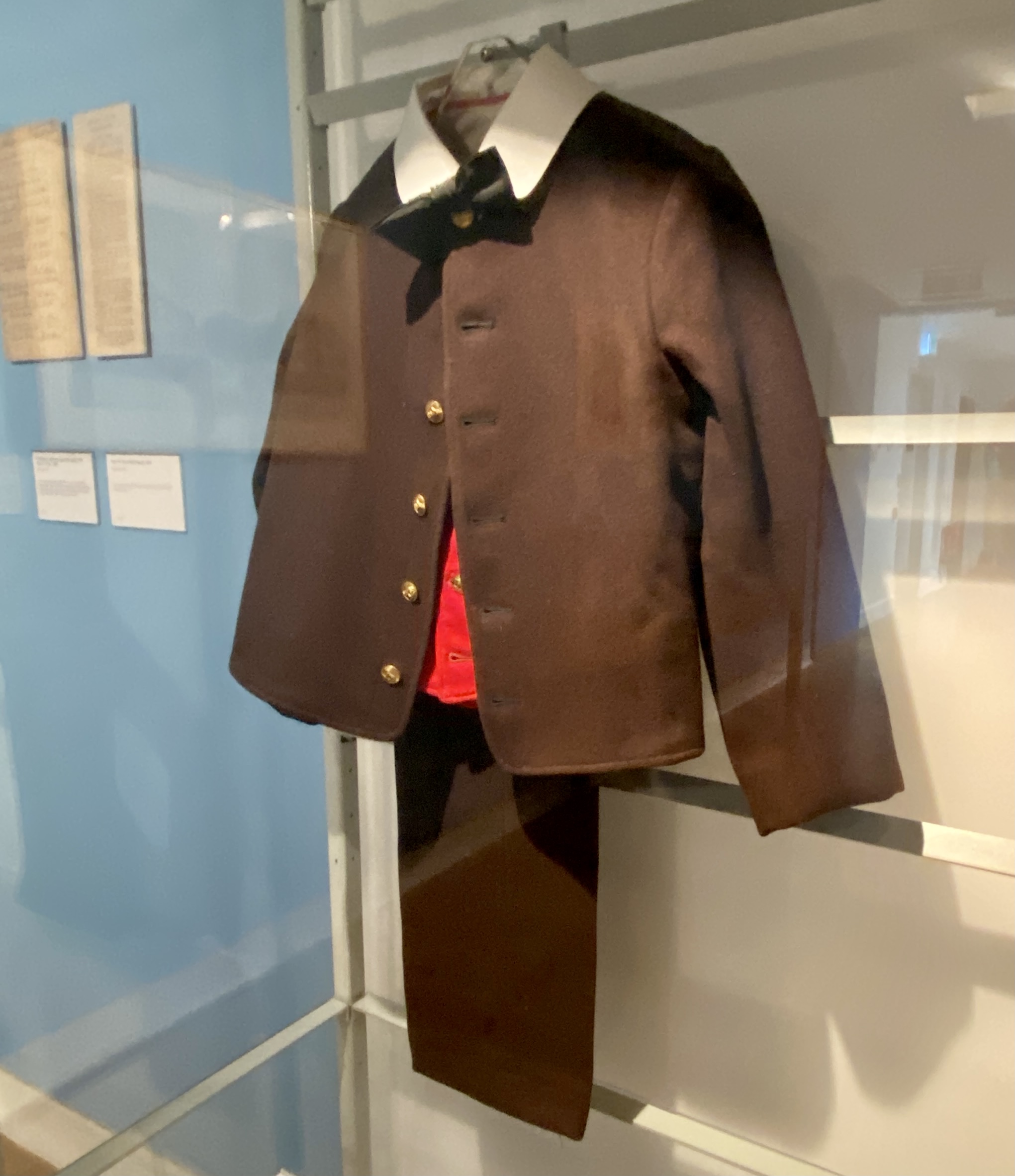 Apprenticeship
Unlike many babies admitted to the Foundling Hospital, George survived to adulthood. At thirteen, he was apprenticed to a confectioner for seven years in the City of London, but he ran away after being bullied.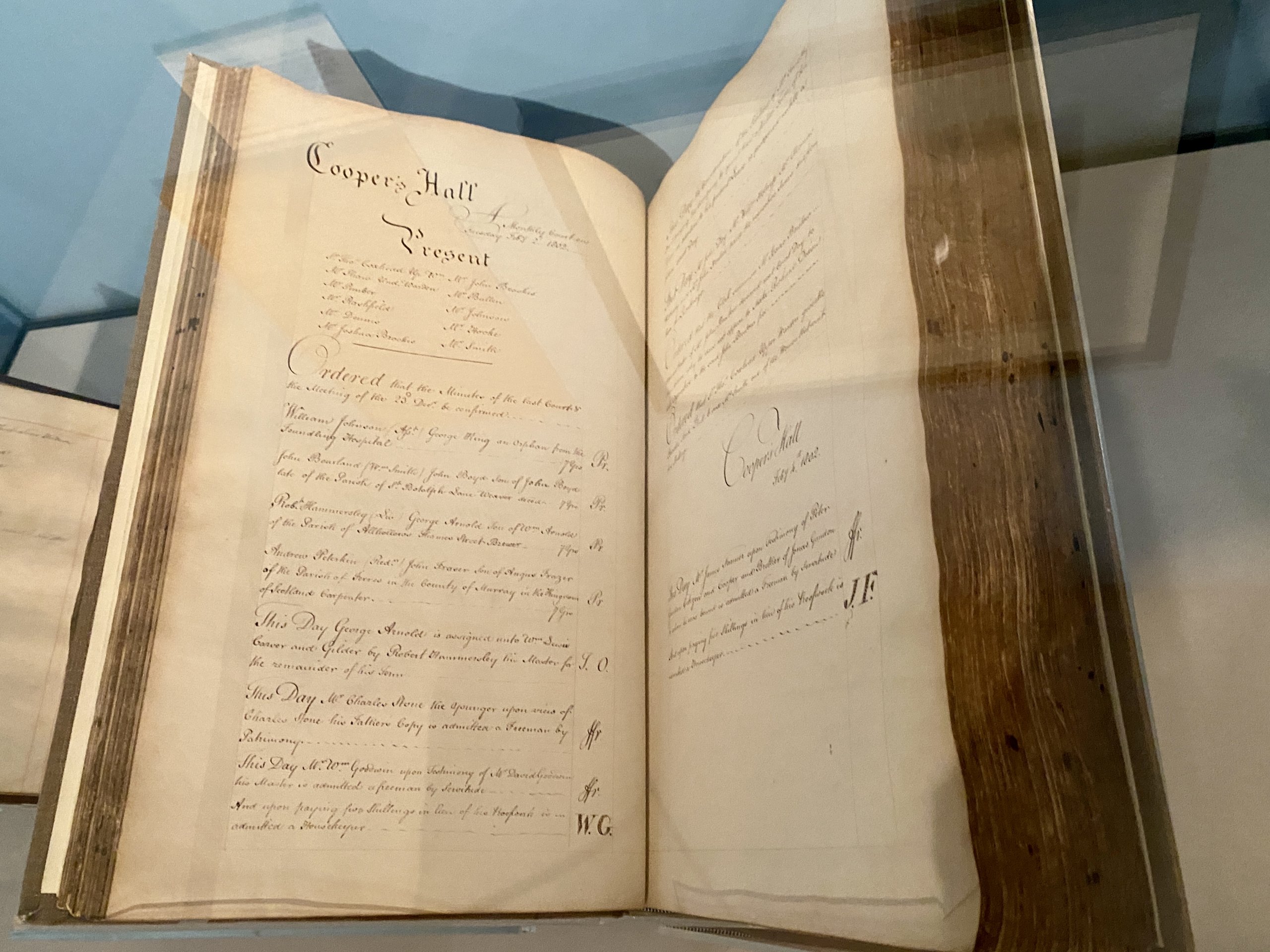 Press Ganged
George was press-ganged into the Navy in 1804. He was afraid of prison on a charge of assault after a fight at the confectioners. He accepted a cup of 'Grog' and found himself a few hours later onboard HMS Polyphemus.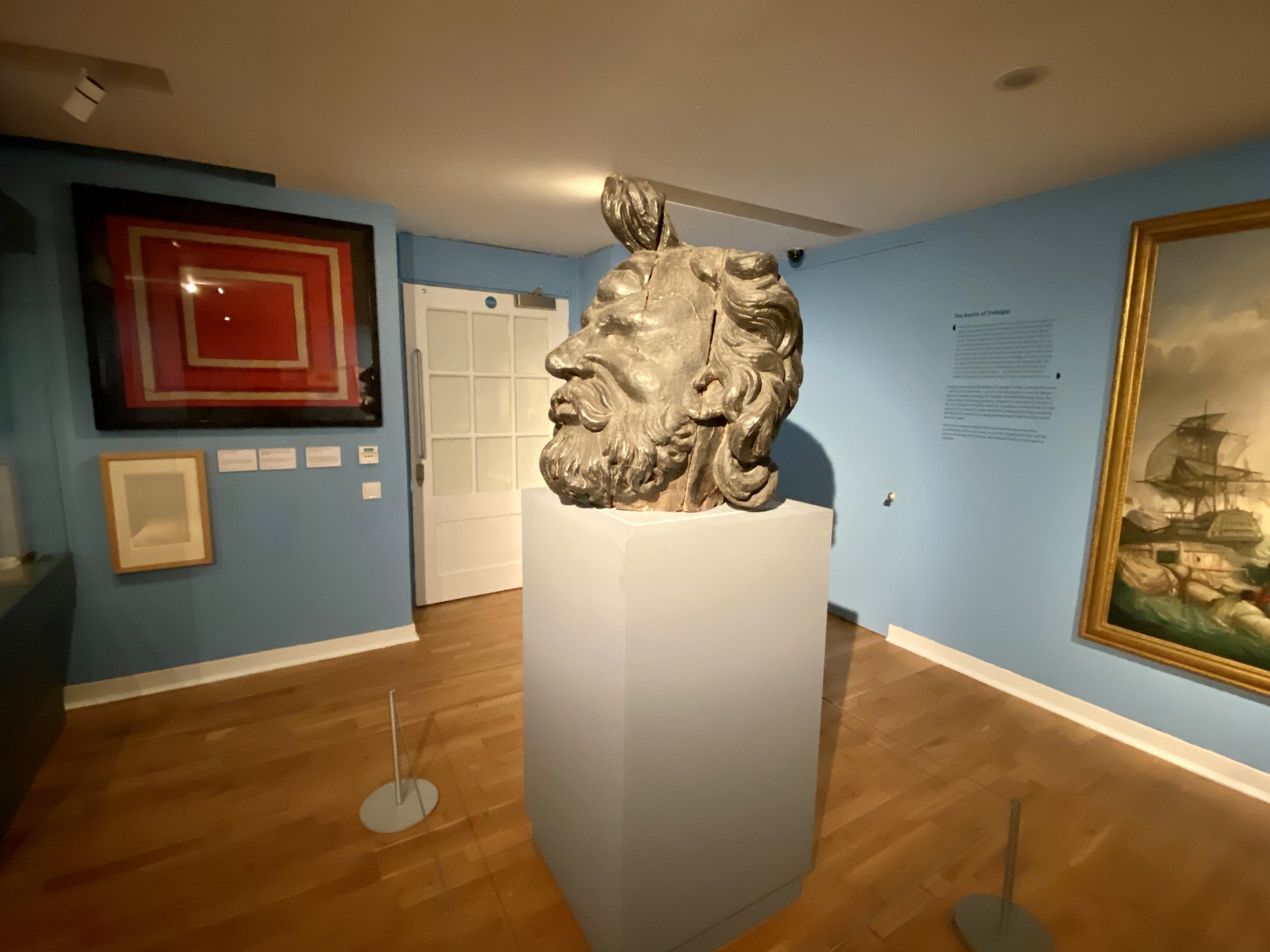 His journeys took him across the Mediterranean to the Caribbean, Brazil, and Argentina.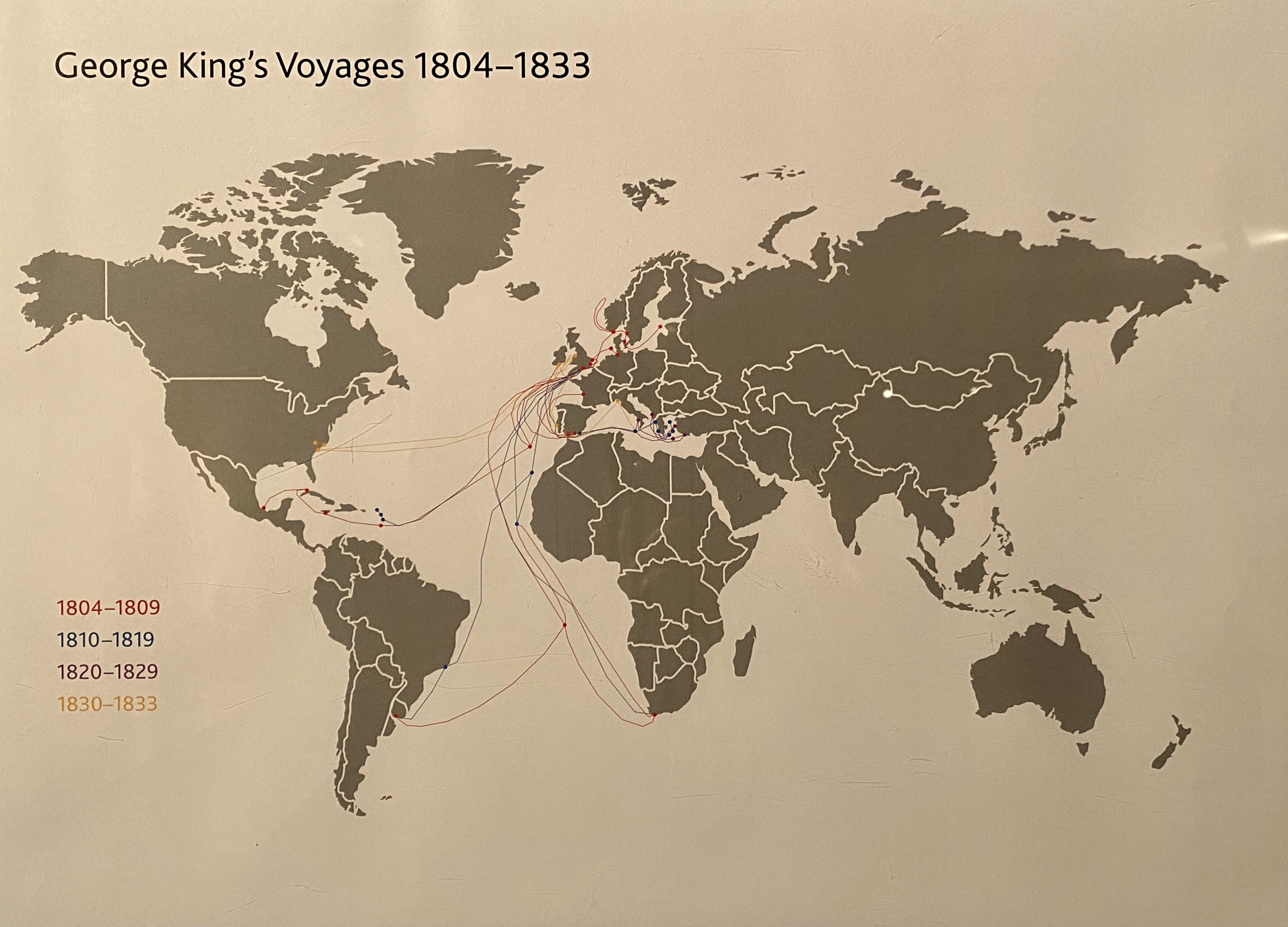 His memoir provides us with both a humorous and harrowing account of life below deck, onshore, and in the thick of battle, including his account of the Battle of Trafalgar. He fought aboard HMS Polyphemus, which took 200 French prisoners and towed HMS Victory, bearing Nelson's body back to Gibraltar.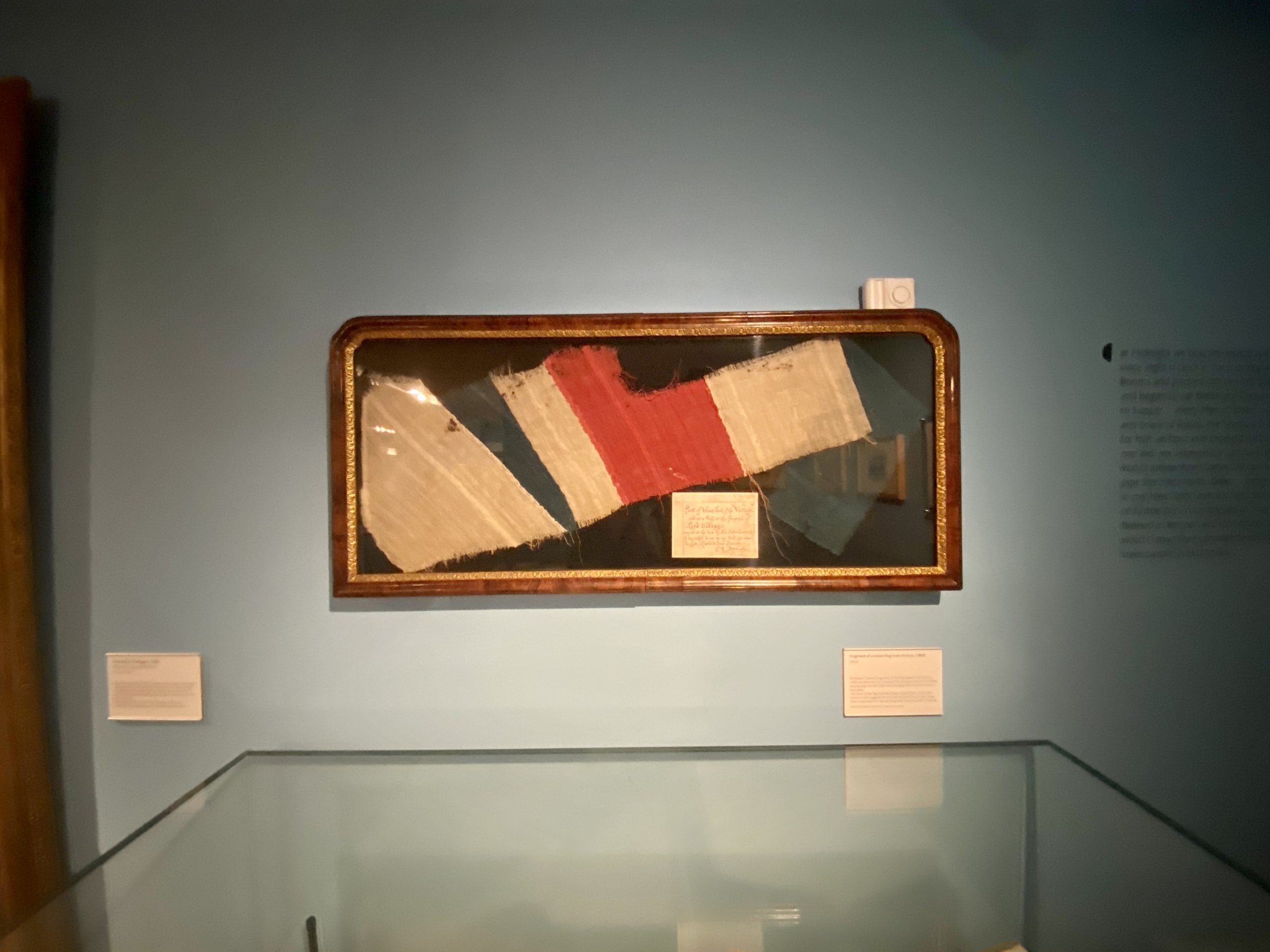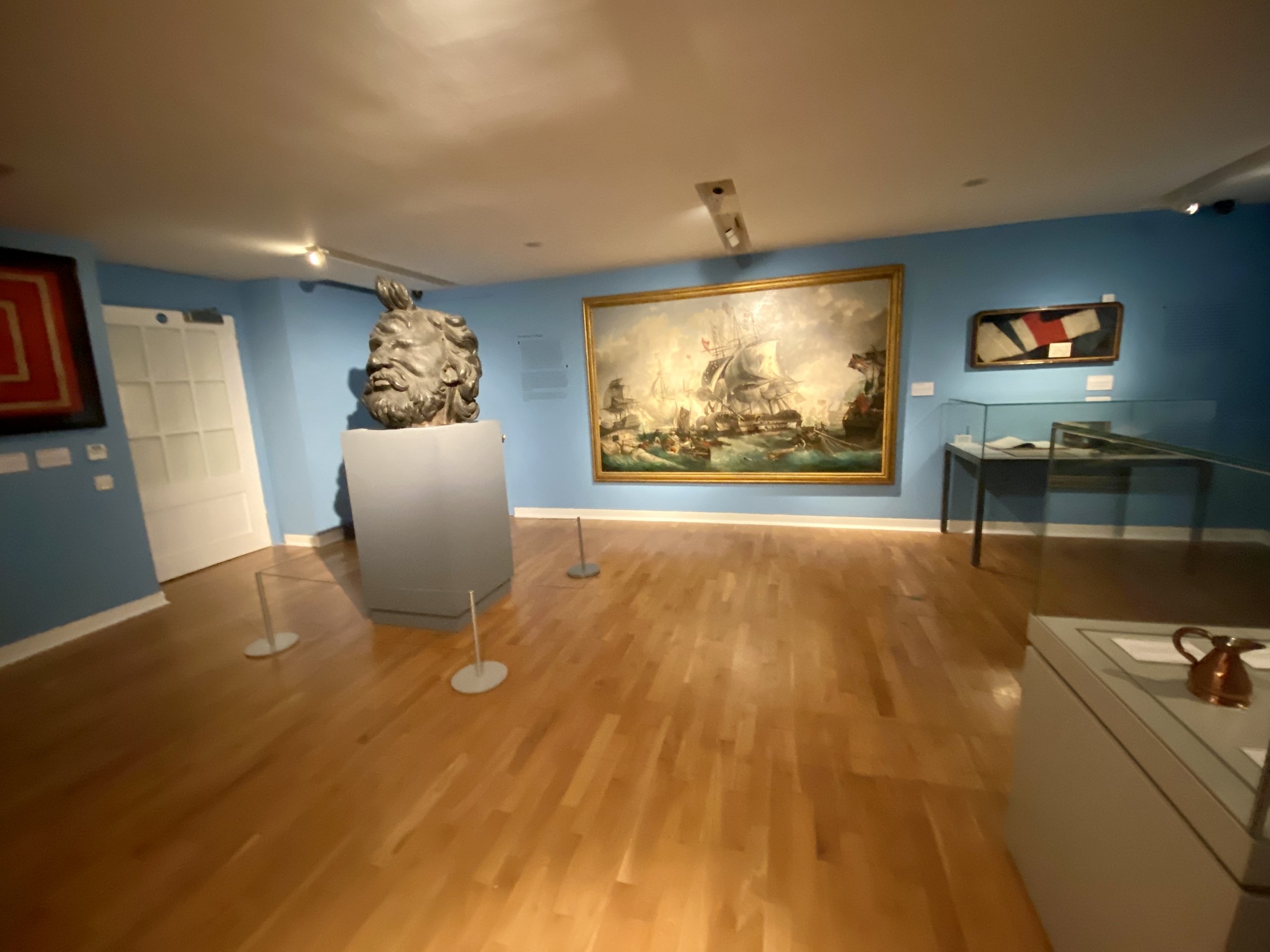 What Was The Battle of Trafalgar?
The Battle of Trafalgar was a sea battle fought on 21 October 1805 between the British Royal Navy against the combined navies of France and Spain during the Napoleonic Wars (1803–1815). It was held off the coast of Spain and ended with a clear victory for the British forces, although this was where Admiral Lord Nelson was fatally wounded. (Yes, he who is remembered on top of a tall column in Trafalgar Square.)
This victory allowed Britain to become the world's largest sea power for 100 years.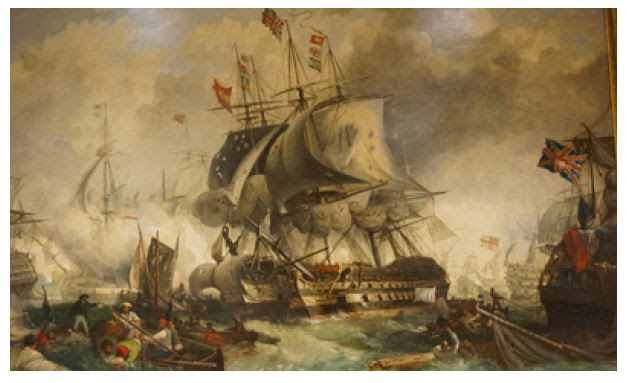 This painting depicts Nelson's famous defeat of the French and Spanish navies in October 1805 at Cape Trafalgar, off the western coast of Spain. The ships shown include Nelson's flagship HMS Victory in the center, Vice Admiral Collingwood's Royal Sovereign – the first to break through the Franco-Spanish line – and the Temeraire on the far right. The French ship Redoubtable and the Spanish ship Santissima Trinidad are also shown.
George first mentions getting lashes soon after Trafalgar, one dozen for drunkenness. He received two dozen lashes for drunkenness soon after the Melpomene boat attack around 1809.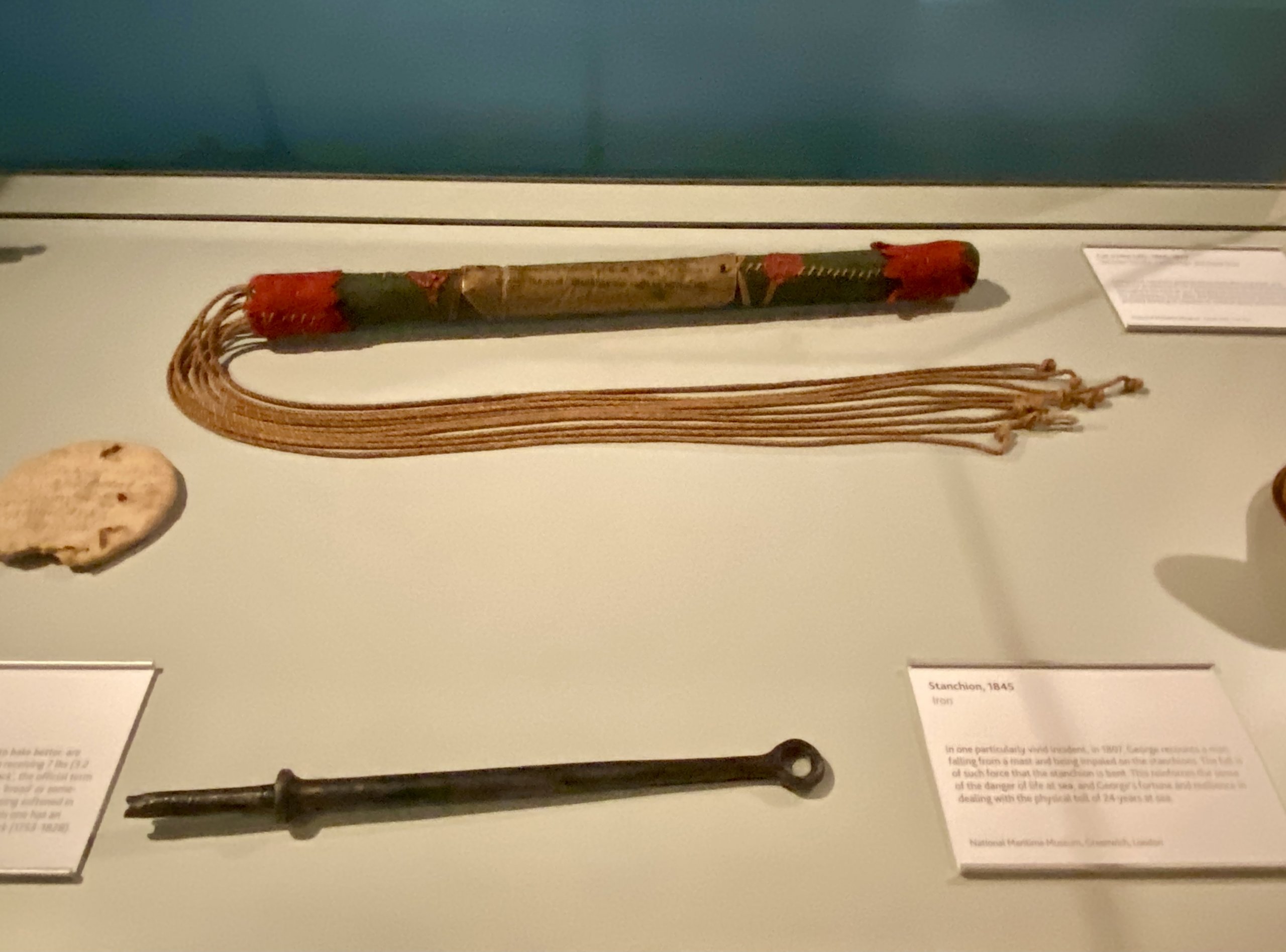 A First-Hand Account
George's autobiography vividly conveys the memories of his teenage self's excitement and terror at the prospect of engaging the enemy fleet. His life, with its ups and downs, reads like the pages of a novel. As a historical document, it is full of drama and offers an unusual amount of detail about his inner life. It includes his guilt and fear of being caught stealing sweets as an apprentice, to fond reminiscences of his schoolmaster and best friend from the Foundling Hospital, being press-ganged into the Navy, surviving brutal and bloody battles, meeting enslaved people in South Carolina, and letting his hair down at the theatre in London's West End. His writing is full of sailor's slang and vernacular expression and a real eye for detail.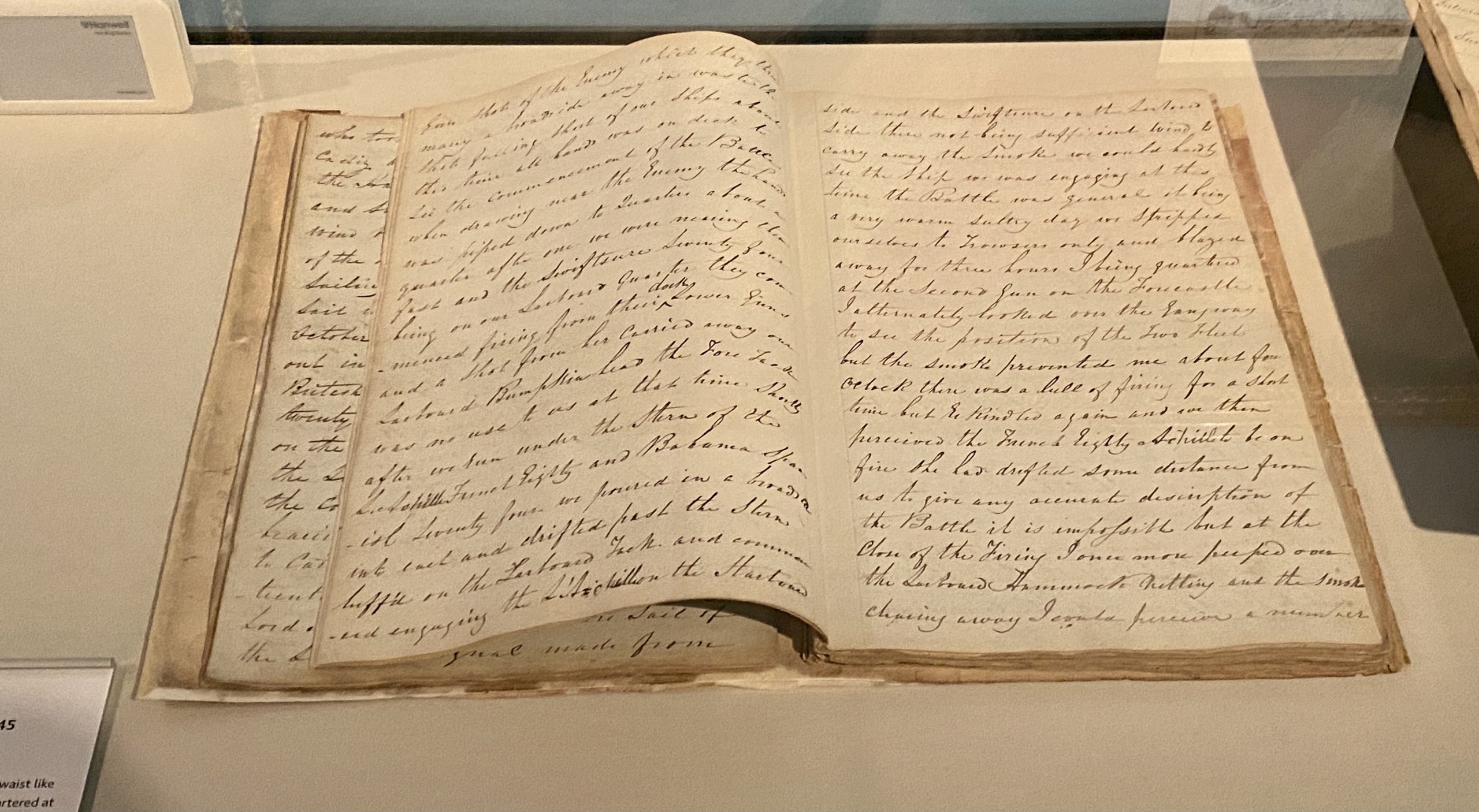 His memoirs talk about the physical and mental toll of life at sea, which from a contemporary perspective shows the signs of someone struggling with the effect of witnessing the horrors of war at close quarters.
Through George King's extraordinary autobiography, we can see the contribution the Foundling Hospital made to Britain's military and workforce in the 1700s and a new perspective to our understanding of Georgian society and the lives of its working-class citizens.
America
After 24 years in the Navy and with his health starting to decline, George traveled to Charleston in recently independent America. He notes that he breakfasted on beefsteak, coffee, and 'New York whisky' before buying a new pair of shoes. He went to see the African slaves working on the plantations and got himself a job as a teacher. He stayed for five months in 1832 before returning to England on a ship laden with slave-grown cotton destined for the textile mills of northern England.
Royal Naval Hospital in Greenwich
In England, having tried dock work, haymaking, hop-picking, and being a policeman, he fell on hard times. In January 1835, he was lucky enough to gain a place at the Royal Naval Hospital in Greenwich – a charitable foundation for old sailors. The retired seamen wore a navy blue jacket with gold buttons rather like the retired soldiers at the Chelsea Hospital today (Chelsea Pensioners).
Old Age
One final twist is that he got married in 1848 to his second wife Caroline, who was 18 years younger. His writing skills kept him employed as 'Clerk of Greenwich Hospital and Chapel.' He died at Greenwich Hospital on 31 July 1857.
Audiobook
To bring George's story to life, there is a fully narrated audiobook of his autobiography, available to download for free here during the run of the show.
Conclusion
The memoirs certainly give an astonishing account of a life lived through some of history's most momentous events (including the Battle of Trafalgar and traveling to newly independent America) as well as the origins of the Foundling Hospital and the impact that foundling apprenticeships had on Britain's transformation into a global super-power. We can be thankful that having the extra skills of reading and writing allowed him to earn extra money throughout his life and to write his own story.
Visitor Information
Exhibition Name: Fighting Talk: One man's journey from abandonment to Trafalgar
Exhibition Dates: 15 October 2021 – 27 February 2022
Location: The Foundling Museum, 40 Brunswick Square, London WC1N 1AZ
Admission: Adults £10.50 (with Gift Aid), Concessions £8.25 (with Gift Aid), free for 21 & under
Official Website: foundlingmuseum.org.uk