This major exhibition at Tate Britain focuses on the time Vincent van Gogh (1853-1890) spent in Britain between 1873 and 1876 when he was in his early twenties. He explored the (then) largest city in the world a decade before he became an artist.
The exhibition is able to look at the artist's relationship with Britain and explores how Van Gogh was inspired by British art, literature and culture throughout his career. And he, in turn, inspired British artists from Walter Sickert to Francis Bacon.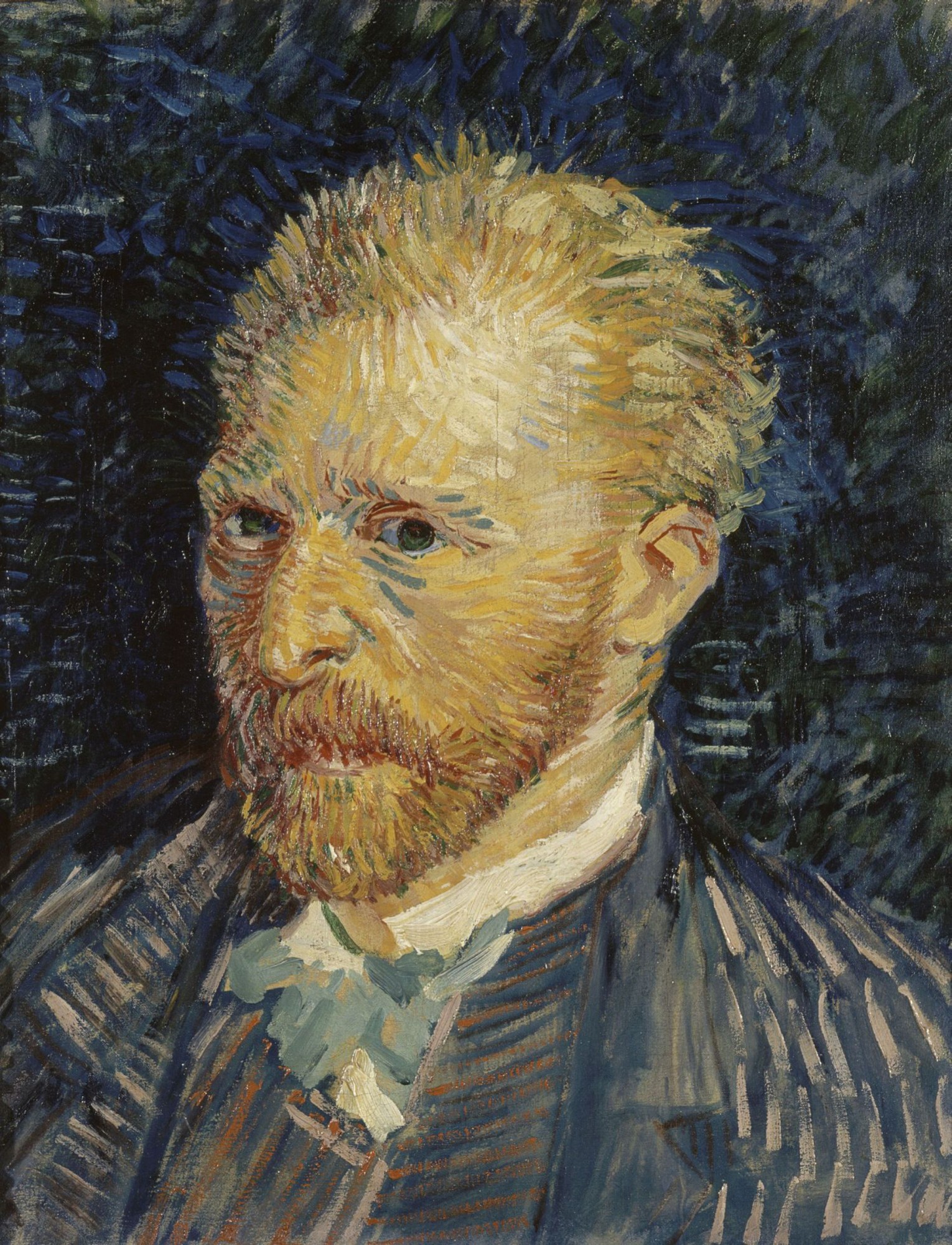 Van Gogh and Britain
Vincent van Gogh is without a doubt one of the greatest and most influential artists of all time. His stay in Britain changed his vision of the world and himself, encouraging him to become an artist. His short career produced over 2,000 artworks including over 800 paintings, most created in the last two years of his life.
Tate's last Van Gogh exhibition was in 1947 and introduced his work to a whole generation of artists working in Britain at the time. This exhibition has the largest group of Van Gogh paintings shown in the UK for nearly a decade. It reveals the impact Britain had on Van Gogh as well as the enormous influence he had on British artists. It includes over 40 works by the artist from public and private collections around the world. They include L'Arlésienne 1890 from Museu de Arte de São Paolo, Starry Night on the Rhône 1888 from the Musée d'Orsay, Paris, Shoes from the Van Gogh Museum, Amsterdam, and the rarely loaned Sunflowers 1888 from the National Gallery, London.
The exhibition also features late works including two painted by Van Gogh in the Saint-Paul asylum, At Eternity's Gate 1890 from the Kröller-Müller Museum, Otterlo (see below) and Prisoners Exercising 1890 from the Pushkin State Museum of Fine Arts, Moscow.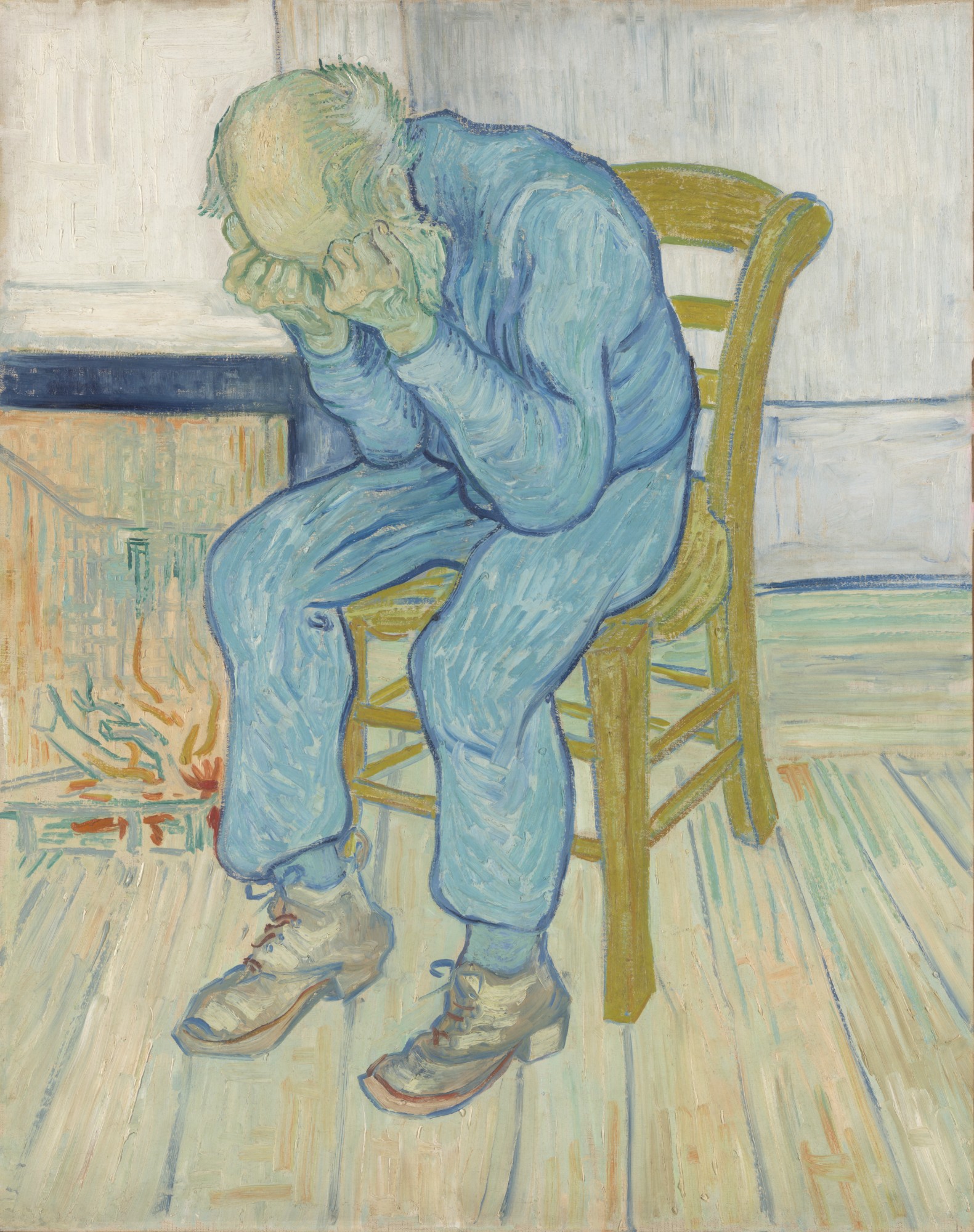 Tracing Van Gogh from his obscure years in London to the extraordinary national fame he achieved in the 1950s, the exhibition shows how his uncompromising art and life paved the road for modern British artists like Matthew Smith, Christopher Wood and David Bomberg. It concludes with an important group of portraits by Francis Bacon based on a Van Gogh self-portrait known only from photographs since its destruction by wartime bombing. To artists like Bacon, and the British public at large, Van Gogh epitomised the idea of the embattled, misunderstood artist, set apart from mainstream society.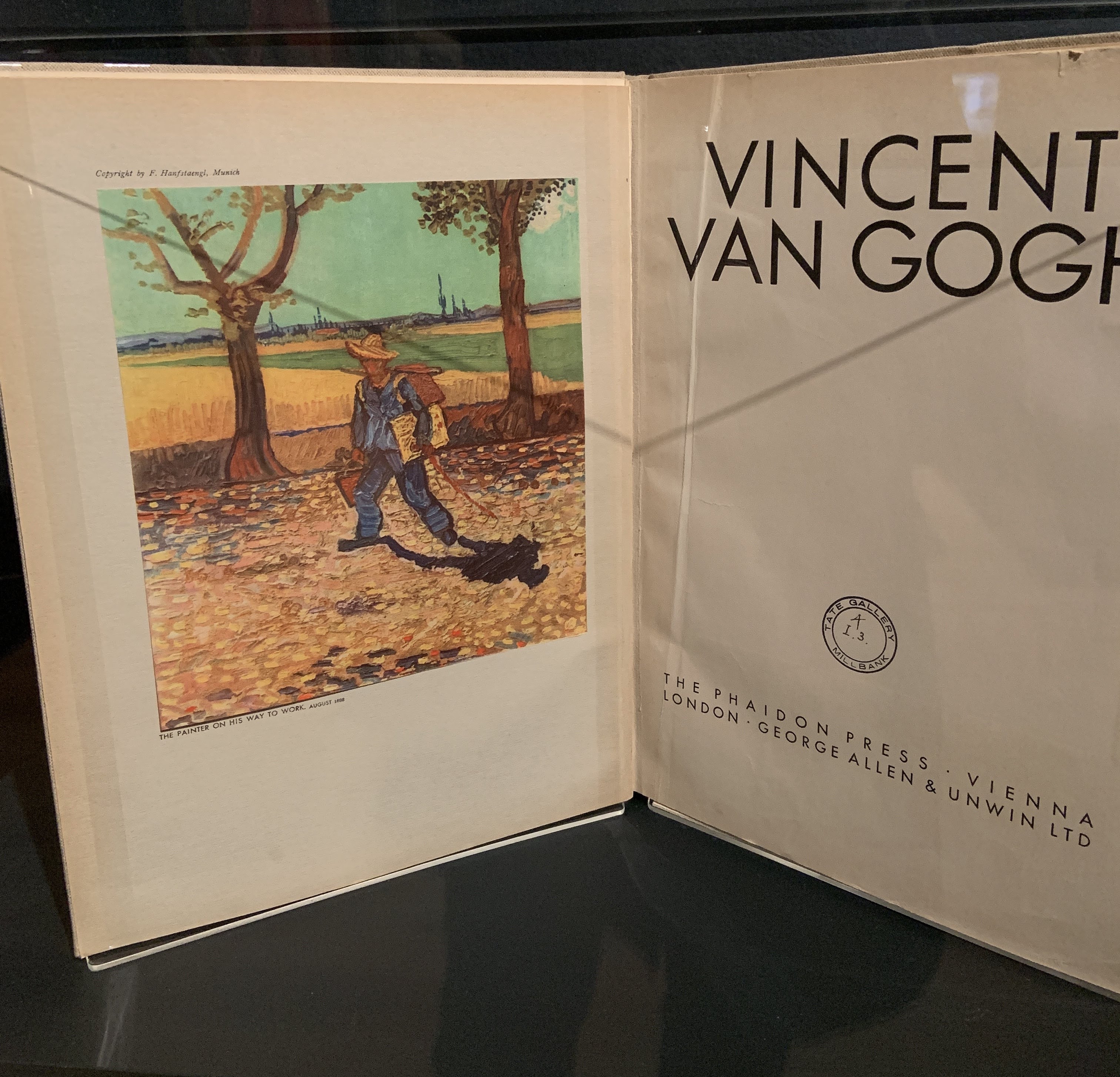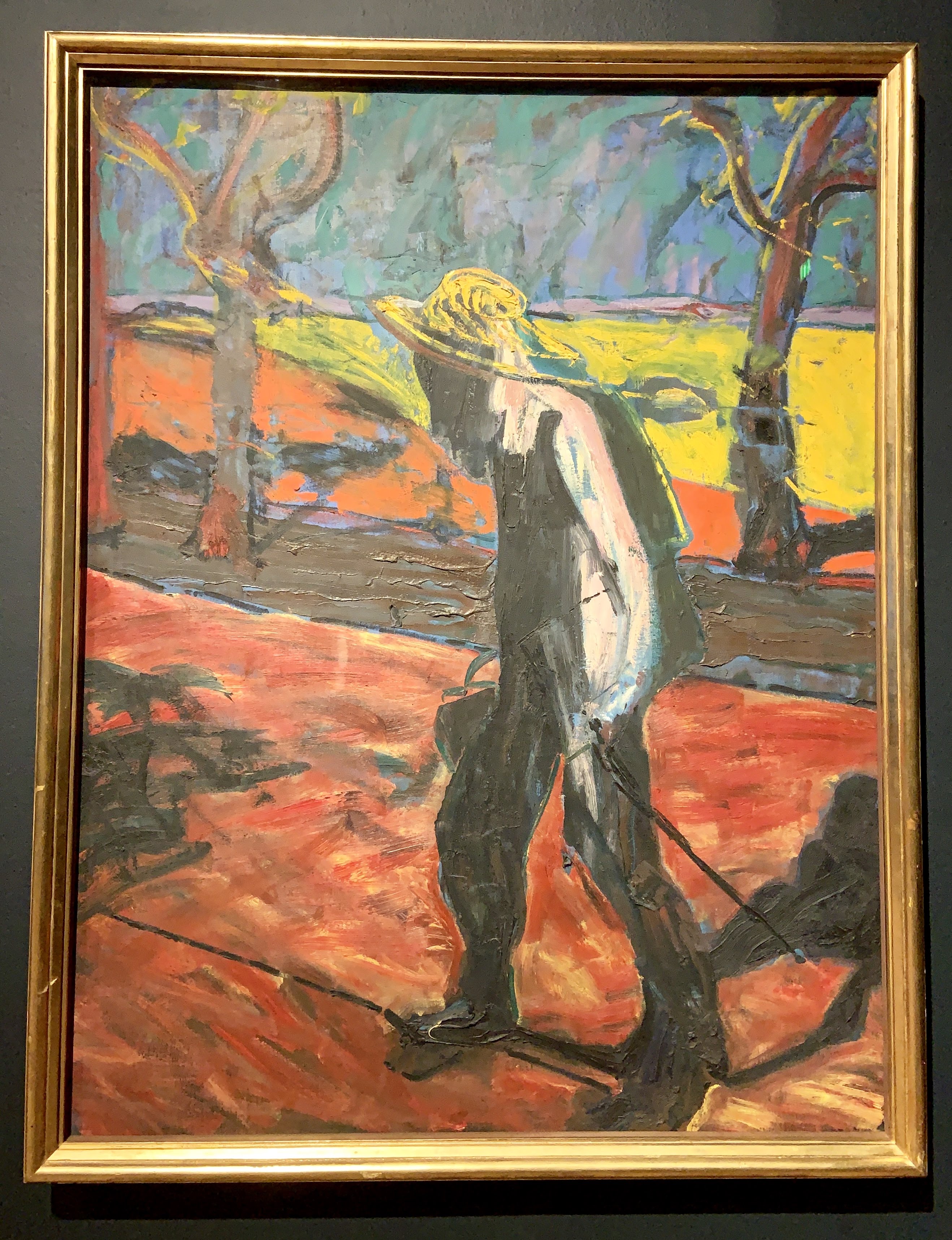 Dickens
"I often felt low in England … but the Black and White and Dickens, are things that make up for it all."
Vincent Van Gogh, 1883
The exhibition opens with his love of reading. Van Gogh knew four languages, including English, which he spoke and read well. He was devoted to Charles Dickens and wrote, 'My whole life is aimed at making the things from everyday life that Dickens describes.'
Produced during the last year of his life, this portrait of his friend Marie Ginoux has French translations of two books he loved: Charles Dickens's Christmas Books and American Author Harriet Beecher Stowe's anti-slavery novel Uncle Tom's Cabin.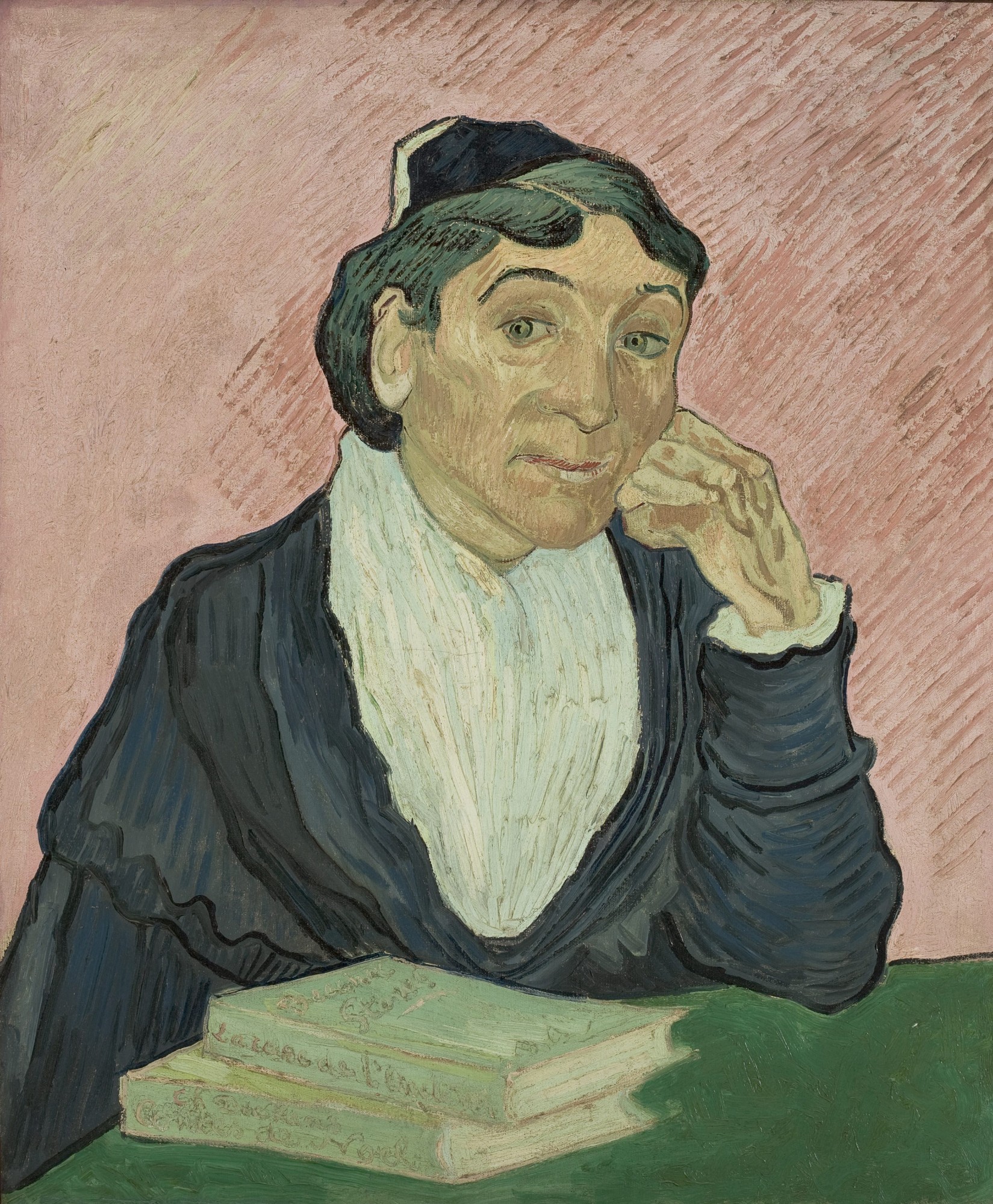 Van Gogh had read Dicken's A Christmas Carol every year 'since he was a boy' and discovered Uncle Tom's Cabin in his twenties.
British prints changed the way Van Gogh saw his surroundings. Dustmen found their way into the literature and illustrations of the 19th century. Van Gogh's English title, written on the drawing below, links it to Dickens's novel Our Mutual Friend.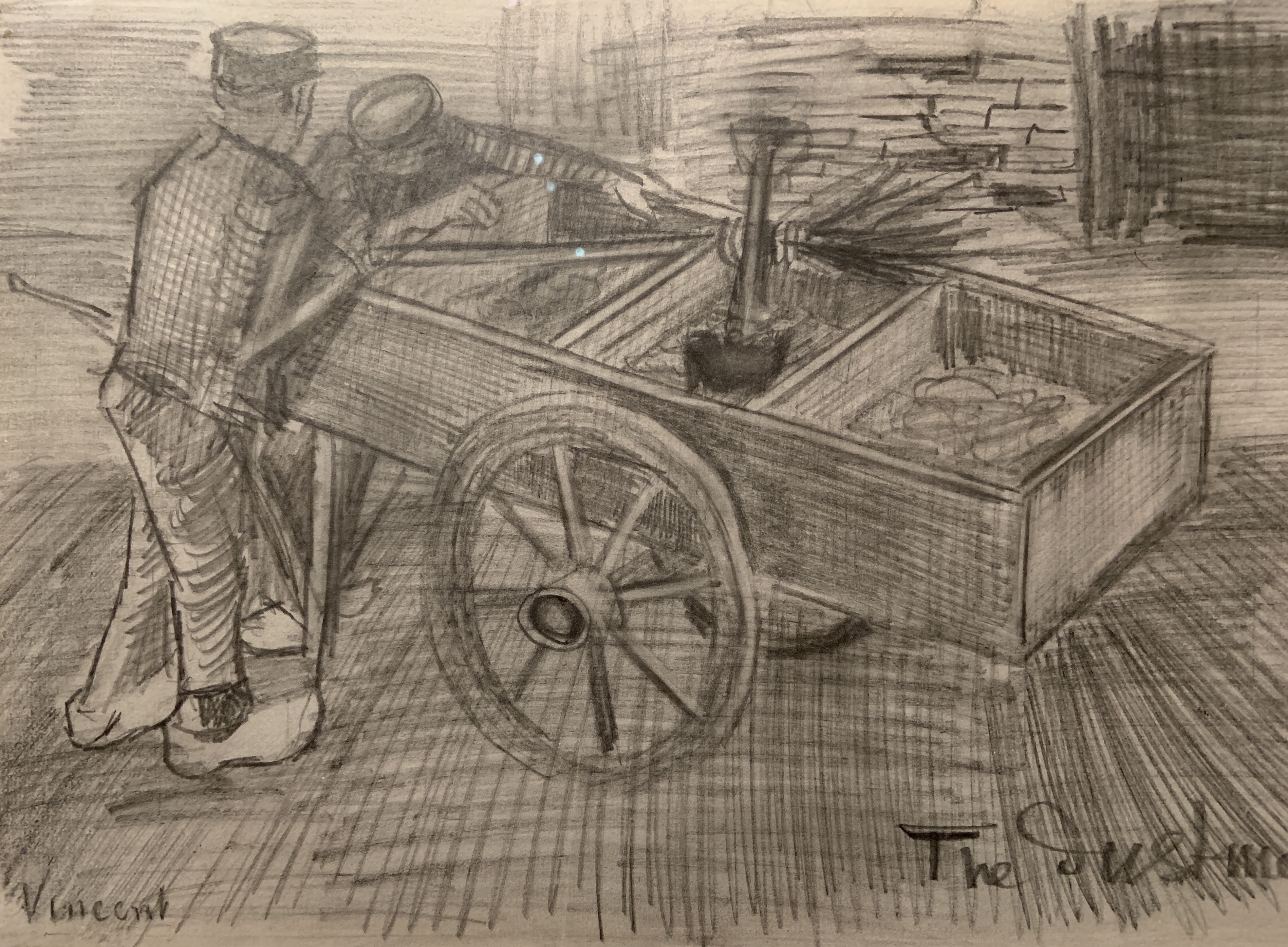 When Van Gogh first took up art late in 1880, he studied manuals and reproductions of artworks to help him. His first known drawing from that time depicted men and women miners in the Belgium mining region, where he had lived and preached for a year.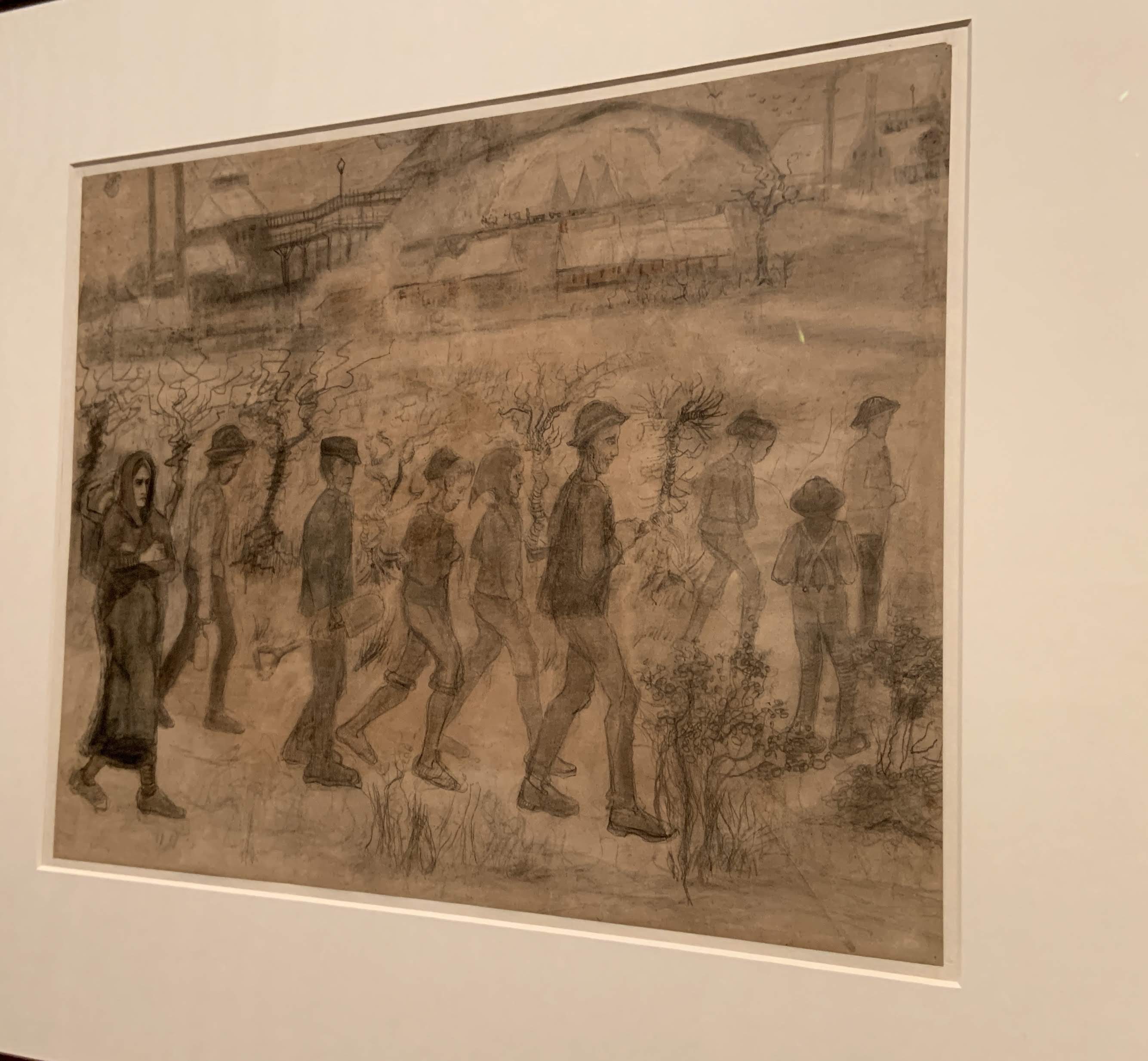 Van Gogh in London
"How I love London"
Vincent van Gogh, 1875
Van Gogh arrived in London in 1873 as a young trainee art dealer for Goupil. The vast modern city prompted him to explore new avenues of life, art and love. He immersed himself in London culture. He saw paintings in museums, galleries, and art dealer's rooms that he would remember all of his life.
He admired the pre-Raphaelite Brotherhood of artists. He never forgot meeting John Everett Millais in the street and seeing Chill October (probably at auction house Christie's). Van Gogh felt that nature was 'more serious and intimate' in autumn. He copied out John Keats's poem 'To Autumn' telling friends that he was 'the favourite of the painters here, and that's how I came to be reading him.' And while he was initially happy in London, as he learned more of the world and the disappointments of love, his letters home referred to feeling 'melancholy'.
Van Gogh knew London's grim prisons from his walks through the city, as well as Dickens's searing account 'A Visit to Newgate' and the prison's presence in four of his novels. Van Gogh later collected over 30 prints of prisons and prisoners, including two of Gustave Doré's illustration of Newgate from the book London: A Pilgrimage.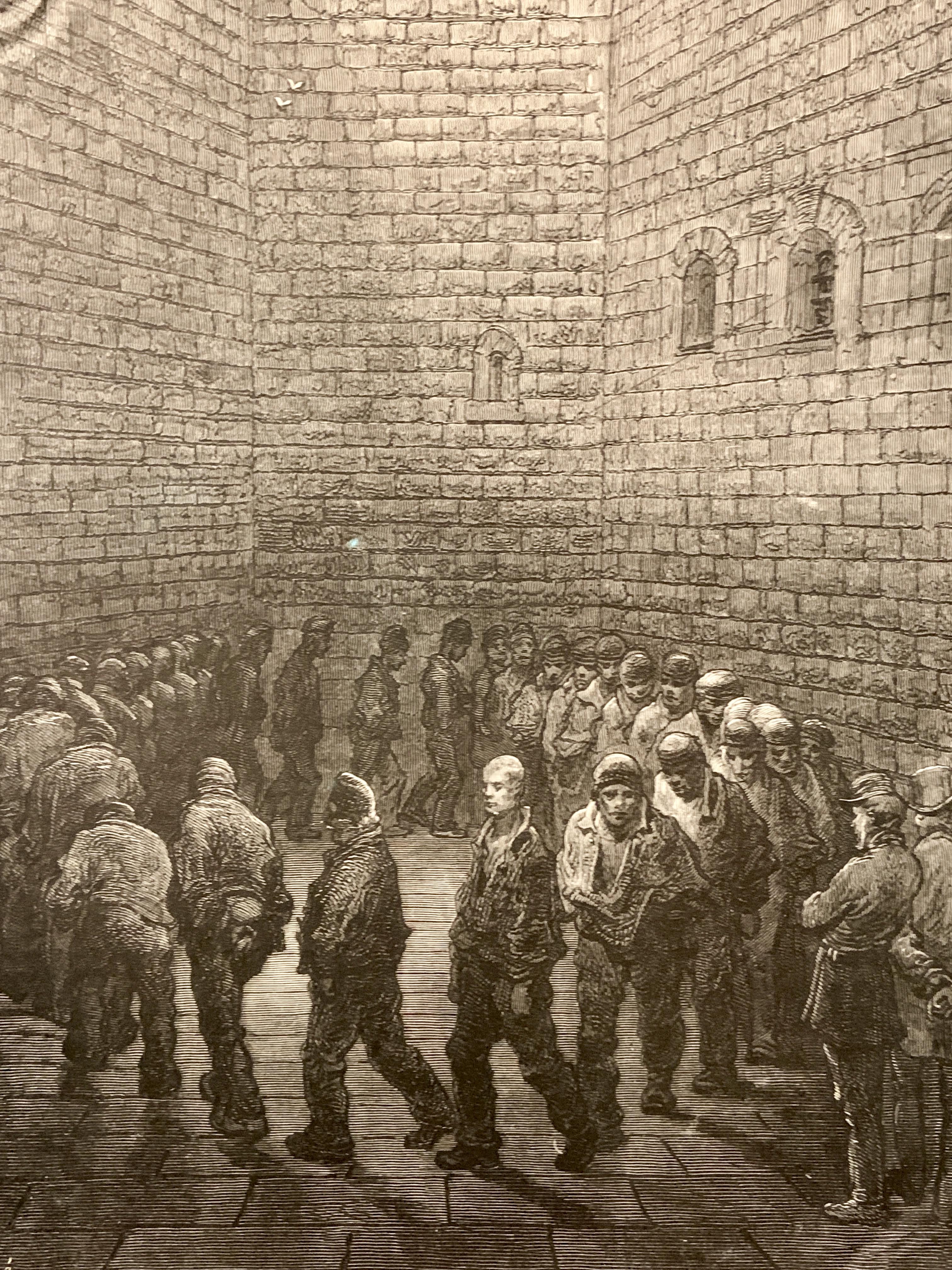 The exhibition explores Van Gogh's passion for British graphic artists and prints. Van Gogh had written about his use of prints by other artists, 'It's not copying … It is rather translating into another language, the one of colours.'
Van Gogh's only painting of London in the exhibition, this was made during the last year of his life while he was in hospital.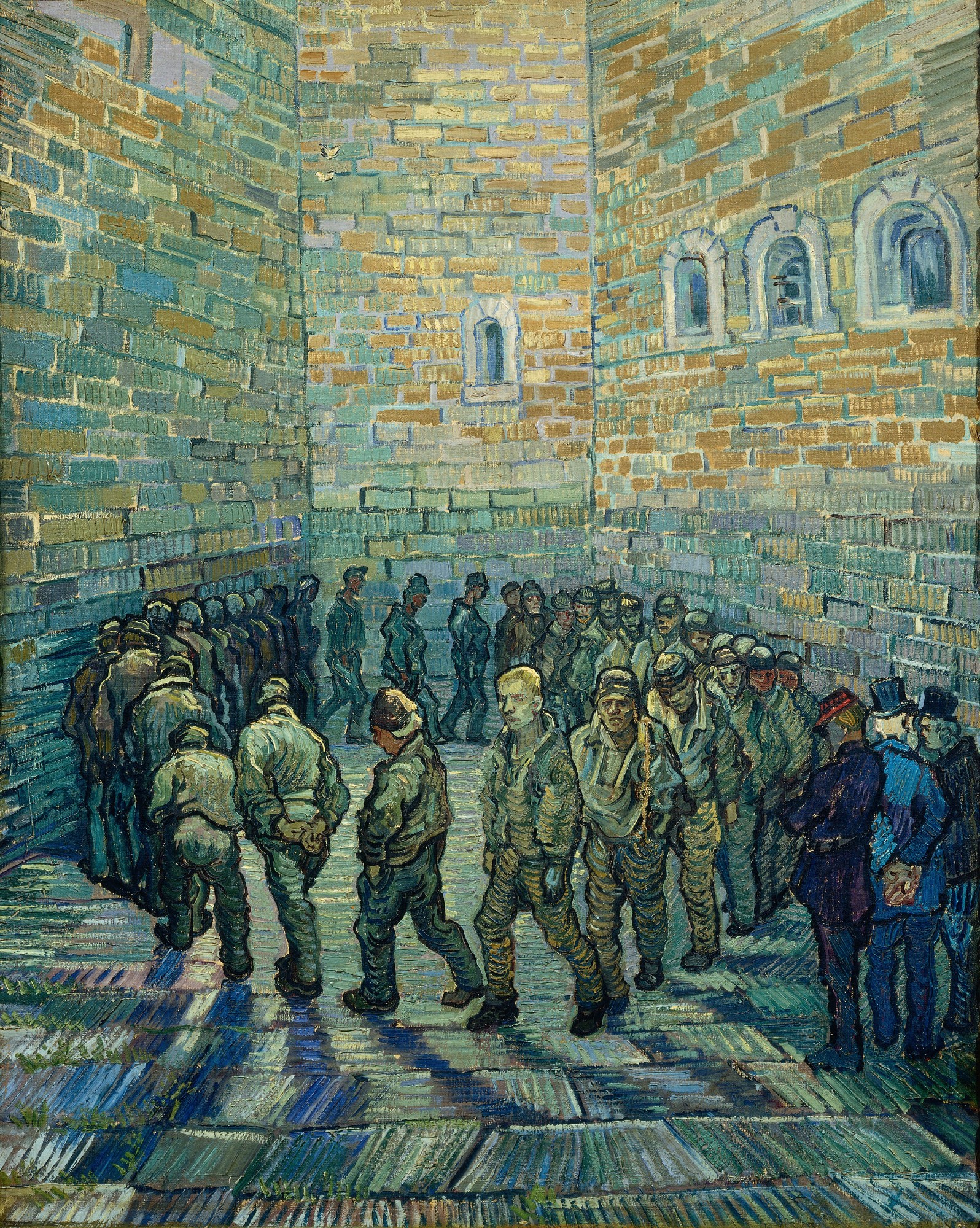 Van Gogh lived near Brixton, that was then in the south London suburbs. There's a reproduction of the facade of 87 Hackford Road, Stockwell, at this exhibition.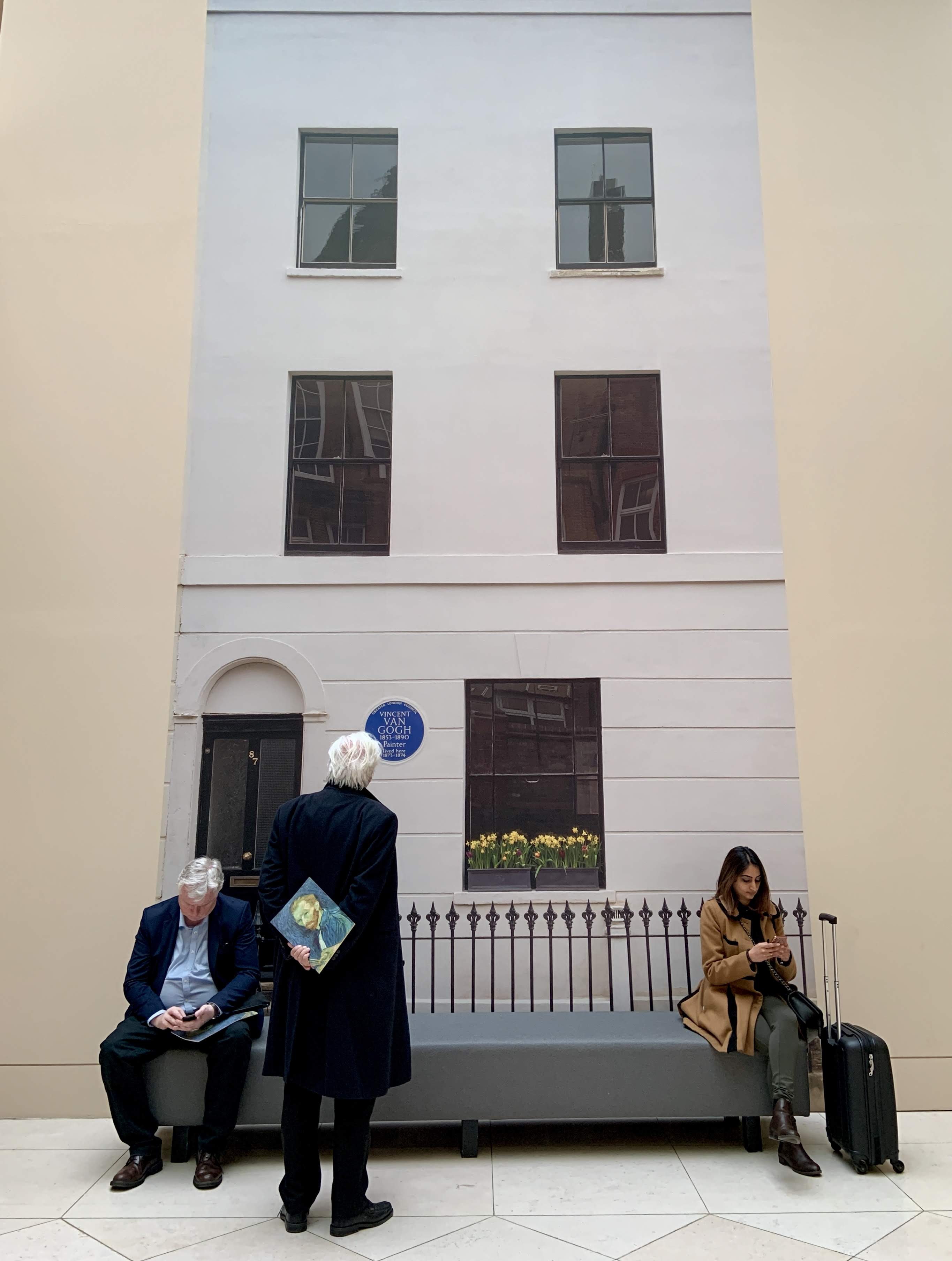 The actual house is currently being renovated. The owners, former violinist Jian (James) Wang and his wife, Alice Childs, intend to turn the house into a creative base for Chinese visitors.
Earlier this year, crumpled papers and an 1867 pamphlet of prayers and hymns were found hidden under floorboards and between attic timbers. While living here, Van Gogh was devoutly Christian. The religious pamphlet was published by a company in the same street as the gallery where Van Gogh worked so could well have been read by him or his landlady, Ursula Loyer.
Each day, Van Gogh walked across Westminster Bridge and through the city to Goupil in Covent Garden, wearing his top hat. De Nittis sold his work through Goupil, and Van Gogh saw this painting in the Paris branch when he was there for a short time. He wrote to his brother Theo with a small sketch of Westminster Bridge (see below).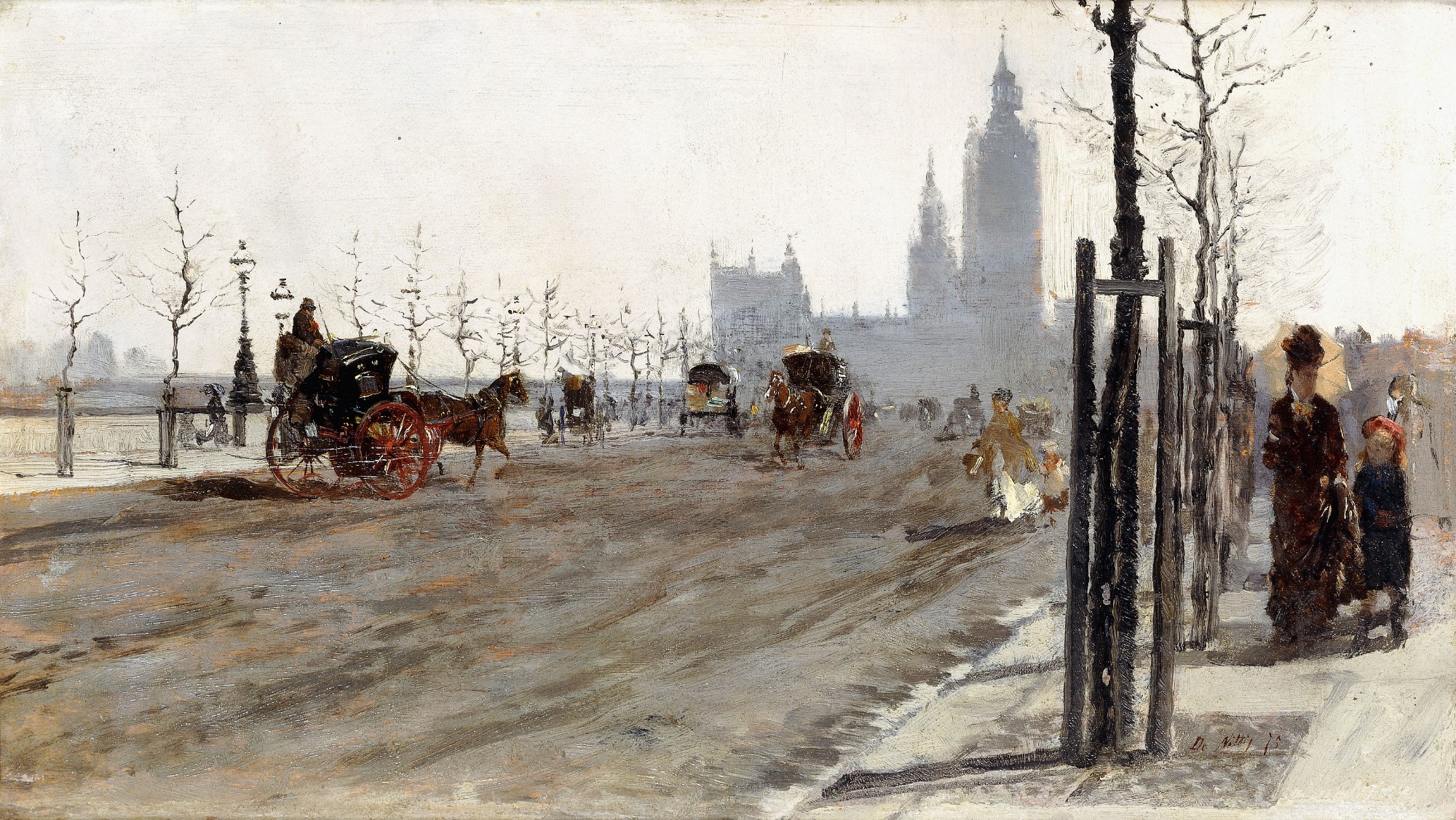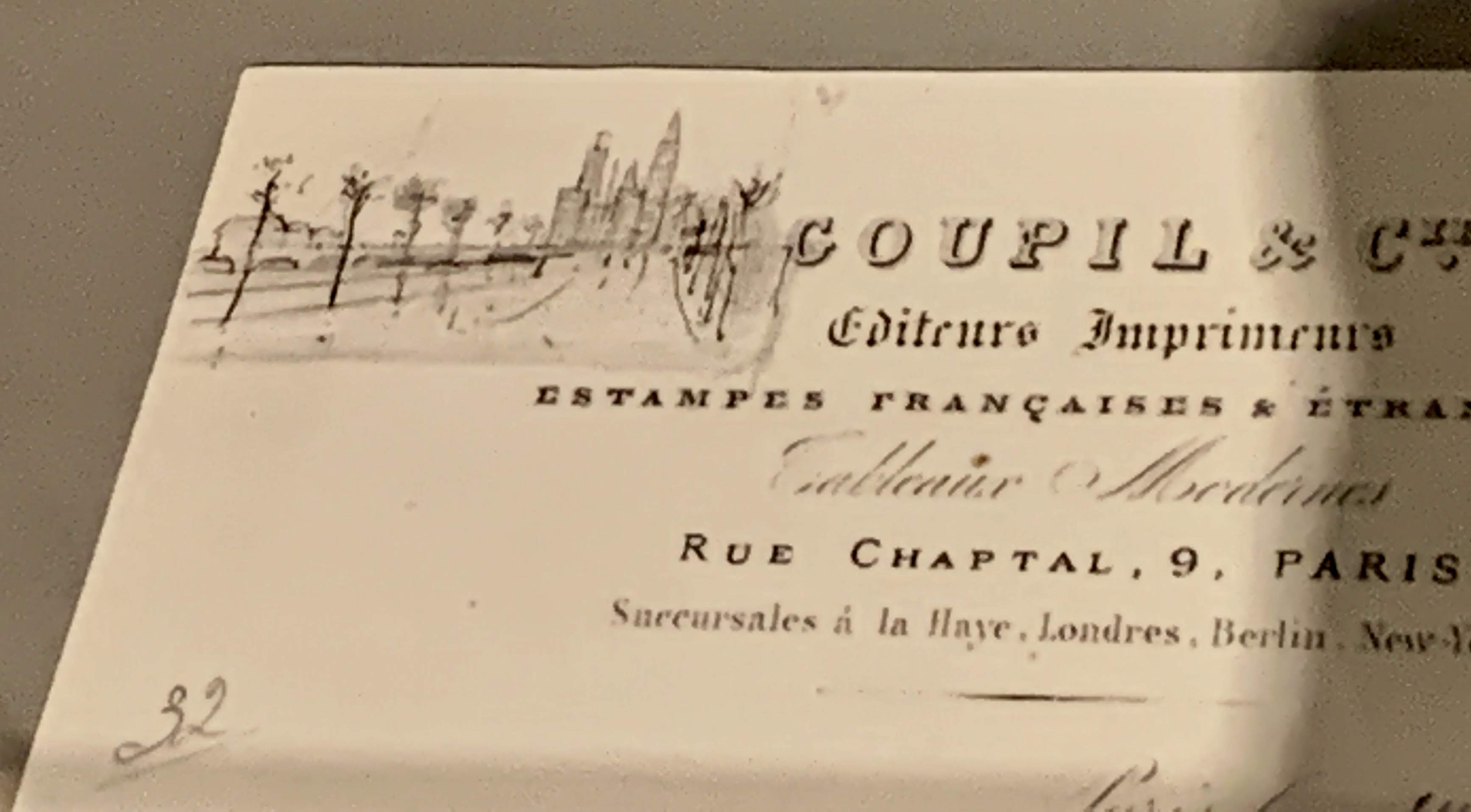 "When I was in London, how often I would stand on the Thames Embankment and draw as I made my way home from Southampton Street in the evening."
Vincent van Gogh, 1883
He enjoyed rowing in the Thames and walking in Kensington Gardens. He wrote to his friends, 'I haven't yet been to the Crystal Palace and the Tower, nor to Tussaud's … For the time being I have enough with the museums, parks, etc.' He went to the National Gallery near his office and also visited the South Kensington Museum (now the V&A), the Wallace Collection and Hampton Court. He signed his name in the visitors' book at Dulwich Picture Gallery.
Avenues of Trees
Through this exhibition, it was lovely to see this theme develop in his work.
This early watercolour was his first important experiment with a figure on an autumn road. The ditch beyond the trees, distant red roofs and a couple in conversation are similar to Meindert Hobbema's Avenue at Middelharnis which is also on display here (see below). The deep perspective highlights the isolation of the man sweeping up leaves.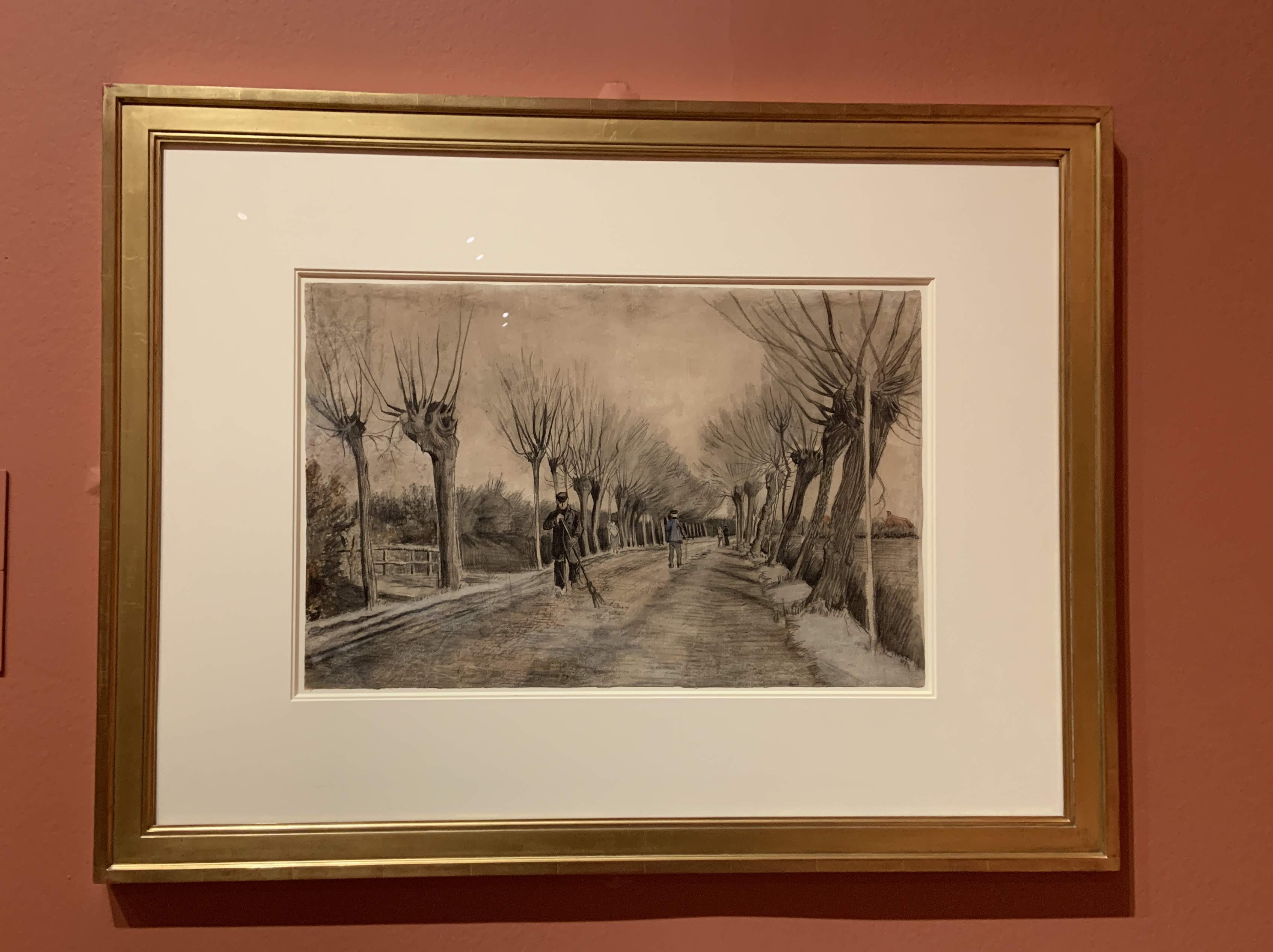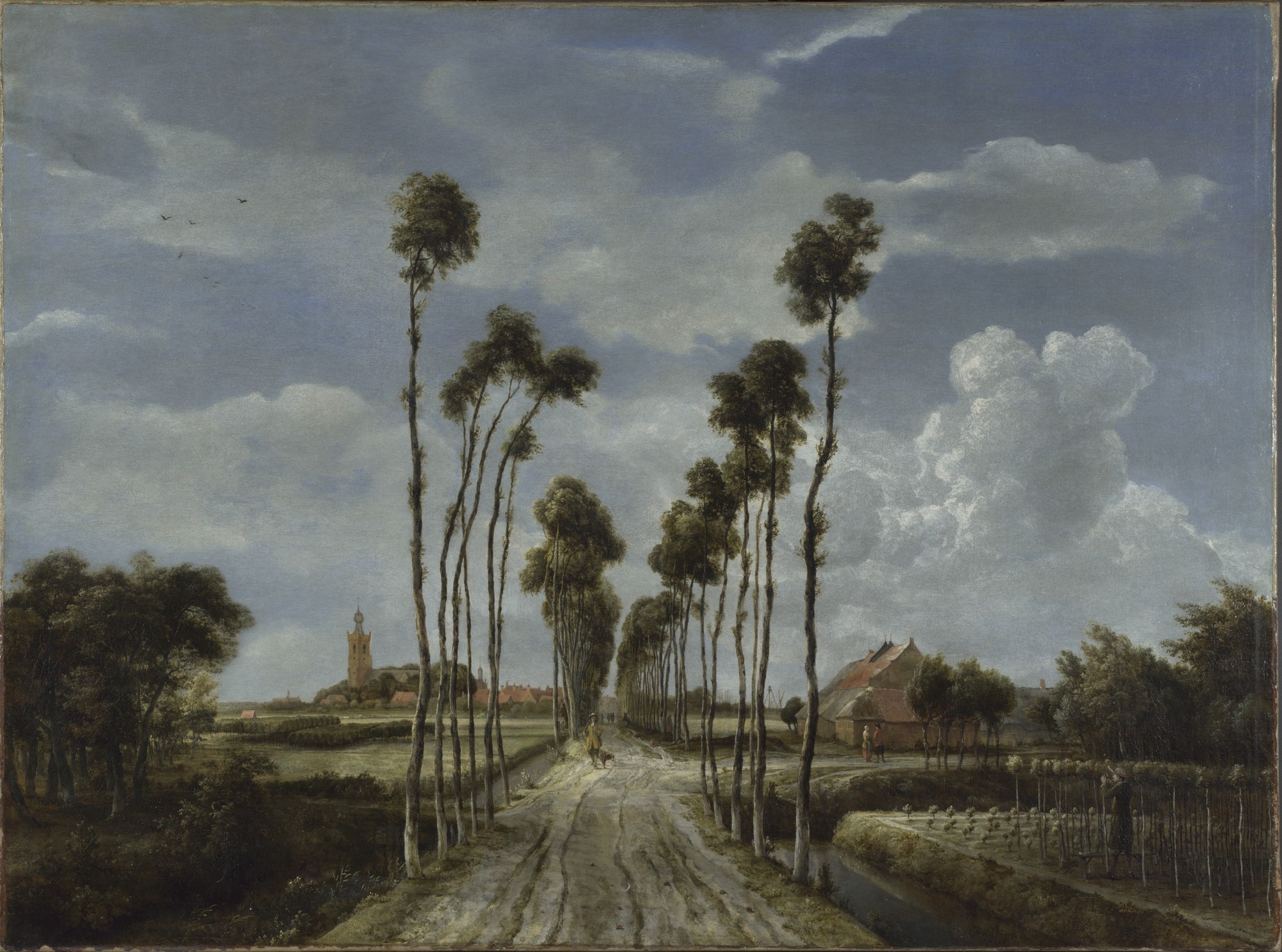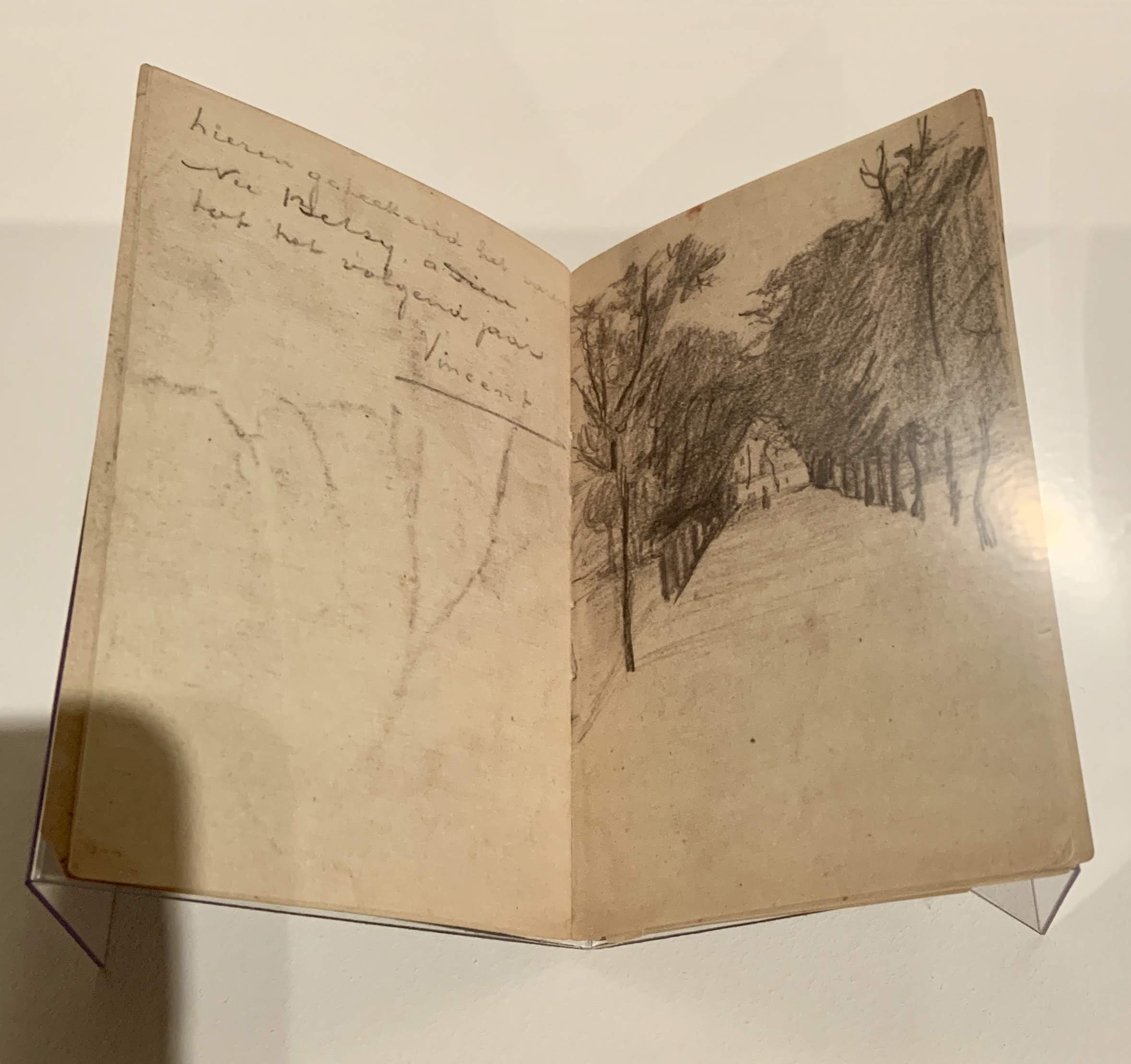 In this work, he presented the avenue side-on to explore the landscape against the sky.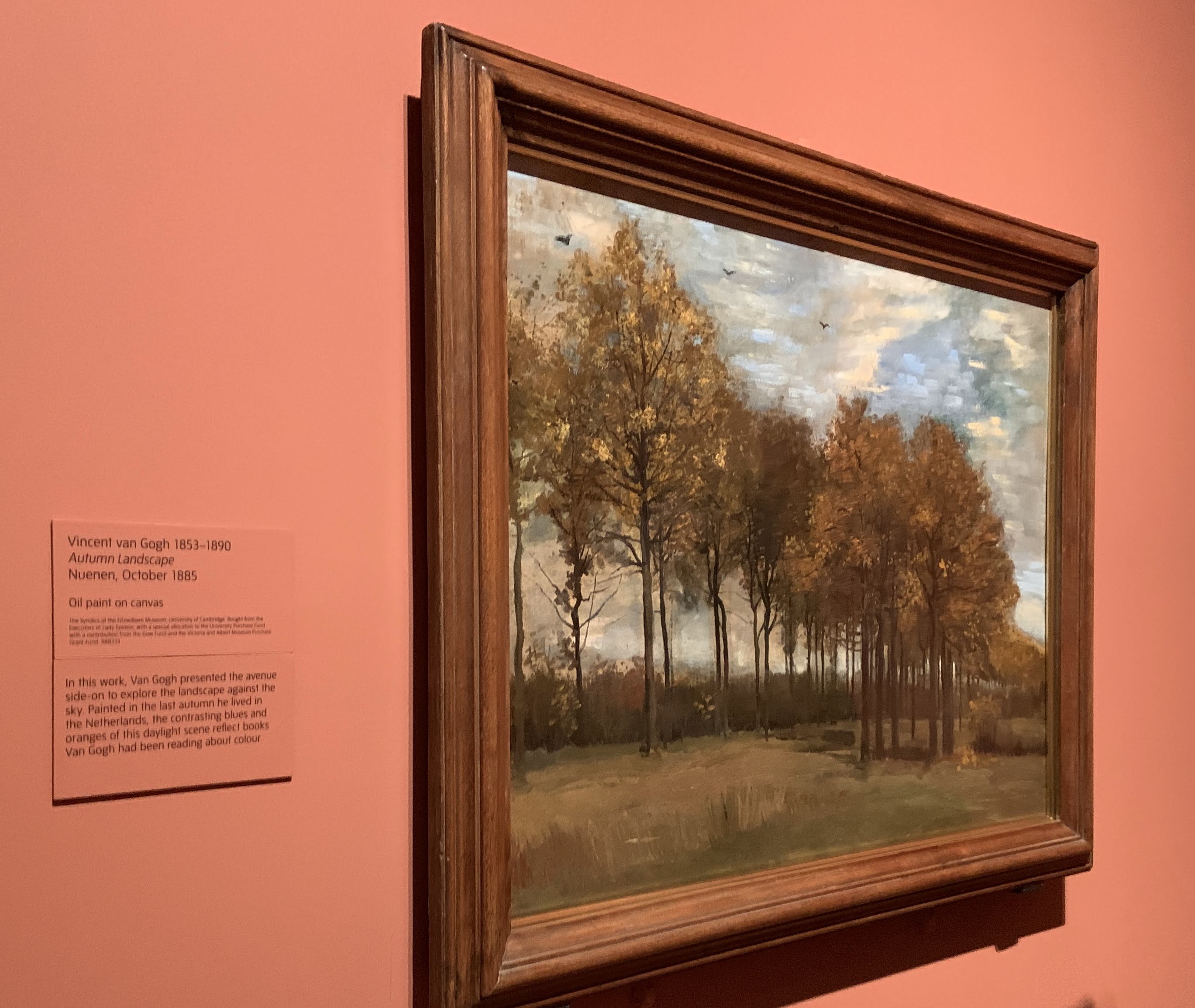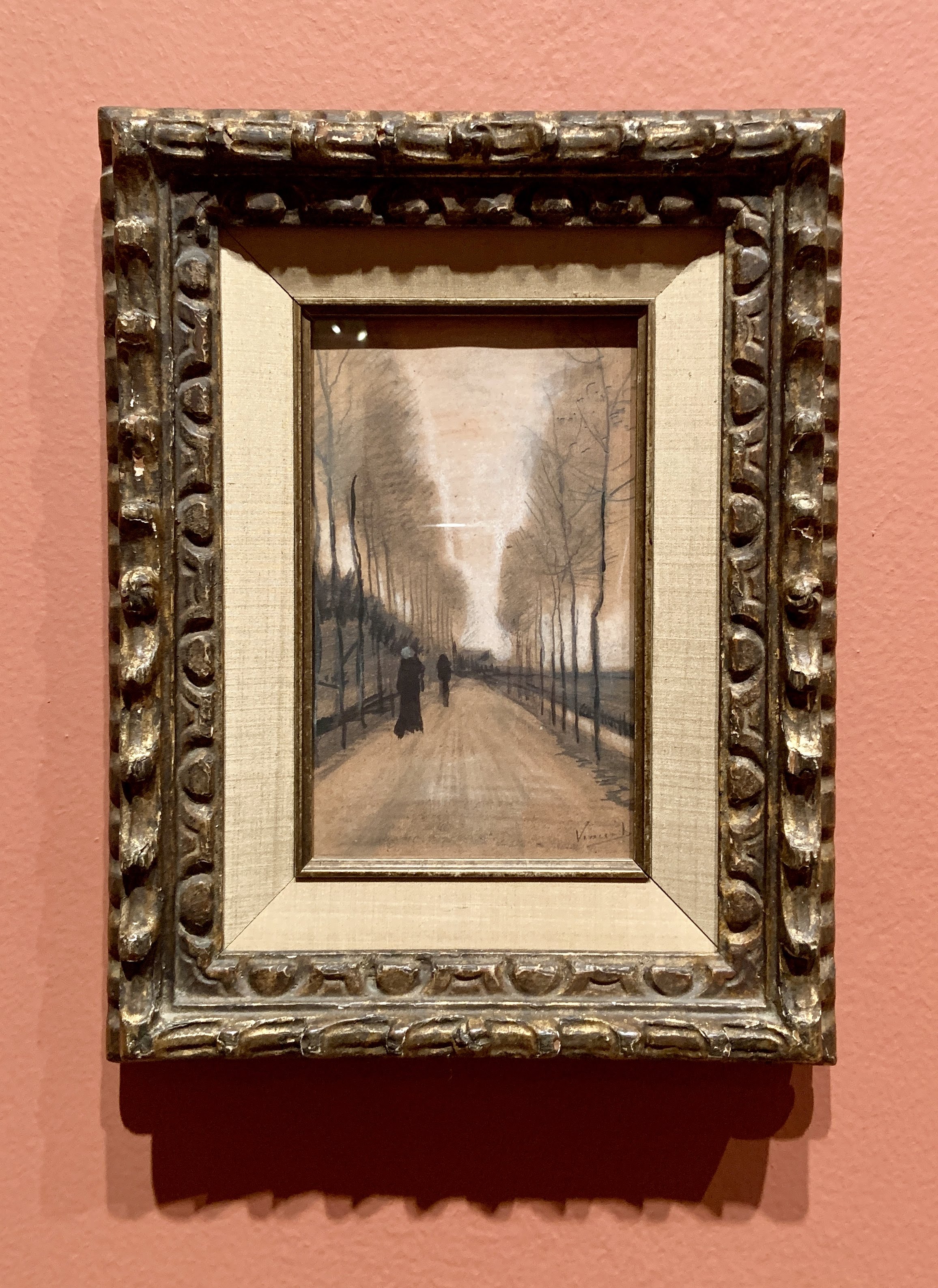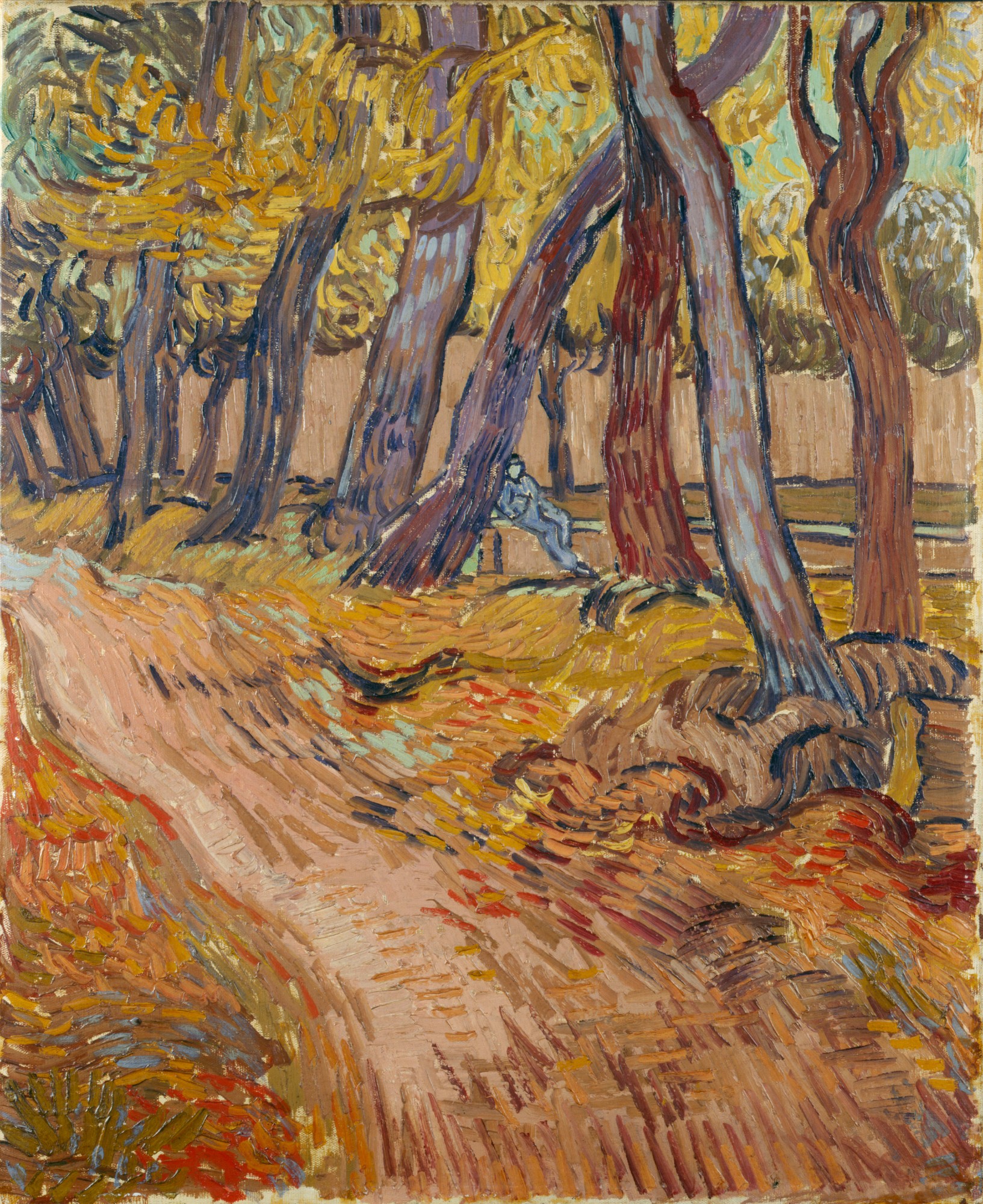 Post-Impressionist
Twenty years after he died, the Manet and the Post-Impressionists exhibition introduced British audiences to Van Gogh's work. He produced five versions of this painting and he too thought the bold colour was extreme.
"It's a woman dressed in green … Her hair is entirely orange and in plaits. The complexion is worked up in chrome yellow … This wallpaper is blue-green with pink dahlias and dotted with orange and with ultramarine … Whether I've actually sung a lullaby with colour I leave to the critics."
Vincent van Gogh, 1889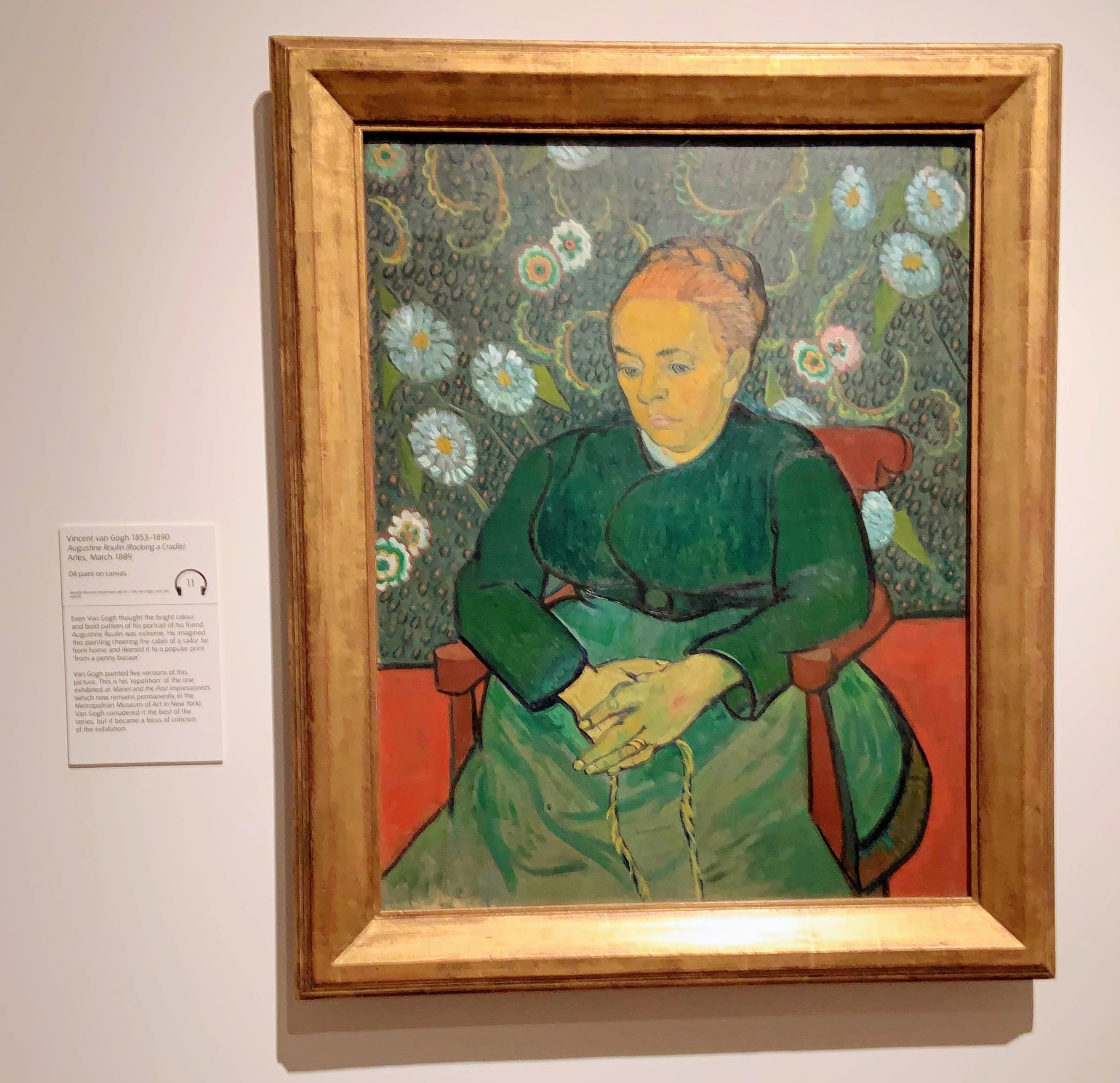 The painting styles in the exhibition shocked visitors and critics often focused on Van Gogh's personal history with prejudice around mental health at the time. A typical comment, by the writer C. Lewis Hind described him as 'a madman and genius'. These responses have affected how the art of Van Gogh is seen, even today.
Sunflowers
This painting is thought to have first been seen in London at the Manet and the Post-Impressionists exhibition in 1910. The world-renowned Sunflowers 1888 is on display with the great British paintings it inspired as it contributed to a renaissance in British flower painting.
First Solo Exhibition in Britain
It wasn't until 1923 when there was the first solo exhibition of Van Gogh's work in Britain. This painting of olive trees was included. It was made while he was staying at the Saint-Paul Hospital. It was bought by Michael Sadler, one of the leading British collectors of modern art, before being acquired by the National Galleries of Scotland in 1934.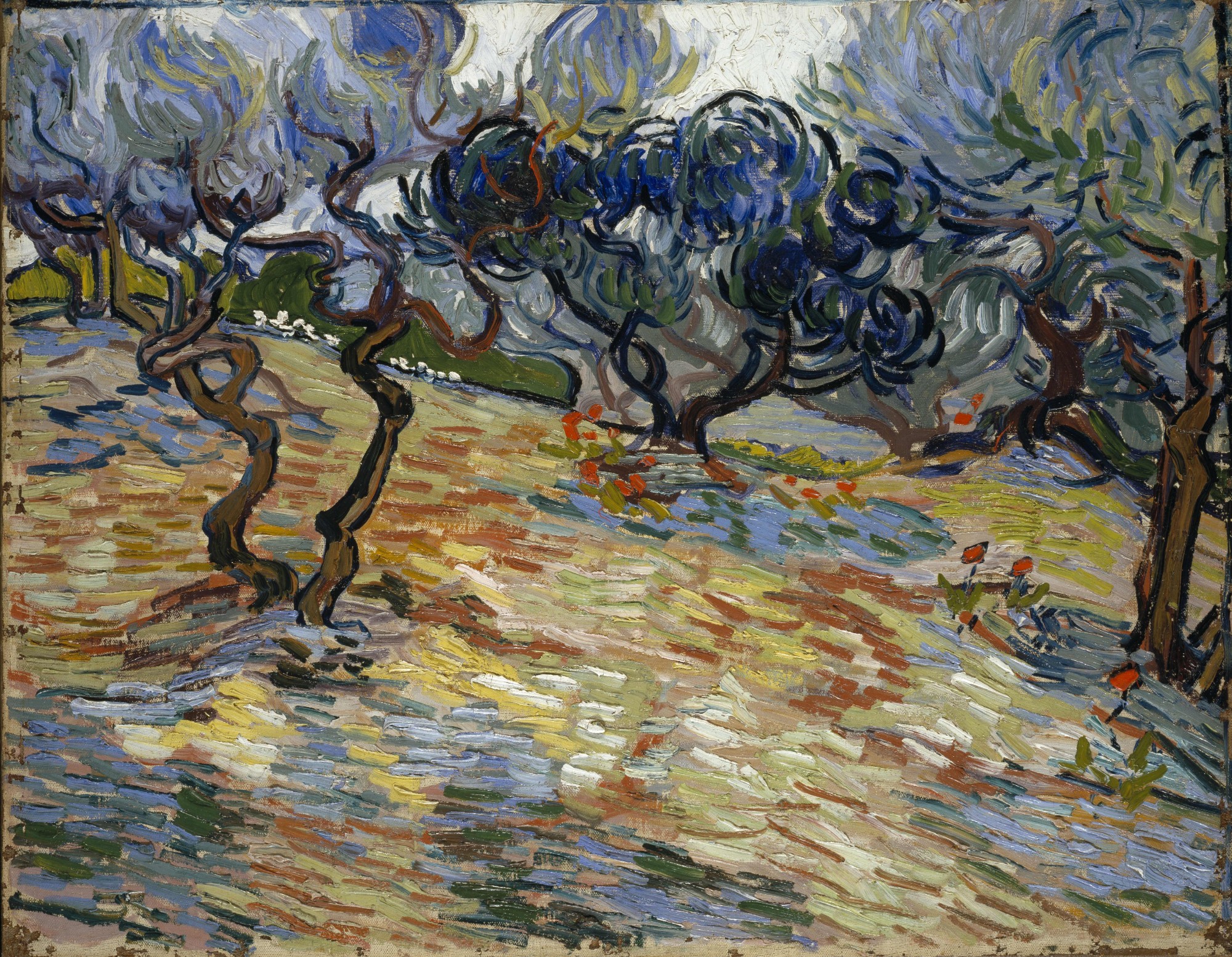 You can see how it influenced Vanessa Bell.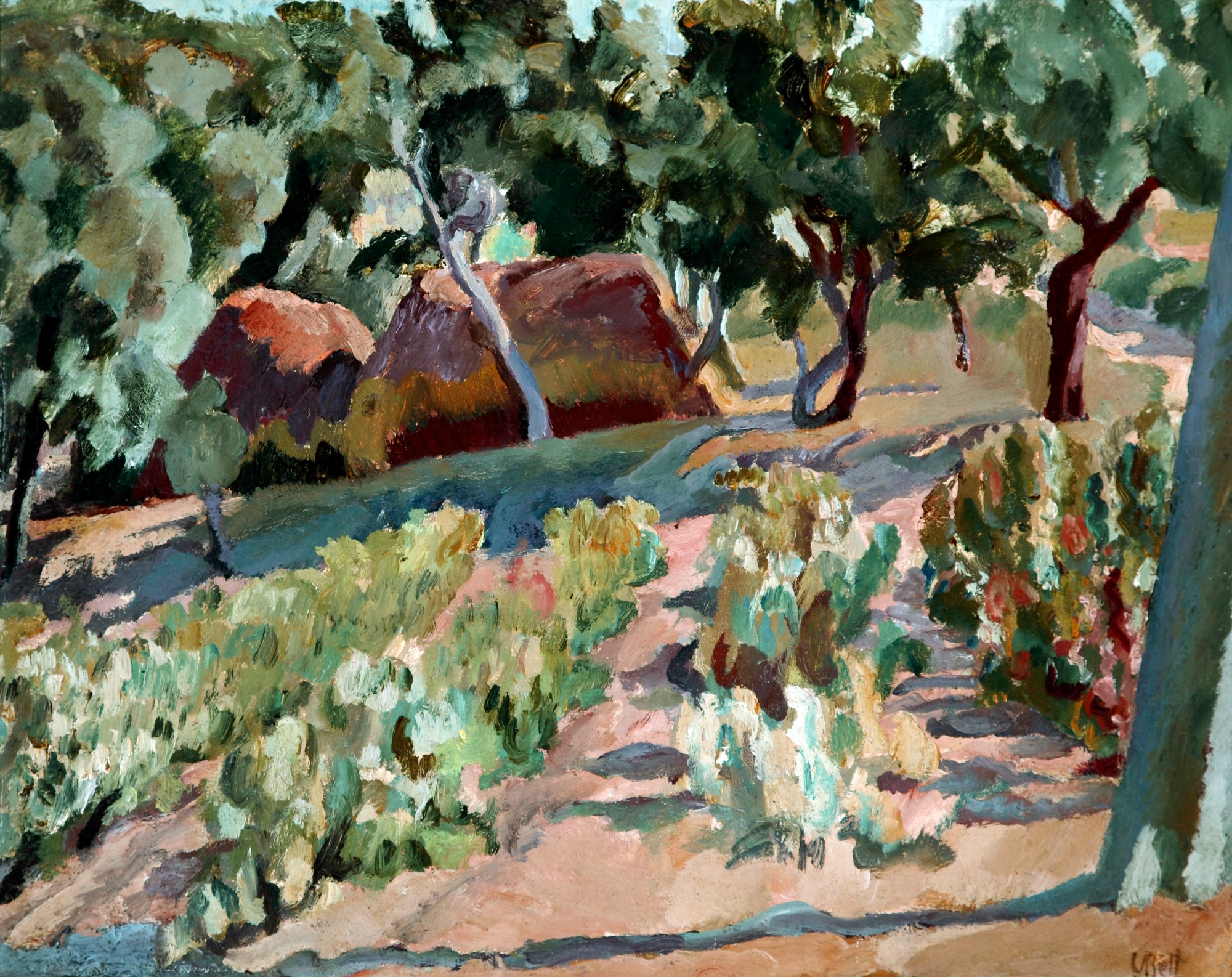 And you can see how 'Shoes' influenced William Nicholson.
Van Gogh at The Tate
The Arts Council was founded in 1946 and staged the exhibition Van Gogh at the Tate Gallery in 1947. Nearly five thousand people visited a day and it was dubbed 'the Miracle on Millbank'. Van Gogh's dazzling colours cheered the post-war city and the idea of him as an artist of the people chimed with the post-war mood and ideals of art for all.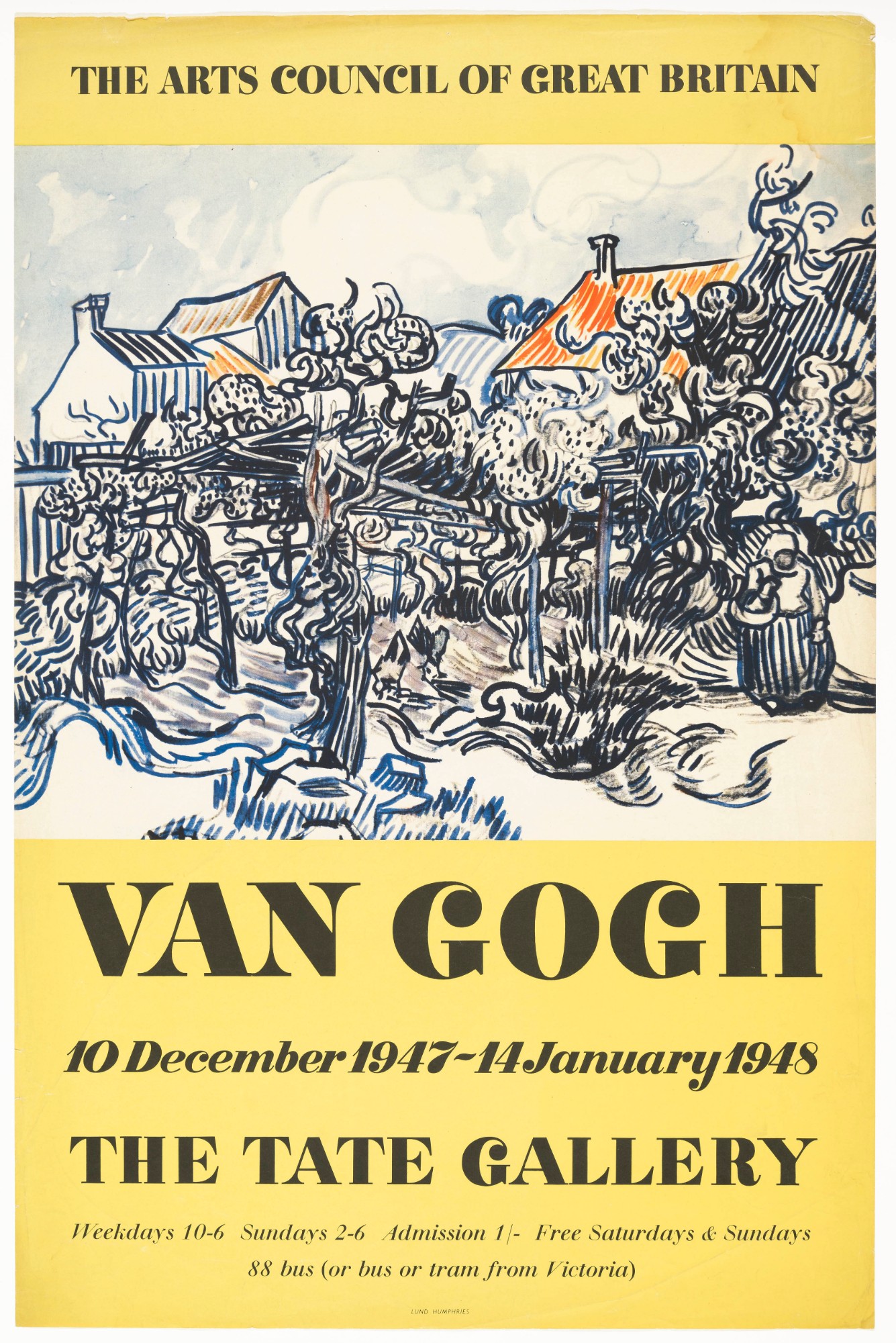 Different Styles
We may think we know Van Gogh's style, but would you recognise these artworks as his?
This one felt more African to me in the content, colours and the painting style.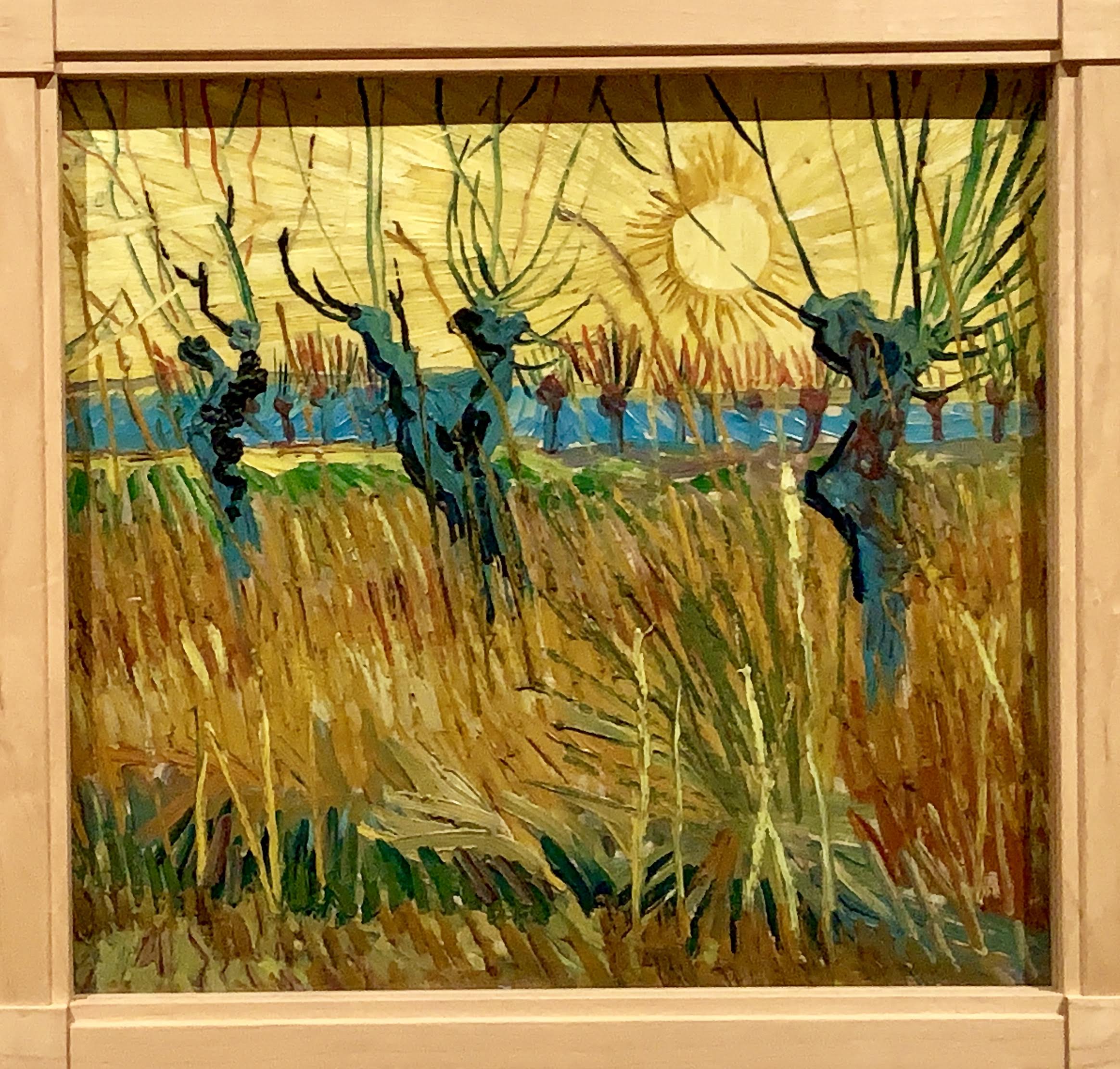 Exhibition Comments
Firstly, seeing so many of Van Gogh's artworks in one place is an absolute joy. You will definitely come away with a better understanding of him and his influences.
Photos of his works do not show the depth but being here gave me the opportunity to really see the vibrancy and how the oils are not flat.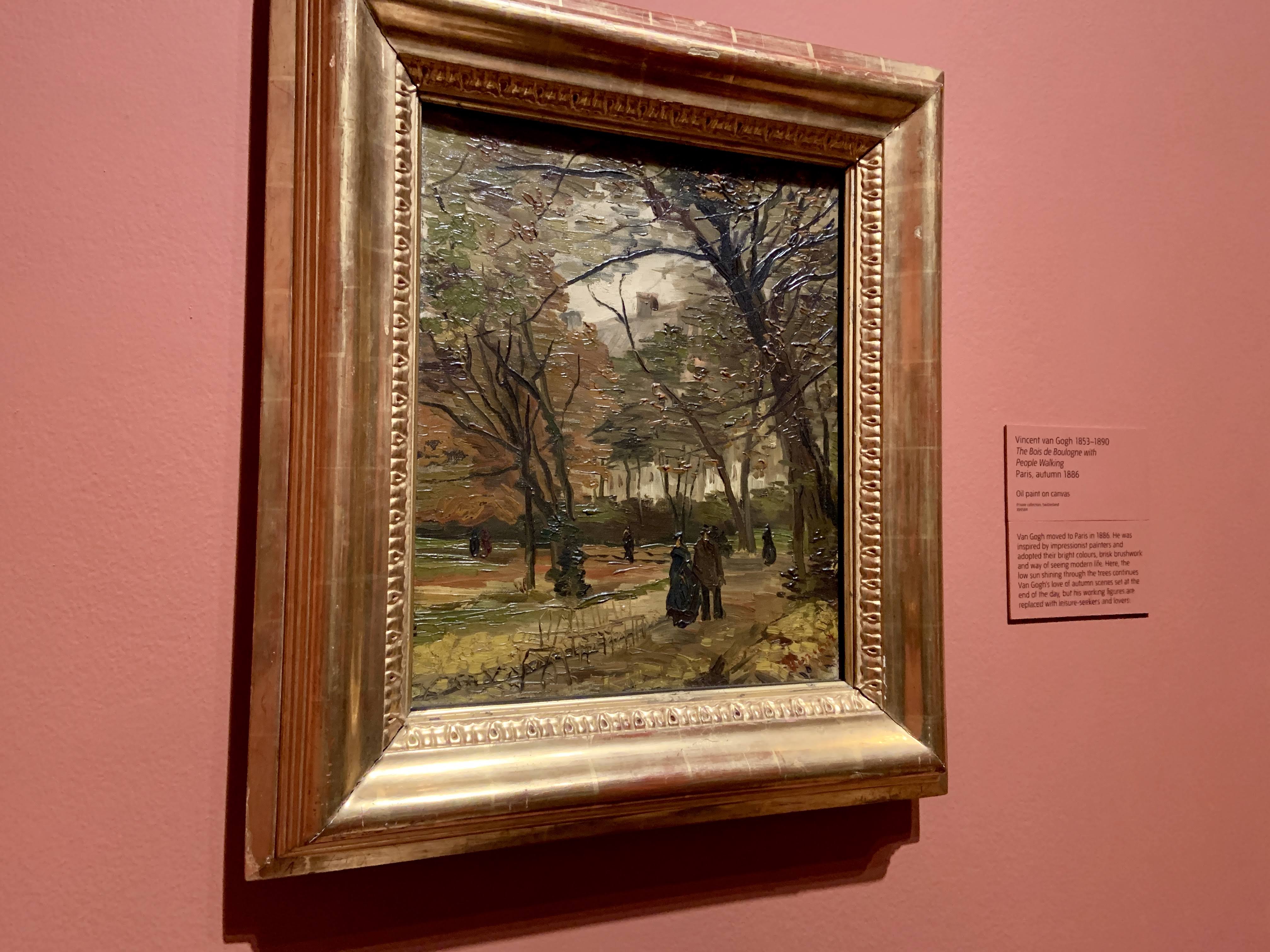 There were times that the gallery lighting bothered me as it meant shadows over glass cases when I leaned in to view the contents. And I think there was quite a lot of presuming with the captions (I was lucky as I met a Van Gogh expert who gave me more background information). Hopefully, this review will give you enough knowledge to help you enjoy the exhibition too.
I would say you need 1.5 to 2 hours to see it all. Definitely, don't rush as there are some wondrous artworks here and there will be crowds around the exhibition highlights.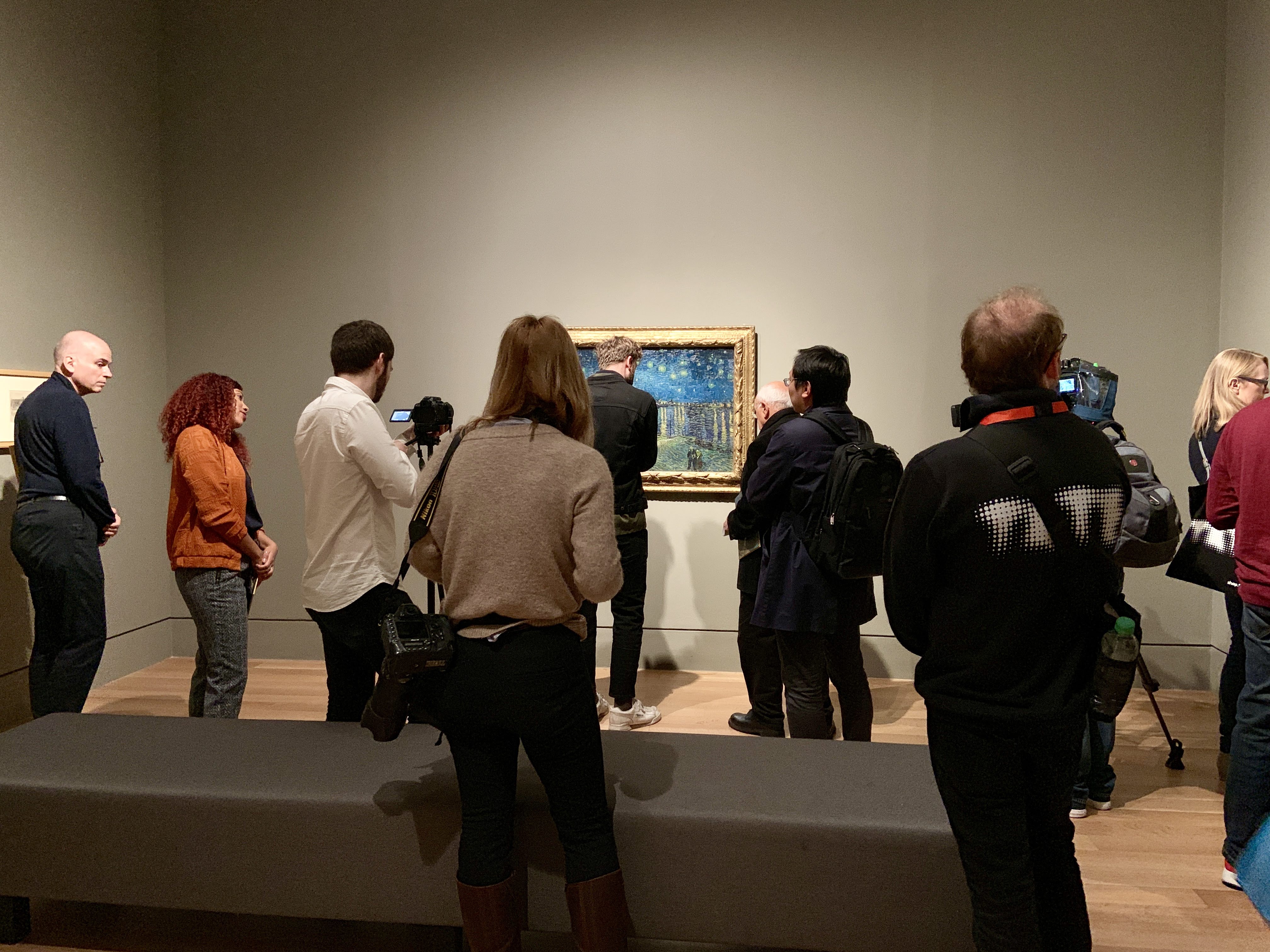 Booking Information
Dates: 27 March – 11 August 2019
Address: Tate Britain, Millbank, London SW1P 4RG
Nearest Station: Pimlico
Tickets: £22
Official Website: www.tate.org.uk/whats-on/tate-britain/exhibition/ey-exhibition-van-gogh-and-britain